Cactus Cupcakes are a fun and easy cactus shaped cupcake. These are a wonderful summer cupcake, great for birthday parties and more. Learn how to make cactus cupcakes with simple ingredients.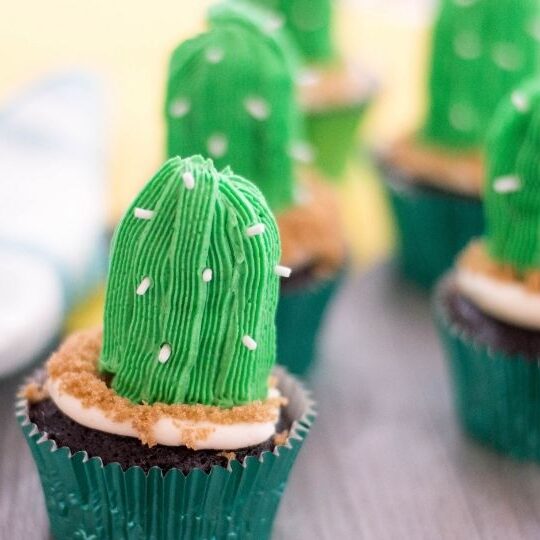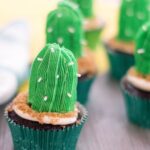 Learn how to make cactus cupcakes! A beautiful cupcake that is topped with a cactus for a showcasing gorgeous cupcake. This is an easy cactus cupcake recipe that is great for summer cookouts, birthday parties, and more. A cactus cupcake topper that is fully edible.
Learn how to decorate cupcakes with my simple tips. Anyone can make these easy and cute cactus cupcakes. Just grab your cupcake, supplies and piping bag and get to work.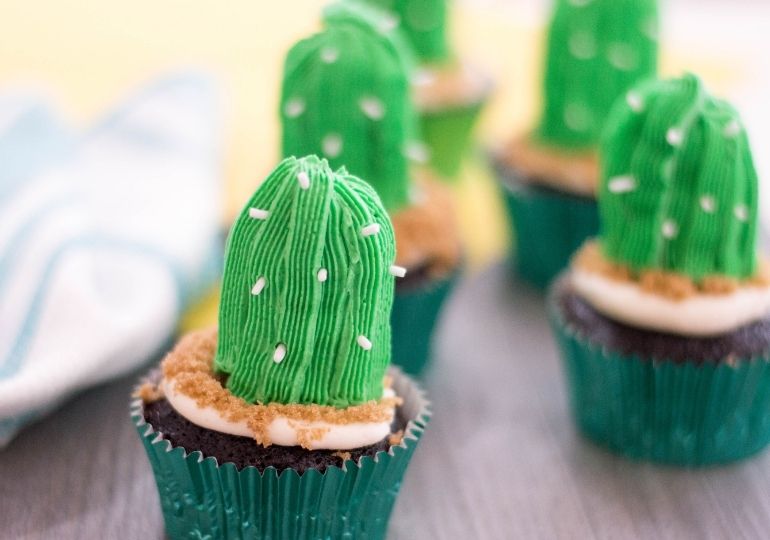 I am not amazing at piping. But these succulent cupcakes were easy to make. And they turned out to be a perfect cactus birthday cake idea for a loved on.
Why These Cupcakes Are So Creative And Fun
Birthday Cupcakes – These make a great birthday cupcake if you are looking for a cacti cupcake or succulents. It is simple to make and really gives you that stand out cupcake you are looking for.
Easy to Make – No real professional piping skills are needed. Simply follow the easy steps and make your own cacti to showcase.
Summer Cupcakes – Hosting a party or get together. Serve up a cupcake that fits the season. These are always the talk of the party.
Delicious – Most of all these cupcakes are tasty to eat. All parts of the cacti are edible, so it is added sweetness to nibble on.
Ingredients Needed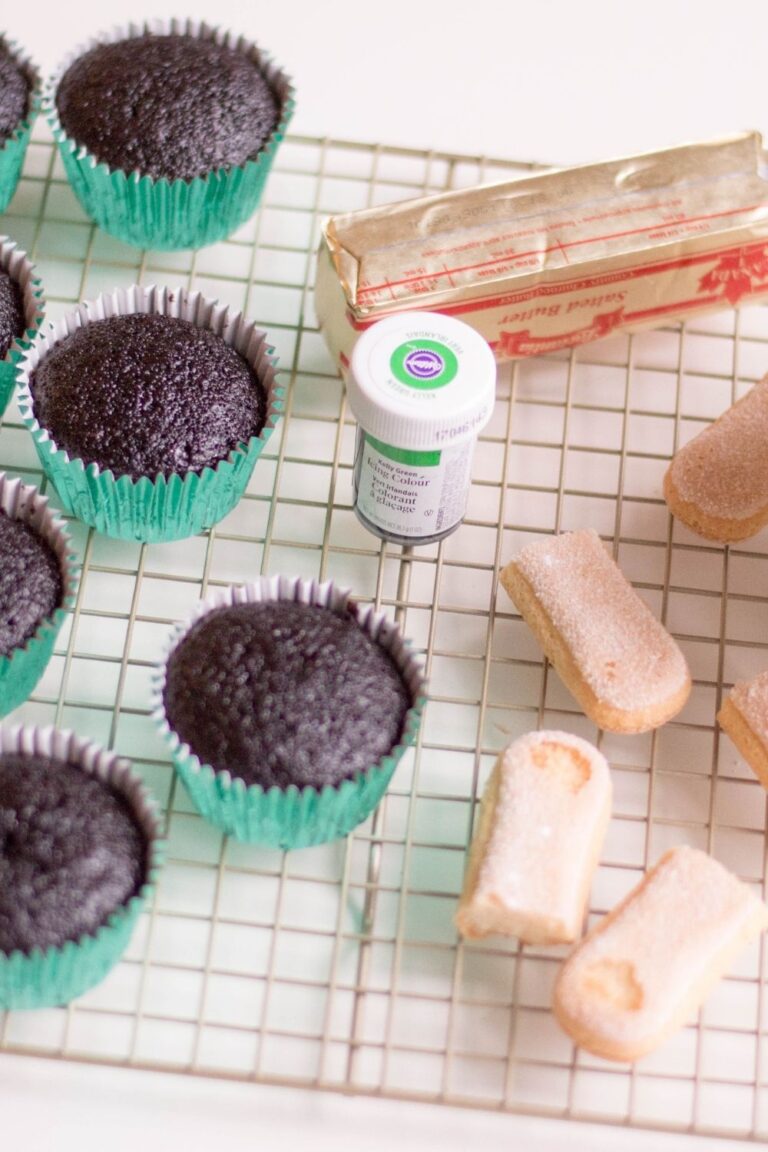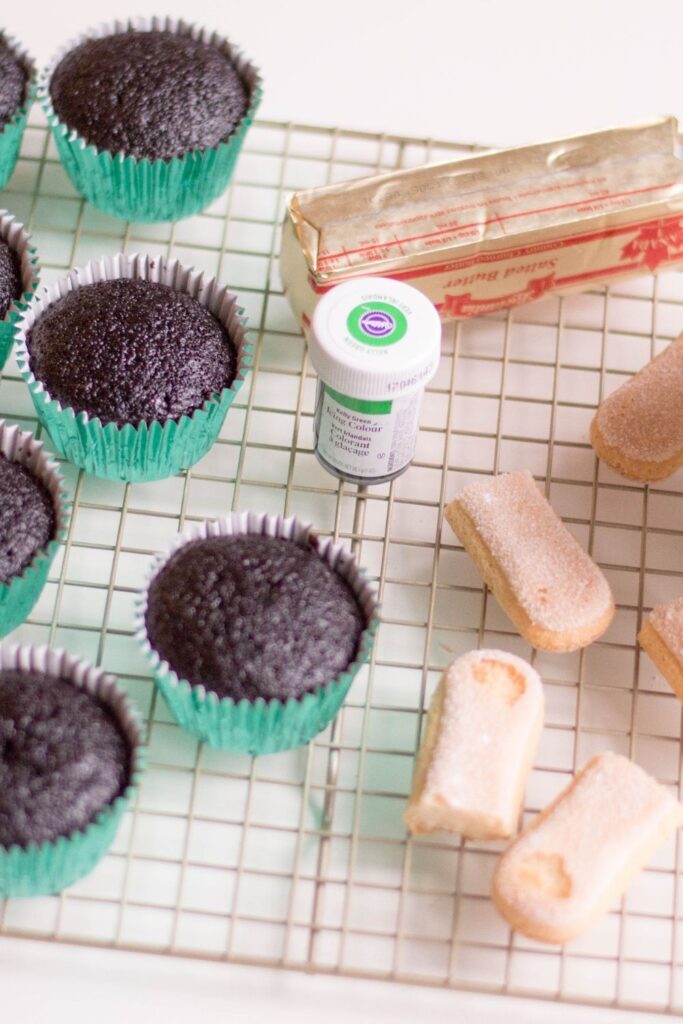 Butter
Powdered Sugar
Milk
Lady Fingers
Brown Sugar
Sprinkles
How to Make
Make Buttercream Frosting:
In a mixer you are going to work on your buttercream frosting. Add your butter and sugar and mix till creamy. Slowly add in the milk and vanilla extract.
Beat the mixture until it forms stiff peaks, when it does it has made buttercream and you can turn the blender off.
Divide the batter into 2 bowls. Leave about 3/4 in one bowl and the other 1/4 leave white. With the 3/4 you will add in some green food coloring to create the cactus color.
Add the buttercream into 2 piping bags.
Assemble Cupcakes: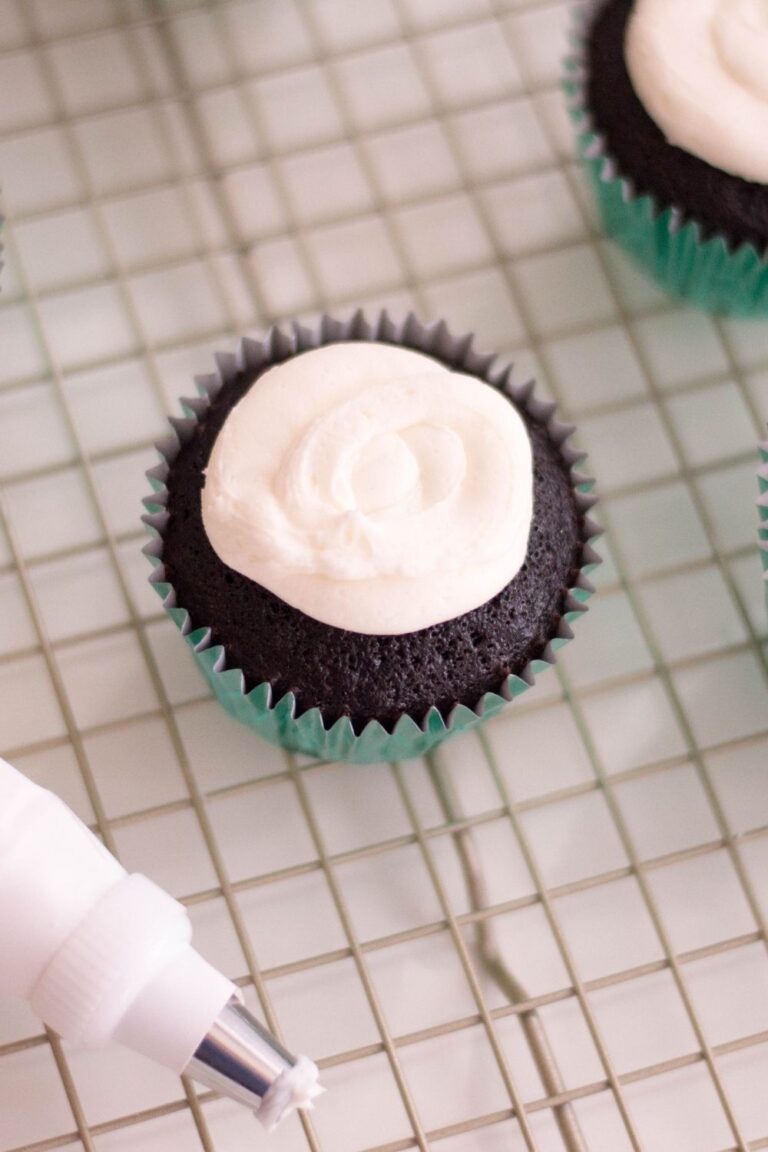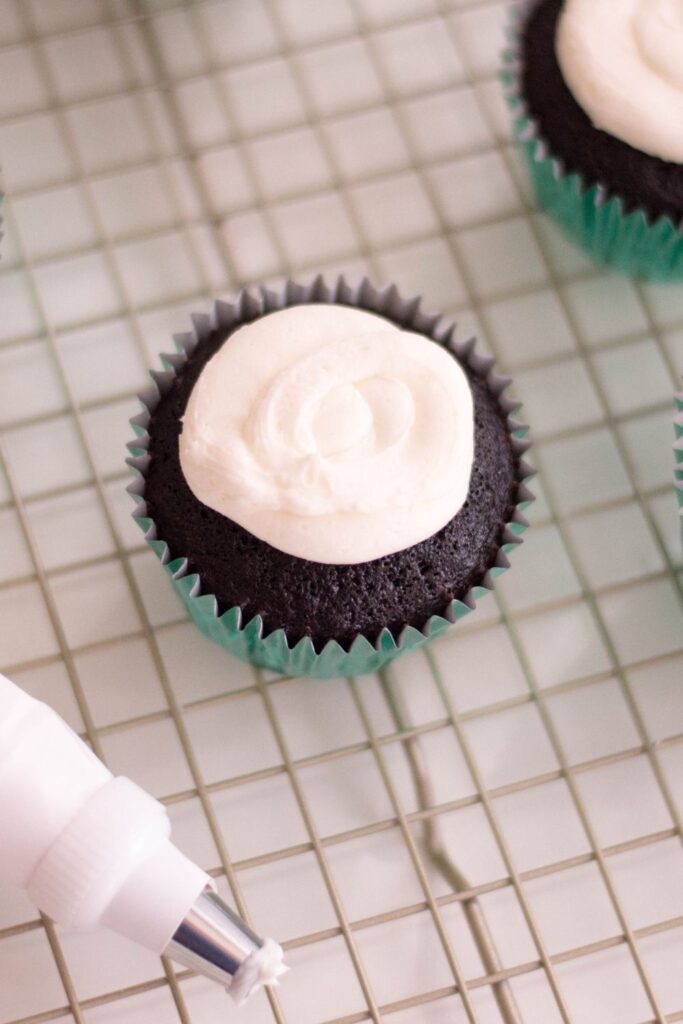 With the white frosting pipe on each of the cupcakes.
Cut lady finger in half. Stick half of the Lady Finger cookies on top in the center of the cupcakes.
Crumble up some of the lady finger cookies and sprinkle over the white frosting, to mimic sand.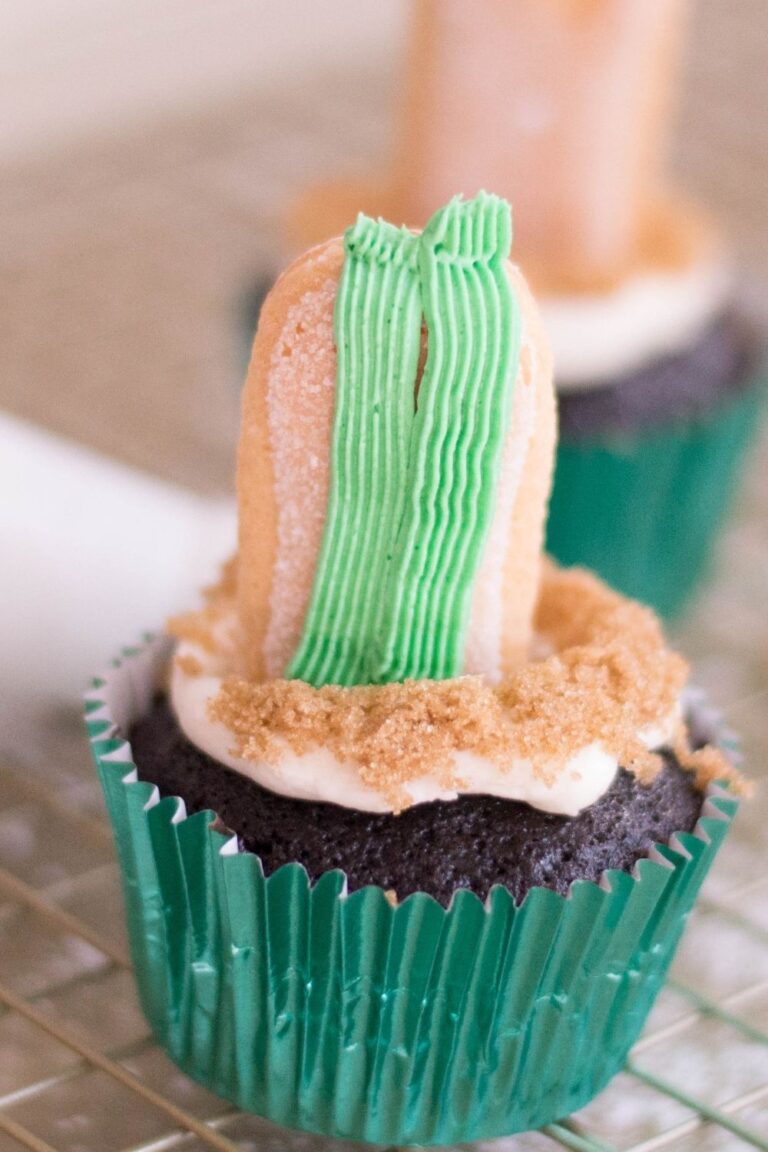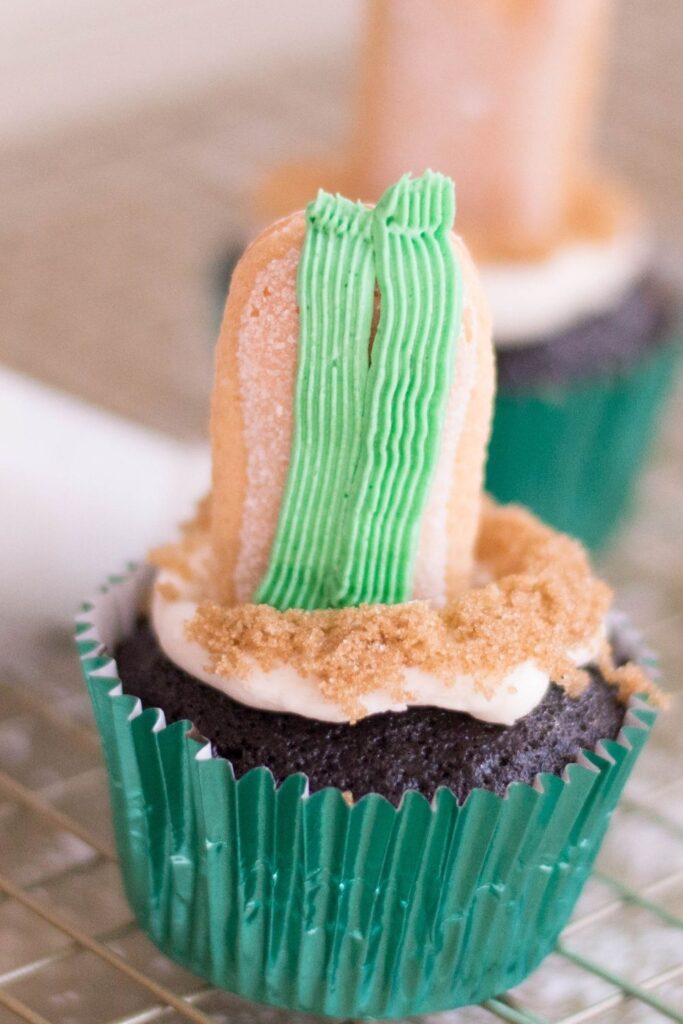 Now with a #47 tip on your green frosting you will begin to pipe on the Cactus. Repeat the process until the whole lady finger is covered with the green frosting.
If you need do an extra layer over areas to fill out the cactus look. Then with a set of tweezers place the little white sprinkles around to look like the needs of the cactus.
You can shake them on but I found tweezers work the best at getting better placement on the cupcakes.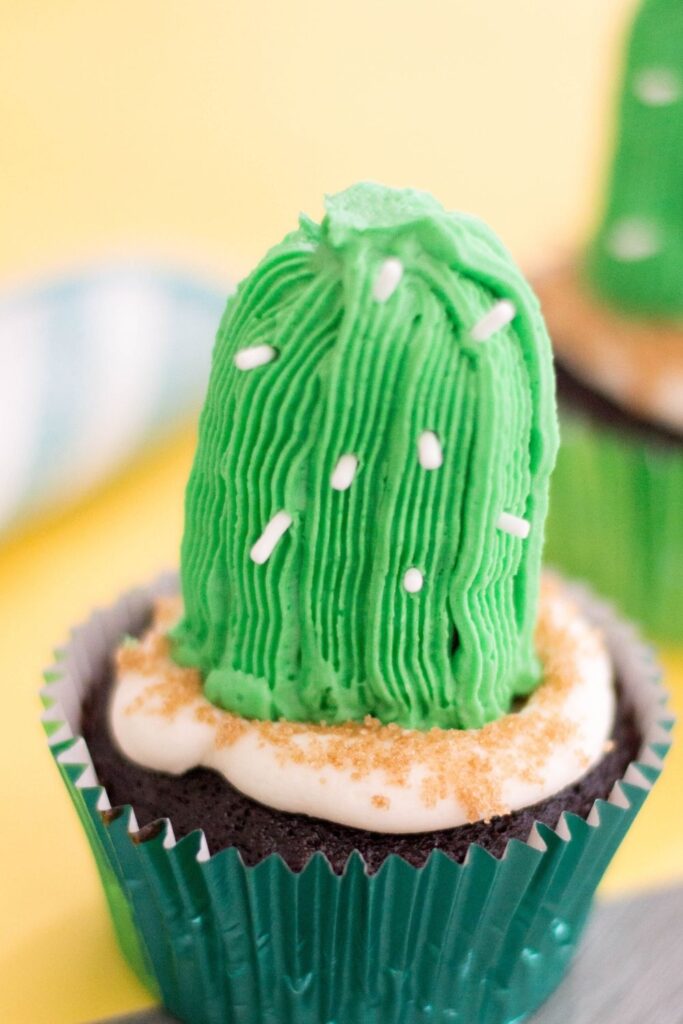 Expert Tips and Variations
Here are cactus cake ideas to change and tips to help set you up for success.
Make sure you use a stiffer frosting, as it will hold up. That is why I made homemade buttercream.
You can use any flavor of cupcake, just cover the whole top and dust with cookie crumbles.
Feel free to use crushed graham crackers in replace cookie crumbles.
White Jimmies sprinkles are what I used for the sprinkles.
Pipe on some pink flower on the top if you want a blooming cactus cupcake.
You can stick the sprinkles in having them poke out to look like spikes.
FAQs
Here are some common questions for these buttercream cactus cupcakes below.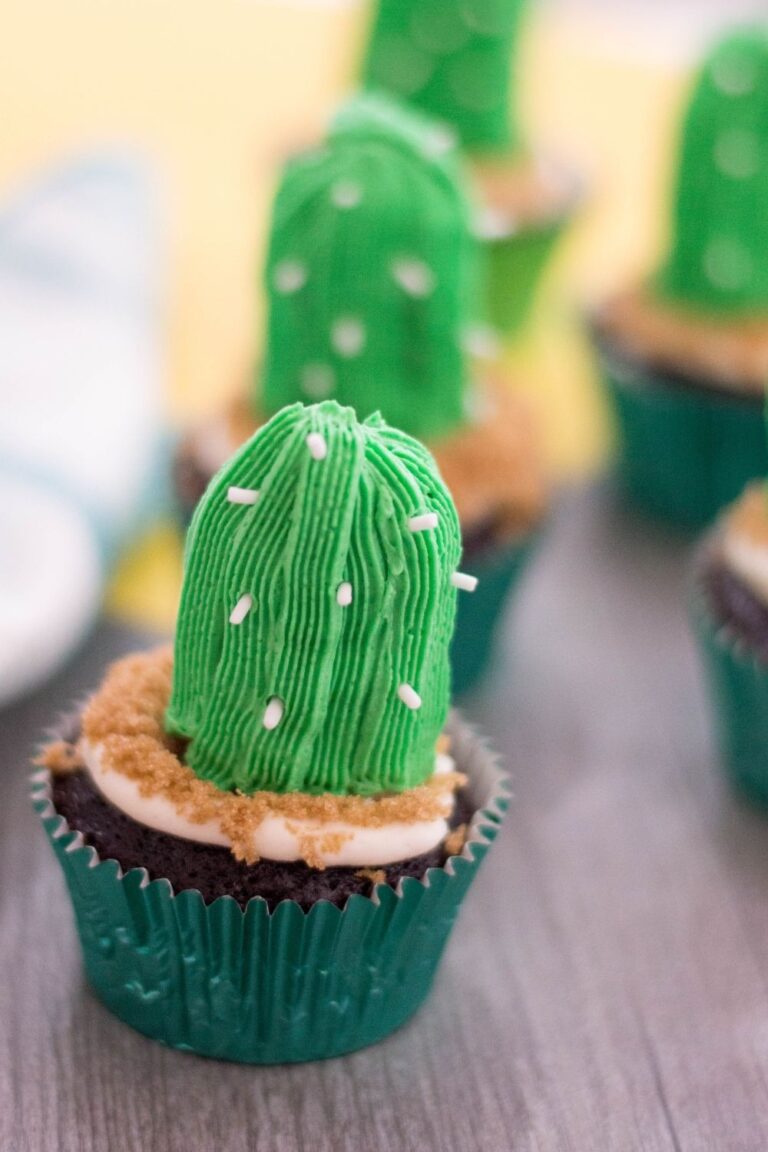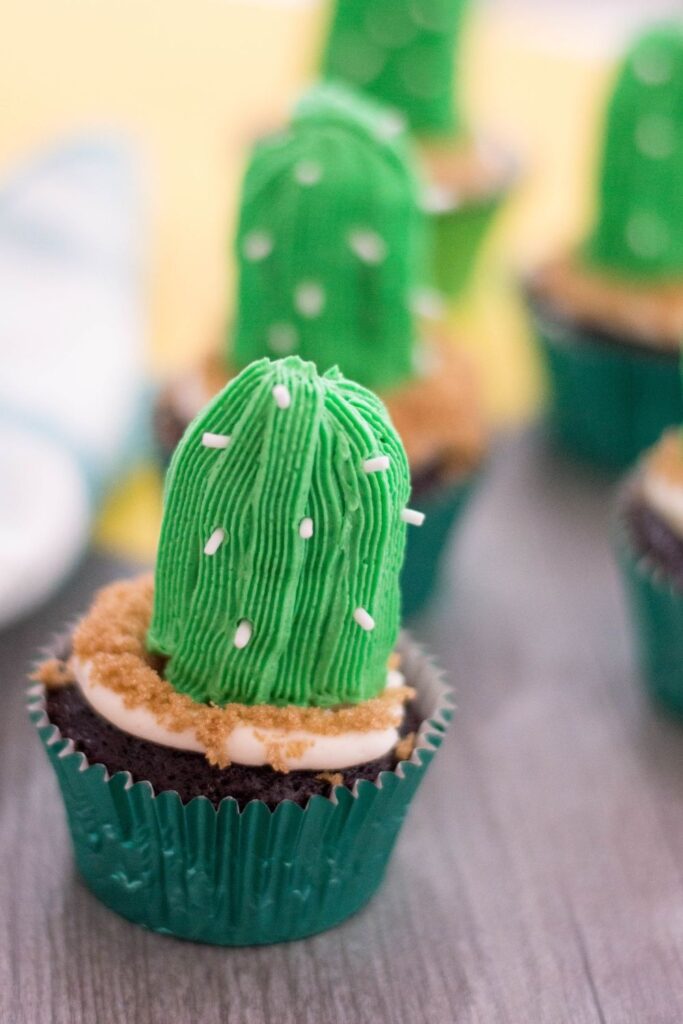 Craving More Cute Cupcakes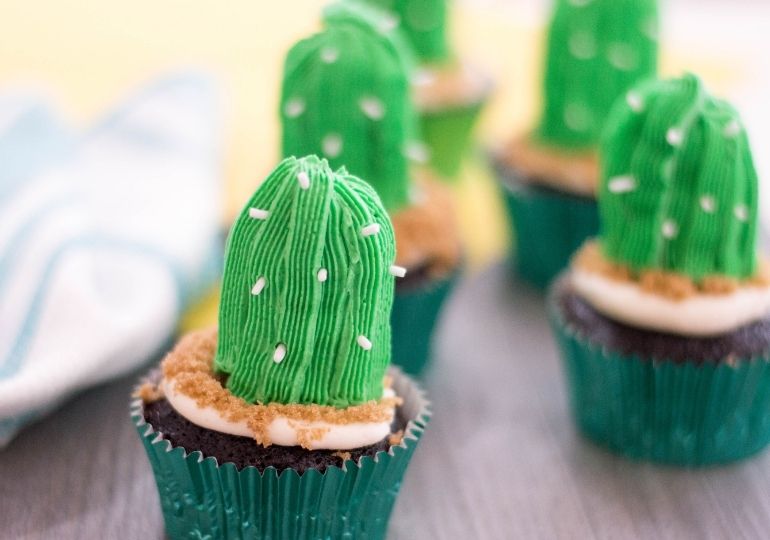 Cactus Cupcakes
Servings 12
Cactus Cupcakes are a fun and easy cactus shaped cupcake. These are a wonderful summer cupcake, great for birthday parties and more. Learn how to make cactus cupcakes with simple ingredients.
Ingredients
12 chocolate cupcakes – baked and cooled
2 sticks unsalted butter softened
4 cups powdered sugar
2-3 tablespoons milk
1 teaspoon vanilla extract
Green Food coloring
10 lady fingers cut in half
4 tablespoons brown sugar
Instructions
Start by making your buttercream frosting. In a bowl with a mixer you will add your butter, powdered sugar, milk and beat until it begins to thicken. Add in the vanilla extract.

If you need add more milk to thin or extra powdered sugar to thicken. Mix until stiff peaks form.

Then separate the frosting, 3/4 in one that you will color green. The other portion leave white.

With the white frosting pipe on or spread on some frosting on each of the cupcakes.

Place half of a ladyfinger in each center of the cupcakes.

With the extra cookies, crumble and mix with the brown sugar. Then crumble it over the top of each of the cupcakes.

Now with a #47 tip, with the green frosting you will pipe starting at top of cookie down. Create a cactus look. Repeat until the lady finger is fully covered.

Then insert white Jimmie sprinkles in the sides to look like needles of the cactus.

Serve and enjoy these cute cactus cupcakes.
Notes
Cupcakes – You can add on some white or even pink frosting on top to look like the cactus is flowering. Sand – Instead of crumbled lady fingers and brown sugar you can use graham cracker crumbs as well. Double the Recipe – Feel free to make as many cacti cupcakes as you would like. This recipe is for 12 but feel free to do more if you want. Shaping Cupcakes – Feel free to shape your cupcakes to create different sizes and styles of cactus on your cupcakes.
Nutrition
Serving: 1gCalories: 390kcalCarbohydrates: 53gProtein: 2gFat: 20gSaturated Fat: 12gPolyunsaturated Fat: 7gCholesterol: 64mgSodium: 46mgSugar: 46g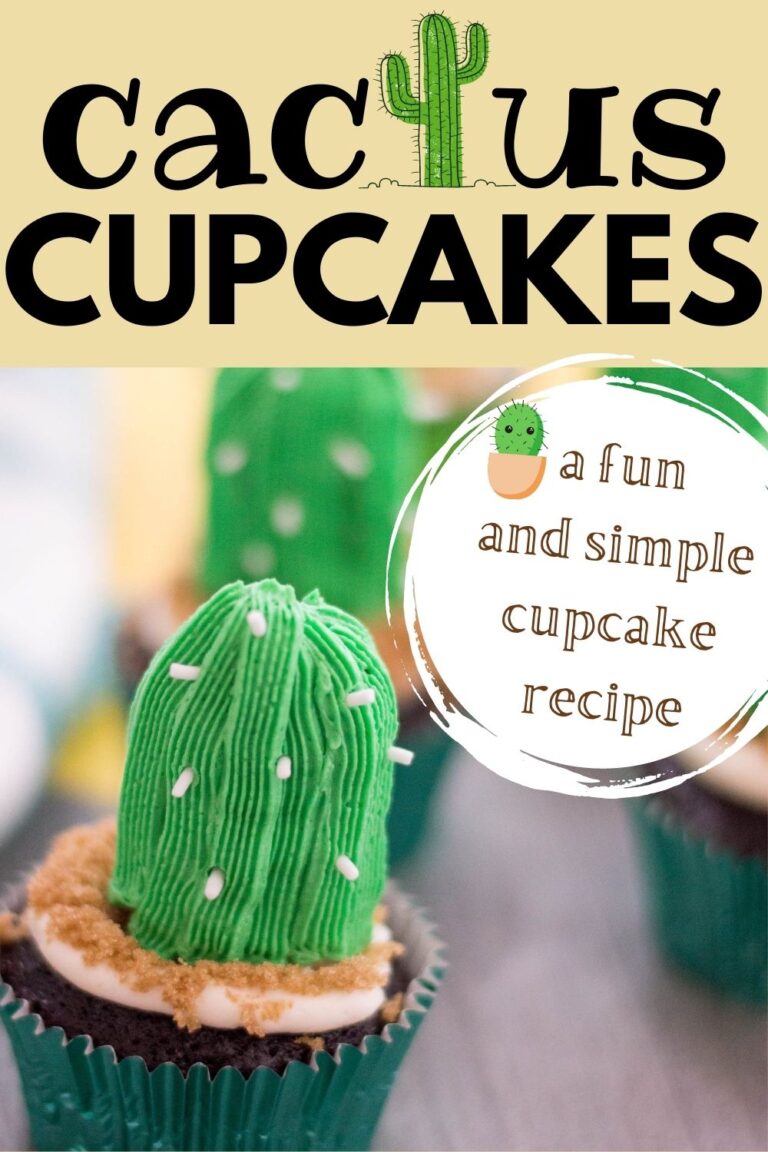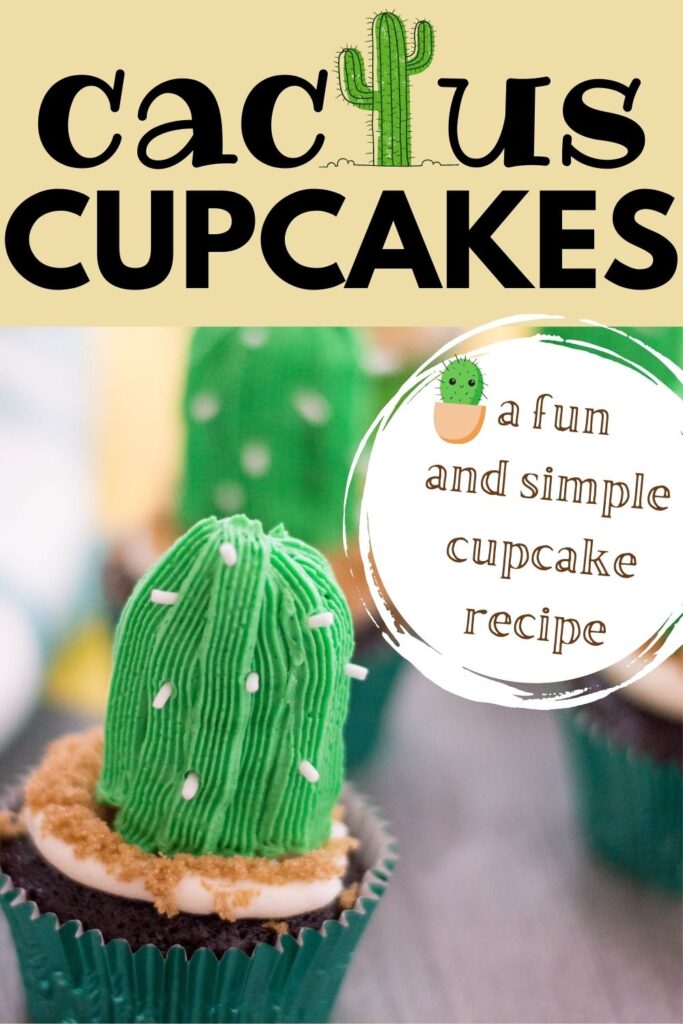 Reader Interactions