Easy Lemon Cupcakes with a homemade buttercream frosting spread on top in the shape of a rose. The tastiest homemade lemon cupcakes.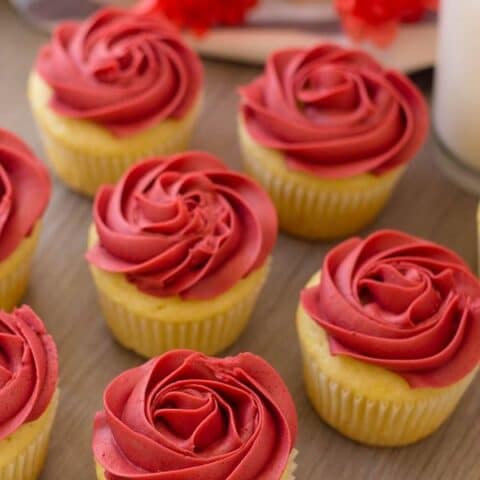 Lemon Cupcakes offer the perfect citrus zing to tickle those tastebuds. Topped with a red rose buttercream frosting. Try this lemon cupcake recipe.
Craving that taste of summer and ready for it to arrive? These Lemon Cupcakes with Buttercream Frosting are going to help with that need.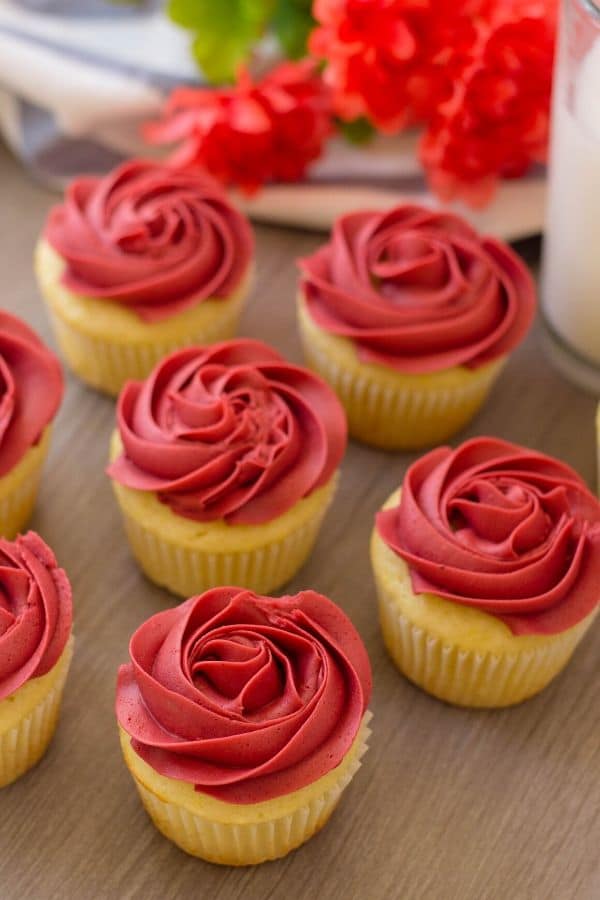 They're the perfect tasty dessert that everyone needs in their life right about now.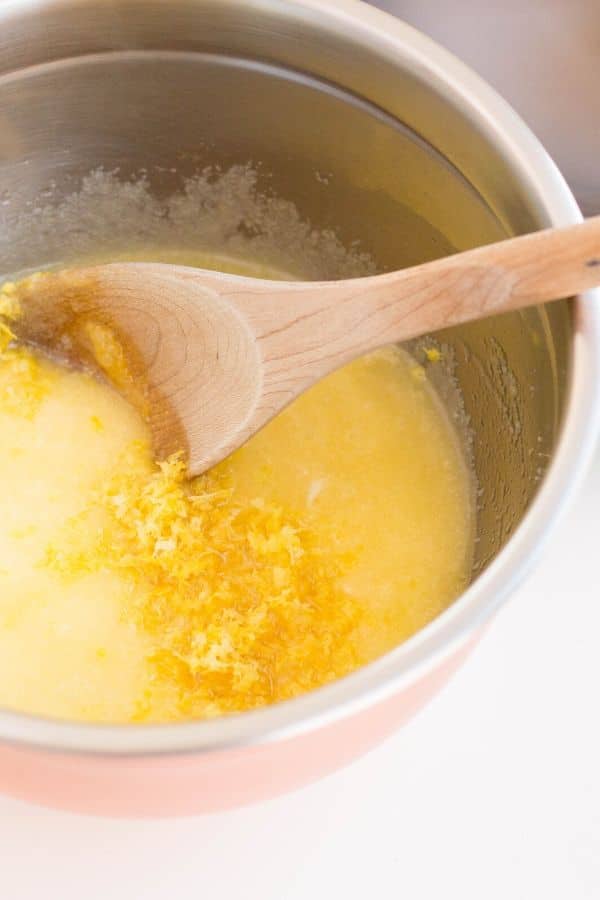 Best Lemon Dessert
The flavor of lemon in desserts is pretty amazing. Consider it as a little wake-up call for your mouth. These homemade lemon cupcakes are so easy!
This is because until you take that first bite of this cupcake, you'll have no idea by looking at it that it's flavored like lemon. (Well, you will since you made them but those who didn't help, won't!)
It's a refreshing taste and a nice surprise and one of the best ways to end a meal. (or start the day – adults get the privilege of eating cupcakes for breakfast, right?!)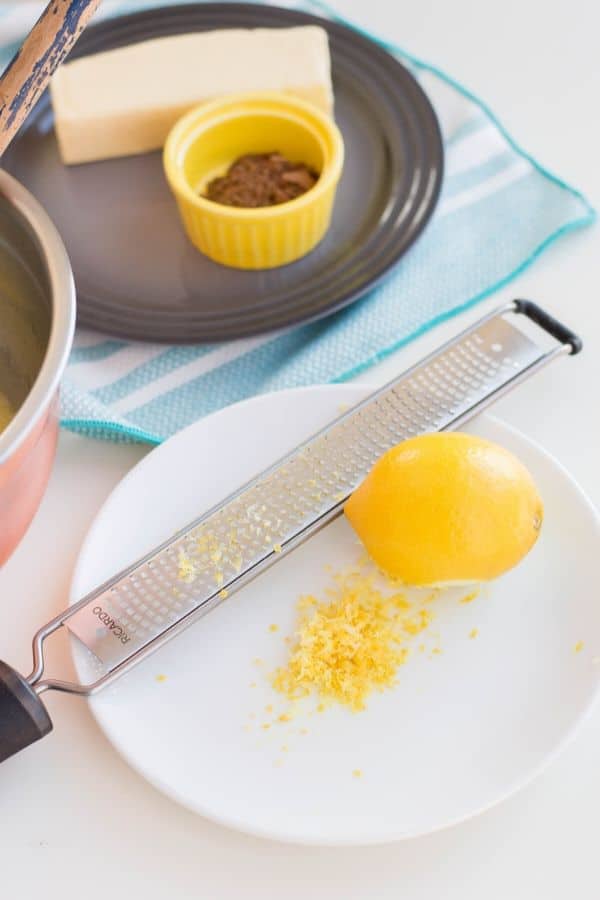 How to Zest a Lemon
Zesting a lemon isn't hard so don't be afraid to try. The biggest thing to remember is to make certain that you wash the outside of your lemon. Get rid of all the germs before you start zesting.
Once that is done, take your zester and start rubbing it on the outside of the lemon. Your lemon zest should be yellow so if you've zested down to a point on the rind where it's white, you need to roll the lemon and start zesting on another area.
The white area on the lemon is very tart, so only zest the outer where it is yellow.
And make certain that you have a bowl underneath to catch all your lemon zest!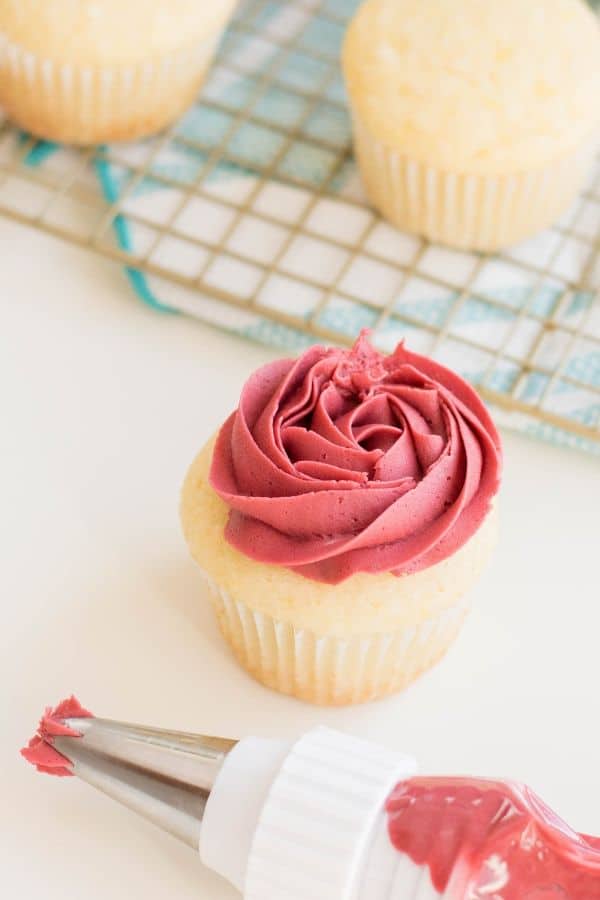 What Frosting Goes With Lemon Cupcakes
Maybe the question should be "What frosting doesn't go with lemon cupcakes?"
But in all reality, most frostings will go with lemon cupcakes just fine. I happen to like buttercream frosting but that's just my personal preference.
You can make a different type of frosting easily and some delicious options could be raspberry, cherry, or even cream cheese flavored frosting.
It's ultimately up to you and whatever your tastebuds would like.
No Frosting.. No Problem
If you don't want to add on any type of frosting, you don't have to, either. A thin layer of powdered sugar can also be a super simple way to sweeten these cupcakes.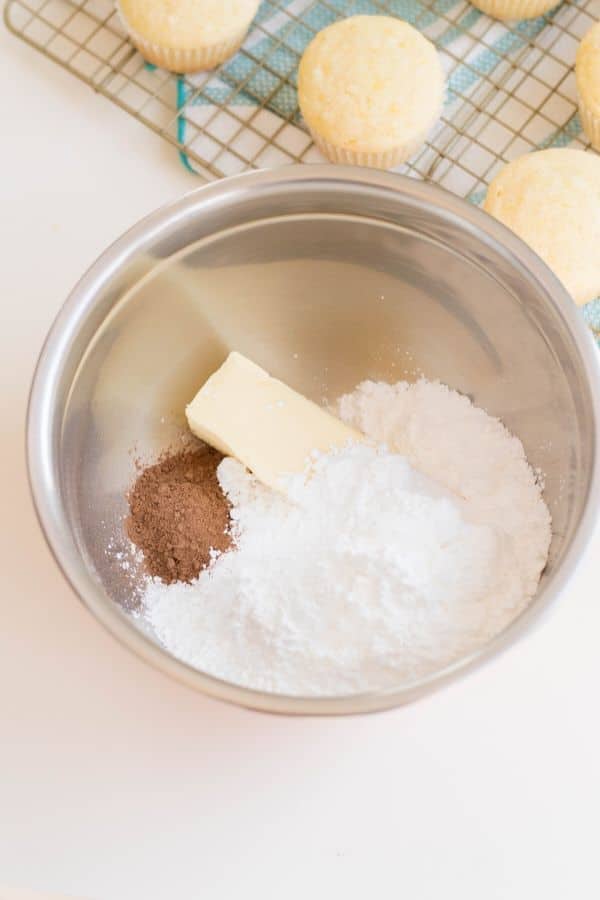 How to Make Buttercream
When it comes to making the buttercream frosting, you're basically adding in butter, sugar, milk and in this case cocoa. Then mixing and creaming it all together.
Just four simple ingredients will have you loving your very own homemade frosting.
How to Make Lemon Cupcakes
Start by working on your from scratch batter for the lemon cupcakes. Pour into your cupcake molds with liners and bake accordingly to the recipe card below.
Then once your cupcakes are fully cooled, top with a rose swirled frosting and dive in!
How to Know When Cupcakes Are Done
The easiest way to know when cupcakes are done is to use the toothpick test (or butter knife) to test out the centers of the cupcakes.
Once your timer goes off, take a clean toothpick or butter knife and insert it directly into the center of one of the cupcakes. If it comes out clean, they're done.
If it comes out with some batter on it still, that means that your cupcakes are going to need a little bit more time in the oven.
Be careful here though that you don't overcook so always just leave them in a couple of minutes before checking again.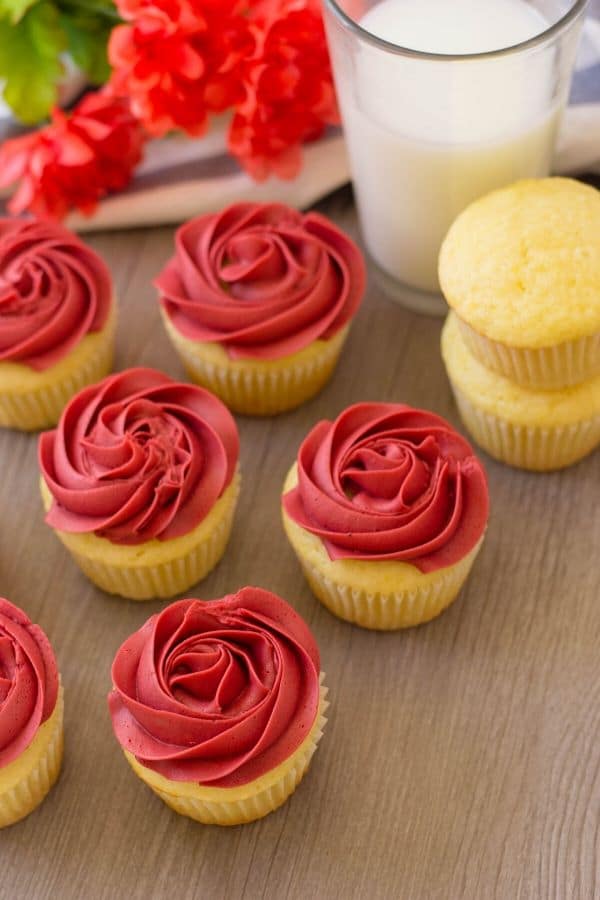 Tips For Success
Making these cupcakes isn't hard but there are a few tips that I've learned along the way that I want to share so you don't make these mistakes, too.
Make certain that you're using fresh lemons to get the best taste and flavor. Older ones will still give a little lemon flavor but you'll definitely be able to tell a difference.
When you're mixing your cupcake batter, don't overmix. This will cause them to not be as moist and nobody wants to take that chance!
Be aware of your baking time so that you don't overcook these lemon cupcakes. Once you start to smell them, that is a huge indicator as well that they're almost done baking.
Make certain to let your family join in on the baking fun. There's really something quite awesome about bonding together and baking in the kitchen. Plus, those who help to bake and create are the first that get to jump in and partake!
Can You Freeze
Yes, you can freeze these homemade cupcakes with frosting. Just allow to fully cool and then place in freezer-friendly container. Then freeze for up to three months!
More Cupcake Recipes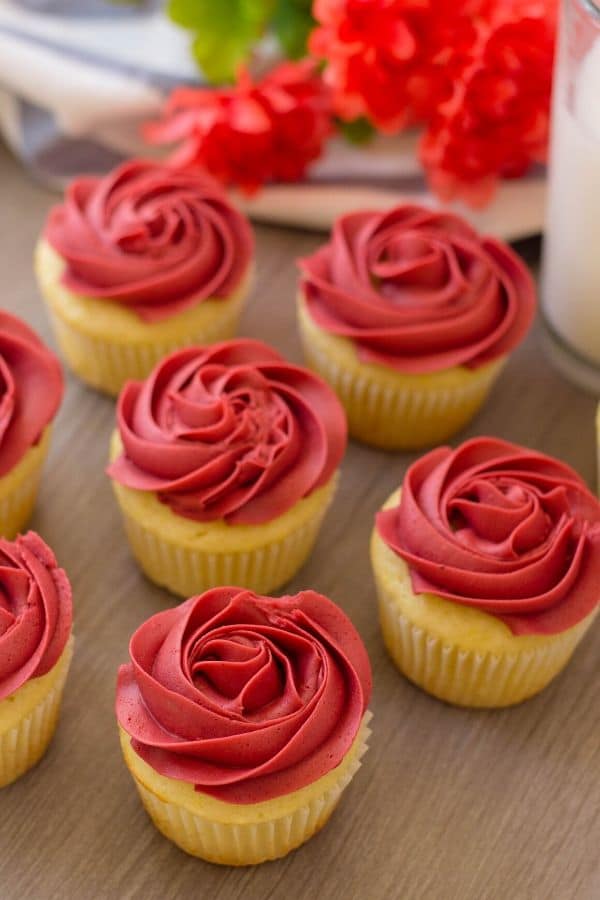 Easy Lemon Cupcakes with Buttercream Frosting
Servings 15 cupcakes
Easy Lemon Cupcakes with a homemade buttercream frosting spread on top in the shape of a rose. The tastiest homemade lemon cupcakes.
Ingredients
For the cupcakes:
2 ½ cups all-purpose flour
3 tsp baking powder
Pinch salt
6 tablespoons vegetable oil
1 ½ cups granulated sugar
2 large eggs
Juice and zest of 3 lemons
1 ¼ cup milk
For the buttercream topping:
1 ½ sticks butter softened (about ¾ cup)
3 cups confectioners' sugar
1 ½ tablespoons cocoa powder
2 tablespoons whole milk
¼ teaspoon red gel food coloring
Instructions
Start by preheating your oven to 350 degrees. Then line your cupcake pan with cupcake liners and then set aside.

Now in a bowl add your sifted flour, baking powder and salt. Set it aside.

Pour your oil, sugar and eggs into a stand mixer or use a hand mixer to cream the mixture.

Once your ingredients are fully creamed add in your lemon juice and lemon zest.

Now slowly add in your dry ingredients and incorporate doing a little dry ingredients and then a bit of the milk. Repeat till all the milk and dry ingredients are mixed.

Scoop your lemon cupcake batter into your liners, around 1/4 cup batter in each.

Bake for 15-19 minutes or until the lemon cupcakes are fully cooked. Then place all cupcakes on a cooling rack.

Once the cupcakes are fully cooled you will work on your buttercream frosting.

In a new bowl blend your butter, sugar, cocoa powder and milk together. Start on a low speed and then increase to high.

Once your buttercream frosting is formed you will then add in the food coloring to get that deep red color.

Pour your buttercream frosting into a piping bag and I used the Wilton 1M tip.

Start in the center and work your way around the edge of each cupcake.
Notes
Zesting a Lemon – Use a lemon zester and gently peel off the outer most layer of the lemon peel. You don't want to get a lot of the white, as that will be bitter. Frosting – If you do not want a buttercream frosting, feel free to drizzle with a powdered sugar glaze, top with a different flavor frosting, etc. Or serve them bare. Storage: These lemon cupcakes will need to be refrigerated due to the buttercream frosting. Store in an airtight container in the fridge for 3-5 days. Or freeze any cupcakes you don't plan to eat right away.
Nutrition
Serving: 1gCalories: 405kcalCarbohydrates: 63gProtein: 4gFat: 16gSaturated Fat: 7gPolyunsaturated Fat: 8gTrans Fat: 1gCholesterol: 51mgSodium: 211mgFiber: 1gSugar: 44g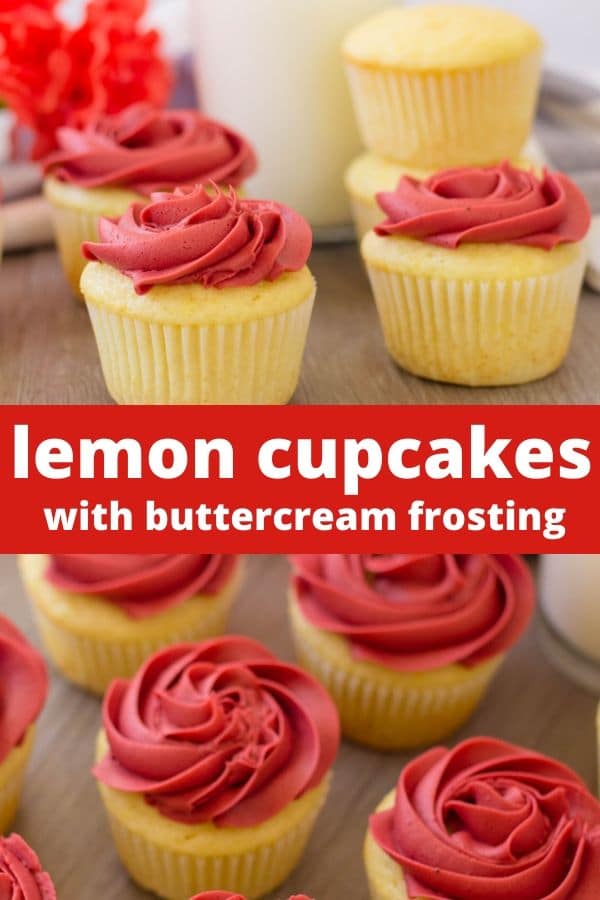 Are you excited about making these lemon cupcakes?
Reader Interactions