Zucchini cupcakes that are filled with a homemade peanut butter frosting. Chocolate zucchini cupcakes are a must make for zucchini lovers. The perfect zucchini cupcake recipe.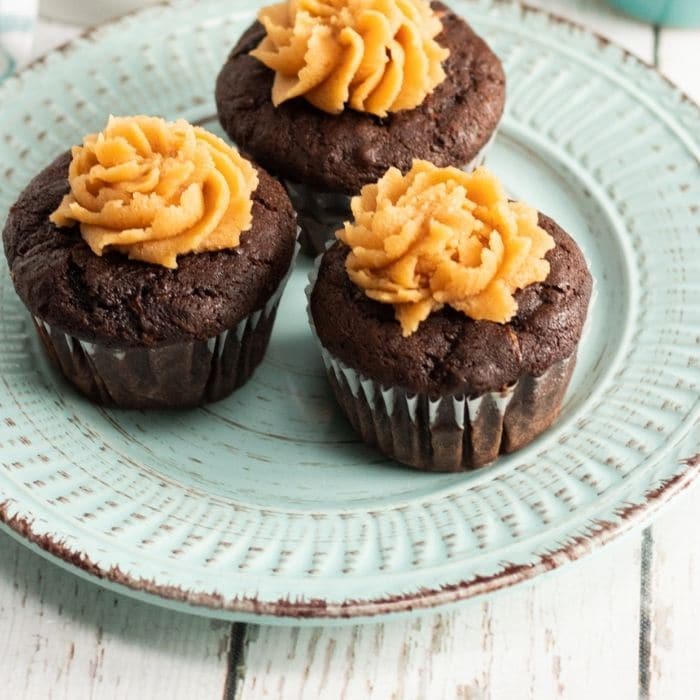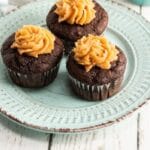 Zucchini cupcakes are a must-make! These chocolate cupcakes with peanut butter frosting are a must make. Moist chocolate zucchini cupcakes topped and filled with a homemade peanut butter frosting. This chocolate zucchini muffin recipe is the best way to use garden zucchini this year. Baked goods that you can gift to loved ones or devour yourself.
Moist zucchini cupcakes that are topped with a peanut butter frosting. This zucchini recipe is crazy simple to make and will win over a crowd. For another sweet dessert try this Cannoli cake. Skip the birthday cake and try this cupcake recipe for a swap. Grab that muffin tin and get to baking.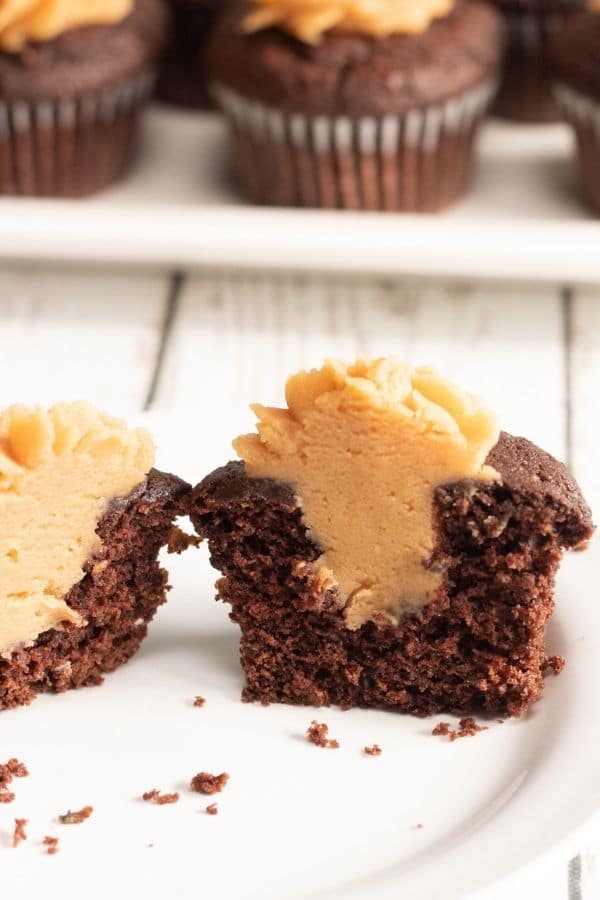 What to make with zucchini? Salt and vinegar zucchini chips, Instant Pot chocolate zucchini cake, cheesy zucchini casserole, zucchini fritters, or try this zucchini tomato casserole.
If you have zucchini on hand, save it back, grate and use it to make homemade cupcakes. You won't be disappointed. Moist, chocolatey, and loaded with rich flavor in every bite.
Why You Will Love These Chocolate Zucchini Cupcakes…
One of the best zucchini recipes
Delicious cupcakes
Perfect for zucchini season when you have surplus
Serve bare or frost cupcakes
Freezer Friendly
Easy to make

I am confident you guys will love this recipe. I make a double batch and freeze some for later on. This is a great zucchini cupcakes recipe that helps use up your zucchini when you have too much zucchini on hands.
Grab my Free Kitchen Conversions Printable! This shows you how many cups are in a quart, pint, etc. A great printable to keep handy for when you need to convert a recipe.
🥚Ingredients
Zucchini
Cocoa Powder
Butter
Baking Soda
Baking Powder
All Purpose Flour
Granulated Sugar
Brown Sugar
Eggs
Vanilla
Peanut Butter
Powdered Sugar
Milk
Try my ice cream cone cupcakes too!
🍫 How to Make
Full steps on how to make these chocolate zucchini muffins are featured below in the printable recipe card. This is a visual walk through.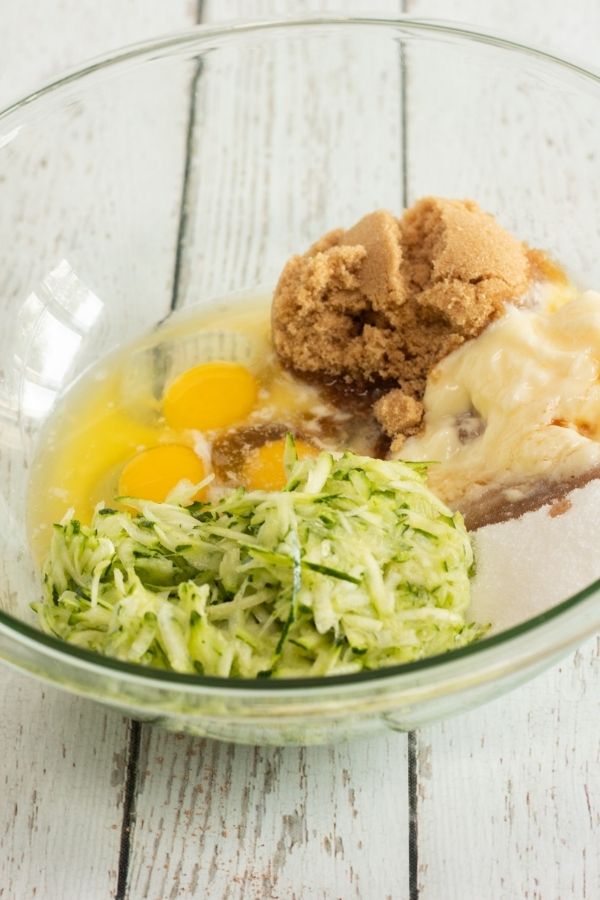 Step 1: Add your dry ingredients in a medium mixing bowl and give it a good stir to ensure it is incorporated. Then you will move on to the recipe as directed.
Step 2: In a hand mixer or stand mixer you will want to cream your eggs, granulated sugar, brown sugar, drained zucchini, butter, and vanilla.
Expert Tip: Make sure that you sprinkle salt on your grated zucchini, and let it set for 10-15 minutes. This will help pull out the excess water in the vegetable. Then wrap zucchini in a paper towel or cheese cloth and squeeze out excess liquid. Then mix with the wet ingredients and dry ingredients as directed.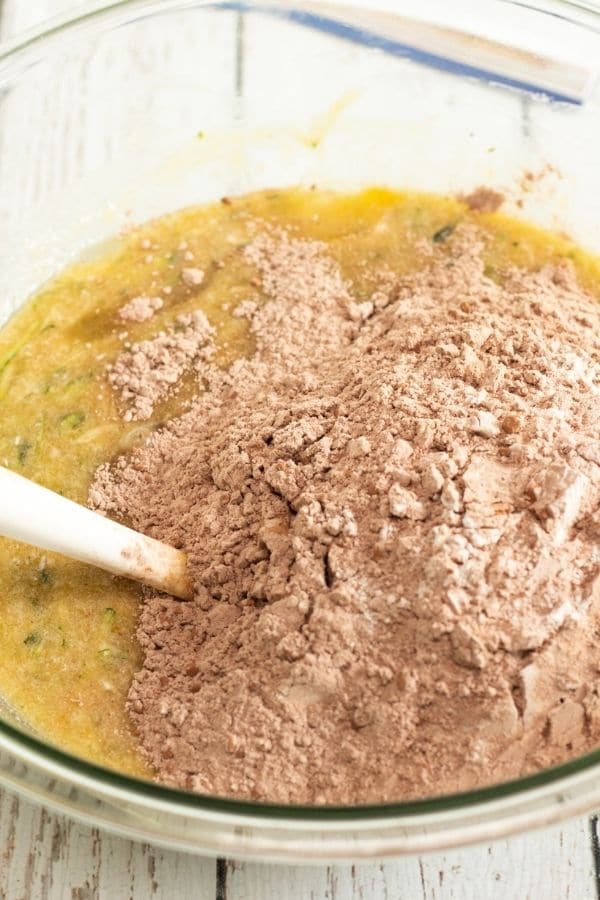 Step 3: Now you will slowly add in your flour mixture to the egg mixture and stir until it is well-combined.
Spoon batter into your muffin cups, filling half full. Make sure to use paper liners for this cupcake. It will help with removing the baked cupcakes out of the tin easily.
Step 4: Bake zucchini cupcakes in the oven as directed below, and when cupcakes are done, remove and place on a cooling rack.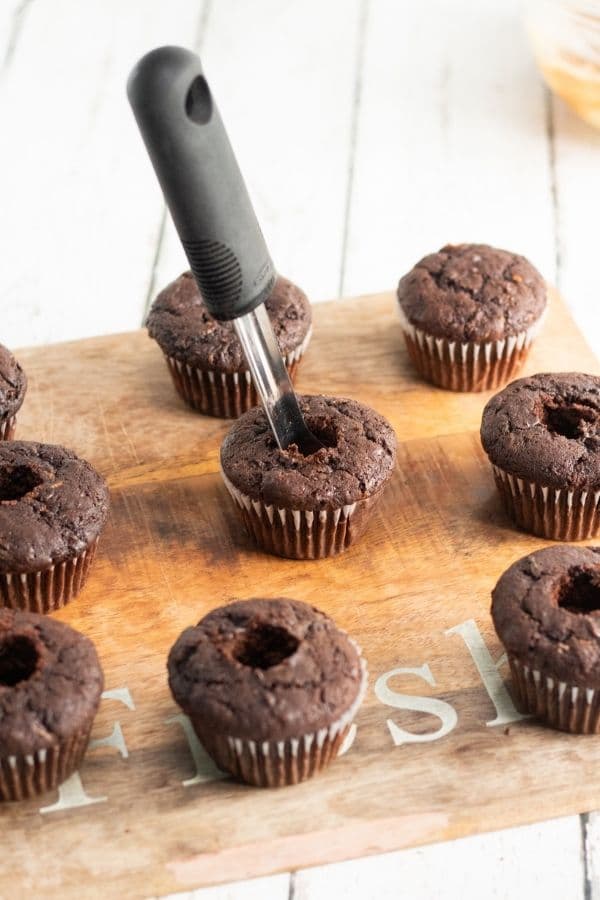 Step 5: Use an apple corer to scoop out the center of the cupcakes, and fill with the peanut butter frosting you make.
Then use a piping bag and I used tip #336 to pipe the remaining peanut butter frosting on top of the cupcakes. Any tip will work. Feel free to decorate this chocolate peanut butter cupcake as you would like!
Storage
To store these zucchini cupcakes all you need to do is place them in the refrigerator. I find the cupcakes store the best in the fridge.
The cupcakes will store for up to a 4-6 days. They are best when eaten within the first few days. The cupcakes will dry out a bit as they sit.
You can also freeze the leftover cupcakes in the freezer as well. Simply place them into an airtight container and store for up to three months in the freezer.
Just thaw in the fridge or on the counter when ready to eat.
Expert Tips
Here are a few tips for making this zucchini dessert recipe.
Make sure to add salt to the zucchini to drain off the excess moisture. Otherwise, it will become to water-downed.
Use a toothpick to check the doneness of your cupcakes. Don't overbake to prevent to dry out the cake.
The frosting is optional, feel free to use any flavor of frosting you would like.
Recipe FAQs
Want More Cupcake Recipes and Muffins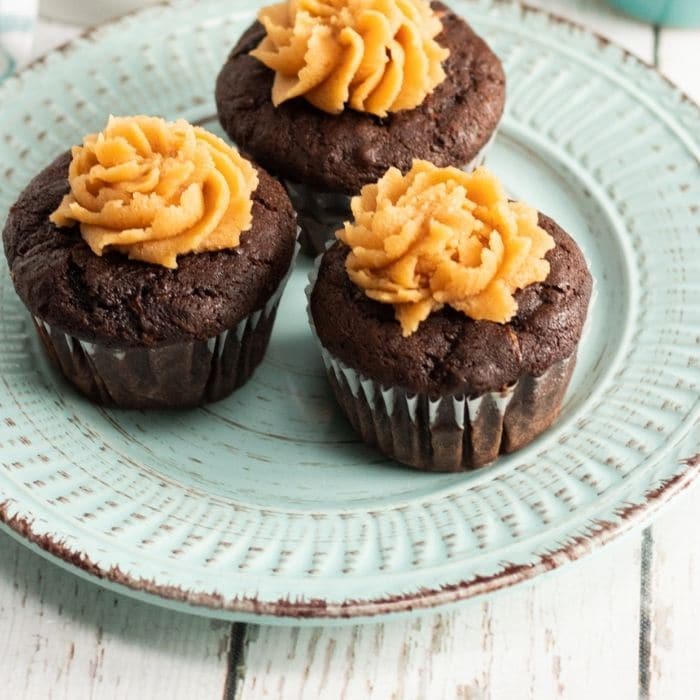 Chocolate Zucchini Cupcakes
Servings 24 cupcakes
Zucchini cupcakes that are filled with a homemade peanut butter frosting. Chocolate zucchini cupcakes are a must make for zucchini lovers. The perfect zucchini cupcake recipe.
Ingredients
Chocolate-Zucchini Cupcakes
2 cups all-purpose flour
2/3 cup unsweetened cocoa powder
1 teaspoon baking soda
1/2 teaspoon baking powder
1 cup granulated sugar
1/2 cup brown sugar
3 large eggs room temperature
2 cups zucchini shredded and drained
3/4 cup butter softened
1 1/2 teaspoons vanilla
Peanut Butter Frosting
1/2 cup creamy peanut butter
1 1/2 cup powdered sugar
1/3 cup butter softened
1/2 teaspoon vanilla
1 tablespoon milk
Instructions
Start by grating your zuccini and placing it in a strainer and sprinkling 1/4 teaspoon salt over it. Then squeeze the zucchini a bit and let sit for 15 minutes. It will leak juice.

Grab a paper towel or cheese cloth and put zucchini in it, and squeeze out any excess liquid. You don't want all that liquid in your cupcakes or they will not turn out.

Preheat oven to 325 degrees and line your cupcake pan with liners.

In a bowl add your all purpose flour, cocoa powder, baking soda, baking powder, and mix and set aside.

Now in a new bowl add your eggs, granulated sugar, brown sugar, zucchini, butter, and vanilla. Mix until the mixture is well mixed.

Slowly add in your flour mixture, a little at a time, mixing until well mixed.

Spoon the batter into the cupcake liners, doing half way full.

Bake for 20-25 minutes or until the cupcakes are fully cooked.

Remove and place on a cooling rack to cool.

Once the cupcakes have cooled use a corer and remove part of the cupcake center out.

For making the peanut butter frosting add all ingredients into a stand mixer and whisk up until creamy. Pour into piping bag and then add some peanut butter frosting in the center of the zucchini cupcakes.

Then pipe the remaining frosting on top of the chocolate zucchini cupcakes to hide the center was cut out.
Notes
Frosting: If the frosting is too thin, add more powdered sugar. If it is too thick add a little bit more milk. Just work with the frosting batter to get the proper consistency. Storing: Store the cupcakes in the fridge in an airtight container. These chocolate zucchini cupcakes can be frozen as well for 3-4 months. You can swap the frosting with a different flavor or do plain zucchini cupcakes if you don't like frosting.
Nutrition
Serving: 1gCalories: 238kcalCarbohydrates: 30gProtein: 4gFat: 12gSaturated Fat: 6gPolyunsaturated Fat: 5gCholesterol: 45mgSodium: 165mgFiber: 1gSugar: 19g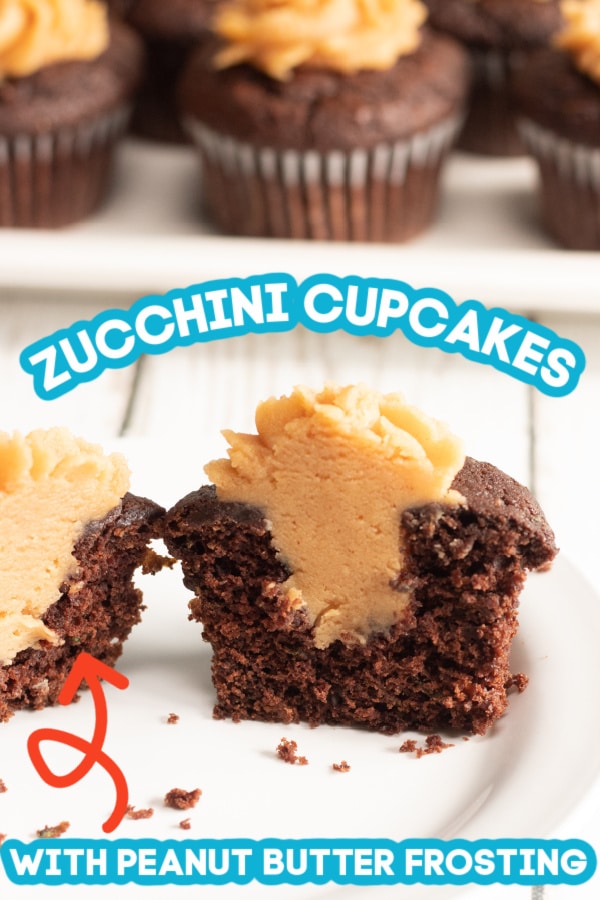 Let me know how you like these zucchini cupcakes! They were a huge hit for our home.
Reader Interactions