Zucchini Tomato Casserole is a cheesy layered vegetable casserole bake. Sliced zucchini, onions, and tomatoes pairs with two kinds of cheese and buttered bread crumb topping. Try this tomato zucchini bake today!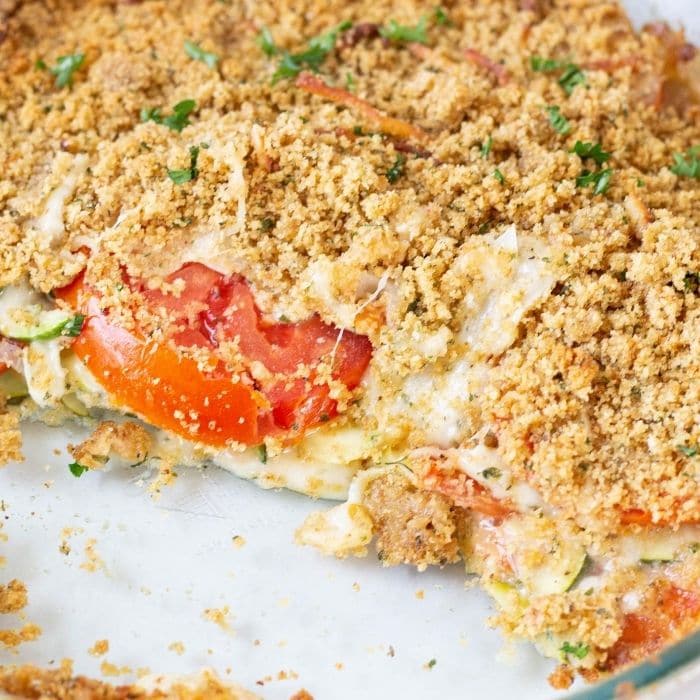 Love zucchini? Here are a few more ideas to try. Zucchini chocolate cake, puff pastry zucchini tart, or try these zucchini air fryer chips.
Zucchini Tomato Casserole
Tomato zucchini casserole is so easy to make. I love the flavors of zucchini, onion, and tomatoes. Also, check out my zucchini cornbread recipe.
The Italian bread crumbs on top, bake up to a golden brown color, and offer a nice crunch. Also, try this zucchini pie made with Bisquick!
How to Make Zucchini Tomato Casserole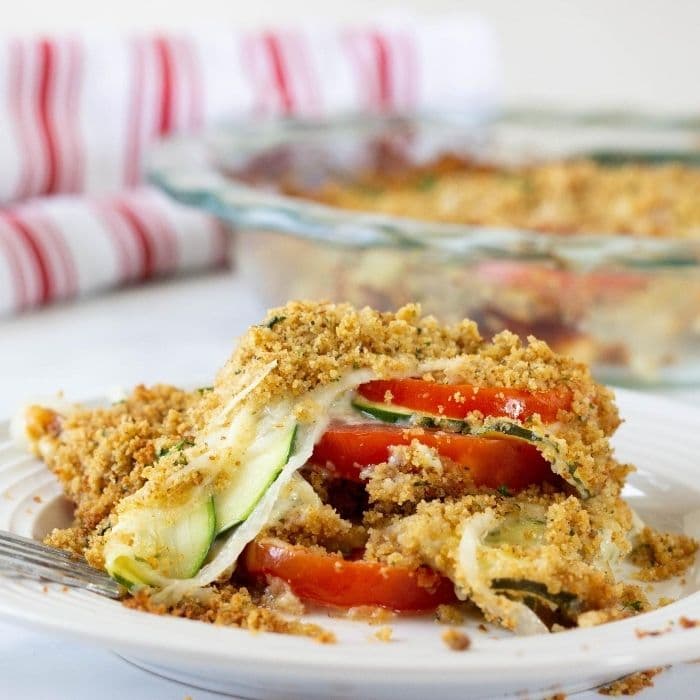 Making this vegetable casserole is so easy! The full directions and ingredients are in printable recipe card below.
Step 1: Preheat the oven and grease your deep-dish pie pan or an 8×8 baking dish.
Step 2: Wash, slice and prep the vegetables. Slice around 1/4 inch thick on tomatoes, and then I thinly sliced my zucchini and onions as I wanted them thin. I used the mandoline slicer for even slicing.
Step 3: In a bowl mix your mozzarella, parmesan cheese, parsley, salt, pepper, and mix well.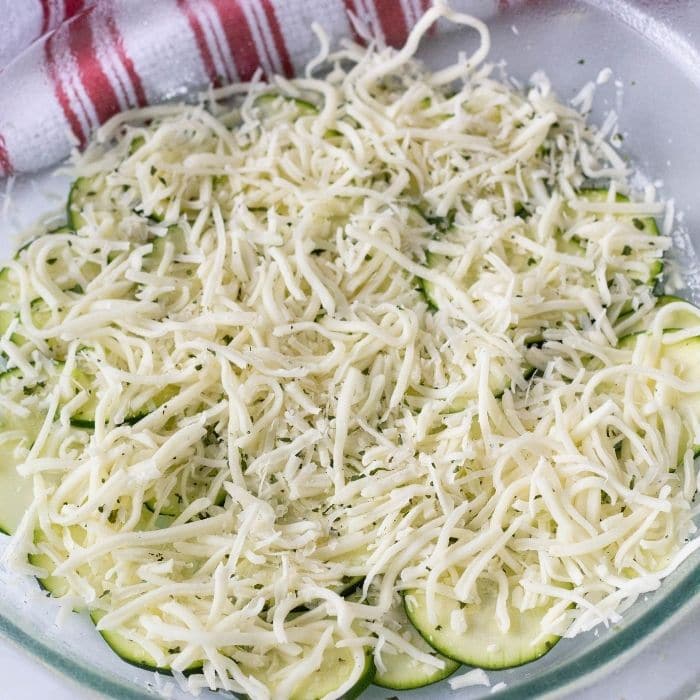 Step 4: Now you will start layering. Spray pan with cooking spray. Do a thin layer of zucchini covering the whole bottom of the pan.
Step 5: Now top with some of the cheese mixture.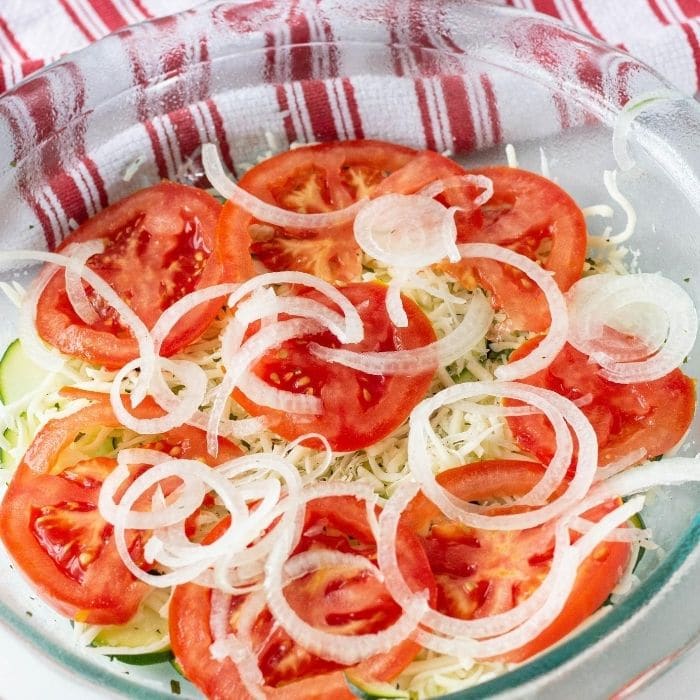 Step 6: Next you will do a layer of tomatoes and onions, cheese, and top with a cheese layer.
Repeat the layers of zucchini, cheese, tomato and onion, and cheese.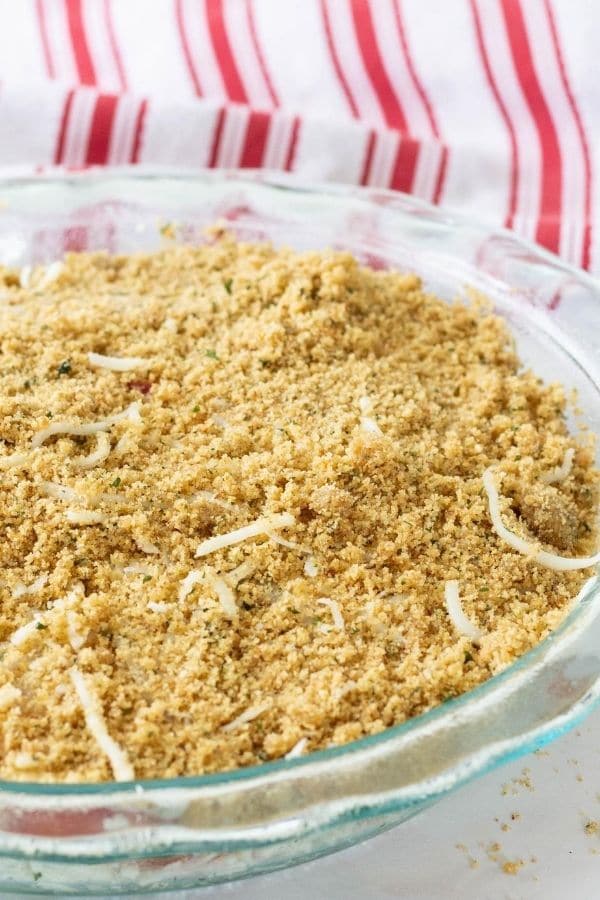 Step 7: Mix butter with bread crumbs and evenly spread all over the top of your zucchini tomato bake.
Step 8: Cover and cook 20 minutes at 350 degrees, then uncover the casserole and bake another 20-25 minutes.
Remove from oven and let it sit for 5-10 minutes. This will help it to thicken up a bit on the cheese layers.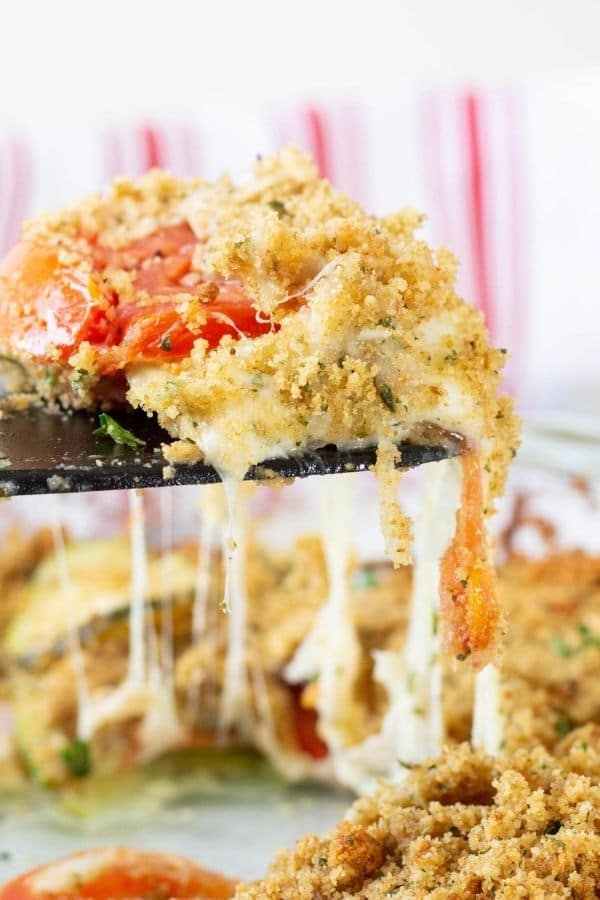 Spoon up and devour this easy zucchini bake that is loaded with fresh onions, and beefsteak tomatoes!
This is the perfect summer side dish to use up all your homegrown produce! A popular zucchini recipe that is so versatile!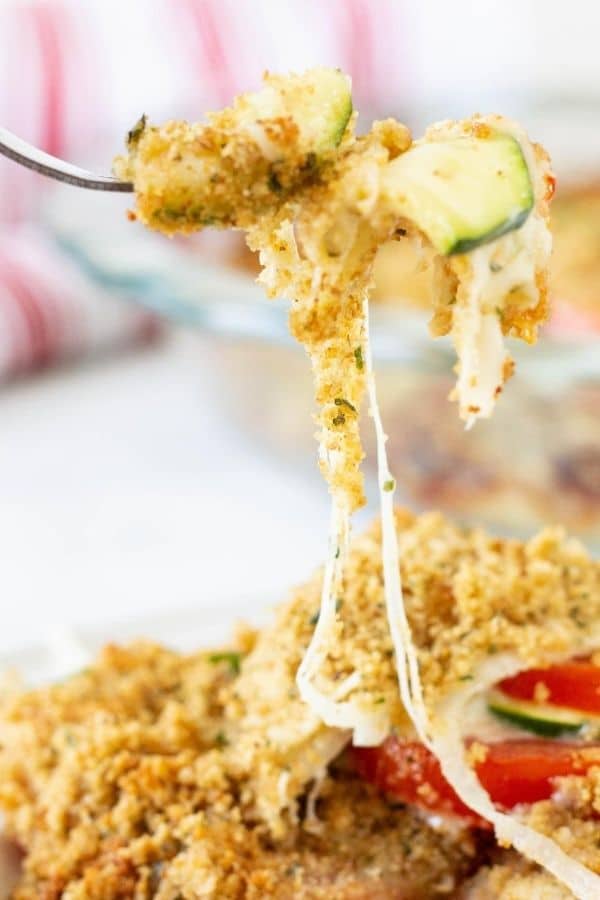 Variations For Baked Zucchini Tomato Casserole
Dice up fresh tomatoes like cherry tomatoes or other style and top instead of large slices.
Add in Yellow Squash as well for a layer
Toss in fresh basil in with the cheese mixture
Swap out mozzarella for other shredded cheese like pepper jack for more flavor
Skip Italian seasoned breadcrumbs and reach for plain or panko style
Slice some Kielbasa sausage thin and layer in to make it a meat mixture
Can I Add Meat In This Recipe
Want to make this summer vegetable casserole into a full dinner go right ahead. Just slice your Kielbasa thin and add it in as a layer.
Or cook up ground beef or ground sausage and toss in your casserole!
Storing Leftover Casserole
Tomato Zucchini Onion Casserole needs to be stored in the refrigerator. Just place in an airtight container and store for 2-3 days.
As the veggies sit they will release more liquid. To reheat you can do microwave or opt to cover with aluminum foil and heat in the oven.
The texture will be slightly soggy but the flavor will still be really good. My husband eats this cold the next day and loves it.
Does This Freeze
Unfortunately you will not have success freezing this zucchini tomato casserole bake with bread crumb topping. You will find the veggies release so much liquid and make it extra soggy as it thaws.
I recommend only making what you plan to eat.
What To Serve With This Zucchini Casserole Bake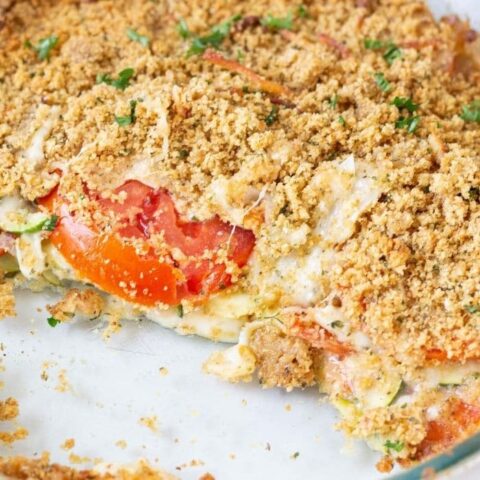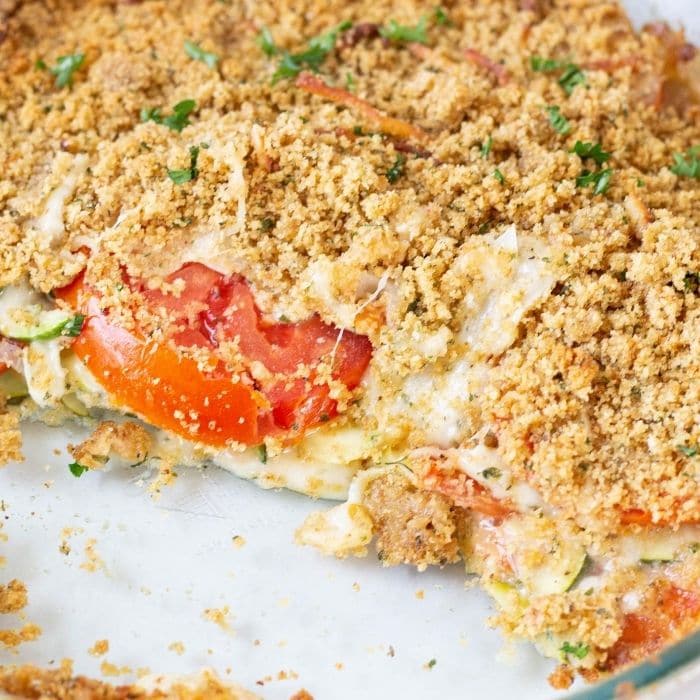 Zucchini Tomato Casserole
Zucchini Tomato Casserole is a cheesy layered vegetable casserole bake. Sliced zucchini, onions, and tomatoes pairs with two kinds of cheese and buttered bread crumb topping. Try this tomato zucchini bake today! Crispy, perfect, summer side dish using all your garden vegetables.
Ingredients
2 medium-sized zucchinis, sliced thin
3-4 tomatoes, sliced
1 small sweet onion, thinly sliced
2 cups mozzarella cheese
3/4 cup parmesan cheese, freshly grated
1/2 teaspoon parsley flakes
1 teaspoon salt
1/2 teaspoon pepper
1/2 cup breadcrumbs, Italian seasoned
3 tablespoons butter, unsalted and melted
Instructions
Preheat your oven to 350 degrees, and spray down a deep-dish 9-inch pie pan or an 8x8 pan. Set aside.
In a bowl add your mozzarella, parmesan, salt, and pepper along with parsley. Mix well and set aside.
Wash and prep your vegetables. I used a mandoline to thinly slice zucchini and the onion. Then used a knife to slice the tomatoes into slices.
Now you will want to layout a thin even layer of zucchini slices on the bottom of pan.
Sprinkle a layer of the cheese on top of the zucchini layer of this zucchini bake.
Now add a layer of the tomatoes and top with a few onion slices.
Add on another layer of cheese, and then go and repeat the layers all over again. Zucchini, cheese, tomatoes and onions, and cheese.
Now in a bowl add your breadcrumbs along with the 3 tablespoons melted butter. Stir well until crumbly.
Sprinkle the buttered breadcrumbs on top of the casserole.
Cover with aluminum foil and bake 20 minutes.
After 20 minutes remove the foil and bake an additional 15-20 minutes or until the breadcrumbs are golden brown.
Remove zucchini tomato casserole from the oven, and allow to cool 10 minutes.
Then spoon up your amazing zucchini bake for a fantastic side dish or even vegetarian main dish!
Notes
You can add in yellow squash or even meat to make this zucchini casserole bake even heartier.
If you want to double recipe use a 9x13 baking pan to double your tomato casserole recipe.
Nutrition Information:
Yield:

10
Serving Size:

1
Amount Per Serving:
Calories:

177
Total Fat:

11g
Saturated Fat:

6g
Trans Fat:

0g
Unsaturated Fat:

4g
Cholesterol:

33mg
Sodium:

534mg
Carbohydrates:

11g
Fiber:

2g
Sugar:

4g
Protein:

9g
This information is automatically calculated by third-party software, including but not limited to the Create or Bake Me Some Sugar. For accurate nutrition, I suggest running the ingredients in your own system to get a more accurate reading. Nutritional information is approximate and automatically calculated, and should only be viewed as an indication.
Get Free Emails With My Latest Recipes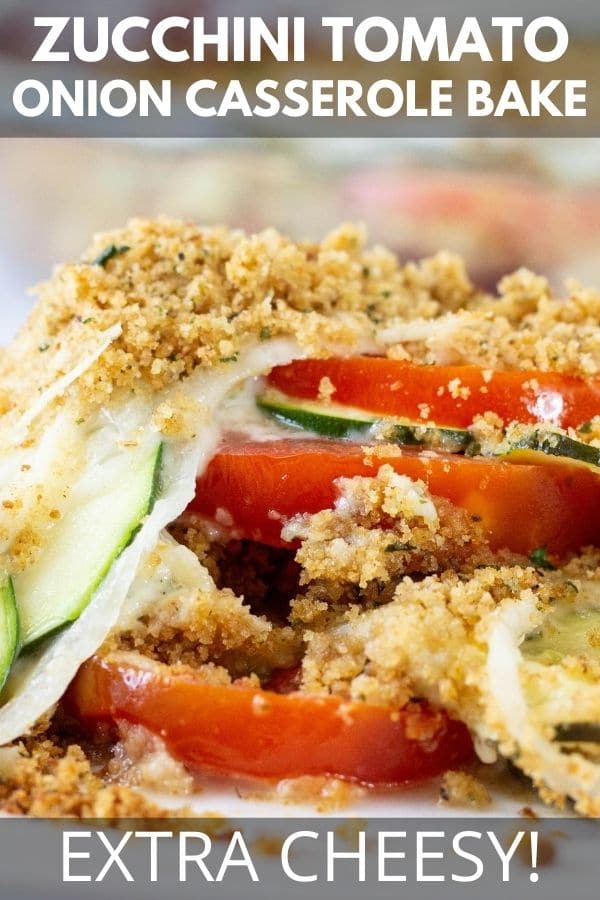 Have you ever tried a zucchini tomato casserole before?