Zucchini cornbread is fluffy, rich, and loaded with cheddar cheese and zucchini in every bite. This zucchini cheddar cornbread is one of our favorites!
Wondering what to serve with this cornbread? Try chili, dirty rice, or even gumbo. Also, try my zucchini casserole for another tasty side dish.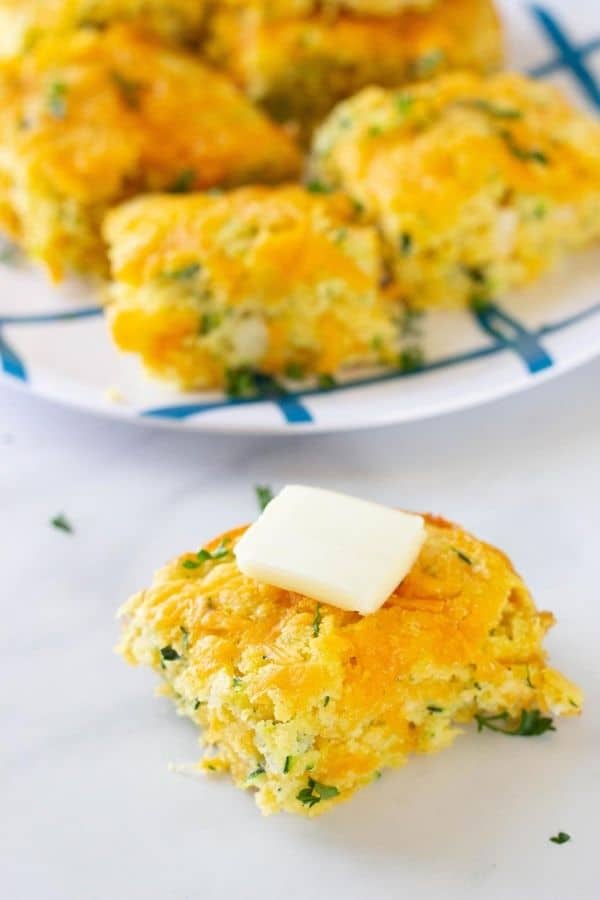 If you have an abundance of zucchini in your hands use some up by making this insanely easy zucchini cornbread recipe.
Why Make This Zucchini Cornbread…
Made with boxed cornbread for ease
Simple Ingredients
Big Flavor
Tasty side dish
Great potluck dish
How to Make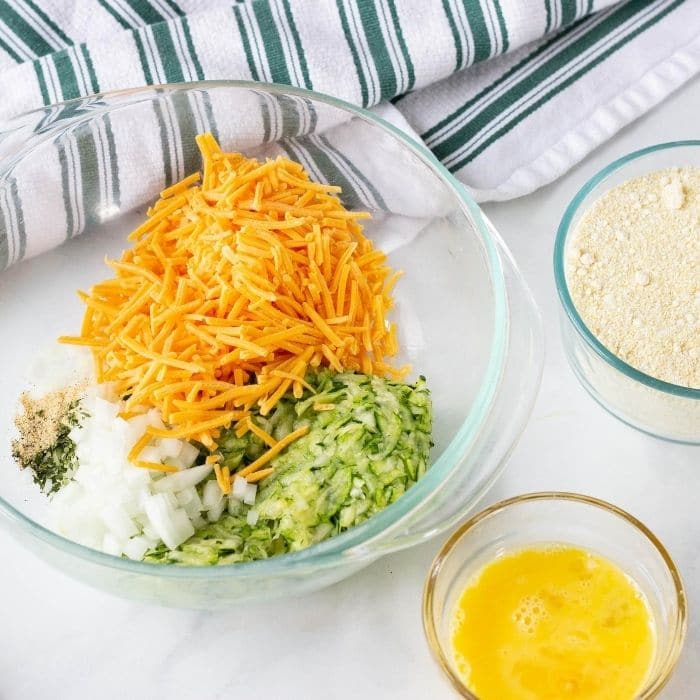 Step 1: Start by using a grater and shred your zucchini. I left the skin on my zucchini as it is thin and won't affect the texture of the bread.
Now sprinkle some salt on the zucchini and place it in a strainer. Let it sit 30 minutes to release any excess liquid in the fresh zucchini.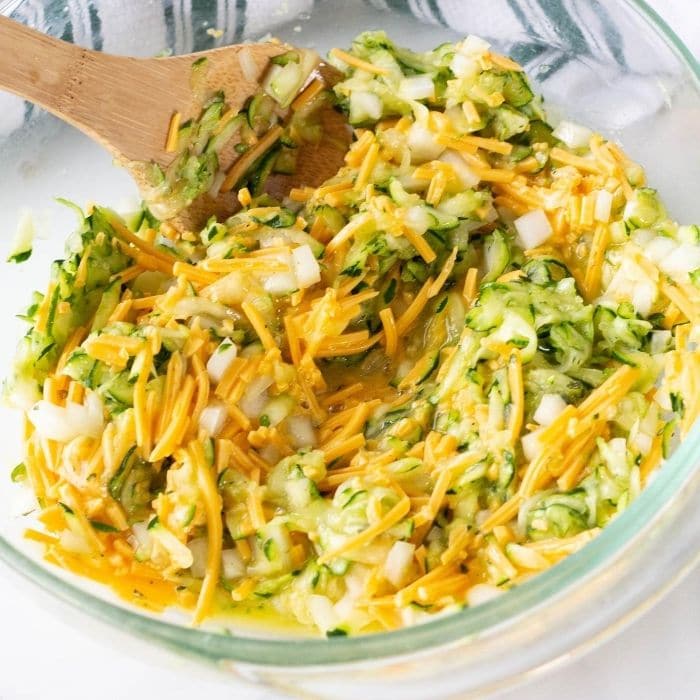 Step 2: Now with a paper towel squeeze the grated zucchini to release anymore of the juice. Then place the zucchini in a bowl.
Add in your beaten eggs, shredded cheese (reserve 1/2 cup for topping), diced onion, season salt, pepper and parsley.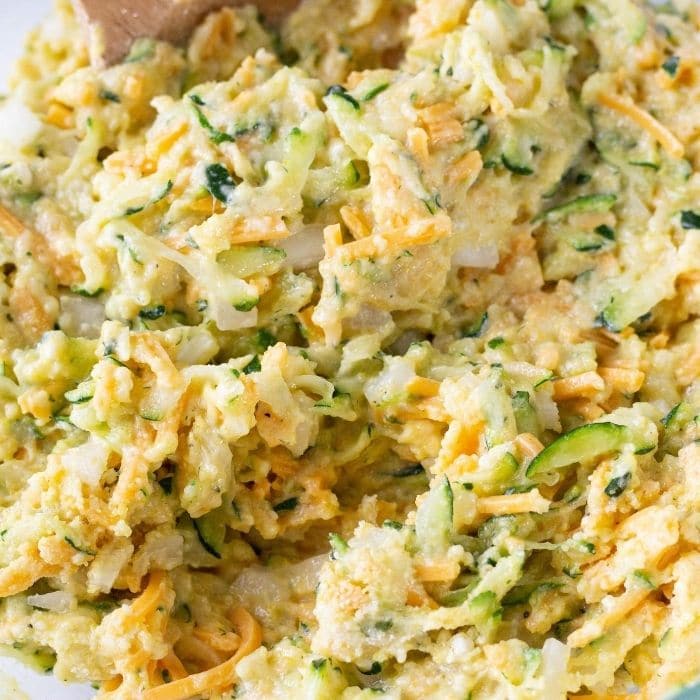 Step 3: Stir the mixture in the medium bowl until mixed well. Then pour in the cornbread mixture and mix the dry ingredient with the wet zucchini mixture.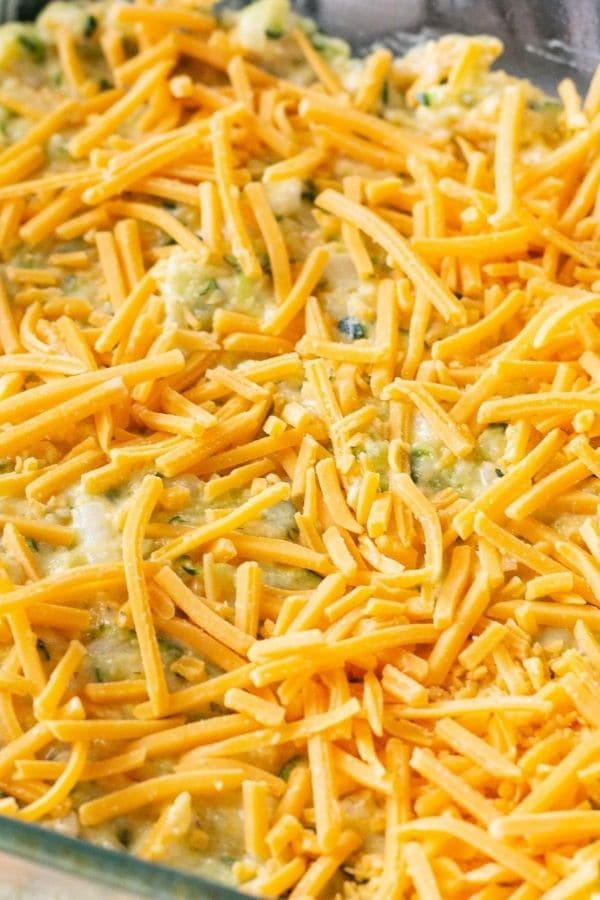 Step 4: Pour the cornbread mixture into an 8 x 8 greased baking pan. Bake as directed and cook until you stick a toothpick in the center and it comes out clean.
Remove from oven and allow corn bread to cool for a little bit. Then slice and serve your golden brown topped baked zucchini cornbread with your favorite recipes.
Moist Fluffy Cornbread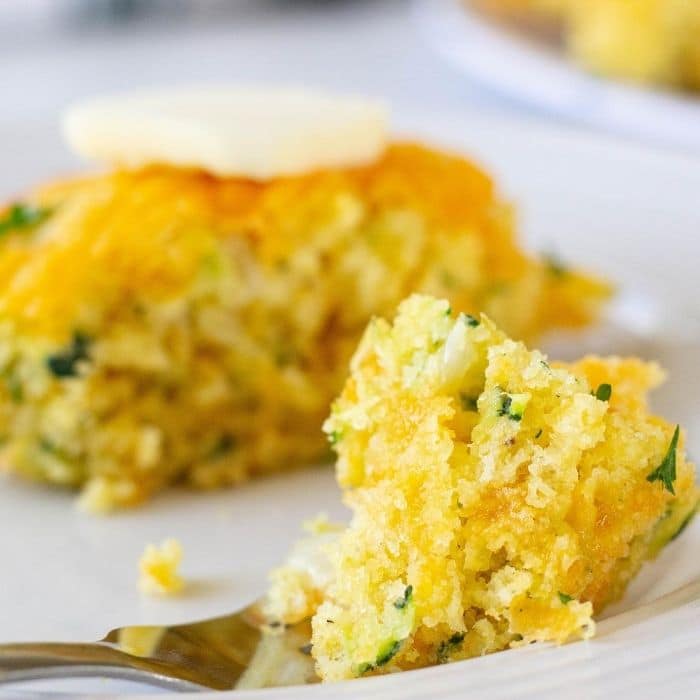 This cornbread is ultra-moist and fluffy. The zucchini adds so much flavor of moisture into the boxed Jiffy cornbread mix.
A fun and creative way to make cornbread if you don't want to make just a classic cornbread. Try my jalapeno cornbread muffins, or my beer cheese bread.
How to Store Leftover Cornbread Zucchini Recipe
You will want to store any leftovers in the refrigerator. I find it allows the cornbread to last longer. Just place in a proper container and store for 3-5 days. Use your best judgement in terms of quality of cornbread.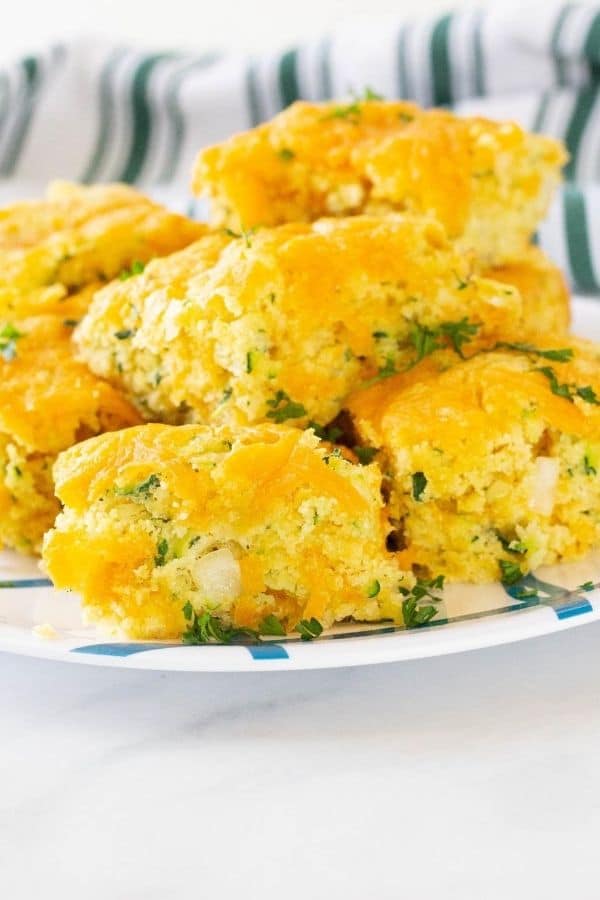 Are You Looking For More Zucchini Recipes
I love zucchini casseroles, air fryer recipes, and of course baked or fried. I hope you enjoy these recipes as well!
Do I Have To Add Onion To Cornbread Recipe
Not a fan of onion? Feel free to leave the onion out of this cornbread recipe. I love the savory flavor it brings to the cornbread, but by all means it can be left out.
Variations To Jiffy Zucchini Cornbread
Make homemade cornbread instead of box
Use a different brand besides Jiffy (it is just what we prefer for boxed)
Swap out cheddar cheese for pepper jack, mozzarella, etc
Add in some pre-cooked sausage for a meaty cornbread
Etc
You will find so many simple and easy swaps that can totally transform your cornbread recipe into something totally new!
Stay up To Date On Latest Emails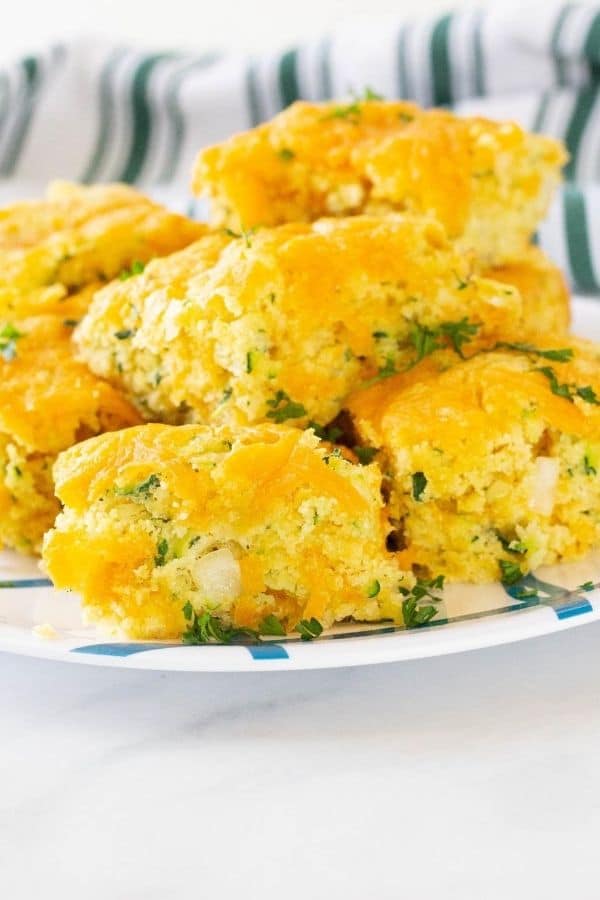 Zucchini Cornbread
Servings 8 x8 pan
Zucchini Cornbread is an easy and delicious side dish to serve up. Zucchini cornbread is loaded with grated zucchini, onions, cheddar cheese, and of course cornbread mix.
Ingredients
1 cornbread mix 8.5 oz
2 cups zucchini grated
1/2 cup onion diced
2 cups cheddar cheese divided
2 large eggs beaten
1/4 teaspoon parsley flakes
1/2 teaspoon season salt
1/4 teaspoon pepper
1 teaspoon salt for zucchini
Instructions
Start by washing and grating your zucchini. Then pour in the 1 teaspoon salt over the grated zucchini and place in a strainer and let sit 20-30 minutes. This will release juice from the zucchini.

Once time is up use a paper towel or cheesecloth to squeeze out any excess liquid in the zucchini. Preheat your oven to 350 degrees.

Place grated zucchini in a bowl. Add in your onions, pepper, season salt, parsley, 1 1/2 cups cheddar cheese, and beaten eggs.

Mix the zucchini cornbread dough around until it is incorporated. Add in the dry cornbread mixture to wet ingredients until just combined.

Pour your cheesy zucchini cornbread into a greased 8×8 pan and then top with the remaining 1/2 cup cheddar cheese.

Bake in the oven for 15-20 minutes or until the cornbread is fully cooked.

Once zucchini cornbread has cooled a bit, slice and serve with your favorite recipes.
Nutrition
Serving: 1gCalories: 188kcalCarbohydrates: 17gProtein: 8gFat: 10gSaturated Fat: 5gPolyunsaturated Fat: 4gCholesterol: 52mgSodium: 575mgFiber: 2gSugar: 5g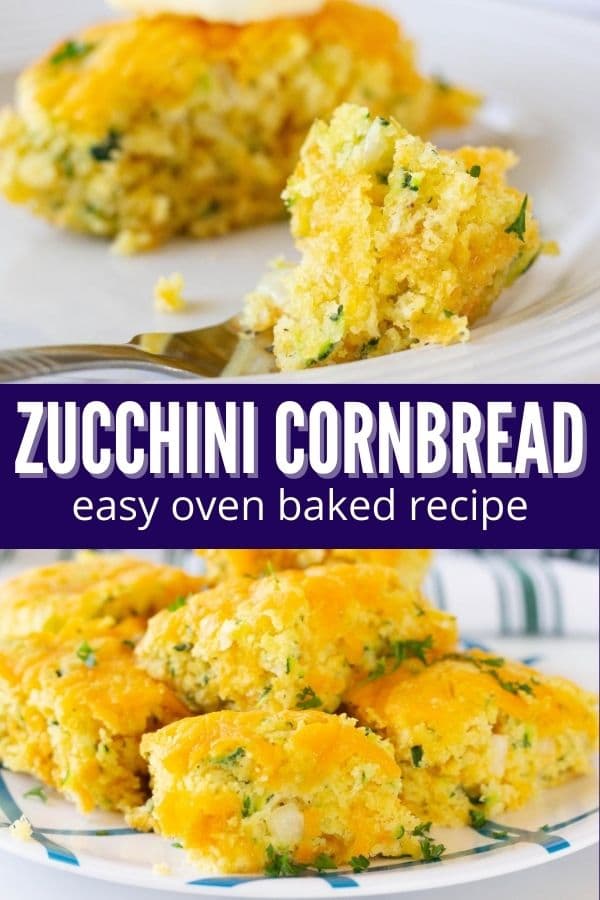 Reader Interactions