Garlic Cheddar Beer Bread is a cheesy beer bread that is crazy simple to make. A no-yeast bread recipe that is loaded with flavor, sliceable, and ready to pair with dinner tonight.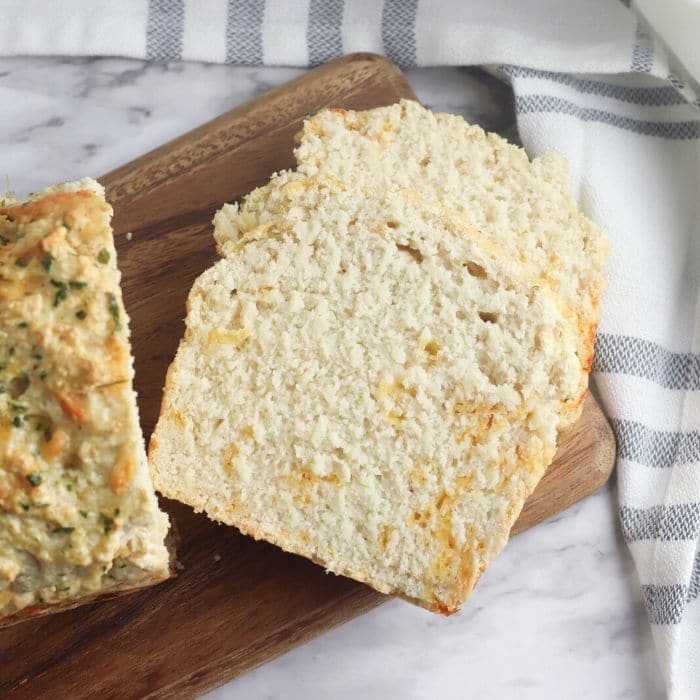 Garlic Cheddar Beer Bread
Homemade beer bread is always a treat. I wanted to do more than a basic beer bread so I reached for cheddar cheese and garlic. It really amped up the flavor of this bread and was perfectly paired with my Shrimp Boil.
How To Make Beer Bread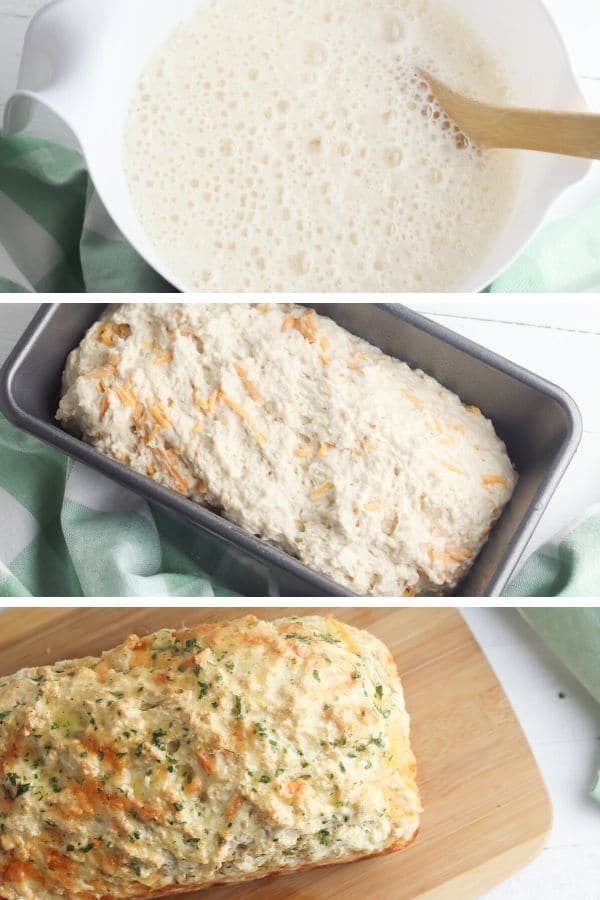 Making homemade beer bread is so easy. Start by adding dry ingredients into your bowl. Pour in your beer and mix until it forms a dough.
Add in your cheese and fold it in. Then bake as directed below in the recipe card below.
Then top with your melted butter and herb mixture, and slice and serve up this cheddar cheese-filled beer bread. An easy bread without yeast, you will love.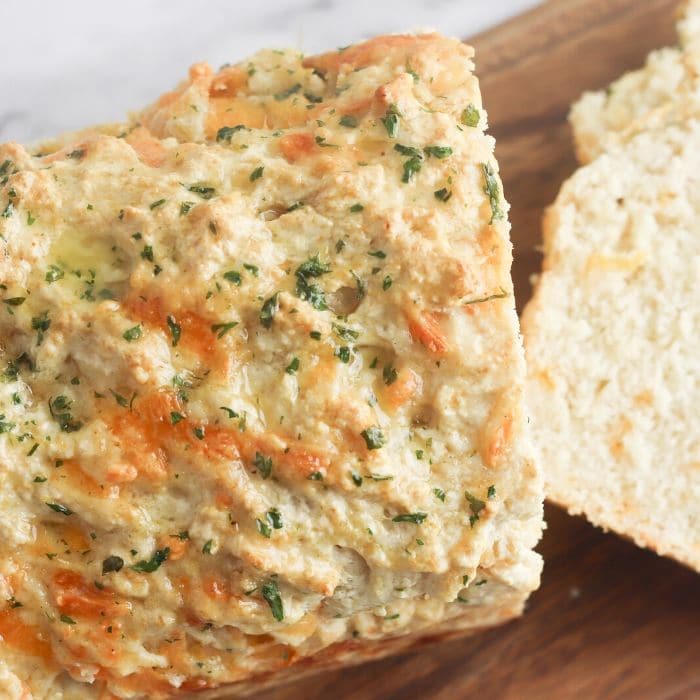 Best Beer For Beer Bread
The best beer for beer bread is a lager, brown ale, or even porters. You will want to use room temperature beer.
This will help the bread turn out lighter and a fluffier texture. Using cold beer will make it a bit denser.
Can You Taste Beer in Beer Bread
You will find that depending on the brand and style of beer will affect the overall flavor. But when you bite into the bread it won't taste like beer. If that makes sense!
This bread is a quick bread recipe that has cheddar and garlic for a delicious savory flavor. A great alternative to not using yeast.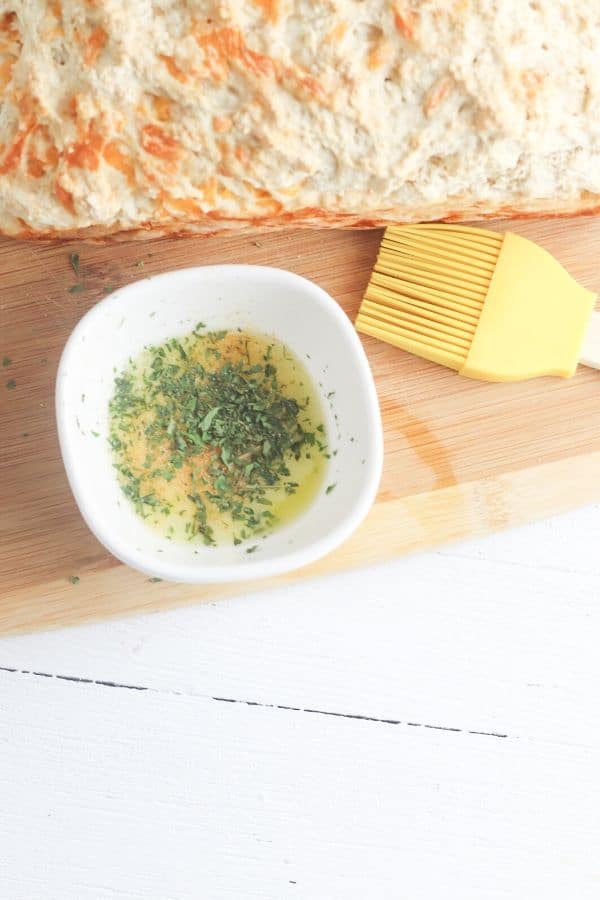 What Does Beer Bread Go With
You can serve this cheddar garlic bread with any of your favorite dinners, or serve as an appetizer with dip.
Shrimp pasta, Tuscan chicken alfredo, Cajun pasta, and more are what I tend to pair with dinners with. But you can essentially use this easy bread recipe for any of your favorite meals.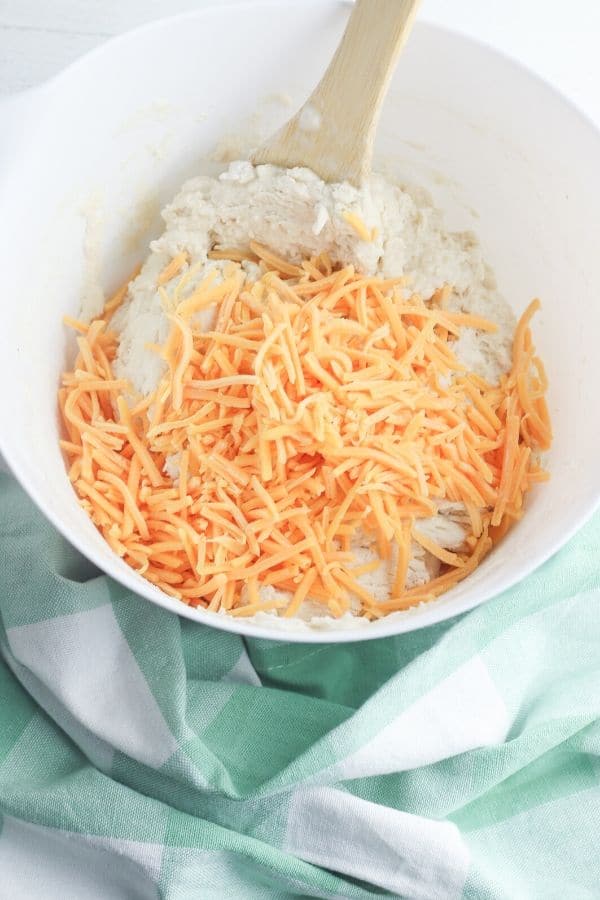 Can I Swap The Cheese In This Recipe
Absolutely! If you want to swap the cheese feel free to reach for your favorite. Do a mild cheddar cheese, pepper jack cheese, or shred up your favorite cheese. Even mozzarella would offer a mild flavor.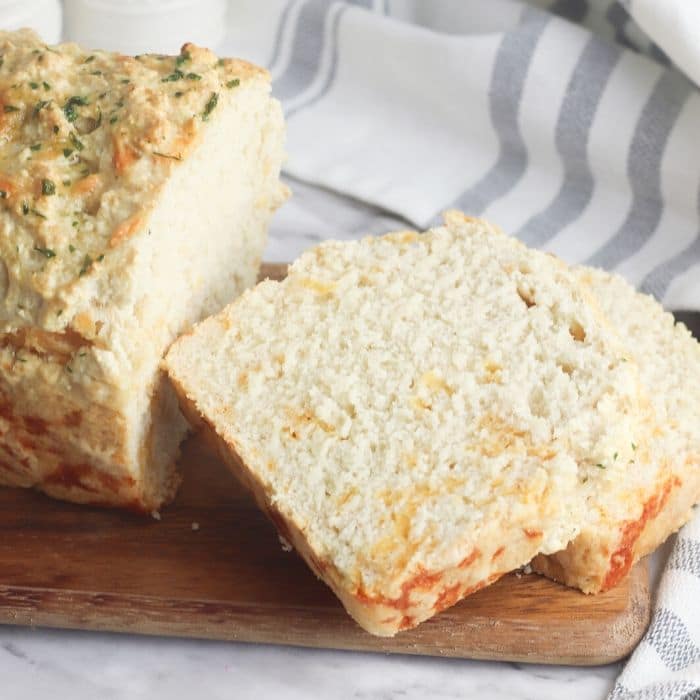 Variations To Beer Bread
Spoon the bread mixture into a greased muffin tin to make beer bread muffins.
Leave out the cheese and garlic for a basic beer bread recipe. Then serve with honey butter for a sweet take.
Add in different herbs, veggies, or cheese options.
Essentially this bread can be made into anything you would like!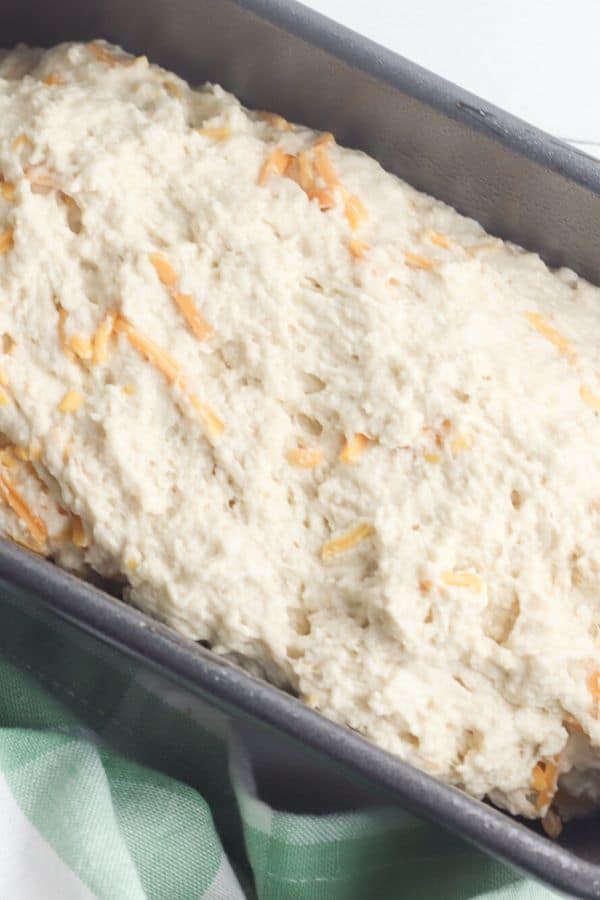 Do You Knead Beer Bread
No, you do not knead. This is a no-knead beer bread. You will find this bread is pretty sticky, so it is one you wouldn't want to stick your fingers in a lot.
Best Way To Store
Place your bread in the fridge for up to five days. Storing in the fridge will extend the life of this bread. The cheese is best when refrigerated so it doesn't go bad.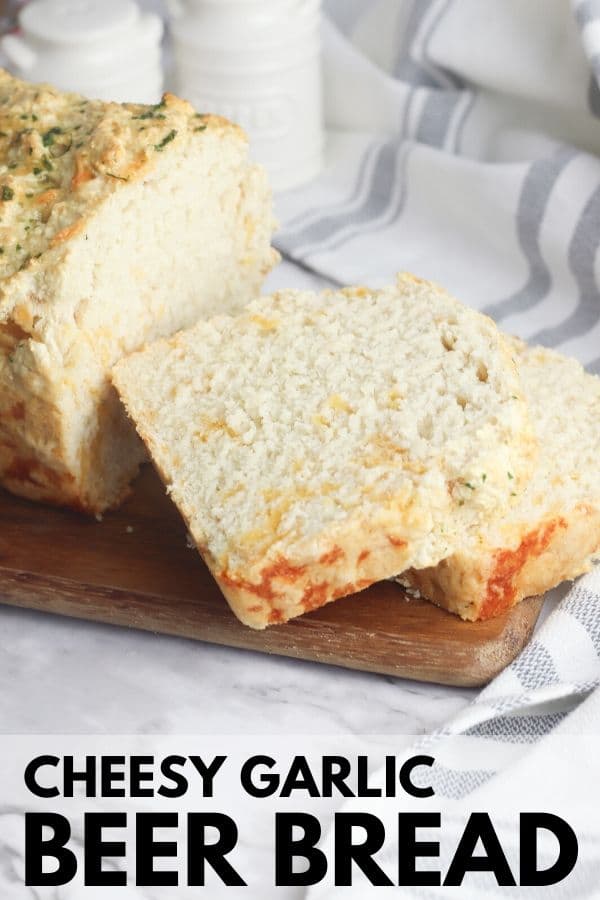 Garlic Cheddar Beer Bread
Servings 12 slices
Garlic Cheddar Beer Bread is an easy beer bread recipe that is loaded with garlic and cheddar cheese. This is an easy cheesy beer bread recipe.
Ingredients
3 cups flour
4 ½ teaspoons baking powder
1 teaspoon salt
1 teaspoon garlic powder
3 tablespoons sugar
1 can of beer
1 cup shredded sharp cheddar cheese
Ingredients for the butter topping:
2 tablespoons butter melted
½ teaspoon garlic powder
½ teaspoon dried parsley
Instructions
Start by preheating your oven to 350 degrees. Make sure to take your loaf pan and grease it with nonstick cooking spray.

Now in a larger bowl you will add in your sifted flour, baking powder, salt, garlic powder, and your sugar. Stir it around to mix in the ingredients.

Pour in your beer and stir until it begins to form soft dough.

Stir in your shredded cheddar cheese.

Pour the dough into your loaf pan. Then bake for 45-55 minutes or until the bread is fully cooked. Stick a toothpick in and if it comes out clean it is done.

Remove from the oven and then allow the bread to cool in the pan for 5-10 minutes on a cooling rack.

In a small bowl, add in your melted butter and garlic powder and parsley. Stir together and then brush over the top of the bread. Slice and serve.
Nutrition
Serving: 1gCalories: 293kcalCarbohydrates: 35gProtein: 10gFat: 11gSaturated Fat: 7gPolyunsaturated Fat: 3gCholesterol: 32mgSodium: 607mgFiber: 1gSugar: 4g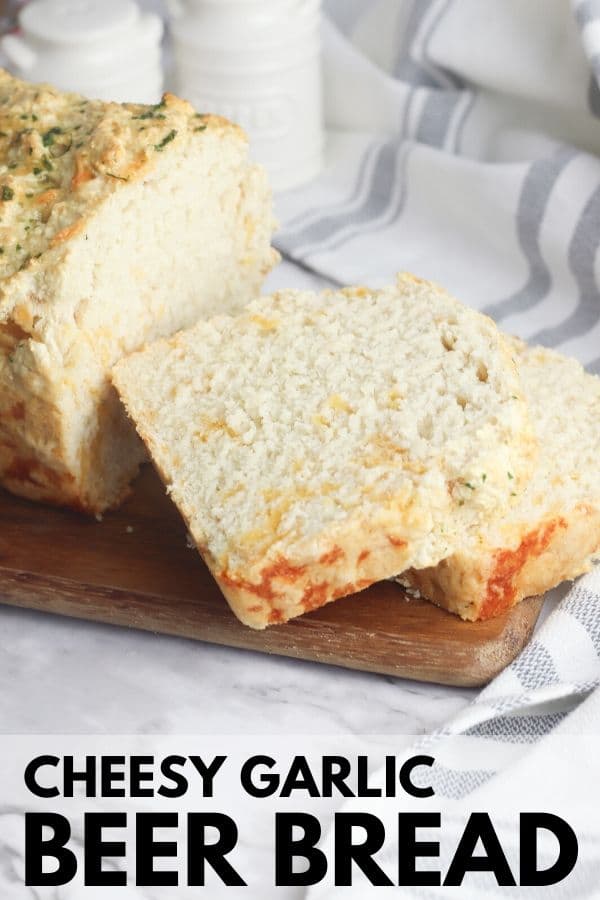 Have you ever made garlic cheese beer bread?
Reader Interactions