Easy Zucchini Tart with Rainbow Cherry Tomatoes. An easy light lunch, or appetizer to serve your guests. Vegetarian dish!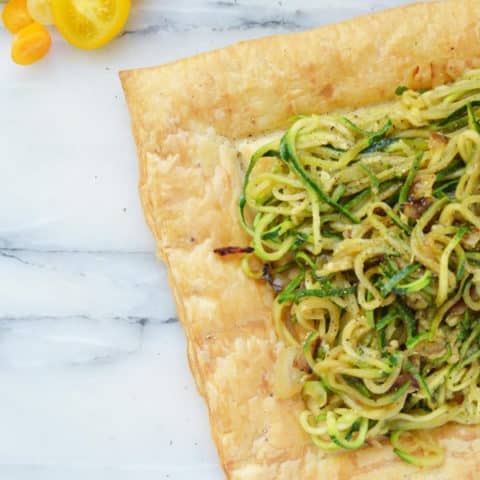 Zucchini Tart with Rainbow Cherry Tomatoes is one quick and easy appetizer or light lunch to serve up. Fresh spiralized zucchini, onions, and tomatoes come together on a puff pastry for one savory zucchini recipe. Puff pastry zucchini tart is one magical dish to prepare that takes no time to make. A vegetarian dish that is quick to make.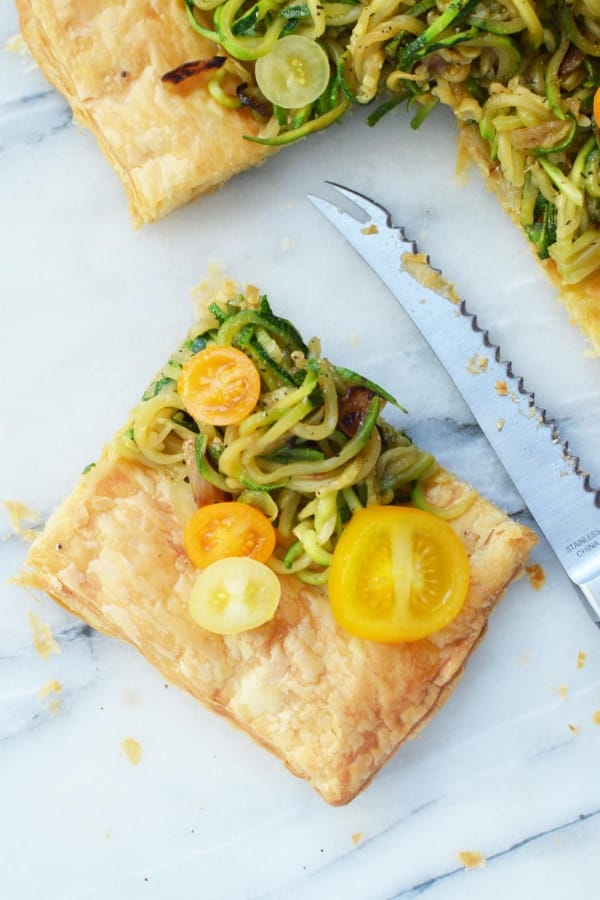 Summer in our neck of the woods is all about fresh produce. Since moving to the country and having a little one, I have yet to make a garden. But this year I plan to grow some zucchini, tomatoes, and a few other produce items. This puff pastry tart is at the top of my list to make over and over again.
Zucchini Tart
If you are not a fan of tomatoes you can easily leave them off. I thought it added a pretty pop of color and flavor to the puffy pastry tart. But feel free to opt out if you want. Black pepper and a pinch of salt is all the seasoning you need for this incredible frozen puff pastry recipe.
Craving More Appetizers
How To Spiralize Zucchini
The quickest and easy way to spiralize zucchini is to invest in a spiralizer
. You can find tons of vegetable slicers with a handful of attachments. It is so worth the investment if you love to spiralize your vegetables. I have used this spiralizer on carrots, zucchini, potatoes and more. It has a handful of attachments which makes it a versatile tool in the kitchen.
Spiralizer 5-Blade Vegetable Slicer, Strongest-and-Heaviest Spiral Slicer, Best Veggie Pasta Spaghetti Maker
Spiral-Ultra Multi-Blade Spiralizer, 8 into 1 Spiral Slicer, Heavy Duty
KitchenAid Spiralizer Attachment
As you can see, you have a variety of options on what style of spiralizer you want to purchase. I have a KitchenAid but I don't own the attachment, I do think it could be incredibly handy.
Ingredients Needed For Zucchini Tart
Puff Pastry
Fresh Zucchini
Onion
Cherry Tomatoes (I used rainbow)
Salt and Pepper
Can I Use Store Bought Zucchini Spiralized Noodles for Zucchini Tart
Absolutely! If your store sells fresh spiralized noodles, feel free to buy them instead of making your own. That would save on the prep work by a lot. You could also buy pre-chopped onions if you want as well.
How To Make Zucchini Tart
Start by preheating your oven, and then chopping and spiralizing your zucchini.
Then in a pan, you want to cook down the zucchini and onions a bit to help tenderize them. They will finish cooking in the oven.
Roll out your puff pastry on parchment paper, and take a knife and press down on the edges to create a border. This is going to help your edges of puff up as it cooks in the oven.
Place your zucchini and onion mixture onto the puff pastry, and bake for 20-24 minutes or until the puff pastry is puffed and fully cooked.
Remove from oven and allow it to cool a few minutes, add salt and pepper to taste and top with fresh tomatoes.
Can I Add Cheese To My Tomato Zucchini Tart
Absolutely! Feel free to spread a layer of cheese under where the zucchini noodles will go. Ricotta, feta or even some goat cheese would all work well with the flavors. Or if you want to opt for something easy reach for shredded mozzarella cheese. Or sprinkle on some grated parmesan over the top for a tangy twist.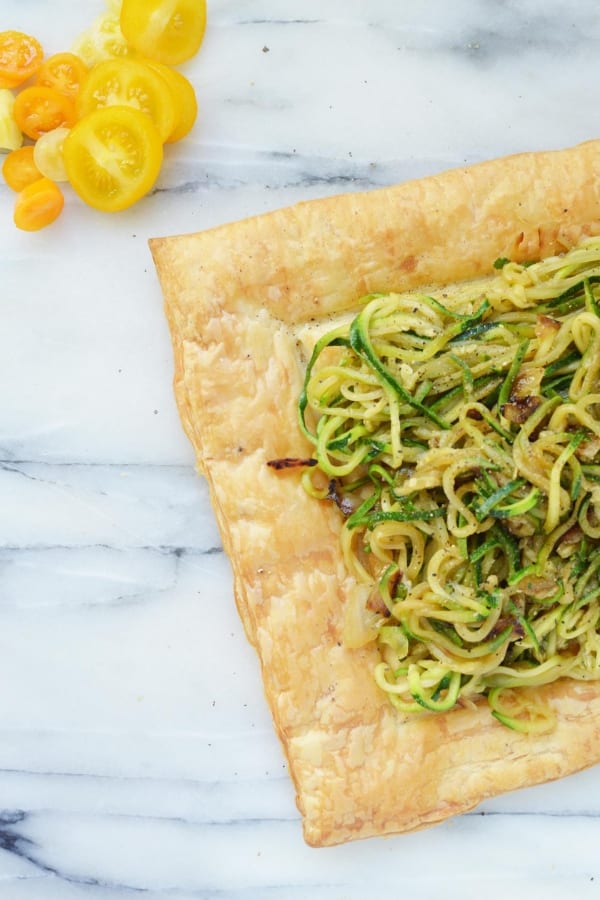 Zucchini Tart
Servings 10 -12 slices
Easy Zucchini Tart with Rainbow Cherry Tomatoes. An easy light lunch, or appetizer to serve your guests. Vegetarian dish!
Ingredients
1 sheet or roll of puff pastry that is chilled but not frozen the one we used here is about 10 inches by 10 inches.
4-5 cups of fresh zucchini that has been spiralizer or cut into long thin pasta style ribbons.
1 cup of finely chopped sweet onion
1-2 teaspoons avocado oil or olive oil
season to taste with salt and pepper
fresh rainbow cherry tomatoes
Instructions
Preheat the oven to 400 degrees or to pastry package instructions.

Chop the onions and spiralizer the zucchini.

Then cook down on a pan with the oil and seasonings until cooked through (they will cook a bit more in the oven.

While that is cooking, roll out or unfold the pastry on parchment paper.Think of the pastry dough as a frame and use a knife to press down and create the outer boarder.

This will allow the edge to puff up and not be weight down by the vegetables. Once vegetables are done, top the pastry, leaving the edges free of vegetables.

Cook for about 20 to 24 minutes-this time frame may vary greatly depending on the size and thickness of your pasty so simply keep an eye on it as it is cooking to make sure it has puffed up and the layers are cooking, but also that it does not dry out and burn.

Allow to cool for a few minutes before adding the fresh sliced tomatoes, cutting and enjoying.
Nutrition
Serving: 1sliceCalories: 132kcalCarbohydrates: 19gProtein: 6gFat: 5gSaturated Fat: 1gPolyunsaturated Fat: 4gSodium: 66mgFiber: 5gSugar: 8g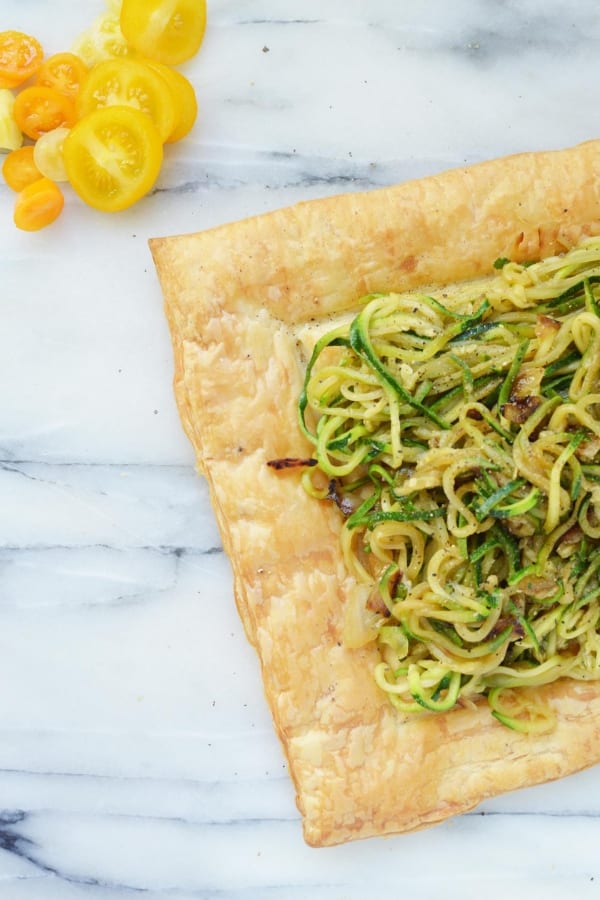 Easy Summer Appetizer or Lunch Option
This truly is such an easy and simple recipe to make. Serve up at your summer cookouts as a light appetizer, or whip up for a meatless lunch option. Zucchini puff pastry tart is my go-to recipe with fresh produce around!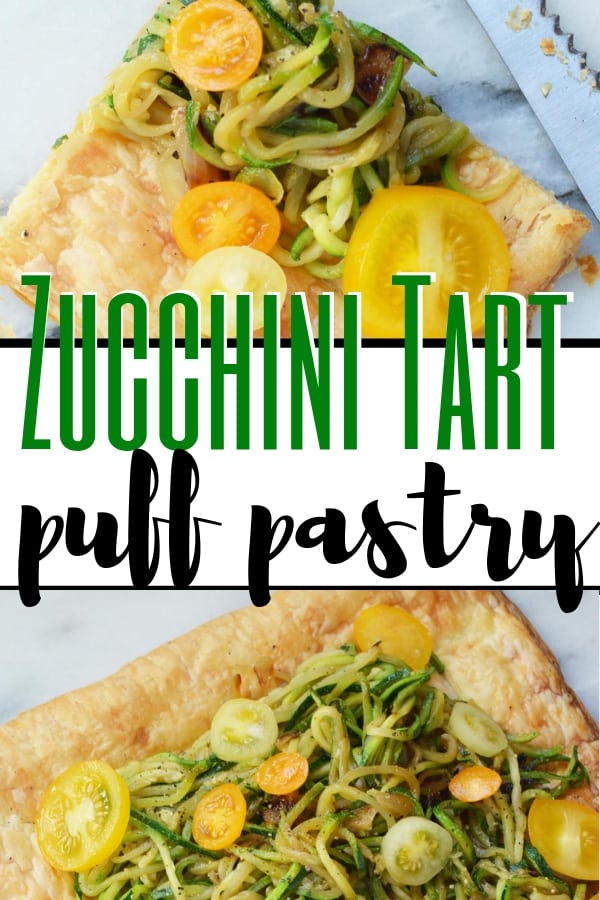 Have you ever made a zucchini tart?
Reader Interactions