Salt and vinegar zucchini chips are an easy way to bring a crunchy healthy zucchini chip into your meal plan. So easy to make, and you can make in air fryer or bake in the oven.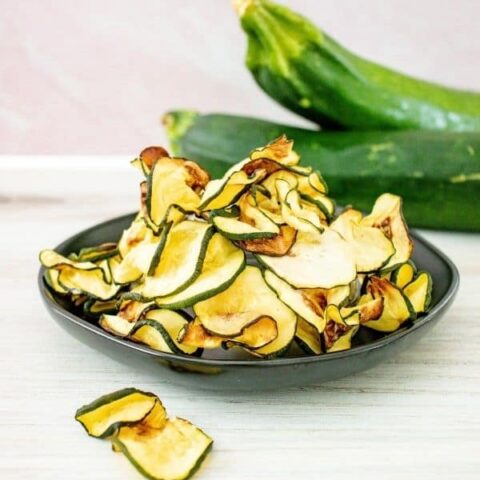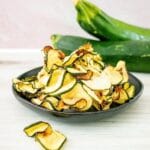 Air Fryer Salt and Vinegar Zucchini Chips are a thinly sliced zucchini that is seasoned and air fried to perfection. Not only are they light and delicious but cooking them in the Air Fryer gives them that perfect crispy zucchini chip texture, too.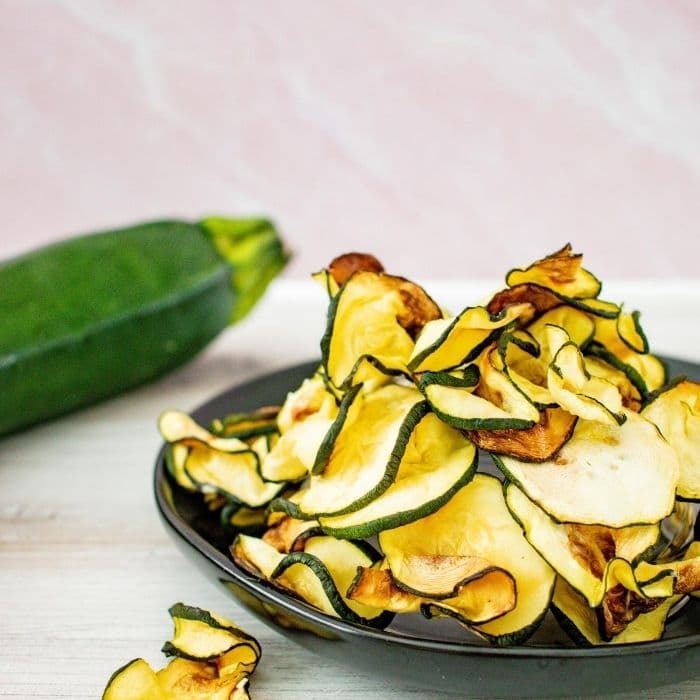 Craving more zucchini recipes? Check out my cheddar zucchini cornbread, zucchini tomato casserole, chocolate zucchini cake, or zucchini pie.
Salt and Vinegar Zucchini Chips
If you're ready to give these healthy salt and vinegar chips a try, I think you're really going to be impressed. They're so much better for you than eating potato chips. 
Try my air fryer beet chips as well if you enjoy vegetables!
How to Make Salt and Vinegar Chips Zucchini
Full directions on how to make air fryer zucchini chips are in the recipe card below where you can print it out.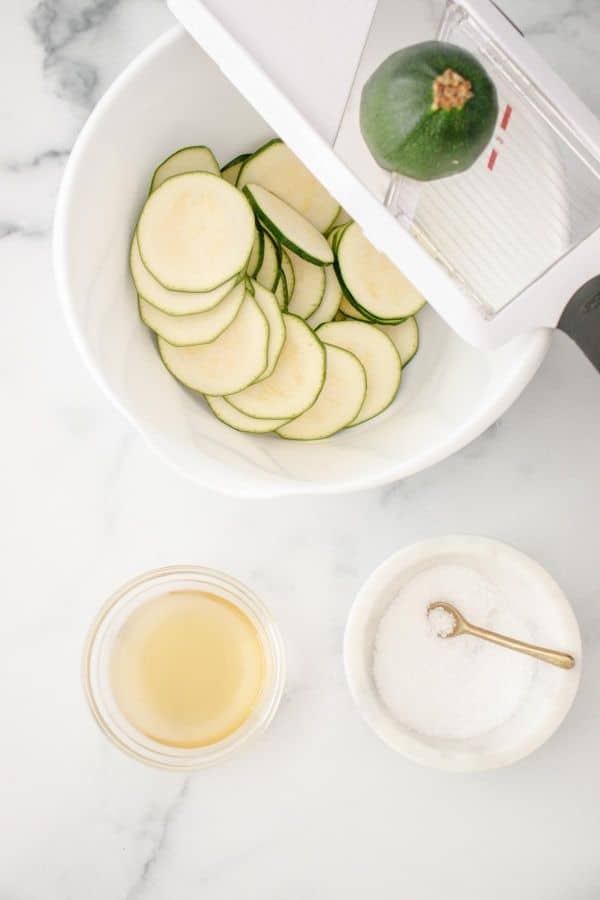 Step 1: Start by washing your fresh zucchini and then use a mandoline to thinly slice it. I cut them around 1/8 inch thick.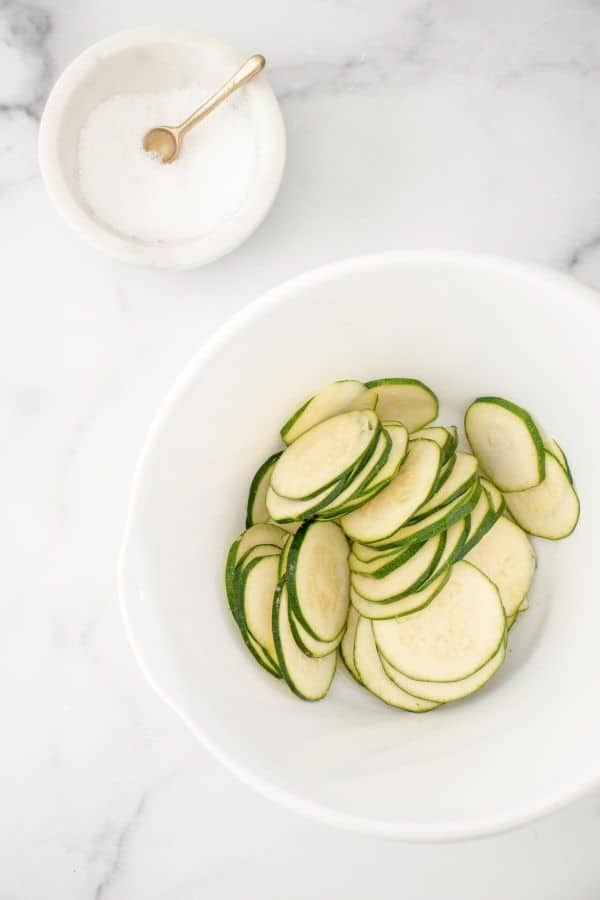 Step 2: Add your zucchini slices into a bowl and add the apple cider vinegar. Coat the zucchini so that all the zucchini slices are able to soak in the vinegar.
Step 3: Spritz your air fryer basket or tray with an oil spritzer. Lay your zucchini in a single layer.
Cook for 9 minutes, at 370 degrees and then flip and finish cooking. The full directions are in the printable recipe card below.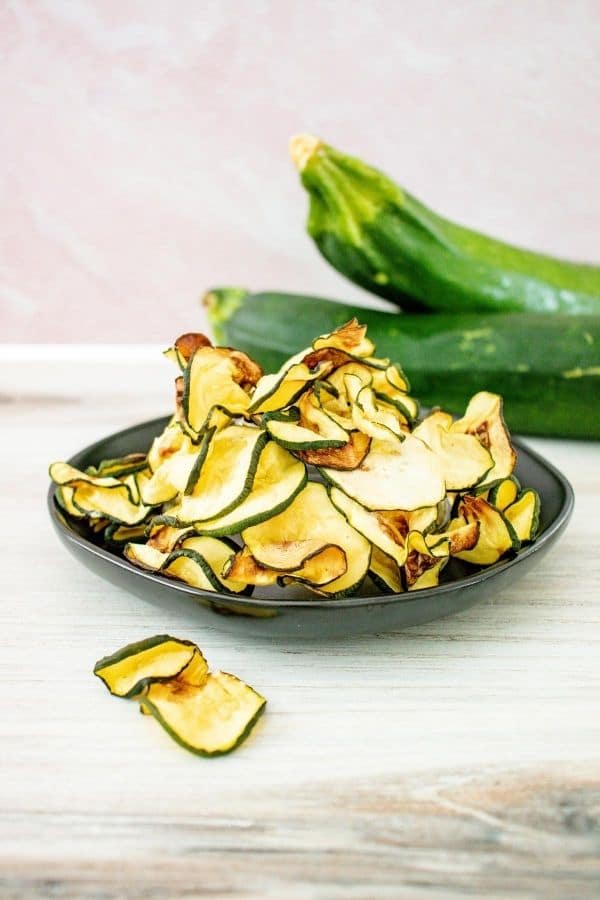 Can I Bake Zucchini Chips in the Oven?
You sure can. If you want to make this simple recipe but don't have an air fryer or don't want to use it, no worries.
Just turn your oven to 225 degrees and lay your zucchini slices flat on a baking pan lined with parchment paper.
Bake them for 2-3 hours. You'll know that they're done when you try to lift them up and they feel crisp, not bendy. 
Can I Use A Different Variety of Vinegar to Make These 
I used apple cider vinegar, you are welcome to use a white distilled if you would like. Just use the same amount of vinegar whether you use apple cider or distilled white.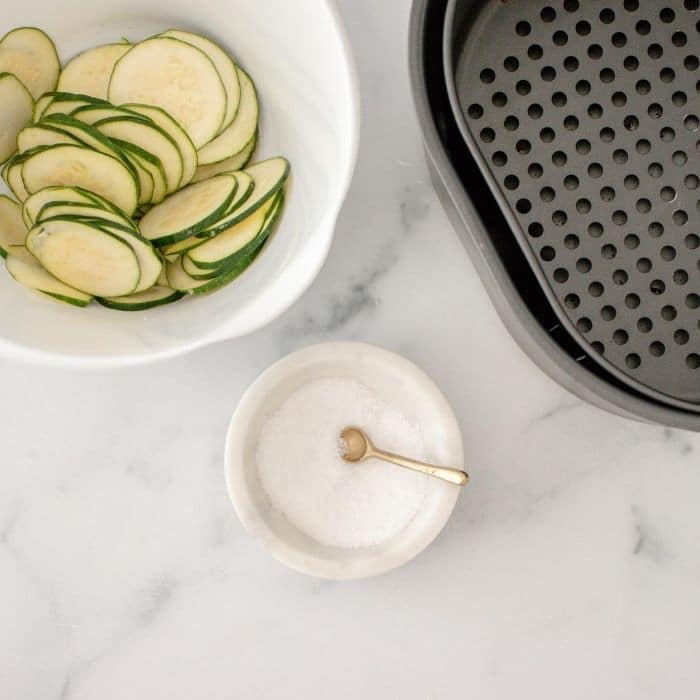 What is the difference between kosher salt and table salt?
Kosher salt is iodine-free which is why so many people use it in baking. It might also have a different texture than table salt but once you use it in cooking. You probably aren't going to be able to tell a huge difference. 
How thin should I slice the zucchini?
This is actually important. You're going to want to slice it pretty thin, around 1/8 inch so that it crisps up easily in the air fryer.
Cut it thin enough that it holds its shape. As long as you can cut it thin keep it whole, you should be good to go. 
Do I need to peel zucchini to make zucchini chips?
When making zucchini chips, you do not need to peel the zucchini first. You can if you want to, but I like the texture that it adds to the zucchini once cooked.
If you do decide to peel it, just be certain to peel it all off OR you can peel it in strips to have some of the outer edges still there when you cook it. 
How to store zucchini chips
Storing them in an airtight container will give you the best chance of keeping them fresh and keeping that moisture out. 
You can store them for up to three days, they will spoil as they do not have preservatives.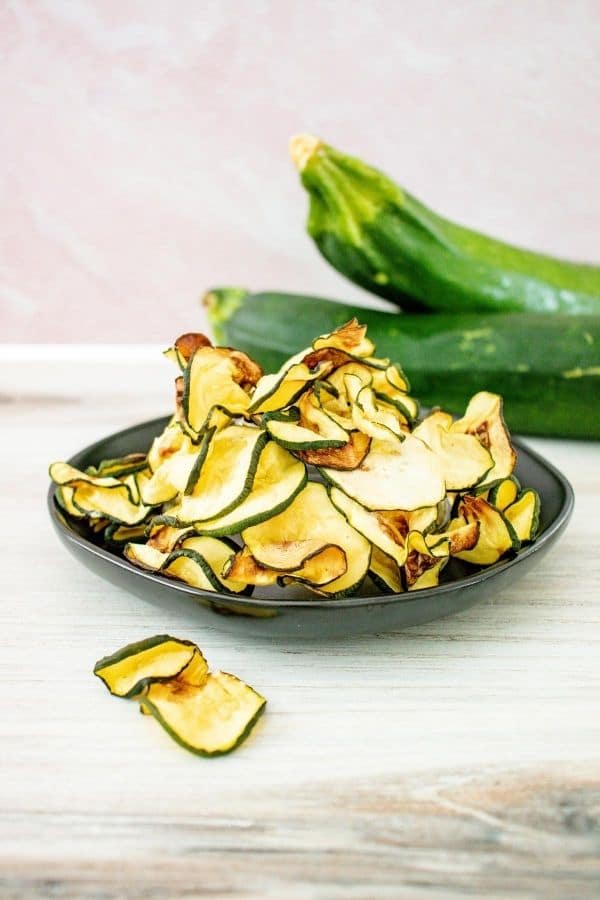 Salt and Vinegar Zucchini Chips
Servings 2 zucchini
Salt and vinegar zucchini chips are an easy way to bring a crunchy healthy zucchini chip into your meal plan. So easy to make, and you can make in air fryer or bake in the oven.
Ingredients
3 cups sliced zucchini about 2 medium zucchinis sliced thin 1/8 inch
A nonstick oil spritzer for air fryer basket
2 tablespoons apple cider vinegar or vinegar of choice
2 teaspoons kosher salt
Instructions
Start by washing and prepping your zucchini. You will want to use a mandoline and thinly slice around 1/8 inch thick.

Place all the zucchini chips in a bowl and add in your apple cider vinegar. Make sure to stir to ensure all the zucchini is coated.

Spritz your air fry basket or tray. Add a single layer of you zucchini making sure to not overlap. Then cook at 370 degrees and cook for 9 minutes.

Remove from the air fryer and flip the zucchini over and cook another 8-10 minutes or until the chips are crispy.

When your air fryer zucchini chips are done, salt and serve up crispy zucchini chips. These make a great snack or even side dish.
Notes
How to Make Zucchini Chips in Oven
Preheat oven to 225 degrees. Then you will use parchment paper on the baking sheet. Make an even layer of zucchini and cook for 2-3 hours, or until the chips are crispy. You will want to flip a few times to ensure they are getting evenly cooked.
Nutrition
Serving: 1g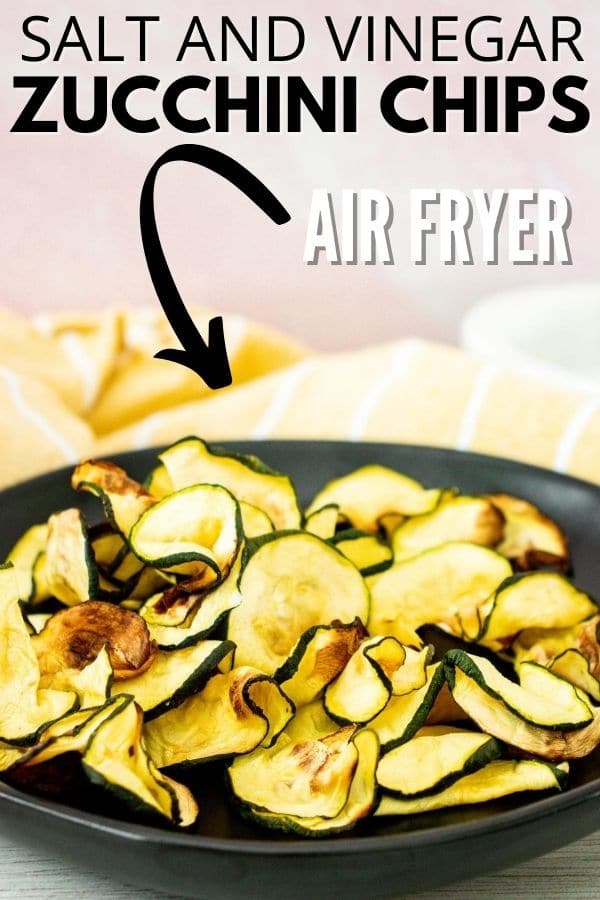 Do these salt and vinegar zucchini chips sound tasty?
Reader Interactions