Here is a taco seasoning you can make at home in as little as 3 minutes. Just measure, dump, mix and use this homemade taco seasoning for seasoning taco meat, mixing in casseroles, making dips, and more. A DIY taco seasoning recipe that is so versatile.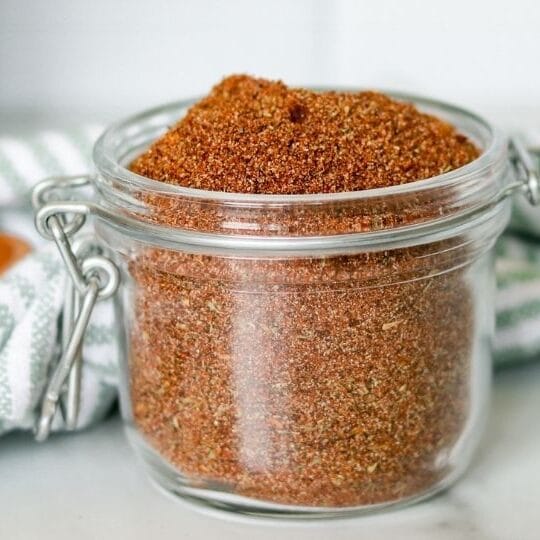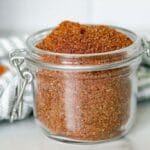 Whip up a batch of this taco seasoning today! Simple spices come together for a delicious homemade taco seasoning. Use this Mexican seasoning for making taco meat, sprinkle on veggies, mix in casseroles or soups, and more.
It takes minutes to make and this taco seasoning mix tastes way better than the packet, if you ask me! Use the taco seasoning to make these sheet pan nachos!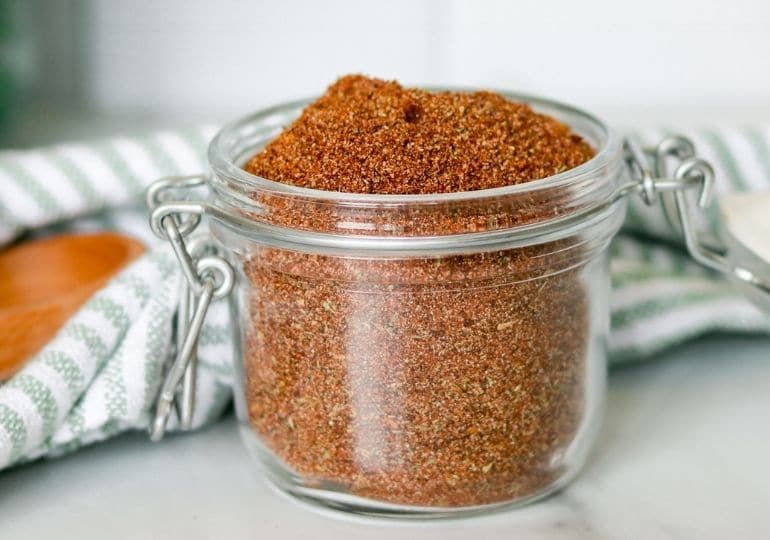 This DIY taco seasoning tastes even better than the store bought taco packets. A gluten free taco seasoning that you get to control the ingredients used.
Make this a mild or hot taco meat seasoning, the choice is yours. Taco spices that will dress up an dinner or appetizer you serve.
Why This Recipe Is A Hit
Not sure why you should make taco seasoning from scratch? Here are a few reasons why I love this spice blend.
No fuss recipe – You literally measure, dump and mix spices! It can be made in minutes. No crazy steps, just simple and to the point.
Stores Well – Make a batch and store in a container in your spice cabinet like any other spices! This taco seasoning has a nice shelf life!
Flavorful – I love the blend of spices in the diy version. Lots of flavor, that you can adjust to fit your personal preference.
Mild to Hot – You control if you want a mild seasoning or hot. I personally prefer more mild.. but I can't handle a lot of heat.
Use in so many recipes – A versatile spice blend that you can use on so many dishes! From your casseroles to soups. Season your ground beef, shrimp, or even chicken with this mix. It's is loaded with flavor and pairs well with so much.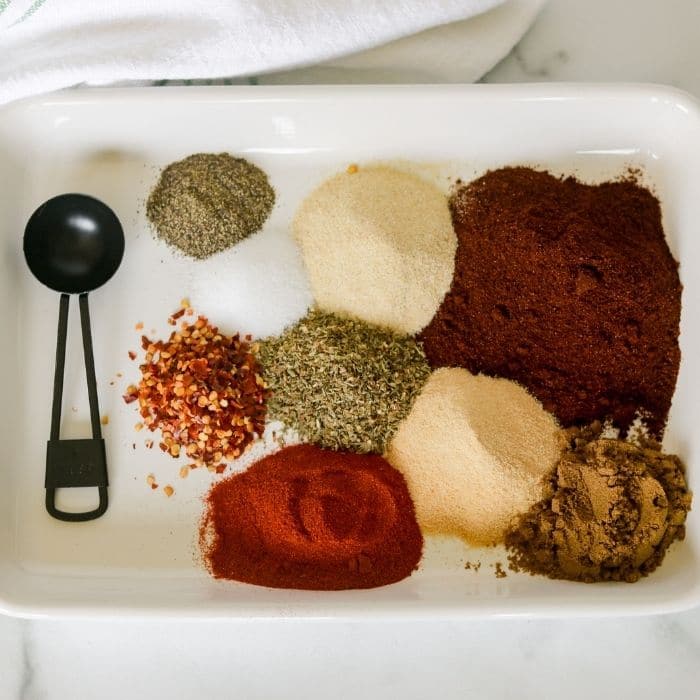 Ingredients Needed
Chili Powder – Adds a nice richness and depth to the seasoning mix. This is not cayenne powder, I know some can think they are the same.
Smoked Paprika – I love the subtle Smokey component. You could use an original paprika if you don't have smoked.
Salt and Black Pepper
Ground Cumin – Make sure it is ground and not whole seed. Don't overdo the cumin as it can overtake the spice blend.
Garlic Powder – Helps to elevate the flavor of spices.
Onion Powder – Even if you don't care for onion this spice really helps bring all the flavors together.
Crushed Red Pepper Flakes – Here is where you control the heat of the spice blend. Adjust this as needed. If you want mild seasoning, leave it out.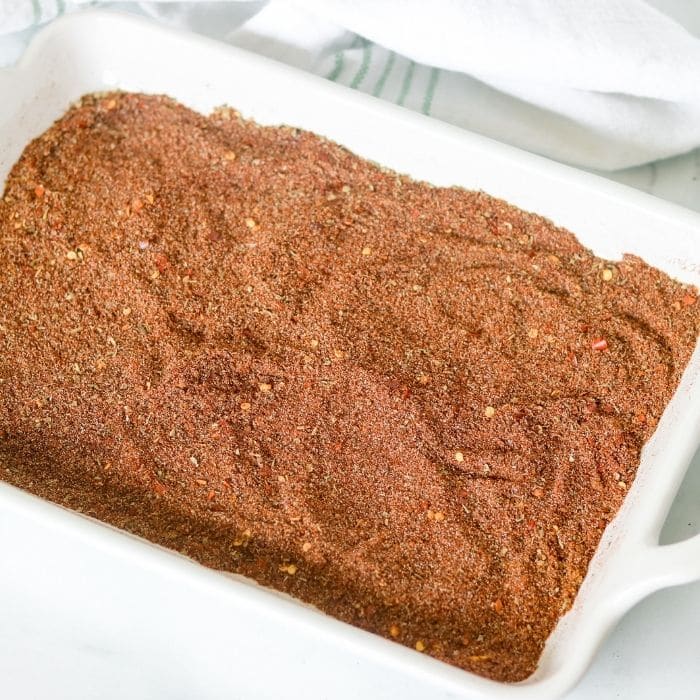 How to Make
Step 1: Measure out all the ingredients and place in a jar or bowl.
Step 2: Mix up or place the lid on the jar and shake! I like to screw lid on and gently shake to incorporate spices.
Use your copycat taco seasoning as you would like to in a recipe. From seasoning meat, mixing in dips, or flavoring up your veggies.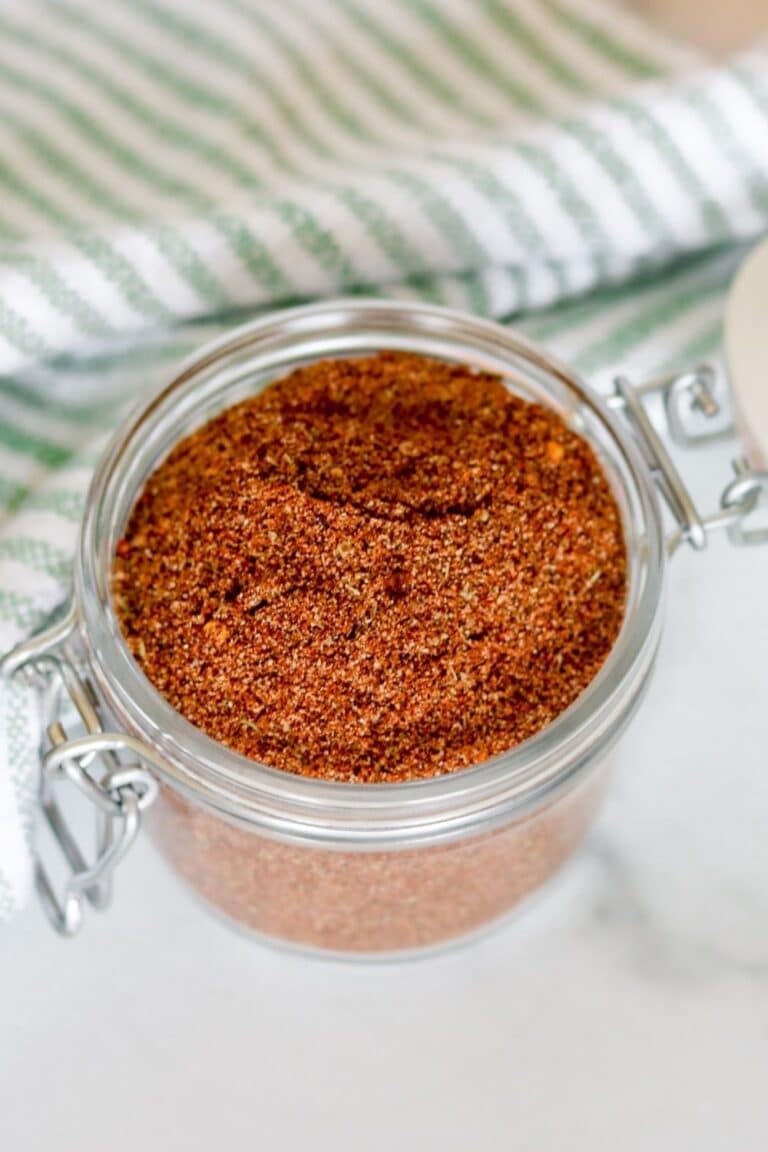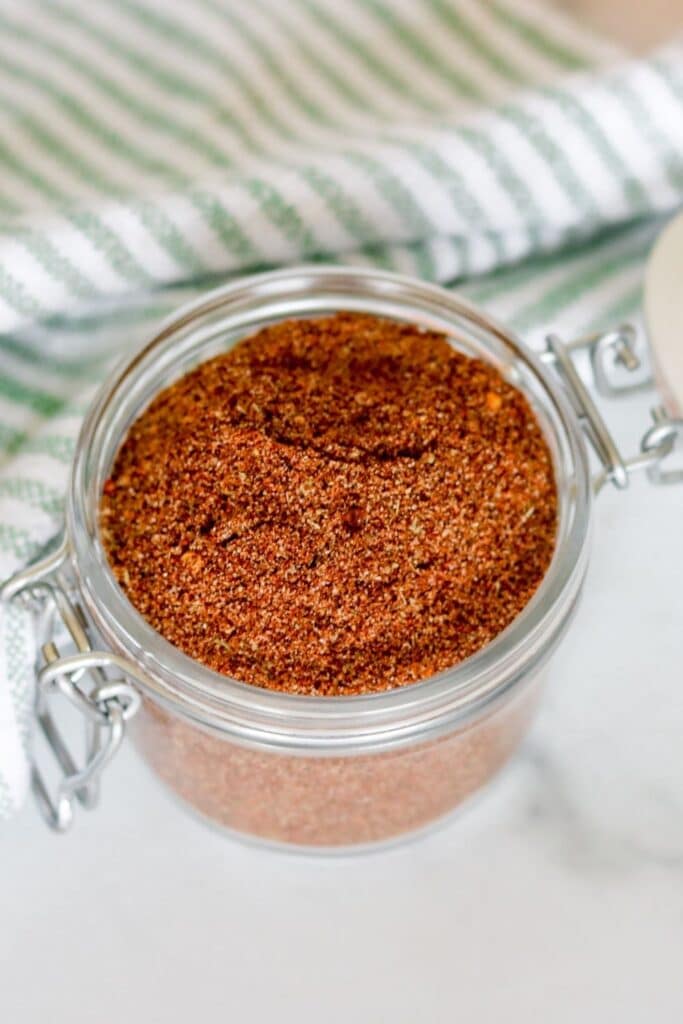 Storage
How to Store – Place the spice blend in a jar with a lid or container. Make sure it is airtight as you don't want moisture to your seasoning mix.
I personally like jelly mason jars for homemade seasonings or I buy glass spice jars.
Shelf Life – Your homemade taco seasoning will store for up to a year. Just make sure you use fresh spices. Store in an airtight container.
Otherwise if your chili powder expires in 3 months, then that is when you need to toss out the mix and make new.
What can you make with taco seasoning
FAQs
How much homemade taco seasoning equals a packet?
Most packets of taco seasoning have 2 tablespoons of seasoning. Some might have a bit more than others.

When I use a recipe that calls for a packet I do anywhere from 1 ½-2 tablespoons depending how strong I want the flavor to stand out.
What can I use if I don't have packet taco seasoning?
This recipe here is a great alternative. Mix up the spices in the recipe card and then measure out what you need for the recipe.
What is in store bought taco seasoning mix?
Depending on the brand the ingredients can change. But in general it has chili powder, cumin, garlic powder, onion powder, salt, pepper, and paprika.
Do you drain meat before adding taco seasoning?
When working with ground beef or another higher fat content, you will want to drain off excess grease. Then add in seasoning and mix.
Why do you add water to taco seasoning?
Adding water to the seasoning helps to break down all the spices and then soaks into the meat better. It's going to give you a more consistent flavor than having fry clumps throughout the meat.
What to put in tacos?
I tend to season my meat whether chicken or beef with taco seasoning. Then for us we love sour cream, black olives, salsa, shredded lettuce, tomatoes and even avocado or guacamole at times.
How to season taco meat?
Cook your meat whether chicken or beef until it is fully cooked. Then add in 1-2 tablespoons of the homemade taco seasoning recipe, and add in around 1/4 cup water. Then stir the mixture around and allow the taco seasoning to soak in, giving the meat that perfect seasoning, that is consistent in flavor.
Serve in a taco shell, and your favorite taco toppings!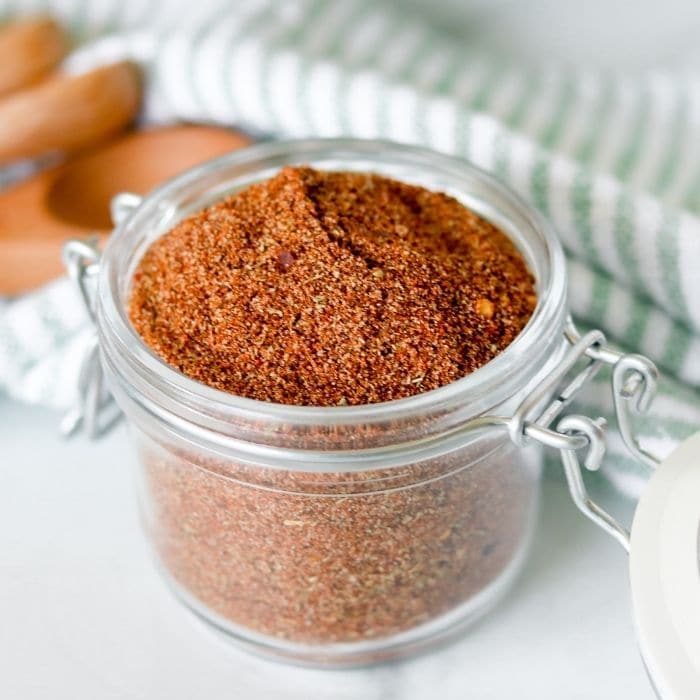 Related Recipes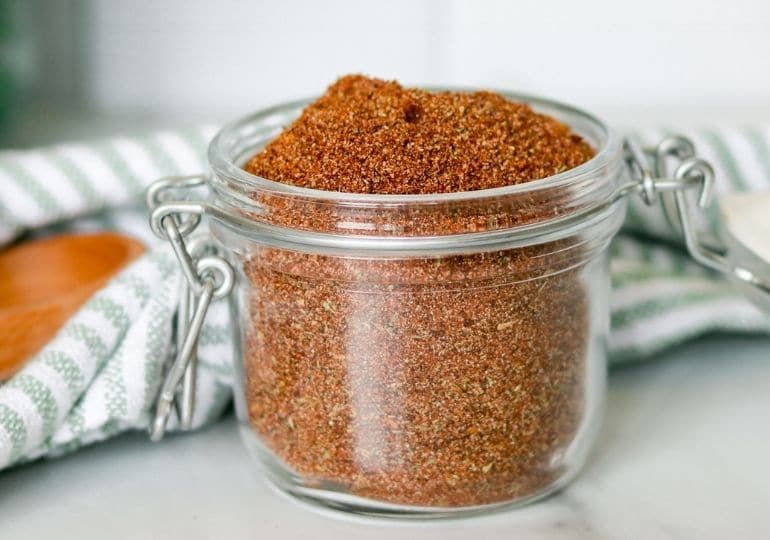 Taco Seasoning Recipe
Here is a taco seasoning you can make at home in as little as 3 minutes. Just measure, dump, mix and use this homemade taco seasoning for seasoning taco meat, mixing in casseroles, making dips, and more. A DIY taco seasoning recipe that is so versatile.
Ingredients
1/3 cup chili powder
1 1/2 teaspoons salt
1 1/2 teaspoons black pepper
2 tablespoons ground cumin
1 tablespoon dried oregano
2 tablespoons garlic powder
2 tablespoons paprika
1 tablespoon onion powder
1 1/2 teaspoons crushed red pepper flakes optional
Instructions
In a bowl or jar you will measure out all the spices listed above to make your taco seasoning. Salt, pepper, chili powder, cumin, oregano, garlic powder, paprika, onion powder, and red pepper flakes if you want.

Mix up and then store the homemade taco seasoning in an airtight container for up to a year. Measure and use the seasoning blend for making tacos, dips, seasoning casseroles, and more.
Notes
Crushed Red Pepper Flakes – These are optional. If you want a milder taco seasoning leave it out. For a spicy mixture, add the pepper flakes in. How Much Taco Seasoning to Use: A taco packet you buy at the store contains around 2 tablespoons of seasoning. So for any recipe that calls for store bought packet seasoning, just measure out 2 tablespoons of this DIY Mexican seasoning to use. Storage: Store your taco seasoning in an airtight container. Then store in the pantry or spice cabinet. Make sure to not allow moisture to get into the mix, or it will sog it up. How Long It Lasts: Look at all the spice expirations you are using. If none of them expire right away, you can store the mix for 6 months to a year. Otherwise, if say the Oregano expires in 3 months, then use the 3 month mark as your expiration date.
Nutrition
Serving: 1gCalories: 20kcalCarbohydrates: 4gProtein: 1gFat: 1gPolyunsaturated Fat: 1gSodium: 277mgFiber: 2g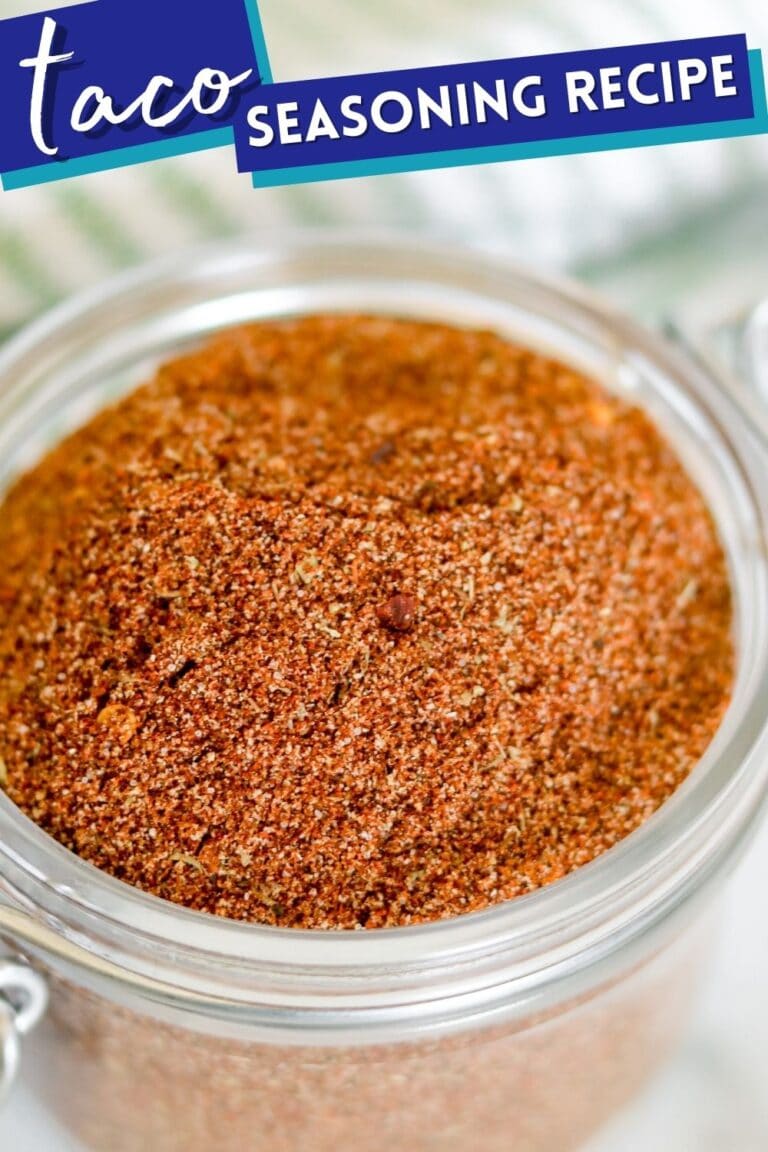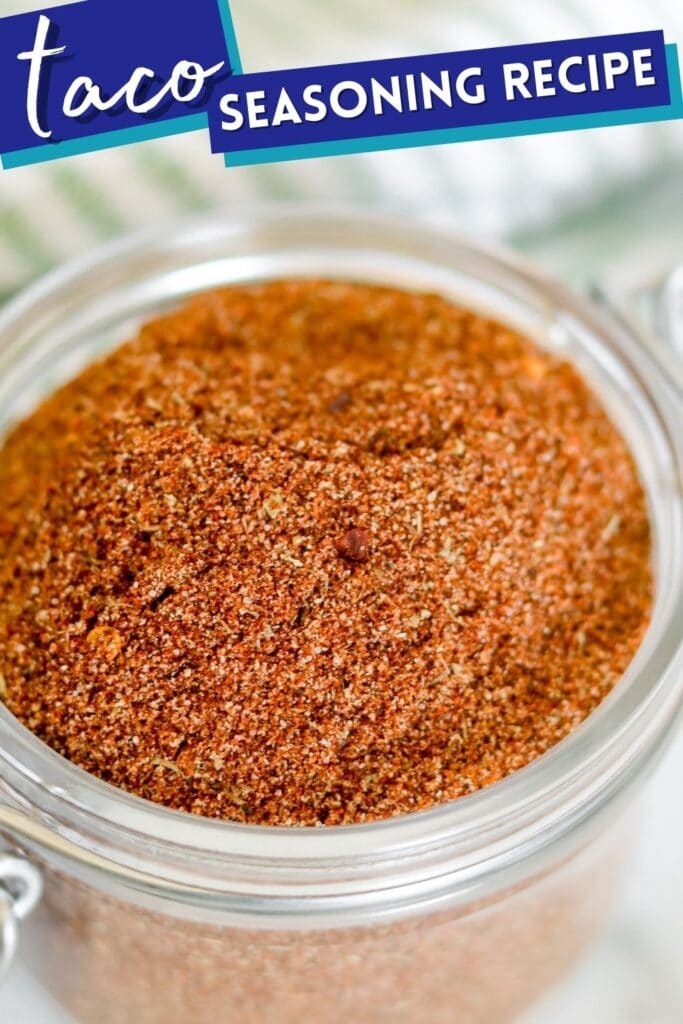 Reader Interactions