Pina Colada Cupcakes are a tropical cupcake that has pineapple and coconut. A coconut cupcake topped with pineapple frosting, and a green pineapple leaf topping. Add rum for an alcoholic cupcake.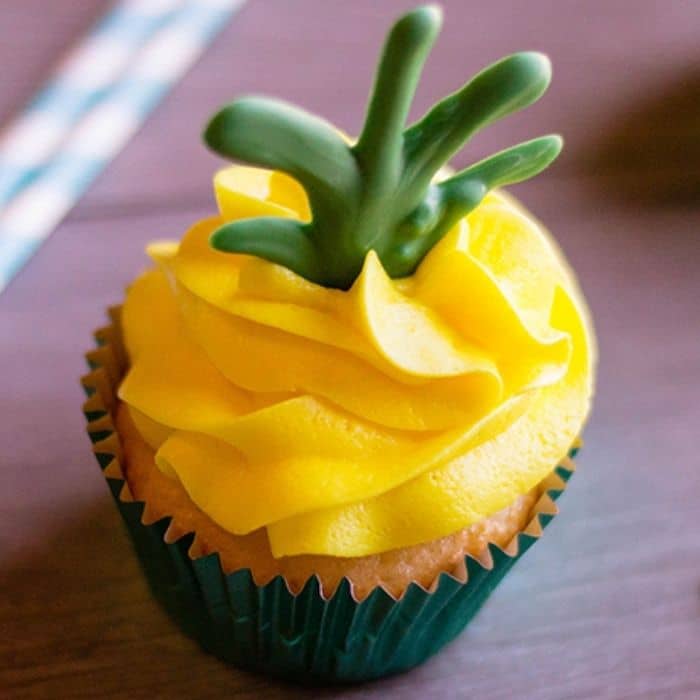 Dreamy Pina Colada Cupcakes are the perfect summer treat for all occasions. The incredible combination of coconut, pineapple, and sweet fluffy cake is mind-blowing. These tropical cupcakes are just what you have been craving.
No matter what time of year it is, I will get a craving for summery foods. These coconut-pineapple cupcakes are always there to rescue me. They are sweet, light, and refreshing. A Hawaiian cupcake calling you to a tropical getaway. Try these Cactus cupcakes as well.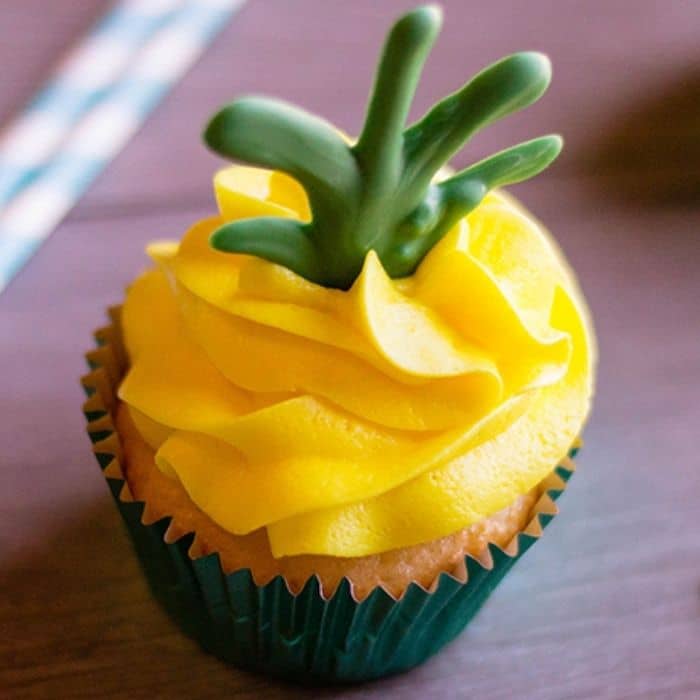 The thing that really makes these coconut cupcakes stand out is that you can add rum to make them for adults. Everything is better with a little bit of rum, right? A boxed cake mix recipe that gets a little transformation.
If you love pineapple, you aren't going to want to miss trying my pineapple pie too. Add in some rum for an alcoholic cupcake.
🍍 Why You Will Love These
Moist and delicious
Juicy pineapple flavor
Alcohol can be omitted for kid-friendly version
Adorable dessert idea
Great for entertaining
Easy to make
Everyone will rave about them
Perfect coconut flavor with a hint of pineapple
Pair with vanilla ice cream for a sweet dessert to end the day
🥥 Ingredients
Vanilla cake mix + ingredients on box
Shredded sweetened coconut
Green candy melts
Coconut Oil
Butter
Confectioners' sugar
Milk
Pure vanilla extract
Pineapple Juice
Yellow food coloring (gel)
Rum (optional)
Grab my Free Kitchen Conversions Printable! This shows you how many cups are in a quart, pint, etc. A great printable to keep handy for when you need to convert a recipe.
🧁 Instructions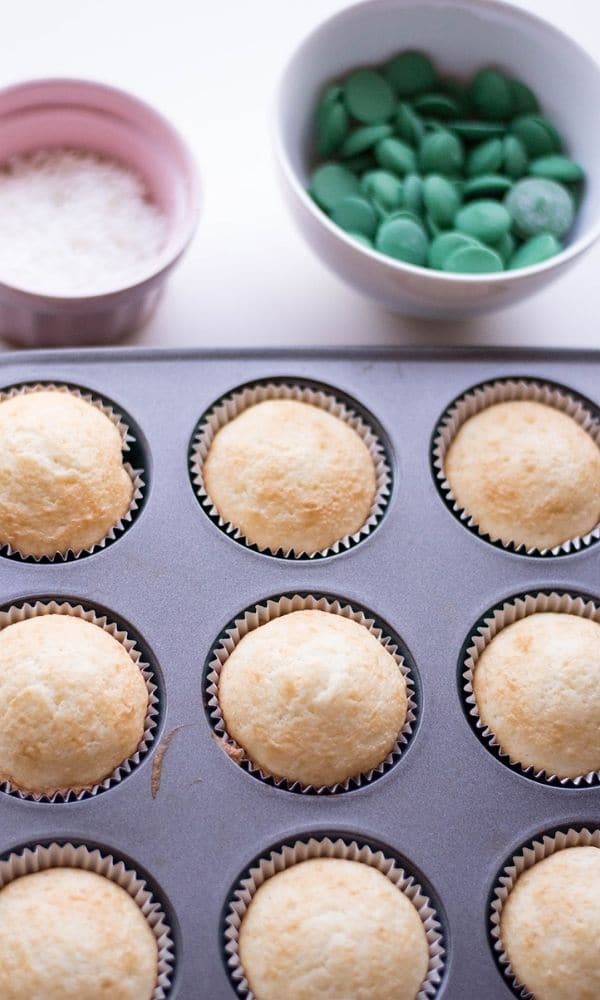 Prepare the cupcakes| You'll need to make the cupcakes using the directions on the box. Once the batter is mixed, gently add in the coconut flakes. Fill the cupcake liners 2/3 full and bake.
Use a toothpick to check the cupcake to ensure they are baked fully. Stick a toothpick in center and if it comes out clean the cupcake is done. Then allow cupcakes to cool completely before moving on to the next step.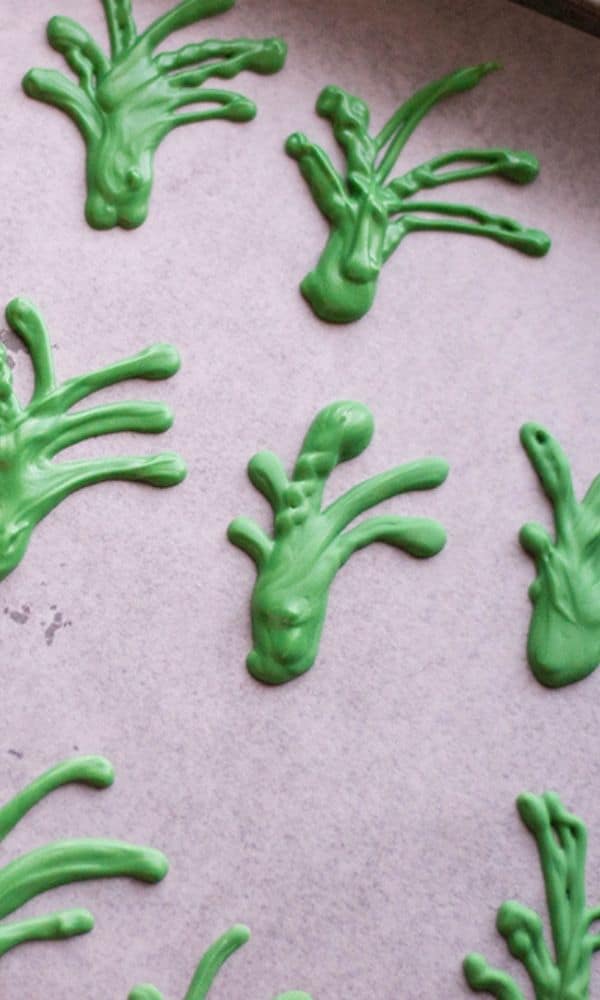 Prepare the Pineapple Leaves | Make adorable pineapple leave candies by placing wax paper on a baking sheet. Melt the candy melts and coconut oil in the microwave.
Once melted, add to a piping bag and pipe shapes onto a baking sheet. Let cool in the fridge to set up.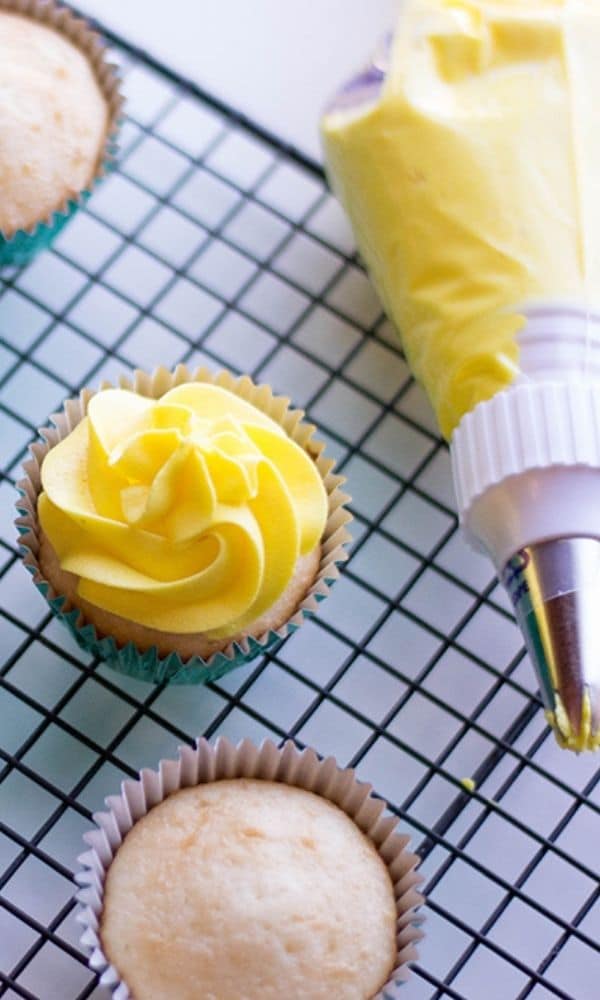 Make the Buttercream Frosting | Beat the milk, sugar, and butter together using medium speed. Add in vanilla and pineapple juice. Mix in a few drops of yellow food coloring. Combine until stiff peaks develop.
This makes the perfect summer cupcake idea to serve up. If you want add a bit more pineapple flavor for a stronger flavor.
You could even add a hole in cupcake and fill with crushed pineapple.
Pipe on Frosting | Use a piping bag to add frosting to the cooled cupcakes. Garnish with pineapple leaves, and enjoy!
This pineapple coconut cupcake is then topped with the pineapple leaves for a simple summer dessert. If you want you can leave off the green pineapple topper off these rum cupcakes.
🍒 Expert Tips
Never overfill the cupcake liners. It's best to use a large cookie scoop to fill them, so they are all the same size. 2/3 full will allow them room to raise and be the same size.
Don't frost the cupcakes until they have cooled down all the way.
Add a thin layer of rum using a pastry brush before frosting if you want extra flavor. This is optional.
Garnish with a cherry and a piece of pineapple to add even more fun to the pina colada cupcakes.
Don't overmix the cupcake batter, or it will lead to dry, dense cupcakes.
👩‍🍳 Recipe FAQs
More Insanely Good Cupcakes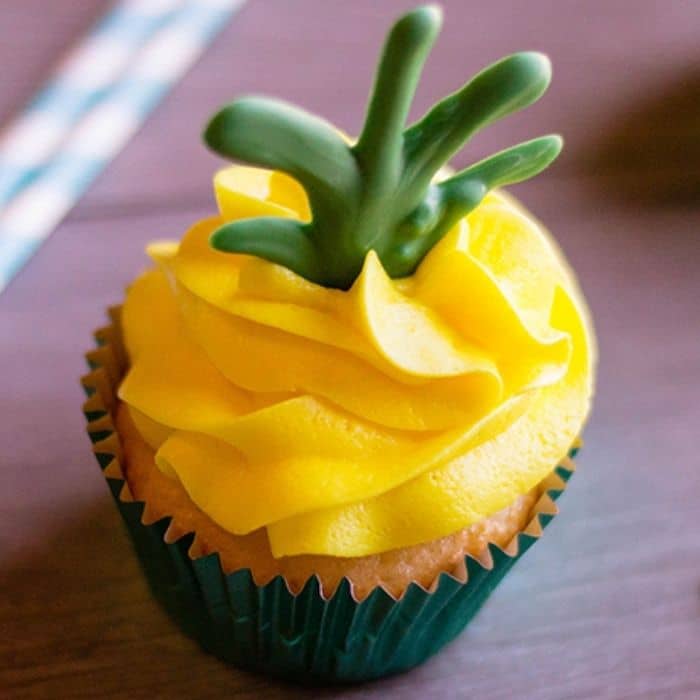 Pina Colada Cupcakes
Servings 24
Pina Colada Cupcakes are a tropical cupcake that has pineapple and coconut. A coconut cupcake topped with pineapple frosting, and a green pineapple leaf topping. Add rum for an alcoholic cupcake.
Ingredients
Vanilla cake mix plus all of the ingredients to make it
2/4 cup shredded sweetened coconut
2 cups green candy melts
2 teaspoons coconut oil
2 sticks butter softened
4 cups confectioners' sugar
3-4 tablespoons milk
2 teaspoons vanilla extract
2 tablespoons pineapple juice
3-4 drops yellow gel food coloring
For the alcoholic/adult-friendly option: ¼ cup of your favorite rum
Instructions
In a bowl prepare your white cake mix as directed on the back of the box. Once mixed add in your coconut flakes.

Bake the cupcakes at the same temperature and cook time as directed on the back of the box.

While the cupcakes are baking you can work on your green chocolate pineapple candies. Melt your green chocolate in the microwave until melted or a double boiler.

Layout some wax paper, and pour the melted chocolate into a piping bag. Create the 5 leaf pineapple tops. They don't have to be perfect, just do your best. Let the chocolate set up for 15 minutes in the refrigerator.

When cupcakes are done remove them from the oven and place them on a cooling rack to completely cool.

Then once cupcakes are fully cooled you can whip up your frosting. Add softened butter, powdered sugar (confectioners sugar) milk, vanilla, and pineapple juice in the stand mixer. Add in food coloring. If you want add in rum for alcoholic cupcakes.

Pipe the frosting on the cupcakes and stick the green chocolate in the center.

Refrigerate your pina colada cupcakes until you are ready to serve them up.
Notes
You can make these cupcakes a day in advance. Leave the rum out for a kid-friendly cupcake. These pineapple coconut cupcakes are the perfect summer cupcake idea for cookouts and more. You can hollow out the center of the cupcakes and add in some crushed pineapple for added flavoring. Or even pineapple pie filling. Leave of the pineapple chocolate shaped leaf if you want.
Nutrition
Serving: 1gCalories: 326kcalCarbohydrates: 56gProtein: 1gFat: 9gSaturated Fat: 6gPolyunsaturated Fat: 3gCholesterol: 20mgSodium: 234mgSugar: 40g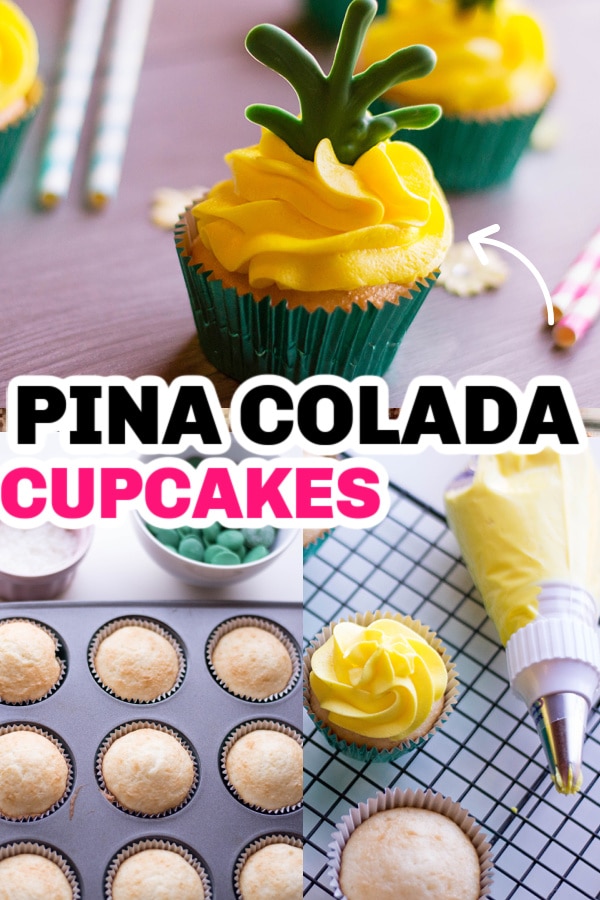 Reader Interactions