Death By Chocolate Cheesecake is a triple chocolate cheesecake. Oreo crust, chocolate cheesecake filling, topped with a homemade chocolate ganache. The ultimate chocolate cheesecake recipe.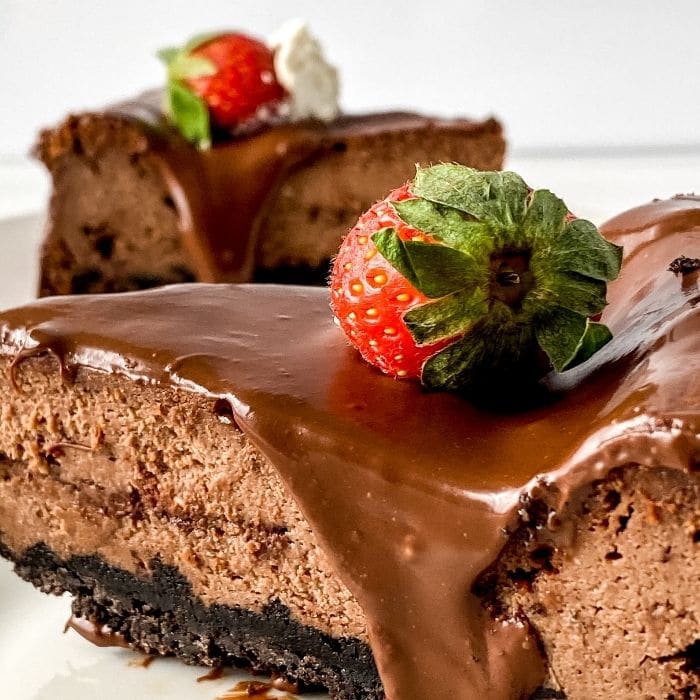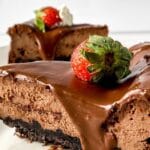 Chocolate cheesecake is one of my favorite cheesecakes to serve up. An Oreo cookie crust, rich velvety chocolate cheesecake that is then topped with a homemade chocolate ganache. A triple chocolate cheesecake that knocks your socks off.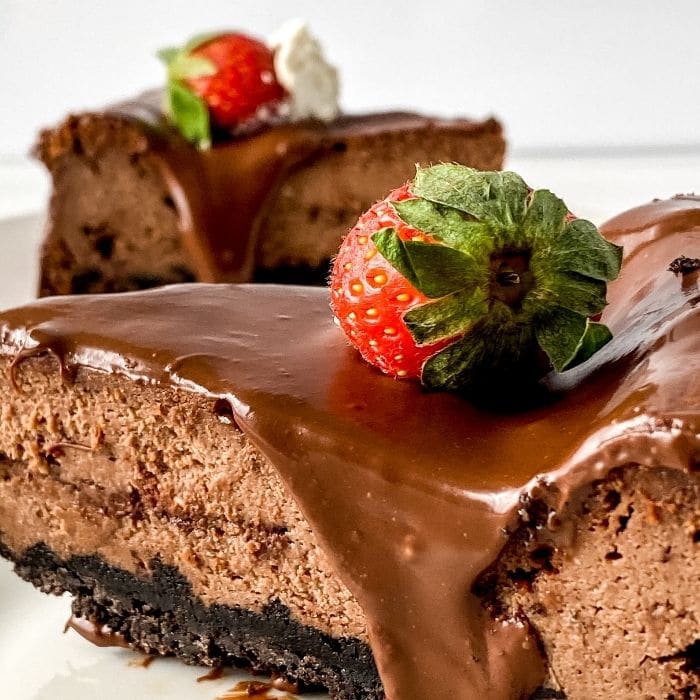 Learn how to make chocolate cheesecake from scratch that will wow your family or guests. The perfect Valentine's day cheesecake, anniversary dessert, or treat for chocolate lovers.
This oven cheesecake is so easy to make. Don't be intimidated. Give it a try, and let me know how incredible it turns out!
Grab my Free Kitchen Conversions Printable! This shows you how many cups are in a quart, pint, etc. A great printable to keep handy for when you need to convert a recipe.
🍫 Why This Easy Chocolate Cheesecake Is A Hit
3 Layers of Chocolate
Topped with a homemade chocolate ganache
Rich, creamy chocolate treat
Decadent
No water bath needed
Gorgeous presentation value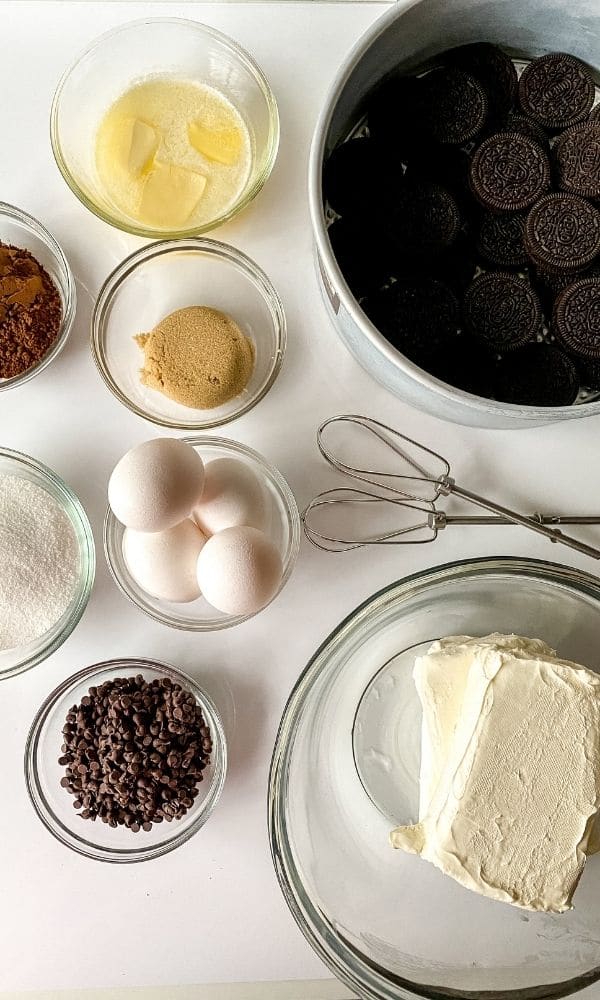 🍮Ingredients Needed
Oreo Cookies
Butter
Cream Cheese
Brown Sugar and Granulated Sugar
Cocoa Powder
Salt
Eggs
Semi-sweet chocolate
Chocolate chips
Heavy Cream
👩‍🍳How To Make
Full directions on baking cheesecake and ingredient measurements are listed below in the printable recipe card.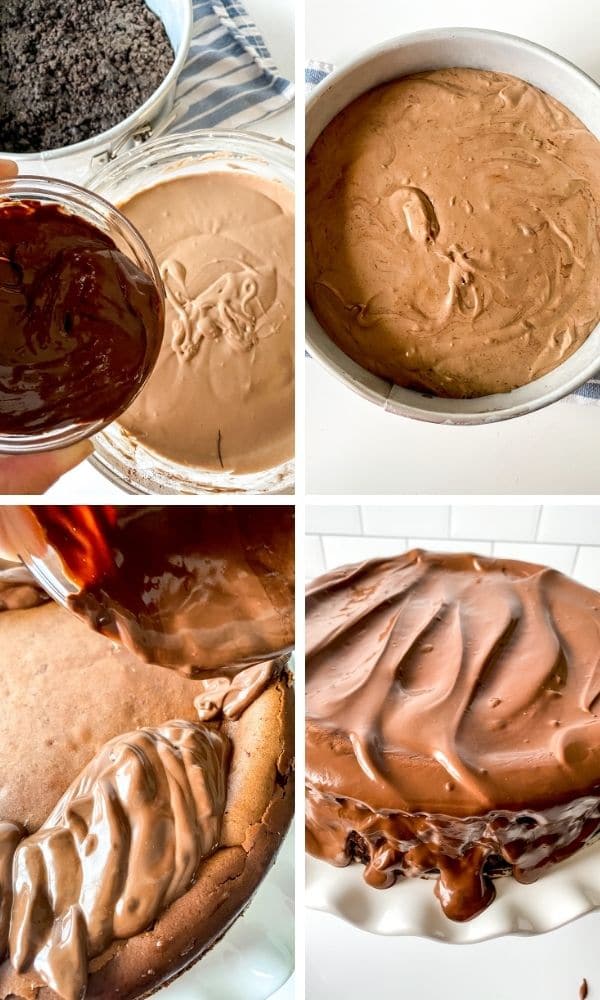 Oreo Crust | Start by working on your homemade Oreo crust. You will crush up the cookies with a food processor. You want the mixer to be fine crumbs or sand-like in texture. Or toss in a bag and crush with a rolling pin.
Press cookie crumbs tightly into pan and bake in oven as directed.
Chocolate Cheesecake Filling | Now you will work on mixing up your chocolate cheesecake filling. Incorporate the eggs one at a time, not overmixing the batter at this point.
Or that can create air bubbles in the cheesecake that will escape when baked and cause cracks.
Chocolate Ganache | Once your cheesecake has had time to set up, now you will work on making a homemade ganache. Drizzle over the cheesecake, and watch it begin to set up rather fast.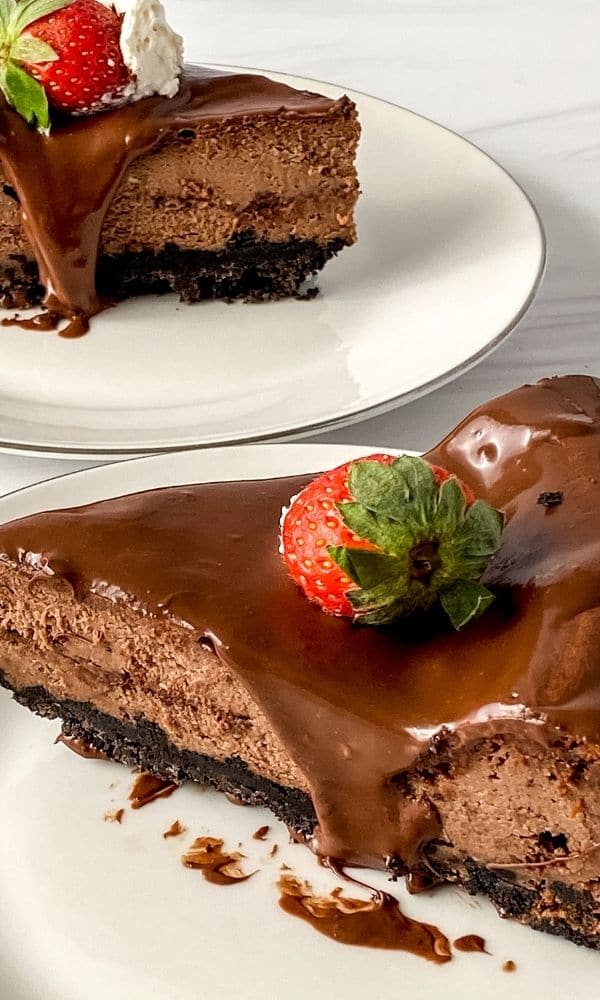 📌Storage
This triple chocolate cheesecake needs to be stored in the refrigerator or it will spoil. You can store your cheesecake for up to a week in the refrigerator.
Make sure to cover it well, or it can take on flavors of the odors of other foods in the refrigerator.
In terms of freezing, this baked cheesecake can be frozen. Wrap tightly in aluminum foil or plastic wrap, and place in an airtight container. Freeze for 2-3 months.
Thaw in the fridge overnight before you plan to serve up the cheesecake.
🍽️ Expert Tips
Make sure to not overmix to batter of the cheesecake.
Add one egg at a time into the batter.
Make sure to not overbake your cheesecake.
Cream cheese needs to be room temperature.
A springform pan or push pan is recommended.
🍓Recipe FAQs
What's the difference between cheesecake and baked cheesecake?
A no bake cheesecake has no eggs and is not baked. It offers a creamy texture. Where a baked cheesecake is a lot thicker and more dense in texture where it has a velvety texture.
How do you know when cheesecake is done?
With an oven mitt reach in and gently shake the cheesecake. If you have a minimal amount of jiggle just in the center of the cheesecake it is done.
If you jiggle and it moves a lot, the cheesecake needs to bake longer. The cheesecake also needs an internal temperature of 150 degrees Fahrenheit.
Do you have to bake cheesecake in a water bath?
Cheesecake is very delicate and is like a custard-like dessert. Having a water bath helps ensure it cooks properly. If you bake without it can become rubbery in texture.

For this recipe, I do not need a water bath to make it easy for the baker!
Is my cheesecake ruined if it cracks?
Your cheesecake is not ruined if it cracks. It just means it had air bubbles that released when it was baking or it overcooked a bit. I use chocolate ganache on top of the cheesecake to hide any perfections.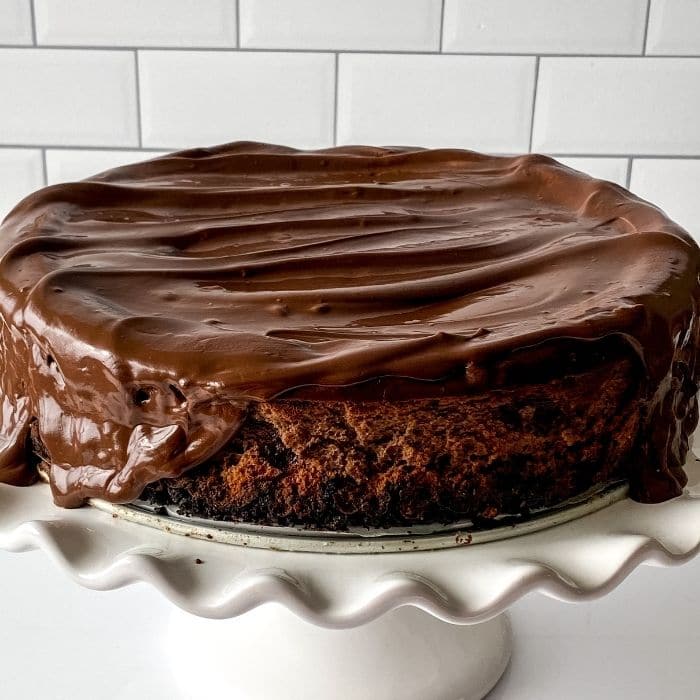 More Cheesecake Recipes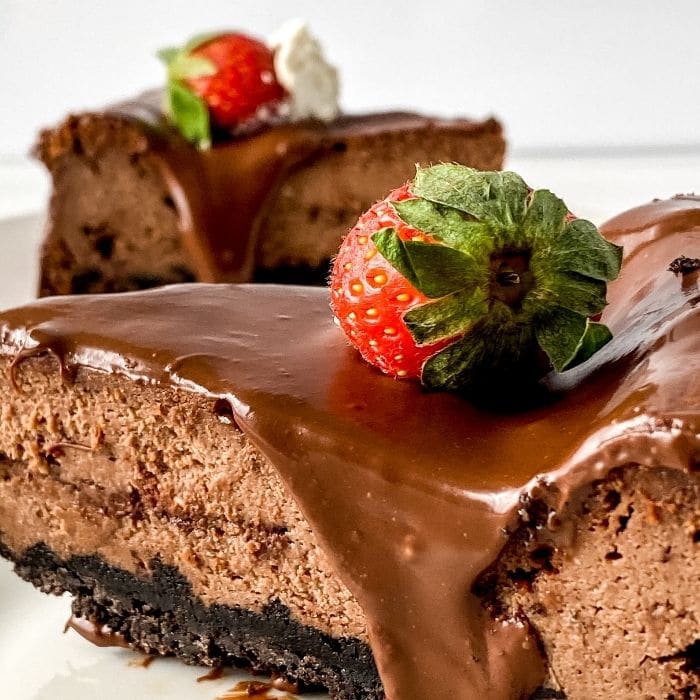 Death By Chocolate Cheesecake
Servings 1 Cheesecake
Death By Chocolate Cheesecake is a triple chocolate cheesecake. Oreo crust, chocolate cheesecake filling, topped with a homemade chocolate ganache. The ultimate chocolate cheesecake recipe.
Ingredients
For the crust:
24 oreo cookies
6 tablespoons melted butter
For the filling:
3 8 oz packages cream cheese
¾ cup granulated sugar
¼ cup packed light brown sugar
¼ cup cocoa powder
¼ tsp salt
4 large eggs
1 cup of semi sweet chocolate
For the ganache:
1.5 cup chocolate chips
¾ cup heavy cream
Instructions
Start by preheating your oven to 350 degrees Farenheit.

In a food processor you want to pulse your Oreos and butter till it forms a sand-like texture.

In your springform pan add a parchment circle on bottom and spray sides with a non-stick cooking spray. Press your cookie crumb crust into the pan packing it down and bake for 5 minutes. Then let it cool on a cooling rack.

Start by adding your softed cream cheese and light brown sugar and granulated sugar into a stand mixer. Begin to mix until creamy. Add in your cocoa powder, and salt and mix until incorporated.

Gently mix in your eggs one at a time. Do not overmix. You want to incorporate the eggs, but don't mix too much.

Now you will heat up your semi sweet chocolate in the microwave with 30 second increments stirring in between each heat cycle. Heat until it is melted. Then slowly pour the chocoalte into the filling stirring constantly.

Pour the cheesecake filling into the springform pan.

Bake for 75-90 minutes or until the cheesecake is set and reaches an internal temperature of 150 degrees.

Remove cheesecake and allow it to cool for 1 hour on counter. After the hour cover and refrigerate for 6 hours to overnight to let it set up.

Right before serving you will make your chocolate ganache. Melt the chocolate chips and heavy cream in the microwave or a double boiler. Stir well until creamy.

Pour the ganache all over the cheesecake. It will thicken as it sets up.

Top with strawberries or serve it plain. This chocolate cheesecake is ultra rich and velvety in texture.
Notes
It is very important to allow your cheesecake to fully set up in the refrigerator once it is done being baked. Feel free to decorate the top of your cheesecake with anything you want. Fresh berries, chocolate shavings, etc. Store leftover cheesecake in the fridge for up to a week. You can also freeze any cheesecake you don't eat right away. It will freeze for up to three months.
Nutrition
Serving: 1gCalories: 501kcalCarbohydrates: 58gProtein: 6gFat: 31gSaturated Fat: 17gPolyunsaturated Fat: 9gCholesterol: 101mgSodium: 239mgFiber: 3gSugar: 46g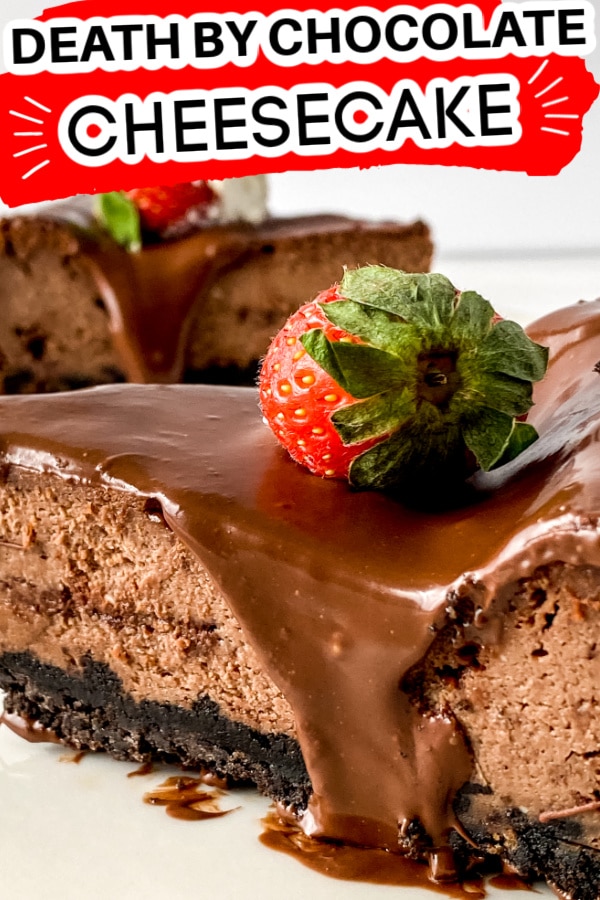 Reader Interactions