3 packet roast is an easy and delicious pot roast with gravy you can make in the Instant Pot, slow cooker, or dutch oven. Give this three packet roast a try for dinner.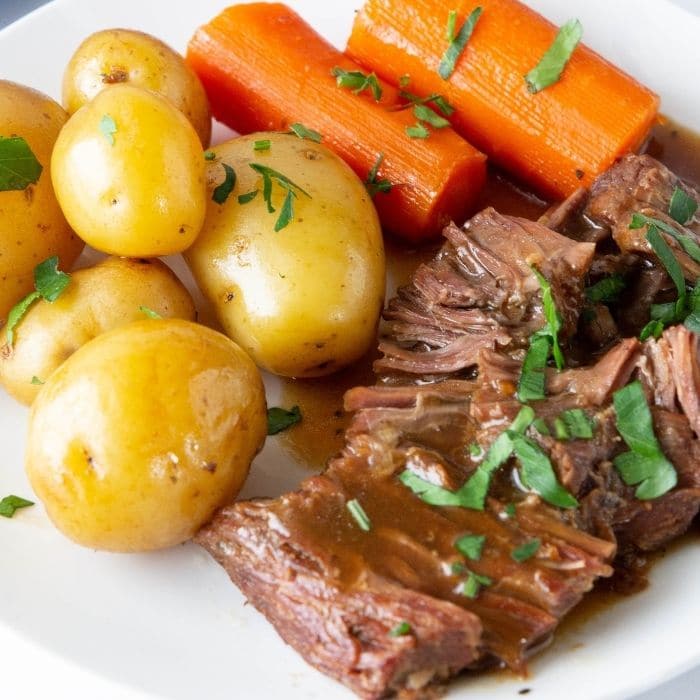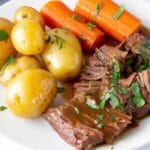 Looking for the best way to cook pot roast? This 3 packet roast is so simple to make. Whip this up in your Instant Pot or slow cooker for an incredible roast with vegetables and gravy to serve up your family.
This three packet roast is so simple, and quick to throw together. Add in some potatoes and carrots at the end and get the perfect roast with gravy and vegetables to serve up for dinner. Also try my venison roast recipe as well if you enjoy venison.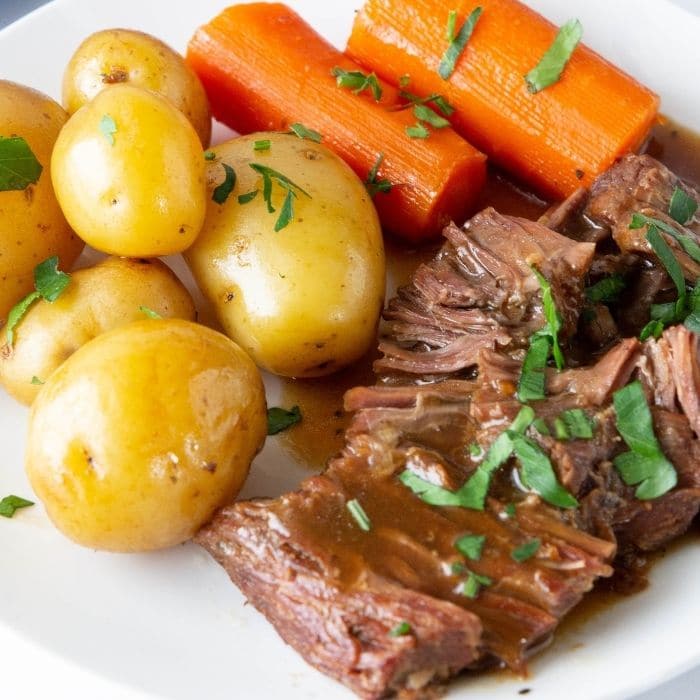 Ranch dressing, Italian dressing, and brown gravy along with beef broth are all you need besides a beef roast! Learn how to make this crockpot roast with gravy recipe. The vegetables are optional in this 3 envelope roast.
👩‍🍳 Why This Recipe Is So Popular
Affordable
3 packet roast is seasoned with mixes for easy assembly
Simple Ingredients
Minimal Prep
Tender fall apart roast
Can be made in Instant Pot, Slow Cooker, or Dutch Oven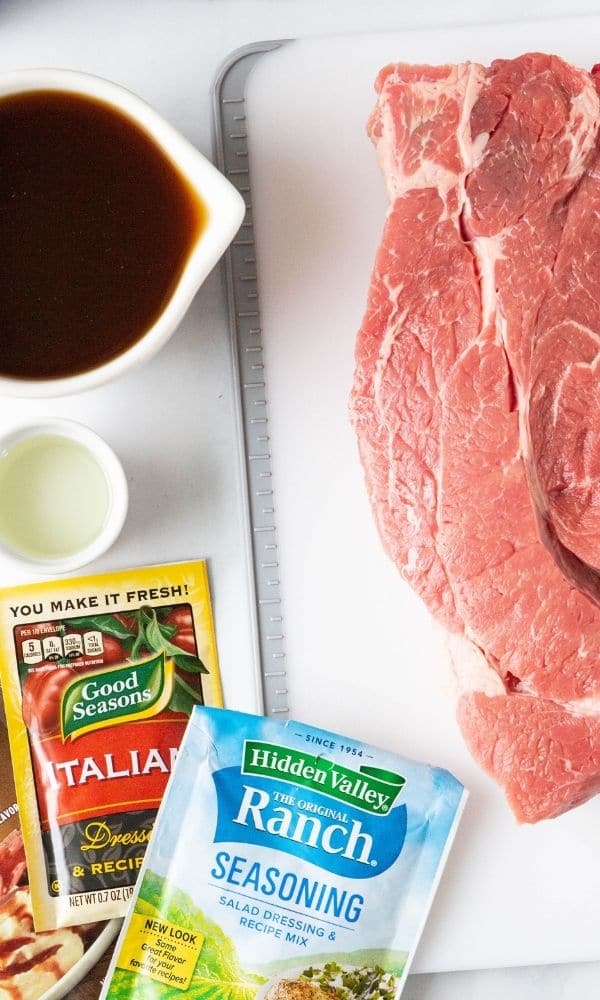 🥩 Ingredients
Beef Roast
Italian Dressing Mix
Brown Gravy
Olive Oil or Canola
Beef Stock
Cornstarch and water
Vegetables (optional)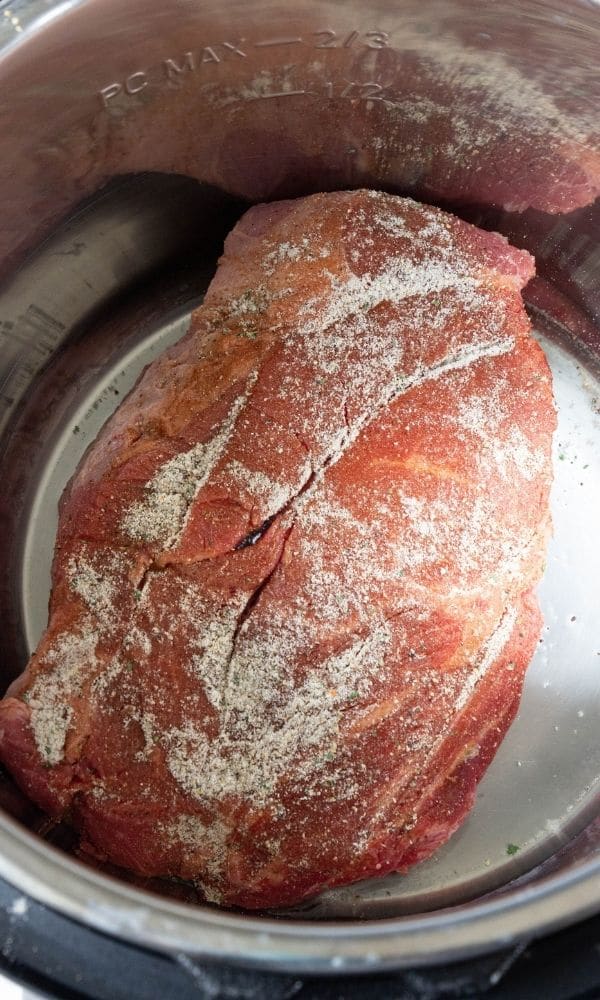 🍽️ How To Make 3 Packet Roast
Add oil into Instant Pot on saute or in a skillet on the stove to medium high heat. Let it get warm.
Add all 3 packets of spices in a bowl and mix together. rub some on both sides of the chuck roast.
Sear the roast on both sides for 2-3 minutes per side.
Add in beef broth, and remaining seasoning mix.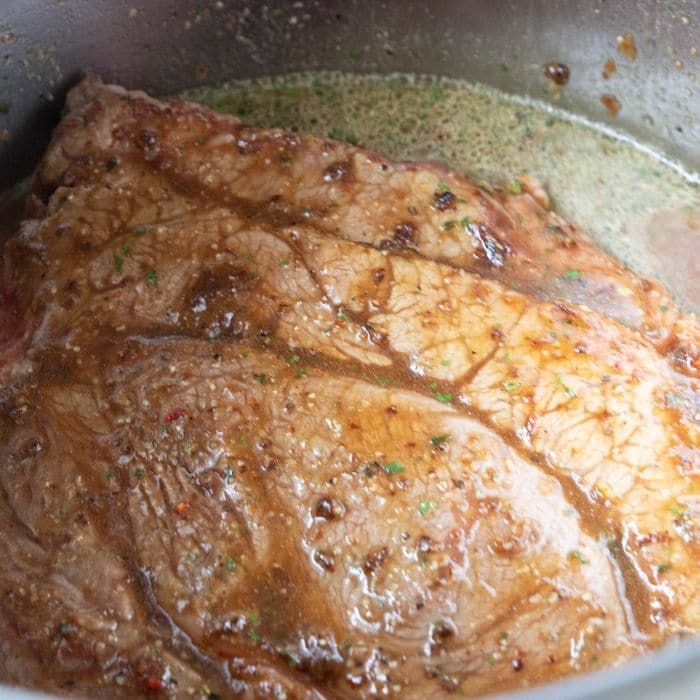 Instant Pot Cook for 75 minutes or slow cook or Dutch oven for 6-8 hours on low.
Then toss in vegetables as directed in the recipe card below, or skip this step.
To thicken you will make a cornstarch slurry to stir into the liquid mixture.
Once thickened, serve up your roast with gravy.
Pro Tip: If you opt for the slow cooker it is best to cook your meat on low instead of high. You will get a more tender beef roast for the end result.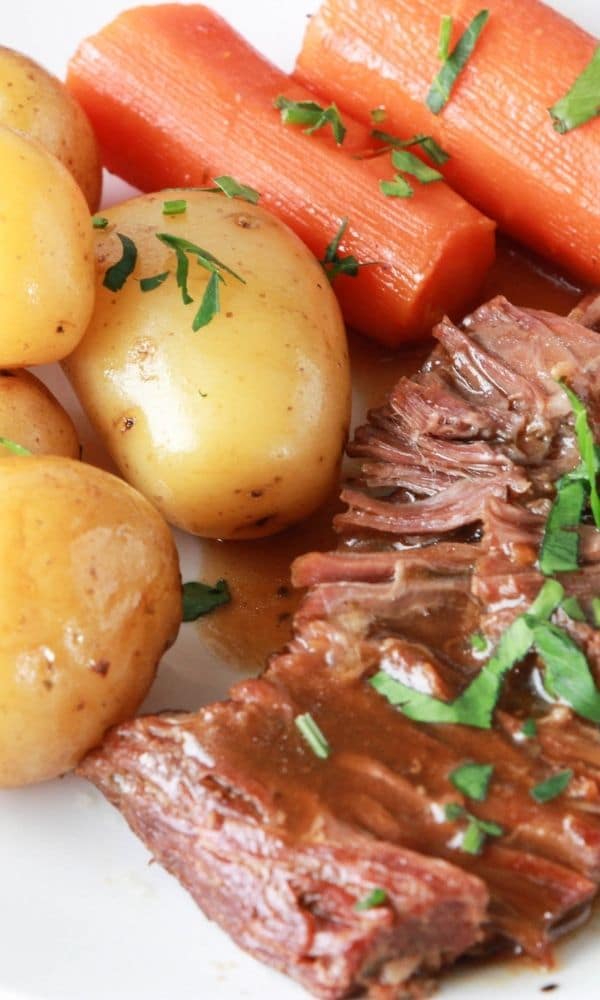 📌 Expert Tips
You can use any style of roast you want. Eye round, shoulder, chuck roast, etc.
Season your roast with salt and pepper at the end to taste.
You can add the vegetables in or leave them out, the choice is yours.
Cornstarch is great to use as a thickening agent, but you can also use arrowroot if you would like.
Slow cooker 3 packet roast can be tossed in the pot in the morning to come home to dinner at night.
Add in the veggies or leave them out. It is up to you.
🍴Recipe FAQs
How long do I cook a roast for?
Depending on the method you choose you will cook your roast for an hour and 15 minutes or 6-8 hours in the slow cooker.
What's the best roast for pot roast?
My preferred method for a pot roast is a chuck roast. Look for a roast that is brightly colored meat that has a white marble of fat. If it is yellow in color that means the roast is a bit older.

Rump roast, shoulder roast, are two other great cuts of roast to use for cooking a homemade pot roast.
Why is a roast tough?
Undercooked roast is the reason for the tough texture. Cooking your roast longer allows for that tender fall apart meat you know and love.
How to make pot roast gravy?
You will remove the roast and vegetables from this 3 packet instant pot roast. Then turn the saute feature on, or pour the liquid in the pan on the stove.
Create a cornstarch slurry with water and cornstarch. Then stir until the liquid thickens.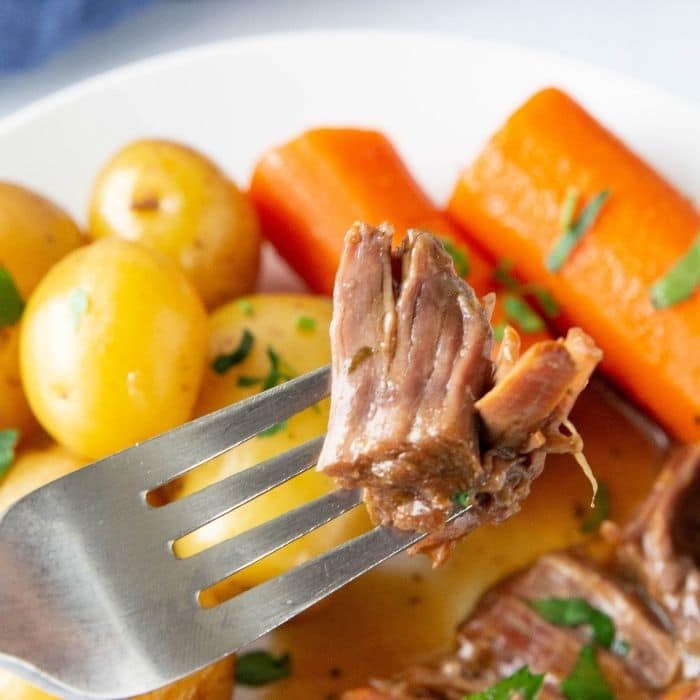 More Dinner Ideas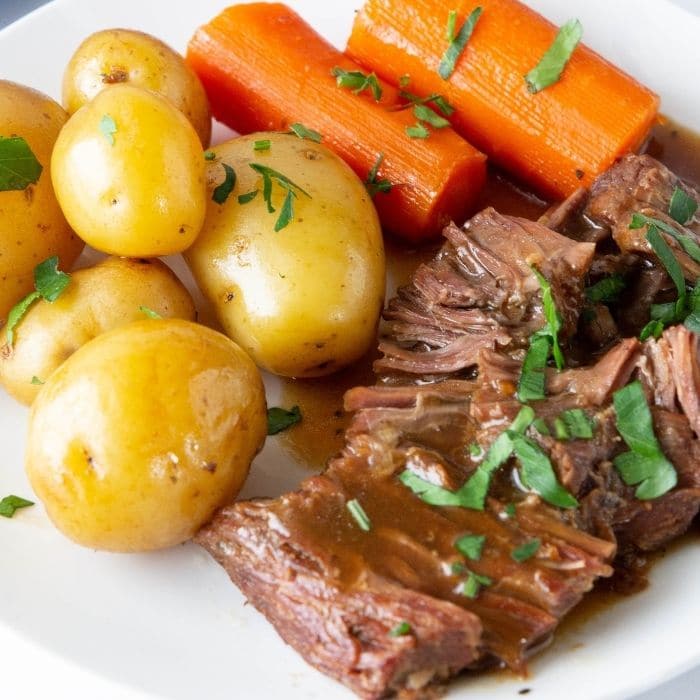 3 Packet Roast
Servings 1 roast
3 packet roast is an easy and delicious pot roast with gravy you can make in the Instant Pot, slow cooker, or dutch oven. Give this three packet roast a try for dinner.
Ingredients
1 Beef Roast 2-4 pounds
1 tablespoon olive oil or canola oil
1 1/2 cup beef stock
1 Ranch dressing mix packet
1 Italian seasoning packet
1 brown gravy packet
1 tablespoon cornstarch + 1 tablespoon water
Potatoes and Carrots optional
Instructions
In a bowl, you will add your ranch, Italian mix, and brown gravy packets together. Stir and then seasoning your beef roast with some of the seasoning mix.

Turn your Instant Pot to the saute and add in the oil. Once hot toss your roast in and sear both sides of the meat. Remove the roast. You just want to brown the outside not cook the roast fully.

Add in your beef stock and use a wooden spoon to scrape the bottom of the Instant Pot to deglaze the pan.

Return the roast and add in the rest of the packet seasoning. Place the lid on the Instant Pot making sure the valve is set to sealing.

Pressure cook on high – manual setting for 1 hour and 10 minutes, followed by 15-minute natural release.

Release any leftover pressure on the Instant Pot. Add in your carrots and potatoes, and place lid and cook for 13 minutes with a quick release. If you don't want to do veggies skip this step.

Remove cooked pot roast (and vegetables), and then turn the saute feature on. In a bowl add your cold water with cornstarch and stir into the liquid. It will begin to thicken as it heats.

Once the gravy is thick use it to pour over your three packet pot roast! Serve and enjoy.
Notes
Slow Cooker Directions:
Season your pot roast the same way as above with some of the seasonings. Sear the pot roast in a pan on the stove.
Once seared place in the slow cooker with the broth. Add in your vegetables if you want to have them in.
Cover and cook for 6-8 hours or until your pot roast is nice and tender.
Remove roast and vegetables from Slow Cooker. Take your liquid and pour into a pan on the stove. Heat on medium heat until it begins to boil.
Stir in the cornstarch and water slurry just like in the Instant Pot method. It will thicken the gravy. Then pour the gravy over the pot roast and veggies and serve.
Dutch Oven Instructions:
Season your pot roast the same way as above with some of the seasonings. Sear the pot roast in the Dutch oven with the oil.
Once seared pour in your beef broth, remaining seasoning, and vegetables if you want.
Cover and cook in the oven at 350 degrees for 2-3 hours or until the roast is fork tender and fully cooked.
To thicken the gravy you will remove beef and vegetables. Add in the cornstarch and water mixture and stir until thickened.
Depending on the weight of your beef roast the cooking time can vary.
If your roast is not tender, it means it needs to be cooked longer.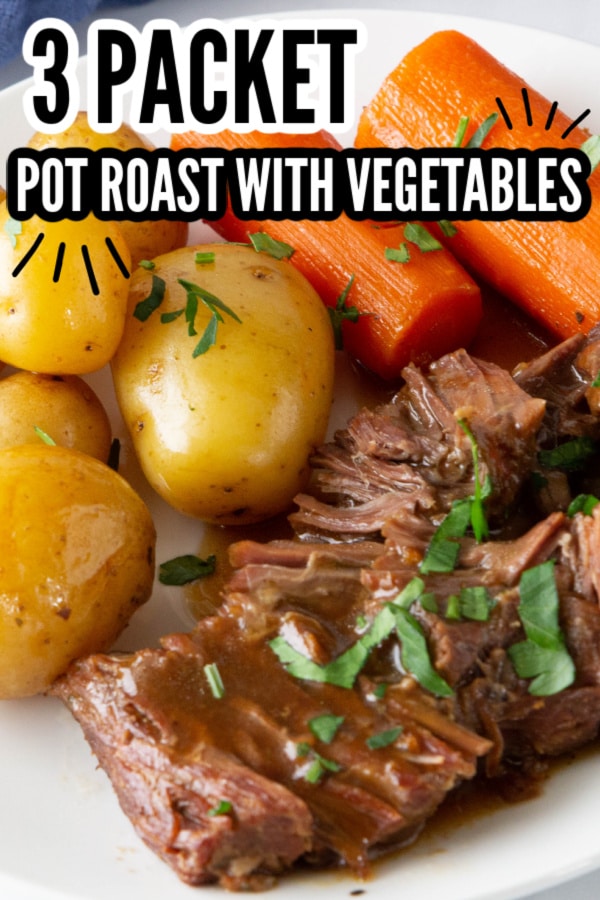 Let me know how you like this 3 packet pot roast!
Reader Interactions