Instant Pot Pumpkin Spice Coffee Creamer is a homemade pumpkin spice coffee creamer that is loaded with creamy and sweet flavor in every sip.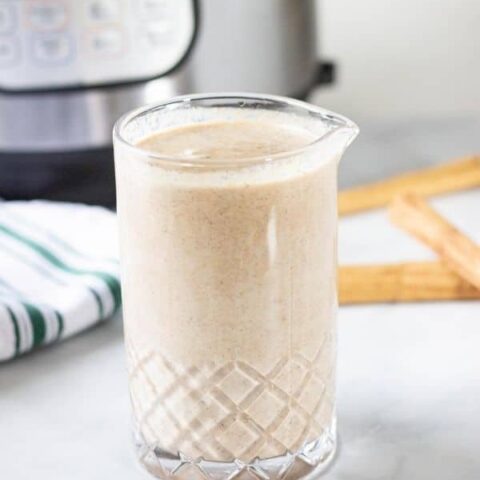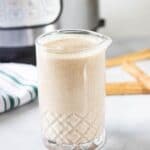 Instant Pot Pumpkin Spice Coffee Creamer is one of my favorite recipes to make iced coffees, lattes, and more with. Homemade pumpkin spice coffee creamer that is bursting with warm spices in every sip.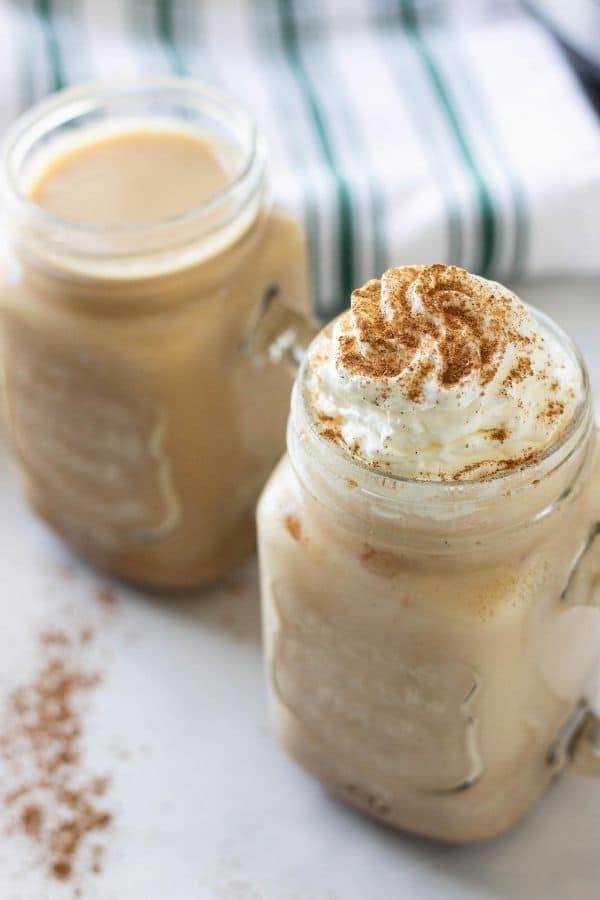 Love pumpkin spice recipes? If so, I have a few more for you to try. Keto Pumpkin Chaffles, Chocolate Pumpkin Cheesecake Cake, or my popular carrot pumpkin muffins.
Instant Pot Pumpkin Spice Coffee Creamer
I don't box pumpkin into the fall. I choose to make this Instant Pot coffee creamer all year round. Store the leftovers in the fridge and then pour into your cup of coffee in the morning.
Is It Hard To Make Instant Pot Spiced Pumpkin Coffee Creamer
It is so easy to make this spiced pumpkin coffee creamer. You will use the saute feature on your Instant Pot to heat up the mixture! It is quick, easy and takes no time to whip up.
Another fall drink is this apple vodka, it is so easy to make!
How to Make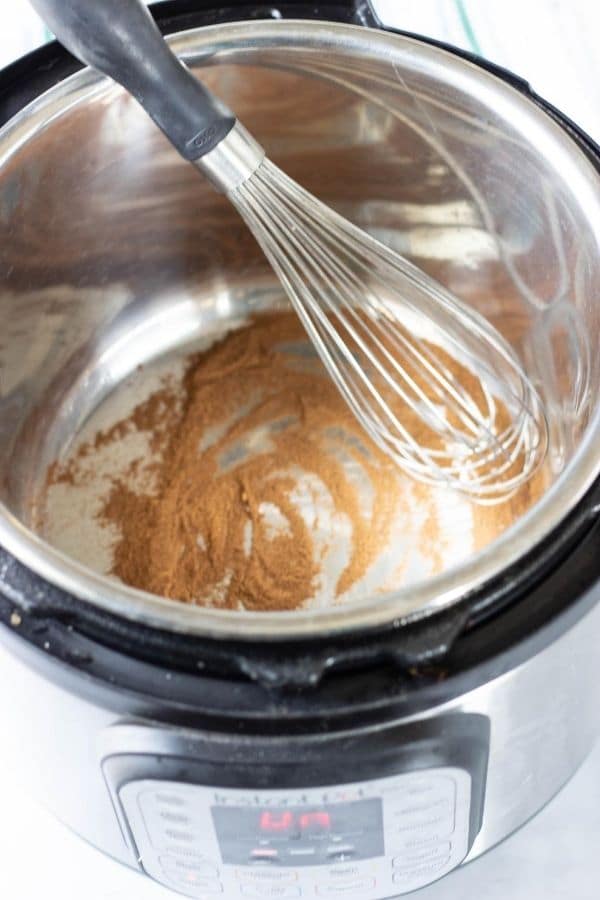 Step 1: Start by placing your pumpkin pie spice in the Instant Pot and turn on low Saute. You are going to stir your spice around and allow it to heat up a bit. This will give nice flavor to the pumpkin spice blend.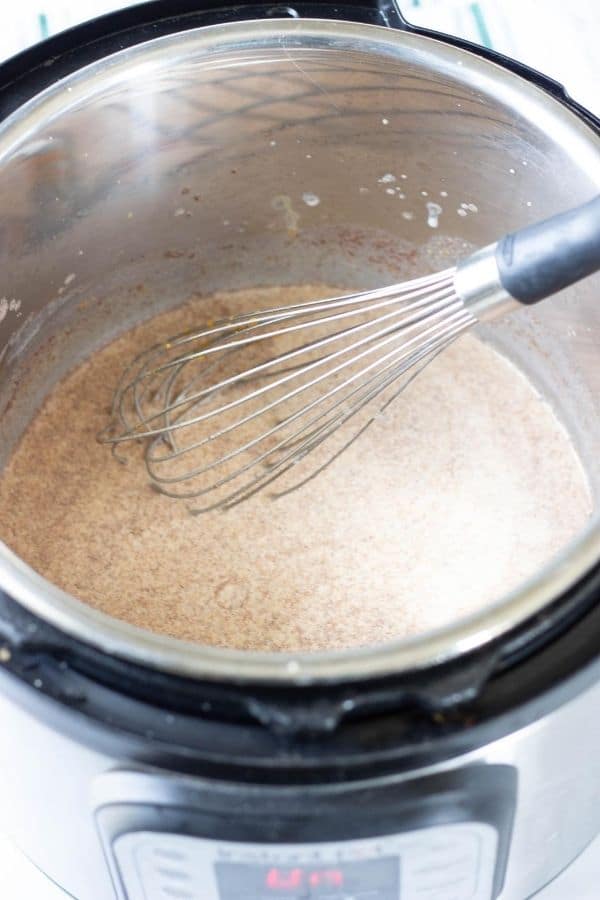 Step 2: Now add in your pumpkin puree, heavy cream, and pumpkin pie spice.
Step 3: You will want to whisk the mixture often so it doesn't burn. Cook for 1 minute then remove from heat and set the Instant Pot liner on a cooling pad or cooling rack.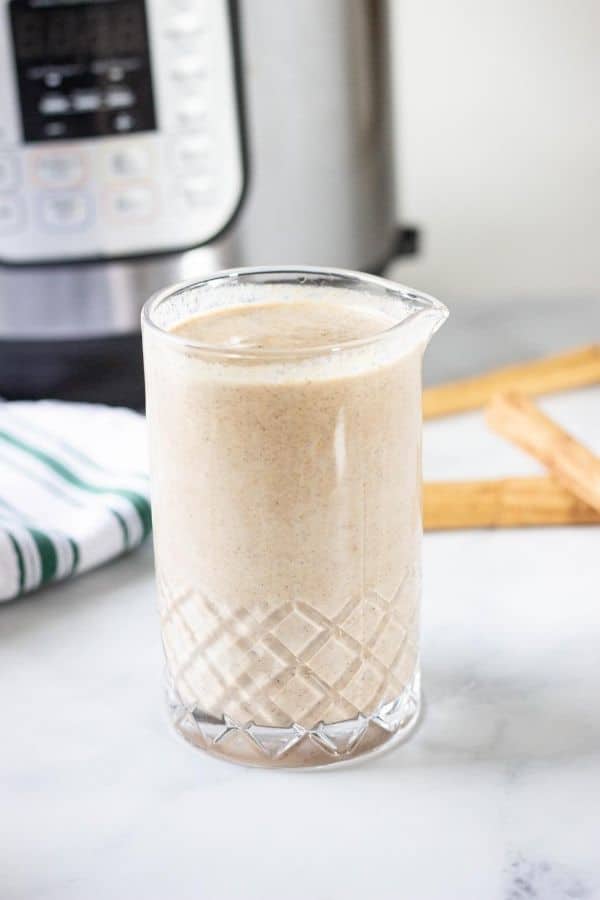 Allow it to sit in the pan for around 5 minutes, stir occasionally. It will thicken up as it sits. Then pour into your coffee or tea and enjoy!
Can I Make A Dairy Free Pumpkin Spice Creamer
You very well could make a dairy free pumpkin spice creamer! Just reach for coconut milk or even almond milk to replace the heavy cream.
The texture will be thinner but it will still work and still be an incredible creamer to pour into your coffee or tea.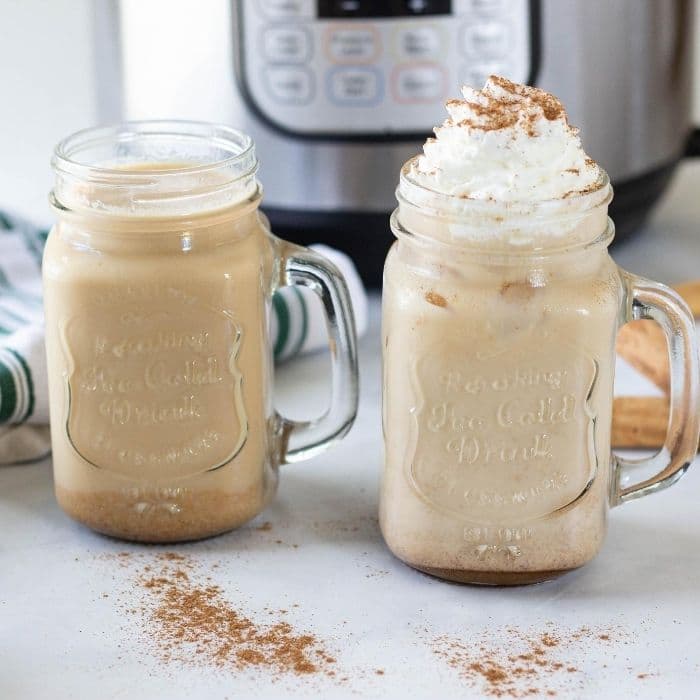 Ways To Serve Up The Creamer
Pumpkin Spice Hot Coffee| I pour this in hot coffee and add a splash of creamer or a lot if you prefer more! Then add extra sugar if you want to sweeten it up!
Pumpkin Spice Iced Coffee| Brew up your coffee. pour over a whole cup of ice, stir in your creamer, and top with whipped topping and a dusting of pumpkin spice or a cinnamon stick.
Pumpkin Spice Cold Brew | If you love cold brew coffee go ahead and mix your creamer with your cold brew. It is a great pairing and you can add as much or as little as you want.
Pumpkin Spice Latte | Lattes are a favorite in our house. You can use a milk frother on the creamer and then create your latte as you normally would!
Pumpkin Spice Blended Cappuccino | Or use my blended iced cappuccino recipe and add in some of this creamer for a pumpkin taste!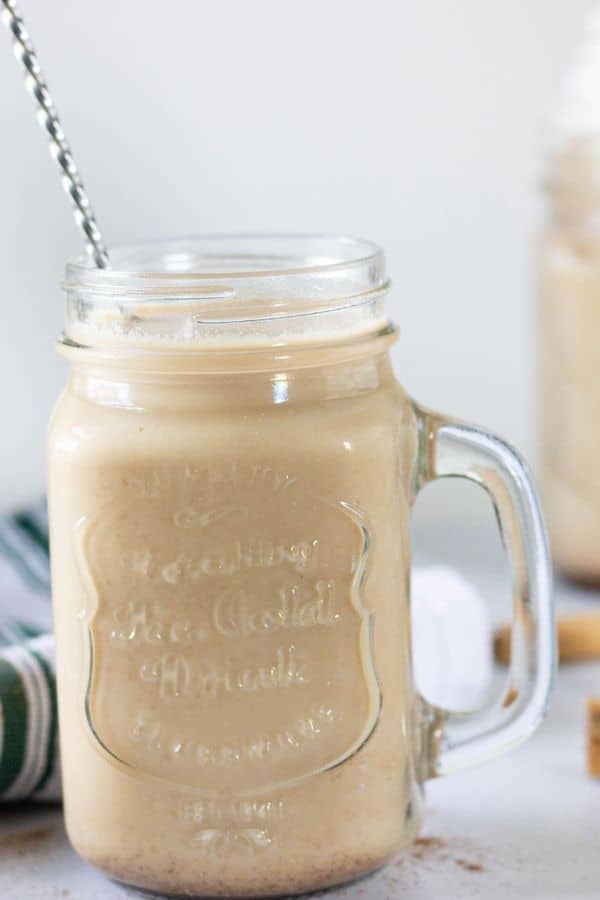 How Long To Store Coffee Creamer
You can store your creamer in the refrigerator for around 5 days. You will need to stir it between each pour as it will settle out a bit.
I placed my creamer in a mason jar and then placed the lid on it. You can store in any sealed container.
Can I Double The Recipe
You can very easily double this recipe. I like to do smaller batches so it doesn't spoil. But if you want to make a double batch of this pressure cooker pumpkin spice creamer, go right ahead.
There will be more than enough room in any size of the Instant Pots on the market. I love this coffee creamer recipe, and I hope you do too!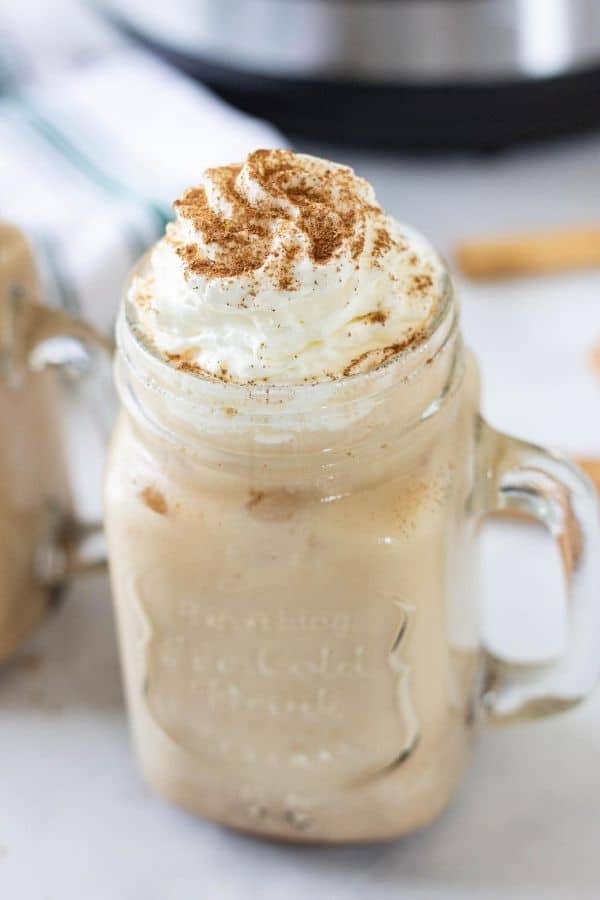 So Easy To Make Homemade Coffee Creamer
Making homemade coffee creamer you get to control what goes in it! I love the maple syrup for sweetness, but you could also add a splash of vanilla extract as well!
This flavored coffee creamer is great all year round, or if you only want in the fall go for it. A creamer flavor that is super easy to make and taste better than store bought.
Can I Add Sweetened Condensed Milk
If you want to add sweetened condensed milk you can at the very end once it has cooled off a bit in the pot. Just stir it in and it will add a thicker texture and creamy texture.
I personally don't love overly sweet creamer, and I have tried recipes with the condensed milk and I wasn't the biggest fan. But, you are more than welcome to try it!
More Instant Pot Coffee Recipes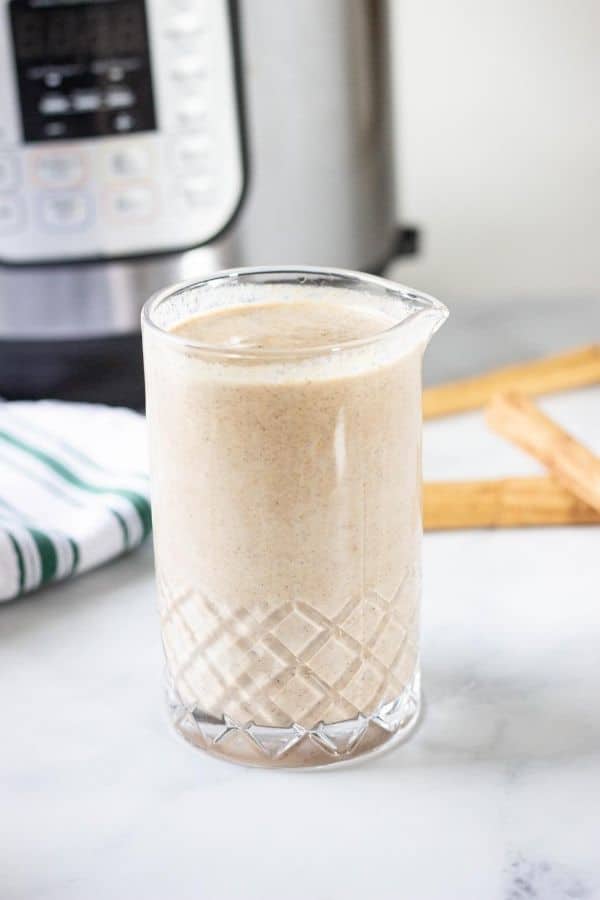 Instant Pot Pumpkin Spice Coffee Creamer
Servings 10 servings
Instant Pot Pumpkin Spice Coffee Creamer is a homemade pumpkin spice coffee creamer that is loaded with creamy and sweet flavor in every sip.
Ingredients
1 1/2 cups heavy cream
4 Tablespoons pumpkin puree
2 Tablespoons pure maple syrup
1 teaspoon – 1 tablespoon pumpkin pie spice
Instructions
Turn your Instant Pot to Saute and add in your pumpkin pie spice. For a mild flavor to 1 teaspoon or for more flavor do 1 tablespoon pumpkin pie spice.

Saute the pumpkin pie spice for just a minute to help release the flavor of the spices.

Now pour in your pumpkin puree, maple syrup, heavy cream, and stir. Bring the mixture to a boil and stir constantly for 1 minute.

Remove the liner and place it on a cooling rack or pot holder and let sit for 5 minutes. Stir occasionally, the coffee creamer will thicken.

You can then pour your creamer into your coffee or place it in a container with a lid and store in the fridge!

This pumpkin spice coffee creamer is great in all types of coffee or tea drinks.
Notes
Stovetop directions: You will cook the exact same way as directed, except using a pan on the stove on medium heat.
Nutrition
Serving: 1gCalories: 136kcalCarbohydrates: 5gProtein: 1gFat: 13gSaturated Fat: 8gPolyunsaturated Fat: 4gCholesterol: 40mgSodium: 11mgSugar: 4g
Let me know what you think of this Instant Pot Pumpkin Spice Coffee Creamer!
Reader Interactions