Better than coffee shop blended iced cappuccino made with just a few ingredients and your blender. I love an iced cappuccino, and this recipe hits the spot.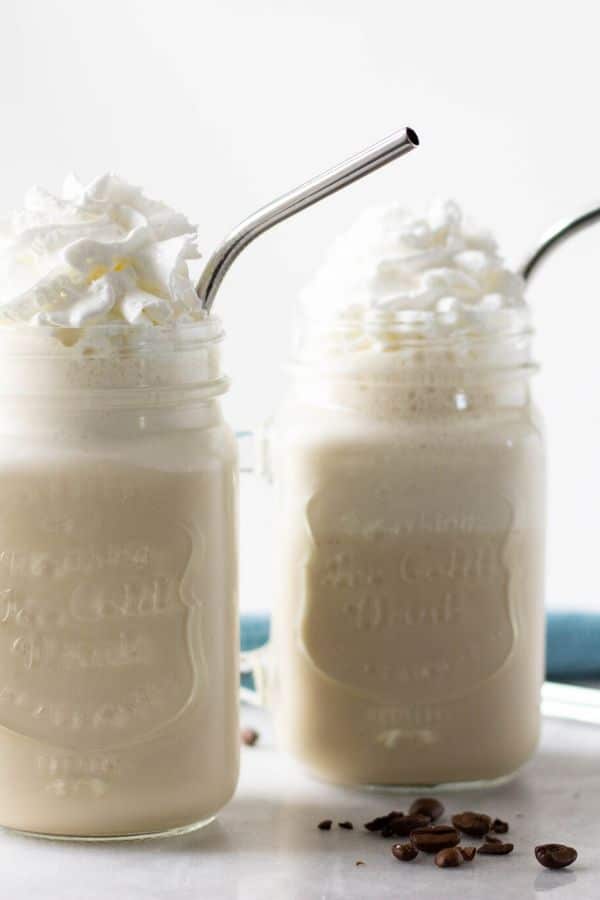 Blended Iced Cappuccino
Many say this recipe is very similar to a Tim Horton's Ice Capp. I personally have not tried it, so I can't vouch for it fully. But the recipe offers a similar flavor to this popular ice capp recipe.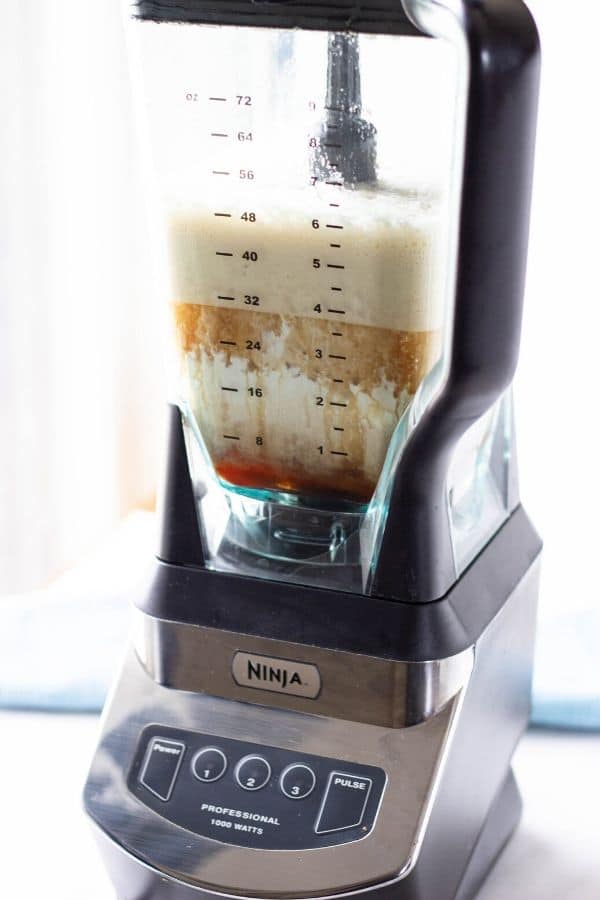 How To Make Iced Cappuccino
Start by making yourself some strong coffee!
Pour in sugar and vanilla and stir, and allow the coffee to sit for 5-10 minutes to cool down and melt the sugar.
Pour into blender with ice. Give a quick blend.
Then pour in remaining ingredients and mix until creamy and ice is crushed up.
Pour into glasses and top with whipped cream, coffee beans, etc.
The full directions on how to make iced cappuccino is in the recipe card below. I think you will enjoy this blended frozen coffee beverage!
Pair this iced coffee with some homemade angel food cake.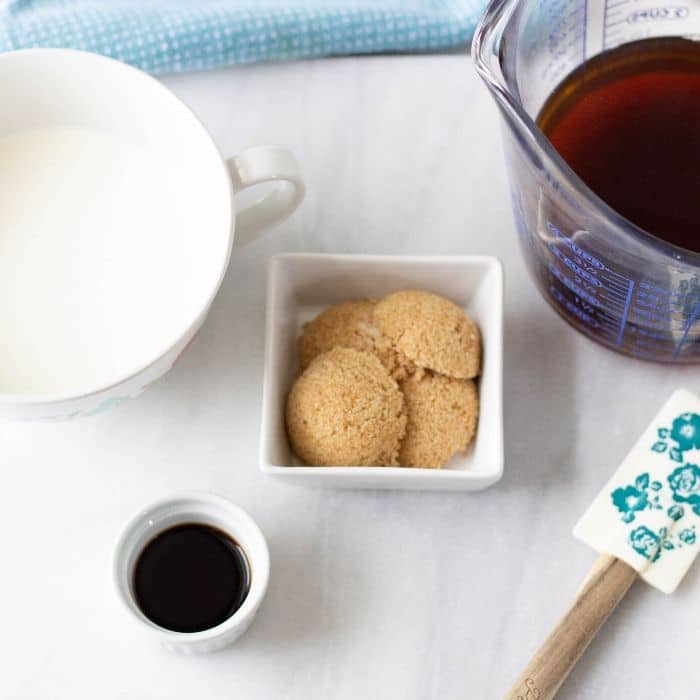 Can I Double This Frozen Cappuccino Recipe
The biggest thing about this recipe is making sure you don't overfill your blender. If you can add in the ice cubes, coffee, and the rest of the ingredients and still have room, go for it.
This recipe works great for making as many as you would like. If you plan to serve a crowd just batch make your frozen cappuccinos and serve as you go, or store in the fridge until ready to serve.
Also, try this whipped coffee recipe as well! It is taking the world by storm right now!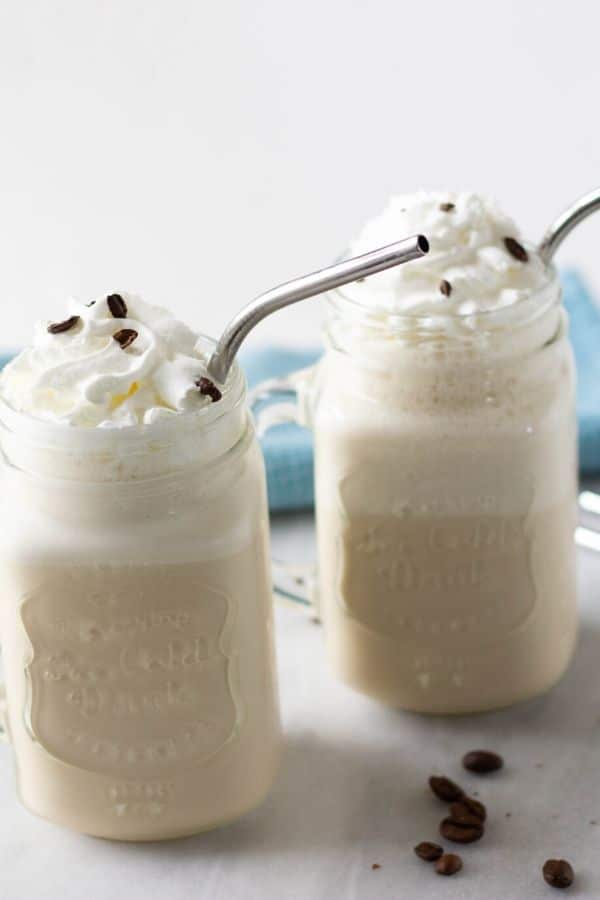 Adding More Flavor To This Cappuccino Recipe
French Vanilla is a great addition to this recipe. Add in some syrup or even coffee cream that is french vanilla flavored. It will add a nice punch of flavor.
Or drizzle in some chocolate syrup, caramel, etc. You can add layers of flavor to your cappuccino recipe. Just pour in a little at a time, taste, and stop when it reaches the flavor you want.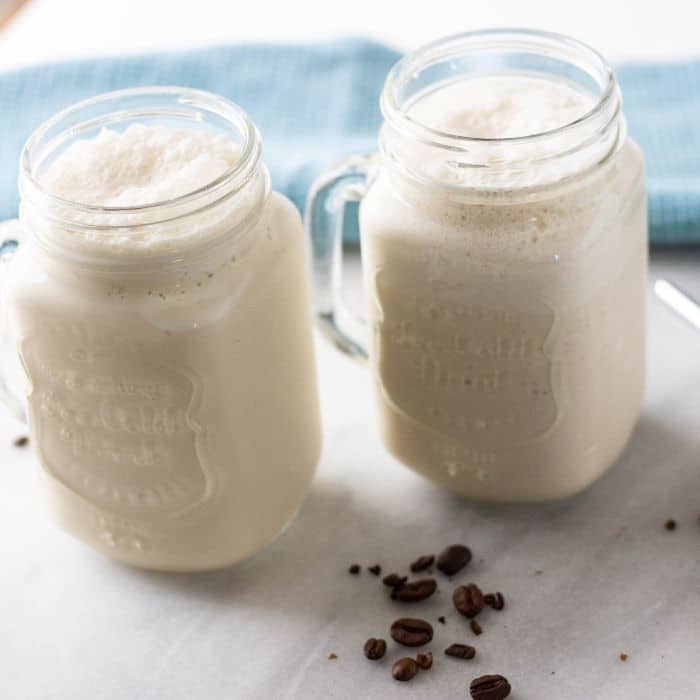 Toppings For Frozen Blended Cappuccino
Whipped Cream
Chocolate Shavings
A drizzle of chocolate or caramel
Sprinkles
Etc
You can pile on any and all of your favorite cappuccino toppings. This is a versatile iced cappuccino recipe blender!
If you want to skip the blender, then use crushed ice or make it an iced cappuccino so you don't need a blender.
Skip the iced coffee or iced latte and try my iced cappucino recipe today!
Can I Substitute Brown Sugar
Absolutely! You are welcome to swap with maple syrup, honey or an artificial sweetener. Now, with the swap of ingredients, you will find it will change up the flavor a bit on this coffee drink.
Does This Coffee Shop Inspired Drink Store Well
Unfortunately, this drink is best made fresh and served. It will melt the ice as it sits even in the fridge and it will become watered down.
So I recommend making this as you plan to serve, instead of making ahead of time.
Want More Drink Recipes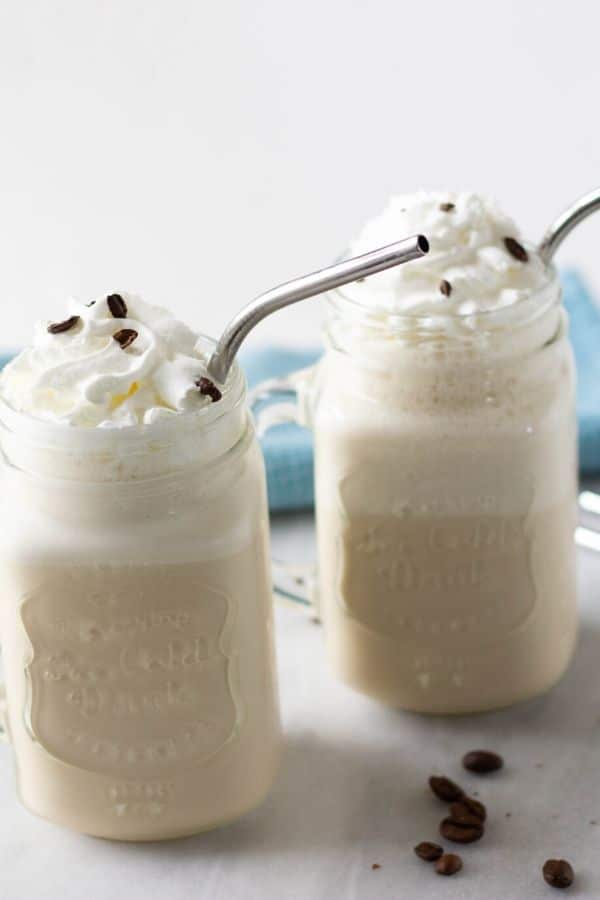 Blended Iced Cappuccino
Servings 2 -4 drinks
Better than coffee shop blended iced cappuccino made with just a few ingredients and your blender. I love an iced cappuccino, and this recipe hits the spot.
Ingredients
10 oz strong brewed coffee of your choice
1 1/2 teaspoons vanilla
6 tablespoons brown sugar
16-24 ice cubes
2/3 cup cream
Optional Toppings
Coffee beans
Whipped Cream
Etc
Instructions
Start by taking your fresh brewed coffee and putting in the brown sugar and vanilla. Stir and let it sit for 5 minutes.

Then pour ice in the blender with coffee. Blend for just a minute to help incorporate.

Now pour in your cream, and blend again.

Pour into a glass once it is fully blended, and top how you would like. Serve your blended iced cappuccinos immediately.
Notes
This can make 2 larger glasses of blended iced cappuccinos. Or you can make smaller servings for 4 servings.
Nutrition
Serving: 1gCalories: 268kcalCarbohydrates: 31gProtein: 4gFat: 15gSaturated Fat: 9gPolyunsaturated Fat: 5gCholesterol: 46mgSodium: 238mgFiber: 3gSugar: 23g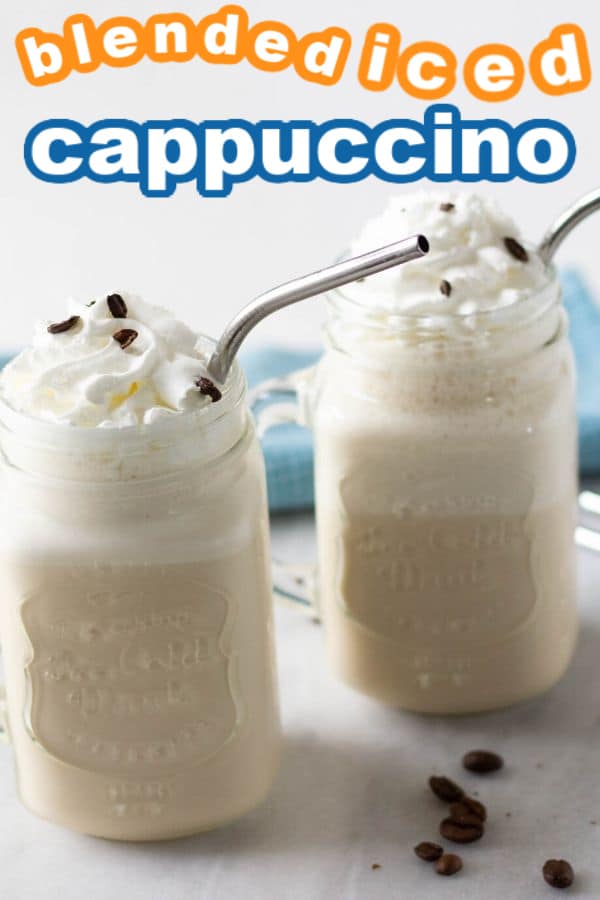 Reader Interactions