Instant Pot Black Forest Cobbler is an easy Instant Pot dessert that requires 3 simple ingredients. Chocolate and cherry collide in this easy cherry chocolate desert.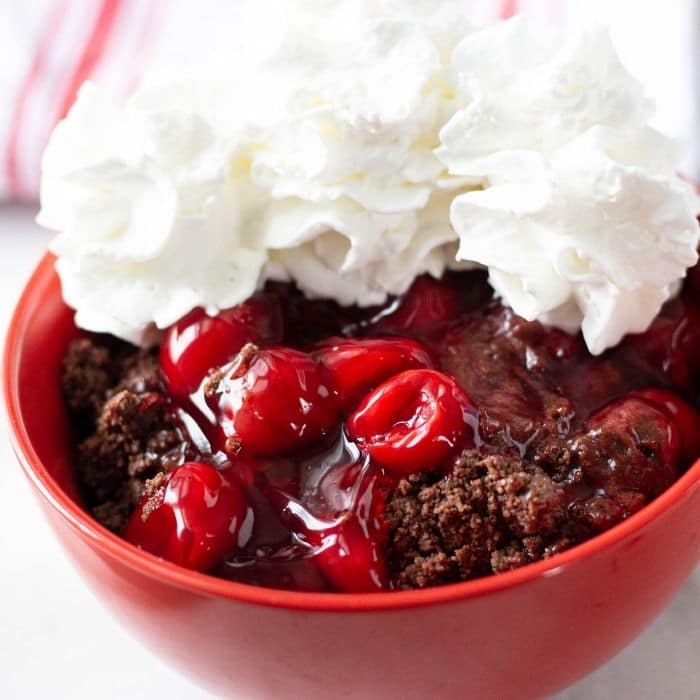 Instant Pot Black Forest Cobbler is a 3 ingredient dessert that is perfect to throw together for a last-minute dessert. Or bring supplies with you for an Instant Pot camping dessert.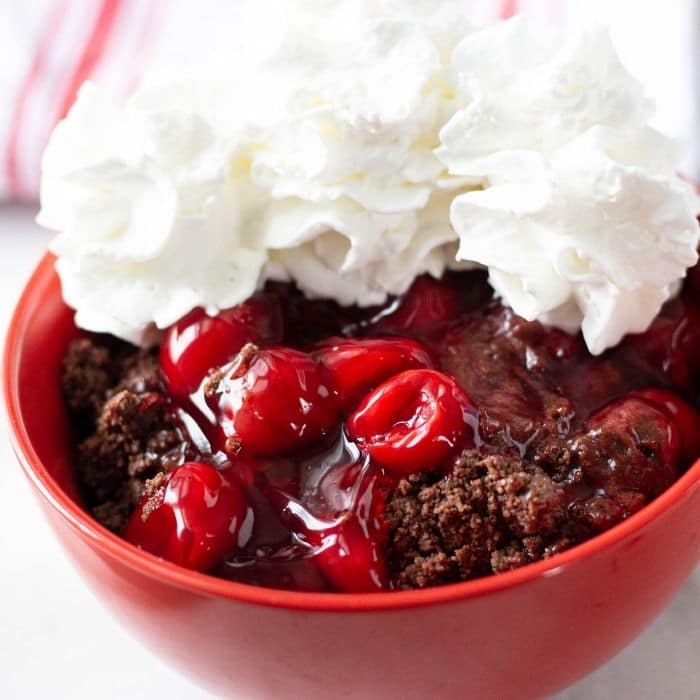 Instant Pot Black Forest Cobbler
Using cake mix in Instant Pot doesn't get much easier than this recipe right here. A black forest chocolate cobbler that is going to tickle those tastebuds.
Serve with a dollop of whipped cream or scoop of vanilla bean ice cream. Give this Instant Pot Cobbler a try!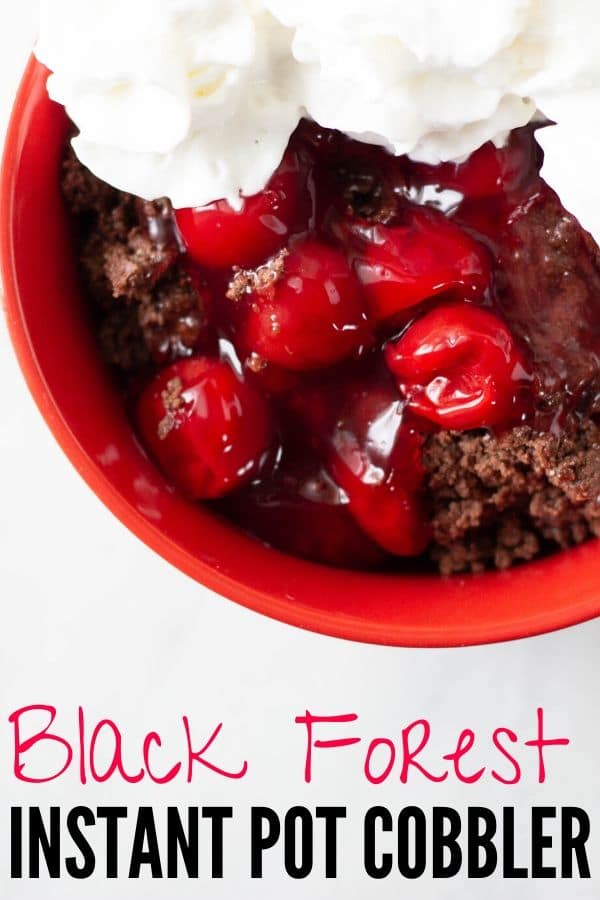 Easy Instant Pot Dessert
You all know I love an easy dessert. One that takes minimal effort but still curbs those sweet tooth cravings! This chocolate cobbler fits the bill. Here are even more easy Instant Pot desserts.
What Is A Cobbler
Cobbler is a dessert that has been around for so many years. Generally, a cobbler has a fruit-filled bottom and is topped with a flour-based or cake mix in this cake topping.
Bake or cook in Instant Pot for the ultimate rich dessert. This chocolate cobbler uses a Devil's Food cake mix as the cobbler topping.
How To Make Instant Pot Cobbler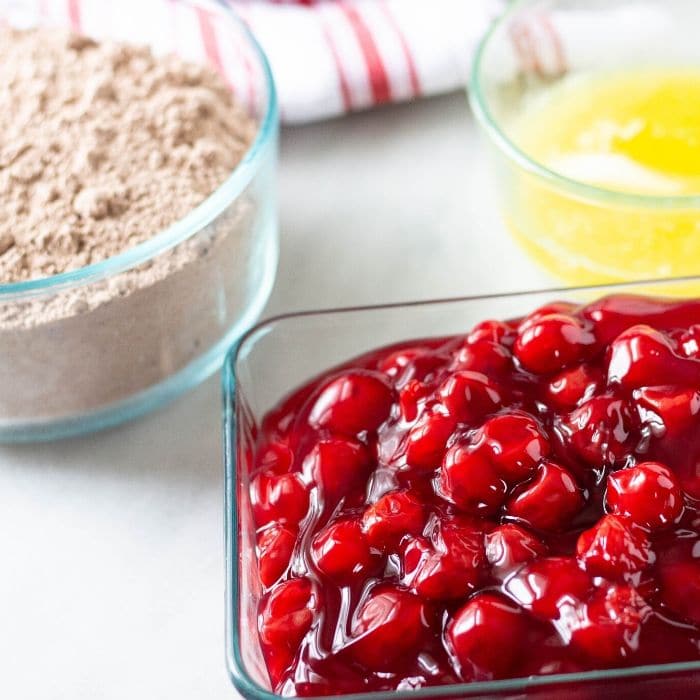 What Is The Best Cake Mix To Use
Honestly, you can use any flavor of cake mix you want. I reached for Devil's Food, but you can use any chocolate cake mix.
Or if you want a regular cobbler, reach for a white cake mix or even yellow. It won't be a black forest but it will still taste insanely delicious. Box cake mix makes for an easy dessert.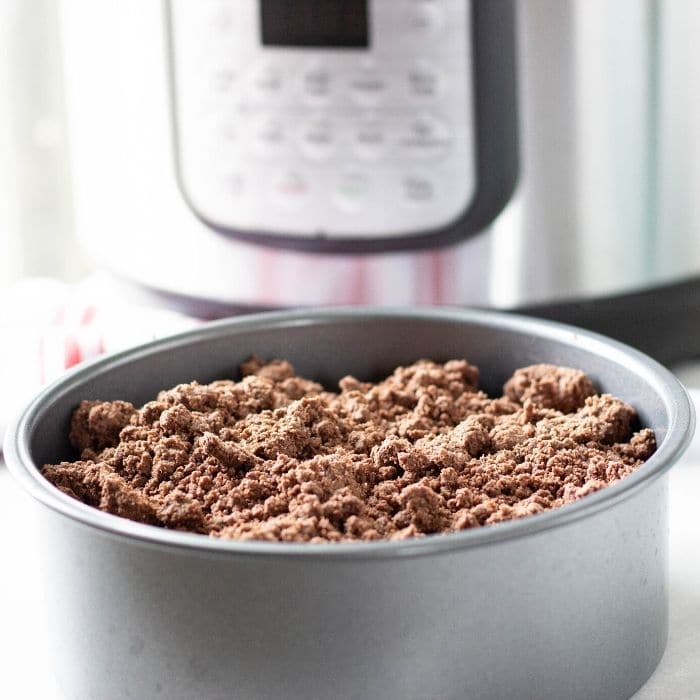 What Pan To Use For Instant Pot Cobbler Recipe
I actually used the 7-inch Instant Pot cake pan. But, you are welcome to use any Instant Pot safe dish that can hold the cobbler.
I also used my Oxo Silicone Sling instead of the classic metal trivet to keep my cobbler out of the water.
If you don't have a trivet or sling you can always ball up aluminum foil and create a stand for your pan to sit on. The biggest thing is not having the pan in the water.
What Size Instant Pot To Use
I used my 8 quart Instant Pot, but you are welcome to use your 6-quart electric pressure cooker as well. If you use an 8 quart add 2 cups water, and if using a 6 quart do 1 cup of water in the bottom of the pot.
Is This A Dump Cake
While this is a simple dessert, it is not considered a dump cake. Dump cakes are where you literally dump the ingredients into the pan.
Cobbler, you have to mix, pour, and then cook. But, it is similar to a dump cake.
How To Store
Because of the pie filling I tend to store my chocolate cobbler in the fridge. I wrap it up or place in an airtight container. Then store for 4-6 days.
Can I Swap Pie Filling
Absolutely, feel free to swap out the pie filling. Strawberry would be another great fruit filling or even a mixed berry to use.
You can also use homemade pie filling if you would prefer. Feel free to use what you have or prefer.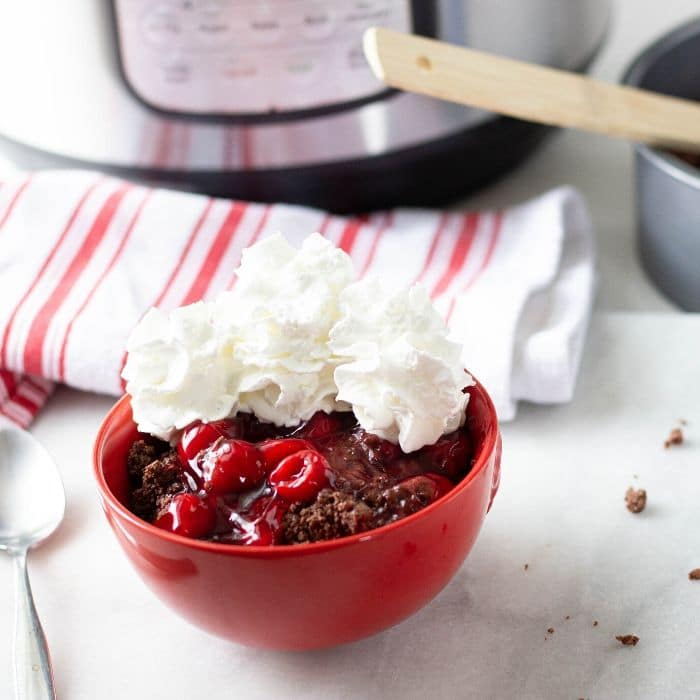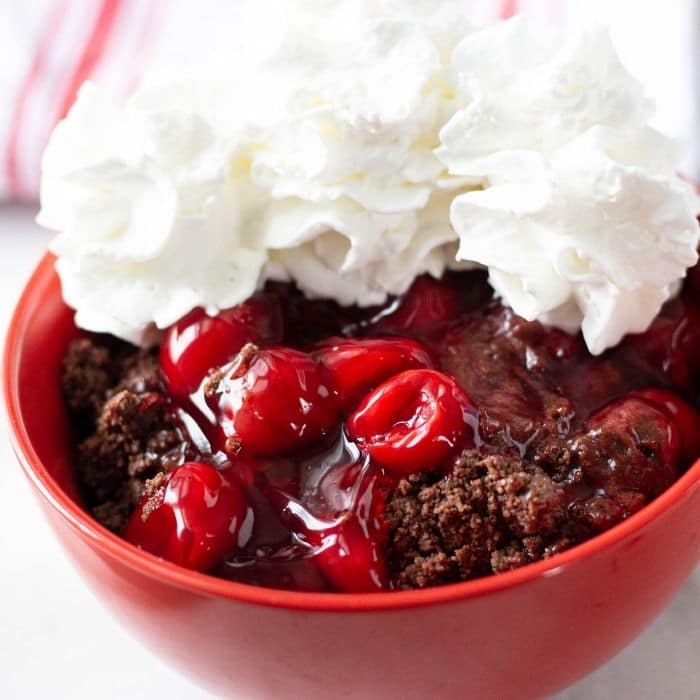 Instant Pot Black Forest Cobbler
Servings 10 -12 servings
Instant Pot Black Forest Cobbler is an easy Instant Pot dessert that requires 3 simple ingredients. Chocolate and cherry collide in this easy cherry chocolate desert.
Ingredients
1 box chocolate cake mix 1 5.25 size
1 stick of unsalted butter melted
2 cans of cherry pie filling
whipped topping or ice cream optional toppings
Instructions
Grab a pan that is safe, I used a 7-inch cake pan, and then I poured my 2 cans of cherry pie filling in the bottom of the pan.

Now grab another bowl and pour your cake mix in. Then add in the stick of butter that has been melted.

Mix it around, it will be crumbly. Pour it over the cherry pie filling. Now, you don't have to use all the cake mix if you don't want. The more you add the added chocolate flavor you will get.

Cover your pan with aluminum foil. Make sure it is tight around the edge so condensation doesn't get inside the cobbler.

Now pour 1-2 cups of water into your pressure cooker. 1 cup for 6 quart Instant Pot and 2 cups for an 8-quart pot.

Place trivet in your instant pot or use a silicone sling as I used. Lower your cobbler into the Instant Pot.

Seal and make sure the valve is closed. Select high pressure and cook for 13 minutes. Followed by 15-minute natural release.

Once it has release naturally for 15 minutes, release any leftover pressure. Remove the black forest cobbler, and then serve!

This black forest cobbler is the ultimate easy dessert to serve anytime or any occasion.
Nutrition
Serving: 1gCalories: 261kcalCarbohydrates: 40gProtein: 1gFat: 11gSaturated Fat: 7gPolyunsaturated Fat: 4gCholesterol: 30mgSodium: 56mgFiber: 1gSugar: 4g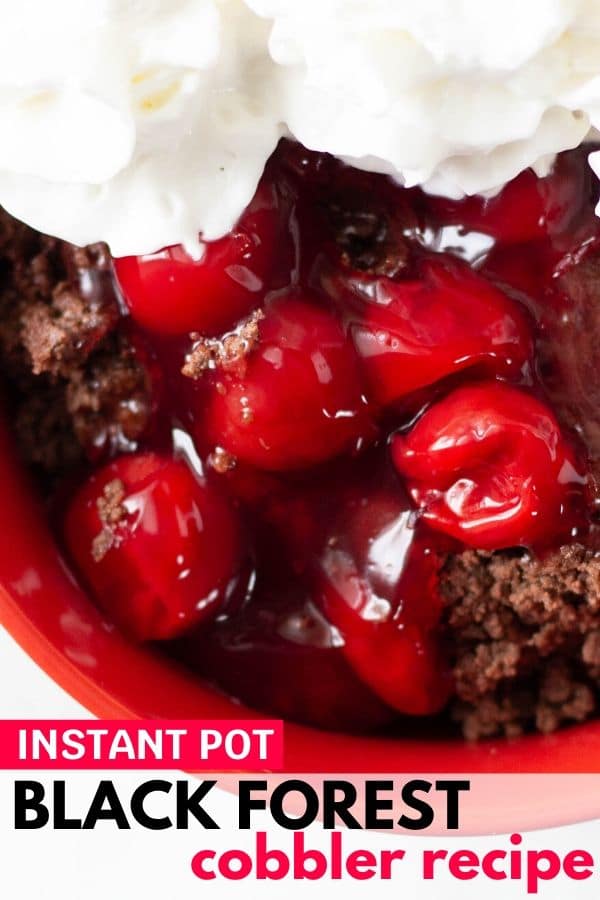 If you are new to the Instant Pot, these posts might help!
Reader Interactions