Refried beans are easy to make yourself. Try my canned beans refried beans recipe, to pair with all your favorite main dishes.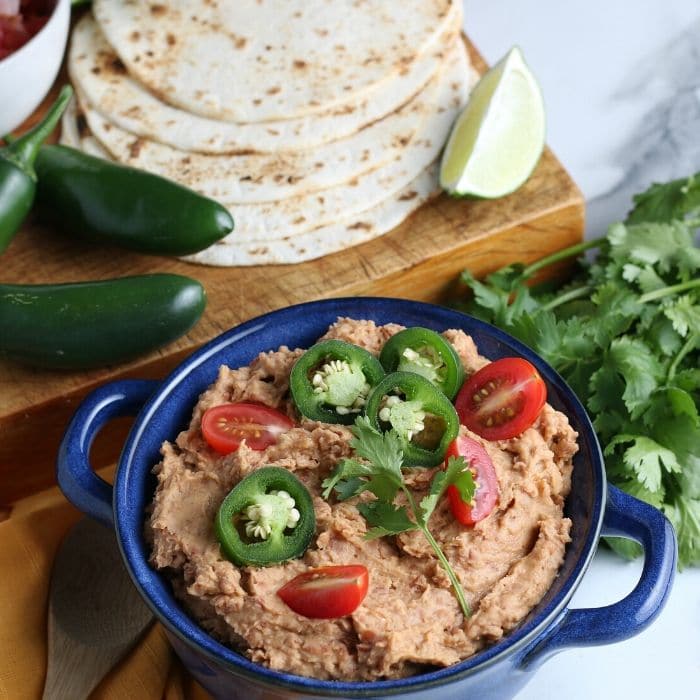 We're huge fans of refried beans in our house but did you know that you can actually make your own refried beans from scratch. An easy refried beans recipe that you can serve next to your tacos.
Refried beans are one of those foods that I love to love. But growing up, we used to buy them from the store in the can and I never really "took" to the taste and flavor.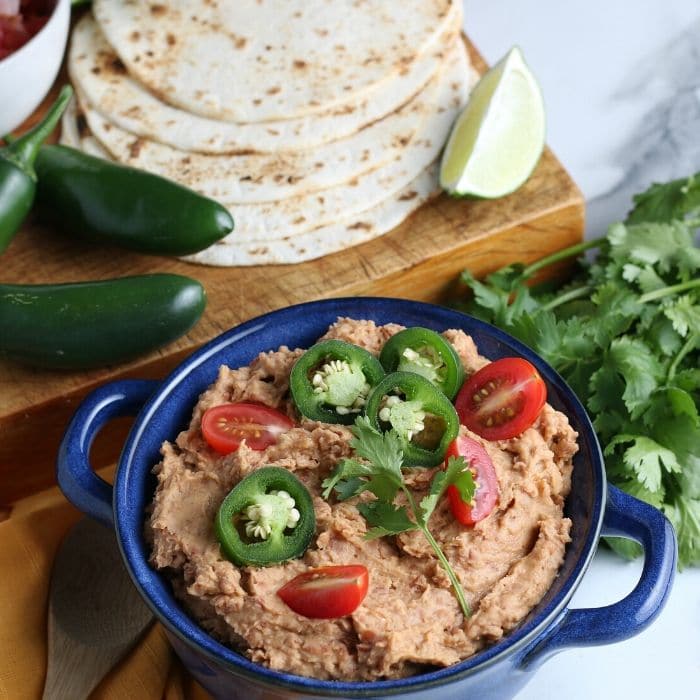 Not only that but as I've grown up and started cooking now for my own family, I really don't like not knowing what is in certain canned foods from the store.
Call me picky…but if I can make something at home instead of buying it, I'm 100% down to make that happen. 
Why Make Refried Beans…
This recipe uses canned pinto beans for a quick cook
No soaking beans required
Flavorful
Creamy
Delicious
Easy to Make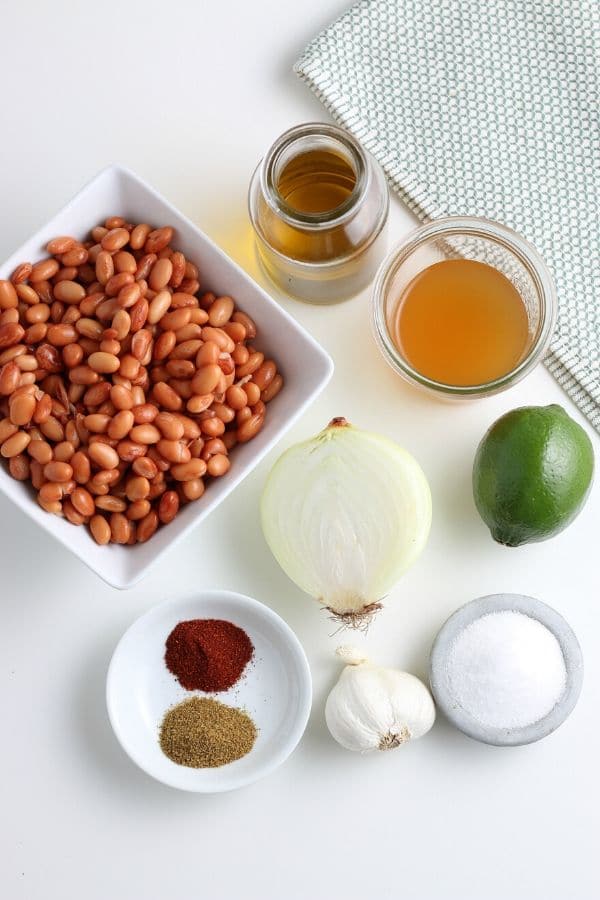 Ingredients Needed
Canned Pinto Beans
Onion
Oil
Garlic
Ground Cumin
Vegetable Stock
Lime Juice
This is a vegetarian refried beans recipe, that is loaded with flavor and creamy and savory. Grab your masher and create the perfect consistency for your beans.
How to Make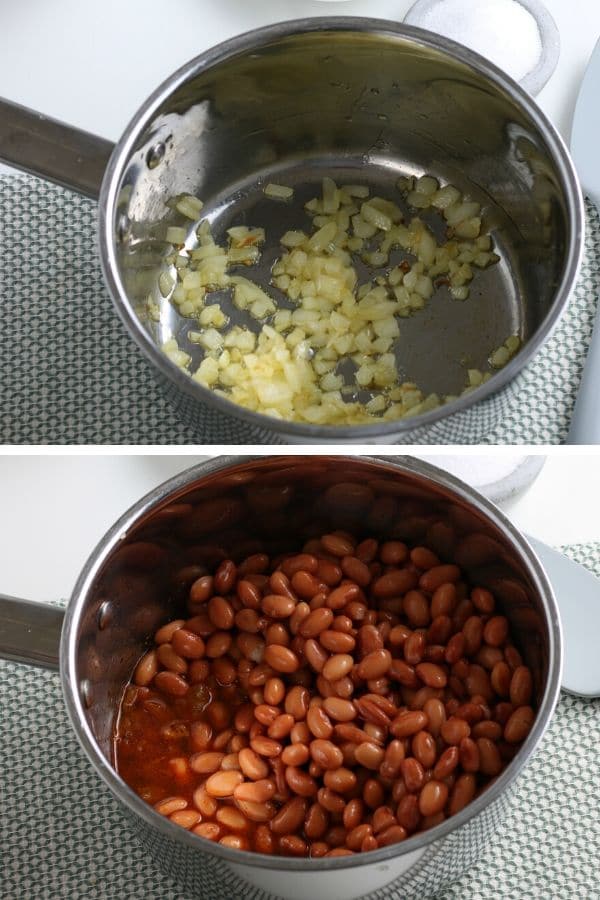 Step 1: First, in a medium saucepan add your oil, onions and salt. Saute the onions to allow them to become translucent and soft.

Step 2: Next add in the garlic and other spices and cook another 30 seconds or until it becomes fragrant.
Step 3: Lastly, Pour in your beans and stock. Cook over medium heat for 5 minutes.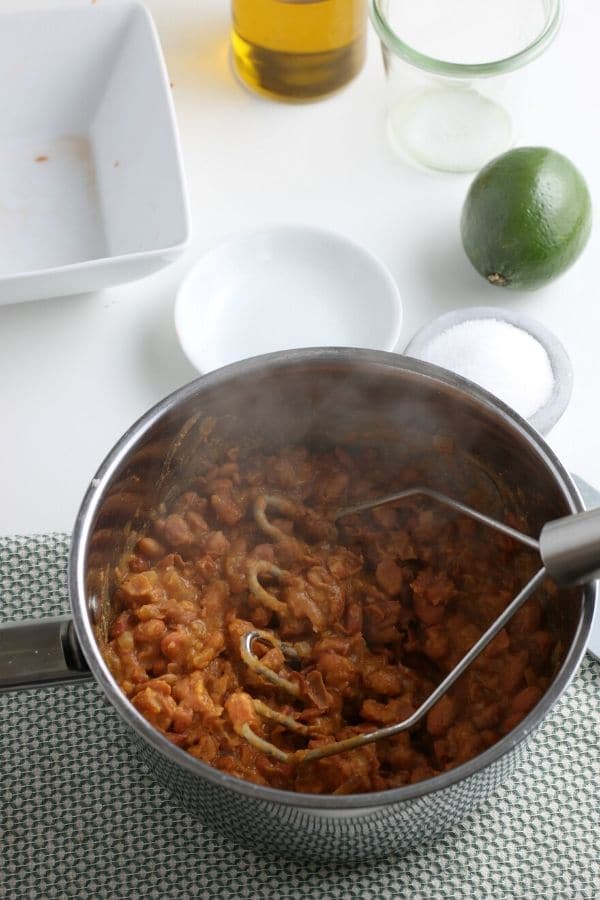 Step 4: Mash up the beans, and then cook an additional few minutes, to help thicken up the refried beans.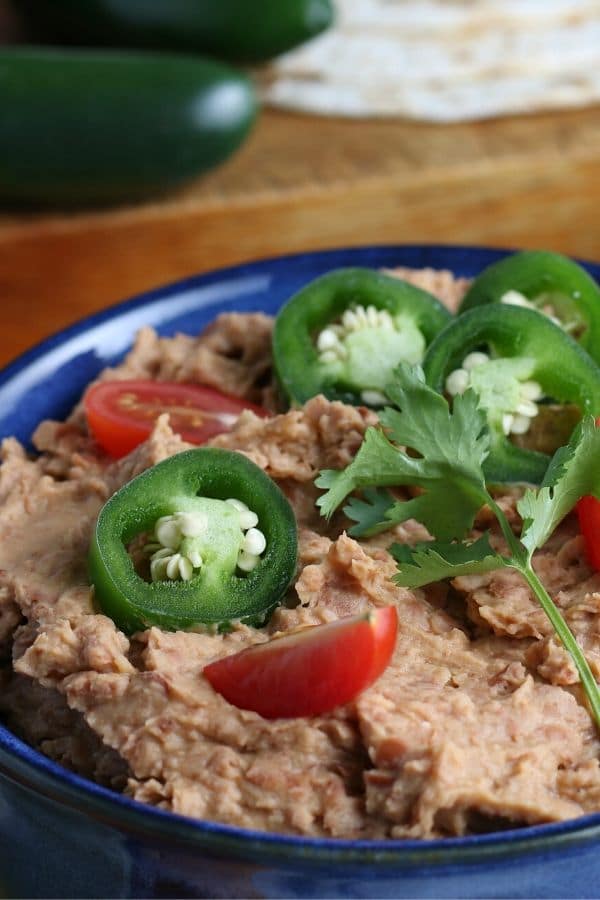 How to Season Refried Beans
You will saute the onions and then add in the garlic and such before adding beans. This creates a richness to flavor your beans.
Ways To Dress Up These Beans
One of my favorite ways to eat them is to cook them up, add on some shredded cheese, sour cream, chives, cilantro, and a little bit of spicy seasoning or salsa and enjoy.
It tastes so good. And it's basically the equivalent of eating up a meatless Mexican dish or having a meal that's loaded with protein. 
Variations to Recipe
Even though this recipe is pretty straight forward. There are a few things that you can do to change it up a bit.
One of the biggest things is that you can add even more chili pepper to really bring out the heat.
Another great variation option for this recipe is to cook up the beans using coconut oil instead of olive oil.
It's a small and subtle change that will have such a fun taste difference on the end product!
Recipe FAQs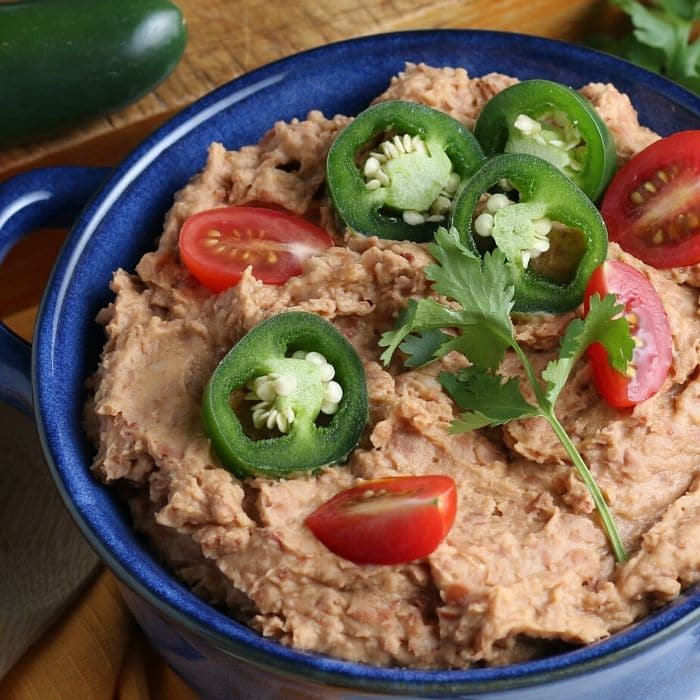 Recipes To Pair With These Beans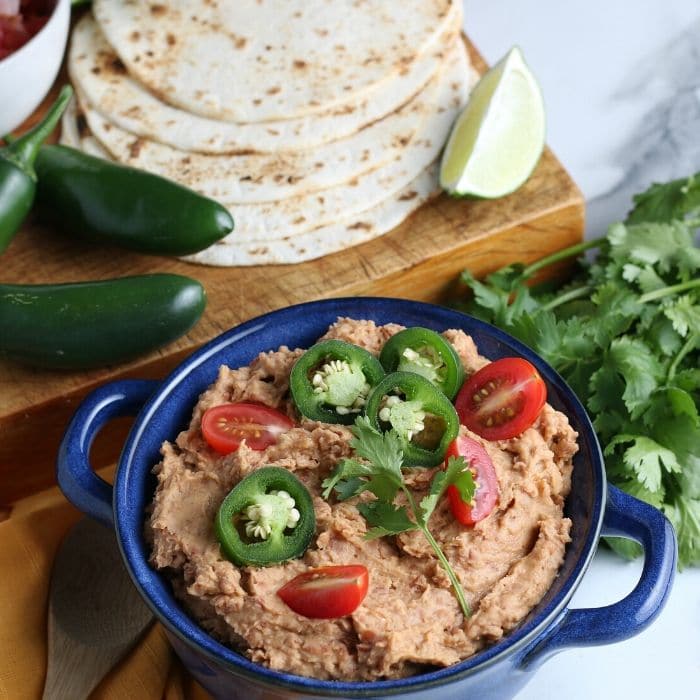 Refried Beans
Refried beans are easy to make yourself. Try my canned beans refried beans recipe, to pair with all your favorite main dishes.
Ingredients
2 cans 15 oz each pinto beans, rinsed and drained
½ cup onion finely chopped
2 tablespoons oil canola, olive oil
1 tablesoon garlic minced
1 teaspoon ground cumin
1 teaspoon chili powder
1 tablespoon fresh lime juice
½ cup vegetable stock or broth
Instructions
In a medium saucepan you will want to turn on medium heat. Then add your oil and let it get warm. Toss in your onions and salt.

Cook your onions until they are softened and become translucent, this takes around 5 minutes.

Add in your garlic, cumin, and chili powder. Stir constantly for about 30 seconds, you want it to begin to smell fragrant.

Now pour your drained beans in along with vegetable stock. Stir and cook covered for 5 minutes on medium-low heat.

Reduce your heat to low and remove your lid. Grab a potato masher or blender and mix up the beans. I generally mix only half the bans up as I like a thicker texture. But mix to your desired texture.

You will want to cook the beans for 2-3 more minutes stirring often.

Once done remove beans from the heat, and stir in the lime juice. Add salt to taste if ou would prefer.

If your refried beans seem dry you can add a splash of broth or even water. Cover and stir occassionally until you are ready to serve.
Nutrition
Serving: 1/2 cupCalories: 178kcalCarbohydrates: 27gProtein: 7gFat: 7gSaturated Fat: 1gPolyunsaturated Fat: 6gCholesterol: 1mgSodium: 501mgFiber: 5gSugar: 10g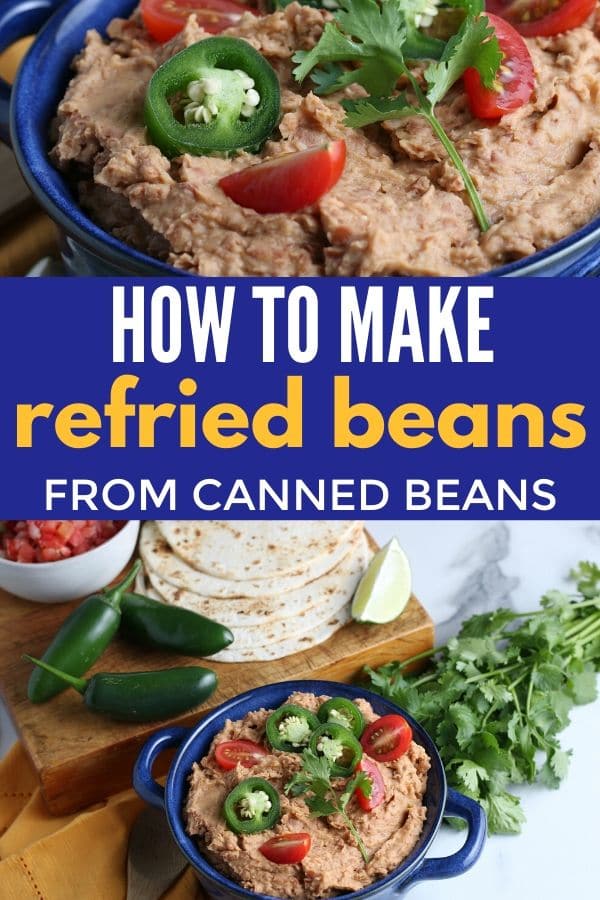 This is one bean recipe that everyone in the family is going to love. Eat it as is or toss it on a burrito or taco to add in some delicious flavor and protein! This recipe gives you that wiggle room to choose what you prefer!
Reader Interactions