Shark week is approaching, and for that these Shark Attack Jello Shots made with ocean water Jello are a must make. A berry blue jello shot that is made with blue raspberry vodka.
A Sonic Ocean Water jello shot that is loaded with sweet flavor in each bite. This is a spiked ocean water that offers a coconut and blue raspberry flavor. Check out my beach jello shots.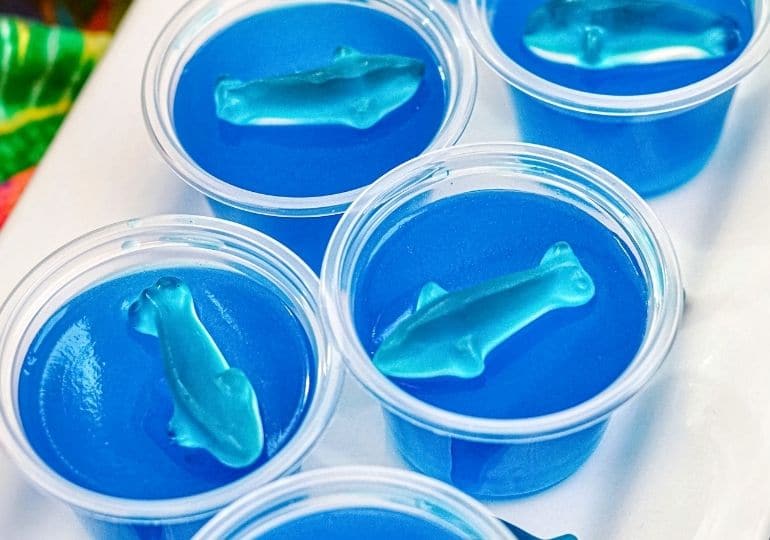 If you ever dreamed of a Sonic jello, now is the time. These blue jello cups are easy to make, and if you don't like alcohol make the shark bite shots without booze.
A blue pina colada jello treat, that is a gummy shark jello shot! Try my classic jello shot recipe as well!
Why Make These Shark Attack Jello Shots…
Easy
Simple Ingredients
Uses Sonic Ocean Water Jello for delicious flavor
Fun shark gummy on top of each jello shot
Ingredients Needed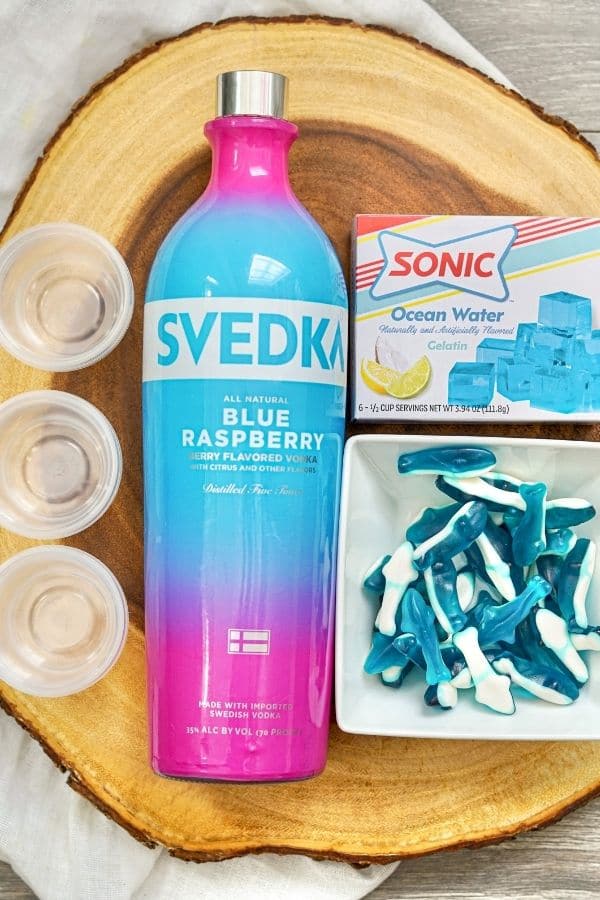 Water
Blue Raspberry Vodka
This is the jello shots ingredients, but know you can change it up for flavors on ingredients.
How to Make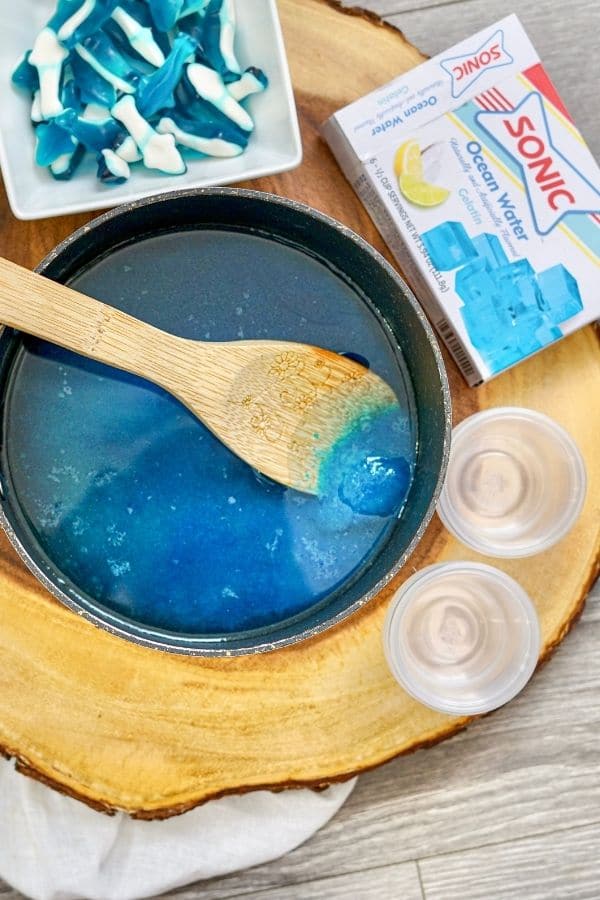 Step 1: Bring water to a boil as directed, then stir in the Jello once you remove it from the heat. You want to make sure the Jello is completely dissolved before moving to the next step.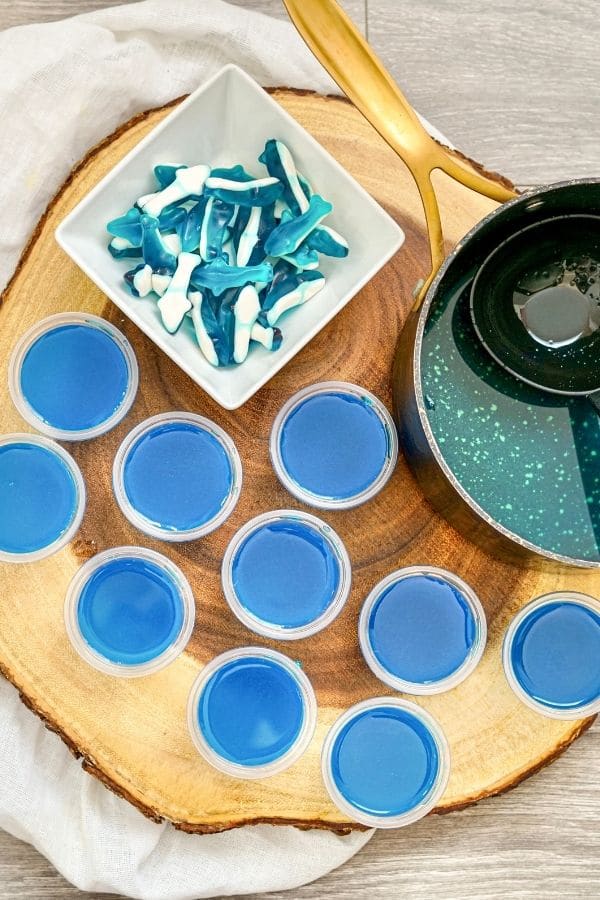 Step 2: Add in the vodka and stir, pour the mixture into condiment cups.
Step 3: Place lids on each cup, refrigerate, then once set, place gummy shark on top.
Serve and enjoy these cool Jello shots for entertaining this summer.
Storage
These blue Hawaiian jello shots need to be stored covered in the refrigerator. The shark jello cups will last around a week in the fridge.
They are best when eaten within the first few days of being made.
Expert Tips For Making
You can make as much or as little as you would like on Jello shots.
Don't add too much vodka or it can cause the Jello to not set up properly.
Swap vodka with any flavor of vodka, white rum, tequila, or other alcohol.
Add a drop of red food coloring to jello cups, to act like blood, then set up as you normally would.
You can place your gummy in the shot or place on top like I did. I found it worked best for the gummy to set on top of the shark attack shot.
Recipe FAQs
More Vodka Recipes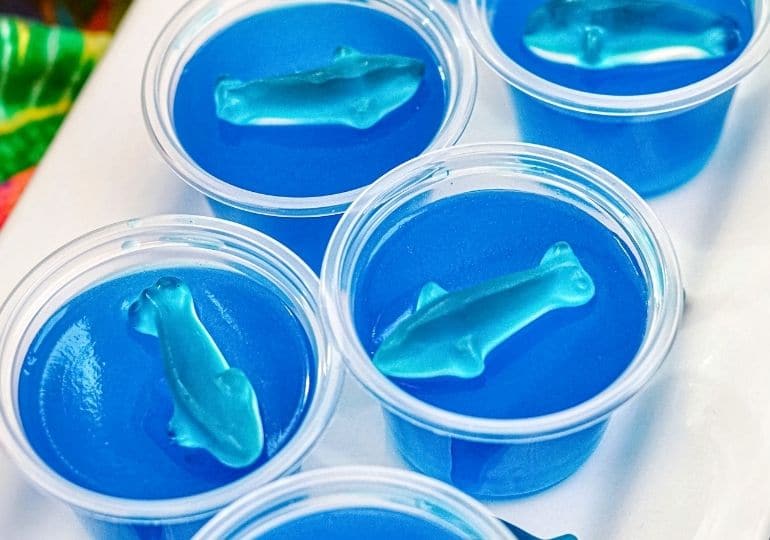 Shark Attack Jello Shots – Ocean Water
Servings 36 shots
Whip up a batch of these Shark Attack Jello Shots. These are an ocean water jello shot made with Sonic ocean water jello. This blue jello shot is one you will enjoy.
Ingredients
1 1/2 Cups Water
1 1/2 Cups Blue Raspberry Vodka
Instructions
Start by brining your water to a boil. Once the water is boiling remove from heat and add in the ocean water jello.

Stir the jello until completely dissolved. Then stir in the blue raspberry vodka.

Pour the jello into the jello cups, leave room at the top for the shark later.

Place the lid on each cup and place in the fridge to set up for 1-3 hours.

Once the shark blue jello shots are set, place a gummy shark on top and serve.
Notes
You can use blue raspberry jello instead of the blue coconut if you want. Swap the vodka with white rum, tequila, etc. For a milder jello shot, do 1 cup of vodka to 2 cups of water. These jello shots will store for around a week in the fridge. Make sure to drink responsibily when it comes to alcohol. These can give you a buzz or even get you drunk depending on how many you eat. Add a dot of red food coloring to the unset jello to act like blood. Then let them set up. If you want to make these non-alcoholic do all water, or even swap the vodka with lemon lime soda for a bubbly texture to the jello shots. If you can't find these condiment cups, you are welcome to use a silicone mold or other style. Just make sure it can easily be removed from the container it is in.
Nutrition
Serving: 1gCalories: 28kcalCarbohydrates: 2gFat: 2gPolyunsaturated Fat: 1gCholesterol: 1mgSodium: 62mgSugar: 2g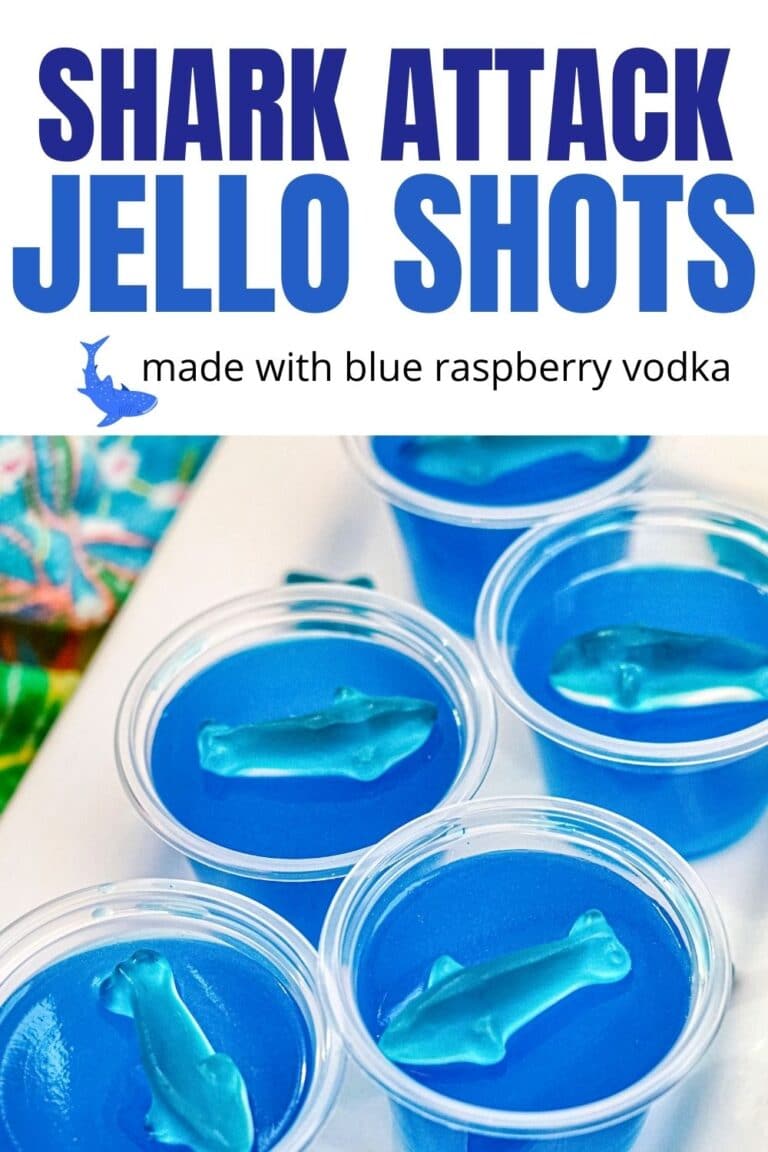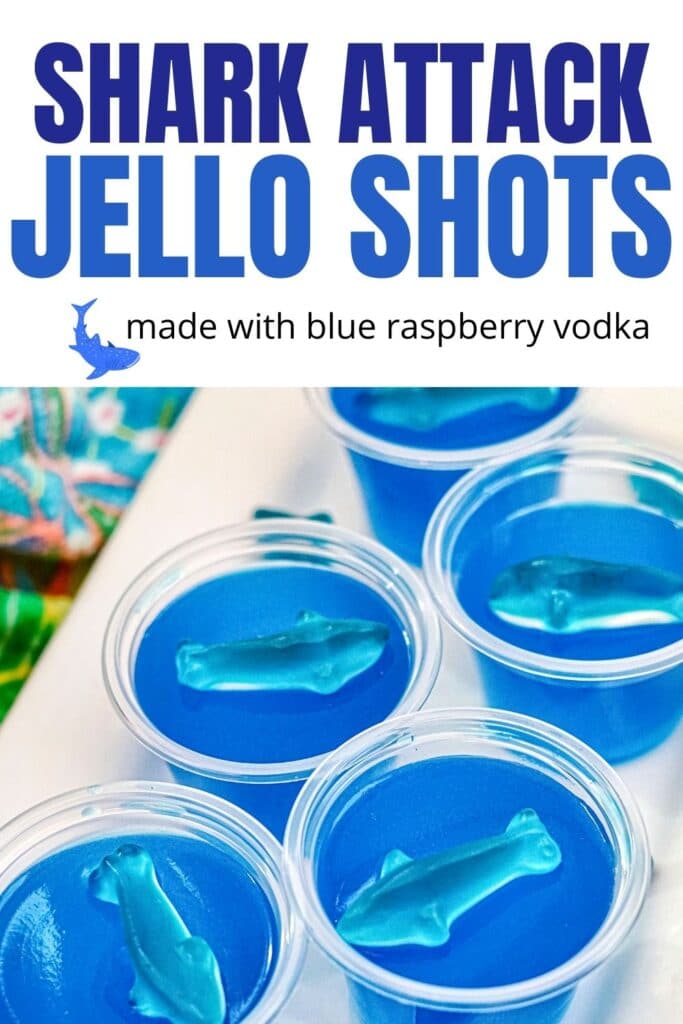 Reader Interactions