Flavored Jello and Vodka come together for this party-approved Jello shots recipe. Jello shots are the life of the party. Whip this tried and true Jello shots with vodka or rum for that matter a try.
Making jello shots is super easy, and I help you to know how much vodka to use for jello shot ratio, perfect jello shot containers and more.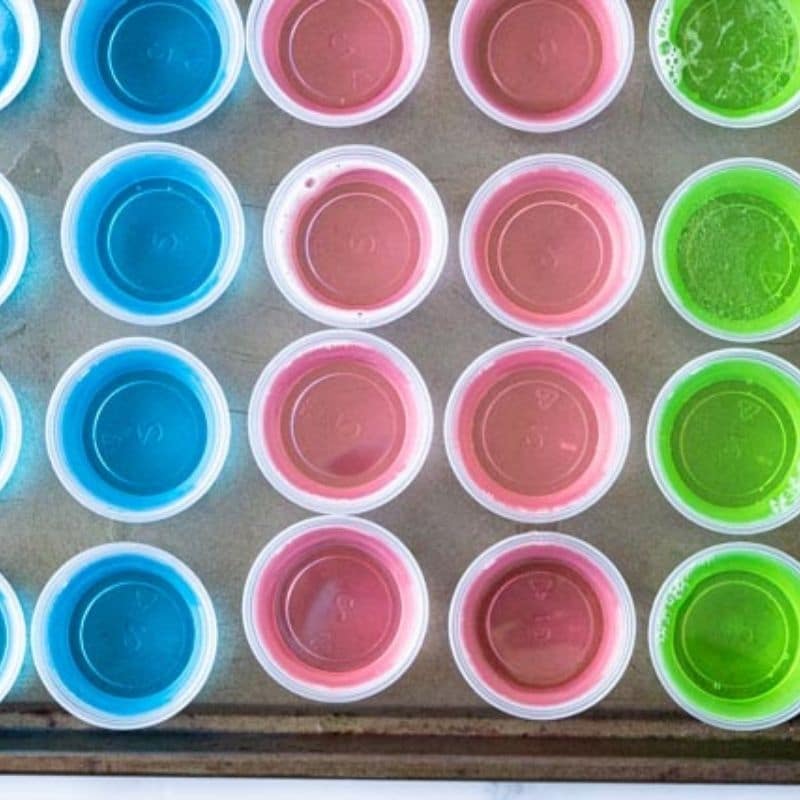 If you are looking for a jello shots idea this is a great starting point. I used Starburst Jello shots, Jolly rancher Jello shots, and classic jello shots.
Personally this is the best version I find, and you easily do vodka or rum to add that alcoholic twist. Try my Ocean Water Shark Jello Shots! Try out my pool party vodka jello shots too!
Why You Will Love This Jello Shot Recipe…
3 Ingredients
Best vodka jello shots recipe
Easy
Party Fun
Use any colors you want
Adaptable
Ingredients Needed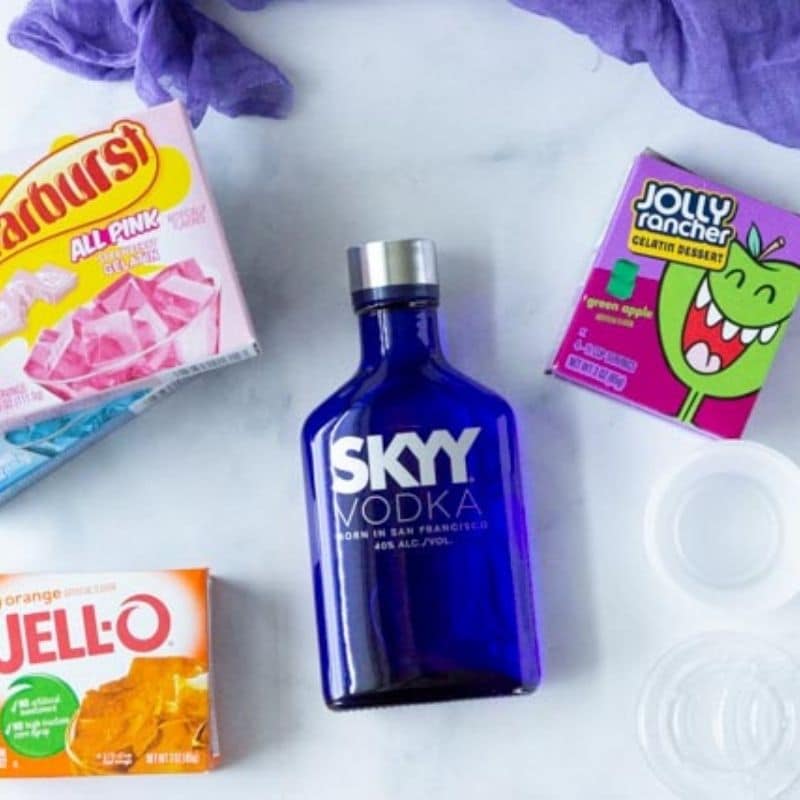 Use any flavors of Jello you want! Aim for 3 ounce to 3.9 ounce packet sizes.
Supplies Needed
You can do the shots in any storage form, I just like the single serve containers. But feel free to do a 9×13 pan, and then slice and cut with a knife for finger style Jello.
Or use smaller or larger containers. Just use what you have or find will fit your preference.
How to Make
Full directions on how to make jello shots are in the printable recipe card at the bottom of the post. This is a quick walk through.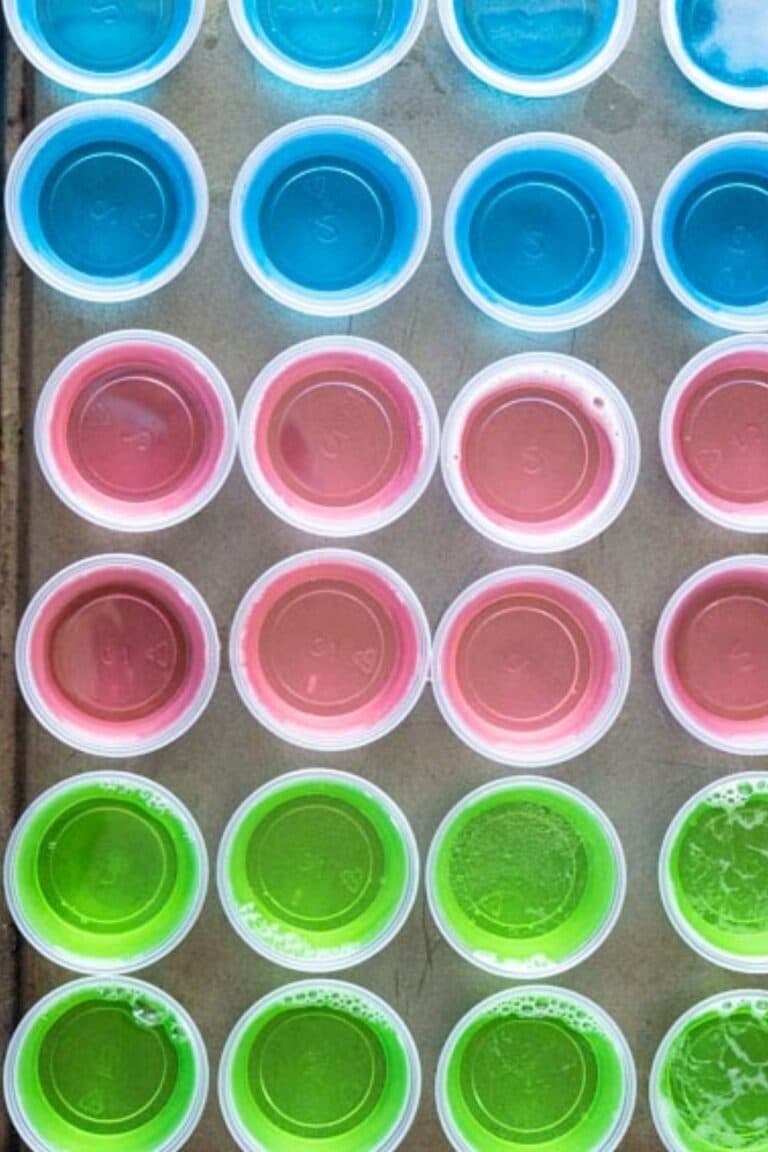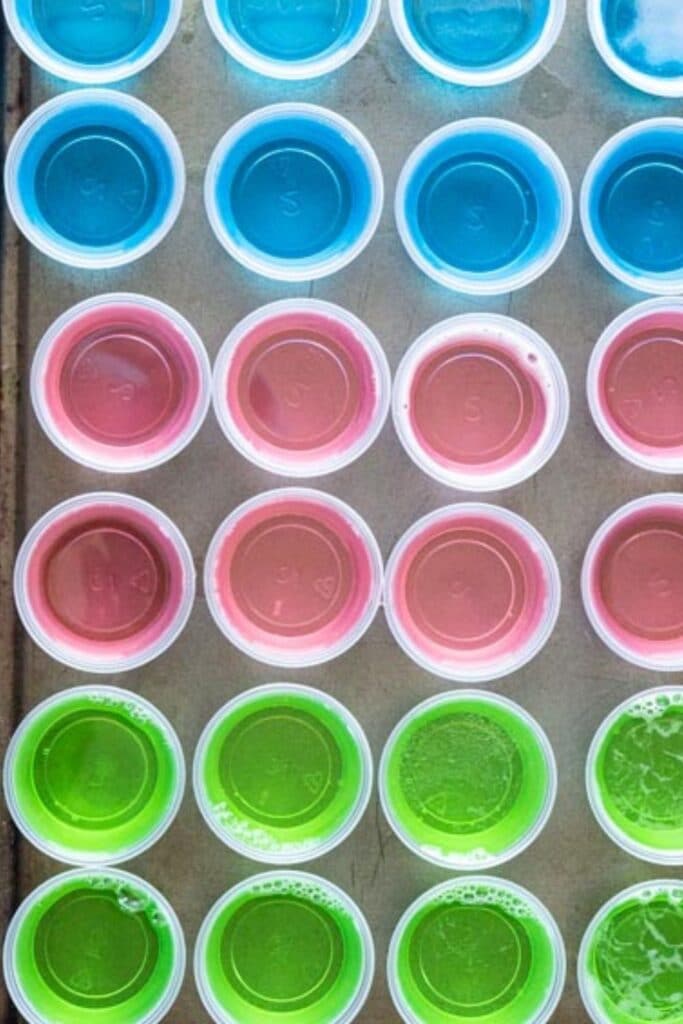 Step 1: Heat water in a microwave-safe container. You want the water to be boiling or close to boiling, then add your powdered Jello. Stir until sugar crystals are dissolved.
Step 2: Add in vodka and cold water, and stir again. Once well-mixed move on to the next step.
Step 3: Pour into cups, place lids on, and refrigerate till it is set up.
Storage
Your jello can store for around 3-5 days in the refrigerator. You will not want to leave these cups uncovered or it will take on odors from your fridge.
Open each cup and serve and enjoy!
You can't freeze these, as the mixture will change once thawed from being frozen.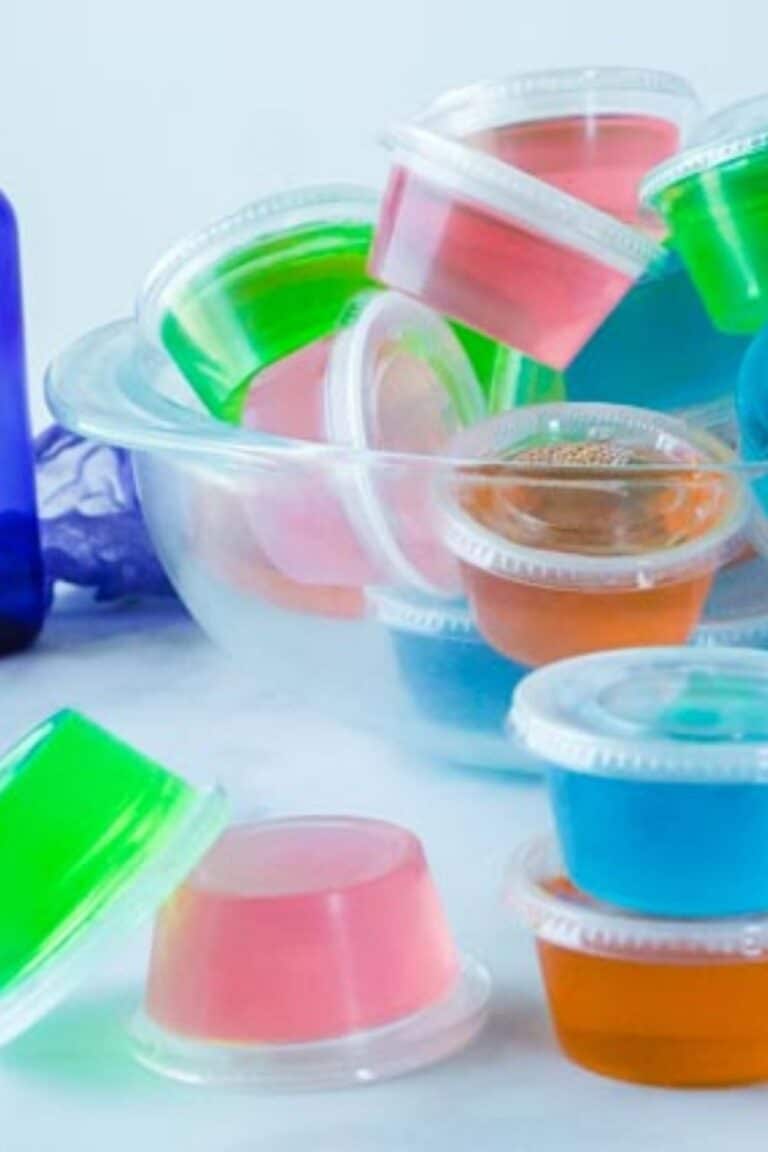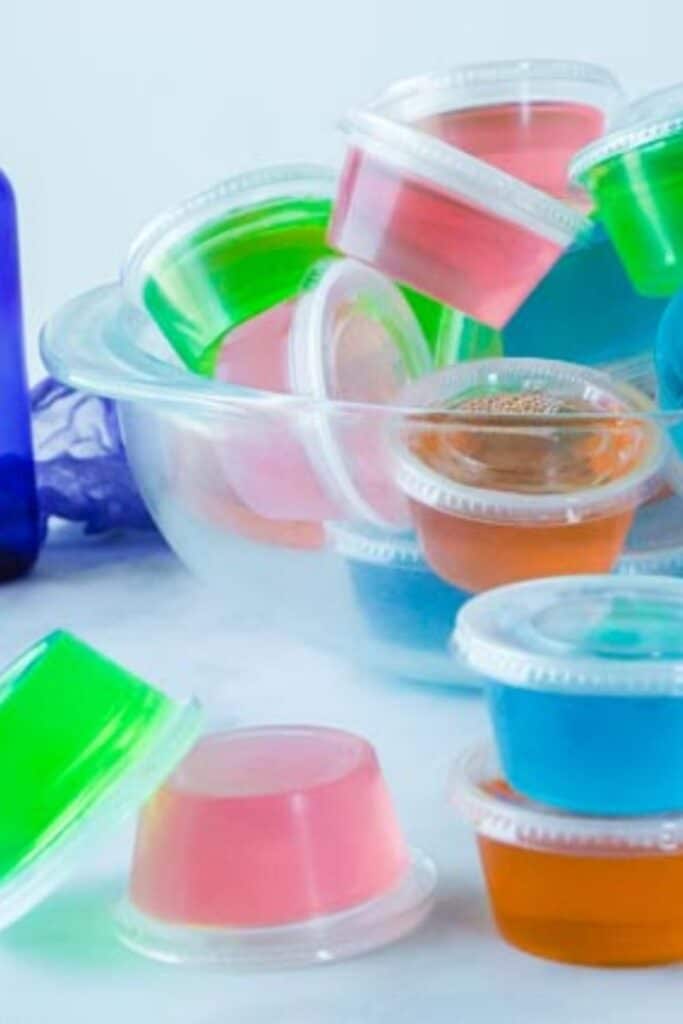 Variations To Recipe
Use any flavor of Jello you want.
Swap vodka with rum or other alcohol.
Use a different size of container if you would like.
Instead of single serve Jello cups you can make cut out Jello with cookie cutters.
Expert Tips
Don't add too much alcohol or it will not allow the jello to set up.
Make sure to use boiling hot water to mix the jello to ensure the sugary crystals dissolve.
Make ahead of time and allow around 2-3 hours to set up.
Types of Alcohol You Can Use
Using different flavored alcohol to a different variety is a great way to customize your shots. Here are a handful of alcohols you might consider to use to help alter the flavor.
This list can help you to really think out of the box on what you might want. Maybe some coconut flavored alcohol paired with a pineapple jello for a pina colada spin.
Or tequila and strawberry or lime jello for a margarita version. Or top a pineapple shot with a cherry for a pineapple upside down flavor.
Have a blast and just make your shots fun, tasty, and crowd approved.
Jello Shots Recipe Vodka (best vodka for jello shots – I love Skyy)
Flavored Vodka
Triple Sec Shots
Jello Shots with Rum (white rum)
Schnapps Jello Shots
Gin Jello Shots
Tequila Jello Shots
Jello Shots with Whiskey
Etc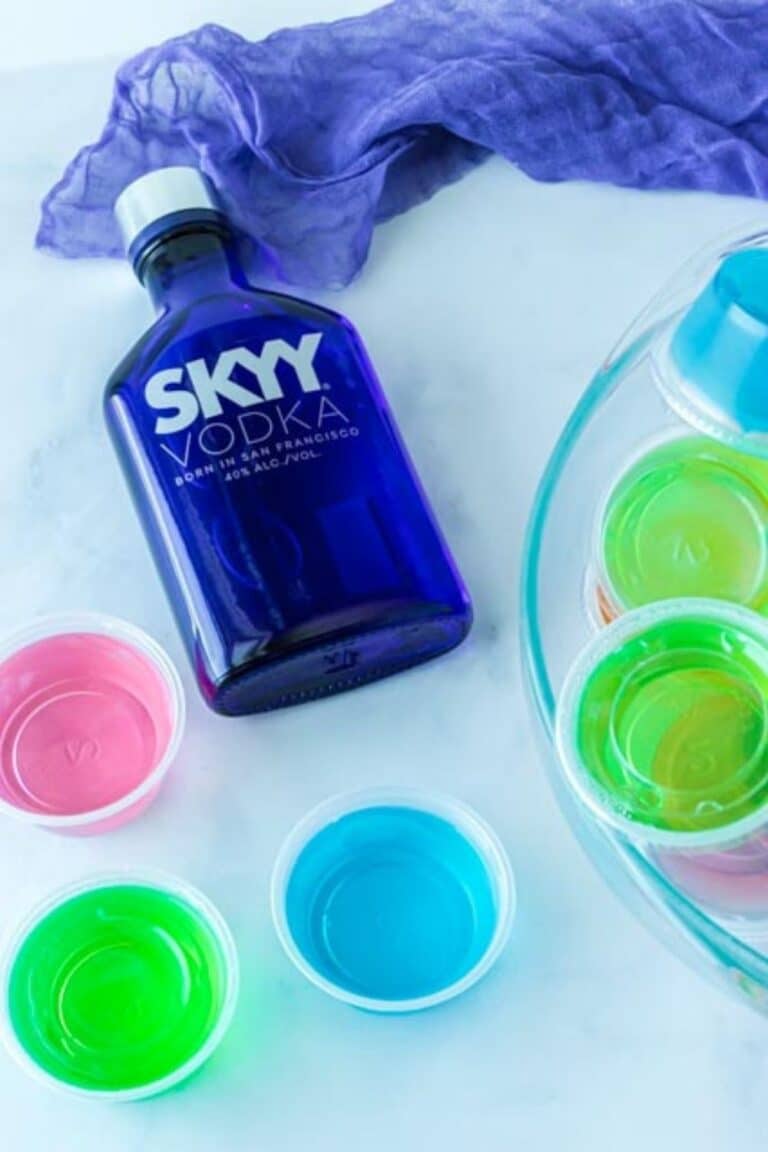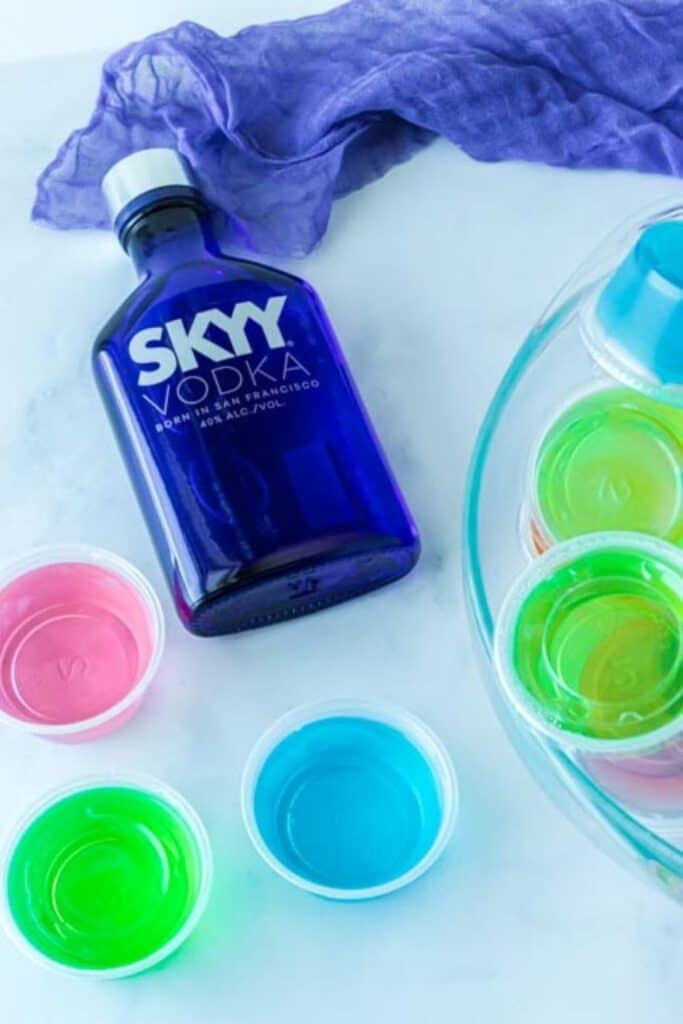 Recipe FAQs
Learn how to make jello shots with rum, vodka, or other alcohols. This is a list of common questions you might have for making and enjoying your jello treat.
Want More Alcoholic Recipes
Have you tried the recipe? If so, please leave a star ⭐️⭐️⭐️⭐️⭐️ rating in the recipe card below or drop a comment. Also stay in touch with me through social media by following me on Facebook, Pinterest, or My Facebook Group!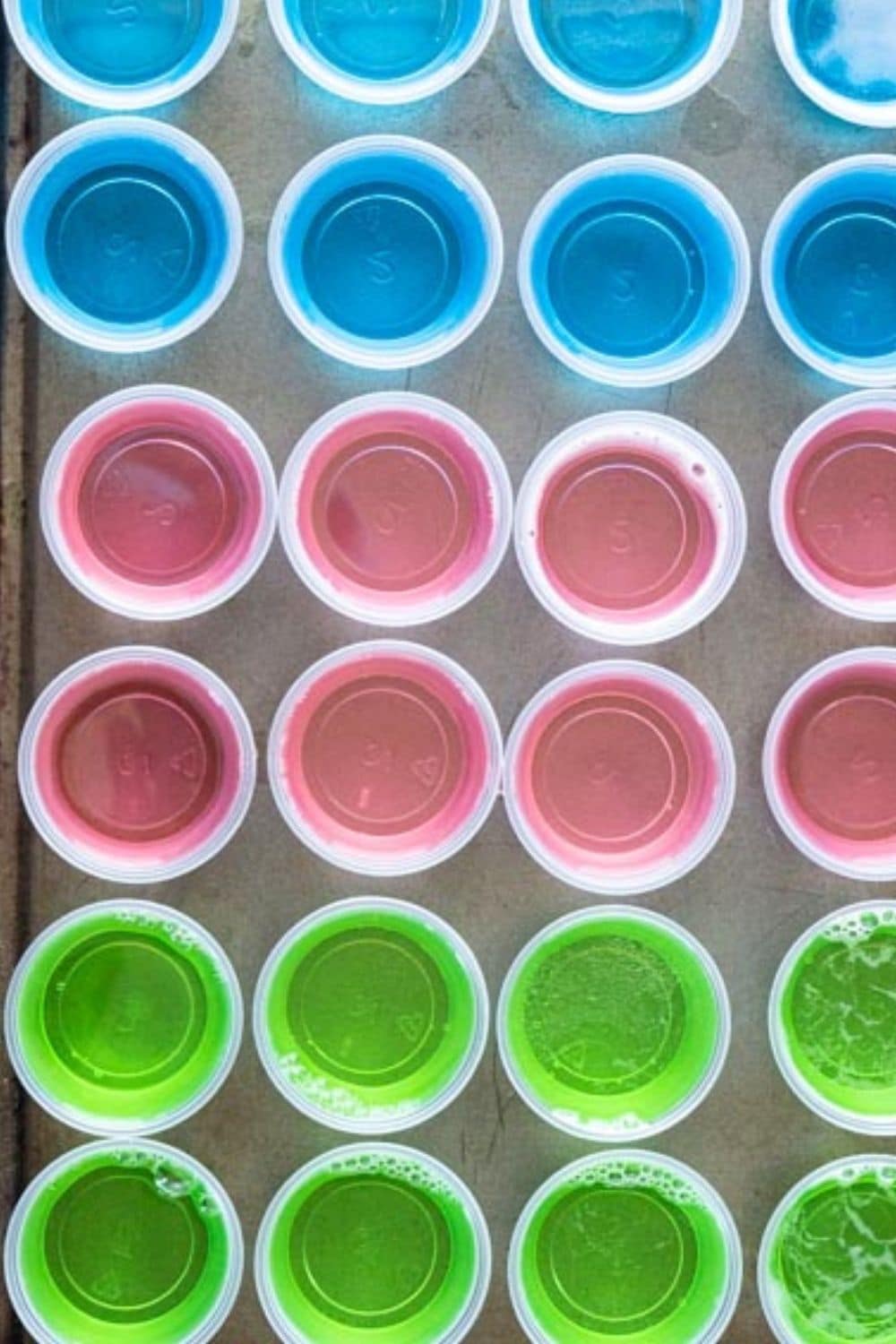 Best Jello Shots
Servings 45 -50 jello shots
Jello shots are the life of the party. These Jello shots with Vodka are fun, easy, and affordable to make. This is a classic Jello shot recipe that is great for entertaining guests. Reach for any or all your favorite Jello flavors and dive in!
Ingredients
4 Packages of Jello 3 ounces to 3.9 ounce packages
6 cups water
2 cup vodka
Instructions
Start by laying the plastic jello shot containers on a tray.

In a microwave-safe bowl or measuring cup add 1 1/2 cups water. Heat for 2-3 minutes or until the water is boiling or close to boiling.

Pour in 1 packet of the Jello, and stir well until all the crystals are dissolved.

Now add in 1/2 cup cold water, and 1/2 cup vodka. Stir again then pour the mixture into containers.

Repeat the process with as many or few Jello flavors as you would like.

Place the lids on the containers. Allow the Jello shots to set up fully. Mine took around one and a half hours to set up.

Once the jello shots are set up, serve and enjoy.
Notes
The Starburst flavored Jellos were 3.9-ounce packages instead of a classic 3-ounce package. I went ahead and kept the liquid the same and it worked just as well. Work with one flavor at a time. Make sure to fully dissolve the Jello in the hot water, or it will not set up right. I just heated water for 2 1/2 minutes or so in the microwave. You can add up to 1 cup of vodka, just omit the cold water. Make sure to keep the 2 1/2 cup total of liquid per Jello packet. Too much alcohol will cause the Jello to not set. So don't go over 1 cup of alcohol. Swap the vodka with rum, whiskey, triple sec, etc. Feel free to use sugar-free jello if you want a sugar-free jello shot. It will also make it keto jello shot as well!
Nutrition
Serving: 1gCalories: 47kcalCarbohydrates: 6gProtein: 1gSodium: 34mgSugar: 6g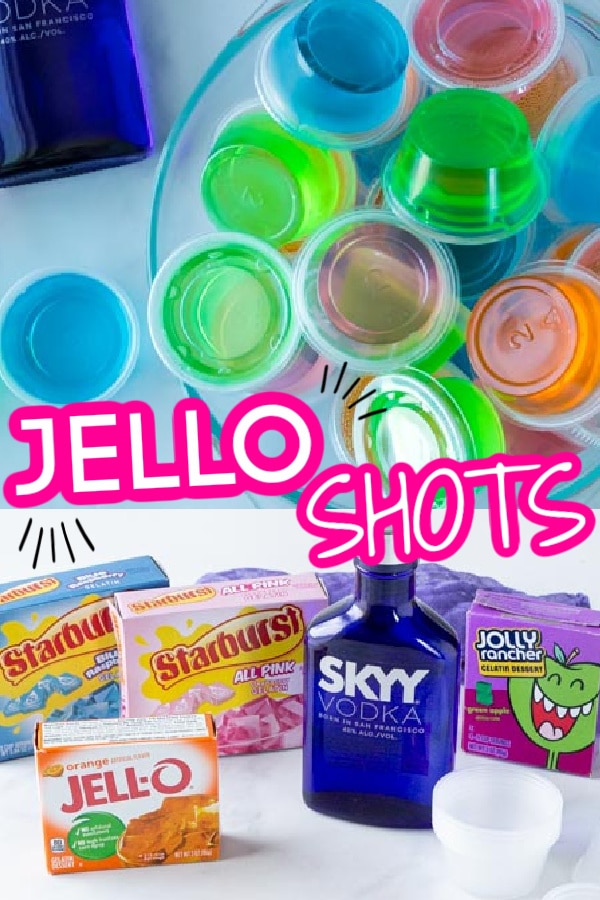 Reader Interactions