Instant Pot Carnitas is an easy and tasty way to serve up carnitas! You have a tender and juicy seasoned pork that is pressure-cooked then broiled for a toasty texture.
Serve these pork carnitas with corn or flour tortillas and all your favorite toppings. This is one recipe you will be coming back to make again. Ninja Foodi Pork Carnitas that are a treat.
I used this pork meat as the filling in my Instant Pot tamales recipe, they were insanely good!
This Instant Pot pork shoulder or pork butt recipe is a hit, and feeds a large serving. So grab your ingredients and let us get to cooking.
Skip the crockpot and make tender pull apart shredded pork in just an hour and fifteen minutes or cook time. Grab your Instant Pot and let's get cooking.
Why This Recipe Works So Well
Simple Ingredients – While there are a handful of ingredients, it is so simple to prepare. The ingredients are easy to find at your store.
Flavorful – The pressure cooker carnitas has a rich slow cooked flavor thanks to the high pressure as it cooks. A super fast recipe that offers incredible flavor.
Hands-Off Cooking – Besides the prep, you have a pretty hands off cooking process. This pork shoulder Instant Pot carnitas is truly simple.
Works in Ninja Foodi – Looking for a Ninja Foodi carnitas? This Instant Pot carnita recipe works in your Ninja as well. Don't wait, make these carnitas in the Ninja Foodi tonight!
Instant Pot Mexican Recipe – I am a sucker for Mexican, I love our local Mexican restaurant. But, instead I can do this Instant Pot pork recipe at home for a family favorite that reminds of eating out.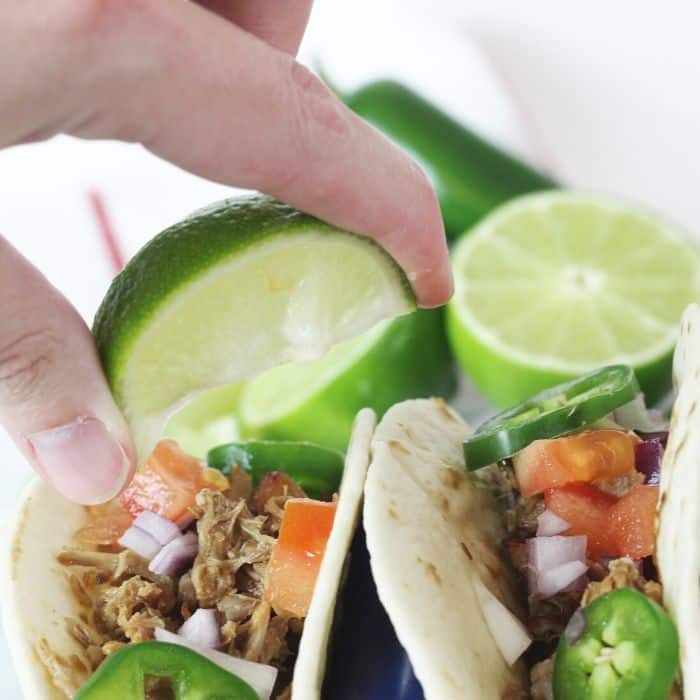 Ingredients Needed For This Recipe
Pork Should or Pork Butt – Any large cut of a pork roast works well for this. You will dice up the pork into cubes for a quick cook.
Salt and Pepper
Lager Beer of Choice – I went with Samuel Adams but feel free to reach for any lager style, that isn't overpowering in flavor.
Orange Juice – The acidic components really adds nice flavor to the pork.
Lime Juice – Another component of acid to help break down but also add a nice flavor to the pork.
Oil
Minced Garlic – You can use jarred minced garlic, or mince your own.
Chili Powder
Onion Powder
Cumin – This is optional, I find it adds a nice kick of flavor to the pork.
Tortillas and Toppings – Corn or flour shells work, and then pile on any and all your favorite toppings.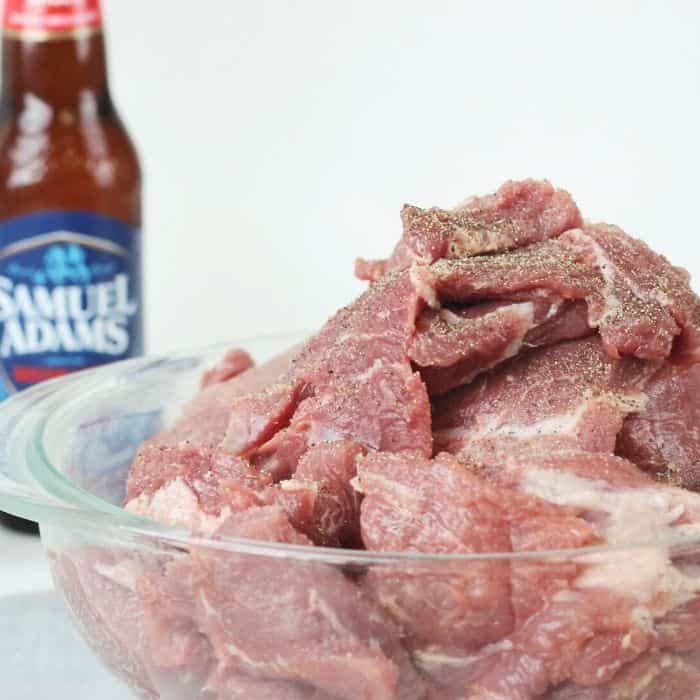 How to Make Instant Pot Pork Carnitas
Start 1: Start by prepping your pork bit and cutting it into pieces, I did anywhere from an inch to three inches. Season liberally with salt and pepper.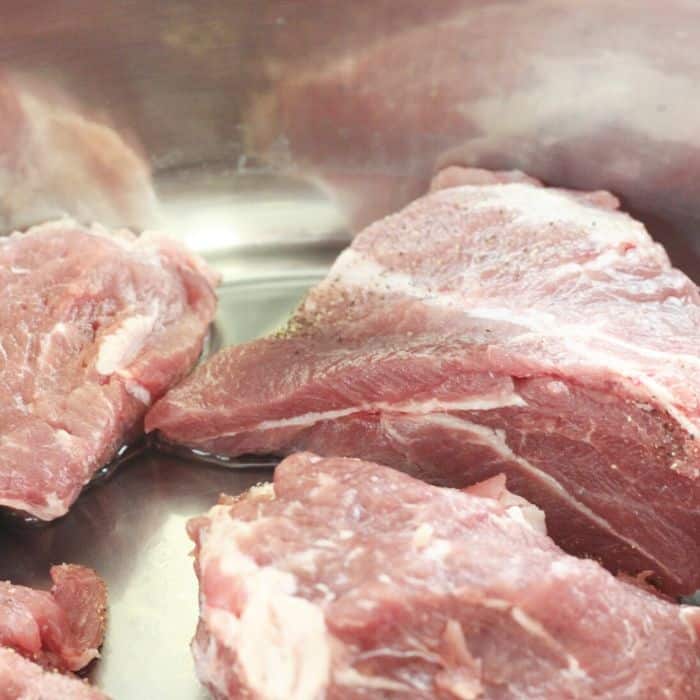 Step 2: Turn the Instant Pot to saute, and add in your oil. Once hot add in the pork pieces a little at a time. Then brown the pork, and remove the pork pieces and place on a plate. Then repeat till all the pork is browned.
Step 3: Add in your orange juice, lime, and beer and use a wooden spoon and scrape the bottom of the pot. Turn the saute feature off.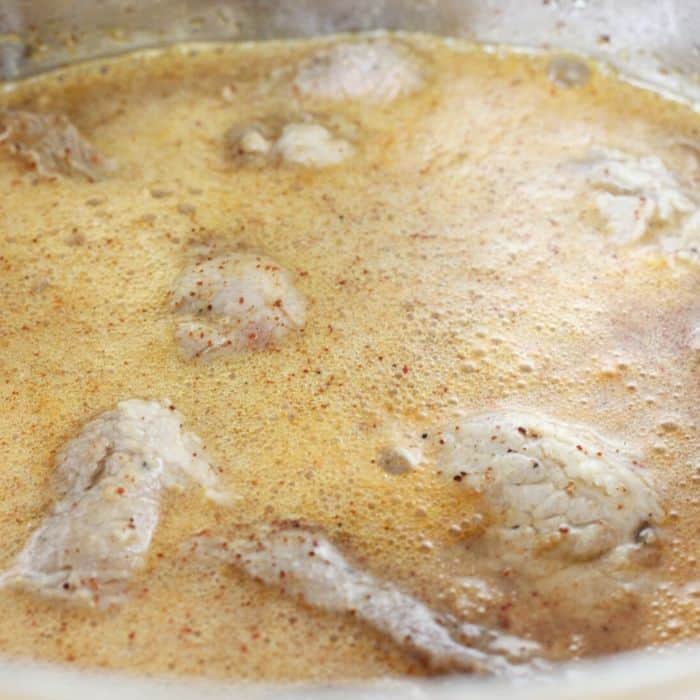 Step 4: Once bottom is clean, add in all the other ingredients as directed in the recipe card. Place lid on the Instant Pot and make sure the valve is set to sealing.
Step 5: Pressure cook on high manual pressure for 1 hour and 15 minutes. Followed with a natural release of 15 minutes.
Step 6: Once done, release remaining pressure, use meat claws to cut up the pork into shreds.
Step 7: Layout the pork on a baking sheet, add a little of the broth, and broil in the oven to crisp up the meat.
The pile in tortillas and add your toppings.
What Can I Make With Pork Carnitas
Carnitas are such a great staple meat to whip up. You can create tacos as I did here, fill quesadillas, burritos, use the meat for tamales, and more.
I have even used this meat to make a loaded taco salad with all our favorite fixings. Try my Dr. Pepper Pulled Pork Tacos as well!
Expert Tips
Don't skip the searing of the pork meat.
Make sure to liberally season the pork with salt and pepper, or it can lack flavor.
If you own a air fryer, you can crisp the meat using the air fryer at the end, instead of broiling in the oven.
A great meat to cook and meal prep with!
Topping Ideas
A few of our favorite toppings for this pork shoulder recipe. My family loved these toppings.
Red Onions
Tomatoes
Sour Cream
Salsa or Pico De Gallo
Cilantro
Recipe FAQs
Here are some helpful tips for this pork carnitas Instant Pot recipe!
What cut of pork to use for carnitas?
Carnitas can use pork butt, which is what I purchased or you can also buy what is called a pork shoulder or Boston butt.

Depending on where you live, you might find pork is called different names. Pretty much any pork roast will work for this recipe.
Can I use pork chops for carnitas?
No, you will find pork chops or pork tenderloin don't work for making carnitas. You need a higher fat pork that will render down as it cooks.

This gives it a rich and flavorful aspect but then also you have a very tender and easy to pull the meat.
Why do you cut up the meat for carnitas in Instant Pot?
The pork shoulder or butt works best if it is diced up. That way a lot more of the meat gets a really nice sear. This will lock in flavor and add texture. If you just sear a whole pork roast, a lot of the meat doesn't get the sear, and lacks flavor.
Can I make this in the slow cooker?
Simply sear the meat, and place it in the crockpot once done. Then add in the ingredients as you would to pressure cook.

Cook on low 8-10 hours, then remove meat, shred and broil in oven to finish it off. Then serve in warm tortillas.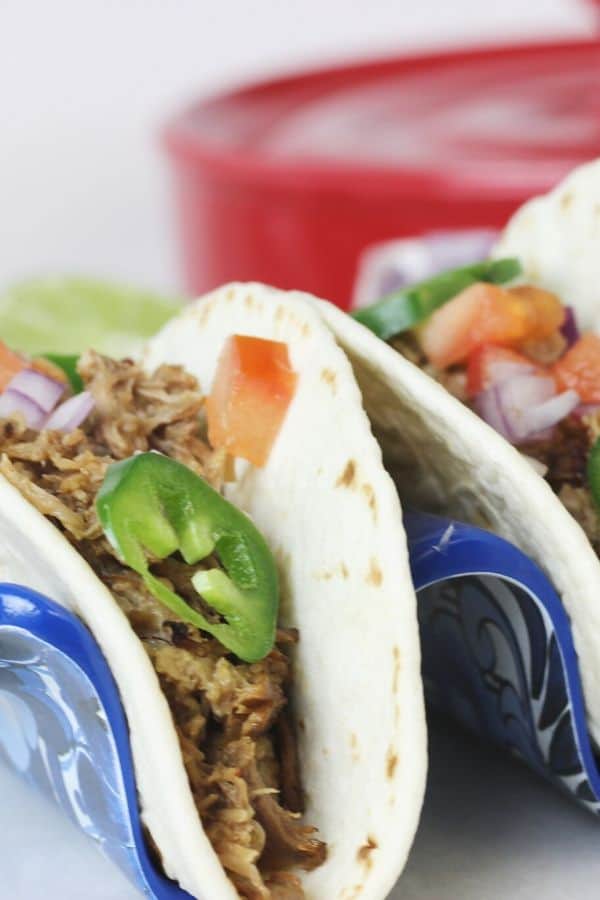 Related Recipes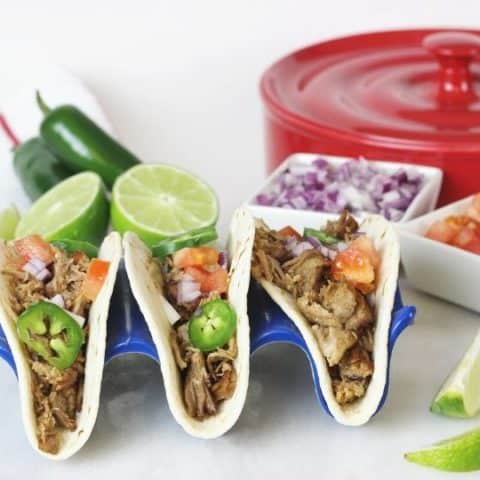 Instant Pot Carnitas
Cook Time:
1 hour
15 minutes
Additional Time:
8 minutes
Total Time:
1 hour
38 minutes
Instant Pot Carnitas is the ultimate dinner recipe. Crispy carnitas that is made into tacos for a tasty weeknight dinner the whole family will enjoy. A quick and easy way to make your favorite carnitas at home.
Ingredients
7-8 pound Pork Shoulder or Pork Butt Roast (cut into cubes)
salt and pepper to season diced pork
2 (12 ounce) Lager Beers ( I used Samual Adams)
1 1/2 cups orange juice
3/4 cup lime juce (freshly squeezed)
3 tablespoons canola oil or vegetable oil
1 1/2 tablespoons minced garlic
2 teaspoons salt
2 teaspoons pepper
3 teaspoons chili powder
1 1/2 teaspoons onion powder
1 teaspoon ground cumin
Lime Wedges (1-2 limes)
Optional Items
Flour or Corn Tortillas, Chopped Onions, Chopped Tomatoes, Salsa, Guacamole, Queso Fresco, etc.
Instructions
First you want to start by cutting up your pork roast into cubes. Then season it generously with salt and pepper.
Using the saute feature on your Instant Pot heat 1 1/2 tablepoons of oil up, and then batch cook your pork pieces. You might need to add extra oil as you cook, so if needed pour more canola oil in as you cook the pork.
You want to brown up the outside of the pork on all sides. When you are done browning sliced pork then turn the saute feature off.
Now you will want to pour in your orange juice, 1 beer, fresh lime juice, and use a wooden spoon to scrape the bottom of the pot. Make sure to remove any stuck on food to prevent getting the burn notice when you go to cook.
Now you will add in the seasonings - cumin, chili powder, garlic, 2 teaspoons salt and 2 teaspoons pepper, and stir. If your meat isn't covered fully in liquid, pour in some or all of the 2nd beer. You want your meat covered.
Pour in your seared pork and put the lid on your pressure cooker. Make sure the valve is in the sealed position. Cook on High for 1 hour and 15 minutes.
Allow to naturally release for 15 minutes, and then quick release any leftover pressure.
Remove your pork pieces and place on a baking sheet. Use meat claws and shred your pork.
Take your liquid in the Instant Pot and spoon around 1 cup of liquid over the shredded pork. This will help to keep it moist.
Turn the oven to broil and place your baking sheet with pork into the oven. This will give you a crispy carnita, this step is optional. This takes around 4-5 minutes max.
Once your pork is crispy, remove from the oven and serve how you would like.
Notes
With this crispy carnitas recipe we made it into tacos, but feel free to use meat for quesadillas, burritos, tamales or any other type of dish you want to serve this pork carnitas with.
Ninja Foodi Carnitas - This can be made in the Ninja Foodi the same, and you can use the crisping lid to crisp the meat at the end of cooking if you don't want to broil.
Slow Cooker Carnitas - Simply sear the meat, and place it in the crockpot once done. Then add in the ingredients as you would to pressure cook. Cook on low 8-10 hours, then remove meat, shred and broil in oven to finish it off. Then serve in warm tortillas.
Searing Pork - Dicing and searing the pork on the saute mode adds a lot of flavor and texture to the meat. I recommend not skipping this step.
Nutrition Information:
Yield:

24
Serving Size:

1
Amount Per Serving:
Calories:

540
Total Fat:

37g
Saturated Fat:

13g
Trans Fat:

0g
Unsaturated Fat:

21g
Cholesterol:

146mg
Sodium:

362mg
Carbohydrates:

9g
Fiber:

1g
Sugar:

2g
Protein:

39g