Looking for an easy and quick red velvet crackle cookie? You also might know these as red velvet crinkle cookies. This red velvet cookie recipe is a cake mix red velvet cookie rolled in powdered sugar. These crackle cookies are a hit.
As the cookies bake it creates a crackle look on top. Sweet, slightly crisp on top, with a fluffy red velvet cookie center. These red velvet crinkle cookie, with cake mix is simple and takes 4 ingredients.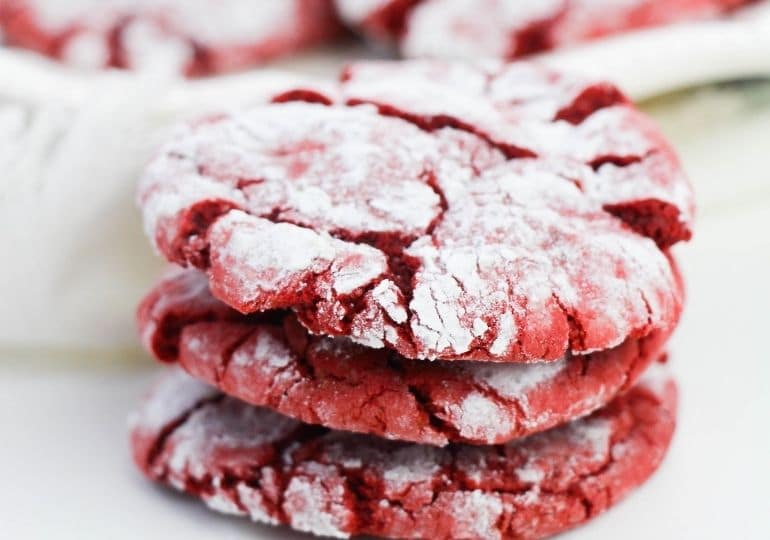 Why Is This Recipe So Popular
4 ingredient Cookies – It takes just 4 ingredients to make these cookies! Budget friendly cookies, which is nice!
Easy to Make – Whether you are a pro or a beginner baker this recipe is a breeze to make. So if you are new to baking this recipe is an easy cookie recipe for beginners.
No Refrigerating Dough – No need to chill the cookie dough once you mix it up. Just mix, roll, dredge in powdered sugar, and bake.
Holiday Cookie Recipe – This is a tasty holiday cookie recipe. Whether you serve on Valentine's Day, Christmas, or any other time of year, these are great. These are a very popular Christmas crinkle cookies recipe!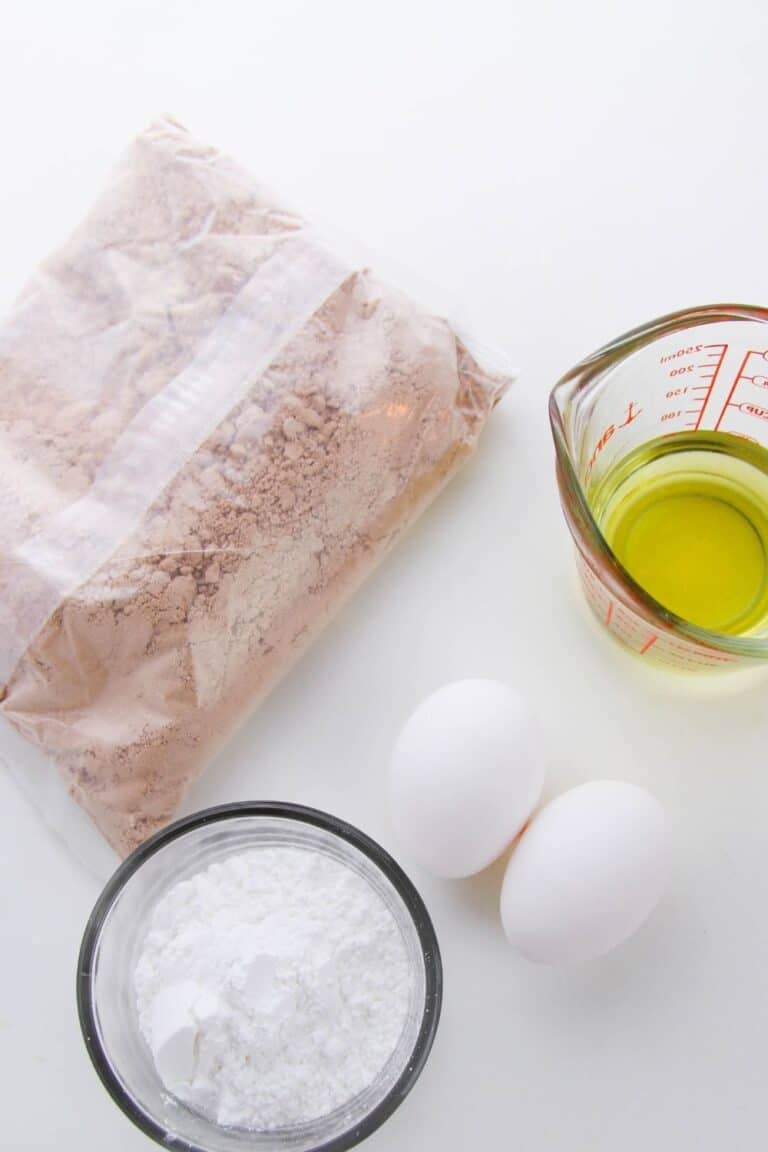 Ingredient Needed
Here is all you need for this red cookie recipe! These cake mix crinkle cookies are so simple to whip up.
Red Velvet Cake Mix – 15.25 ounce box. Or you can use any other flavor of cake mix to make a crackle cookie.
Vegetable Oil – I find vegetable or canola oil work best when working with cake mix and making into cookies.
Eggs – This is the binder that brings the cookies together!
Powdered Sugar – Roll your cookies in this beautiful powdered sugar for a tasty sweetness in each bite.
How to Make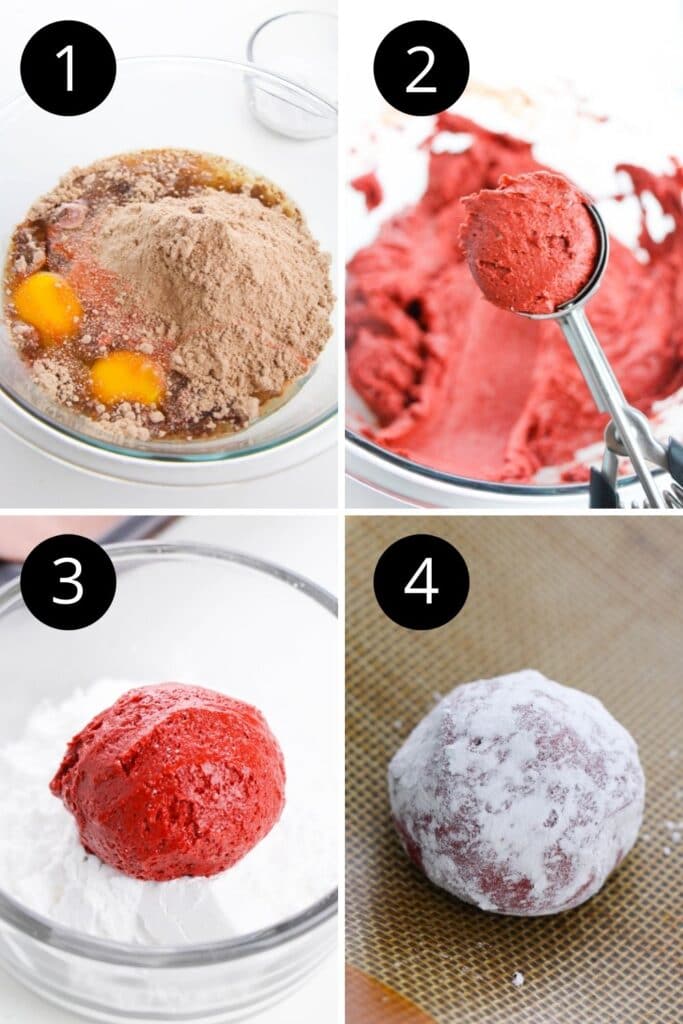 Step 1: In a bowl you will add your dry cake mix, eggs, and oil. Mix well until the cake mix cookie batter is fully incorporated.
Step 2: Use a cookie scoop and spoon out some dough and roll into a ball.
Step 3: Dip each cookie dough ball and roll in powdered sugar mixture. Then place in a greased or lined cookie sheet.
Step 4: Bake as directed, and then put cookies in a cooling rack. Allow the cookies to cool then serve.
Expert Tip: The cookie batter will be thick. It should be easy to roll in your hand without making a mess and sticking to hands.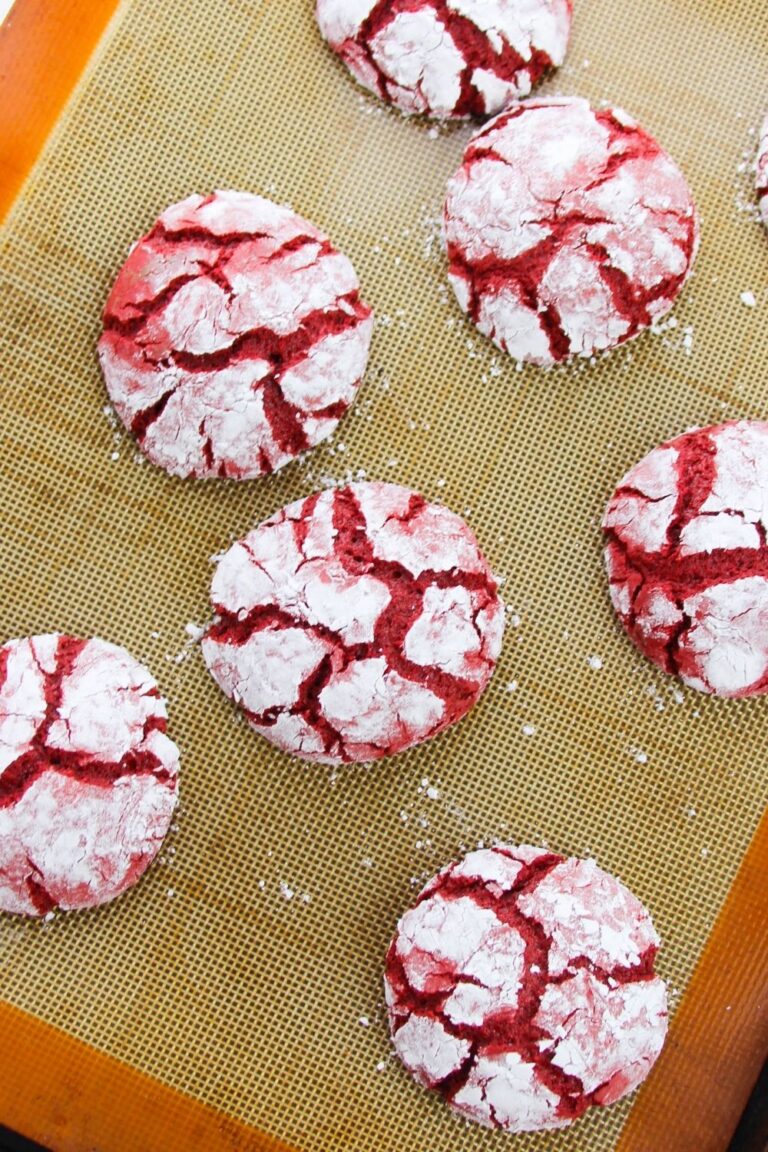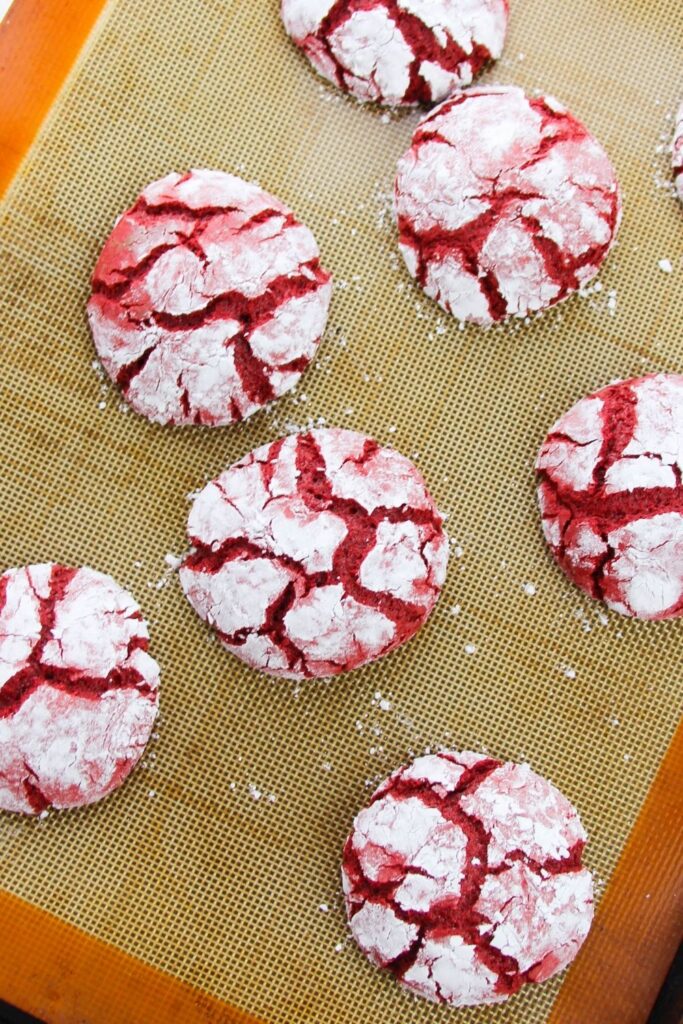 Storage
Room Temperature – These red velvet cookies can be stored at room temperature for around 4-5 days. After that you will find the cookies begin to dry out quite a bit.
Just store the cookies in a sealable bag or container.
Freezer – The other option is freezing your cookies. Just allow the cookies to fully cool. Then place in an airtight container that is freezer friendly, or freezer bag.
The cookies can freeze for 3-4 months. When you want a cookie or two, just remove and thaw on the counter. Or for a quick thaw defrost in the microwave.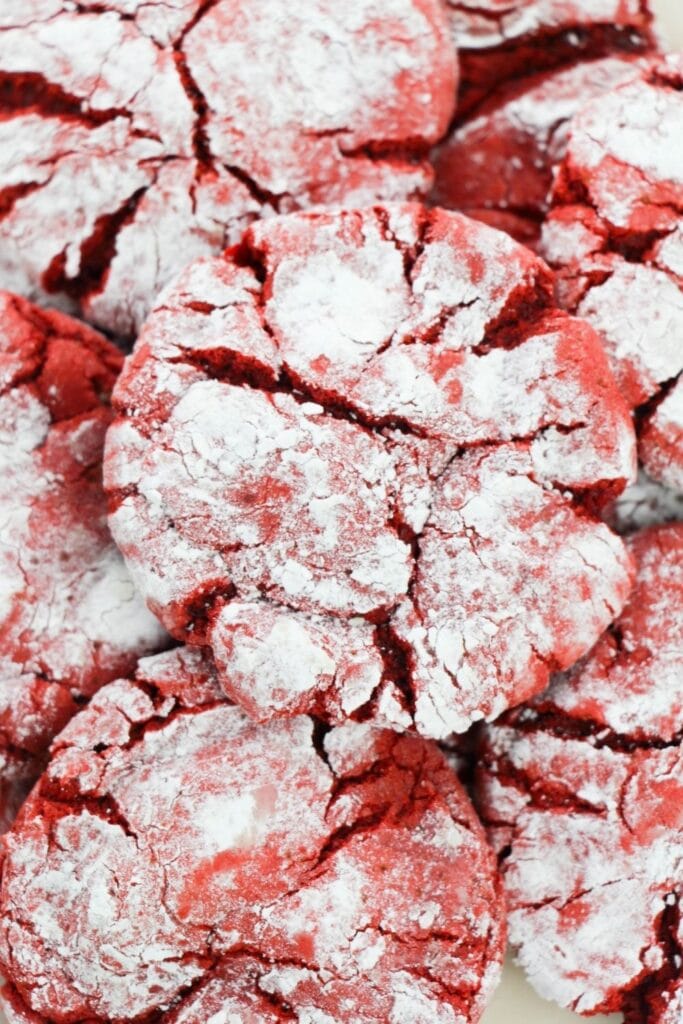 Expert Tips and Variations
You can use any flavor of cake mix to make this recipe. Chocolate cake would be really good.
Using a silicone baking mat is really handy and dill prevent cookies from sticking to the pan.
Melt white or chocolate candy melts and drizzle over the cookies after they are cooked.
You can double the recipe if you are needing to make extra.
Using a cookie scoop is important as it ensures all you cookies bake up at the same time. Otherwise, your cookies will not all be ready at the same time.
Crackle Cookie FAQs
What flavor is red velvet?
Red velvet is a mild chocolate flavor. You use cocoa powder to create red velvet cake and cookies.

Add in red food coloring and you have a red. Generally buttermilk and vinegar are used in homemade recipes to bring out the rich red color. 
What texture are these cake mix cookies?
The texture will be soft and fluffy cookies. If you over bake them then they will become crunchy of course. But the key is to remove when they are done, and don't over bake them.
How to know when the cookies are done?
Take a toothpick and stick in the center of the cookies. If it comes out free of wet batter the cookies are done.
Another way to tell is the crinkle cookies puff up a bit, and the powdered sugar begins to show that crackle look.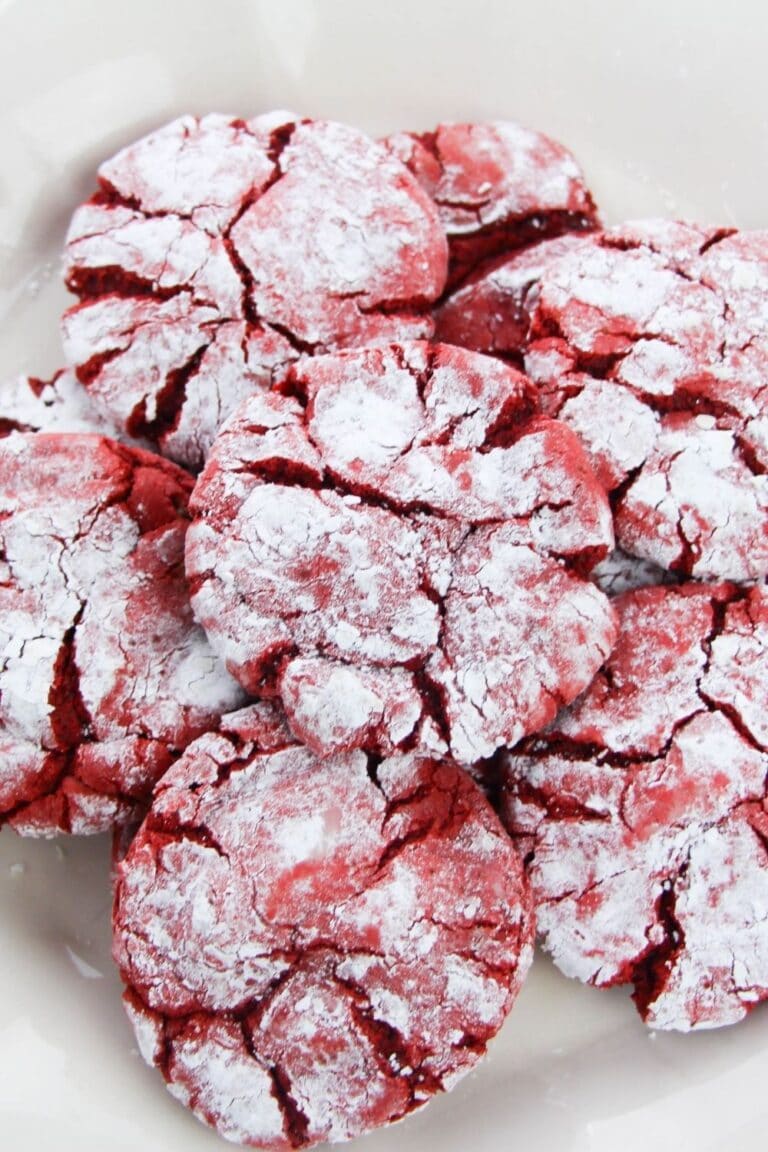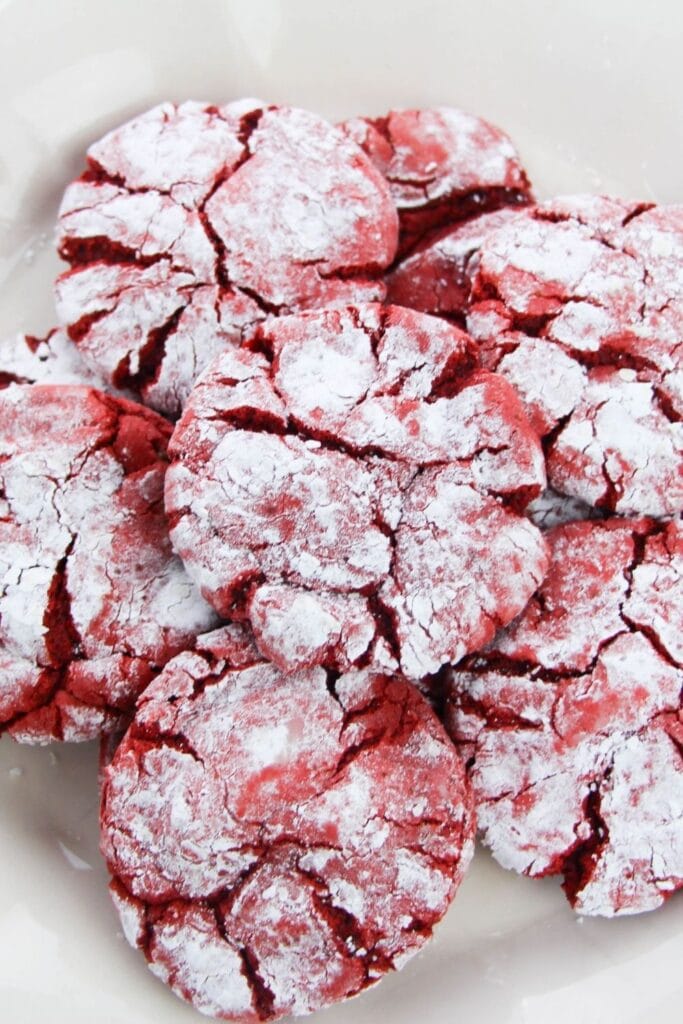 Related Recipes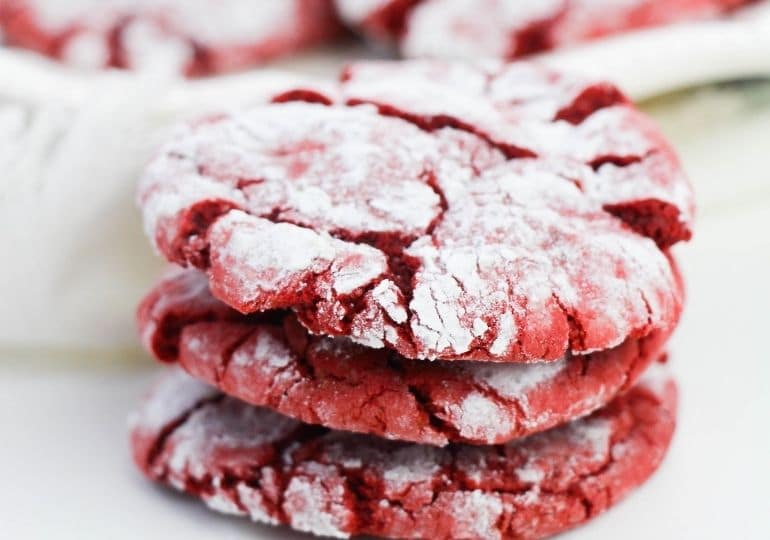 Red Velvet Crackle Cookies Recipe
Servings 20 -22 cookies
Red Velvet Crackle Cookies Recipe is a red cookie that is rolled in powdered sugar and baked. These are also known as crinkle cookies. A delicious cookie for anytime of year, especially Valentine's Day or as a Christmas cookie recipe to serve family.
Ingredients
1 Red Velvet Cake Mix 15.25 ounce
1/3 cup vegetable oil
2 eggs large
1/2 cup powdered sugar
Instructions
Preheat the oven to 350 degrees. Start by adding your cake mix, eggs, and oil in a bowl. Then mix up until nice and creamy. You can use a whisk or stand or hand mixer to blend up the cookies.

One the cookies are well mixed, use a 1 1/2 tablespoon cookie scoop and scoop up the cookie dough.

Roll the red velvet cookie dough into a ball. Then roll the ball in the powdered sugar and place on a greased or silicone mat cookie sheet.

Bake for 8-10 minutes or until the cookies are done. They will puff up and spread out a bit, as they bake.

Place on a cooling rack to cool then enjoy!
Notes
Cake Mix – You can use any flavor of cake mix you would like to make these Crackle cookies. I love red velvet but any flavor works. Storage – Store your cookies in an airtight container at room temperature for around a week. Or you can freeze for 3-4 months. Cookie Scoop – I recommend using a cookie scoop so all your cookies are the same size. Otherwise, you will find your cookies don't cook evenly. You will have some cookies that get undercooked and others that over-cook. Variations – You can change up the recipe a bit. Mix in some white chocolate chips or even chocolate chips. Drizzle with white chocolate on top. Etc.
Nutrition
Serving: 1gCalories: 123kcalCarbohydrates: 10gProtein: 1gFat: 9gSaturated Fat: 3gPolyunsaturated Fat: 5gCholesterol: 37mgSodium: 70mgSugar: 8g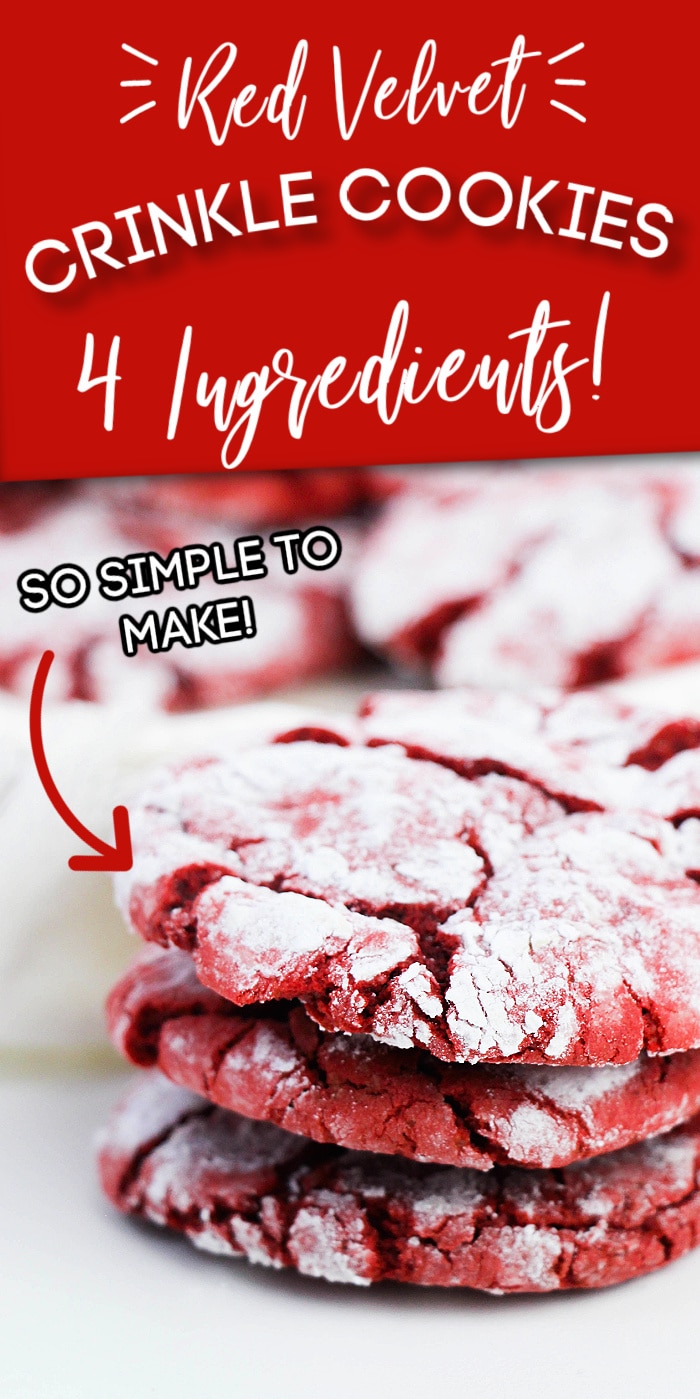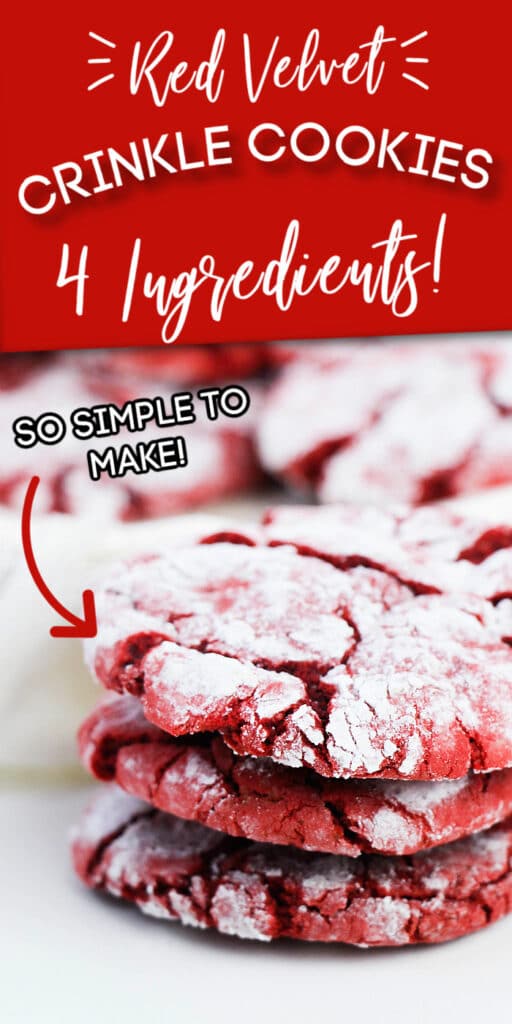 Reader Interactions