Sharing is caring!
Butter Pecan Cookies are chewy, delicious, and crave-worthy. One bite is all it takes to get hooked on the sweet goodness in these cookies. They are easy to make and great for all your parties and events. Soft, chewy, and downright delicious.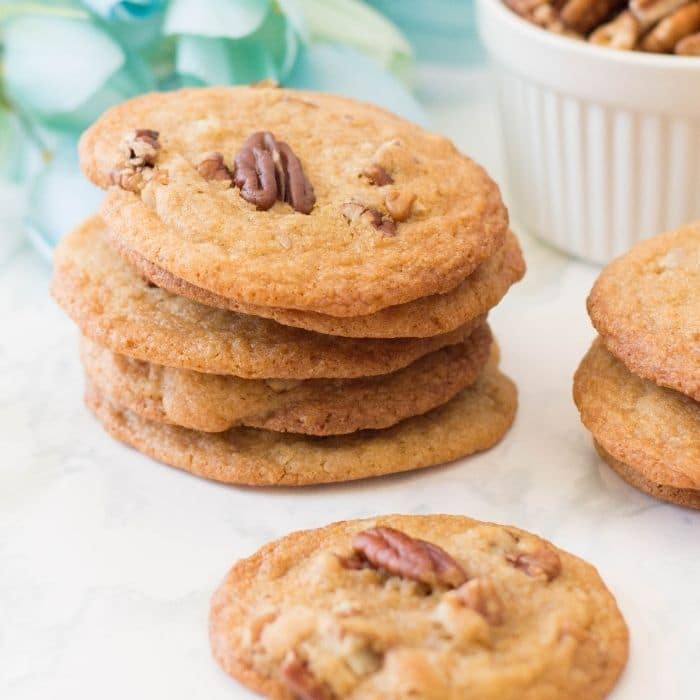 The flavors in these homemade pecan cookies are unforgettable. They are soft and have the perfect amount of chopped pecans in every bite. Plus, each cookie is garnished with a pecan half.
When I am craving something sweet, you will find me reaching for cookies. Can you blame me? Plus this soft pecan cookie recipe is great to make and gift loved ones. You should try my Soft Sugar Cookies while you are at it.
🍪 Why You'll Love These Cookies
Soft and Chewy Cookie Texture
Easy to make
Great for cookie exchanges
Everyone devours them
You only need 10 ingredients
Impressive flavor
The dough can be made in advance
Only 10 minutes prep time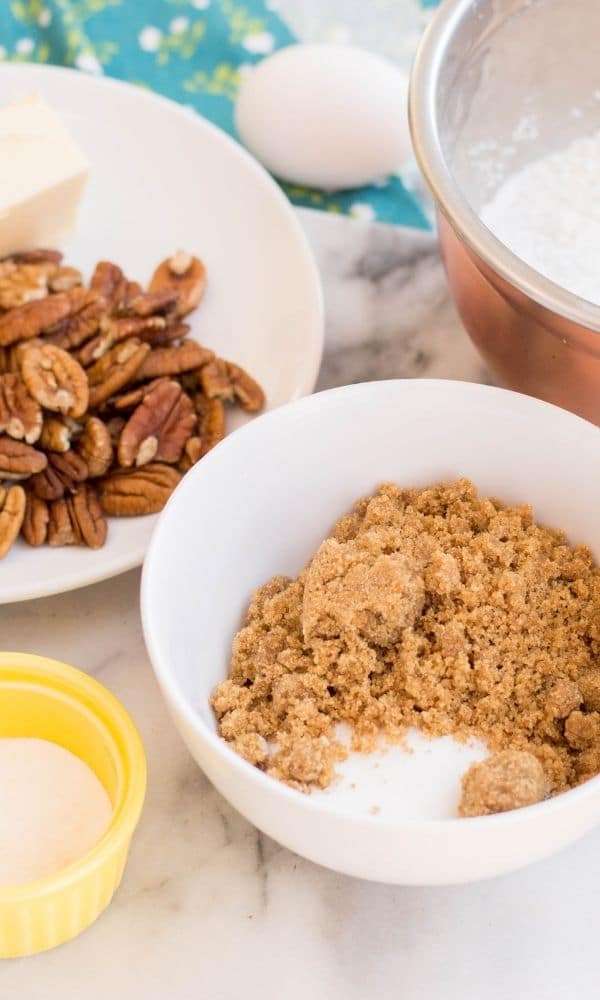 🧈 Ingredients
All-Purpose Flour
Salt
Baking Soda
Butter
Granulated Sugar
Brown Sugar
Egg
Pure Vanilla Extract
Chopped Pecans
Toasted Pecan Halves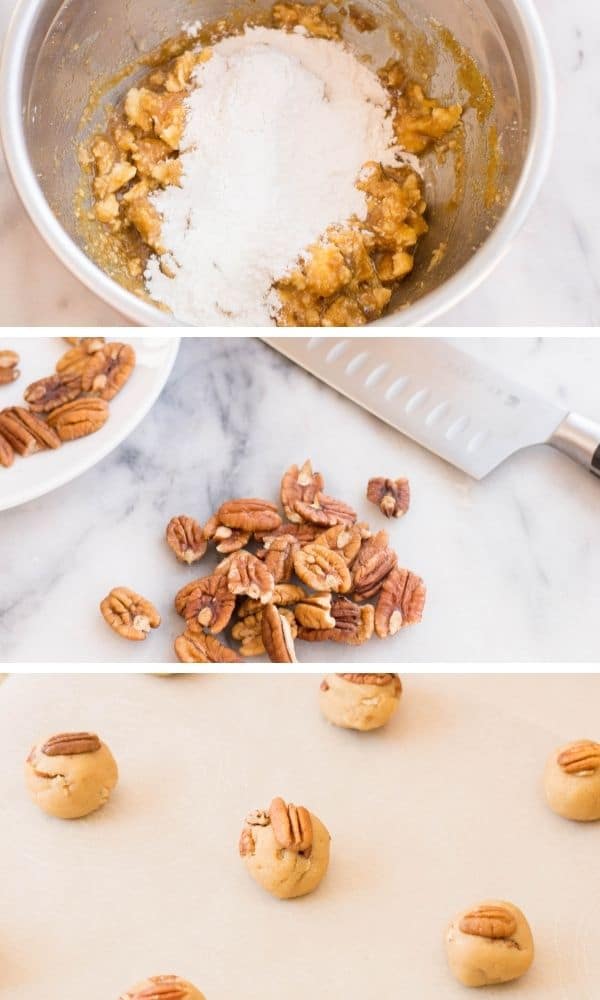 ⏲️ How to Make
Prepare the Cookie Dough: Mix the sifted flour, baking soda, and salt in a bowl. In a separate bowl, combine the butter and both sugars. Mix the egg into sugar mixture and combine.
Add vanilla and mix. Add in dry ingredients and combine. Gently fold in pecans.
Chill: After the cookie dough has been made, wrap it in plastic wrap. Place in the fridge for 2 hours.
Bake: Heat the oven to 350 degrees and line the baking sheet. Roll the cookie dough into 1-inch balls. Add one pecan half to each cookie. Bake for 9-11 minutes.
PRO TIP: You can keep the cookie dough in the fridge for up to 24 hours in advance.
❗ Expert Tips
Don't overmix the batter, or the cookies will be flat and dry.
Softened butter makes all the difference in the texture of the cookies. Set the butter out 30 minutes – 1 hour before starting for best results. Or microwave for 15-20 seconds or until soft but not melted.
You can swap the pecans for any other nut like hazelnuts, walnuts, or almonds.
Toasting the pecans will add such depth to the cookies. You can skip this step, but I recommend considering toasting them.
Butter pecan cookies make great gifts! Place them in a treat box with some ribbons, and you have a great gift for any occasion.
Grab my Free Kitchen Conversions Printable! This shows you how many cups are in a quart, pint, etc. A great printable to keep handy for when you need to convert a recipe.
🥛 Recipe FAQs
Can the cookies be made gluten-free?
Yep! Simply swap the all-purpose flour for your favorite gluten-free flour blend. Just make sure the blend has xanthan gum.

If it doesn't, then you will need to add 1/4 teaspoon for every cup of flour.
Can you freeze cookie dough?
It's simple to freeze cookie dough. You can either roll the dough into a log or roll it into cookie dough ball. If rolling into a log, wrap it with plastic wrap, then place in a freezer bag.

For cookie balls, place them on a baking sheet and flash freeze, then put in a freezer bag.
Do I need to thaw frozen cookie dough before baking?
No, you don't. Simply take the dough out of the freezer and add to a baking sheet. Add 1-2 minutes to the baking time and they will turn out beautifully.
How long do cookies last?
Store the butter pecan cookies at room temperature for 3-5 days. They need to be kept airtight. You can also freeze them for 3-4 months.
How to toast pecans?
Turn the oven on to 350 degrees. Lay your pecans flat in a single layer on a lined baking sheet. Bake for 6-8 minutes. This will toast pecans in the oven in no time. One the toasted nuts are done, remove and allow to cool.
Then stir into the cookie batter, and bake the cookies as directed.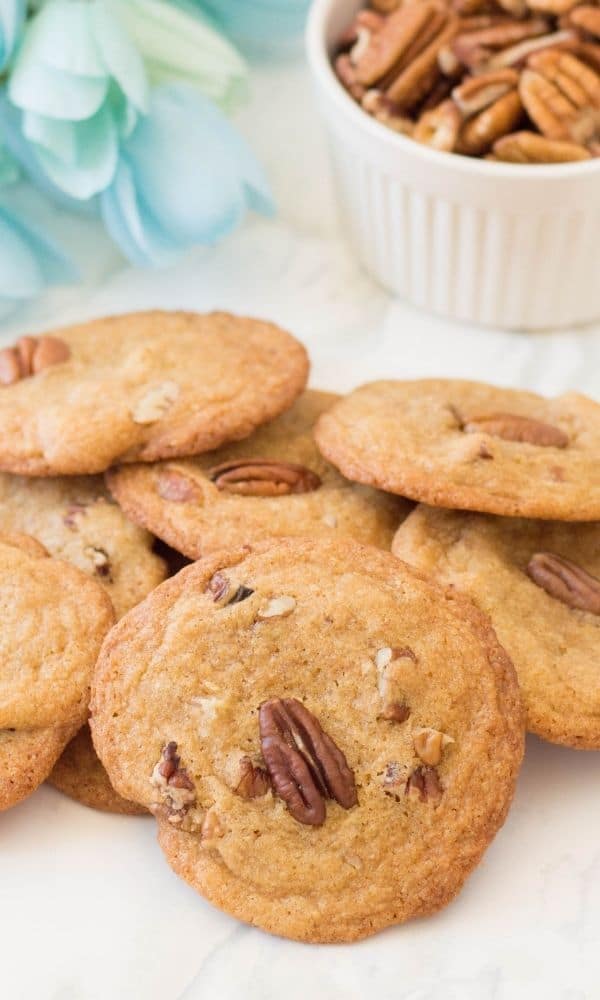 More Cookie Recipes
I also have a pecan roundup full of tasty pecan recipes all waiting to be made.
Tried this recipe? Make sure to rate ⭐️⭐️⭐️⭐️⭐️ and leave a comment to let me know how you like it! Plus get more Instant Pot Recipes or Home Cooked Recipes Facebook Page on my Facebook. Stay up to date and Follow Me On Pinterest!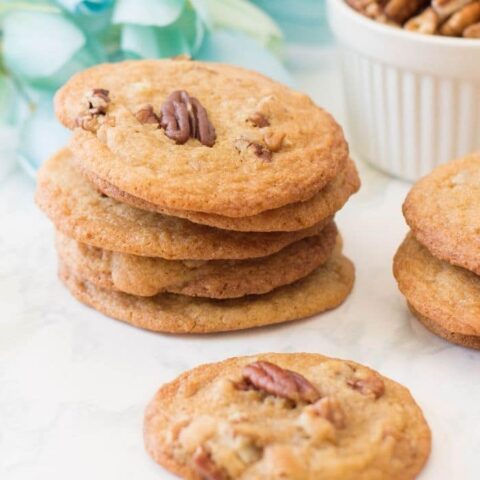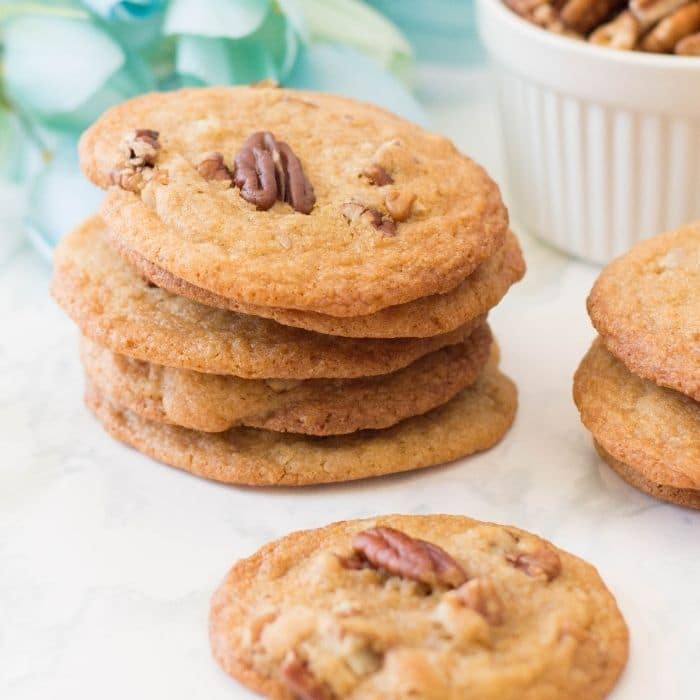 Butter Pecan Cookies
Butter Pecan Cookies are a tasty pecan cookies recipe that is soft and chewy. You will find these cookies offer a tasty pecan flavor in each bite, and a warm brown sugar flavor.
Ingredients
tools Needed
Pecan Cookie Ingredients
1 ½ cups all-purpose flour
¼ teaspoon salt
½ teaspoon baking soda
1 stick butter, softened
)½ cup granulated sugar
½ cup brown sugar, packed
1 egg
1 teaspoon vanilla extract
1 ½ cups chopped toasted pecans 20-22 pecan halves
Instructions
Start by toasting your pecans in the oven. Turn the oven to 350 degrees Fahrenheit. Layout a layer of pecans on a baking sheet. Cook for 6-8 minutes to toast your nuts. Set on the counter to cool down.
In a sifter, you will add your flour, salt, baking soda, and sift into a bowl. Set aside.
Now in a stand mixer or with a hand mixer cream your softened butter and granulated sugar and brown sugar. This will take 2-3 minutes to cream it up.
Now you will incorporate the egg and vanilla into the mixture, as well as the dry ingredients. Try not to overmix the batter.
When the batter is creamy, fold in the toasted chopped pecans.
Wrap cookie dough up, and refrigerate for 2 hours to help the dough get nice and chilled.
When you are ready to bake, preheat the oven to 350 degrees. Line a baking sheet with parchment paper. Use a cookie scoop to scoop up even cookies.
Top with a pecan half if you would like, and bake 9-11 minutes or until the cookies are done.
Remove cookies and carefully place them on a cooling rack to cool down.
Notes
You can store your cookies for up to a week on the counter at room temperature. Store in a sealable bag or airtight container.
If you don't plan to eat the cookies right away, freeze them for up to three months.
You do not have to toast the pecans, but I do recommend this step as it adds incredible flavor to the cookies.
Stir in some chocolate chips or even toffee chips into the batter before baking.
The cookie dough for this pecan cookie needs to be refrigerated, or it will fall flat when baking.
Recommended Products
As an Amazon Associate and member of other affiliate programs, I earn from qualifying purchases.