Chocolate Peppermint Thumbprint Cookies are a fantastic holiday cookie to whip up. A chocolate thumbprint cookie that is filled with a chocolate ganache and topped with crushed peppermint.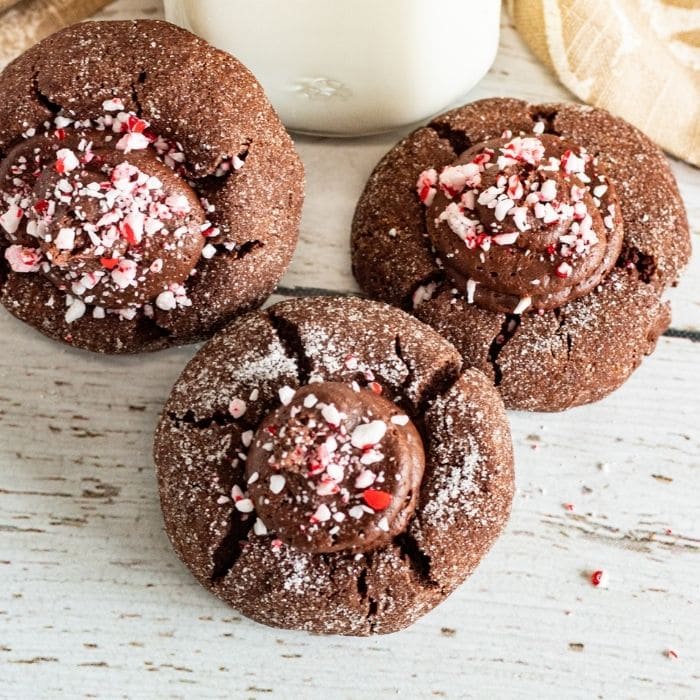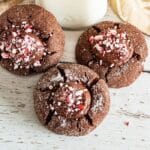 Serve up these chocolate peppermint thumbprint cookies as a delicious mint Christmas cookie this holiday season. A homemade thumbprint cookie filled with a chocolate fudge filling that is topped with crushed peppermint.
Chocolate thumbprint cookies are great to make for a cookie swap, to serve up the family, or make for a holiday gathering. Crescent cookies are another fantastic holiday cookie recipe.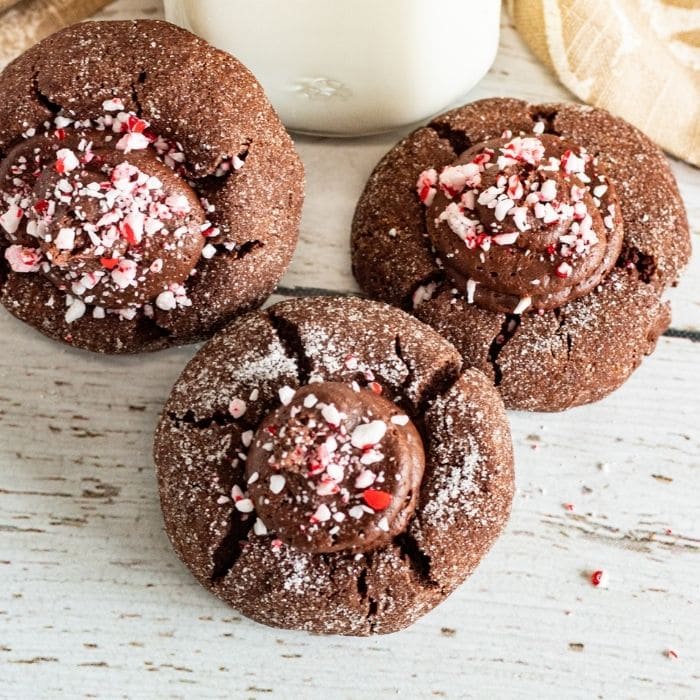 This peppermint cookies recipe is topped with crushed candy canes for the ultimate minty cookie flavor.
Main Ingredients For Chocolate Mint Cookies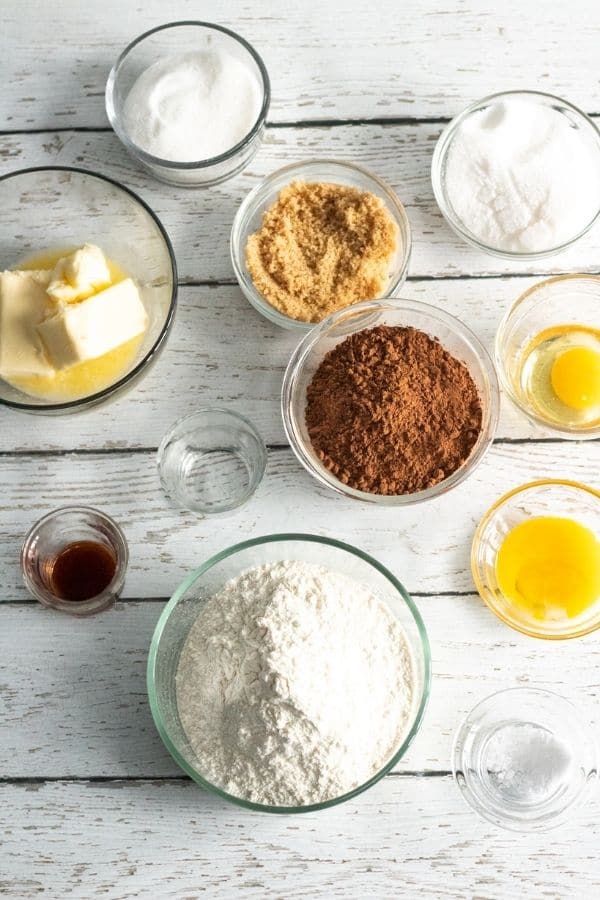 Basic Cookie Ingredients | Flour, sugar, eggs, butter, etc.
Cocoa Powder | This is going to help give these chocolate cookies a rich flavor.
Peppermint Extract | This will help to give the cookies extra minty flavor.
Chocolate Ganache | Homemade chocolate ganache is the filling for this cookie.
How To Make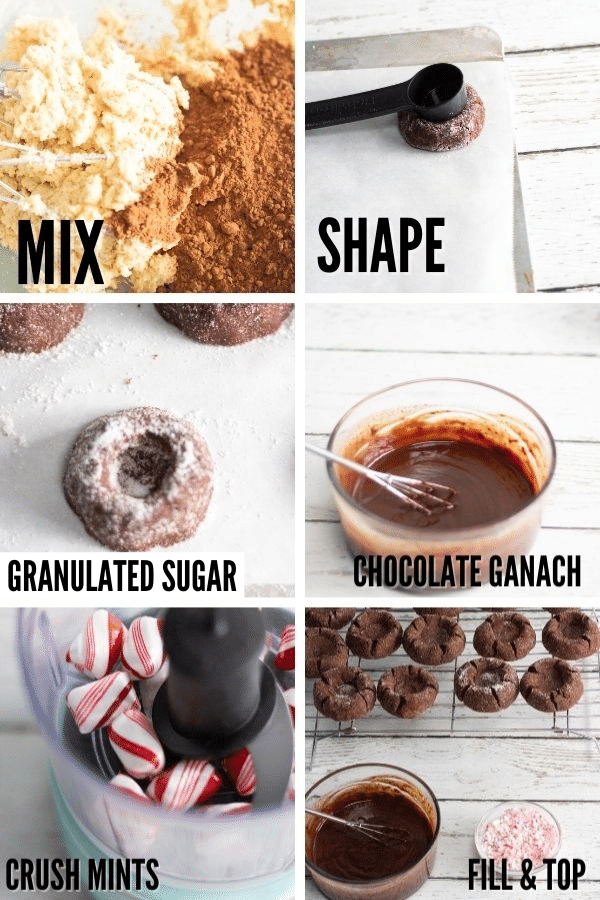 Mix Batter | Start by mixing up your cookie batter. All the instructions are in the recipe card below. Refrigerate the dough for 30 minutes to an hour in the fridge.
Shape | Roll and shape your cookies. I used the back of a measuring spoon to do the hollow center in the cookies.
Dust | Dust with powdered sugar. This is optional but it makes the cookies pretty and it adds sweetness to the cookies.
Bake | Bake your cookies as directed below. Then remove and place on a cooling rack.
Crush Mint and Make Ganache | Crush up your candy canes or peppermints. Then set aside. In a bowl make up your chocolate fudge ganache.
Assemble | Once your cookies are cool, add in your fudge ganache, then sprinkle with crushed mint.
Storing Cookies And Freezing
You can store your cookies in the fridge in an airtight container. With the chocolate ganache I find it is best to store in the refrigerator.
In terms of freezing you are more than welcome to freeze your cookies. Place in a single layer in the proper container. If you want use wax paper to place in between layers to prevent sticking.
Cookies will freeze for up to three months. Thaw on the counter for a quick thaw or place in the fridge overnight for a slower thawing.
Expert Tips
Refrigerating the dough helps to ensure the cookies don't spread and thin out when it is baked.
If you want you can swap the chocolate ganache with any other filling. Or even place a Hershey Peppermint Kiss instead.
You can make smaller cookies if you want to have more. Or double the recipe if you would like.
Candy canes, peppermint candies, etc. work for crushing. You can also place candies in bag and use a rolling pin to crush.
Can You Double Recipe
If you are looking to make a larger batch of cookies go ahead and double the recipe. Just portion out the cookie dough to work in batches.
That way you only use a bit at a time so the chilled dough doesn't warm up as you are working on baking part of the cookies.
Here Are More Recipes to Test Out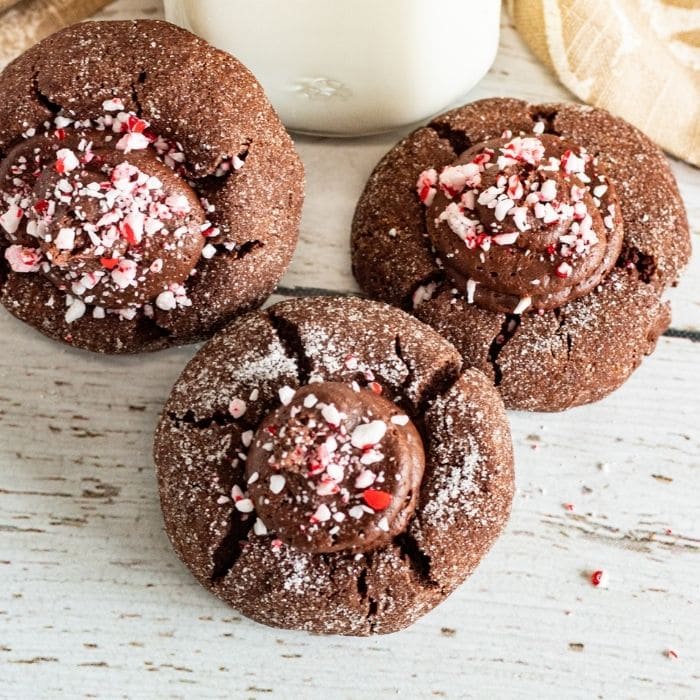 Chocolate Peppermint Thumbprint Cookies
Servings 14 cookies
Chocolate Peppermint Thumbprint Cookies are a fantastic holiday cookie to whip up. A chocolate thumbprint cookie that is filled with a chocolate ganache and topped with crushed peppermint.
Ingredients
Chocolate Thumbprint Cookies
9 tablespoons butter softened
½ cup granulated sugar
⅓ cup brown sugar packed
1 large egg + 1 egg yolk
1 tablespoon peppermint extract
1 teaspoon vanilla extract
1½ cup all-purpose flour
½ teaspoon baking soda
1 cup cocoa powder
1 teaspoon salt
½ cup granulated sugar for rolling dough balls
Chocolate Ganache
6 oz semi-sweet chocolate bar
¼ cup heavy cream
½ teaspoon vanilla extract
½ cup crushed peppermint candies
Instructions
Start by adding your butter and sugar into a stand mixer, and whip until light and fluffy.

Now you will add in your whole egg and the extra egg yolk, peppermint extract, and vanilla. Mix until creamy.

Then you will work at adding in your cocoa, flour, baking soda, and salt. Once mixed, place in the fridge wrapped in plastic wrap for 30 minutes.

Once dough is fully chilled you will use 2 tablespoons to measure the cookie dough and roll into balls. Then use a measuring spoon to press a cavity into each cookie.

Dust with granulated sugar. and bake in preheated 350 degree oven. Cook for 6-8 minutes or until your cookies are done.

Remove cookies and place on a cooling rack.

Once all your cookies are done, you can work on your chocolate ganache. In a microwave safe bowl, add your chocoalte, heavy cream, and vanilla. Heat at 20 second intervals until the chocolate is fuly melted. I stir between each heat cycle.

Once melted whip the chocolate ganache until the ganache is nice and fluffy.

Then to your cooled cookies you can pipe or spoon your ganache into each cookies.

Top with crushed peppermint or candy canes.
Nutrition
Serving: 1gCalories: 297kcalCarbohydrates: 41gProtein: 4gFat: 14gSaturated Fat: 8gPolyunsaturated Fat: 4gCholesterol: 51mgSodium: 265mgFiber: 2gSugar: 26g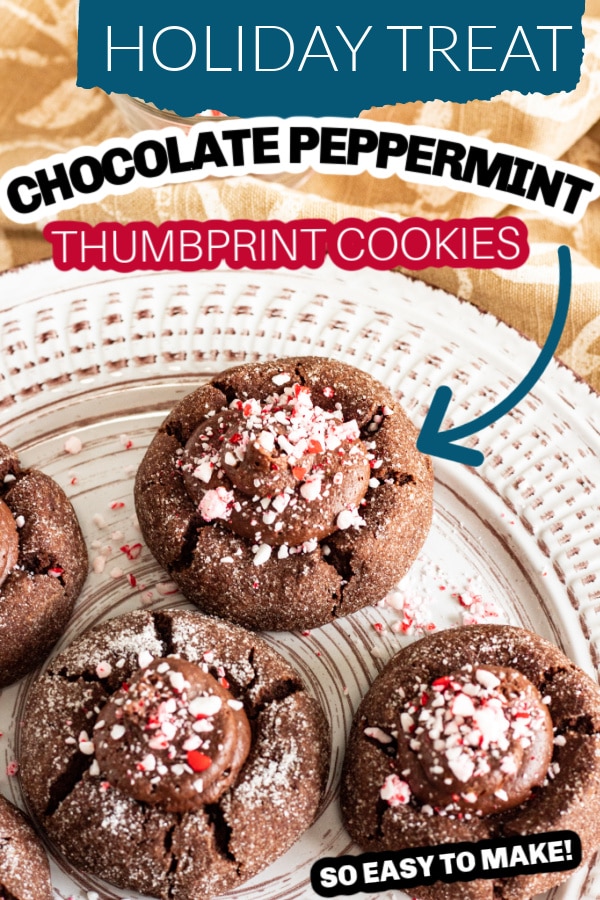 Let me know how you like these chocolate peppermint thumbprint cookies!
Reader Interactions