Almond Crescent Cookies are an easy and delicious crescent cookie, or also known as a moon cookie. These are a flaky and fluffy almond flavored cookie that is dusted with powdered sugar.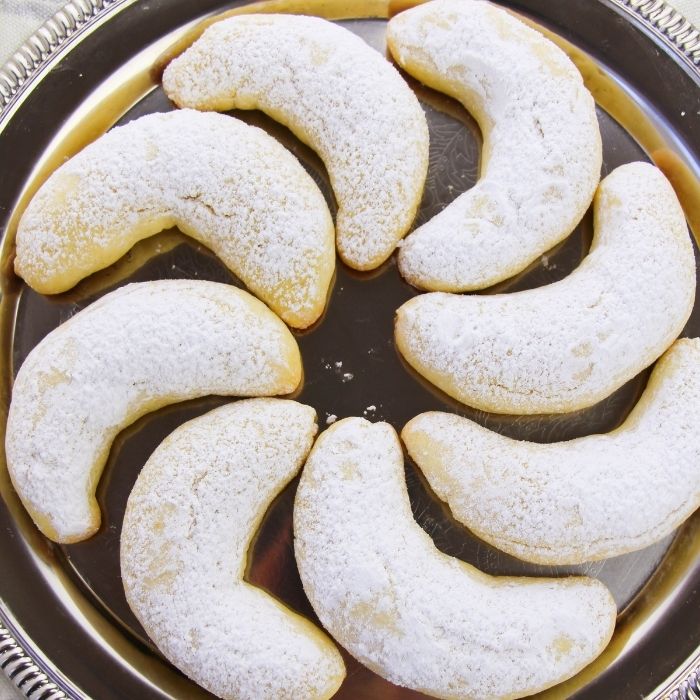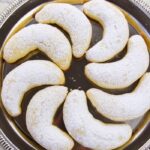 Almond crescent cookies are a flaky almond cookie recipe that melts in your mouth. This crescent cookie is great for cookie exchanges, holiday baking, or even a treat to pack in your lunch. Give this homemade almond crescent cookie recipe a try today.
I love the sweet powdered sugar coating on these moon cookies, or also known as Italian almond crescent cookies. Give this holiday cookie a try.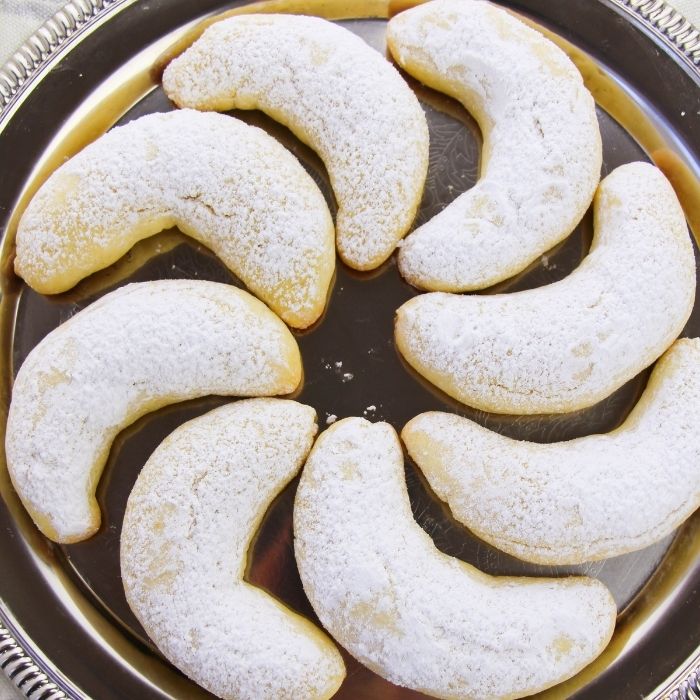 I am a huge cookie lover. So if you are like me, give this simple cookie recipe a try. You won't regret it.
Why These Almond Crescent Cookies Are So Popular
Simple Pantry Ingredients – This recipe uses all the basic pantry and fridge essentials. You might have all the supplies on hand to make these homemade cookies.
Fluffy Cookies – Using shortening instead of butter you are going to find these cookies won't spread like one would if you use butter. They are fluffy and hold their shape nicely.
Freezer Friendly – If you want to make some cookies in advance go right ahead. Store any of the cookies you don't plan to eat right away in the freezer for 3-4 months.
Christmas Cookie Recipe – These are a great almond Christmas cookie to place on your dessert trays for making and gifting, serving up at events and parties, etc.
Ingredients
Flour – I used an all purpose flour for this cookie.
Baking Powder – Baking powder is going to give your cookies texture and help them bake up fluffy and not fall flat.
Salt
Vegetable Shortening – Now butter can be swapped for the shortening but I find the shortening offers a fluffier texture than what butter provides in this cookie recipe.
Granulated Sugar
Eggs
Vanilla and Almond Extract – Both the vanilla and almond work together to give these crescent cookies their stand-out flavor. Trust me the duo of flavors works so well.
Powdered Sugar – You will dust the cookies in the fluffy sugar for a gorgeous presentation value, along with flavor.
Tools For Making Cookies
Cookie Sheets – I love good cookie sheets. I have aluminum cookie sheets and a Pampered Chef stone I use. I rotate them depending what type of cookie I make.
Silicone Mats – Use these non stick mats for when you bake. It is a re-useable mat you place on your pan, and it creates a non-stick surface. Then wash and re-use!
Cookie Scoop – Cookie scoops help to ensure all your cookies will be the same size. If you just guess you will find some cookies can be over-cooked and others soft and doughy. Create the same size cookies for the perfect baking.
Mixer – Use a hand or stand mixer when mixing up the cookie dough. It is faster and helps to ensure all ingredients get mixed evenly.
How To Make
Step 1: Preheat your oven as directed below in the recipe card. Then grease your baking sheets or use the baking mats for a non-stick surface.
Step 2: Next you want to add all dry ingredients into a bowl, mix to combine. Set it aside.
Step 3: In a new bowl beat your shortening and granulated sugar together. You want to make it a nice and creamy texture. This takes 2-3 minutes to mix.
Step 4: Add in your eggs and extracts, mixing to combine.
Step 5: Next, stir in part of the flour mixture. Mix until combined, then slowly mix in more of the dry, until all the dry mixture is mixed.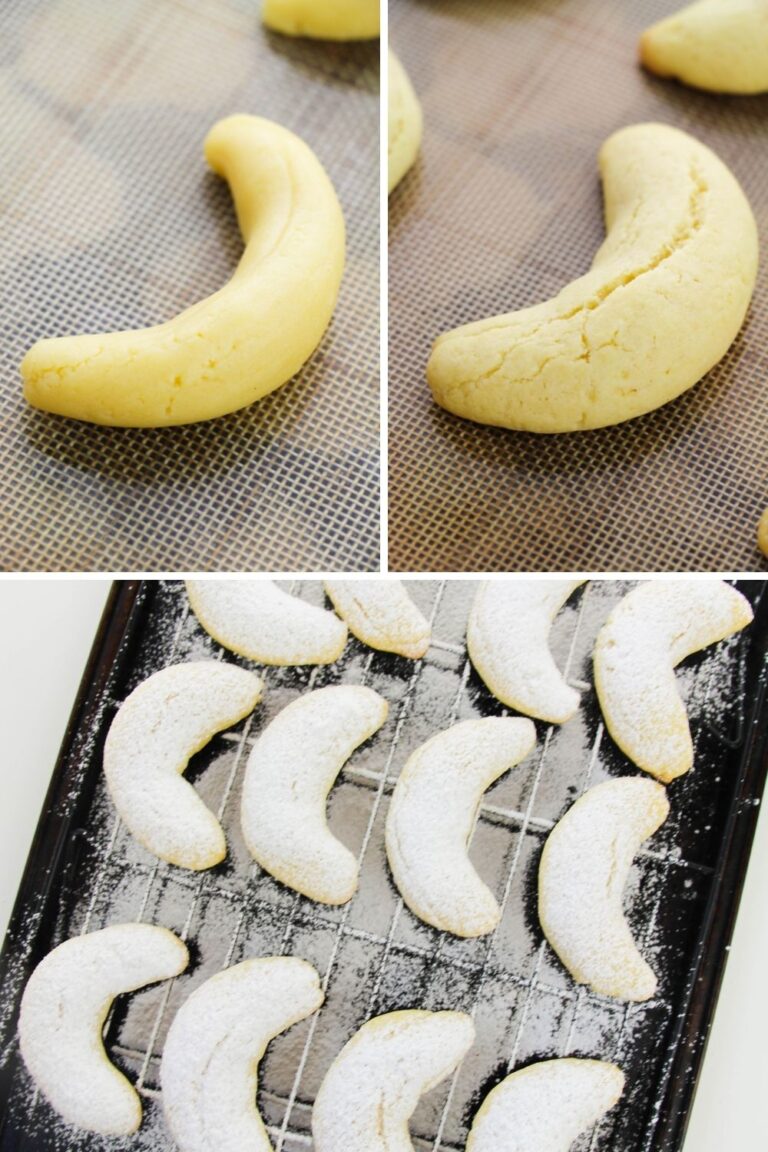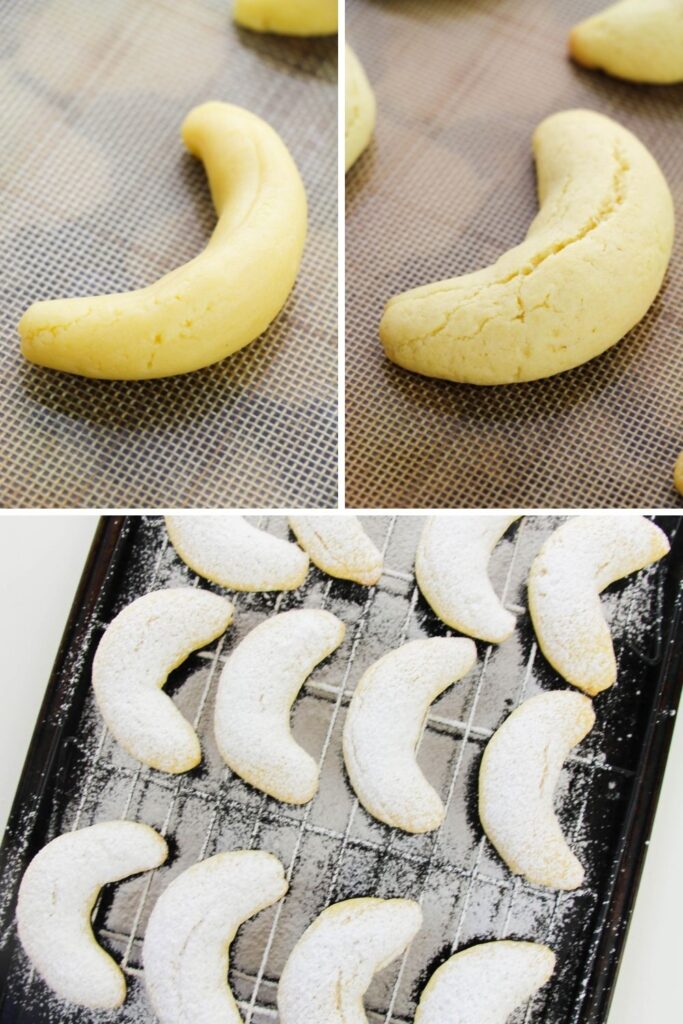 Step 6: Use a cookie scoop and then roll out the cookies to make a moon or crescent shape. 3.5″ log is what I aim for when I did my cookies.
Step 7: Bake the cookies for 8-10 minutes or until golden and slightly crack on the top.
Step 8: Allow cookies to fully cool, then dust with powdered sugar, to coat all the cookie.
Expert Tips
Measure the flour properly, so you don't get the cookie dough too dry.
Watch the cookies as they bake, as all ovens cook slightly different. You don't want to overbake the cookies or they will crumble.
You do not have to shape into a crescent if you don't want. Then you can do just balls if you prefer.
The powdered sugar adds a sweet flavor and gorgeous presentation value. But you could leave plain or even dip part of cookie in chocolate.
Make sure to use a cookie scoop so all the cookies bake evenly.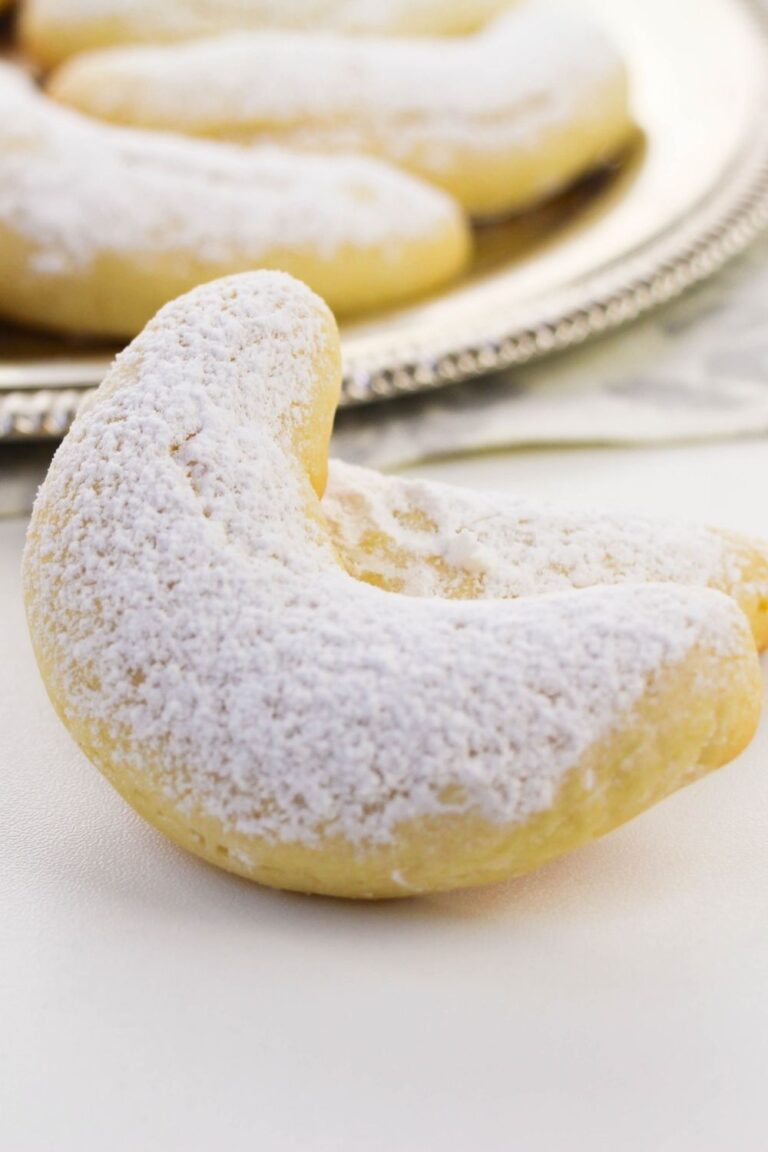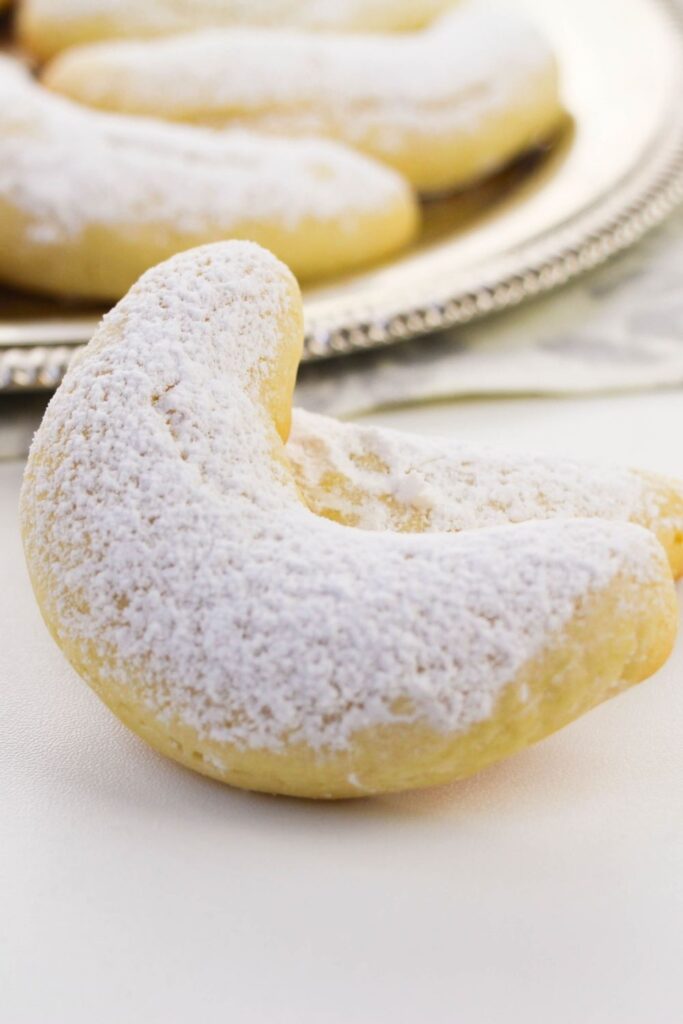 Storage
These easy crescent cookies can be stored in an airtight container at room temperature. Make sure the cookies are cooled completely before you place in container or it can create condensation in container.
You can also freeze these crescent moon cookies. Let cool and place in a container with wax paper between each layer.
Grab my Free Kitchen Conversions Printable! This shows you how many cups are in a quart, pint, etc. A great printable to keep handy for when you need to convert a recipe.
Variations
Top cookie with a sliced almonds for a twist on design if you want.
Drizzle with red and green chocolate for a Christmas theme.
Melt chocolate chips and dip or drizzle over cookies instead of confectioners sugar dusted on top.
Drizzle with white chocolate and sprinkle candy cane crumbs on the cookies for a mint flavor.
If you want you can omit the vanilla extract and just do almond extract. We prefer both.
FAQs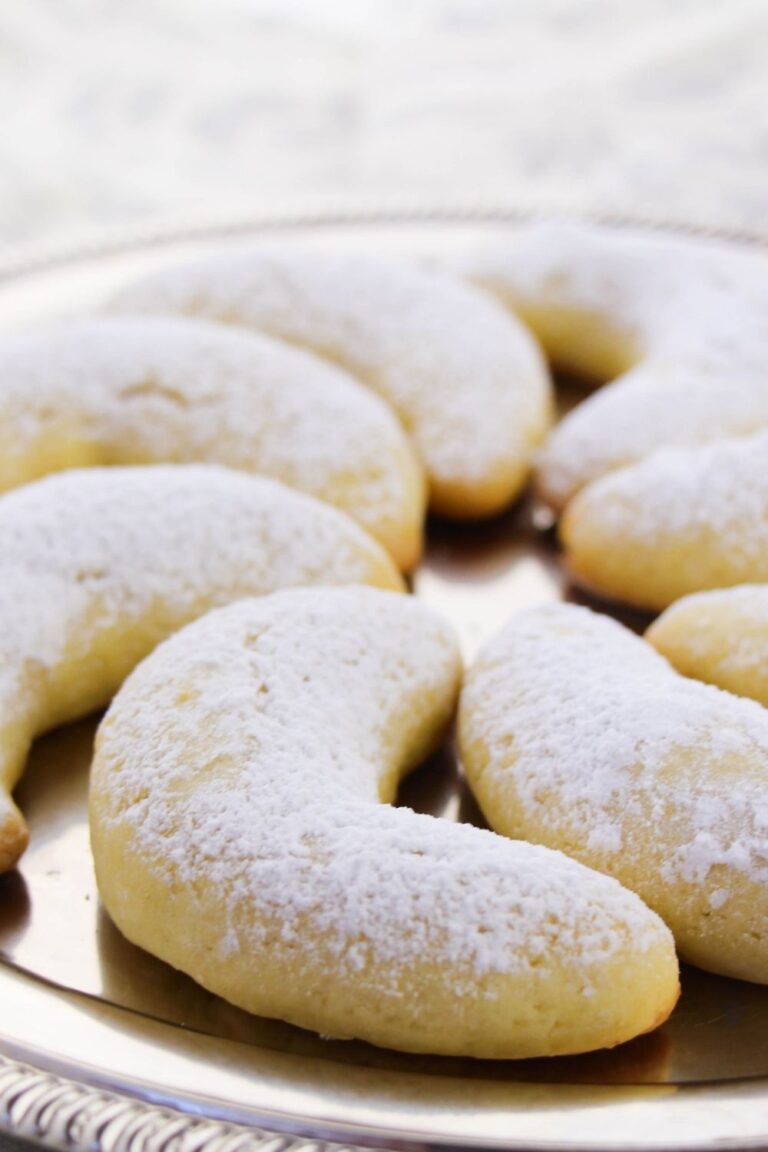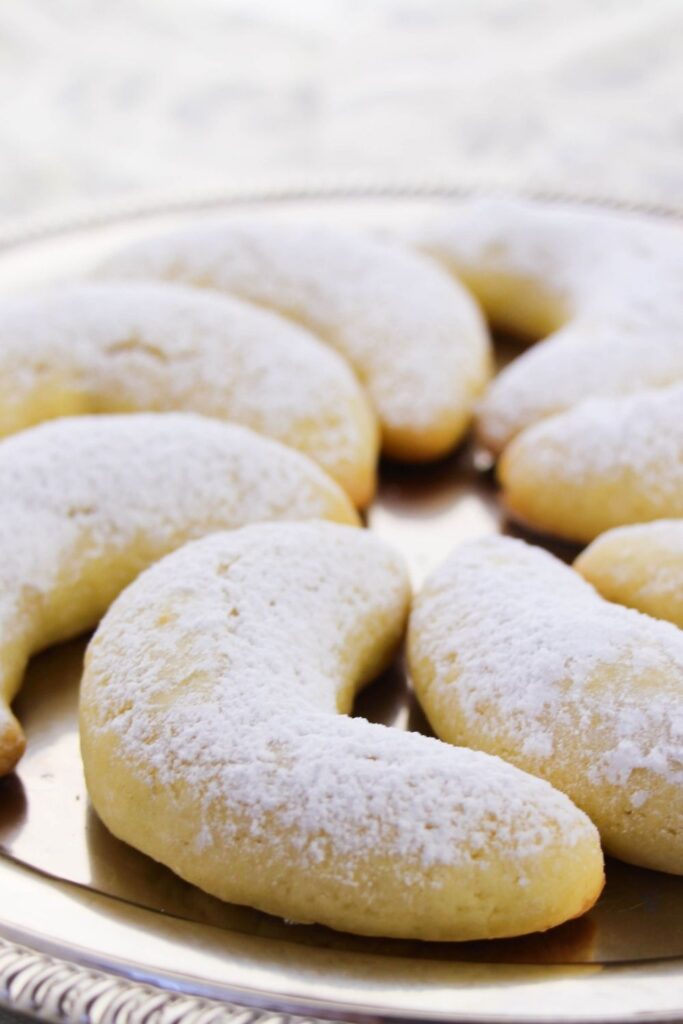 Related Recipes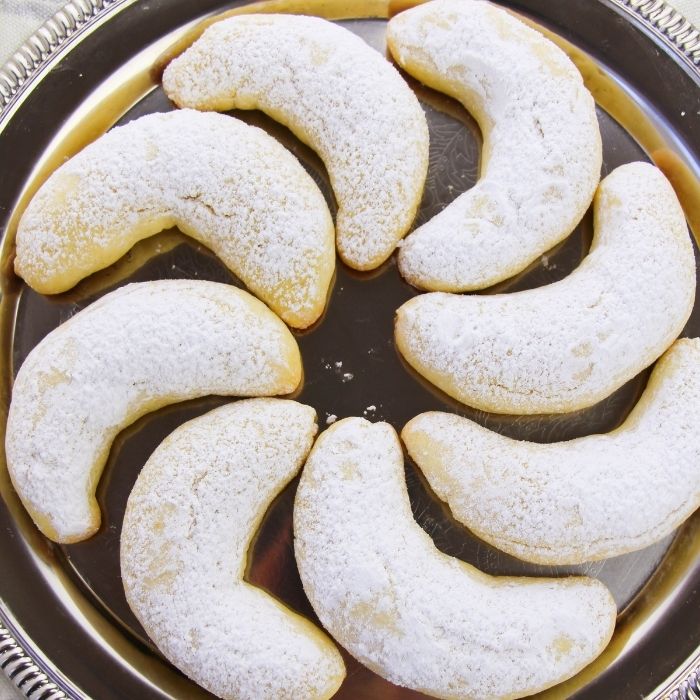 Almond Crescent Cookies
Servings 30
Almond Crescent Cookies are an easy and delicious crescent cookie, or also known as a moon cookie. These are a flaky and fluffy almond flavored cookie that is dusted with powdered sugar.
Ingredients
3 cups All-Purpose Flour
3 teaspoons Baking Powder
1/2 teaspoon Salt
3/4 cup Vegetable Shortening
1 teaspoon Vanilla Extract
1/2 teaspoon Almond Extract
3/4 cup White Sugar
3 Eggs room temperature
1 cup Powdered Sugar
Instructions
Preheat the oven to 400 degrees. Then you will prep your cookie sheets by spraying cooking spray or using silicone non-stick mats.

Then in a bowl you will add your flour, salt, baking powder and mix to combine and set aside.

In a stand mixer or a hand mixer you will cream your shortening with your granulated sugar. Mix for 2-3 minutes to make creamy and fluffy.

Now add in the room temperature eggs, vanilla, and almond extract. Stir to combine.

Next, slowly add in the flour mixture, a little at a time. Once fully combined you will begin shaping cookies.

Use a cookie scoop, and then shape into a crescent or moon shape. I did 3.5" logs for my cookies. Depending on your size the cook time will vary.

Place on cookie sheet, and leave space between each one.

Bake 7-10 or until lightly golden and begin to lightly crackle on top. Remove and let cool completely on a cooling rack.

Once the crescent cookies are cooled, dust with powdered sugar and serve.
Notes
Storage – You can store these cookies in an airtight container for 4-5 days on the counter. They are best fresh and eaten within the first couple of days. Freezer – You can freeze for 3-4 months. Store in a freeze bag or container. Decorating Cookies – Dip in chocolate, drizzle with red and green chocolate, sprinkles, crushed candy cane, etc. There are so many ways to dress up cookies if you want. Double Recipe – You can double this crescent moon cookie recipe. Just mix the same, and batch cook the cookies.
Nutrition
Serving: 1gCalories: 133kcalCarbohydrates: 18gProtein: 2gFat: 6gSaturated Fat: 2gPolyunsaturated Fat: 3gCholesterol: 21mgSodium: 92mgSugar: 9g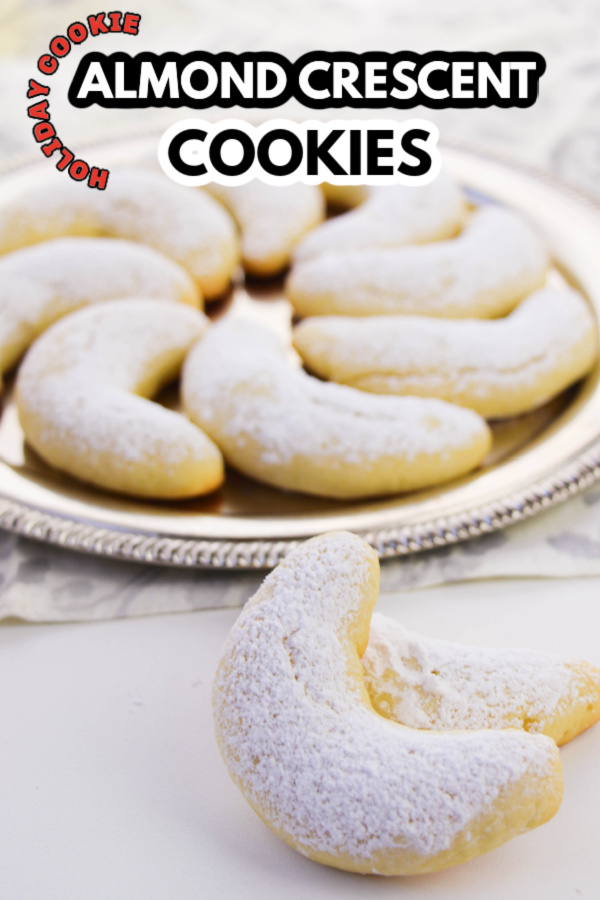 Reader Interactions