Bacon Wrapped Smokies are a 3 ingredient appetizer that is easy and affordable to make. Sweet, savory, and addictive party food that everyone loves. Give this easy bacon wrapped appetizer recipe a try today. Little smokies never tasted so good.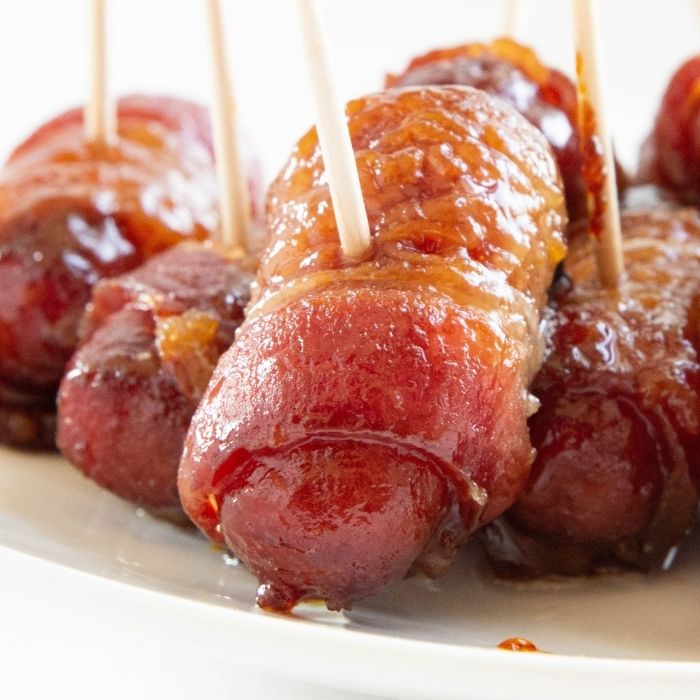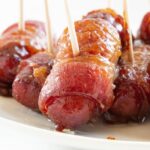 3 ingredient bacon wrapped smokies with brown sugar is the perfect party food! A simple Lil smokies recipe that will blow your mind. Sweet and savory in each bite of these brown sugar little smokies. Give this bacon wrapped little smokies recipe a try tonight.
My sister (Home Fresh Ideas) introduced me to these so many years ago. Since then I have always made these for football season snacking.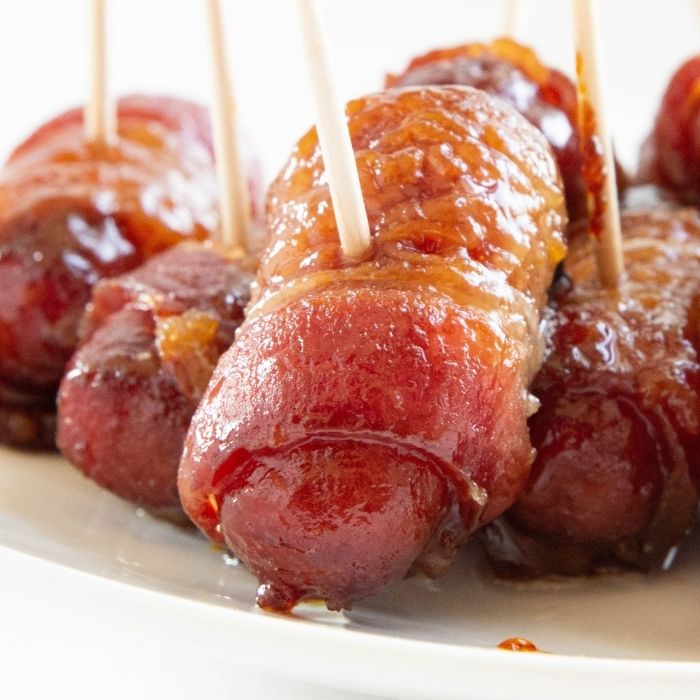 Table of contents
But truly serve them up for any party or snack cravings that hit! These cocktail weenies are one that almost everyone enjoys nibbling on. There is something about a bacon wrapped weenie with a glazed brown sugar that just hits the spot. Try my other easy appetizer, pickle wraps with salami.
Why This Recipe Is So Addictive
Super Simple Appetizer – You can truly assemble and get the little smokies in the oven baking in no time. Then just wait till done and serve!
3 Ingredients – All you need are 3 ingredients. Now I will share a few ways to change the flavor a bit if you choose to!
Bacon Appetizer – This is a bacon appetizer! Need I say more? Doesn't everything taste better when bacon is involved?
Make Ahead – If you need a make ahead appetizer this recipe is great. Prep and keep in fridge then when you are ready toss in the oven and bake!
Ingredients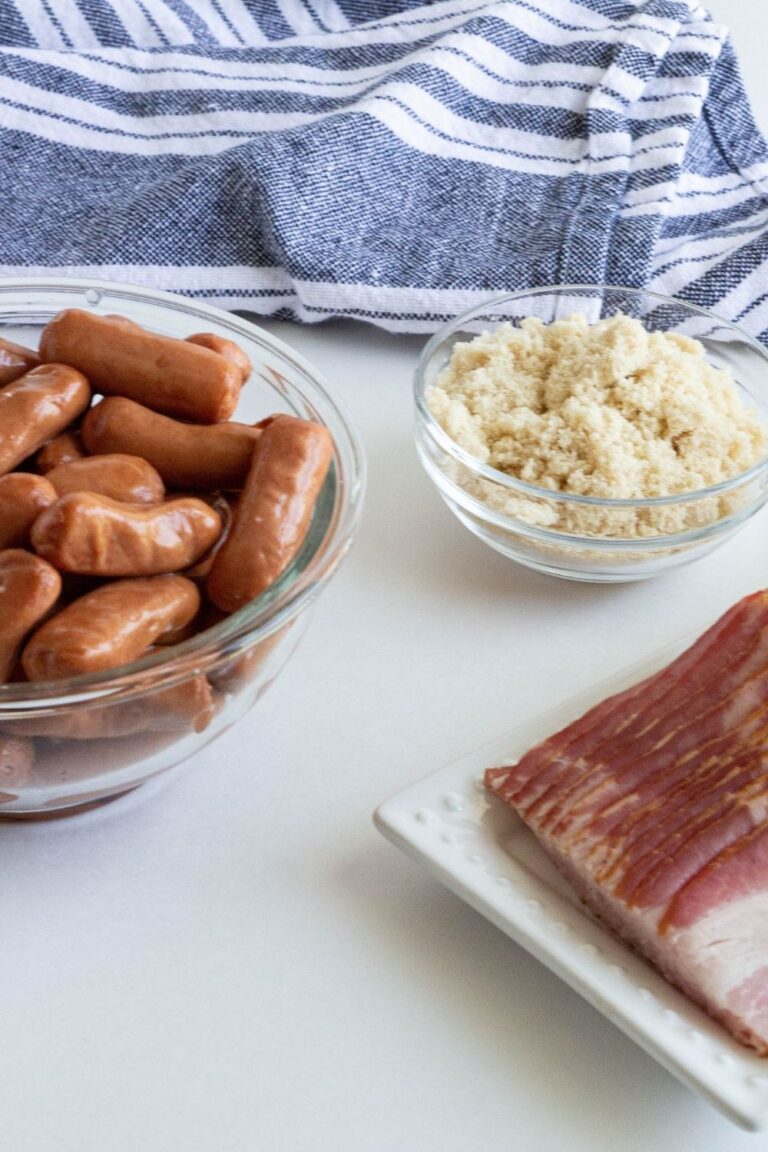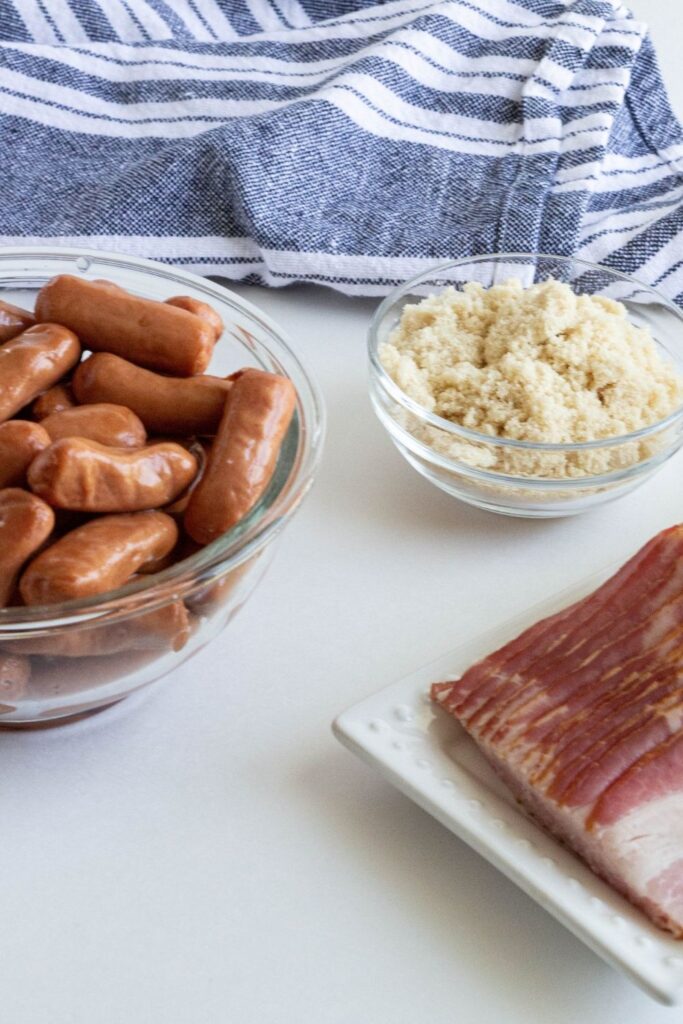 Little Smokies – We buy the beef smokies. Feel free to buy whichever brand and flavor you prefer.
Bacon – Thin cut bacon is key. You will find it cooks up well with the smokies. Thick cut bacon will take longer to cook.
Brown Sugar – I use light brown sugar as it gives a nice sweet sticky glaze without being too strong on the sweet component.
How to Make
Step 1: The first step is to open up bacon and cut into 3 even sections.
Step 2: Take a cut piece of bacon and place on a cutting board, and place a lil smokie at one end. Then roll up wrapping bacon around the whole smokie.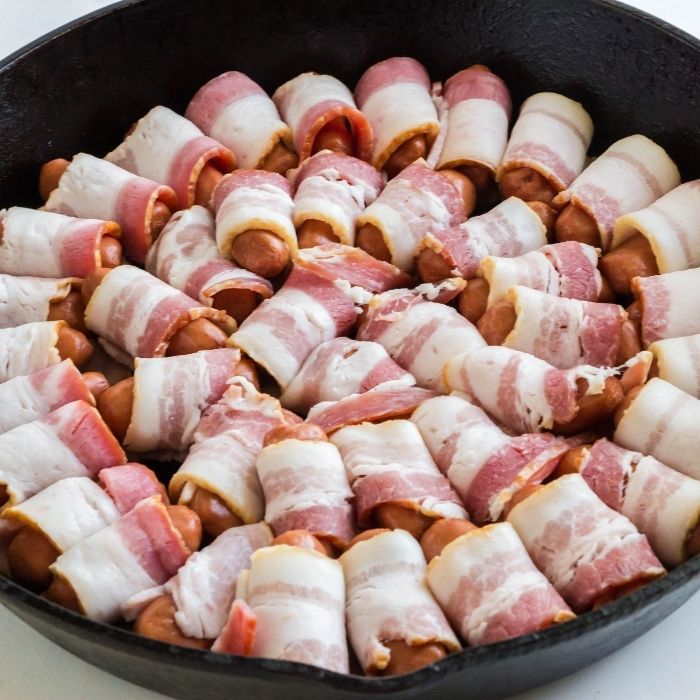 Step 3: Place seam side down in a cast iron skillet or baking dish.
Expert Tip: You can stick a toothpick in each smokie once wrapped in bacon to secure the bacon stays on if you want.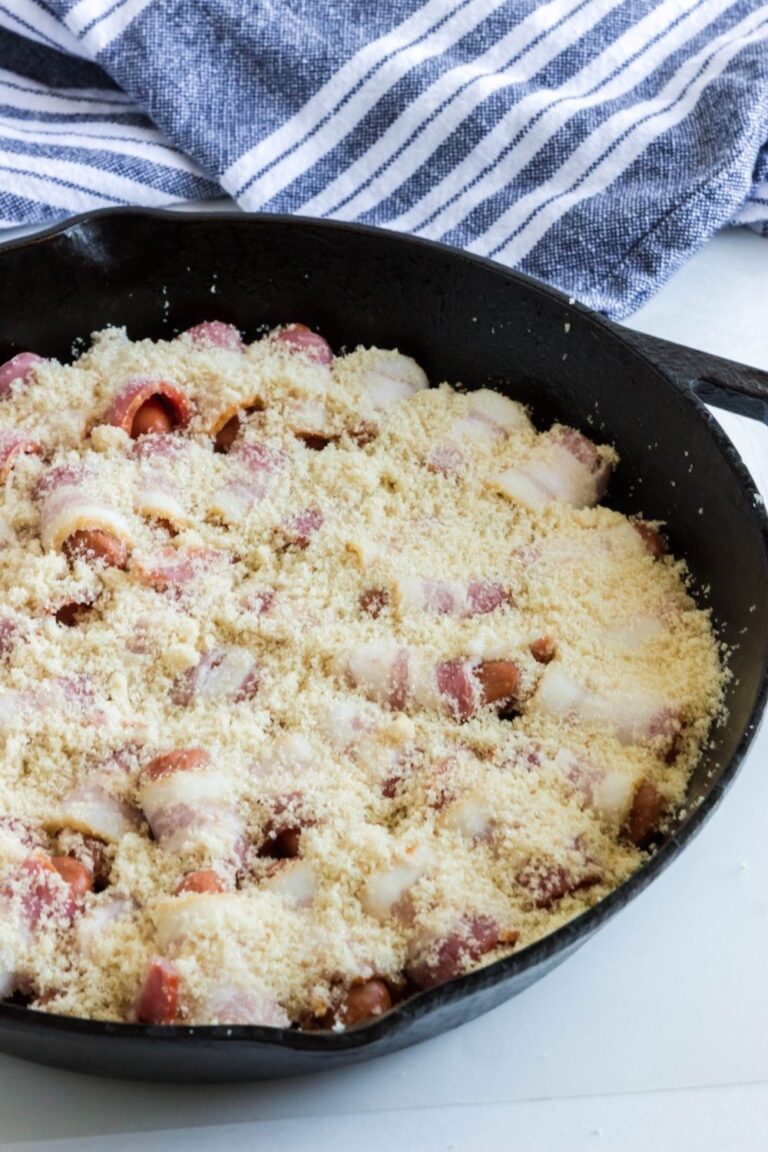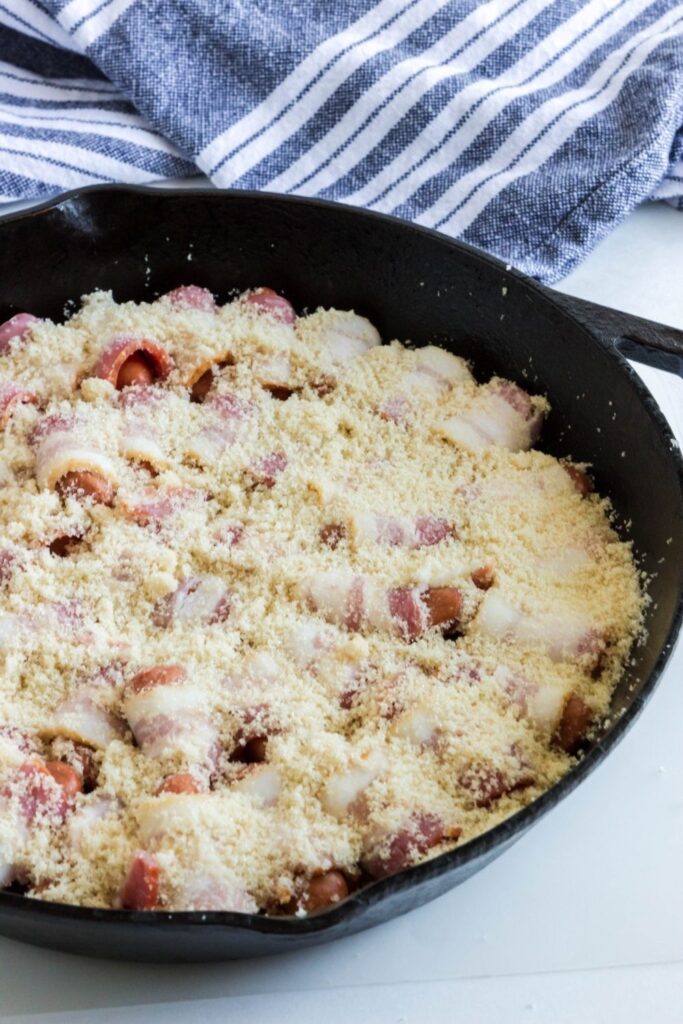 Step 4: Once all your smokies are wrapped in bacon grab sugar. Then you will begin to sprinkle all the sugar over the smokies. You can use less or more sugar to reach desired sweetness you prefer.
Step 5: Bake in a preheated oven until bacon is fully cooked, and sugar has caramelized on the smokies.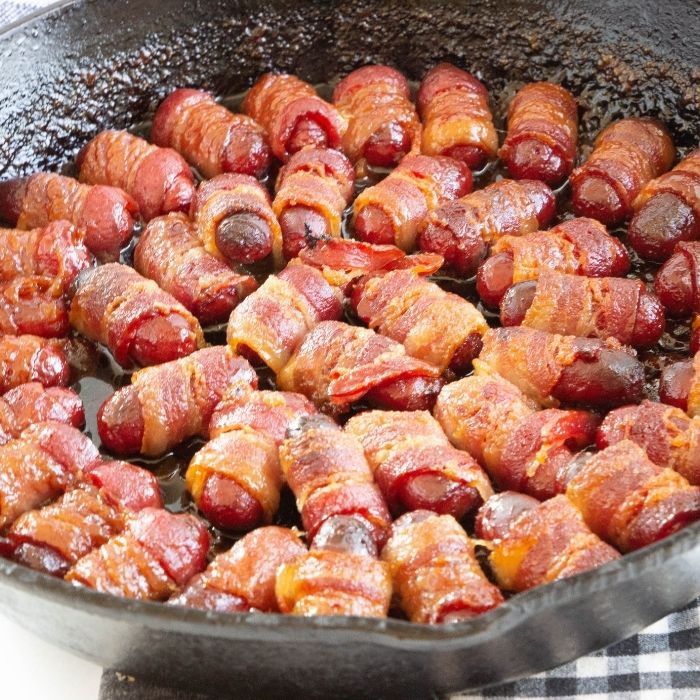 Step 6: Serve warm! You can use toothpicks for serving on a platter. Eat as is or pair with any of your favorite dipping sauces.
Expert Tips
Thin bacon is a must as thick bacon will not cook fully without burning.
Cook till your bacon is done to your desired done-ness. We prefer well done.
Stick toothpicks in each to bake or skip the toothpicks like I did. If the smokies all touch and seam side down they will stay together.
If your oven cooks unevenly you might have to flip the smokies half way through cooking so both sides of bacon are fully cooked.
Feel free to halve the recipe if you don't want to make too many.
Storage
Refrigerate – Store your leftovers in the fridge in an airtight container. The bacon wrapped smokies will store for up to 3 days.
Eat cold or reheat in the microwave!
Freezing – You can freeze cooked smokies or raw in the freezer!
For cooked smokies, place on lined cookie sheet and freeze till hard. Place in a bag or container and freeze for 2-4 months. Refrigerate overnight to allow for a full thaw.
Freezing raw bacon smokies – Do the same as wrapping smokies and place in a baking dish in a single layer. I use an aluminum foil disposable for ease.
When ready to cook, just add about 10 extra minutes and bake. If you froze in the baking dish place dish in oven then turn on. Don't preheat or it can break glass pans.
Variations
Looking for different ways to change up the recipe?
Mix ½ teaspoon garlic, ¼ teaspoon salt and pepper with brown sugar before sprinkle.
Add ½-1 teaspoon cayenne for a spicy kick.
Swap lil smokies with any smoked sausage. Just cut into smaller pieces then wrap.
¾-1 cup brown sugar works great. For less sweet do ¾ cup.
FAQS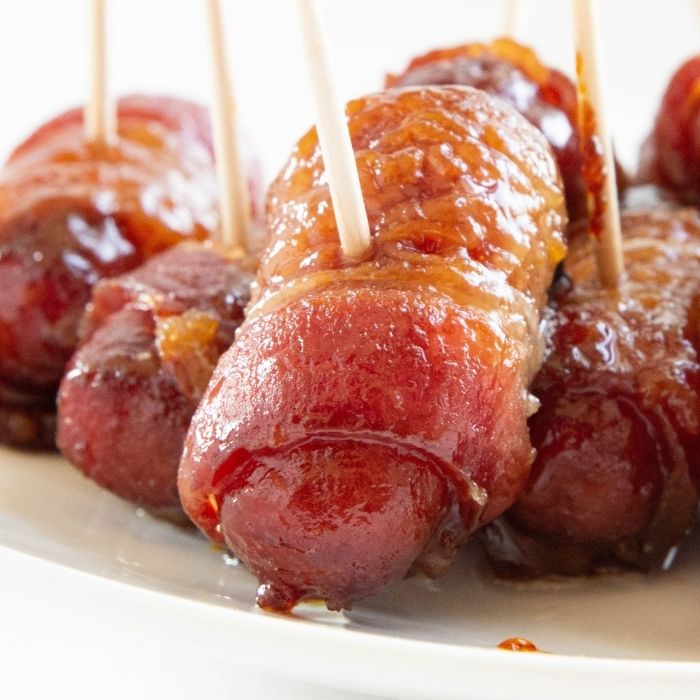 Bacon Wrapped Smokies
Servings 80
Bacon Wrapped Smokies are a 3 ingredient appetizer that is easy and affordable to make. Sweet, savory, and addictive party food that everyone loves. Give this easy bacon wrapped appetizer recipe a try today. Little smokies never tasted so good.
Ingredients
2 package Little Smokies 14 ounces
1 1/2 pounds thin sliced bacon
3/4 – 1 cup light brown sugar
Instructions
The first step is cutting your bacon into 3 equal parts. Use a very sharp knife and eye ball and cut bacon into thirds.

Then you will take 1 smokie, roll in a piece of the bacon, and then place seam side down in your cast iron skillet or baking dish. Do a single row, not overlapping the smokies.

Repeat wrapping the little smokies in bacon until all the smokies are wrapped.

Take your brown sugar and sprinkle all over the top. You can do 3/4 cup sugar if you want them to be less sweet, or do 1 cup for a sweeter flavor when you eat.

Toss in a preheated oven at 350 degrees. Cook for 15 minutes. Then turn the heat up to 415 degrees, Cook for another 10-20 minutes.

You will cook until the bacon is done to your desired preference. That is why the cook time varies. We prefer a crispy bacon. Check every 5 minutes until it reaches your preference on doneness.

Serve up your bacon wrapped smokies with toothpicks or serve without.
Notes
Cook time – Depending on the brand all bacon will cook slightly different. So just adjust the cooking time as you need. Seasonings – Add in a splash of cayenne for spice, or even 1/4 teaspoon garlic salt and pepper for a savory twist. Bacon – You have to use thin cut bacon for this wrapped smokies recipe. Storage – Place all leftover smokies in an airtight container in the fridge for up to 3 days. Or you can freeze. Hot Dogs or Smoked Sausage – Some like to replace smokies with hot dogs or smoked sausage. Just cut down to a bite size piece.
Nutrition
Serving: 1gCalories: 47kcalCarbohydrates: 2gProtein: 3gFat: 3gSaturated Fat: 1gPolyunsaturated Fat: 2gCholesterol: 9mgSodium: 146mgSugar: 2g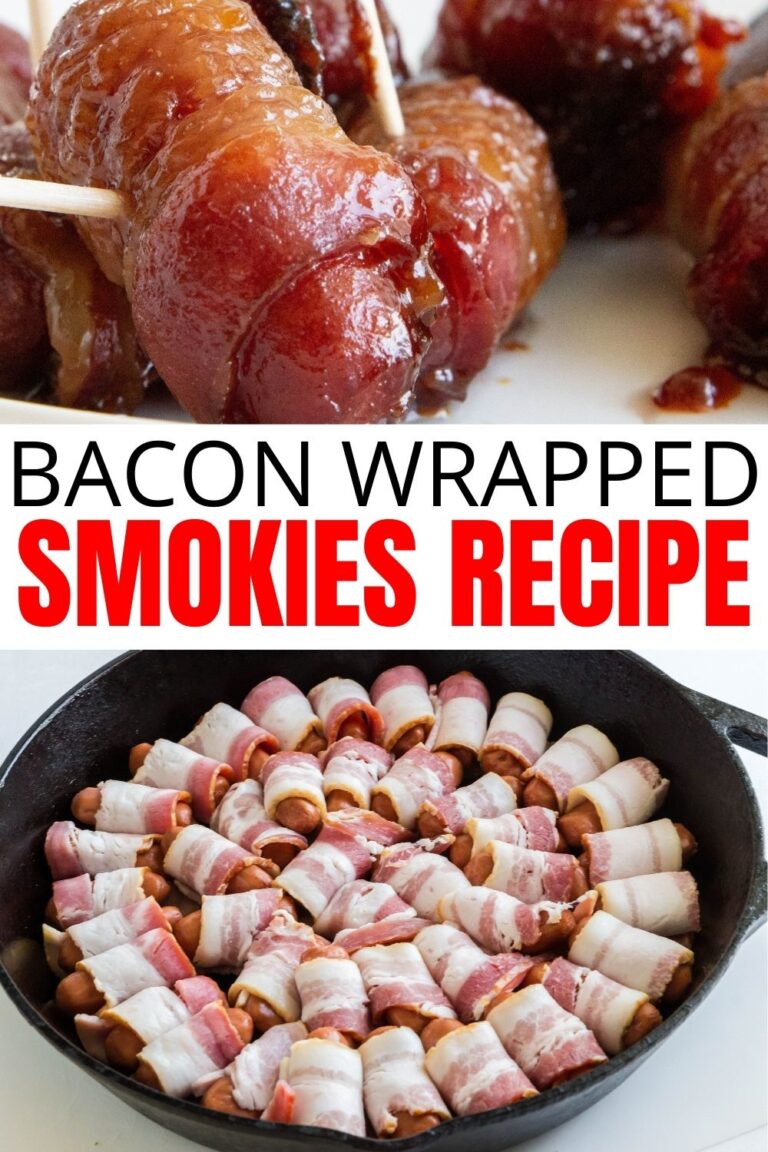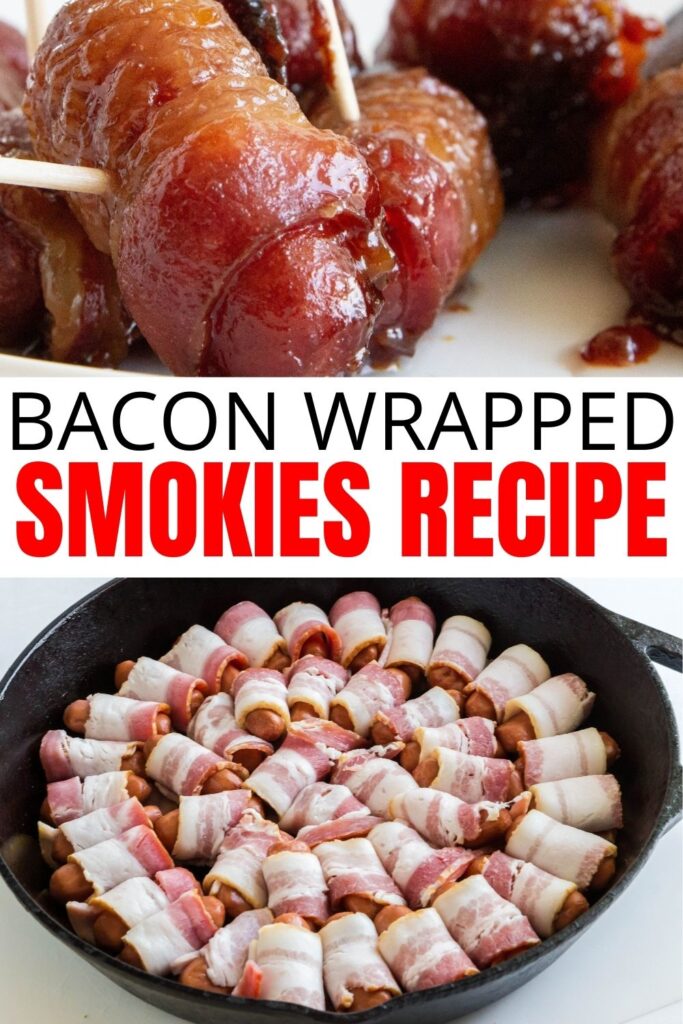 Reader Interactions