Air Fryer Pigs In A Blanket featuring puff pastry as the breading. This is a kid-friendly lunch recipe that they might ask for seconds. Air fried pigs in a blanket are a must make snack, lunch or dinner.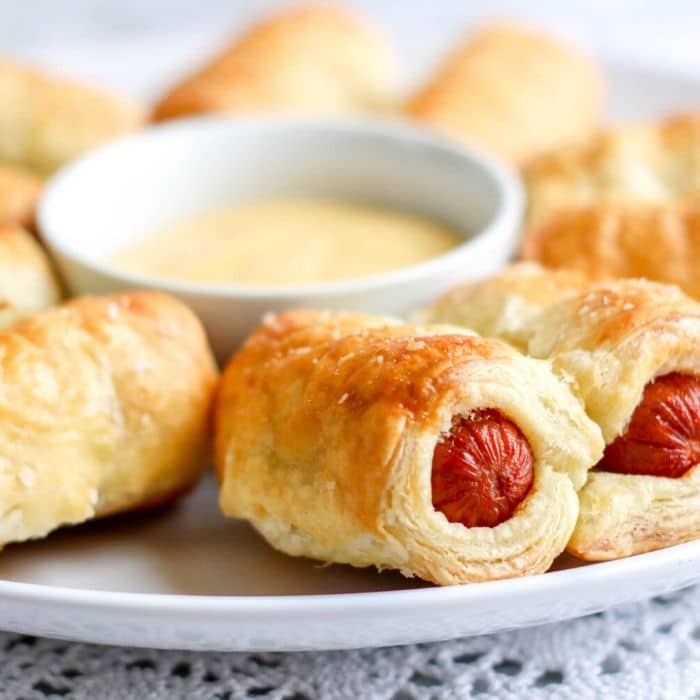 Air Fryer Pigs in a Blanket got a makeover with puff pastry dough. Serve up puff pastry pigs in a blanket for dinner, lunch or an appetizer. A bite size air fryer hot dog recipe that won't disappoint.
2 ingredients are all it takes for these air fryer pastry pigs in a blanket. Just grab your favorite dipping sauces and dive in. Pair with these air fryer sweet potato fries with cinnamon.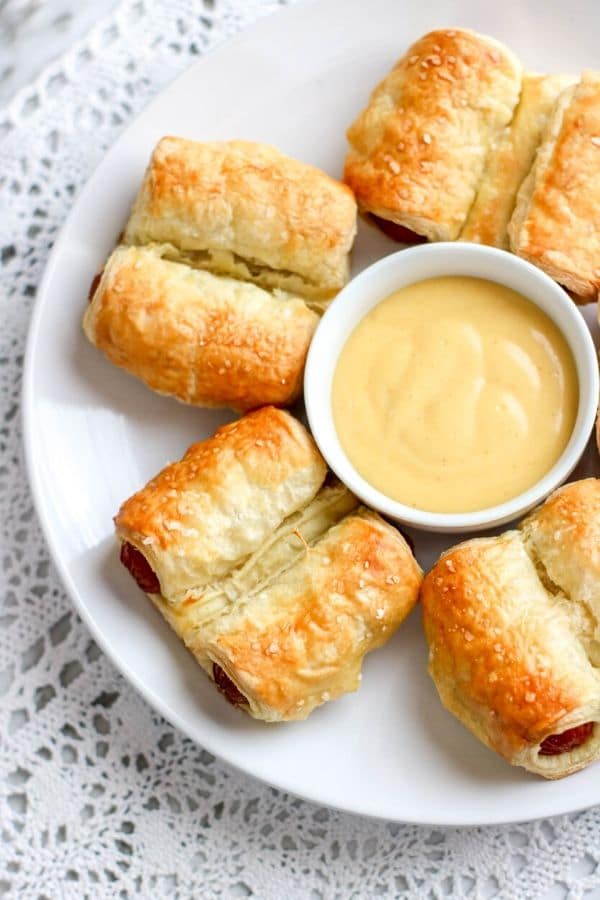 While classic pigs in a blanket use a crescent roll or bread dough, I wanted to change it up. A puff pastry recipe kids and adults will enjoy. Learn how to make pigs in a blanket with puff pastry instead of crescent dough.
Reach for hot dogs that you slice to fit the puff pastry, or reach for little smokies. Either route you will have a satisfying appetizer or lunch.
Ingredients
2 ingredients is all it takes to make this simple hotdogs in air fryer appetizer!
Hot Dogs – Reach for any brand of hot dogs you want. We used the Hebrews brand for a kosher hot dog.
Puff Pastry – Make homemade puff pastry or reach for the frozen puff pastry at your local grocery store.
How To Make
Full directions are in the printable recipe card at the bottom of the post. This is a visual walk through on how to make these air fryer pigs in a blanket.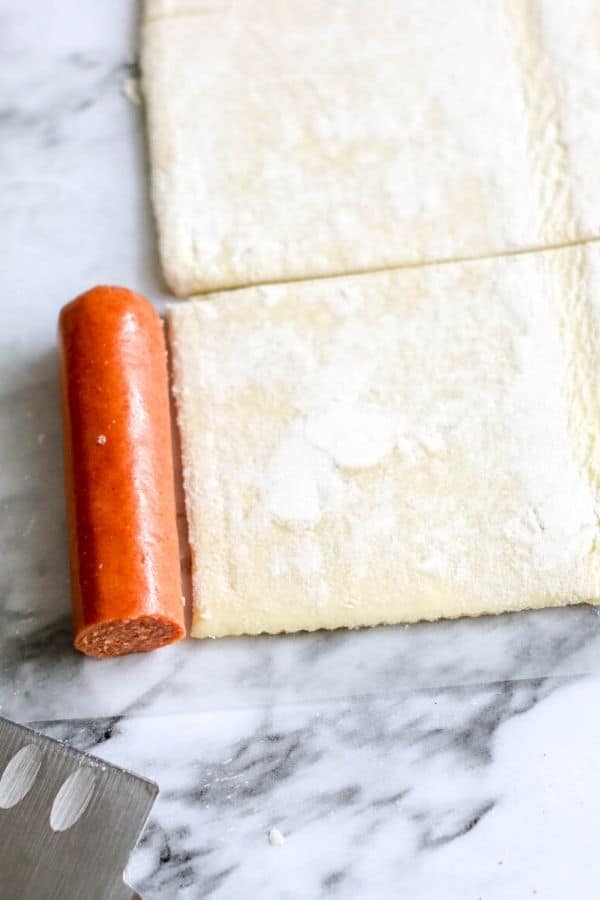 Step One: Start by laying out your pastry and slicing into squares. Then trim down your hot dogs to fit the size of squares.
Step Two: Cut the hot dogs in half.
Step Three: Begin to roll one edge of the hot dog, stopping in the center. Repeat on the other side.
This will give it a double roll look. You also might call these Torah dogs as well. I know some people call them that.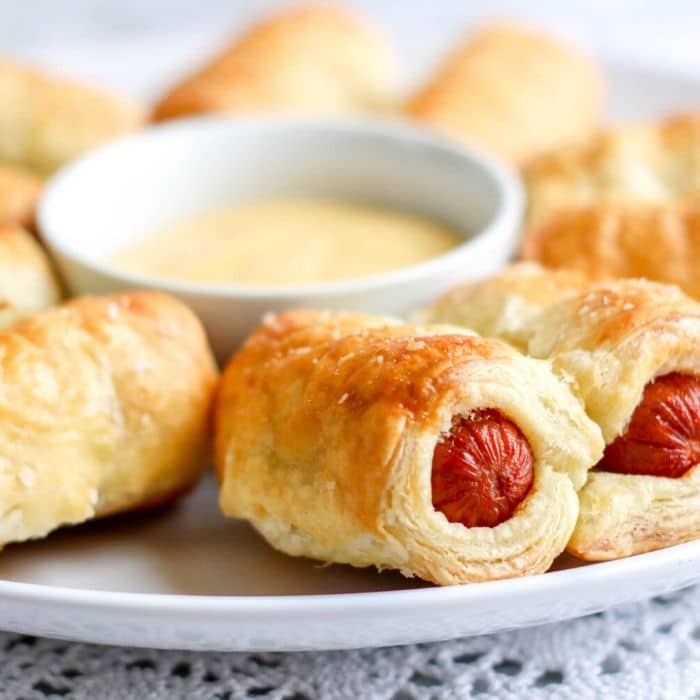 Variations to Pigs In A Blanket
Cheese – Feel free to add in some shredded cheese, thin slice or even top with a sprinkle of cheese. Sharp cheddar or even pepper jack would be tasty.
Crescent Rolls – If you don't want to use puff pastry reach for a can of crescent rolls. Wrap one dog per crescent roll and cook until the roll is cooked through.
Little Smokies – You could easily swap for little smokies or even a sliced sausage of some kind.
You can truly add and change up many things in this recipe! So get creative and make a dish you will love.
Also check out these corn dog muffins!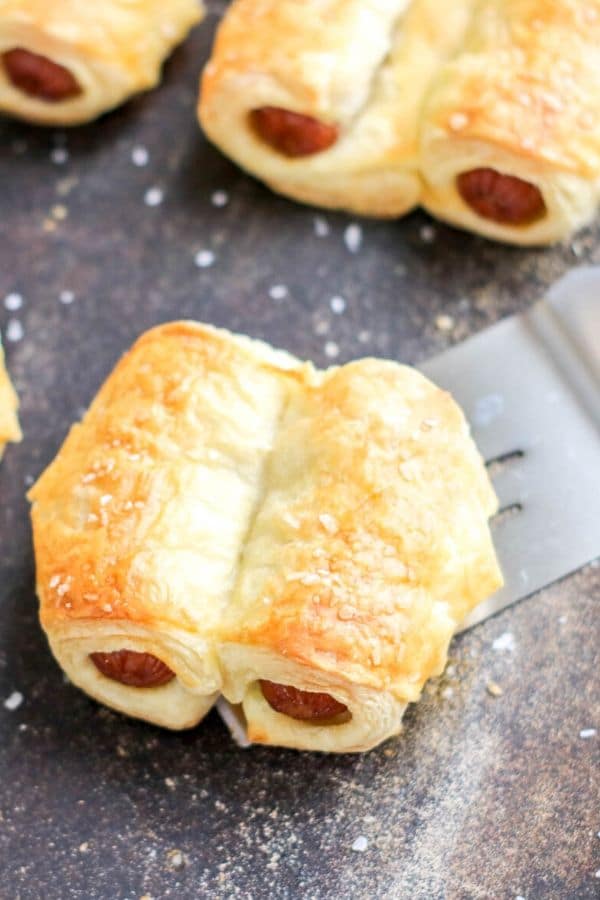 Storing Leftovers
Store your leftovers in the fridge for 2-3 days. The puff pastry will soften a bit but they will still taste great. You can warm up in the microwave, oven or even reheat in the air fryer if you want.
Frequently Asked Questions
Here are some common questions for making these air fry pigs in a blanket!
What to Dip Puff Pastry Dogs In
I tend to do cheese sauce or grainy mustard. but you could do mustard, ketchup, bbq sauce, etc.
There is no wrong dipper option for you to consider when it comes to these tasty pigs in a blanket air fryer recipe.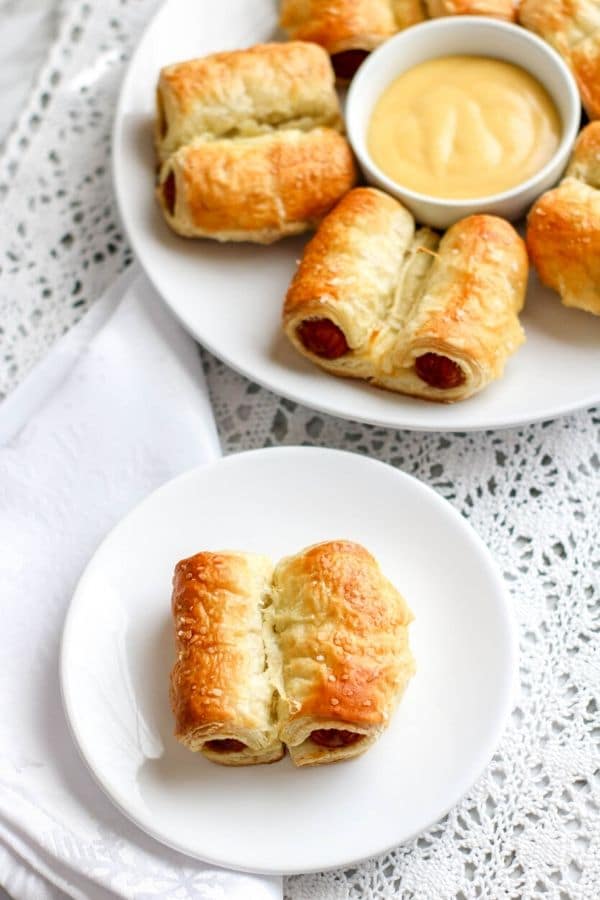 More Air Fryer Recipes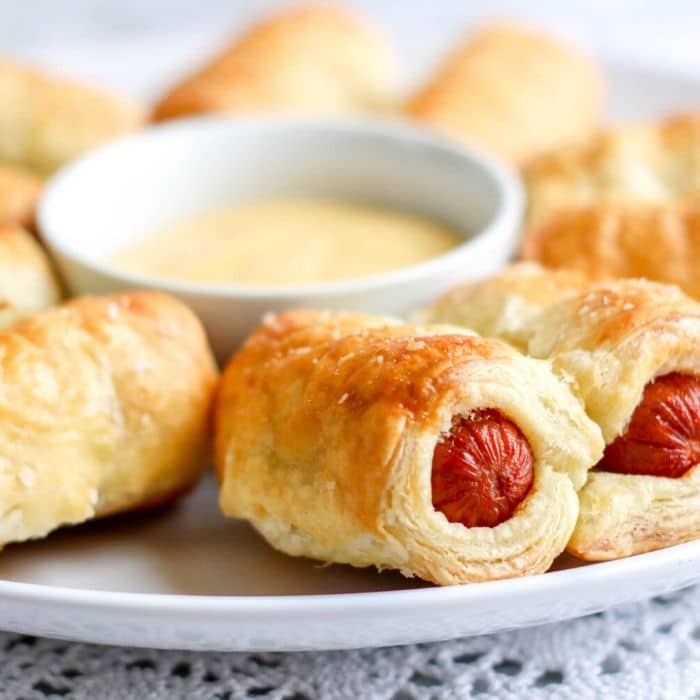 Air Fryer Pigs In A Blanket
Servings 6 servings
Air Fryer Pigs In A Blanket featuring puff pastry as the breading. This is a kid-friendly lunch recipe that they might ask for seconds. Air fried pigs in a blanket are a must make snack, lunch or dinner.
Ingredients
1 package of hot dogs I used Hebrews National
1 package of thawed puff pastry
Salt for sprinkling on top optional
Instructions
Start by preheating your air fryer to 325 degrees. 

Defrost your puff pastry as directed on the package. 

Now you will take a hot dog and cut it in half. I use this as a guide to know how large to cut out to roll my hot dogs.

You want the square to be close in size of hot dogs. 

Take your hot dog half and start rolling at one end of puff pastry, grab other parts of dough and repeat with other slices of hot dog. 

Place on your rack for air fryer oven or place on parchment paper on counter. Repeat until all the hot dogs have been wrapped. 

Once all are wrapped place on air fryer rack or in basket. Make sure not to overlap. 

Now you will cook in air fryer for about 8-10 minutes. At this time check to make sure they are not overcooked. 

Cook your puff pastry hot dogs until the party is golden brown and cooked through. Depending on the brand and model of air fryer will vary in cooking time. 

Sprinkle with a little salt on top of the puff pastry pigs in a blanket when done if you would like.
Notes
Crescent Rolls – You can use crescent rolls in replace of hot dogs if you would like. Hot Dogs – If you want reach for a cheesy hot dog or even little smokies for a slight twist of flavor. Air Fryer Cook Time – All air fryers heat slightly different so use the time as a guide. You want the puff pastry to be golden in color and cooked through. Adjust the cook time as needed.
Nutrition
Serving: 1gCalories: 268kcalCarbohydrates: 4gProtein: 9gFat: 24gSaturated Fat: 9gPolyunsaturated Fat: 12gCholesterol: 44mgSodium: 749mgSugar: 1g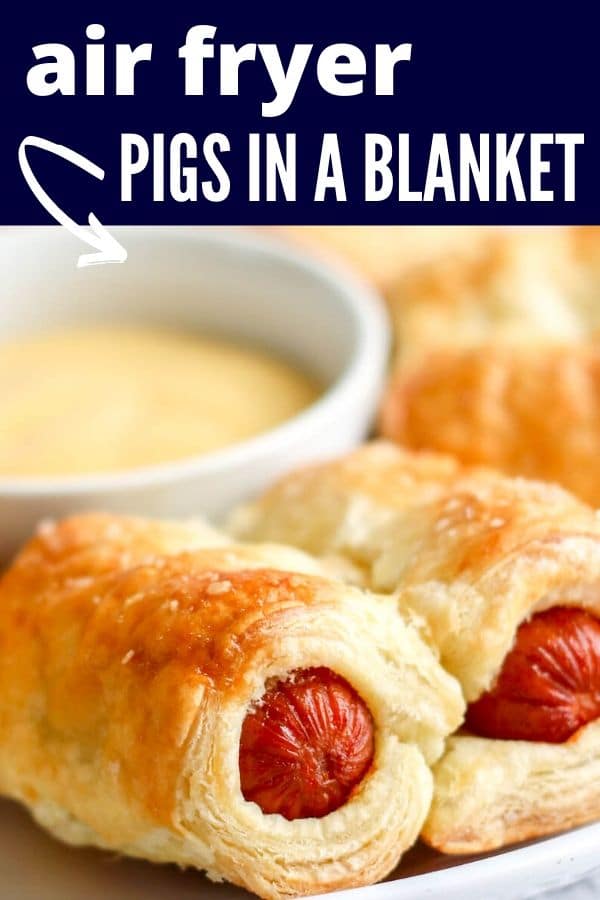 Reader Interactions