Air Fryer Pigs in a Blanket got a makeover with puff pastry dough. Serve up puff pastry pigs in a blanket for dinner, lunch or an appetizer.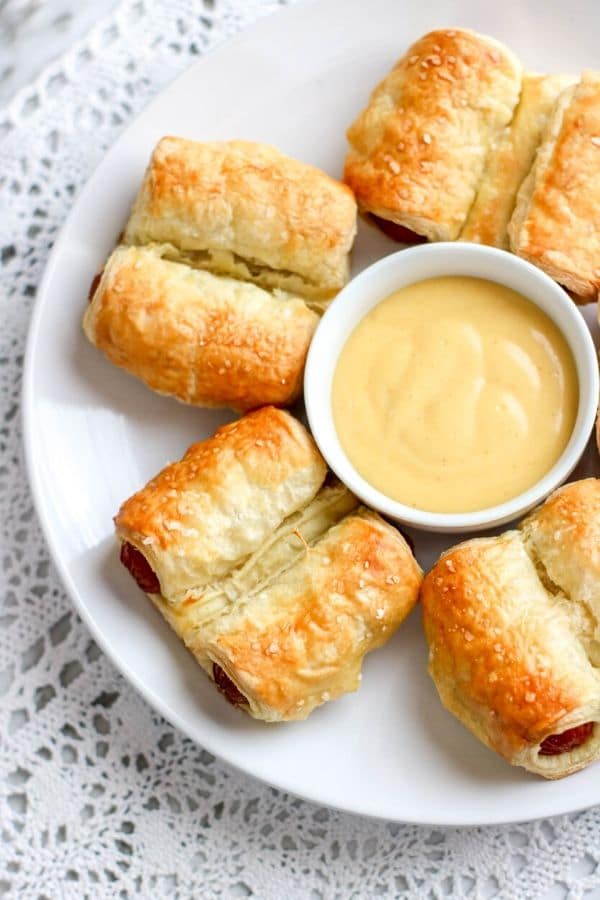 2 ingredients are all it takes for these air fryer pastry pigs in a blanket.
Air Fryer Pigs In A Blanket
While classic pigs in a blanket use a crescent roll or bread dough, I wanted to change it up. A puff pastry recipe kids and adults will enjoy.
Learn how to make pigs in a blanket with puff pastry instead of crescent dough.
Pigs In A Blanket
Reach for hot dogs that you slice to fit the puff pastry, or reach for little smokies. Either route you will have a satisfying appetizer or lunch.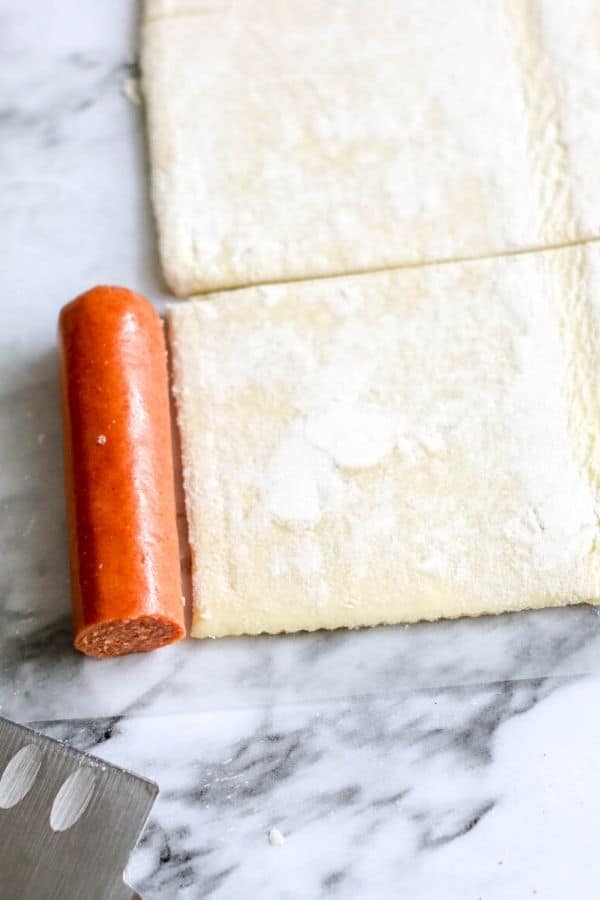 How To Make Pigs In A Blanket
Making pigs in a blanket is really easy. Start by laying out your pastry and slicing into squares. Then trim down your hot dogs to fit the size of squares.
I aim to do one hot dog per puff pastry double wrap. I simply cut them in half. Start by rolling one edge of the hot dog, stopping in the center. Repeat on the other side.
This will give it a double roll look. You also might call these Torah dogs as well. I know some people call them that.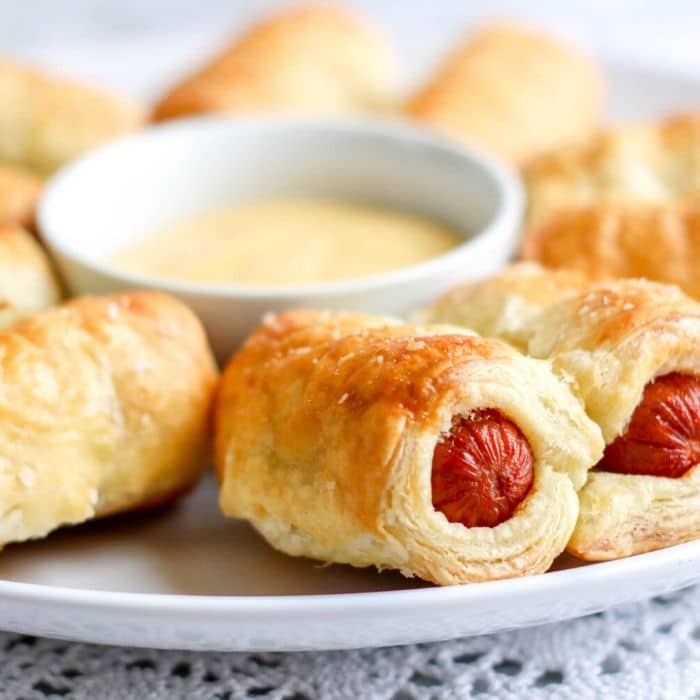 Variations to Pigs In A Blanket
Cheese
Feel free to add in some shredded cheese, thin slice or even top with a sprinkle of cheese. Sharp cheddar or even pepper jack would be tasty.
Crescent Rolls
If you don't want to use puff pastry reach for a can of crescent rolls. Wrap one dog per crescent roll and cook until the roll is cooked through.
Little Smokies
I used Hebrew hot dogs, but you could easily swap for little smokies or even a sliced sausage of some kind.
You can truly add and change up many things in this recipe! So get creative and make a dish you will love.
Also check out these air fryer corn dog muffins!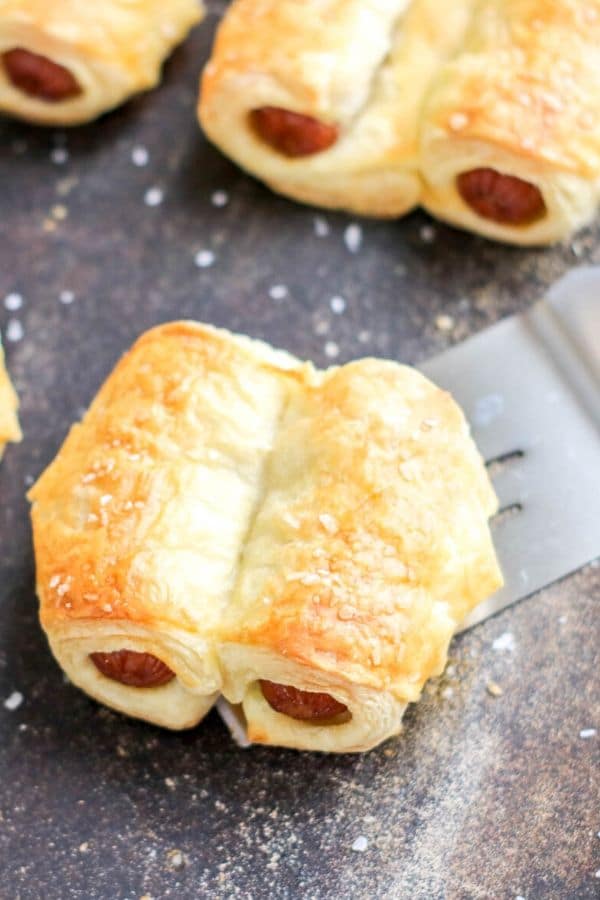 How Many Pigs In A Blanket Per Person
If you use one whole hot dog split and wrapped up for one puff pastry, you can expect 1-2 per person. But, if you do mini like little smokies you might do 4-5 per person depending on age.
It will also vary if you are serving as an appetizer instead of a meal.
What to Dip Puff Pastry Dogs In
I tend to do cheese sauce or grainy mustard. but you could do mustard, ketchup, bbq sauce, etc.
There is no wrong dipper option for you to consider when it comes to these tasty air fryer hot dogs.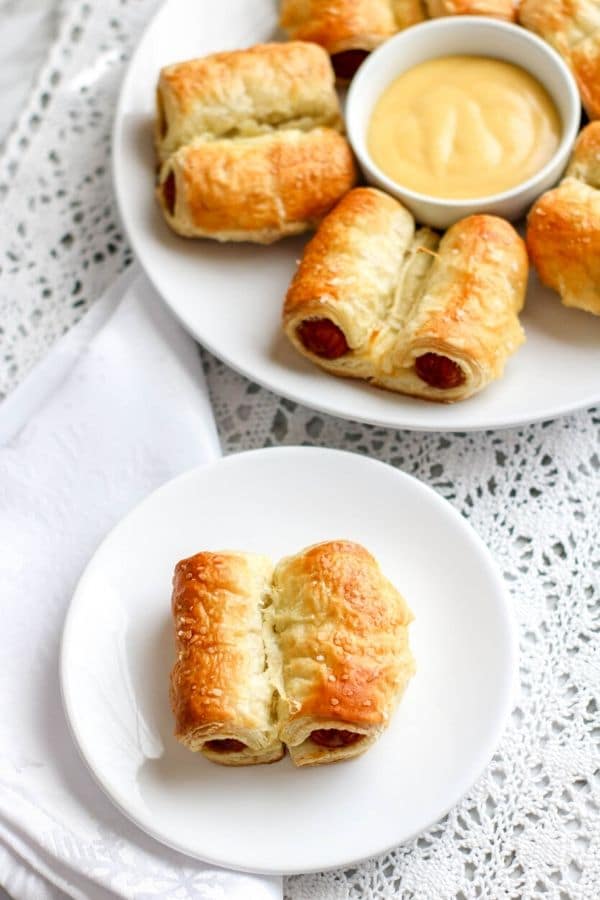 Can You Make Ahead of Time
If you want to prep these hot dogs in advance you can cut and wrap them up. Place on a tray and wrap and store in the fridge.
You can do this for up to 8 hours, then you will want to cook. Hot dogs can release juice and you don't want your puff pastry to get soggy.
More Air Fryer Recipes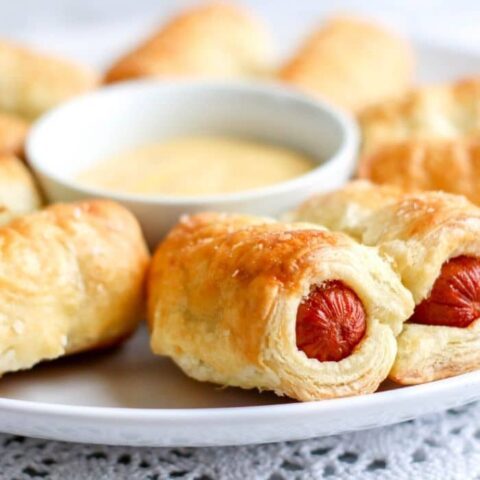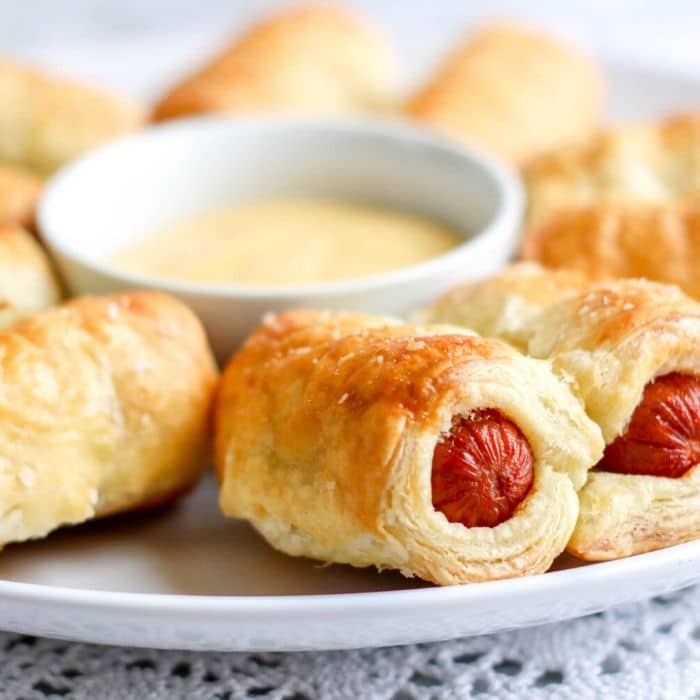 Air Fryer Pigs In A Blanket
Air Fryer Pigs In A Blanket featuring puff pastry as the breading. This is a kid-friendly lunch recipe that they might ask for seconds.
Ingredients
1 package of hot dogs (I used Hebrews National)
1 package of thawed puff pastry
Salt for sprinkling on top (optional)
Instructions
Start by preheating your air fryer to 325 degrees.
Defrost your puff pastry as directed on the package.
Now you will take a hot dog and cut it in half. I use this as a guide to know how large to cut out to roll my hot dogs.
You want the square to be close in size of hot dogs.
Take your hot dog half and start rolling at one end of puff pastry, grab other parts of dough and repeat with other slices of hot dog.
Place on your rack for air fryer oven or place on parchment paper on counter. Repeat until all the hot dogs have been wrapped.
Once all are wrapped place on air fryer rack or in basket. Make sure not to overlap.
Now you will cook in air fryer for about 8-10 minutes. At this time check to make sure they are not overcooked.
Cook your puff pastry hot dogs until the party is golden brown and cooked through. Depending on the brand and model of air fryer will vary in cooking time.
Sprinkle with a little salt on top of the puff pastry pigs in a blanket when done if you would like.
Nutrition Information:
Yield:

6
Serving Size:

1
Amount Per Serving:
Calories:

268
Total Fat:

24g
Saturated Fat:

9g
Trans Fat:

0g
Unsaturated Fat:

12g
Cholesterol:

44mg
Sodium:

749mg
Carbohydrates:

4g
Fiber:

0g
Sugar:

1g
Protein:

9g