This Charcuterie Board with ham, pepperoni, and salami roses is an elegant and delicious meat and cheese board to serve up guests. I walk you through how to make meat roses with wine glasses.
This charcuterie board idea is so easy to make and is tasty as can be. Ham roses, salami roses, Pepperoni roses, sliced cheese, crackers, and don't forget the grapes.
This charcuterie platter is so simple to make, and you can add on any of your favorite additions. Crackers, fresh fruit, sliced cheese, dried fruit, nuts, etc.
Cured meats are so awesome, so try these roses for a charcuterie board for a stand-out tray. Salami flowers, ham, etc. Any sliced meat works great.
Check out my dessert board as well. Or pair the meat and cheese with my Brie bites.
This Charcuterie Board with Meat Roses are…
Simple to make
Different types of cured meats
Cheese
Crackers
Easy meat roses with video on how to make
Great appetizer
Versatile in what you add to the tray
Ingredients Needed
Round deli meat – pepperoni, salami, ham
Fruit
Crackers or sliced bread
Gourmet Cheese, sliced
Nuts, other items you would want
Condiments if you want
How to Make
Full directions on how to make these meat roses are in the printable recipe card at the bottom of the post. This is a visual walk-through.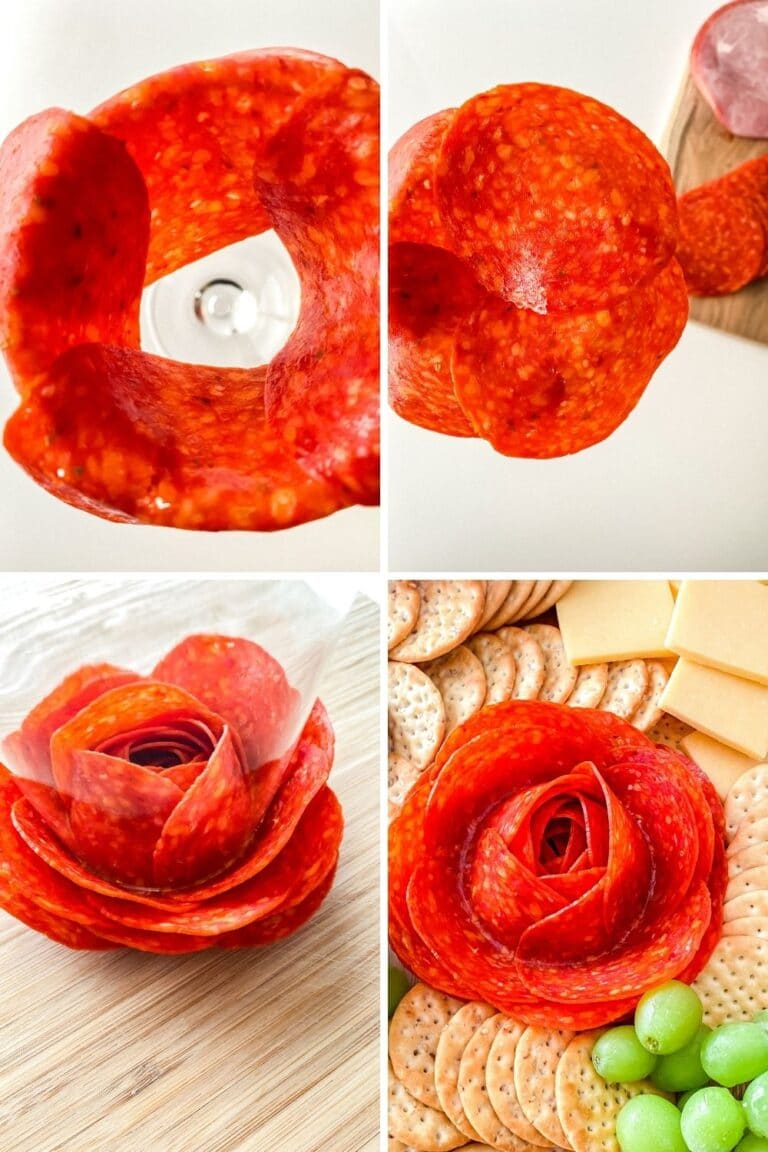 Step 1: Start by making your meat roses. Grab a wine glass and start layering in your salami, pepperoni, or ham.
Start with 3 in the first layer, then the next round do 5 layers of meat, then 6 layers, etc. That way the first set has the smallest amount of layers. This will give it the rose look.
Step 2: Place your wine glass meats on the board, I did two for this one, a ham and a pepperoni.
Step 3: Now begin placing crackers, sliced gourmet cheese, grapes, etc around the meat. The goal is to fill up the whole board.
Step 4: When ready to serve remove the glass carefully and your rose will be on display.
Watch the video as well to learn how to make salami rose, pepperoni and ham as well. This can easily be swapped to be a salami charcuterie board.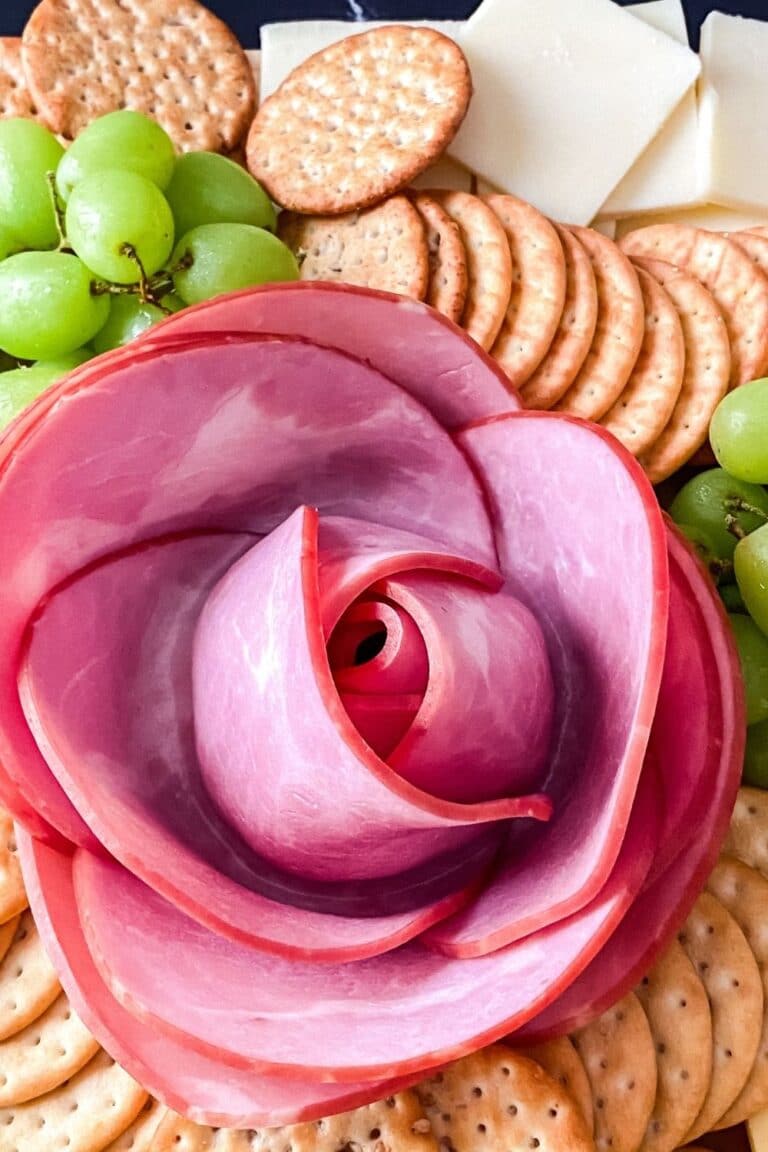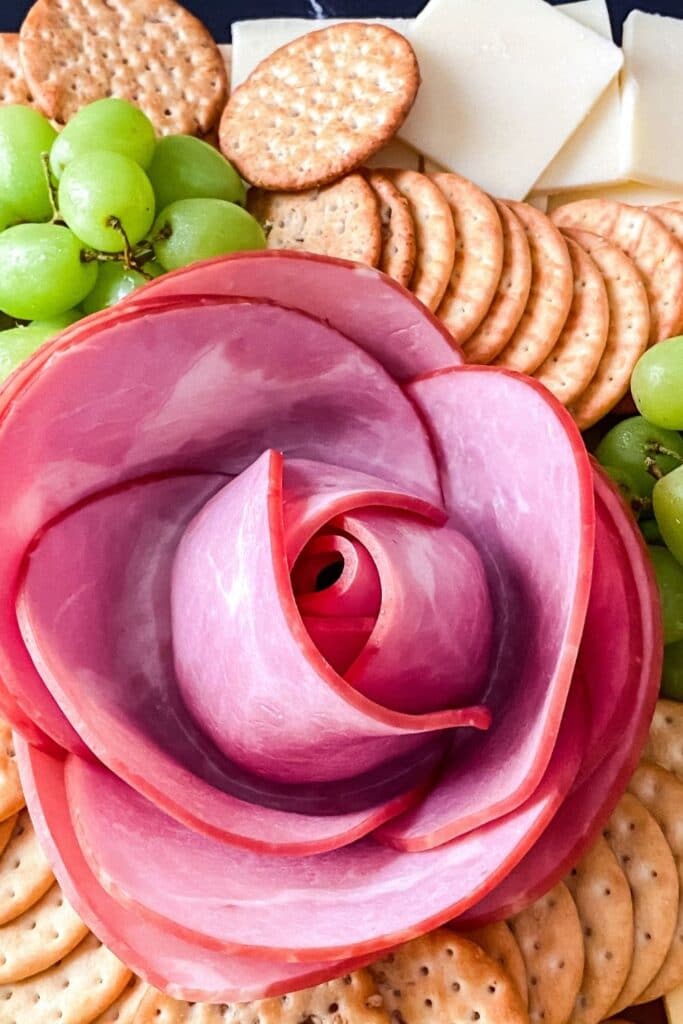 Expert Tips and Variations
Ham, salami, and pepperoni are the 3 meats I have found that work. Other deli-style meat seems to fall flat once you remove from wine glass.
Any wine glass will work. You will find you can make them as big or as small as you would like.
Add in nuts, fruit, cheese spreads, and any other toppings.
Storing Tray
If you want, you can store the tray assembled in the fridge. Make sure it is fully covered to prevent the cheese and meat from changing flavor or drying out.
Recipe FAQs
How to pronounce charcuterie?
Charcuterie is pronounced – (pronounced [shar-koo-tuh–ree].  This cured meat and cheese tray is one that so many know and love around the world.
What Is Charcuterie?
Charcuterie is a meat and cheese board. You will find many serve charcuterie boards with wine, as a party appetizer, etc.
What do you put on a charcuterie board?
Seasonal fruit, meat, crackers, bread, dips, etc. You will find you can essentially put anything on a charcuterie board.
How to build a charcuterie board?
I started by putting my two meat shaped roses in two middle areas of the board. Then from there you will shape crackers around the meat, cheese, etc. The goal is to have a little of each item all over the board for easy grazing.
What is cured meat?
Cured meat is just the process that the meat goes through to create texture and flavor. This means there is removal of moisture in the meat. Salami, pepperoni, etc.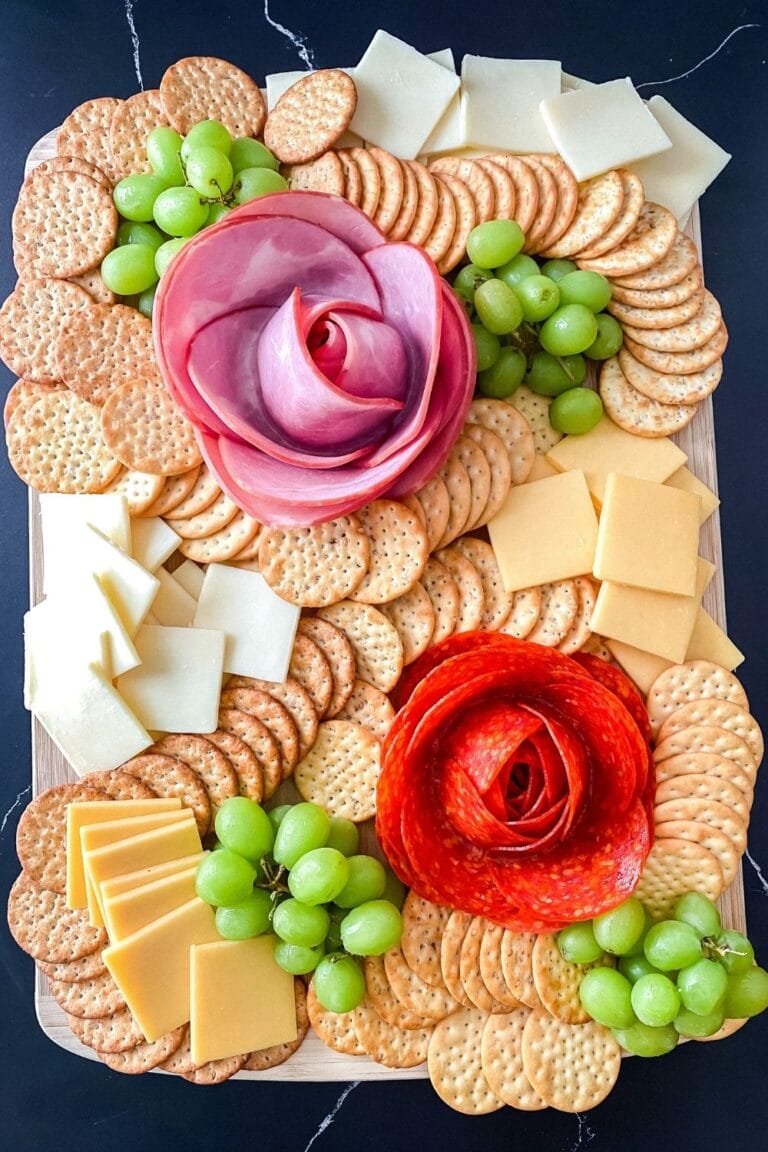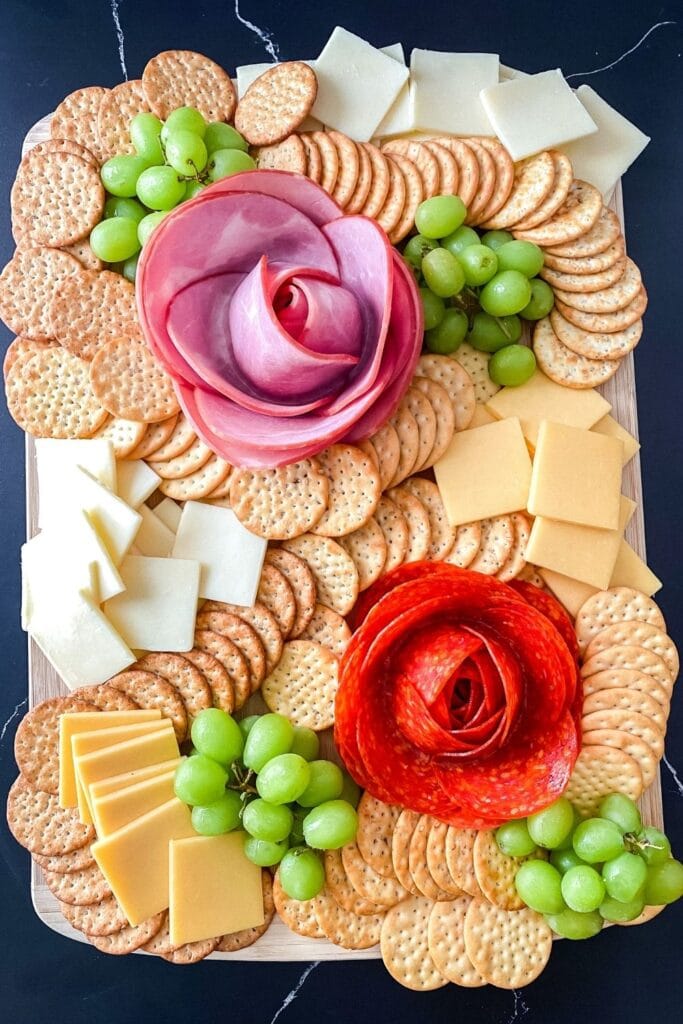 More Appetizer Recipes
Charcuterie Board with Meat Roses (video)
Servings 1 board
Charcuterie board with meat roses is a gorgeous presentation value for a meat and cheese tray. Give this easy charcuterie board a try, and I walk you through how to make salami roses, pepperoni roses, and ham roses!
Ingredients
Round deli meat
Assorted Crackers or breads
Pre sliced gourmet cheeses
Assorted nuts and other fruits optional
Fruit of choice
Condiments Mayo, mustard, etc optional
Instructions
The first thing you want to do is work on your meat roses. Grab a wine glass, and begin layering circles of meat on top of each other in the glass.

Make sure the first layer has the least amound of slices – first layer has 3 slices of meat that overlap, then the next layer you want to have around 4 slices, next layer aim for 5 slices of meat, and so on.

Once done layering, flip the wine glass onto the board, and leave the glass on until you are ready.

Spread crackers, nuts, cheese all around the meat roses on the charcuterie board. I just add layers of ingredients until the whole board is full.

When ready, carefully life up the wine glass and display the meat roses. Salami roses, ham, or pepperoni roses work great.
Notes
Texture of Meat – Thicker sturdy meat is important. Deli sliced meat that is thin kind of falls apart when you lift the wine glass off. Grazing Board Layout – Layer crackers, cheese, fruits, nuts, etc all around the roses. That way you create a grazing board look. You can use any charcuterie style add-on items. Make Ahead Option: Make this board right before serving. Or leave it covered in the refrigerator until you are ready to serve. I recommend not removing the glasses till you are just serving it up. Make this board as large or small as you would like.
Nutrition
Serving: 1gCalories: 42kcalCarbohydrates: 5gProtein: 2gFat: 2gSaturated Fat: 1gPolyunsaturated Fat: 1gCholesterol: 3mgSodium: 53mgFiber: 1gSugar: 2g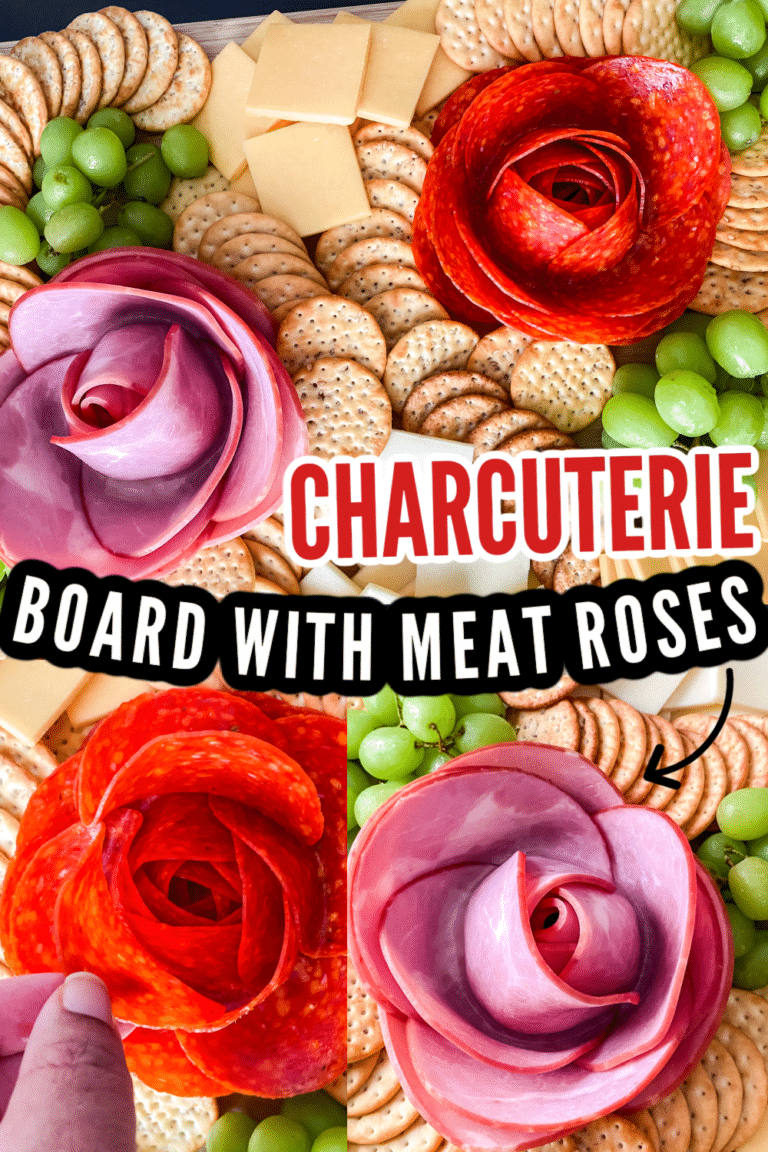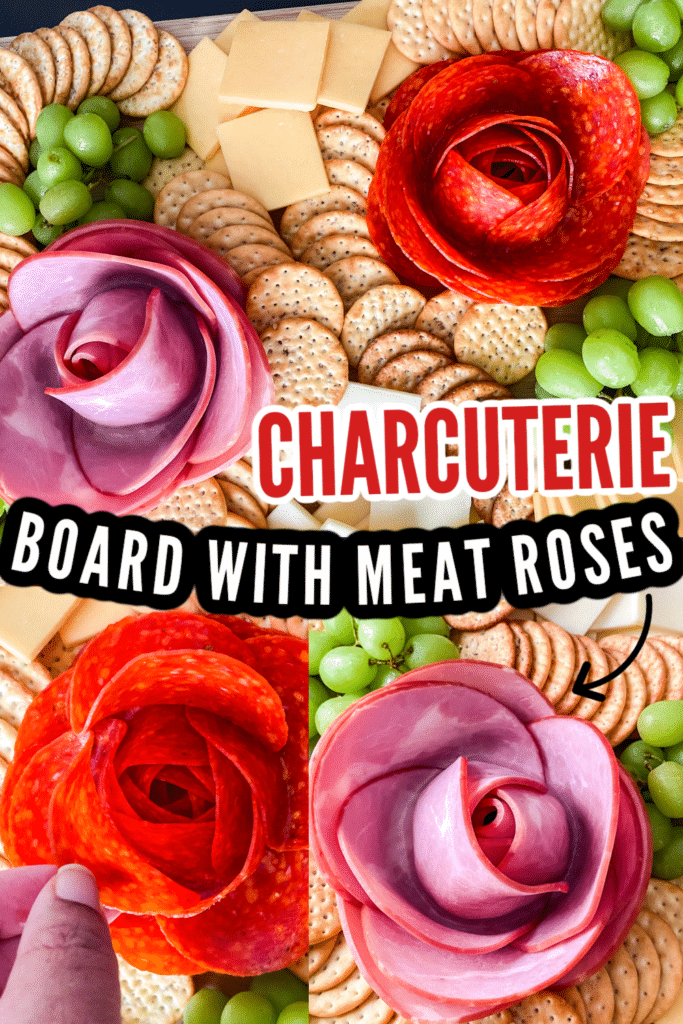 Reader Interactions