Teriyaki chicken casserole is a savory chicken casserole loaded with tender chicken, veggies, rice and a savory with a hint of sweet teriyaki sauce. This healthy chicken casserole is great for a weeknight dinner or to meal prep for grab and go lunches for the week.
Give this quick and easy teriyaki and chicken casserole a try. Even my son loved eating it. The teriyaki helps give the veggies great flavor. A must make inspired Asian casserole full of flavor and nutrients.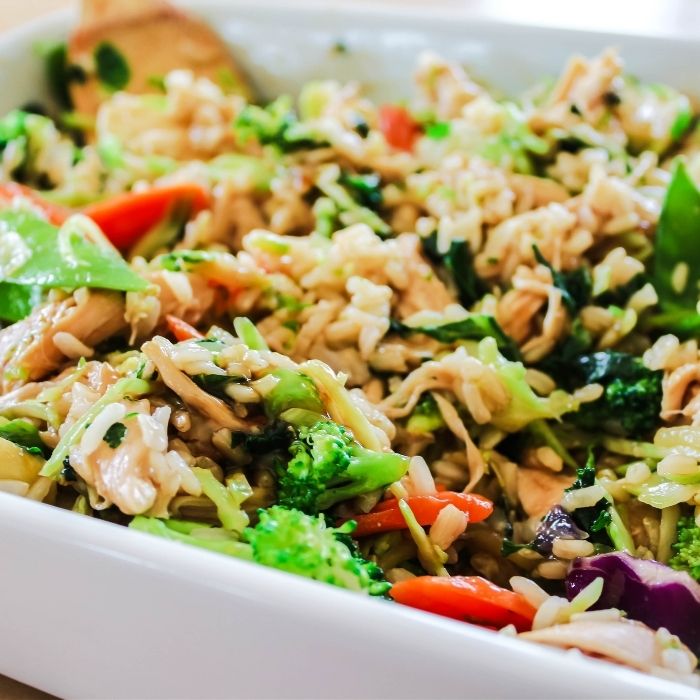 Casseroles back in the day I think got a bit of a bad credit to their name. They were said to be bland, mushy, etc. But now, you will find tons of casserole recipes that might become your favorites. Try my John Wayne casserole, it is so popular!
This Chicken Teriyaki Casserole Is…
Quick and Easy
Made with boneless chicken
Uses frozen stir fry vegetables
Homemade teriyaki sauce
Healthy casserole idea
Family friendly
Reheats well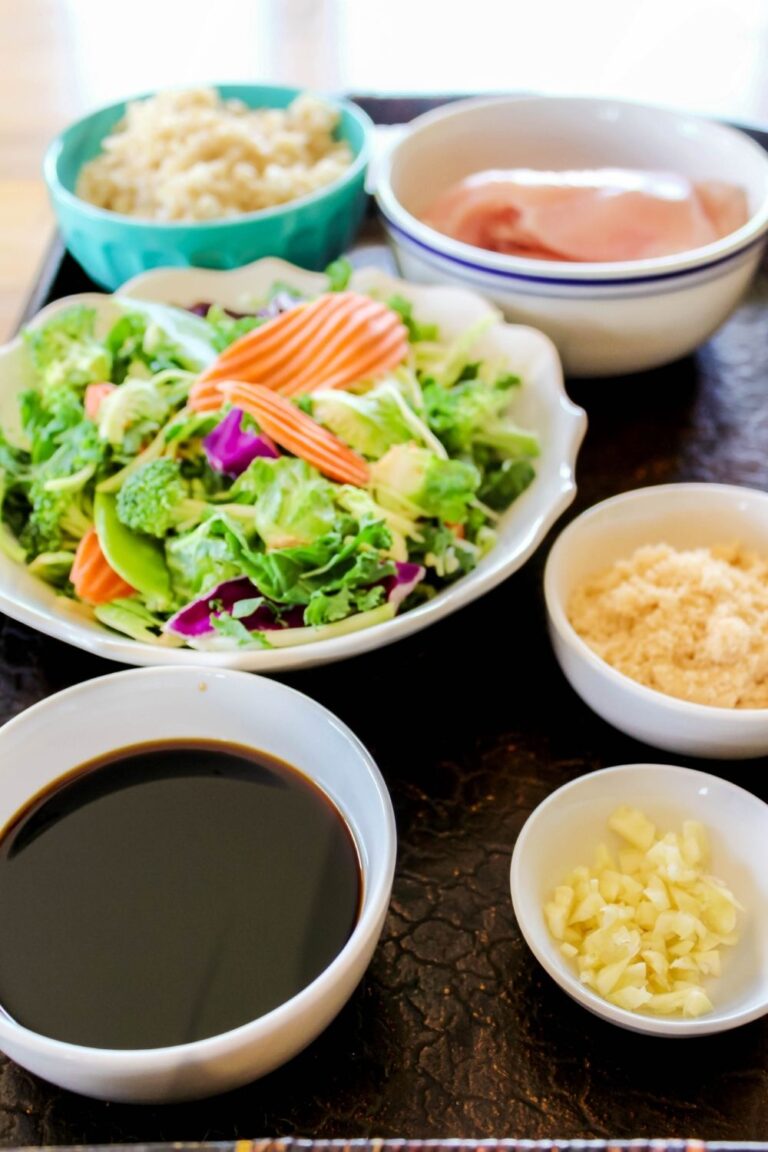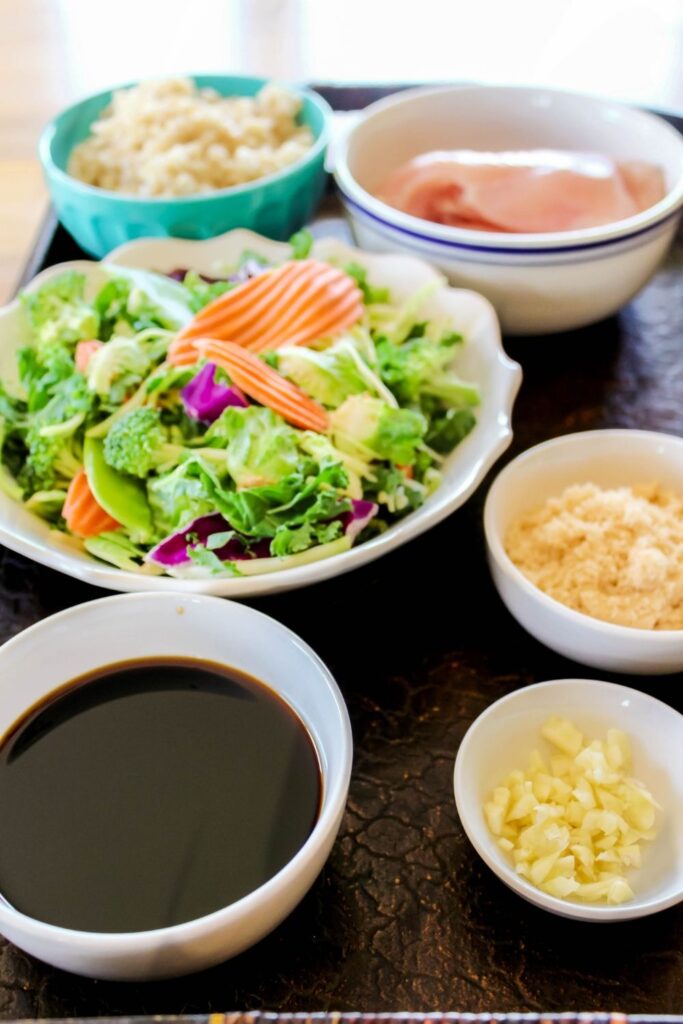 Ingredients And Variations To Recipe
Here are the ingredients and some variations to this chicken and stir fry vegetable recipe! I hope you all enjoy it.
Boneless Chicken – Any boneless chicken works for this recipe. Just trim off the fat and have no skin so you have a nice lean chicken that shreds once cooked.
Soy Sauce – I used low sodium soy sauce for this recipe. Now if you want to use classic soy sauce go ahead, it will give the chicken and veggies a saltier flavor.
Brown Sugar – The brown sugar helps to balance out all the ingredients and adds a nice hint of sweetness.
Spices – Ground ginger and minced garlic help to give this dish more flavor. It is going to season the teriyaki sauce greatly.
Cornstarch Slurry – The way to thicken your sauce is mixing cornstarch with water. It will thicken the sauce without altering the flavor.
Stir Fry Vegetables – You can buy frozen or grab a bag in the produce section. Or you can pick and choose vegetables you want to add for your healthy chicken casserole.
Rice – So you can use any type of rice you want, whether it be brown or white. Or go healthier and do quinoa or even cauliflower rice. Just cook as directed on the package.
Pro Tips
Cook the rice as directed on the package, or use leftover rice if you would like.
Low sodium soy sauce will help make the dish less salty. If you use regular soy sauce it will have a salty flavor.
For less sweet use less brown sugar – like 1-2 tablespoons. If you are diabetic and need sugar free use a brown sugar sweetener.
Fresh or frozen veggies work. If you use frozen they will have a softer texture of course.
You can use leftover chicken if you have on hand. Just shred or dice it up and then mix with ingredients.
How To Make
Full directions on how to make this teriyaki chicken casserole are in the printable recipe card at the bottom of the post. This is a visual walk-through.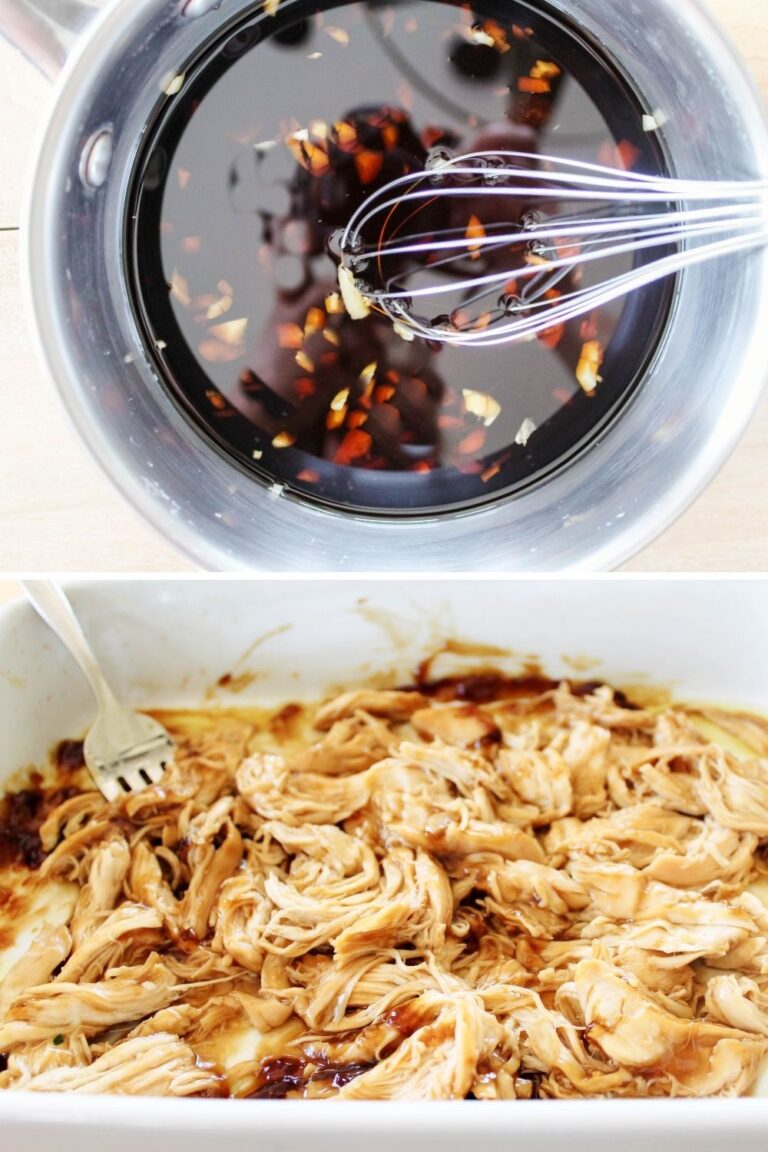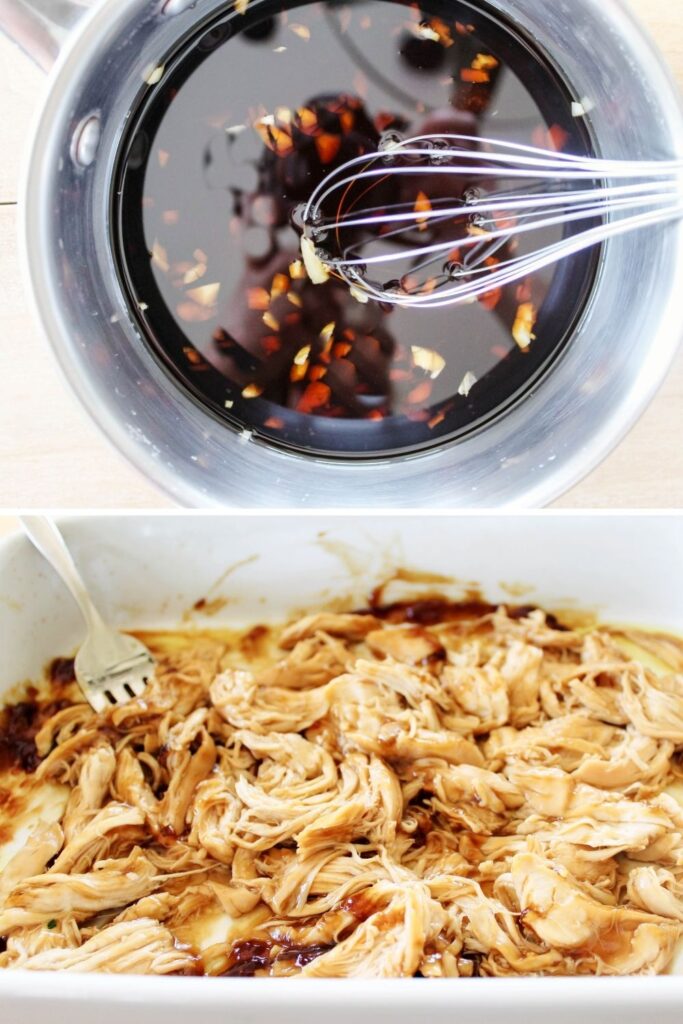 Step One: Preheat the oven and grease your 9×13 casserole dish. Then in a pan on stove add your soy sauce, water, brown sugar, ginger and garlic.
Step Two: Cook on medium heat and bring to a boil, once it boils cook for 1 minute, stirring often.
Step Three: Now whisk together the cornstarch and water in a small bowl to make a slurry and pour into the sauce as it is boiling. This will thicken the teriyaki sauce.
Step Four: Place your raw chicken in the casserole pan and then pour the teriyaki sauce over the chicken. Bake the chicken in the oven for 35 minutes or until the chicken reads 165 degrees internal.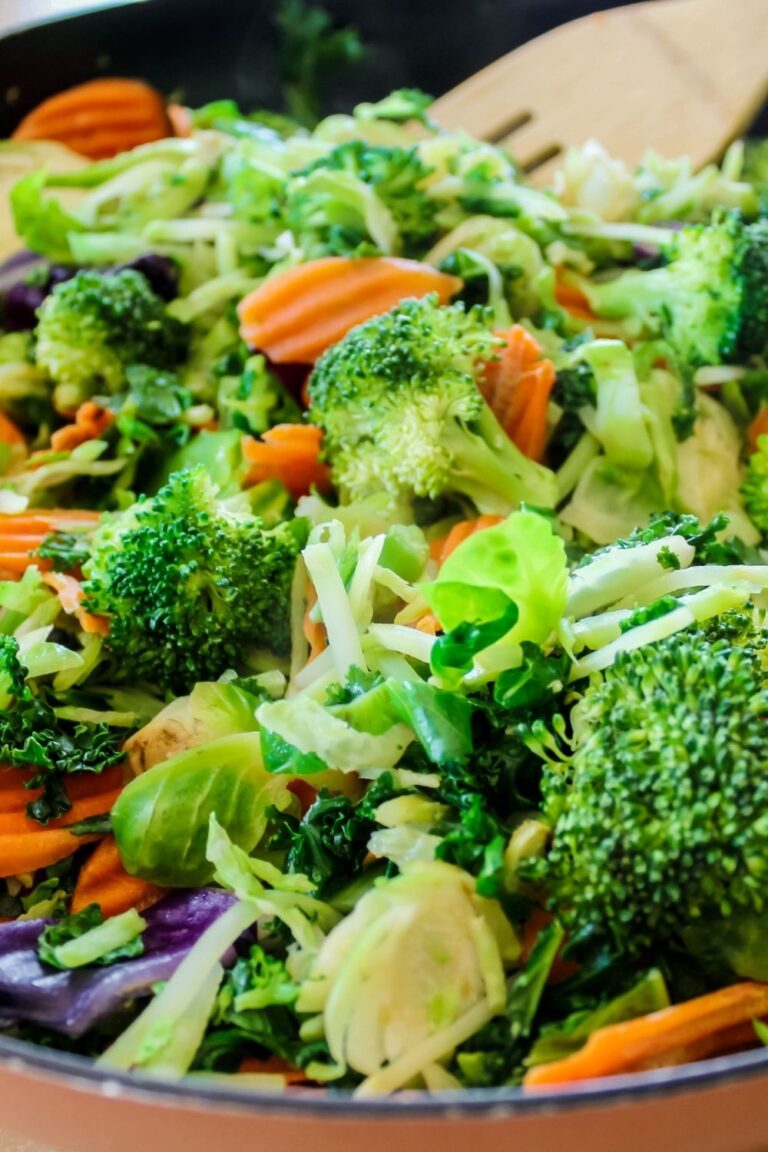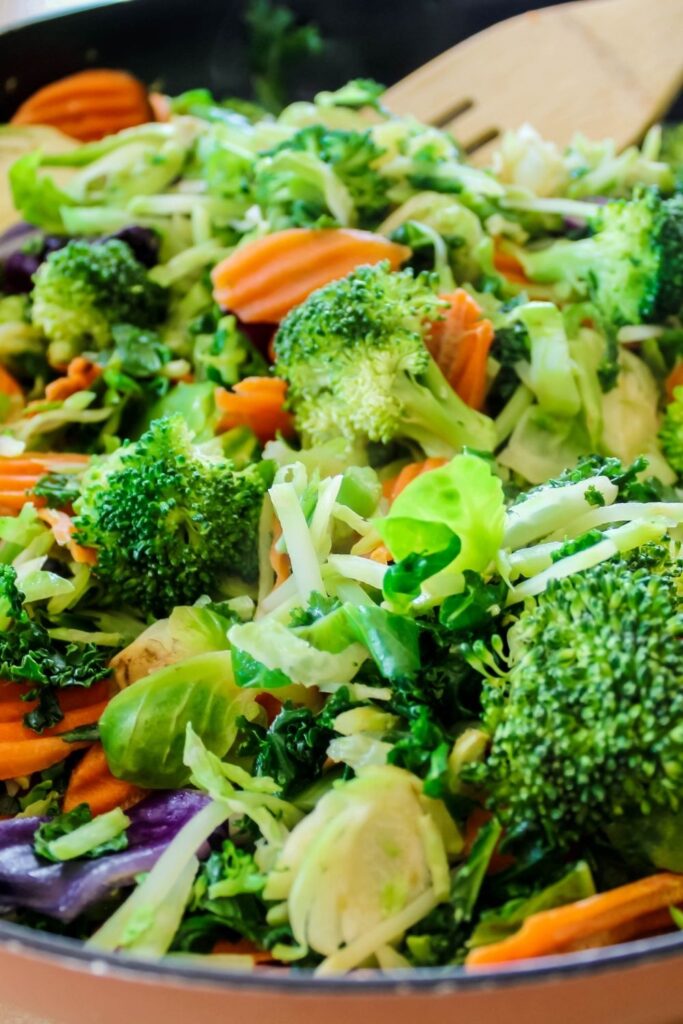 Step Five: While the chicken is cooking saute the fresh veggies as directed on the bag or thaw out the frozen veggies by running cold water over the veggies in a colander. Then cook rice as directed as well.
Step Six: Remove the chicken and let it cool a bit, then shred the chicken. Place back in the casserole dish.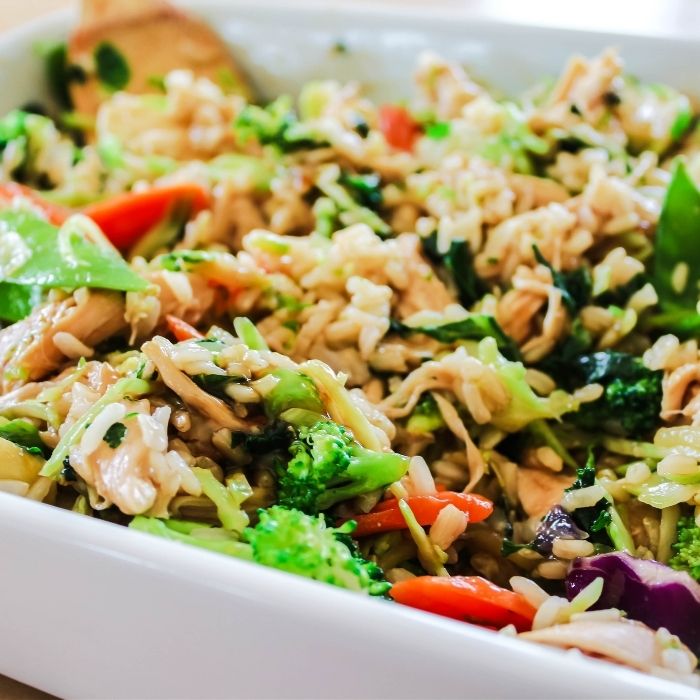 Step Seven: Pour the veggies, and rice in the casserole with the chicken. Mix to blend ingredients, and then bake for 15 minutes, and remove from oven, toss again and serve.
Storing Leftovers and Meal Prep Option
Meal Prep – If you want to meal prep with this teriyaki chicken and rice, all you have to do is take the finished casserole and dish up into single serve containers. Store in the fridge for 3-4 days. Then reheat in the microwave and enjoy.
Refrigerate – You can refrigerate your leftovers the same for 3-4 days and reheat in microwave or oven. If you heat in the oven cover with foil and heat until warmed through.
Freezer Directions – This chicken and rice casserole can be frozen, but the vegetables and the rice will be softer in texture. Freeze for 2-3 months. Thaw in the fridge overnight, or reheat from frozen.
Frequently Asked Questions
A few common questions when making this healthy teriyaki chicken casserole!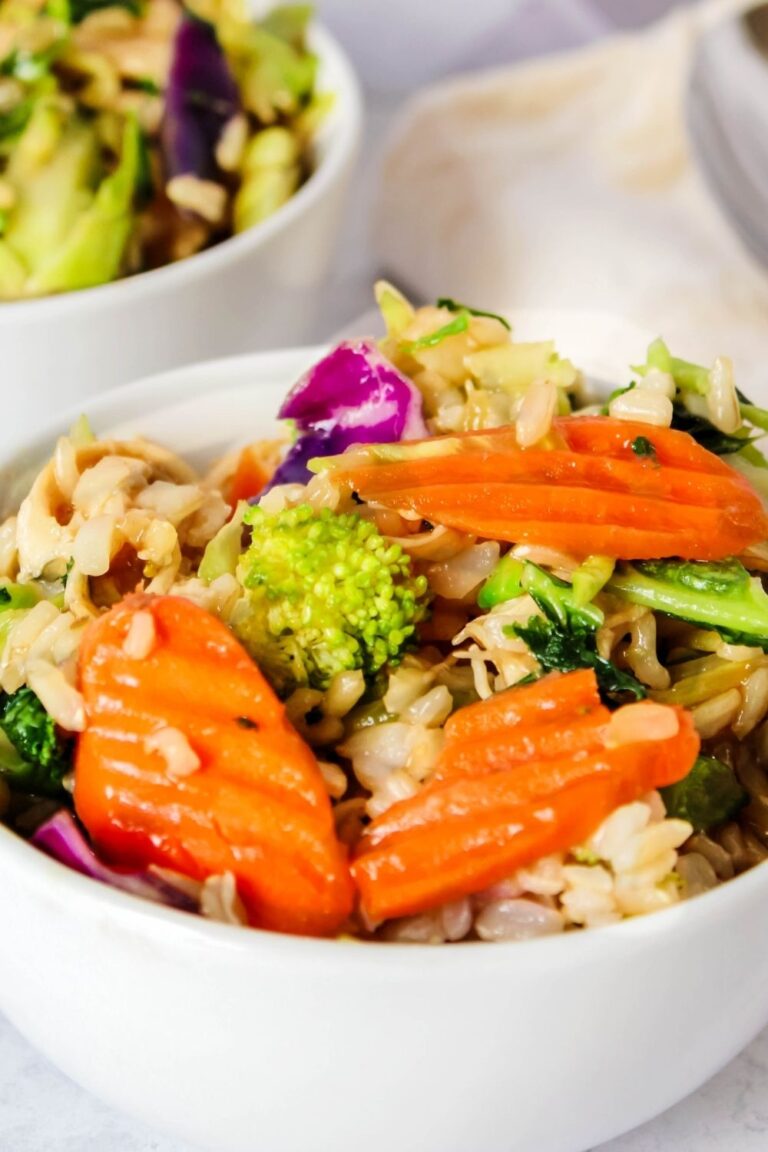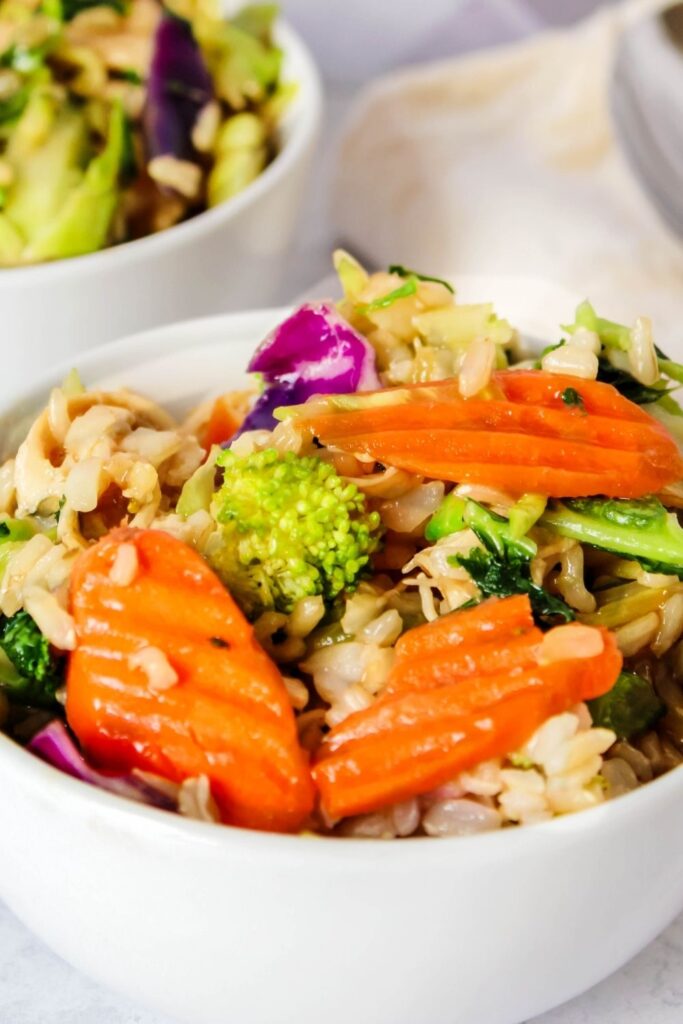 Easy Dinner Casseroles
Have you tried the recipe? If so, please leave a star ⭐️⭐️⭐️⭐️⭐️ rating in the recipe card below or drop a comment. Also stay in touch with me through social media by following me on Facebook, Pinterest, or My Facebook Group!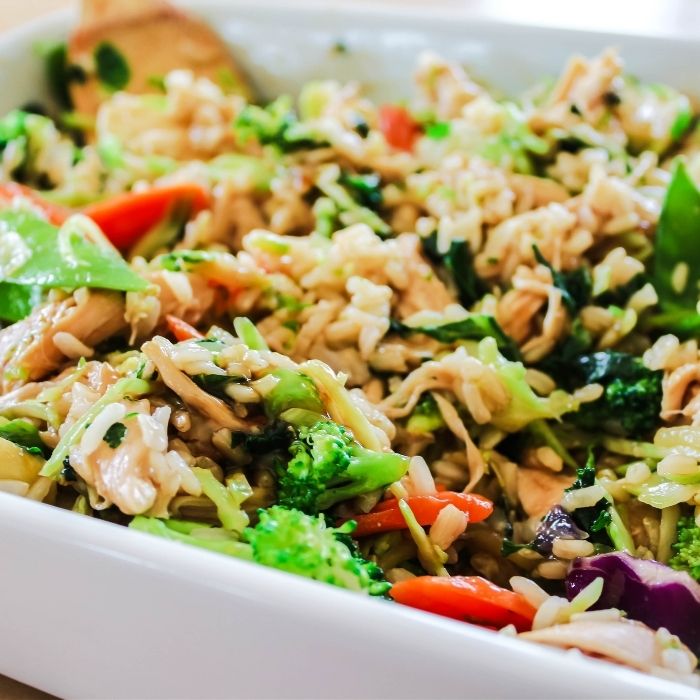 Teriyaki Chicken Casserole
Servings 9 x13 casserole
Teriyaki Chicken Casserole is a delicious healthy chicken casserole. This is a stir fry veggie, chicken, rice and a homemade teriyaki sauce casserole. This casserole is great for a weeknight dinner or meal prepping lunches.
Ingredients
1 pound boneless chicken tenderloins, thighs, or chicken breasts
1/2 cup water
3/4 low sodium soy sauce
1/2 teaspoon ginger
1/2 teaspoon garlic
1/4 cup brown sugar
1 bag stir fry vegetables 12 ounce bag
3 cups cooked rice quinoa, or cauliflower rice
2 tablespoons cornstarch _ 2 tablespoons water
Instructions
Preheat your oven to 350 degrees, and then grease a 9×13 casserole dish and set aside.

In a pan on the stove add your 1/2 cup water, soy sauce, brown sugar, ginger, garlic and cook on medium heat, stirring occasionally. You want the sauce to come to a boil.

Once it boils cook for another minute, stirring often. In a small bowl add the cornstarch and the 2 tablespoons of cold water, and stir into the teriyaki sauce. This will thicken the sauce. When done remove from heat.

Place your chicken in the baking dish in a single layer, and then pour the sauce over the chicken.

Bake for 30-35 minutes or until the chicken reaches 165 degrees internal temperature. Depending on the thickness of your chicken the COOK TIME WILL VARY.

While the chicken is cooking, cook your rice as directed on the package. Or quinoa, or whatever you use for the filler.

Take your fresh stir fry veggies and saute in a skillet as directed on package to help soften. If they are frozen, then place in a colander and run cold water over it to remove the ice.

Once the chicken is done, remove from the oven, shred the meat, and place back in casserole pan. Then toss in the veggies, and the rice. Stir well to coat and mix evenly.

Bake for another 15 minutes and then remove from the oven and serve up this teriyaki chicken casserole!
Notes
Vegetables – I found a bag of stir fry vegetables in the produce section at our grocery store. But you are welcome to use frozen veggies. Or if you don't want a bag of stir fry, then pick and choose what veggies to add to the mixture. Chicken – Boneless chicken is what you need, just trim away skin or fat off any cut of chicken. Thighs, breasts, tenderloins, etc. Sauce – So I made a homemade teriyaki sauce but you can buy your favorite bottle to speed up prep.
Nutrition
Serving: 1gCalories: 338kcalCarbohydrates: 39gProtein: 26gFat: 8gSaturated Fat: 2gPolyunsaturated Fat: 5gCholesterol: 67mgSodium: 292mgFiber: 2gSugar: 9g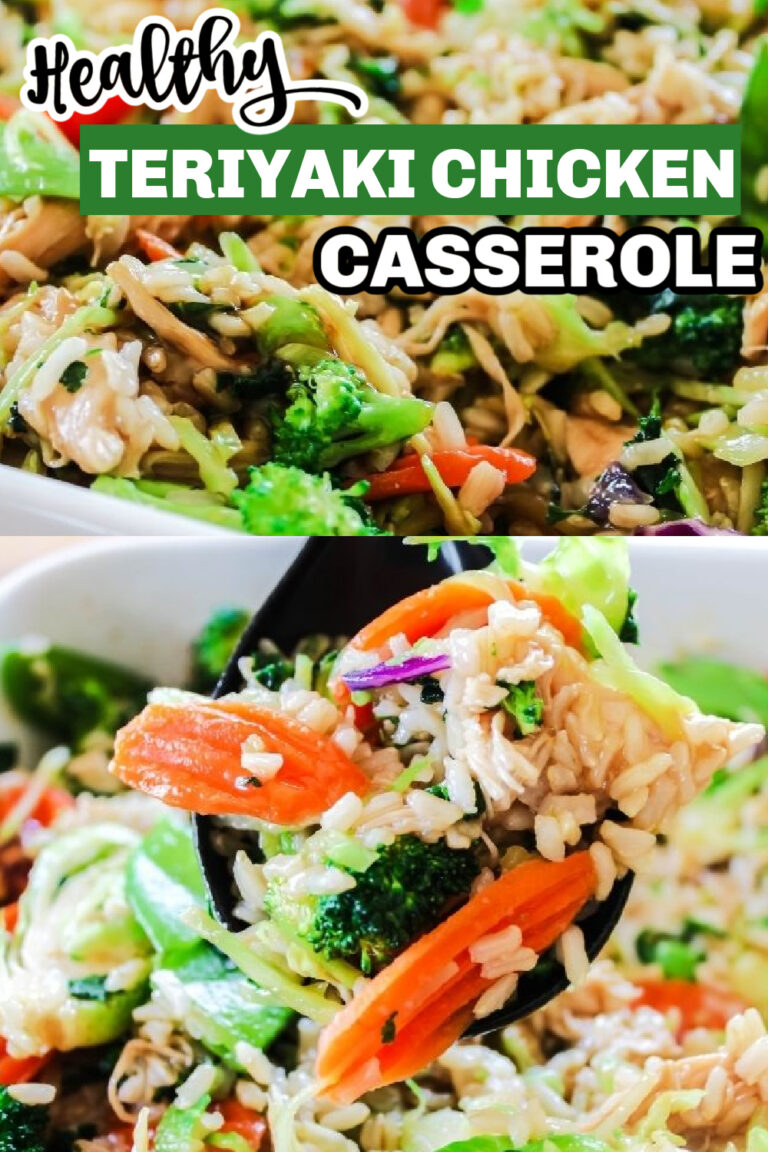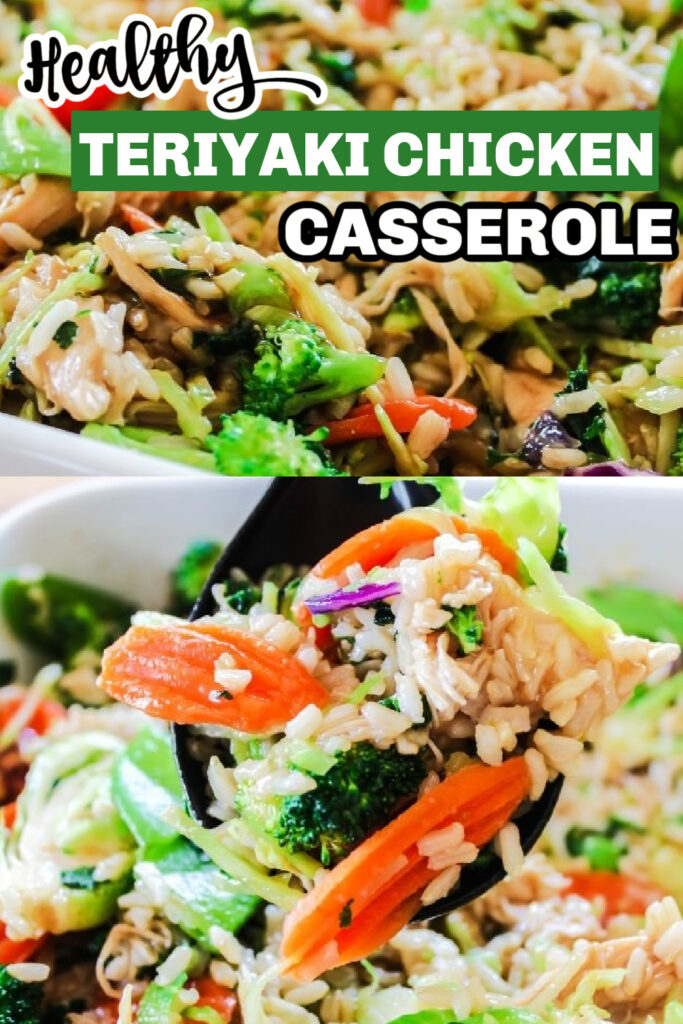 Reader Interactions