Serve up this taco cornbread casserole that is bursting with Tex-Mex flavor. A taco cornbread bake that is cornbread, seasoned ground beef, black beans, mexicorn, and more. A must make weeknight dinner idea.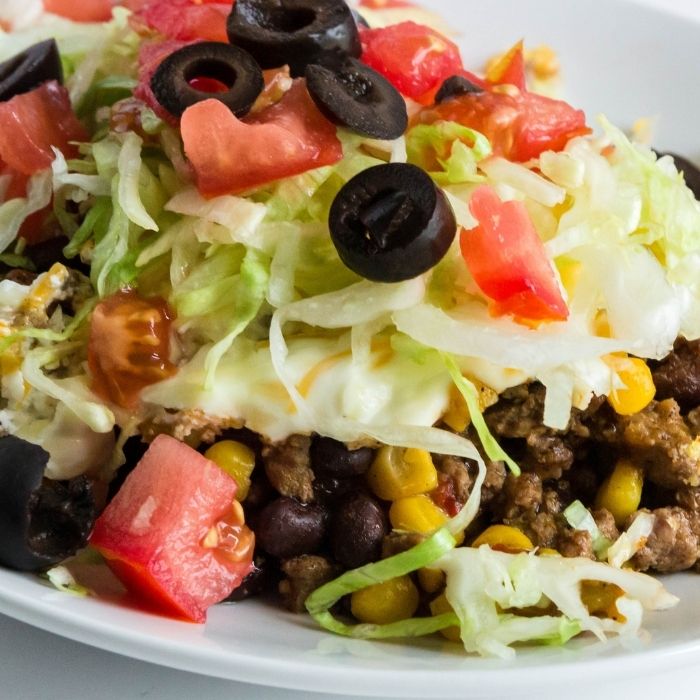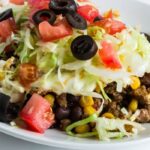 Taco cornbread casserole is a delicious and simple dinner for when you get to craving Tex-Mex. Cornbread that is topped with seasoned meat, Mexican-corn, black beans, green Chili's and a sour cream topping. Give this Mexican taco cornbread casserole a try today.
Pile on your favorite toppings and grab a fork and dive in to this cornbread taco bake. It's a quick weeknight dinner that the whole family will enjoy. Now don't confuse this with a taco pie recipe, this bake is a bit different.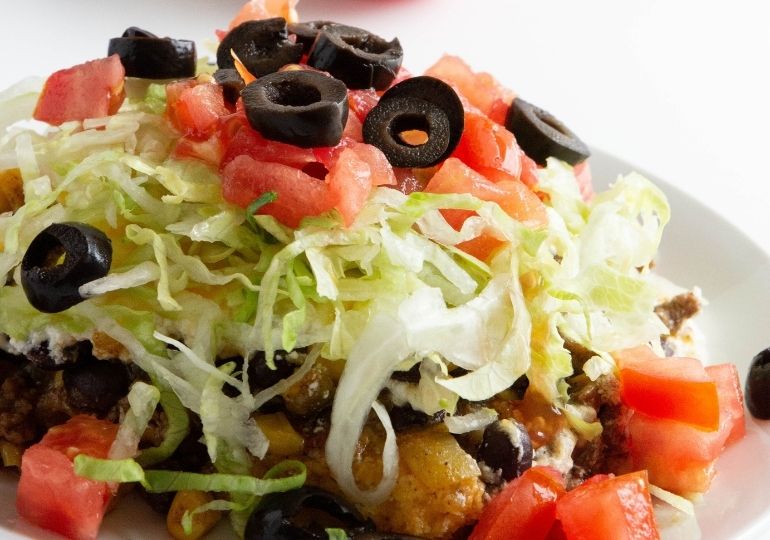 I love Mexican food and am always searching for new recipes to try. While I love my steak fajitas, sometimes we just want something new. Give this dish a try and let me know what you think. Check out my Texas Trash bean dip as well for a Mexican recipe.
Why This Recipe Is Popular
Simple everyday ingredients
Tex mix flavor
Mexican Ground Beef Recipe
Ground Beef Dinner Recipe
Budget friendly recipe for the family
Kid friendly flavor
Easy Weeknight Dinner
Easy steps to make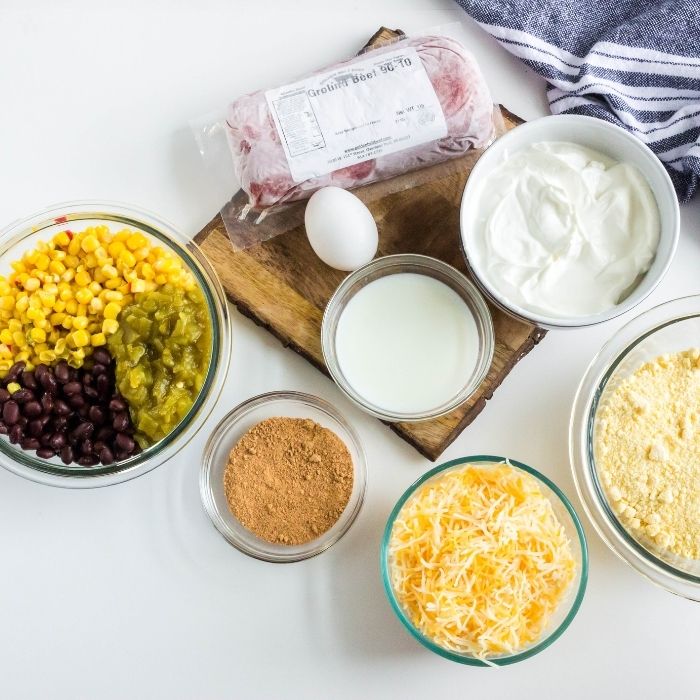 Ingredients
Cornbread + Ingredients on package – Use any brand of cornbread you want. We did Jiffy then you will add in the ingredients on the box as well.
Ground Beef – I used 90/10 beef, but you can use any ratio you want or even swap with ground turkey.
Taco Seasoning – Learn how to make your own taco seasoning if you want. Or buy any brand you enjoy.
Black Beans – Drain and rinse your beans for this recipe.
Mexicorn – This is a canned corn that is paired with red and green peppers.
Green Chiles – We used mild but if you want added spice go right ahead.
Sour Cream – The sour cream topping on this bake was awesome. It adds a fantastic creamy texture that is undeniably scrumptious.
Shredded Cheese – I used a blended cheese. You can use pepper hack, Monterey Jack, cheddar, etc.
Substitutes and Variations
Here are some swaps from the Mexican cornbread casserole you can do to change the flavor of it just a bit.
Swap the cornbread with Bisquick for a different option.
Leave out the black beans or swap for pinto beans or kidney.
Use ground turkey instead of ground chuck.
Swap taco seasoning with chili seasoning for a tasty alternative.
If you do not like sour cream you can leave it off and top with shredded cheese and bake.
Go ahead and leave meat out for a vegetarian dinner idea.
How to Make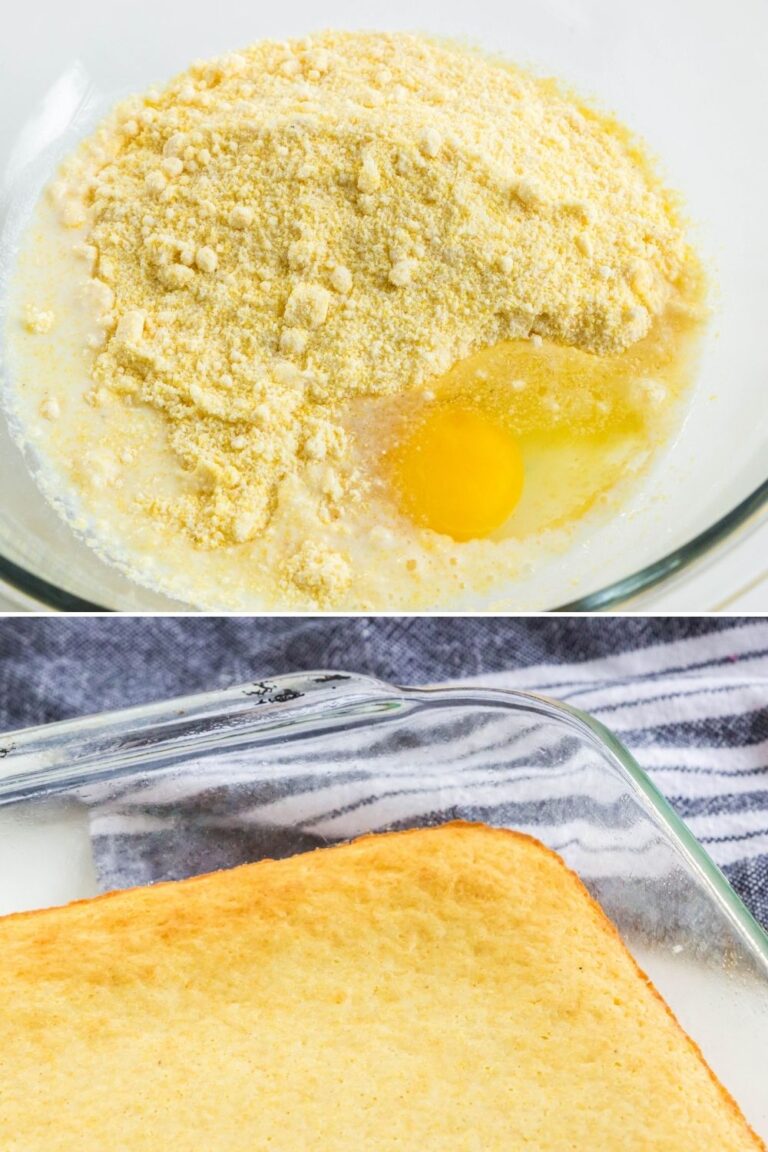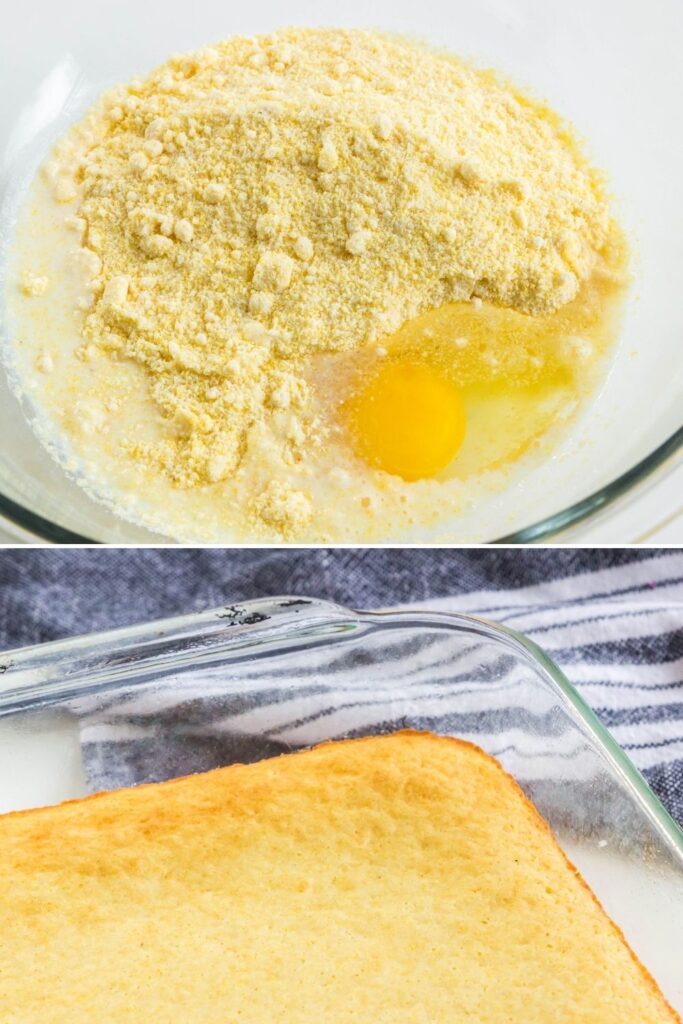 Step 1: Prep pan and preheat oven. In a bowl add your cornbread, and ingredients it calls for on the back. Mine was an egg and mix.
Step 2: Pour cornbread into the pan and bake for 10-15 minutes. You want to get mostly cooked.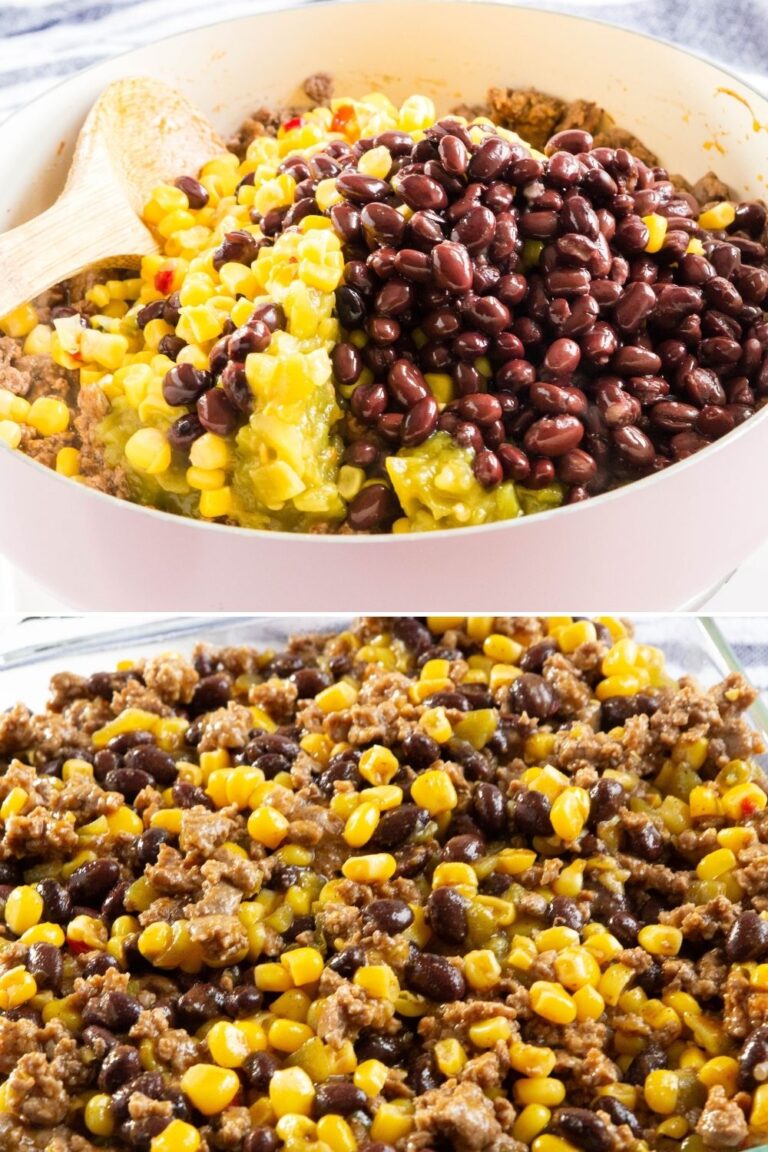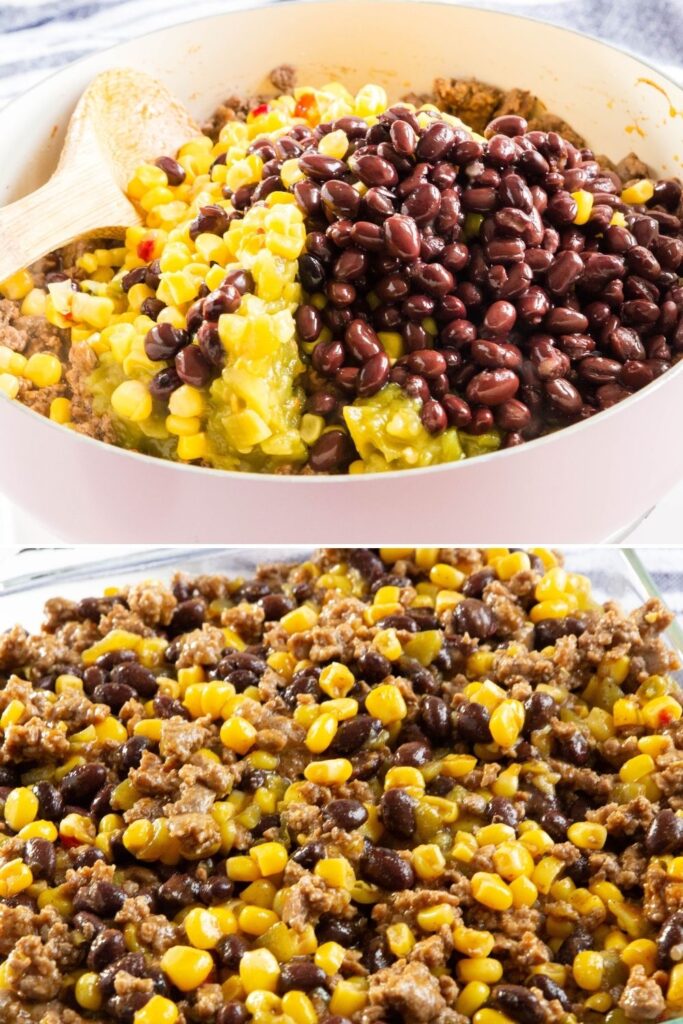 Step 3: Cook your ground beef until it is no longer pink. Then pour in taco seasoning and water. Mix and let cook a minute or two.
Step 4: Now pour in black beans, mexi-corn, and green Chili's. Mix to combine then remove from heat.
Step 5: In a small bowl add sour cream and 11/2 cups cheese and mix.
Step 6: Pour beef mixture evenly on cornbread. Then top it with the sour cream mixture followed my a topping of the remaining shredded cheese.
Step 7: Bake 15-20 minute or until cheese on top is melted.
Step 8: Dish up the Mexican cornbread bake and top with diced tomatoes, lettuce, salsa, black olives or any of your favorite toppings.
Storage of Leftovers
If you don't eat all of your taco bake simply store any leftovers in the fridge for 2-4 days. Then reheat as you would like or pack for lunch.
In terms of freezing leave off any toppings and freeze for later. The cornbread taco casserole will store for 2-3 months when stored properly.
Thaw in the fridge overnight then reheat and enjoy.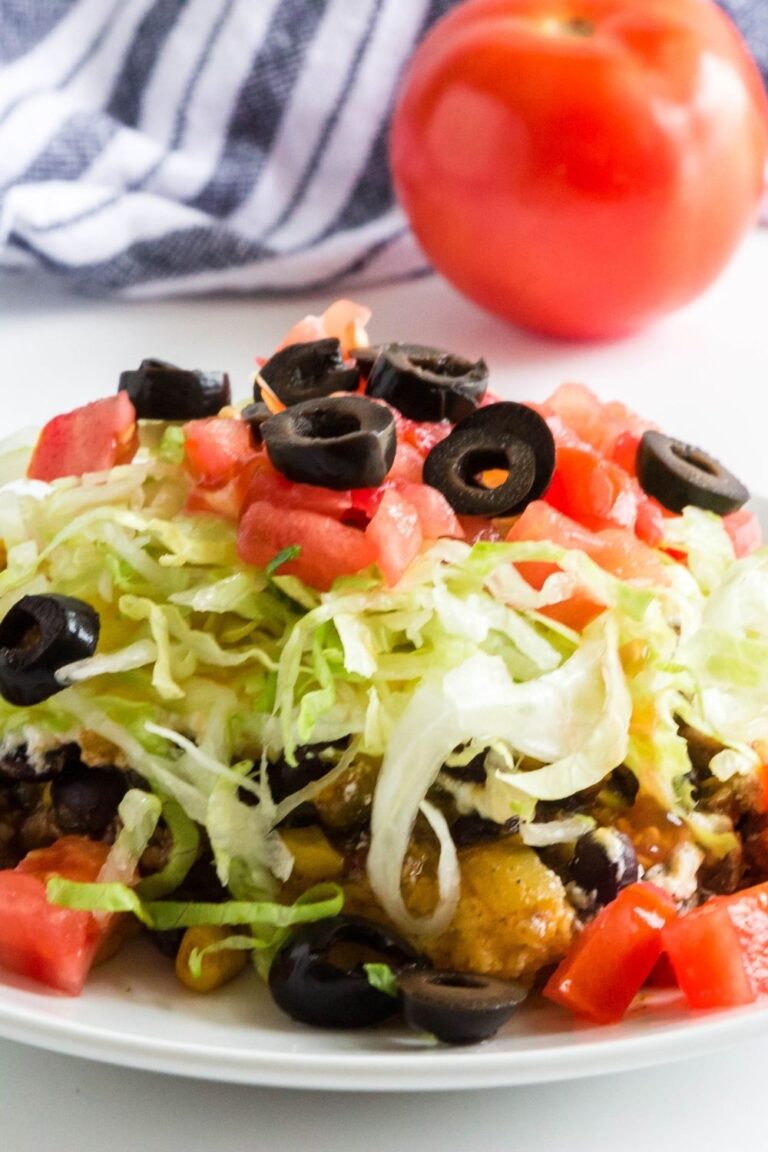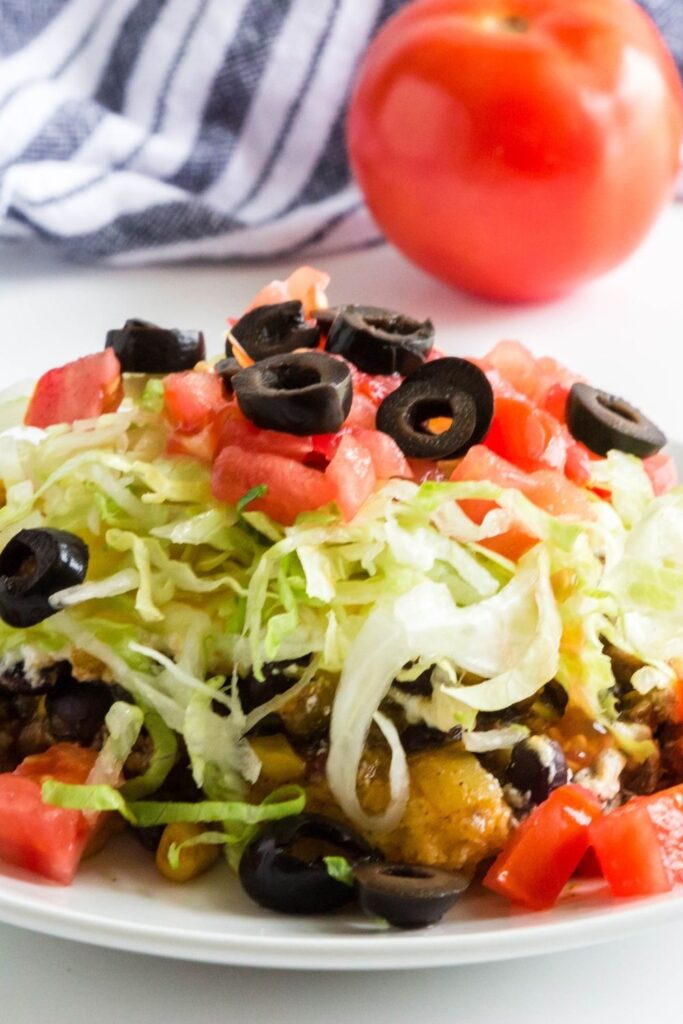 Topping Ideas
Shredded Lettuce
Diced Tomatoes
Guacamole or Avocado
Green Onions
Diced Olives
Sour Cream
Salsa or Pico De Gallo
Etc.
Pro Tips
Make sure to drain and rinse the beans.
Drain off green Chiles and corn as well or it will be too watery.
Using a rubber spatula with light pressure made it easier to spread the sour cream on without pulling up meat mixture.
You can double the recipe and use a 9×13 pan.
Frequently Asked Questions
Here are some common questions about this ground beef cornbread casserole. It is such a great dinner idea I hope you enjoy the taco meat and cornbread mixture together.
Related Recipes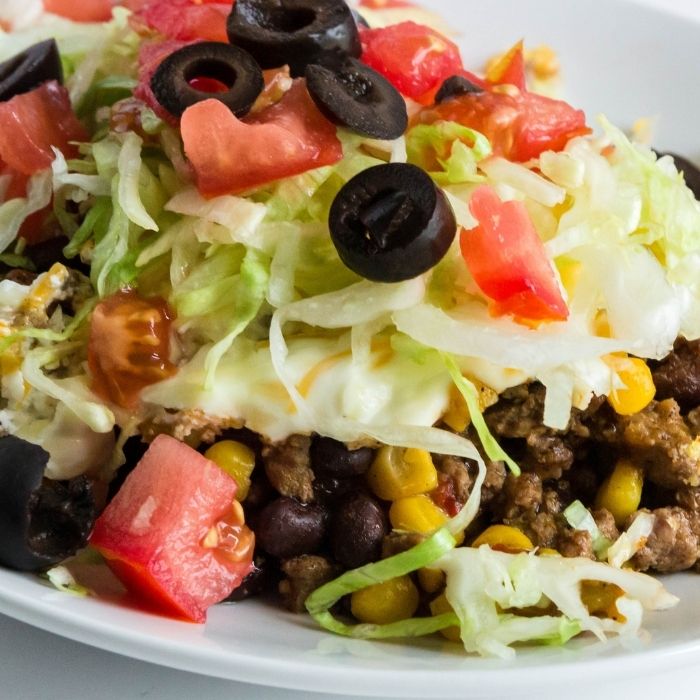 Taco Cornbread Casserole
Servings 9 x9
Serve up this taco cornbread casserole that is bursting with Tex-Mex flavor. A taco cornbread bake that is cornbread, seasoned ground beef, black beans, mexicorn, and more. A must make weeknight dinner idea.
Ingredients
1 box cornbread 8×5 ounces + Ingredients on Box
1 pound ground beef
2-3 tablespoons taco seasoning
1/4 cup water
1 can Mexicorn 11 ounces, drained
1 can Green chiles 4 ounces
1 can Black beans 15.25, rinsed and drained
2 cups sour cream
2 cups shredded cheese
Instructions
First preheat your oven to 350 degrees, and prep a 9×9 or 8×8 pan. Then make up the cornbread as directed on the box.

Pour the prepared cornbread in the pan and bake for 10-15 minutes. You want the cornbread to be lightly golden around edges.

While cornbread is cooking cook up the ground beef until no longer pink. Then drain off fat. Add in taco seasoning and the water and stir till coated.

Add in the black beans, green chiles, and the mexicorn. Stir until mixed and set aside.

In a new bowl place your sour cream and 1 1/2 cups shredded cheese. Mix till creamy.

When cornbread is done, remove and pour the meat mixture on top, followed by spreading on the sour cream mixture. Then top with the remaining shredded cheese.

Bake another 15 minutes or until the cheese is melted.

Dish up your taco cornbread casserole and pile on all your favorite toppings.
Notes
Cornbread – I used Jiffy Cornbread for this recipe. You can use any brand you like. Just make sure to use egg, milk, or oil whatever it callls for on the box to mix up properly. Toppings – We did tomatoes, olives, and shredded lettuce along with some salsa. Feel free to add on what you enjoy. Meat – You can leave the meat out for a vegetarian dinner or swap beef with turkey if you prefer. Store – Store the leftover cornbread taco casserole in the fridge for 3-4 days. Then reheat as you would like.
Nutrition
Serving: 1gCalories: 465kcalCarbohydrates: 18gProtein: 27gFat: 31gSaturated Fat: 15gPolyunsaturated Fat: 11gTrans Fat: 1gCholesterol: 116mgSodium: 799mgFiber: 4gSugar: 3g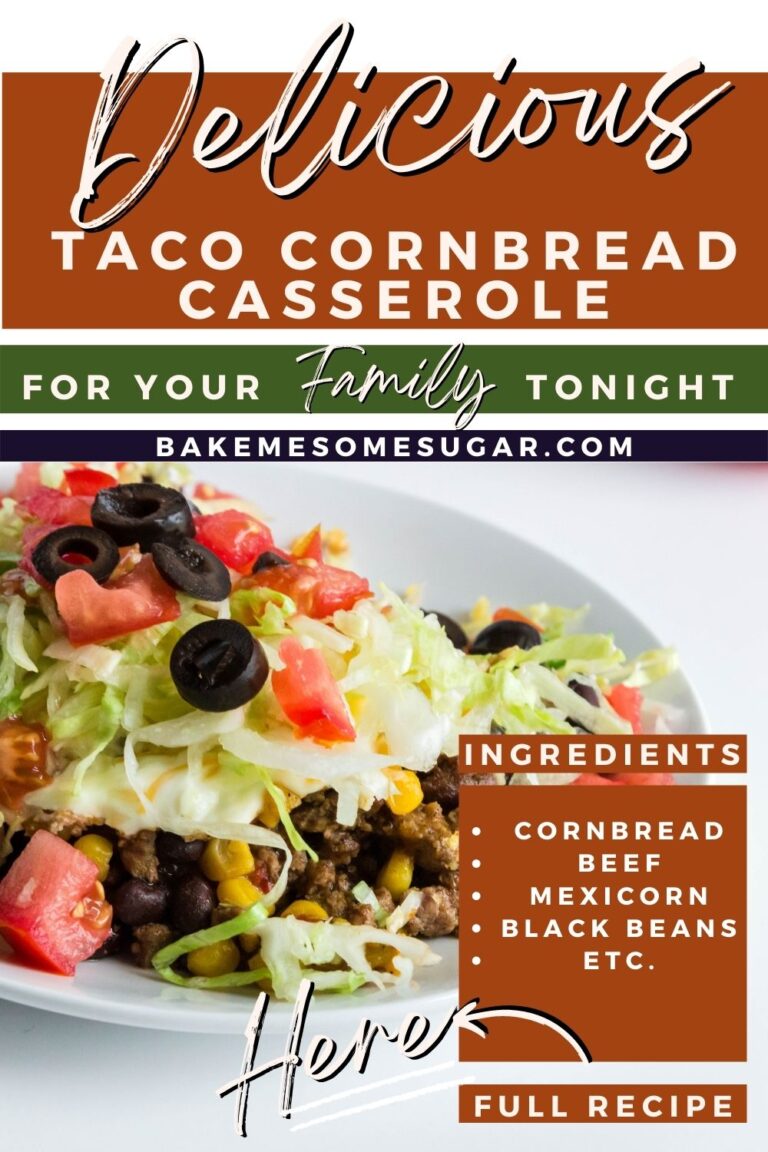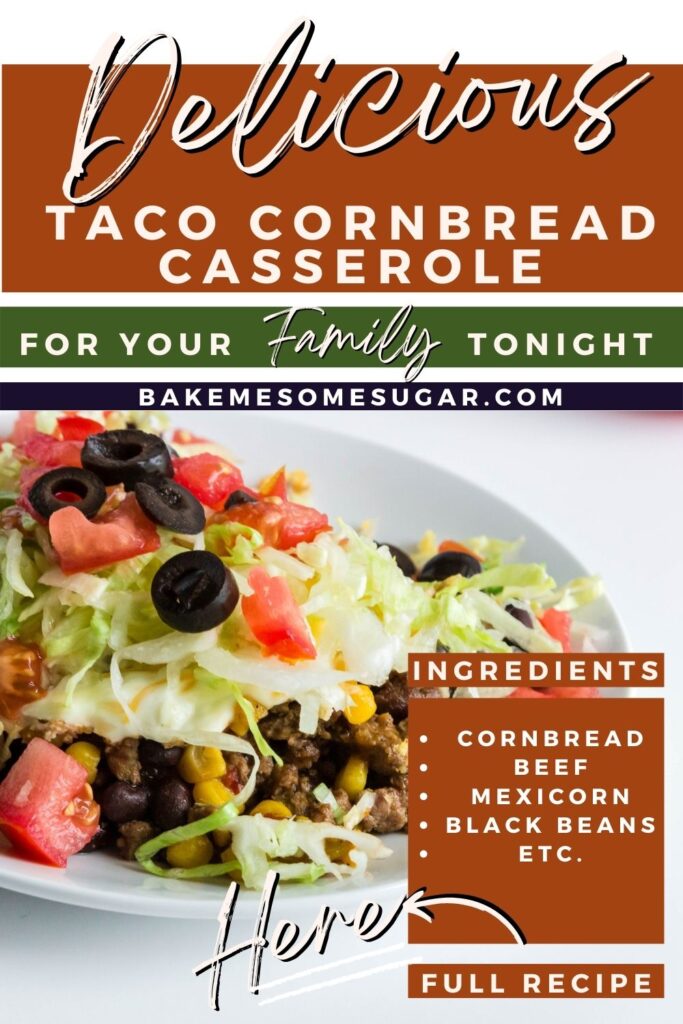 Reader Interactions