Whip up a batch of these macadamia nut cookies. Buttery, sweet, and studded with white chocolate chips and chopped macadamia nuts. These homemade cookies are such a delicious way to use macadamia nuts. Kids and adults will have a hard time stopping at just one cookie.
This white chocolate chip macadamia nut cookie is one that is great for packing in a lunch, serving up as a Christmas white chocolate cookie, or even gifting to a loved one or bake sale.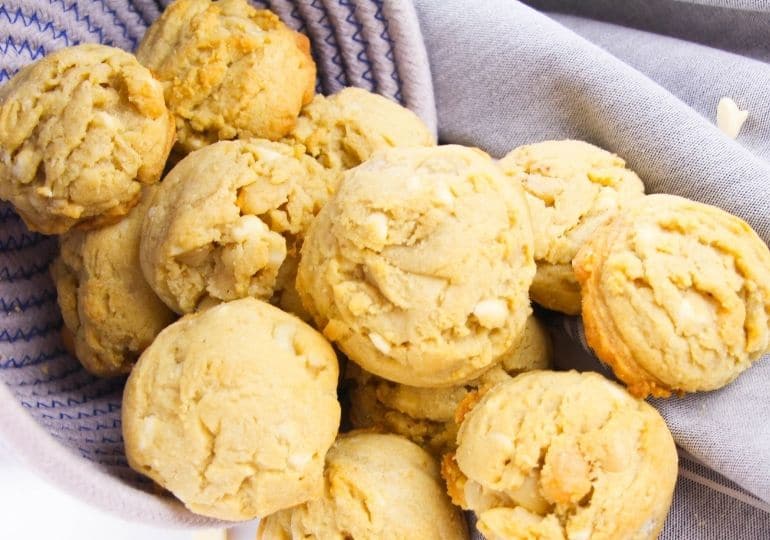 Table of contents
This macadamia cookie is one I make a lot. It is a simple prep, and the cookies are thick, fluffy and the perfect texture. One of my favorites.
Why This Cookie Recipe Is A Hit
Pantry Staple Ingredients – Almost all the ingredients you need are what you might already have stocked in your fridge and pantry. Granted if you don't keep around macadamia nuts you might need to run to the store for those.
Simple Steps – A simple cookie recipe that you can mix with a whisk or a hand mixer! It is up to you.
Soft Fluffy Cookies – This white macadamia cookie recipe is light, soft, and fluffy. These cookies bake up thick, for a perfect bite.
Cookie Swap and Gifts – Whether you take part in a cookie swap, or want to make some cookies to gift a loved one, someone having a baby, etc. This cookie recipe is always a great one.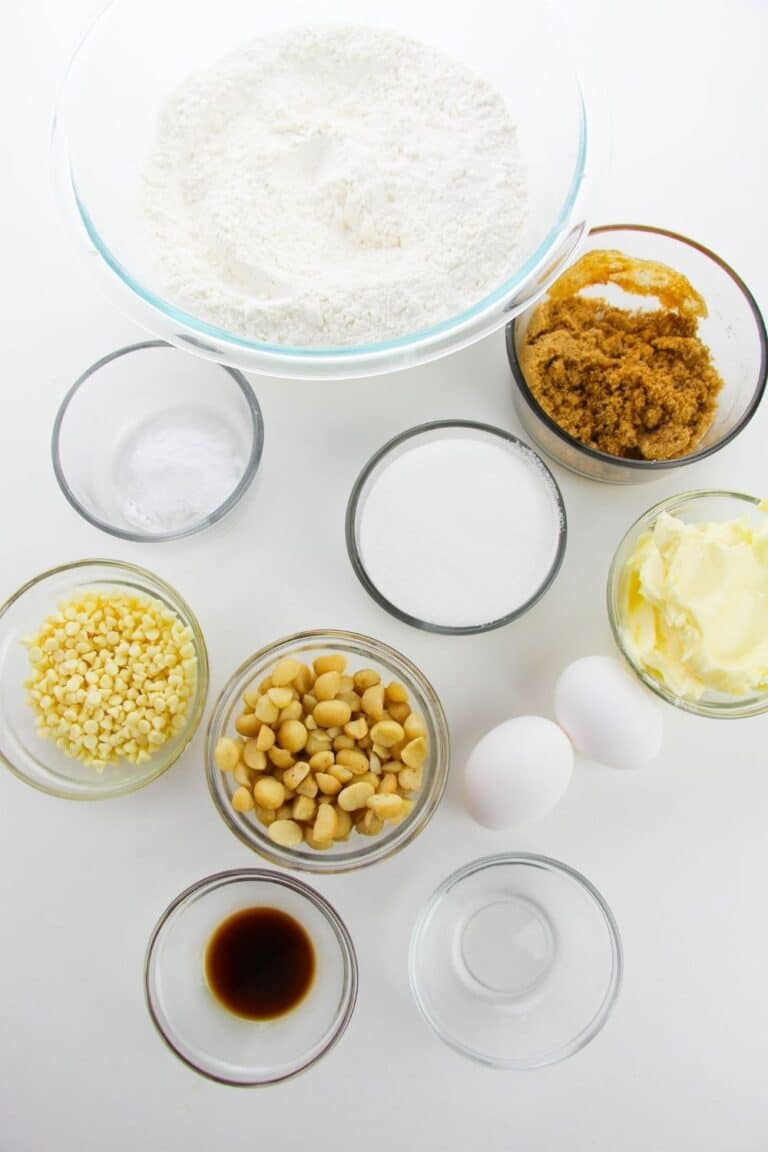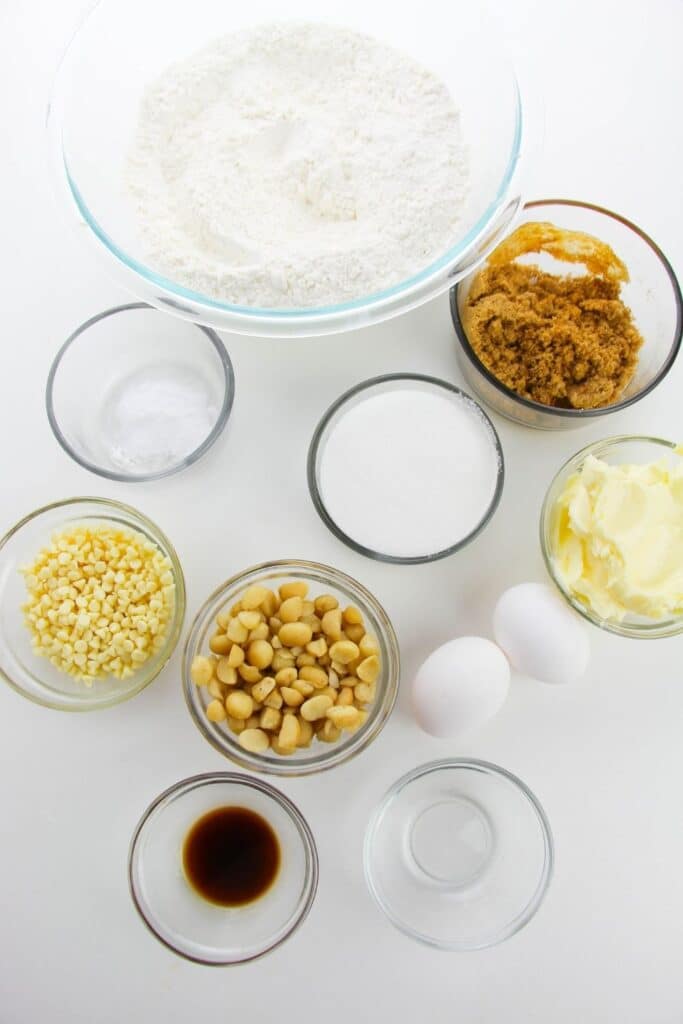 Ingredients You Will Need
All Purpose Flour – The base is all purpose flour. Make sure you measure your flour properly. Spoon flour into a measuring cup, making sure to not to pack in, and then use a knife to run on top for a level.
Baking Soda
Salt – If you use salted butter, skip adding in salt to the cookies.
Unsalted Butter
Granulated Sugar
Brown Sugar – I used a light brown sugar.
Vanilla Extract – Learn how to make vanilla in the Instant Pot.
Almond Extract
Eggs
White Chocolate Chips
Macadamia Nuts
Grab my Free Kitchen Conversions Printable! This shows you how many cups are in a quart, pint, etc. A great printable to keep handy for when you need to convert a recipe.
How to Make
Full directions on how to make macadamia cookies are in the printable recipe card below. This is a walk through with images to help readers.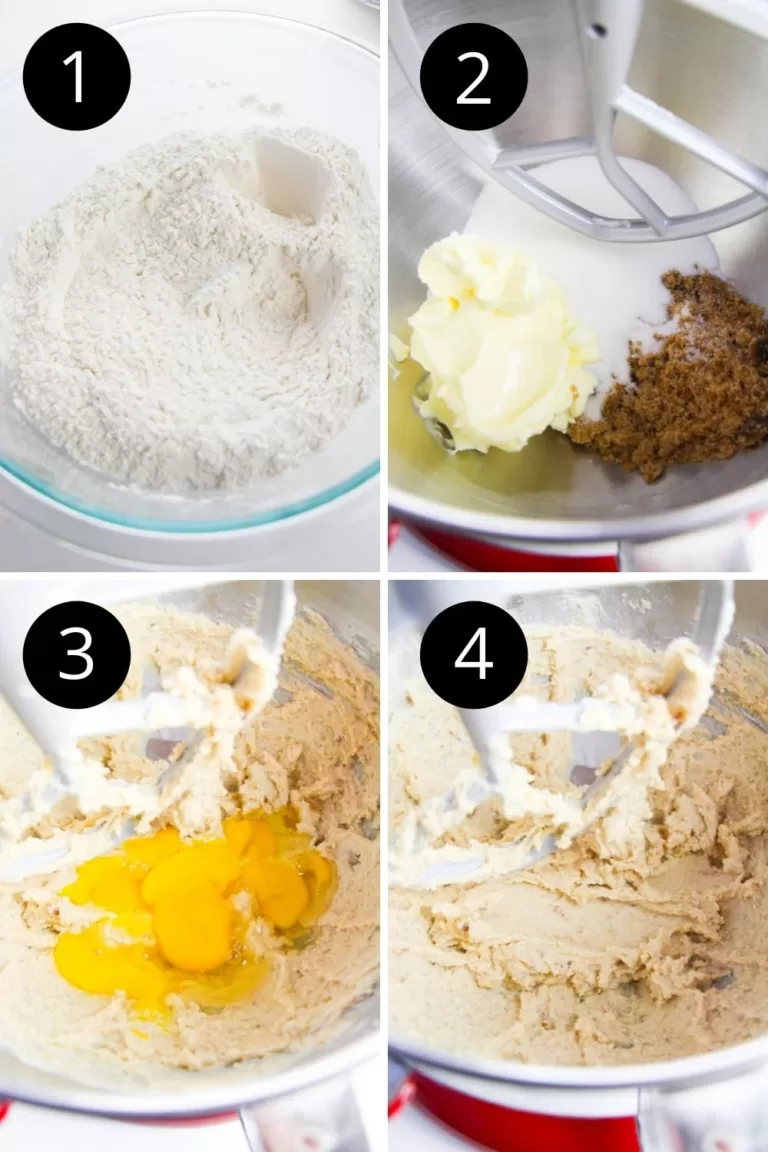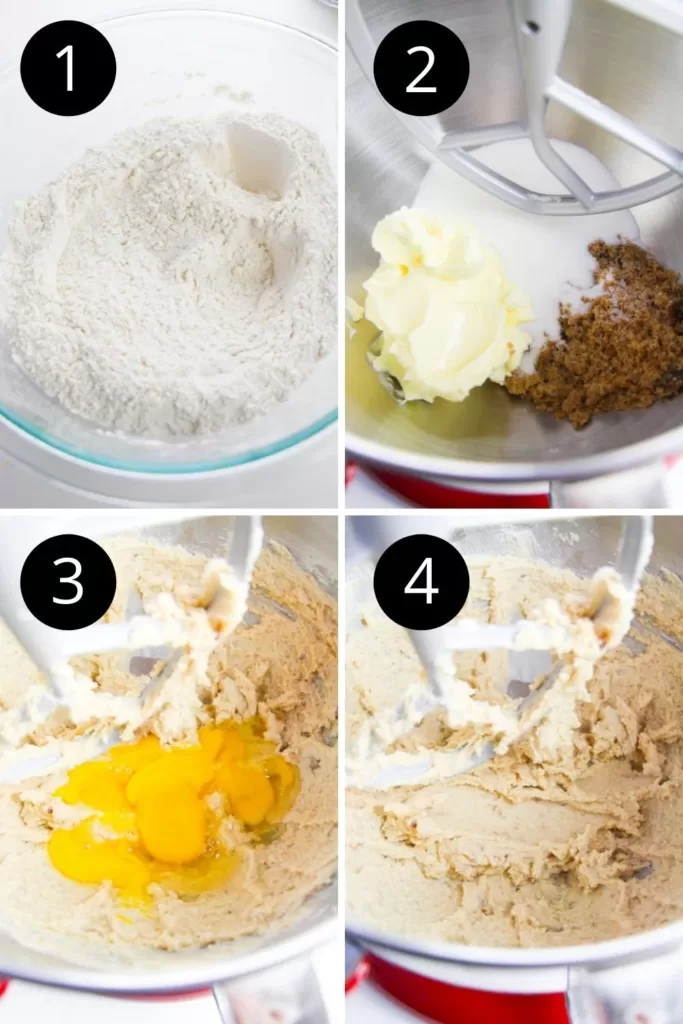 Step 1: Add your dry ingredients in a bowl and mix to combine. Then set aside for later.
Step 2: Now you will mix your softened butter and sugars together with a mixer or whisk for around 2 minutes to make the mixture nice and creamy.
Step 3: Next, add in the eggs and your vanilla extract, and almond extract. Make sure to mix to ensure eggs incorporate.
Step 4: Slowly add in the dry ingredients. Use a spatula to scrape down the edges of your mixer.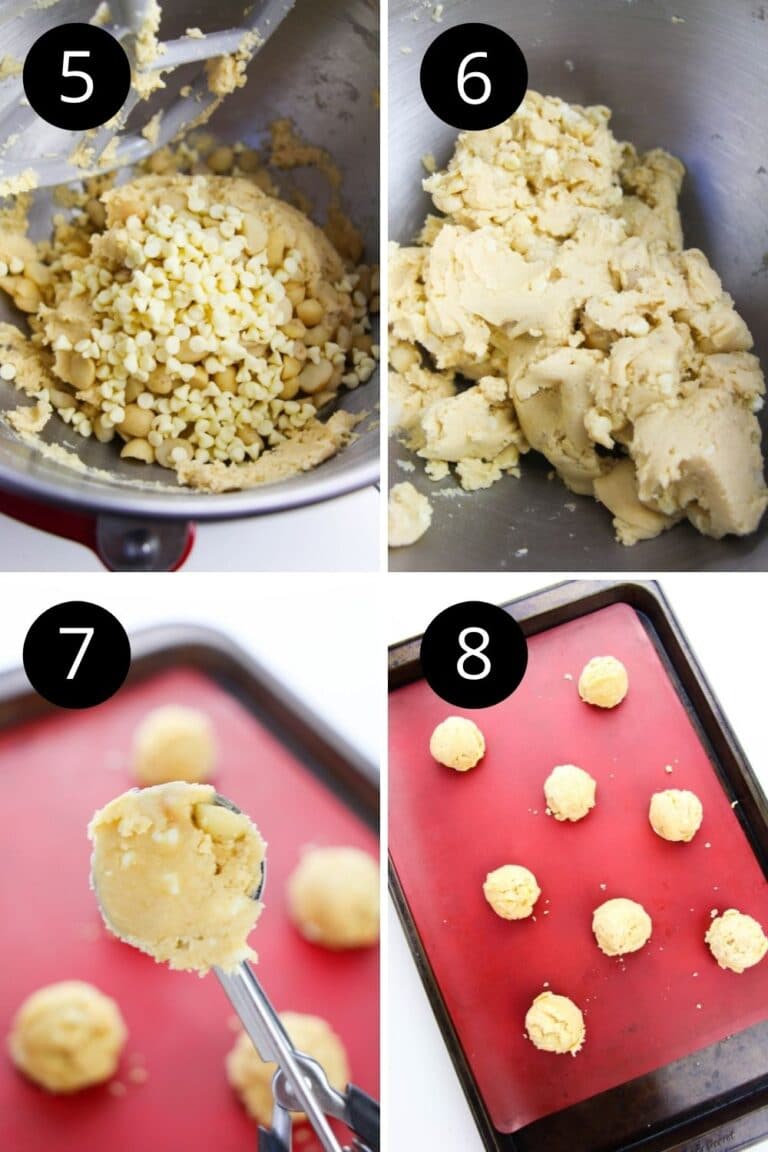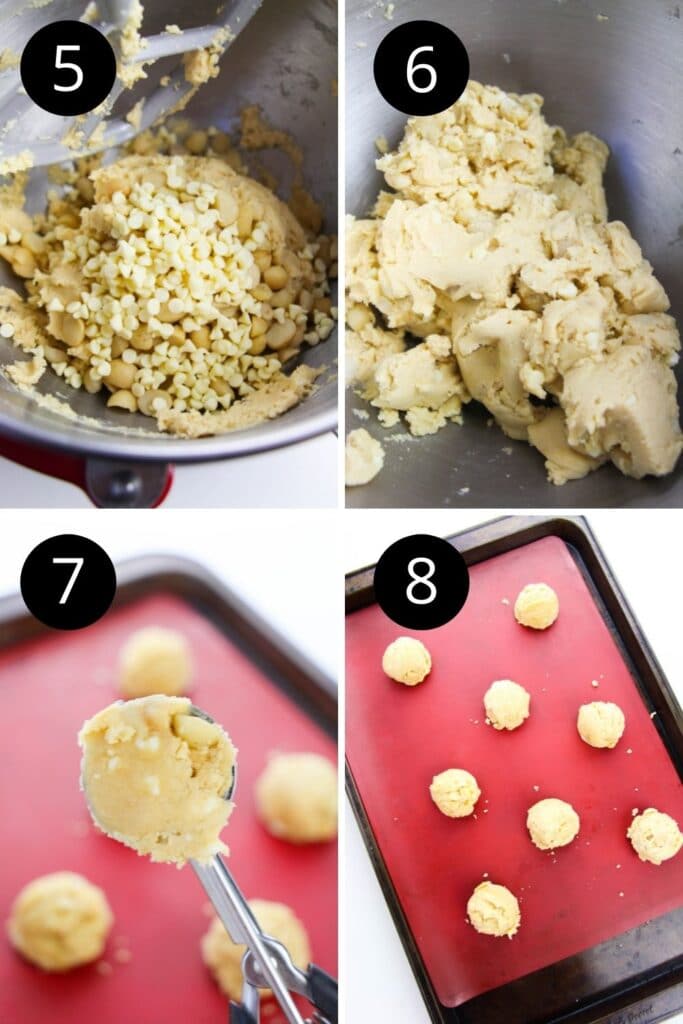 Step 5: Now add in the white chocolate chips and macadamia nuts and mix. You want to incorporate into the batter. Use a spatula or stir on low.
Step 6: Cover and refrigerate the cookie dough for 1 hour to overnight.
Step 7: Preheat the oven, and then place a silicone baking mat or cooking spray on cookie sheet. Use a cookie scoop and dish up the batter.
Step 8: Bake as directed, and then remove from the baking sheet and place on a cooling rack. Serve and enjoy these decadent homemade macadamia nut white chocolate cookies.
Storage
Store at Room Temperature: Let the cookies cool completely and the store in an airtight container or sealed bag on the counter for up to 4-5 days. The cookies will of course dry out as the days pass. I recommend eating within the first few days.
Freeze Cookies: You can also freeze any cookies you don't plan to eat right away. Store in a freezer bag or container for 3-4 months. Then when you want some, remove and thaw on the counter, or defrost in microwave.
Just don't overcook in microwave or it will burn the chocolate chips.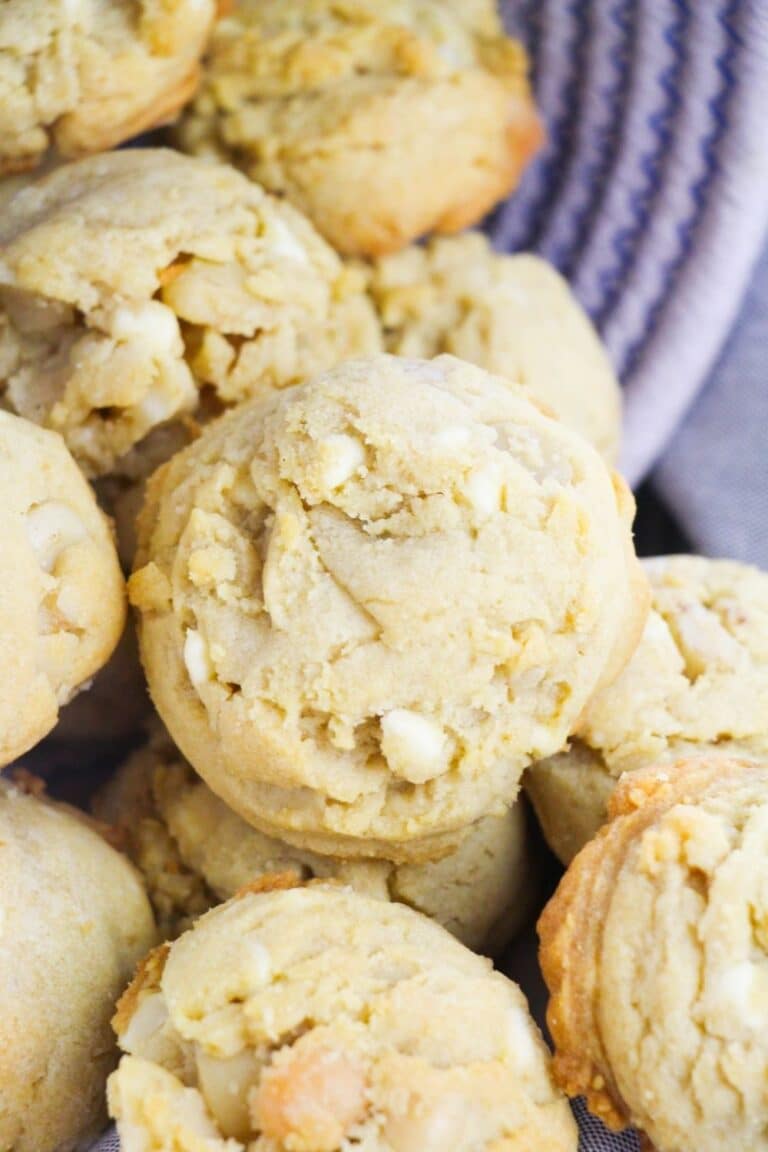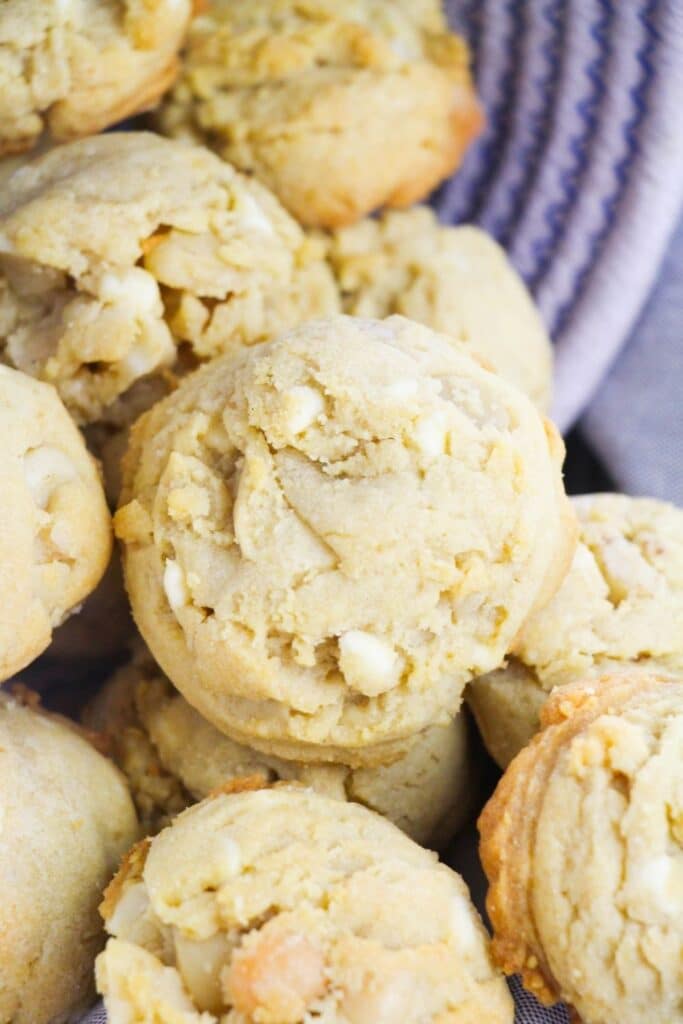 Expert Tips
Use softened butter, it will cream up really well with the sugar, giving you the perfect texture to the cookies.
If you use salted butter omit the salt in the recipe.
Chilling the dough for 1 hour is a must, or your cookies will not stay fluffy and fall flat.
Make sure your baking soda is active by pouring a little in a bowl and then dump vinegar. If it bubbles your baking soda is good. Since it isn't used a lot you don't want to use stale soda in a recipe.
Cookie scoops are great so that all your cookies can bake up evenly. If you don't use a scoop some cookies can be undercooked and others overcooked if they are different sizes.
Baking Soda allows for a soft and chewy cookie. You will find a lot of cookie recipes use baking powder, but this recipe I specifically love baking soda in.
Variations To Recipe
Leave out the almond extract and just do vanilla extract.
Sprinkle with flaked salt for added flavor to the cookies.
Swap white chocolate chips with peanut butter chips, chocolate chips, etc.
FAQs
Why are macadamia nuts so expensive?
Macadamia nuts are a lot more expensive then some variety of nuts at the store. Harvesting macadamia nuts takes a lot longer, and you will find that is why the price is higher. It takes up to 8-10 years for a Macadamia nut tree to bear fruit.
How do you cut macadamia nuts for cookies?
You can leave your nuts whole, chop with a knife, or even toss in a food processor and pulse a couple of times. You will find it is very easy and you have options in terms of breaking up the nuts a bit.
Can dogs eat macadamia nut cookies?
It is not recommended to give your dog any of the cookies. You will find that dogs can experience stomach and intestinal issues, muscle weakness and more.
What is the rarest nut in the world?
Macadamia nuts are the rarest nut as they take a long time to produce and be harvested and sold. You will find a lot of care goes into the process of getting these nuts on the market.
What nut can I substitute for macadamia?
Cashews can be swapped in place of macadamia nuts if you need to have a swap. Make sure to use unsalted or salted depending on the recipe you are working with.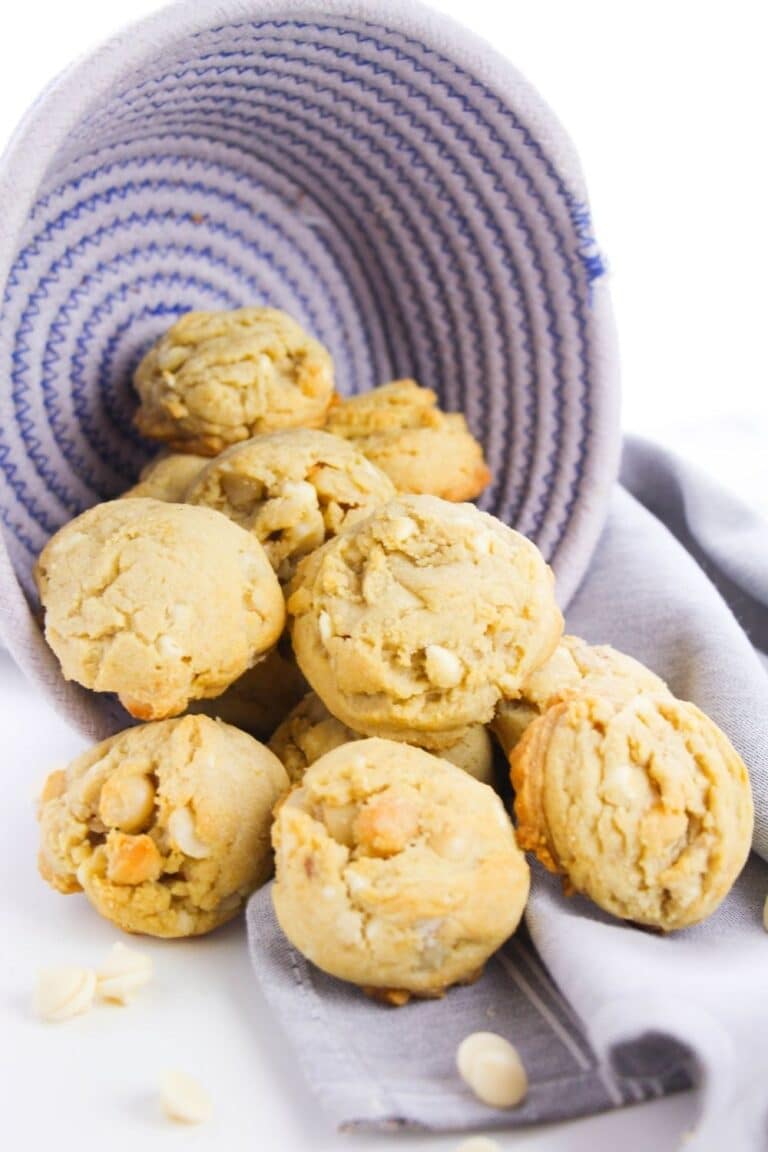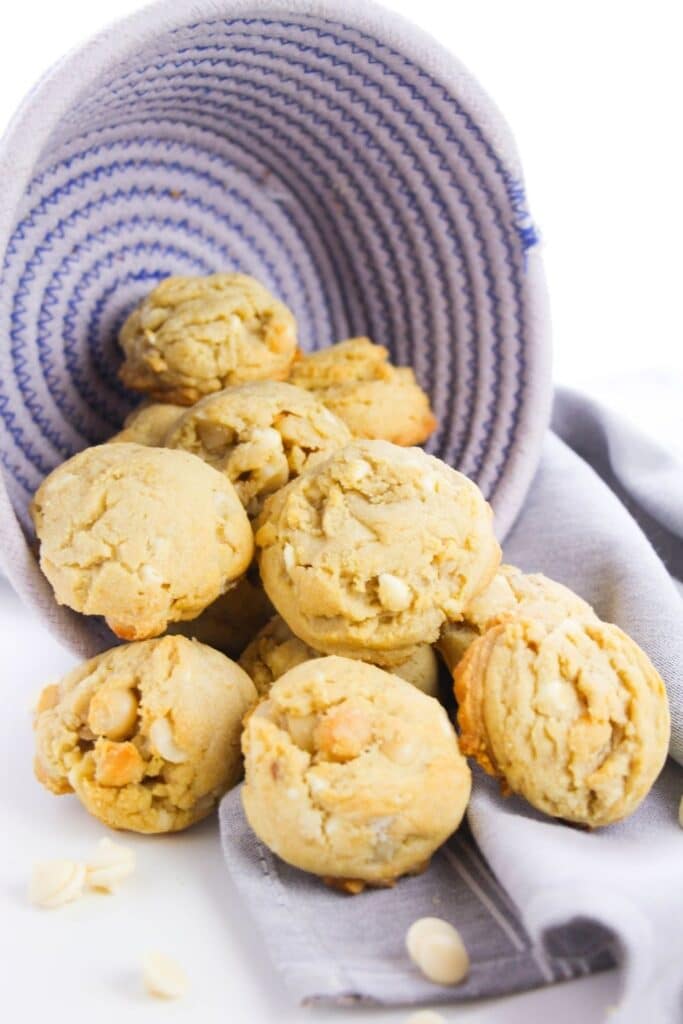 Related Recipes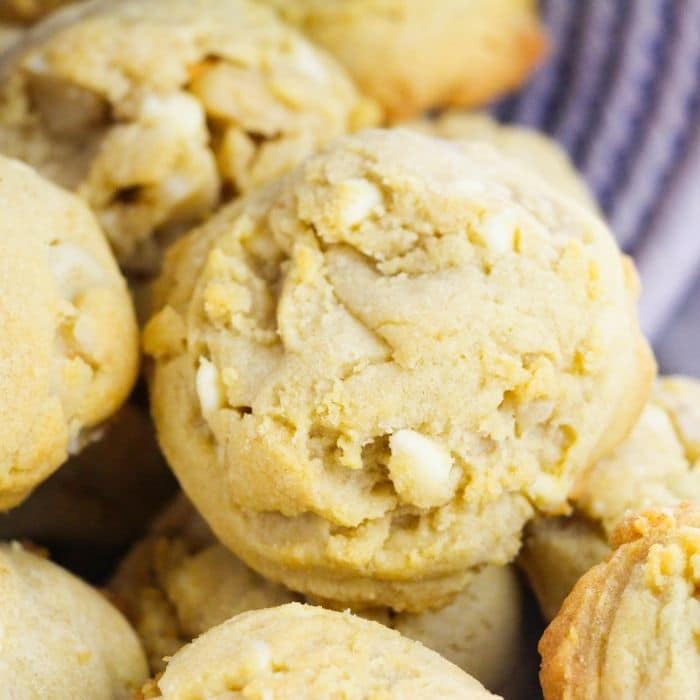 Macadamia Nut Cookies Recipe
Servings 24 -32
Serve up these homemade macadamia nut cookies! A soft and fluffy white chocolate macadamia nut cookie that is out of this world. Gift to loved ones, make as a dessert for the week, or freeze for a grab and go treat.
Ingredients
2 1/2 cups All-Purpose Flour
1 teaspoon Baking Soda
1/2 teaspoon Salt
1 cup Butter softened at room temperature
3/4 cup Granulated Sugar
3/4 cup Brown Sugar light
2 eggs room temperature
1 teaspoon Vanilla Extract
1/2 teaspoon Almond Extract
2 cups White Chocolate Chips
1 cup Macadamia Nuts
Instructions
First in a bowl add your flour, baking soda, and salt. Mix well and set aside.

Then with a whisk or in a mixer you are going to take your softened butter and cream with the granulated sugar and brown sugar. Mix on medium speed for 2 minutes to make it nice and creamy.

Once mixed well, add in the vanilla, almond extract and eggs. Mix well to ensure eggs are mixed.

Then slowly add in the dry flour mixture, scraping sides as you go.

Once the batter is formed fold in the white chocolate chips and the macadamia nuts. Mix with the mixer or fold in with a spatula.

Refrigerate the macadamia nut cookie batter for 1 hour to overnight.

Preheat the oven to 350 degrees. When you are ready, place cooking spray on the pan or a silicone baking mat. Use a cookie scoop and spoon up cookies, to place spread out on the pan.

Bake for 9-12 minutes or until the cookies are fully done.

Place your white chocolate macadamia nut cookies on a cooling rack to completely cool. Then store in an airtight container.
Notes
Salted Butter – If you opt to use salted butter you will omit the salt in the recipe. Refrigerate the Dough – If you do not refrigerate the cookie dough, it can leave your macadamia cookies very flat and the wrong texture. Don't skip this step. Storing – You can store leftover cookies in an airtight container on the counter or freeze for up to 3-4 months. These cookies freeze nicely. Double Recipe – Go ahead and double the recipe if you plan to serve a crowd. Just batch cook the cookies as you normally would. Almond Extract – If you don't want to use the almond extract you can leave it out. I find it adds incredible flavor to this macadamia nut dessert.
Nutrition
Serving: 1gCalories: 213kcalCarbohydrates: 23gProtein: 2gFat: 13gSaturated Fat: 6gPolyunsaturated Fat: 6gCholesterol: 29mgSodium: 134mgFiber: 1gSugar: 15g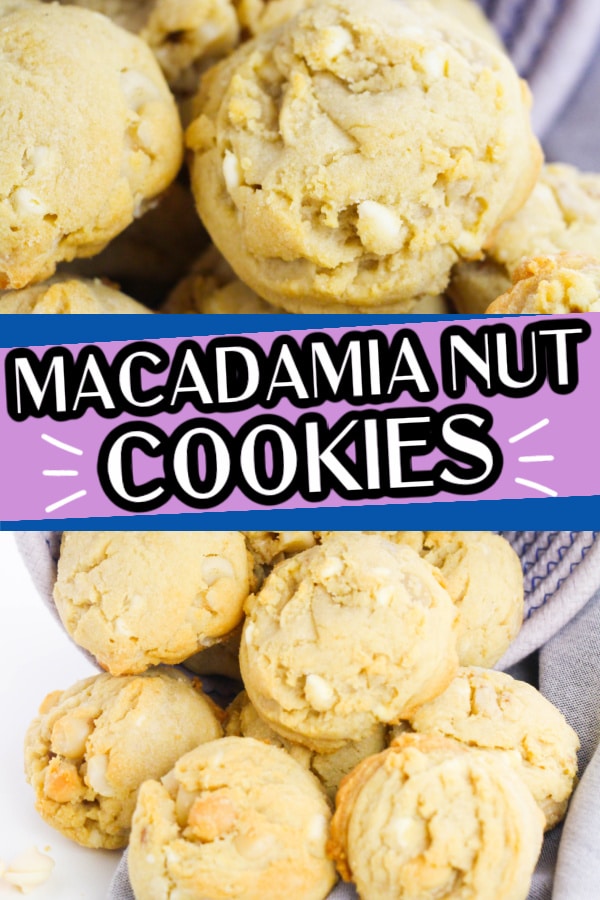 Reader Interactions