Mint Oreo Brownies are a homemade brownie that has pieces of Mint Oreos baked throughout. The ultimate loaded brownie to sink your teeth into. Dress up your simple brownies in minutes.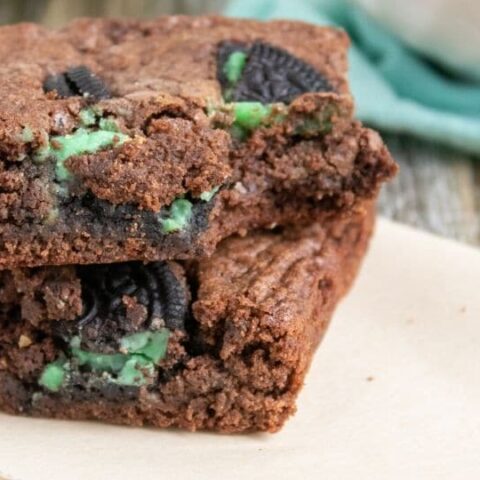 There's just something magical that happens when you combine the taste and flavors of mint and chocolate. These Mint Oreo Brownies are proof that perfection in a dessert can exist.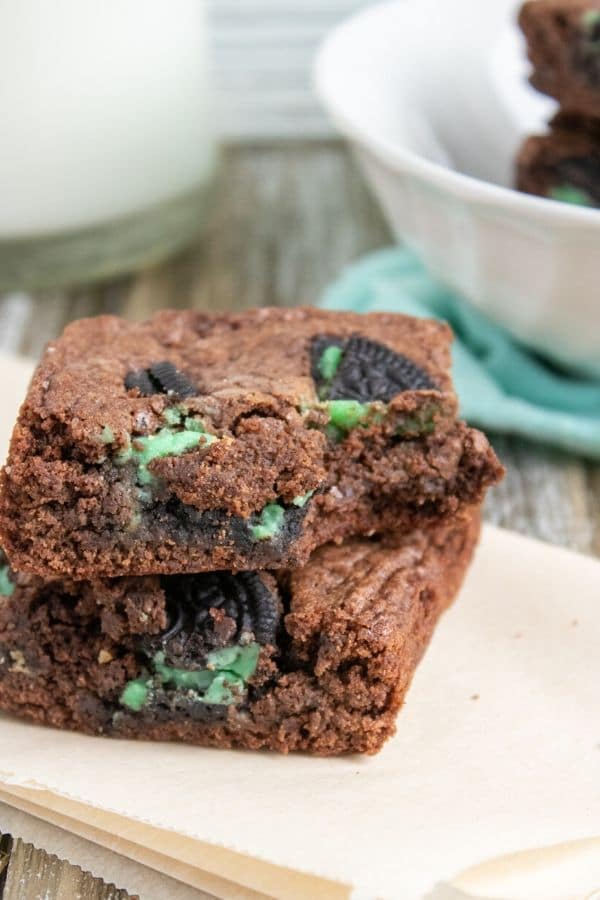 If you're craving a simple dessert that will be calling your name for temptation, you're going to love these simple homemade brownies.
Making brownies together is one of those activities that just brings out a lot of fun. This is because most people love brownies and can already taste that delicious flavor in their mouths.
It's also a recipe that is family-friendly and easy to make. Cooking together in the kitchen is a great way to bond and make some awesome family memories.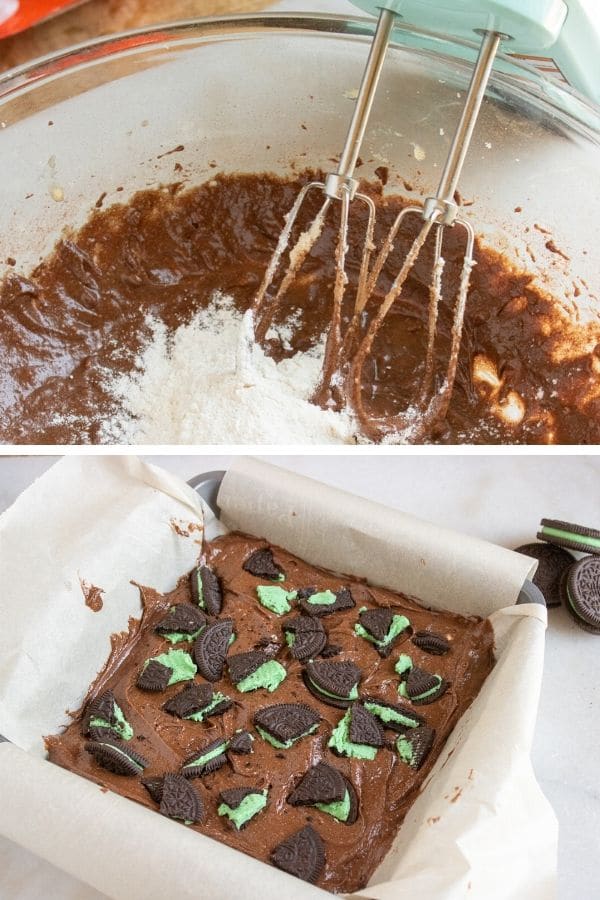 How to make Mint Oreo Brownies
Start by creaming your butter and sugar together.
Then add in your eggs and other dry ingredients.
Spoon batter into the baking pan, and then top with crumbled Mint Oreos.
Bake accordingly to the printable recipe card below.
Grab my Free Kitchen Conversions Printable! This shows you how many cups are in a quart, pint, etc. A great printable to keep handy for when you need to convert a recipe.
Craving More Easy Dessert Recipes
Can I make mint brownies in advance?
You can. If you want to make this recipe in steps, go for it. You can always make up the batter ahead of time and then bake them when you're ready.
I don't really recommend doing this more than a day in advance since it's such a simple recipe but if it can save you a little bit of time on the day you want to make them, make them in advance.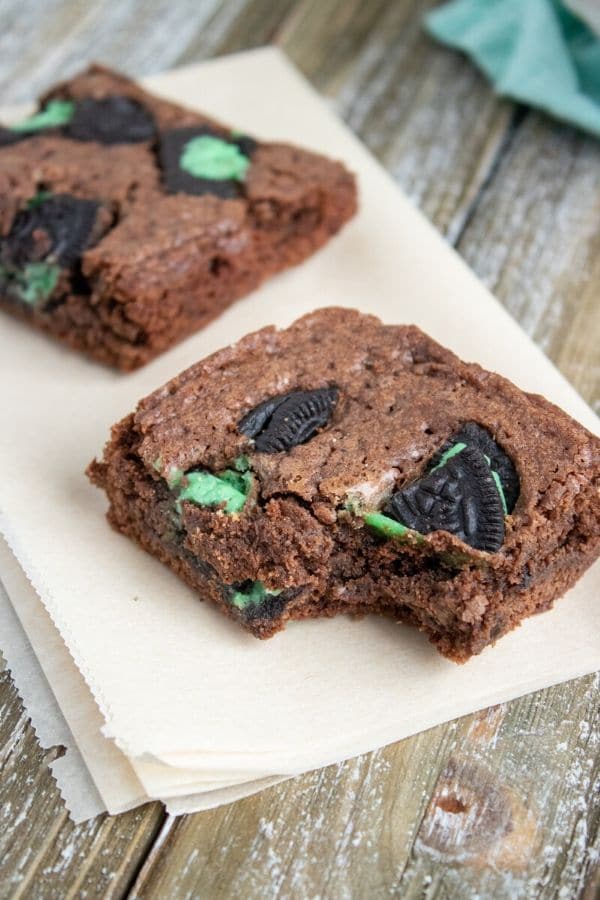 How to know when brownies are done
The easiest way to know that the brownies are done cooking is to test them with the toothpick test.
Simply take a clean toothpick, insert it into the center of the brownies, and remove it. If the toothpick comes out clean, your brownies are done. If it comes out with brownie batter on it, they need more time to cook.
I also think that one you can actually start smelling the brownies, it should be an indicator that they're getting close to being done.
Pair that with the toothpick trick and you'll have perfectly cooked brownies every time!
Best way to store brownies
If you're wanting to keep your brownies moist and tasty, the best way to store them is to have them in a sealed container or bag.
The more air that you can keep away from them, the better.
Can You Freeze Mint Brownies?
For sure! We do this all the time in our house. The same rules apply as to store them in a freezer-proof container or bag and make certain that there is no air in it and that it's sealed well.
My other tip for freezing brownies (or any desserts really) is to freeze them in pairs and in smaller bags and containers.
This way, when you're craving a brownie, you can just unthaw a couple rather than have to do the whole batch. (it's good portion control as well!)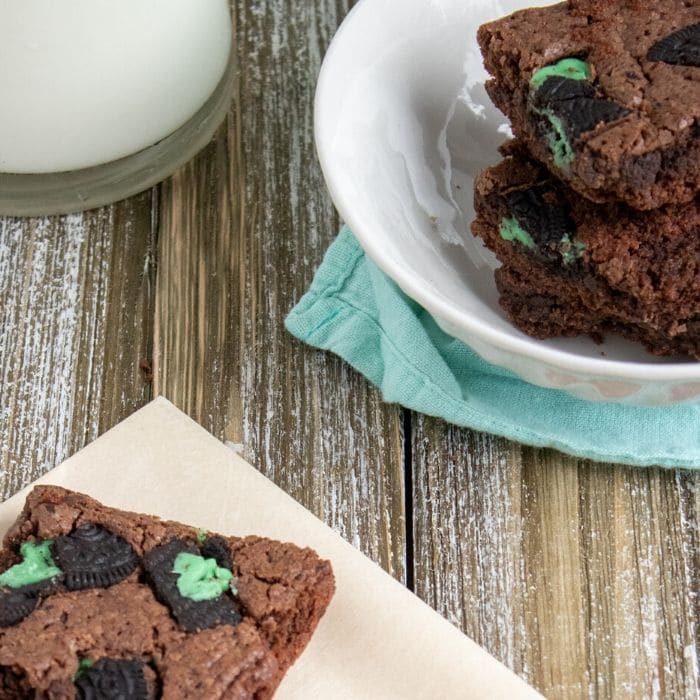 Ways to Serve Up Mint Brownies
There are so many ways to enjoy Mint Brownies that anyone can really eat them how they want. Some people like to eat them warm from the oven while others prefer them to cool down before biting.
I've even known people to leave them out overnight so that they are a "little stale" as well! To each their own, right?!
When it comes to making the brownies your own, here are some fun toppings that you can add to bring out even more taste and flavor:
Toppings for Mint Brownies
Whipped Cream
Ice Cream
Fudge sauce
Caramel Sauce
Chocolate Chips
And any other type of toppings that you can think of! Have fun creating the best brownie that you can!
As you can tell from the recipe, it's not a hard one to fall in love with. While I'm a fan of all types and flavors of brownies, this one just happens to be one of my top favorites. Add when I can add whatever toppings I want to vary it up every single time, it makes the recipe taste totally unique over and over again.
Have fun making up a batch of these Mint Oreo Brownies. They're the perfect dessert to snuggle up with and relax.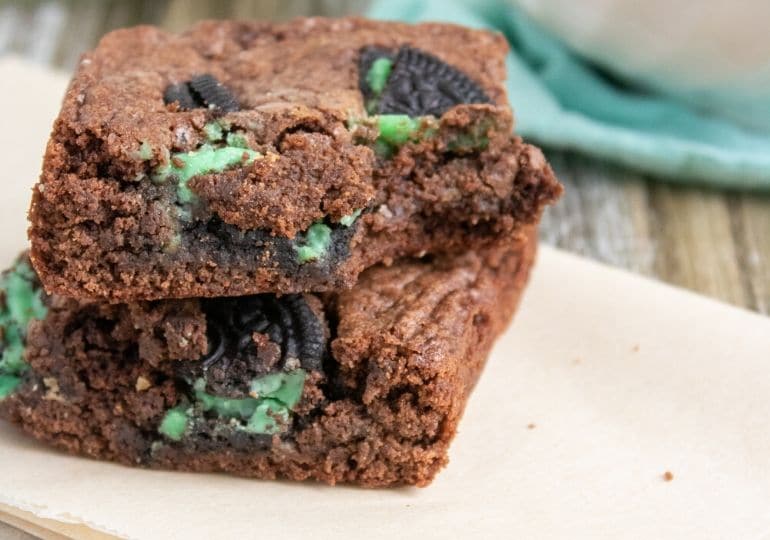 Mint Oreo Brownies
Servings 12 servings
Mint Oreo Brownies are a homemade brownie that has pieces of Mint Oreos baked throughout. The ultimate loaded brownie to sink your teeth into. Dress up your simple brownies in minutes.
Ingredients
½ cup unsalted butter softened
1 cup granulated sugar
2 eggs
1 teaspoon vanilla
½ teaspoon mint
⅓ cup unsweetened cocoa powder
½ cup all-purpose flour
¼ teaspoon baking powder
¼ teaspoon salt
6-8 mint Oreos
Instructions
Preheat oven to 350.

Cream the butter, adding in sugar, and then you will mix in the vanilla until well mixed.

Next, mix in the cocoa powder, flour, baking powder, and salt.

Line an 8×8 baking pan with parchment paper and lightly spray the paper. Spread out brownie batter.

Crumble mint Oreos over the top of the brownie batter. You can gently press the cookies into the brownie batter.

Bake for 20-25 minutes until set.

Remove from oven cool, before lifting the brownies out with the parchment paper and cutting the brownies
Notes
You can use a boxed brownie mix in replace of homemade if you would like. Feel free to swap Mint Oreos with any other variety of brownies or cookies. Even a chocolate chip Chip Ahoy could be tasty. You can double the recipe to bake in a 9×13 pan to feed a larger crowd.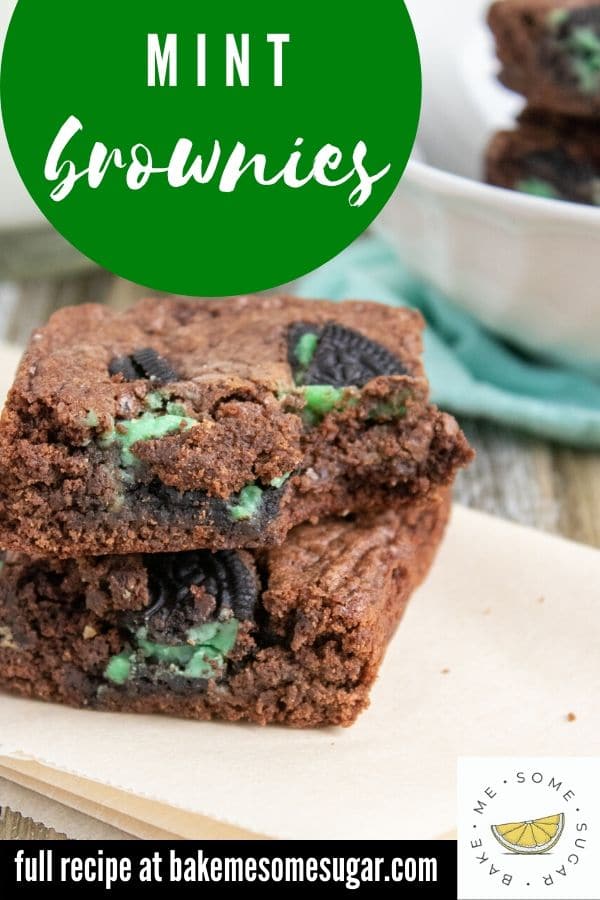 Let me know what you think about this homemade brownie recipe! Mint Oreo brownies are such a treat.
Reader Interactions