Crumble Burgers Instant Pot Recipe is a simple ground beef instant pot recipe. Loaded with tasty spices, onions, peppers, and pressure cooked to perfection.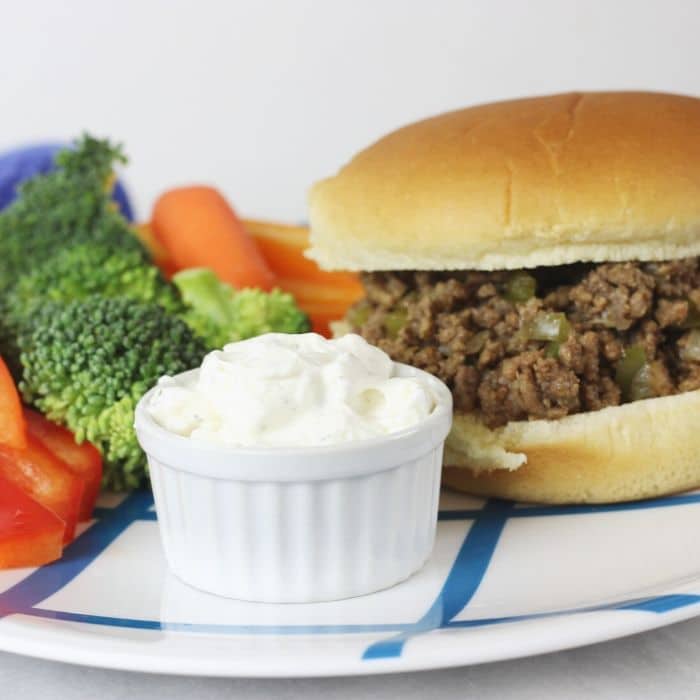 Crumble Burgers are something that we eat a lot in the Midwest. If you are familiar with Nu-Way they are well known for the perfect crumble burger. These crumble burger instant pot recipe is crazy easy and loaded with flavor.
Home-cooked crumble burgers are filled with seasonings and spices and then I added peppers and onions for added flavor. Pile on a bun and add a splash of ketchup or mustard and dive in.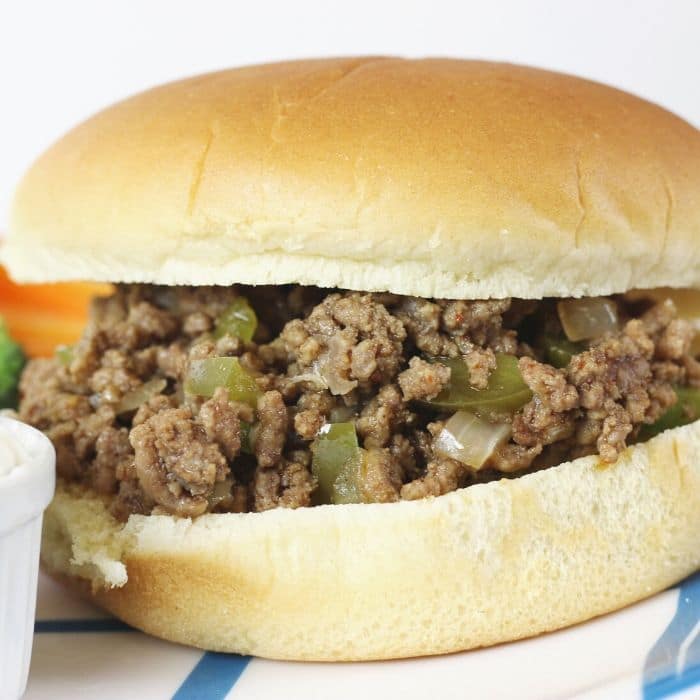 Try my oven baked burgers, they are so juicy and flavorful! Great to top a bun or throw in lettuce leaf for a low carb option.
How To Make Crumble Burgers
Crumble burgers are SO easy! Start by cooking your ground beef on saute in the Instant Pot. Add in pepper and onions and cook until they are soft.
Add in spices and liquid, and pressure cook for 5 minutes with a quick release. Give a stir and pile on buns!
See how easy they are to make.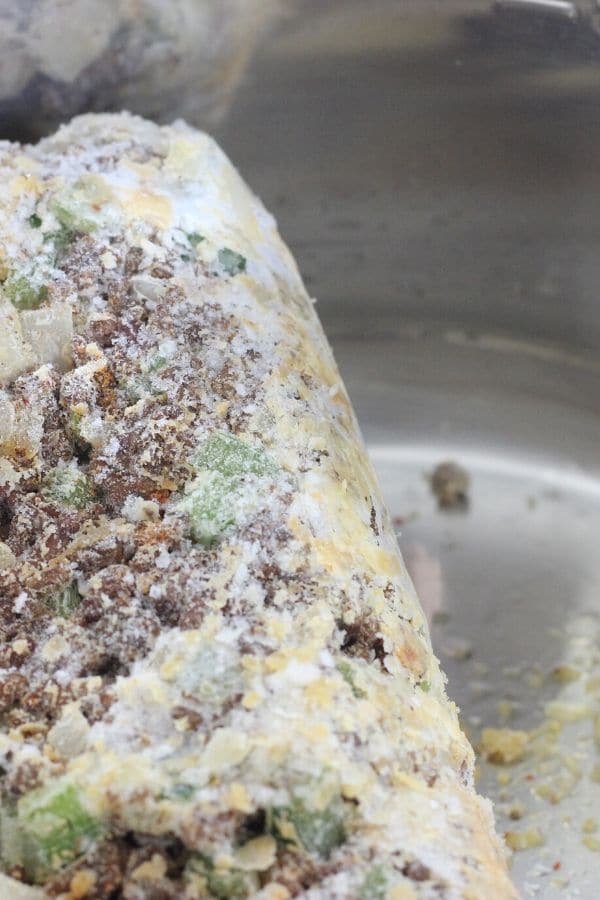 Freezer Meal Crumble Instant Pot Burgers
I also use this recipe to meal prep with a freezer meal. This Instant Pot freezer meal is crazy easy to make. I share all the directions in the recipe card below on how to freeze and cook your burgers.
The biggest thing is cooking your meat, then pile all ingredients but water into the freezer bag. Toss in the freezer until you are ready to eat.
What To Serve With Crumble Burgers
Crisp Veggies and Dip
Side salad or chopped salad
Chips
Fries, etc
You can pair this with almost anything. I did some fresh veggies and dip the other night. It added a nice lightness to the dish. These burgers are fantastic no matter how you serve it up.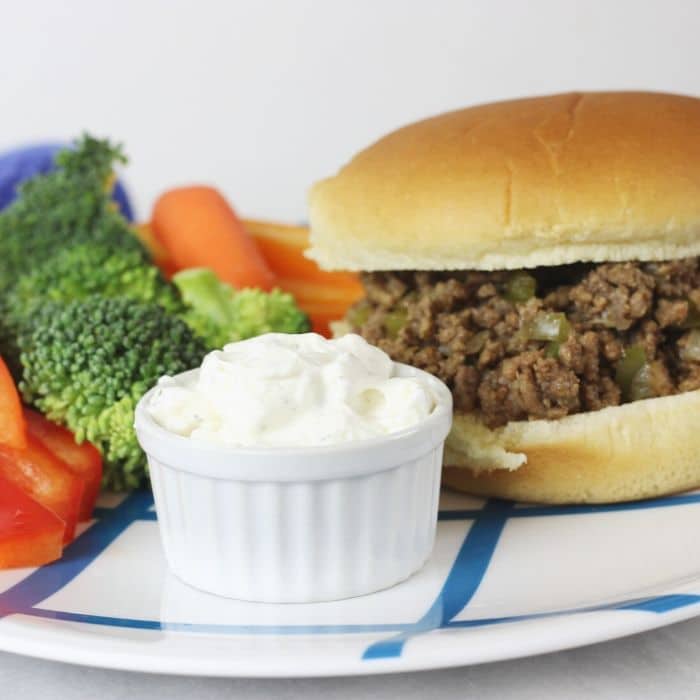 Why Make Crumble Burgers
Perfectly Seasoned
Easy to make
Quick
Tasty and Different
Why not make a crumble burger? It is something different than a classic burger but still loaded with an insane flavor!
Do I Have To Add Onions and Peppers To Recipe
No, you sure don't have to add onions and peppers into the recipe. I did because I find it offers a lot more flavor to the meat. But if you are not a fan leave it out.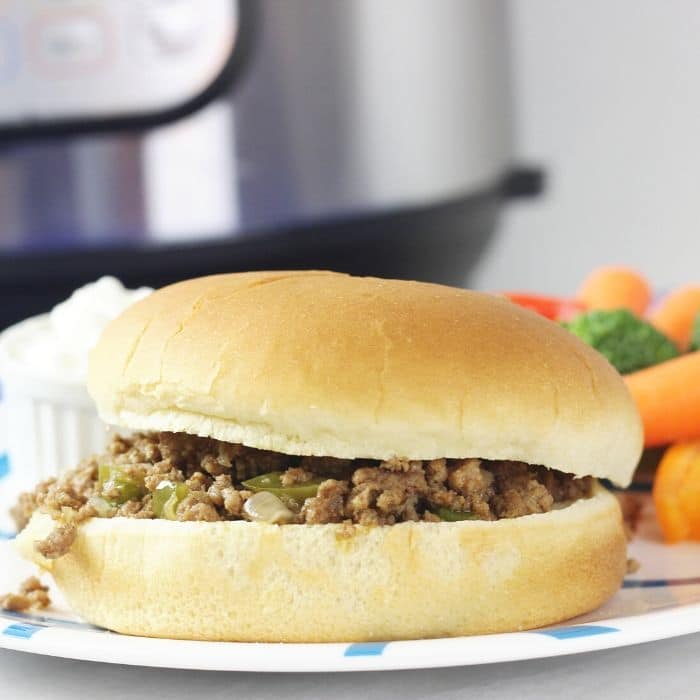 Can I Make Crumble Burgers on Stove Top
Cook ground beef in a skillet on medium heat. Crumble small, and drain off excess fat.
Add in all the ingredients listed below and allow the burger to cook down for around 10-15 minutes on low heat. Stirring occasionally.
Once the water cooks off you can give another good stir and pile on buns.
How To Get Small Pieces of Ground Beef
I use my Ground Beef Chopper my mother-in-law got me years ago. I use it for any type of meat I want to chop up.
You can get your meat super fine in no time, and it helps stretch the meat as well.
Check out More of My Favorite Instant Pot Meals
Instant Pot Sausage Rigatoni | Instant Pot Sausage Rigatoni is loaded with ground sausage, tender pasta, in a creamy and cheesy sauce.
Italian Beef Instant Pot | Italian Beef Instant Pot Recipe is loaded with incredible flavor. I pile on buns and dive in!
Instant Pot Chicken Caesar Wraps | Instant Pot Chicken Caesar Wraps are crazy simple to make. Use a low carb wrap for a light lunch and enjoy. These are made with pre-shredded cooked chicken.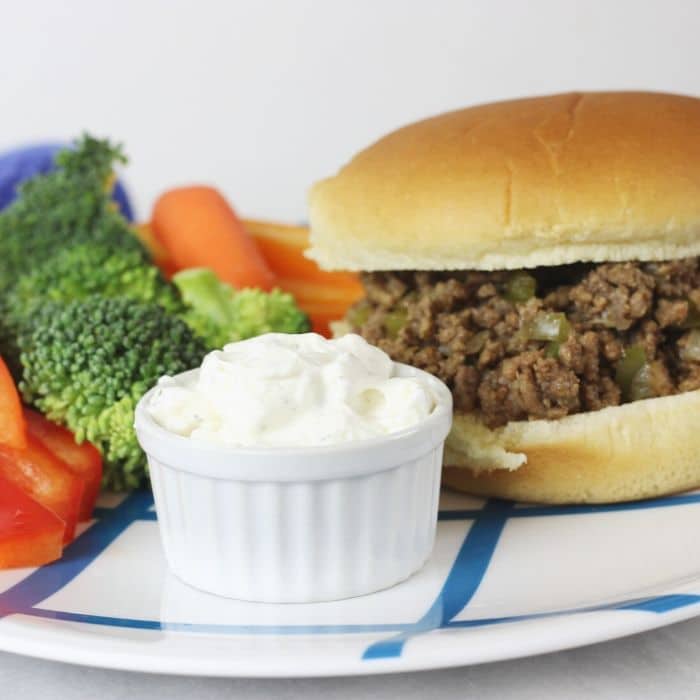 Crumble Burgers Instant Pot Recipe
Servings 4 -6 Burgers
Crumble Burgers Instant Pot Recipe is a simple ground beef instant pot recipe. Loaded with tasty spices, onions, peppers, and pressure cooked to perfection.
Ingredients
1 lb ground beef
1 tablespoon oil
1 green pepper chopped
1/2 cup yellow onion chopped
1 teaspoon chili powder
1 tablespoon Worcestershire
1 teaspoon Soy sauce
1/2 teaspoon dry mustard
salt and pepper to season
1 cup water or beef broth
Instructions
Turn Instant Pot to saute and toss in your ground beef and peppers and onions. Cook until meat is no longer pink.

Then add in all the other ingredients, stir, and cover and seal Instant Pot.

Cook for 5 minutes on high pressure, and do a quick release.

Stir and top buns and dive in.
Notes
Instant Pot FREEZER Meal Directions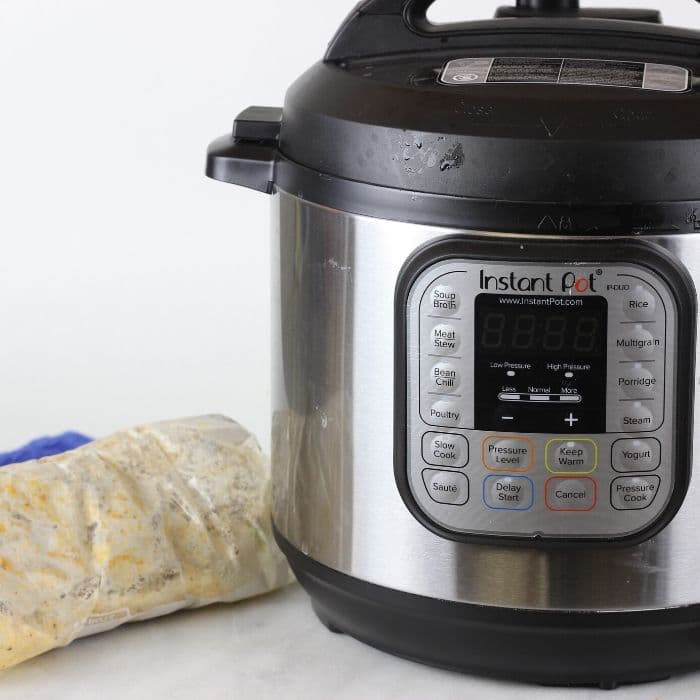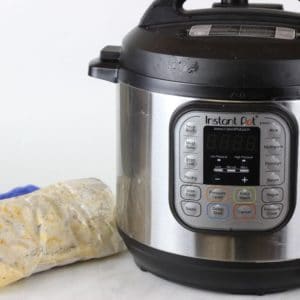 1. Cook 1 lb of ground beef and then put in a gallon freezer bag.
2. Add all ingredients except the 1 cup water or broth. Get all the air out and toss in the freezer for up to 3 months.
HOW TO COOK CRUMBLE BURGERS FROM FROZEN
1. Toss meat mixture in Instant Pot. Add 1 cup of water or broth.
2. Seal pressure cooker and cook on high 5 minutes, with a quick release.
3. Pile on buns and enjoy.
Nutrition
Serving: 1gCalories: 248kcalCarbohydrates: 4gProtein: 21gFat: 16gSaturated Fat: 5gPolyunsaturated Fat: 8gTrans Fat: 1gCholesterol: 67mgSodium: 359mgFiber: 1gSugar: 2g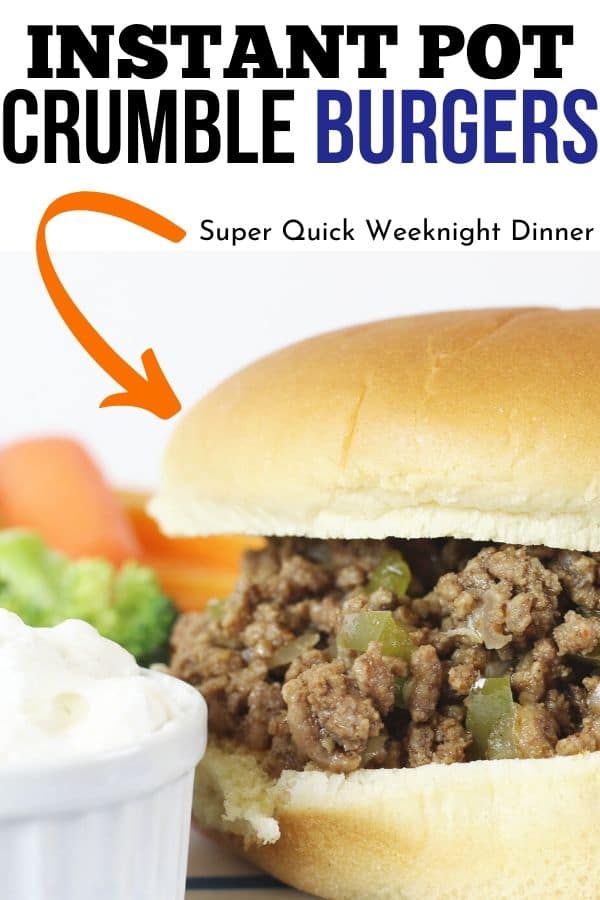 Loose meat burgers, crumble burgers, maid rites, however, you call it these are a delight.
Reader Interactions