Spicy crab melts are an English Muffin topped with a creamy and cheesy crab spread that has a little heat. Perfect for a light dinner or snack any time of day.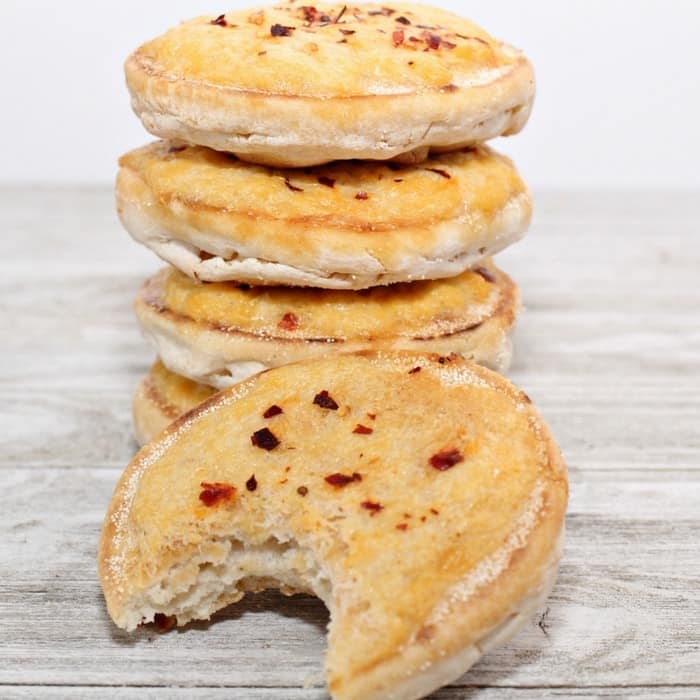 These Crab English Muffin Melts also known as Crabbies, are a creamy crab mix that you put on top of an English muffin for a perfect snack or even light dinner.
Crab English Muffin Melts
With summer on the horizon, they are perfect to make on a hot summer day. Serve up with a side of lemonade or iced tea and you have a treat.
This crab melt recipe is one of my favorites, that we have used for years because it is simple, quick, and full of seafood goodness. This is an easy crab recipe that makes you feel close to the ocean.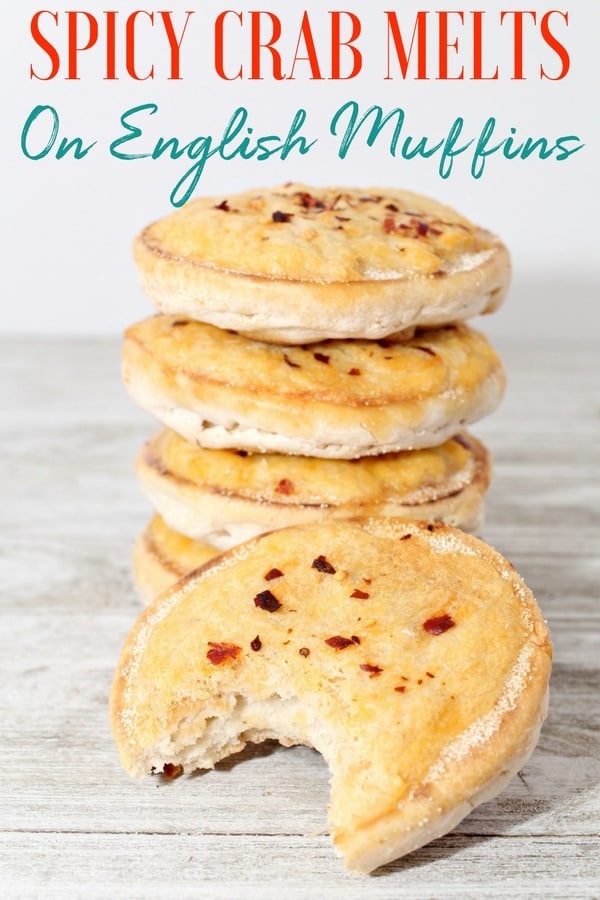 The reason I love making crab melts with English muffins is the little crevices in the muffins are a perfect hiding spot for the creamy mixture to melt down into.
Crab Melt Recipe
Then with each bite, you get that crispy English muffin texture paired with the spicy and creamy crab mixture. It really is the perfect pairing of flavors and textures. This crab melt recipe is a favorite of mine.
What To Serve With Your Dish
Add a bowl of fresh fruit, side salad, coleslaw, or even just some salty chips and it can make a light lunch as well.
Spicy Crab English Muffin Melts
If you are not a fan of heat, you can totally keep the chili pepper spice out of the recipe, and you will have a very mellow crab melt.
Which for the record tastes just as good. Crab English muffins are versatile.
I prefer to have minimal heat to mine while my husband likes to even go the extra mile and add in some hot sauce on top. He loves heat, while I can't take it! The hot sauce on top will really perk up the flavors.
How to Make Crab Melts On English Muffins
Just simply set the heat on your oven to 400 degrees, then place your English Muffins on the baking sheet and set aside.
Next in a bowl mix up your butter, mayonnaise, cheese, garlic salt, and crab meat until nice and creamy.
Then spread some on each muffin and freeze for an hour. Once it is done freezing sprinkle with chili peppers and toss in the oven for 15 minutes or until golden brown!
Add a splash of hot sauce at the end for even more of a spicy flavor.
Crab Melts With Old English Cheese
Now you can use canned crab or buy lump crab if your store carries it. Either works good and you will get that crab flavor with either, it is totally preference. I also love the flavor the Old English Cheese gives, it has a nice tangy bite, and really pairs nicely with crab meat.
As you can see a very easy recipe to make, and these are scrumptious. This crab melt recipe is one to save and make for when you have guest over and want simple appetizers, for a weeknight dinner that is no fuss and those late night snack cravings.
Craving More Seafood Recipes
Crab Melts
Crab melts with old English cheese couldn't get any easier, or tasty in my books.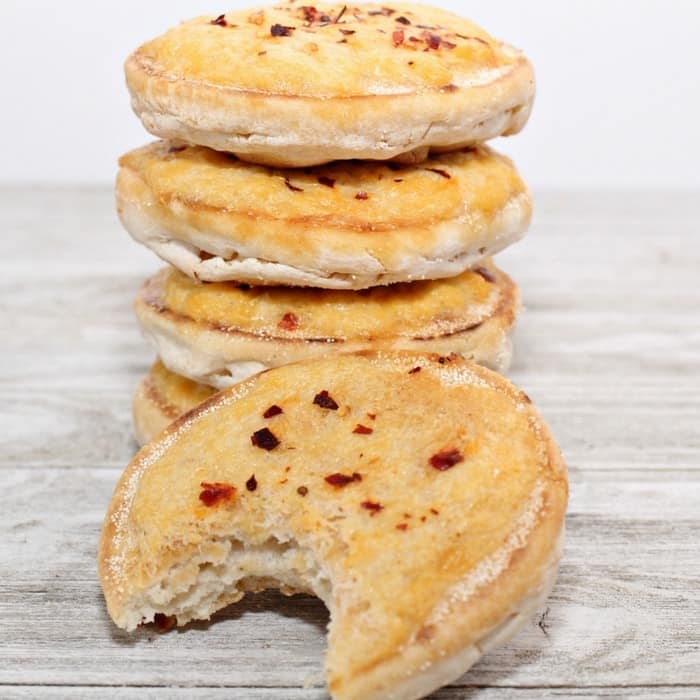 Spicy Crab Melts on English Muffins
Servings 6 muffins
Spicy crab melts are an English Muffin topped with a creamy and cheesy crab spread that has a little heat. Perfect for a light dinner or snack any time of day. 
Ingredients
1/2 cup softened Butter
1 jar 5 oz Old English Cheese
1 1/2 tsp Mayonnaise
1/2 tsp Garlic Salt
7 oz Crab Meat
6 English Muffins
Chili Pepper Spice (Optional)
Hot Sauce (Optional)
Instructions
Lay out your English muffin halves on a baking sheet. You can lay parchment paper down on it if you want.

Next in a bowl mix in your crab meat, mayonnaise, garlic salt, Old English Cheese, and softened butter. Once it is nice and creamy spread the crab mixture to each muffin. Toss in the freezer for 1 hour. 

Preheat the oven to 400 degrees and then toss your frozen crab muffins into the oven for about 10-15 minutes or until nice and golden brown. 

Once done you can add in chili pepper spice or even a splash of hot sauce for some heat. Serve and enjoy. 
Nutrition
Serving: 1muffinCalories: 327kcalCarbohydrates: 27gProtein: 12gFat: 19gSaturated Fat: 11gPolyunsaturated Fat: 7gTrans Fat: 1gCholesterol: 78mgSodium: 708mgFiber: 2g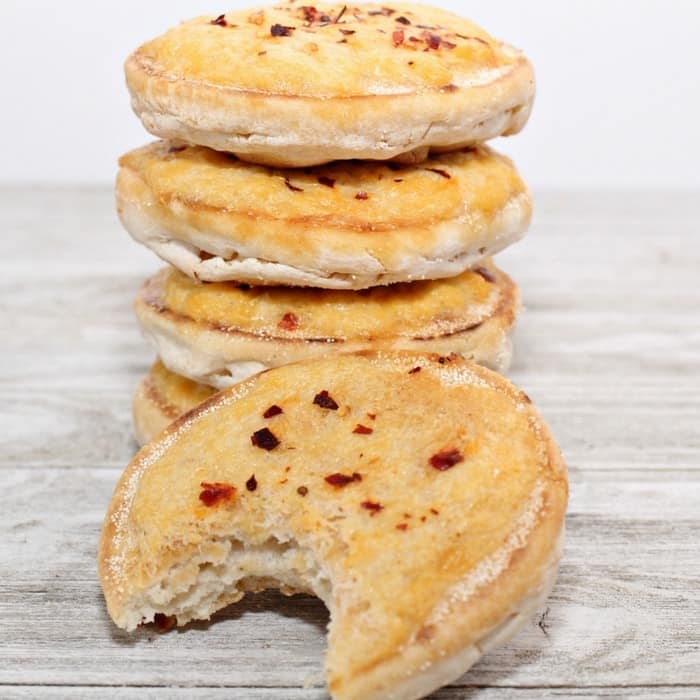 What is your favorite seafood dish? These Crab English Muffin Melts are one of our favorites along with a Lemon Garlic Shrimp!
Reader Interactions