Light and refreshing slow cooker Greek slow cooker chicken gyros with tzatziki sauce. Whip up on a busy work day for a tasty dinner when you come home.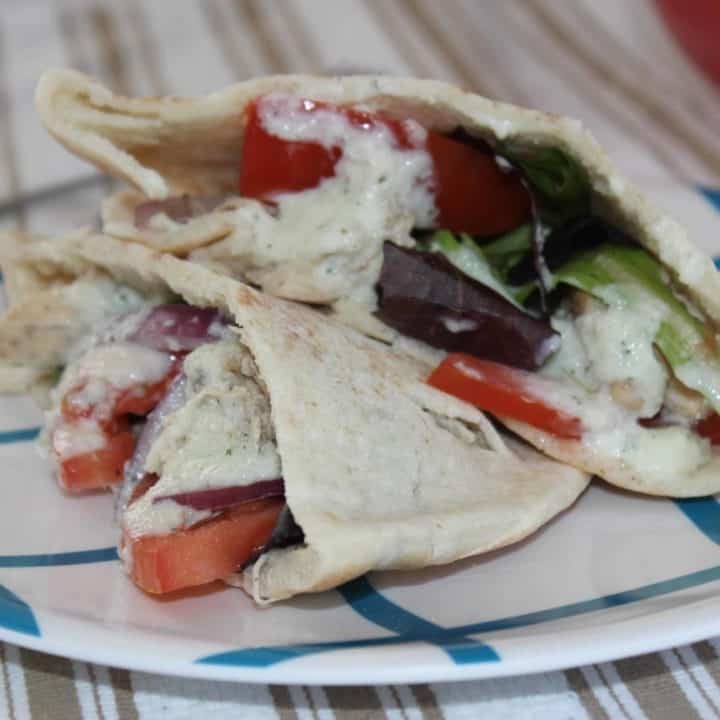 Slow Cooker Chicken Gyros are a great weeknight dinner with a tzatziki sauce. Crockpot Gyros are a must-make recipe.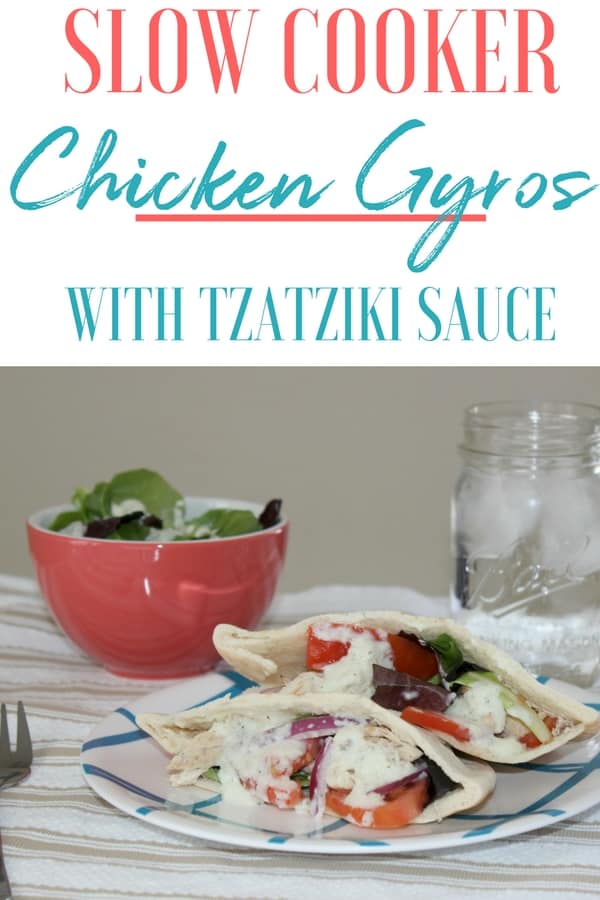 Slow Cooker Chicken Gyros 
Pile on fresh tomatoes, greens, red onions and dive into this dish. I used pita bread for my gyros. Get your favorite Greek flavor at home, and skip ordering takeout. 
Crockpot Greek chicken that you can pile onto pita bread and sink your teeth int. 
How To Make Chicken Gyros In The Slow Cooker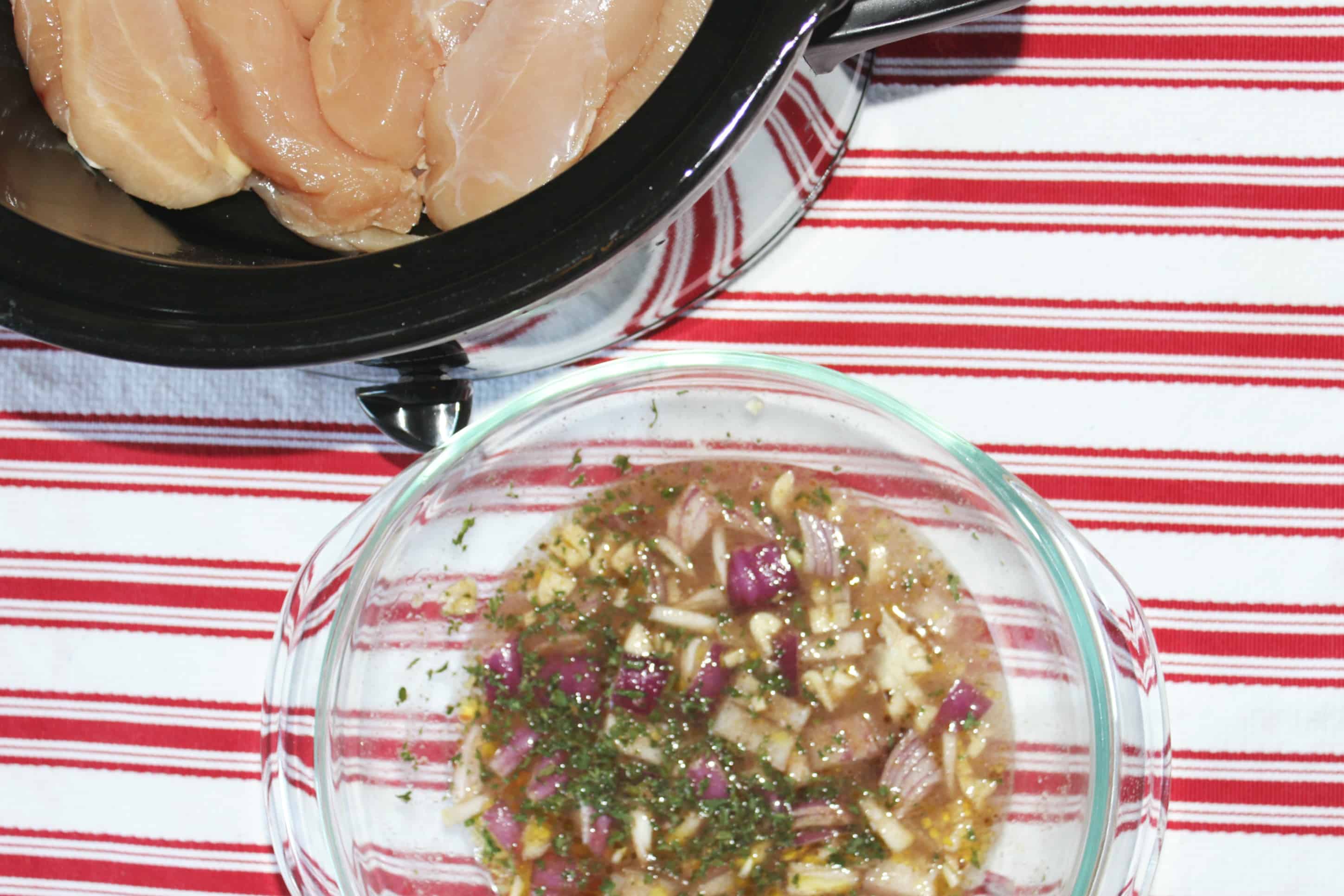 To make your slow cooker gyros, you will add your chicken into the slow cooker. Create your marinade that you pour over the chicken and cook as directed to recipe card. 
Whip up your homemade tzatziki sauce, and let it sit in the fridge through the day to blend the flavors. 
Once done, shred chicken, pile on toppings in a warm pita and dive in. 
Slow Cooker Chicken Gyros 
If you are wanting to try my slow cooker chicken gyros recipe, then follow the steps to make an incredible dinner. 
You make the sauce in the morning and let it marinade through the day to get that vibrant flavor you know and love.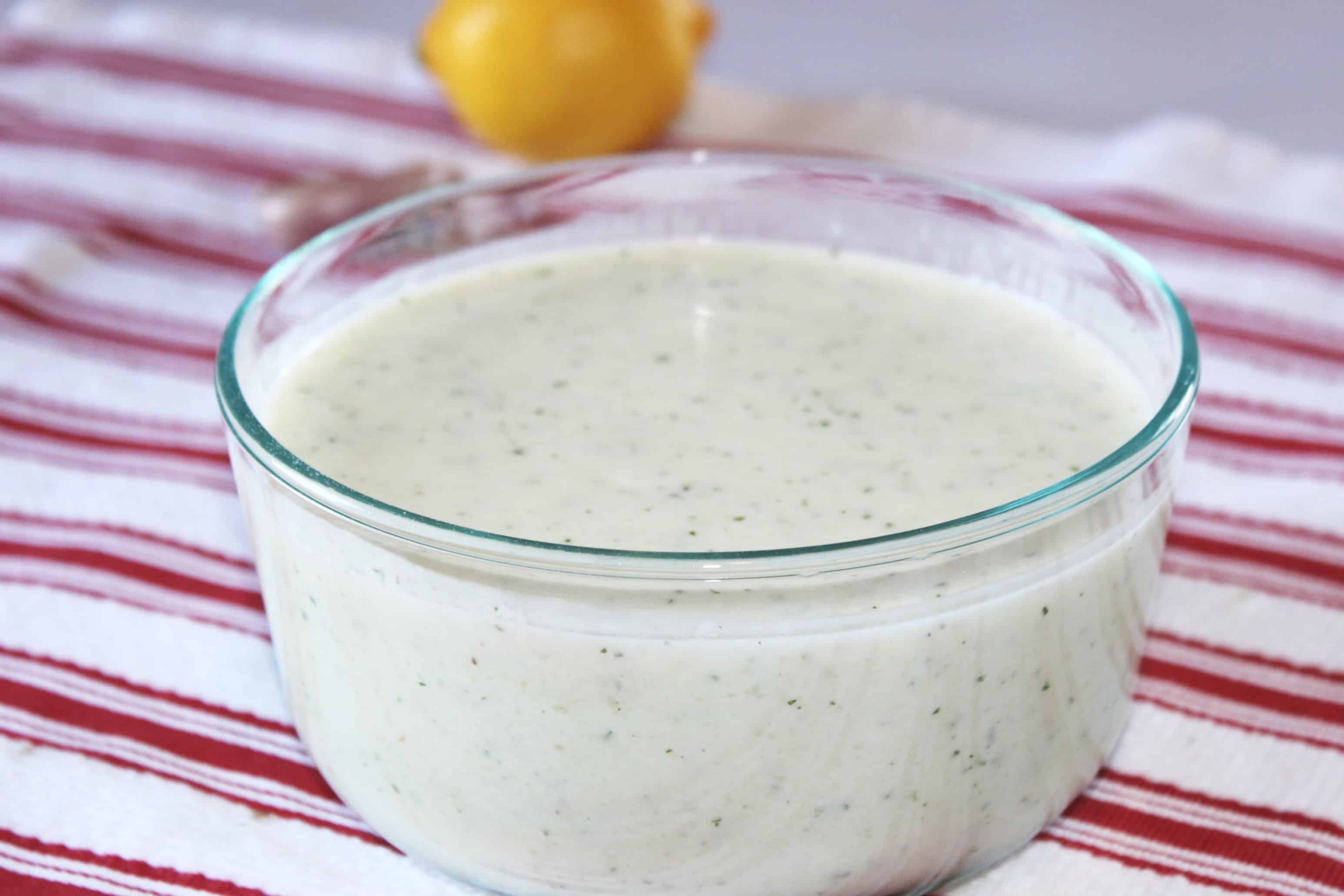 As you can see this is a very simple recipe. You just toss in your Gyros ingredients into the slow cooker, set it to cook and then whip up your sauce. I used pita pockets, but our store was out of pita bread. Either way, it tastes amazing.
Tools That Are Helpful For This Recipe 
Here are some tools you might find helpful when it comes to making your chicken gyros. 
Claws to Shred Chicken 
I use these claws to shred the chicken, they work great on other meats as well as pork roasts, beef roast and more. 
Liners for Easy Cleanup 
Then the slow cooker liners are great to add in to make for easy cleanup. I had just run out of them when I made this recipe. I forgot how handy they are.
The liner protects the food from getting stuck to the sides, and it is a breeze for cleanup. 
Check out more tasty dinner recipes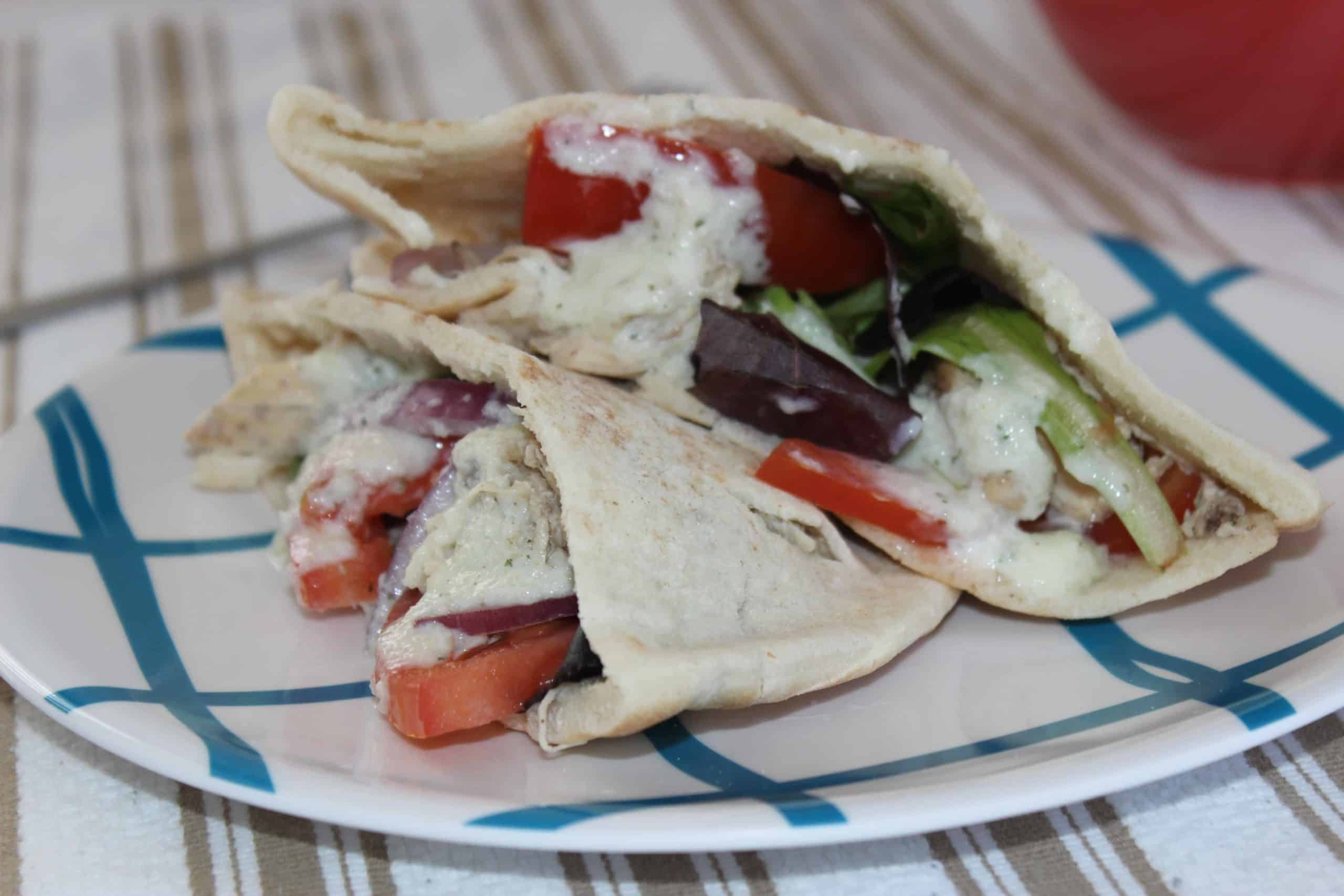 Slow Cooker Greek Chicken Gyros
Servings 6 -8 gyros
Light and refreshing slow cooker Greek slow cooker chicken gyros with tzatziki sauce. Whip up on a busy work day for a tasty dinner when you come home. 
Ingredients
Gyros
1 lb chicken breast or tenderloins
1/2 cup diced onion
2 tbsp oregano
1/2 tbsp red wine vinegar
1 garlic cloves minced
1/4 cup water
1/3 cup fresh lemon juice
Tzatziki Sauce
2 cups plain yogurt can be greek if you prefer
1 clove of garlic
1 cup cucumber peeled and seeded (finely grated)
salt and pepper to taste
1 teaspoon white wine vinegar
1 teaspoon lemon juice
1 teaspoon parsley
1/2 teaspoon oregano
Pita Bread
Tomato Onion, Greens , (optional toppings)
Instructions
First, you want to spray your slow cooker with cooking spray or put in a liner. Then lay down your raw chicken in the bottom of the slow cooker. 

In a bowl add all the other ingredients for the gyros and mix in a bowl. Onion, garlic, salt, pepper, lemon juice, red wine vinegar, oregano, and water.

Pour the mixture over the chicken, and let it cook on low 6-8 hours or 4-5 hours on high. 

Then in a food processor or blender add all the ingredients for your sauce. Yogurt, finely grated cucumber, garlic, white wine vinegar, spices, and lemon juice. Pulse on low until it is a smooth sauce. This has to set for at least 1 hour before serving. I put mine in the fridge and let it marinade through the day, it will give the tzatziki sauce the best flavor.

When your chicken is done, shred with some forks or a shredder, and then you can assemble your gyros. Add your chicken, fresh greens, and tomatoes, and then top with your sauce, and dinner is served. 
Nutrition
Serving: 1gyroCalories: 217kcalCarbohydrates: 15gProtein: 25gFat: 6gSaturated Fat: 2gPolyunsaturated Fat: 3gCholesterol: 61mgSodium: 340mgFiber: 2gSugar: 6g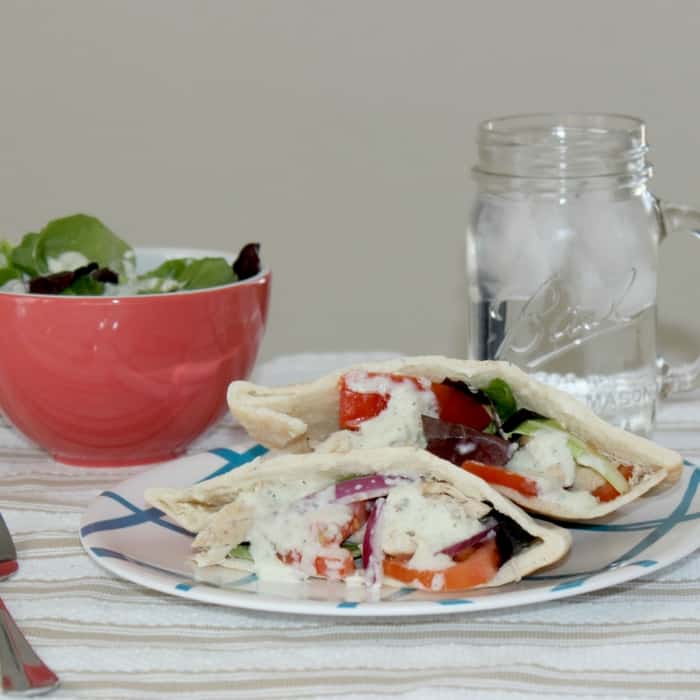 What is your favorite slow cooker recipe? 
Reader Interactions