Instant Pot Irish Soda Bread or Soda Bread, is a dense bread that is great for pairing with your dinner.
Instant Pot Irish Soda Bread
Irish Soda Bread is one recipe that has been around for many years. Some Irish Soda Bread recipes use caraway seeds, raisins, and others take a more savory take.
New to Instant Pot Cooking
Irish Soda Bread
Irish Soda Bread is often paired with Corned Beef and Cabbage! You can serve it up for breakfast with a little jelly or jam on top, or eat it with a slab of butter.
Why Use Buttermilk In Soda Bread
You use buttermilk in soda bread because the acid in the buttermilk will react with the baking soda that will be the bread's leavening.
Hence the name, soda bread.
How To Make Homemade Buttermilk
If you don't have buttermilk on hand, just reach for white distilled vinegar and milk.
You can make homemade buttermilk that will work in the recipe. It won't be as thick, but it will work.
1 cup milk
1 tablespoon white distilled vinegar or fresh lemon juice
Allow the mixture to sit for 5 minutes and then stir and use it in your recipe. Make as much as you need.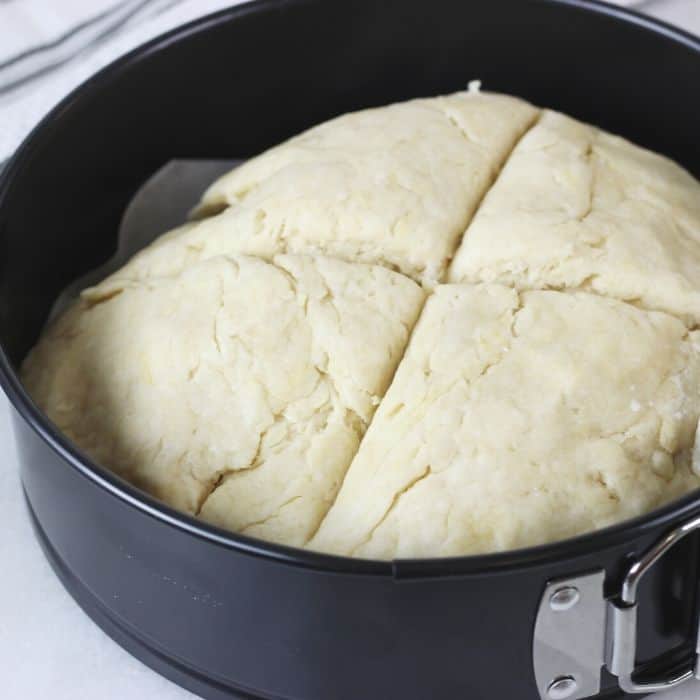 Why Put A Cross In Middle Of Irish Soda Bread
You will put a cross in the center of your bread so that it can allow the bread to cook all the way through. Plus it is a traditional look just like imprinting peanut butter cookies!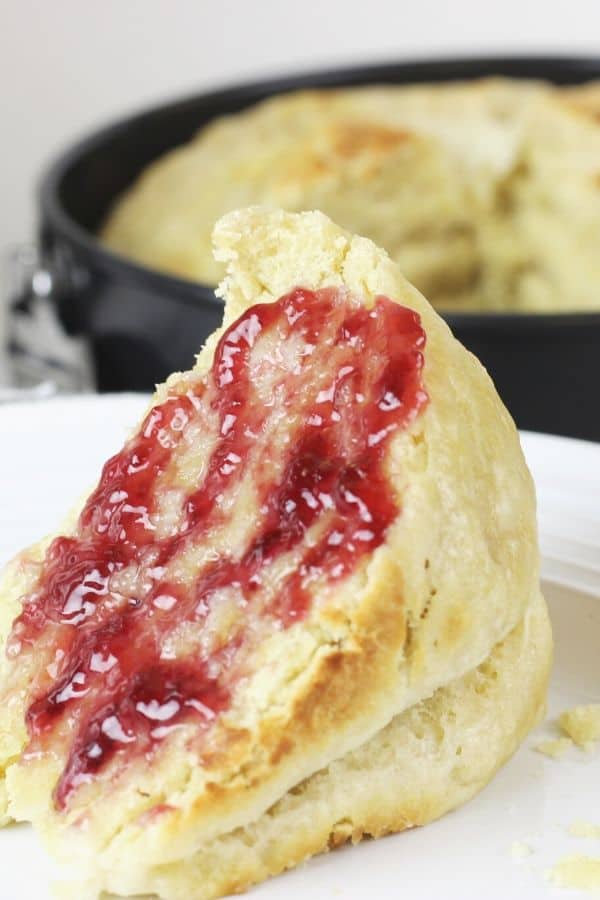 How Long Does Irish Soda Bread Last
Wonder how long does Irish soda bread last? Well, unfortunately, this bread is one that needs to be eaten within the first day or two.
I love to eat this bread warm, fresh out of the oven. Or I will toss in the microwave to reheat a slice for that fresh out of the oven taste.
Can You Freeze Soda Bread
You can freeze your soda bread. Allow the bread to fully cool from being cooked, and then wrap in aluminum foil two times.
I then place the aluminum foil wrapped bread in a freezer bag and then freeze for up to two months.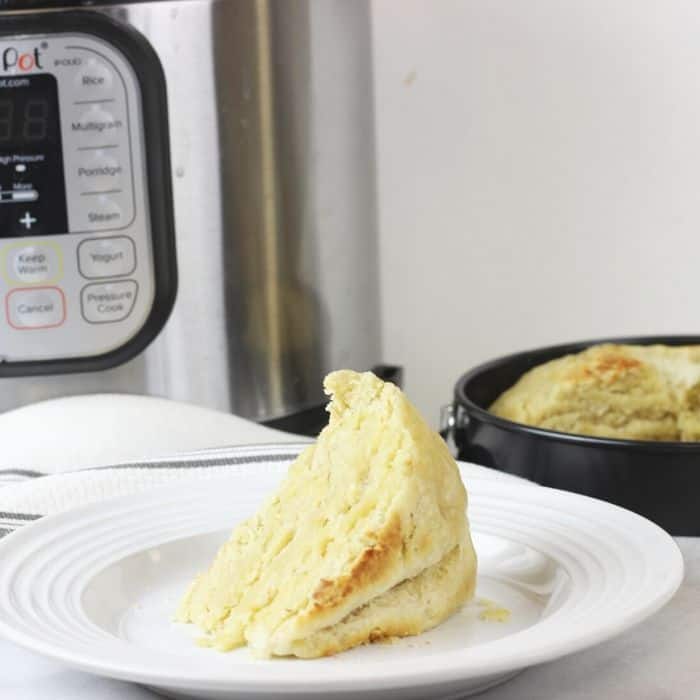 Variations To Instant Pot Soda Bread
Add in raisins
Caraway Seeds
Everything Bagel Seasoning
Leave sugar out for a savory option
Rosemary
Etc
Truly the sky is the limit. This soda bread recipe is a very simple bread that is versatile on flavor.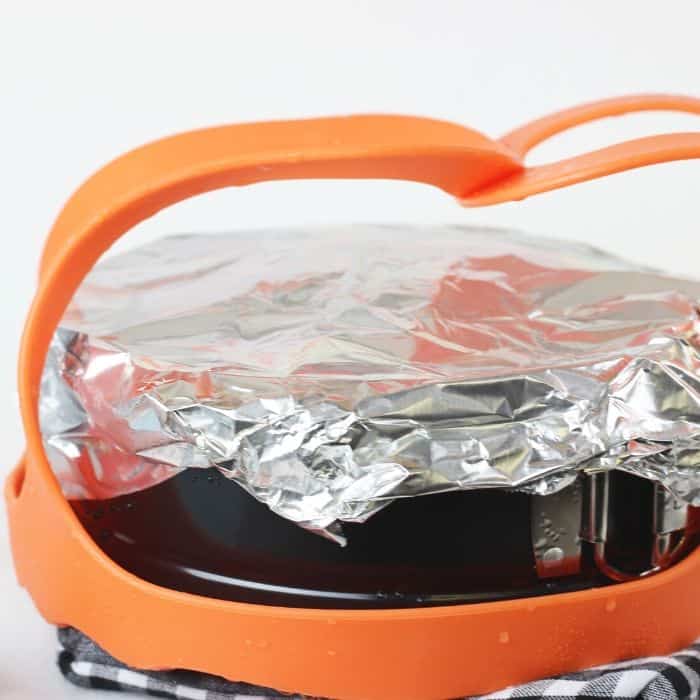 How To Cook Soda Bread in Pressure Cooker
Mix up the soda bread dough, I share full instructions in the recipe card below.
Knead your bread for just a minute, and then transfer into a parchment-lined pan. Brush with butter and buttermilk mixture.
Add water into the pressure cooker with trivet, and then use a sling to place bread in the pressure cooker.
Pressure cook for 45 minutes, with a 15-minute natural release.
Then air fry the top or place in the oven under broil to brown up the top.
Looking for More Instant Pot Bread Recipes
What Pan To Use For Irish Soda Bread For Instant Pot
I used my 7-inch springform pan, but a cake pan would work just as good. Then I used my silicone sling for easy removal out of the pressure cooker.
I used my Instant Pot Duo Crisp, so I could cook the bread and then switch over the lid to the air fryer lid to toast up the top of the bread.
You can also use a regular Instant Pot and then broil in the oven. A 6quart or 8 quart instant pot works well for this.
For a 6 quart Instant Pot – Use 1 cup water
For a 8 Quart Instant Pot – Use 2 cups of water
Instant Pot Irish Soda Bread
Servings 1 loaf
Instant Pot Irish Soda Bread or Soda Bread, is a dense bread that is great for pairing with your dinner. Skip the oven and use your pressure cooker to make soda bread from scratch.
Ingredients
3 1/2 cups all purpose flour
2 tablespoons granulated sugar
1 teaspoon baking soda
Dash of Salt
1 teaspoon baking powder
1 egg room temperature
1 cup buttermilk
1/2 cup of butter melted
Topping
3 tablespoons buttermilk
2 tablespoons butter melted
Instructions
Start by pouring 1 cup of water into your Instant Pot and set the trivet on top.

Now in a bowl add your all-purpose flour, sugar, baking soda, a dash of salt and baking powder. Give it a quick stir to incorporate the dry ingredients.

Next, you will add in your egg and buttermilk. Give it a gentle stir, to create a wet mixture for your soda bread.

Then pour in your 1/2 cup butter to the wet ingredients and mix.

Toss out on a floured counter and knead gently till it is incorporated. Form the Irish soda bread dough into a bowl.

Place the dough in the pan with a parchment-lined bottom.

Take a butter knife and cut an X in the bread dough.

Lightly cover the soda bread dough with aluminum foil and then sit in your sling and put in your Instant Pot.

Cook for 45 minutes high pressure, with your instant pot, sealed. Once it is finished, allow it to natural release for 15 minutes.

Quick-release the remaining pressure and then remove your bread carefully.

Remove the aluminum foil and then use your air fryer lid to toast or place in the oven with high broil to toast up the top of the soda bread.

Slice and serve with butter, jam, or any other way.

This is an easy Irish soda bread recipe you will enjoy making in your pressure cooker.
Notes
Your Instant Pot Soda Bread will store for 2-3 days, it is best when served warm. If you want to add in raisins, caraway seeds, or any other seasonings to add flavor, just mix into the soda bread dough. Then bake accordingly.
Nutrition
Serving: 1gSodium: 345mgSugar: 4gFiber: 1gCholesterol: 50mgCalories: 290kcalPolyunsaturated Fat: 4gSaturated Fat: 8gFat: 13gProtein: 6gCarbohydrates: 37g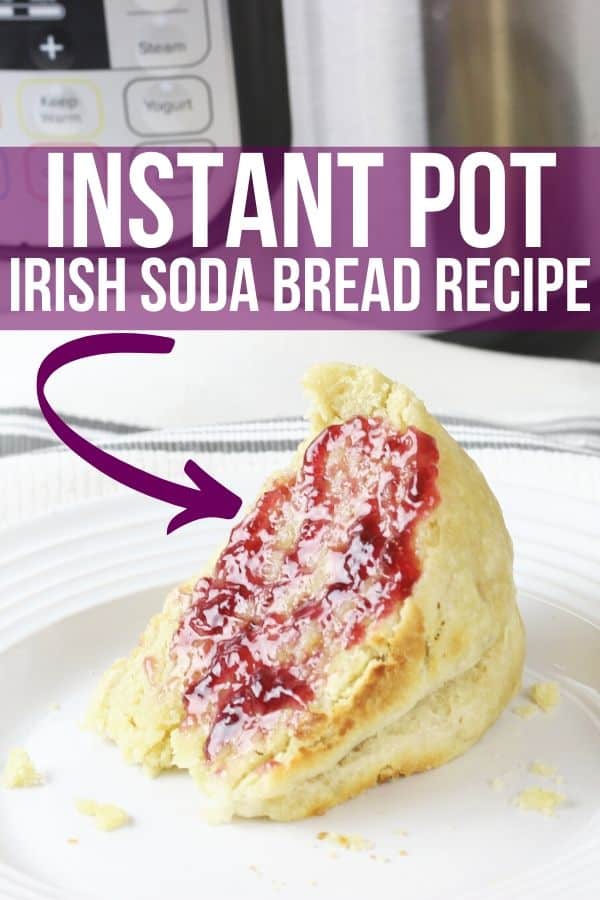 Try this Easy Irish Soda Bread Recipe
Reader Interactions