Air Fryer Brussel Sprouts are a super simple recipe that you can easily cook up in your Air Fryer! Just wait until you give these roasted Brussel Sprouts with parmesan a try! A keto side dish, that is loaded with crunch and flavor.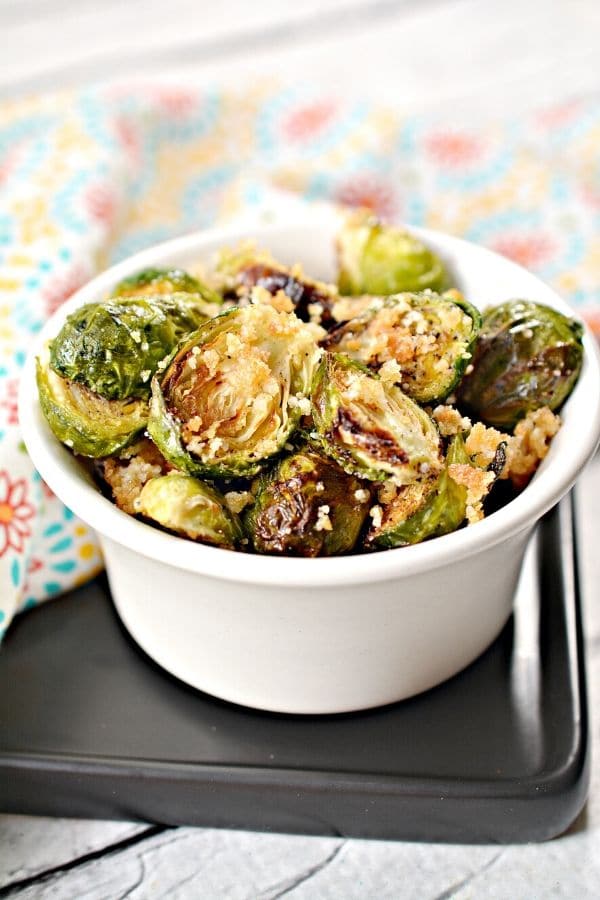 Air Fryer Brussel Sprouts
In a matter of minutes, you're going to have perfectly cooked Brussel Sprouts that everyone (even the kids!) are going to be gobbling up!
I'm actually a big fan of Brussel Sprouts but I know that some people tend to not appreciate them the way that I do.
But in all reality, they're just adorable (and delicious) baby cabbages, right? I love how easy they are to eat and they have such a great flavor that compliments almost any meal.
I am an Amazon Affiliate, so if you purchase through my link I can earn a commission on sales.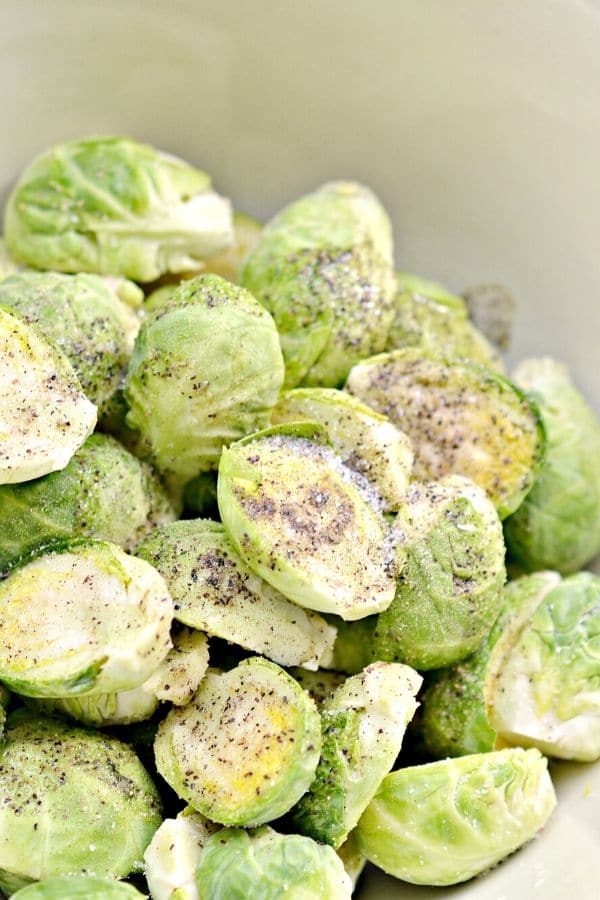 Air Fryer Side Dish
This is why I'm super excited to be sharing this simple Air Fryer recipe with you today. This is such an easy air fryer side dish for any day of the week.
It's going to change up everything that your family thought they knew about vegetables and they're going to actually crave this method so much more!
What I think really gets people's attention about these Brussel Sprouts is the texture that the Air Fryer gives them.
They just have this awesome crunch and crisp flavor that really can't be duplicated any other way.
Searching For More Air Fryer Recipes
Are Brussel Sprouts Healthy?
Yes, they're super healthy! In fact, Brussel Sprouts are considered a superfood that packs quite the nutritious punch. Not only are they high in fiber but they also have a lot of minerals and vitamins in them as well!
When you use your Air Fryer to cook them up, you're giving them a whole new life that your family didn't even know existed.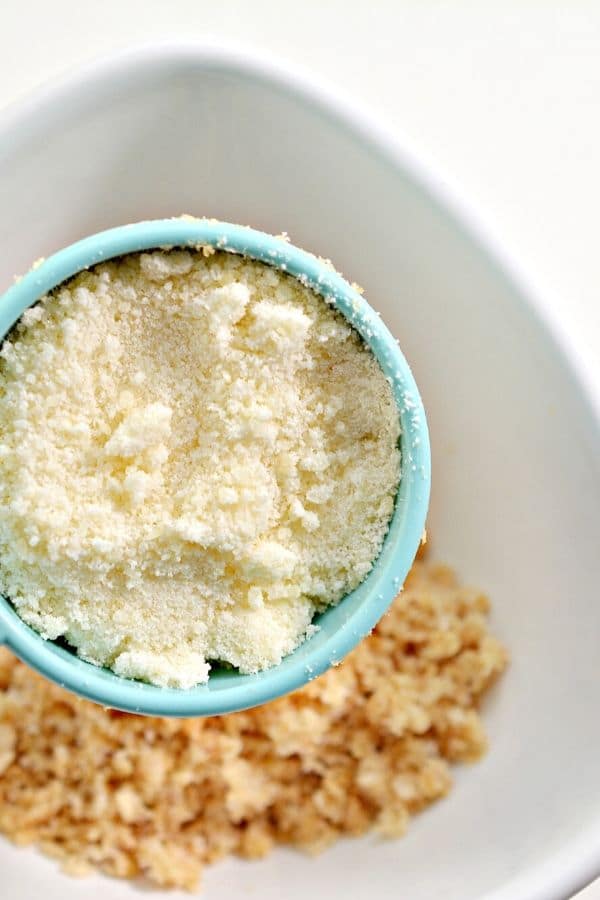 Is This Garlic Parmesan Brussel Sprouts Recipe Keto Friendly?
Yes, it is. If you're on the Keto diet and are looking to maintain your eating habits, this is one delicious side dish recipe that you have the green light on.
It's such an awesome feeling knowing that you've found a recipe that not only tastes great but keeps you on track as well.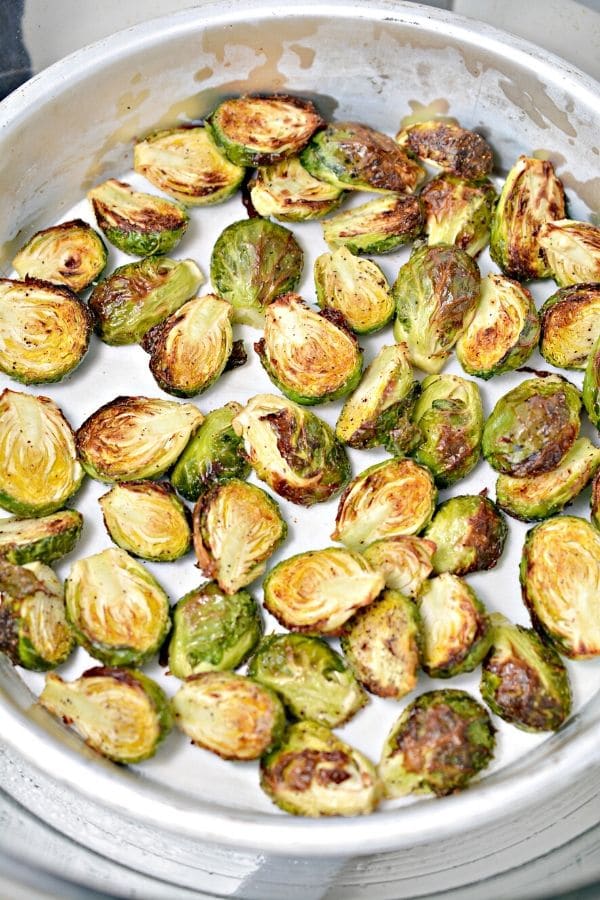 Are Air Fryer Brussel Sprouts Crispy?
The outer layer does have quite a nice crisp to it. But once you bite into the Brussel Sprouts, you're going to find that the center is perfectly delicious and soft like they're meant to be.
I like to think of the outer leaves my "crisp" and when you take a bite, it's so much fun to actually hear that crunch come through!
Plus, once you combine and add the toppings on top, that really brings out a lot of crispy goodness, too.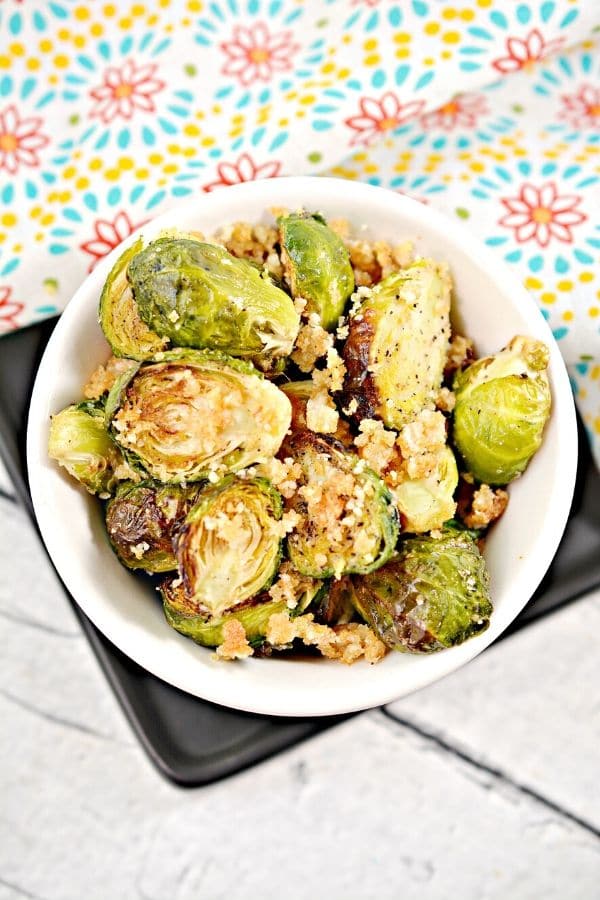 Can I Double This Recipe?
Yes, you can. You do have to be careful though when you're attempting to double this Air Fryer recipe.
One of the main recipes that the Air Fryer makes food cook so fast and crispy is that it has air circulating all throughout the interior of the Air Fryer.
If you have too many Brussel Sprouts stacked together or on top of each other, they're not going to crisp up at all.
To double this recipe successfully, make certain that you cook it in batches so that all the Brussel Sprouts have the chance to get crispy and to be cooked properly.
How to Store Leftover Air Fryer Brussel Sprouts
If you happen to have any of these Air Fryer Brussel Sprouts leftovers, you're going to want to store them in an airtight container and keep them in the fridge.
We try to eat all the leftovers in our house within a 48-hour timeframe so that they taste the best and most fresh at that time.
Just keep in mind that once the Brussel Sprouts cool down and are added to the fridge, they're going to lose that crisp out edge.
It will still look cooked (and will be cooked) but you won't have that same crunch factor as to when they're pulled straight from the Air Fryer.
To reheat, you can put them in the microwave for about 30 seconds and check the temperature after that. If you need to heat them for more time, do so.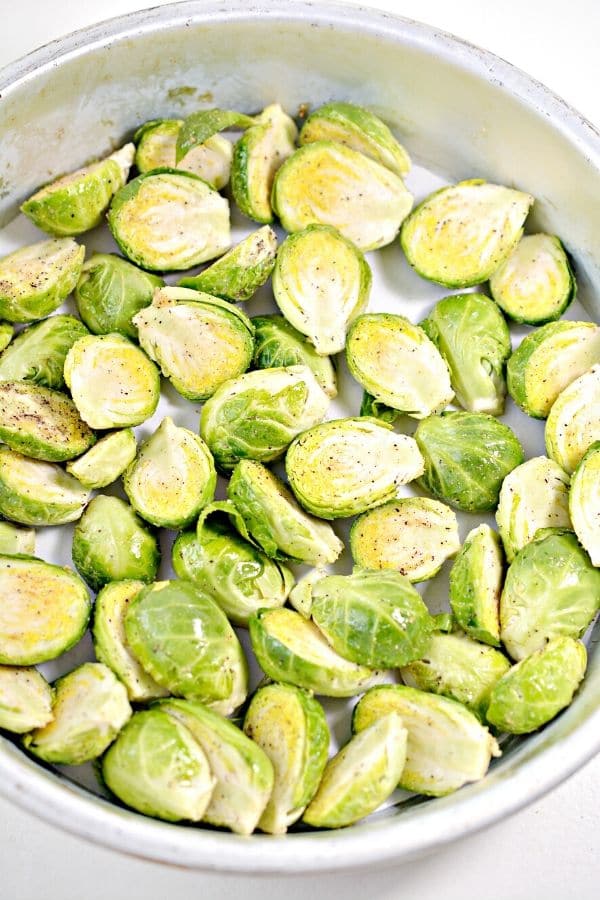 Do you have to cut the Brussell Sprouts in half to Air Fry them?
You don't have to, but this is the way that works best to have them cook all the way through in the most efficient way.
Plus, cooking them in half gives you more bites to share with the ones that you live and even more crunchy outer edges to love as well.
Are you geared up and ready to learn how to cook your Brussel Sprouts in the Air Fryer? You're never going to want to go back to steaming them ever again!
How to Make Air Fryer Brussel Sprouts
As you can tell, this super simple recipe is a great way to have a delicious side dish option that your family will enjoy.
There's no hard part to this recipe which makes it a total breeze and the best part is that the Air Fryer takes over and does all the work for you!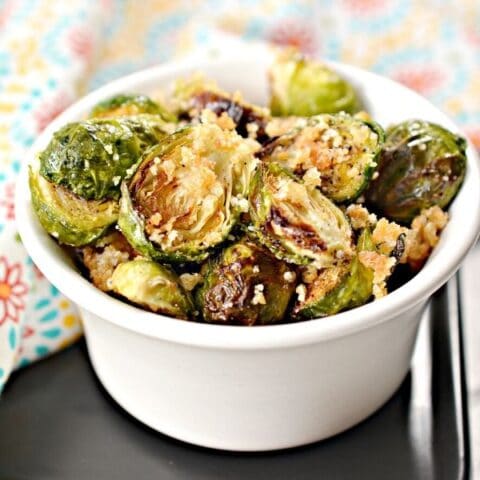 Air Fryer Brussel Sprouts
Air Fryer Brussel Sprouts is an easy air fryer side dish that is keto approved. Crispy Brussel Sprouts that are loaded with flavor.
Ingredients
1 lb Brussel Sprouts (trimmed and cut into half)
1/2 teaspoon garlic powder
2 tablespoons olive oil, divided
1/4 cup crushed pork rinds (or bread crumbs if not keto)
1/4 cup parmesan cheese grated
Salt and Pepper to taste
Instructions
Start by preheating your air fryer to 350 degrees.
Wash, prep and cut brussel sprouts in half. This will help them get extra crispy.
In a bowl place your halved sprouts, 1 tablespoon oil, salt and pepper to taste, garlic pwoder. Stir well so it is evenly coated.
Place your brussel sprouts on a lined tray with parchment paper. Or you can set them on an air fryer basket.
Cook for 8-10 minutes until the brussel sprouts begin to soften a bit and turn brown.
Then in a bowl mix your other part of oil, parmesan cheese, and pork rinds.
Remove partially cooked brussel sprouts and sprinkle with the parmesan mixture, and place back in your air fryer for 2-3 minutes until crispy.
Serve your air fryer brussel sprouts as a low carb side dish, snack, or main dish if vegetarian.
Nutrition Information:
Yield:

5
Serving Size:

1
Amount Per Serving:
Calories:

111
Total Fat:

8g
Saturated Fat:

2g
Trans Fat:

0g
Unsaturated Fat:

6g
Cholesterol:

6mg
Sodium:

198mg
Carbohydrates:

7g
Fiber:

2g
Sugar:

2g
Protein:

5g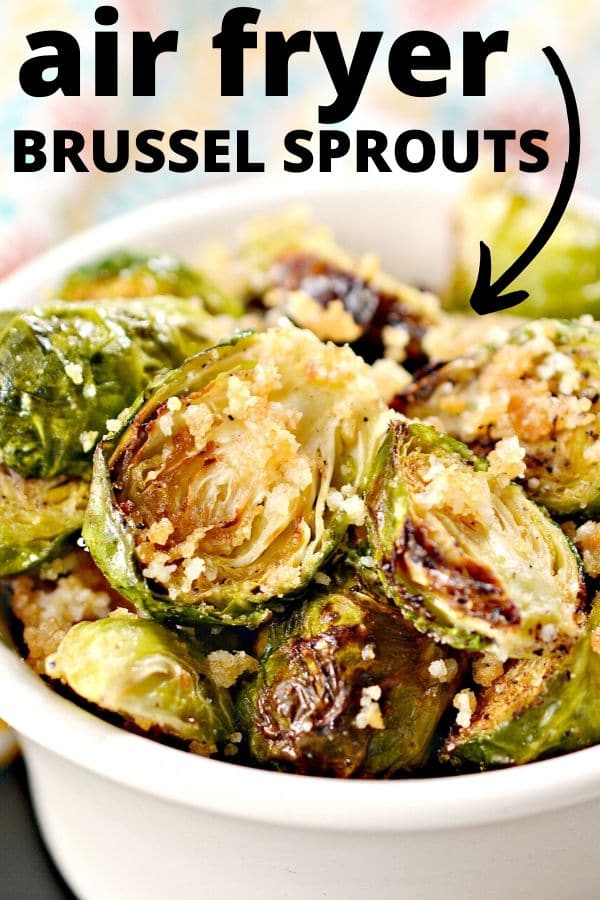 What other toppings would you put on these Air Fryer Brussel Sprouts?