Thai Salad is a chicken salad loaded with purple cabbage, crisp romaine lettuce, carrots, bell peppers, edamame, cilantro, and drizzled with a homemade Thai salad dressing that is sweet, spicy, and tangy.
I love a good salad, so having a Thai chicken salad helps to bring a fresh and lightness to your dinner table. You can ramp up the spice, or tame it down, I share how to do both options.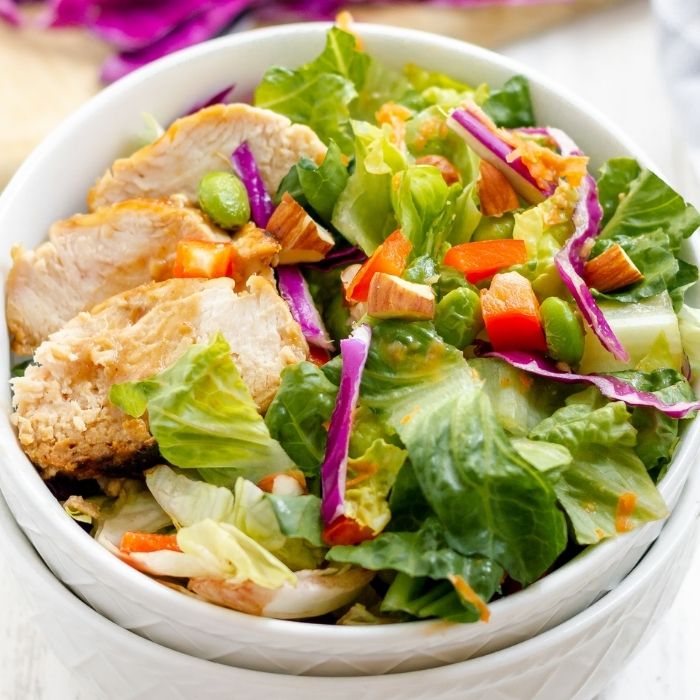 This Chicken Thai Salad Recipe Is…
Made with Juicy Grilled Chicken
Homemade Thai vinaigrette dressing with peanut butter
Crisp lettuce and cabbage
Chopped almonds for a crunch factor
A fraction of the cost, and you might have leftovers!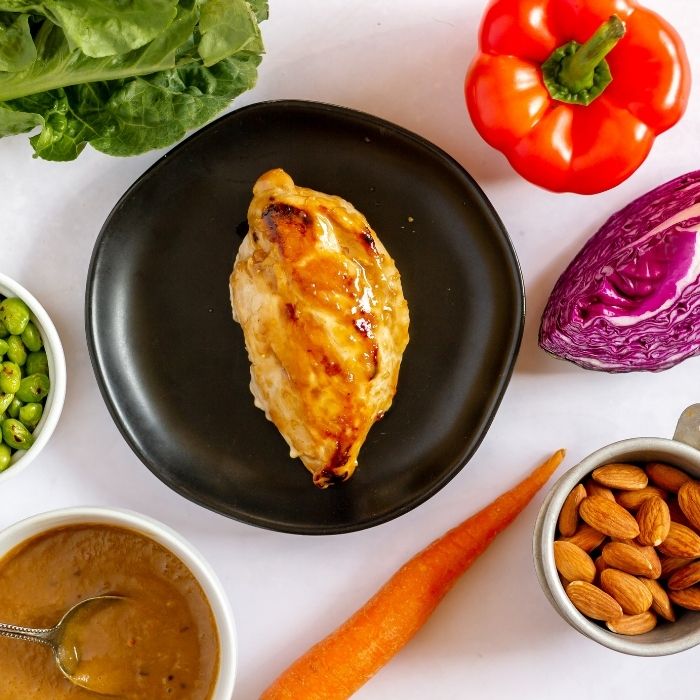 Ingredients Needed
Chicken
Romaine Lettuce
Purple Cabbage
Edamame
Red Bell Pepper
Carrots
Cilantro
Almonds
Peanut Butter
Honey
Soy Sauce
Rice Vinegar
Sesame Oil
Lime Juice
Red Pepper Flakes
Minced Garlic
Fresh Ginger
Pro Tip: You can make this a Spicy Thai salad, or tame it down so it is slightly spicy. You have options.
How to Make
Full steps for making this chicken Thai salad are in the printable recipe card. This is a visual walk through on how to make this easy salad.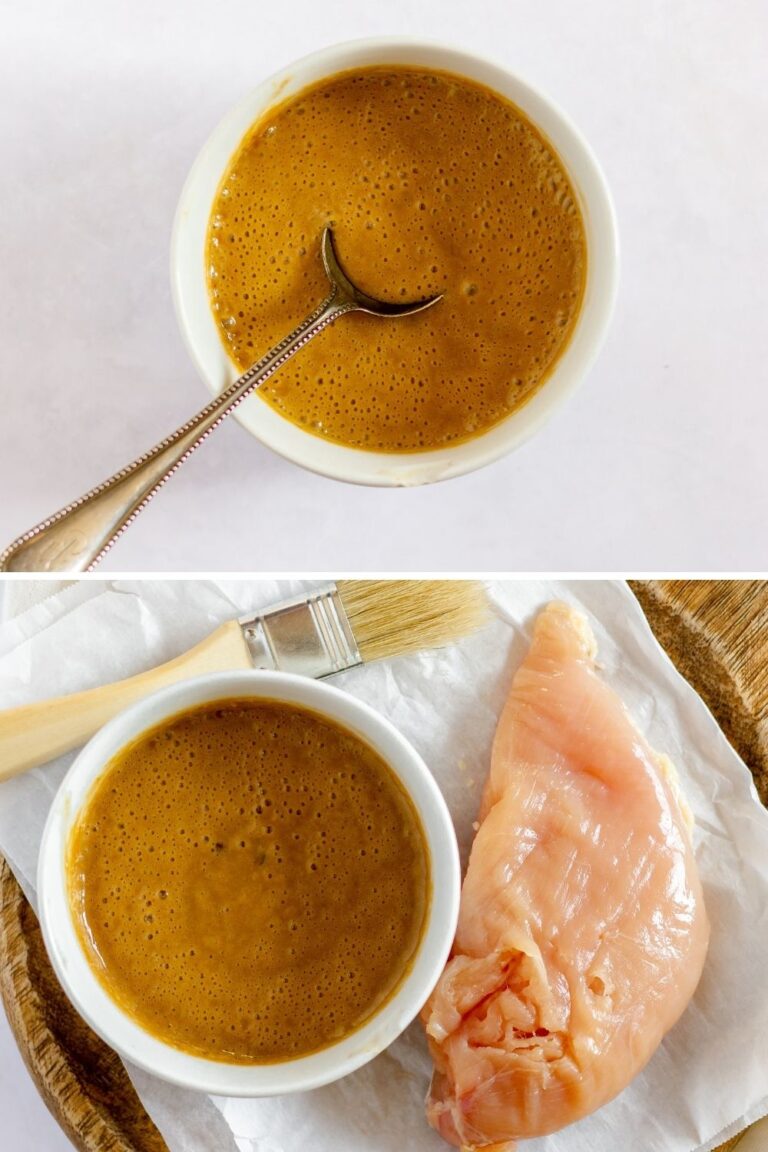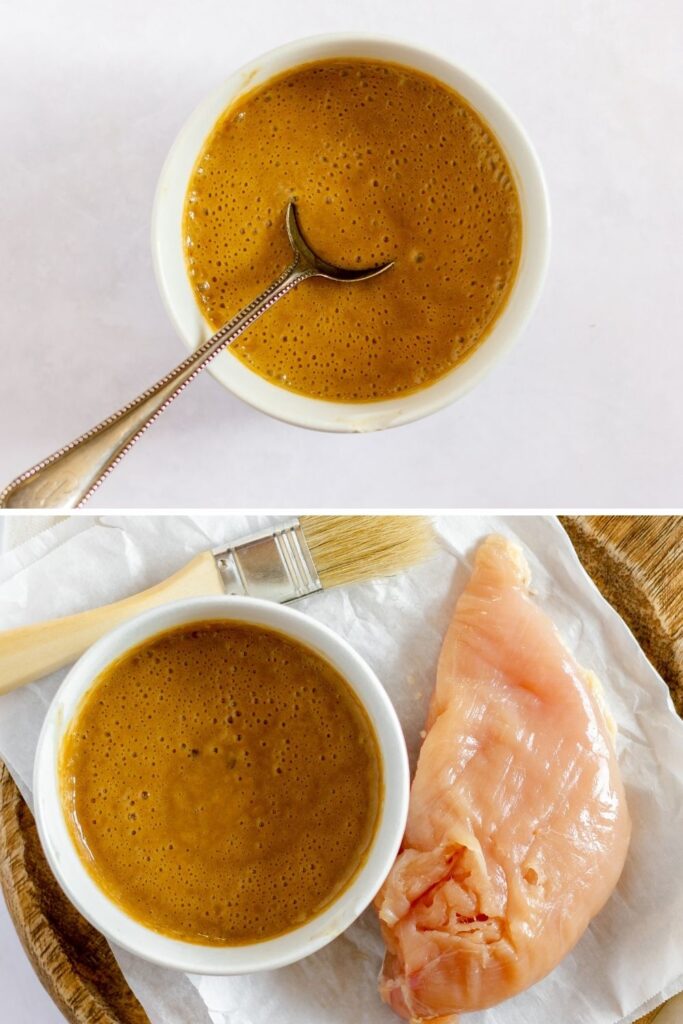 Step One: The first step to making this salad is making the peanut dressing. Add your peanut butter, honey, soy sauce, water, rice vinegar, minced garlic and ginger, sesame oil, lime juice, and red pepper flakes in a bowl.
Step Two: Heat a medium skillet on medium heat, and spray the pan with cooking oil. Place your boneless chicken in the pan, and then baste the chicken with the sauce.
Step Three: Cook the chicken for 4-5 minutes and then flip the chicken. Then baste the chicken on the other side. Cook another 4-5 minutes, or until the chicken reaches 165 degrees Fahrenheit.
Step Four: Once the chicken is fully cooked, remove from the pan and allow it to cool 5 minutes then slice into strips.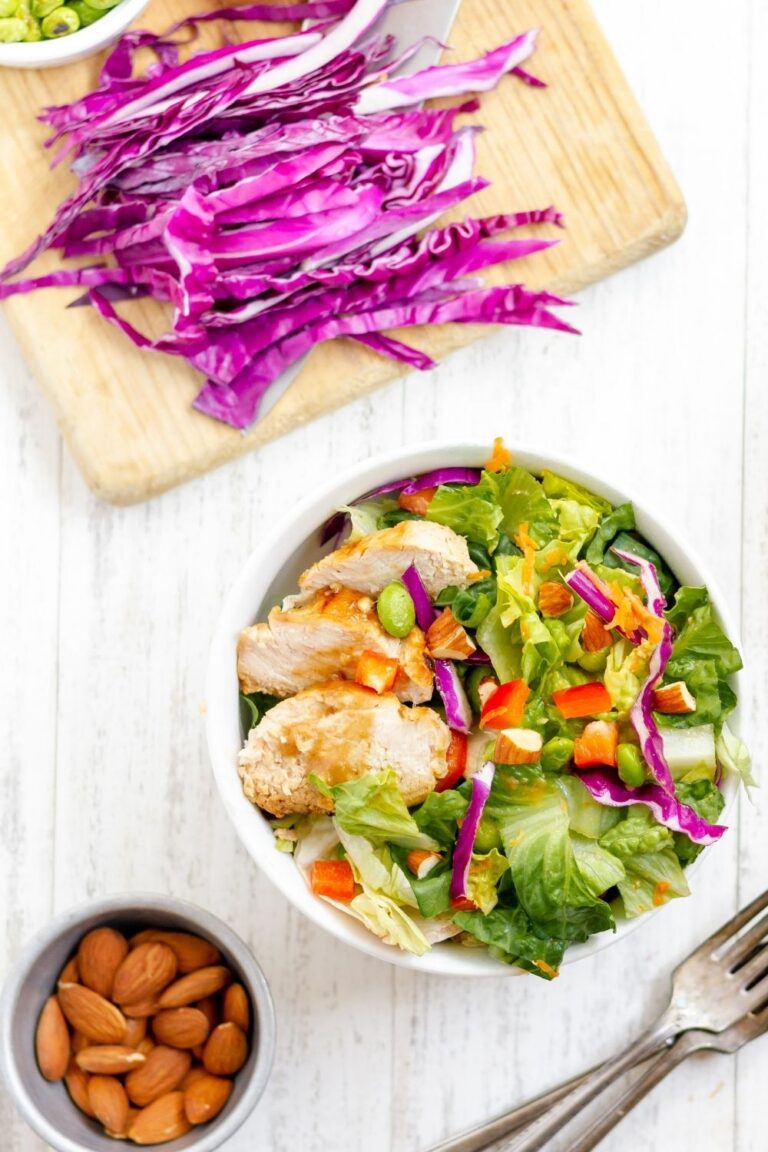 Step Five: In a bowl add your lettuce, veggies, and then top with chicken, and drizzle with the Thai peanut dressing.
Recipe Notes:
I used Romaine and red cabbage for this salad. You are welcome to change up the greens used.
If you want a more mild salad, then use 1/4 teaspoon red pepper flakes. For spicy do the 2 teaspoons red pepper flakes.
If you have leftover chicken you can use that. You don't have to sear the chicken in a pan with the sauce. It does help add tons of flavor, but you can use rotisserie chicken, or shredded chicken you have on hand.
Storing
You are welcome to store any salad you don't eat right away. Just store the chicken in a separate container than the vegetables. This will help prevent the veggies from wilting. Then reheat the chicken or serve it cold, both will work.
Meal Prep
To make this salad for meal prepping, simply use mason jars. Place the dressing on the bottom and then add in items like the edamame and other ingredients so it acts as a barrier. End with lettuce on top.
Then shake and serve up the salad. Or store your salad in a plastic container and the dressing separately and mix right before serving.
FAQs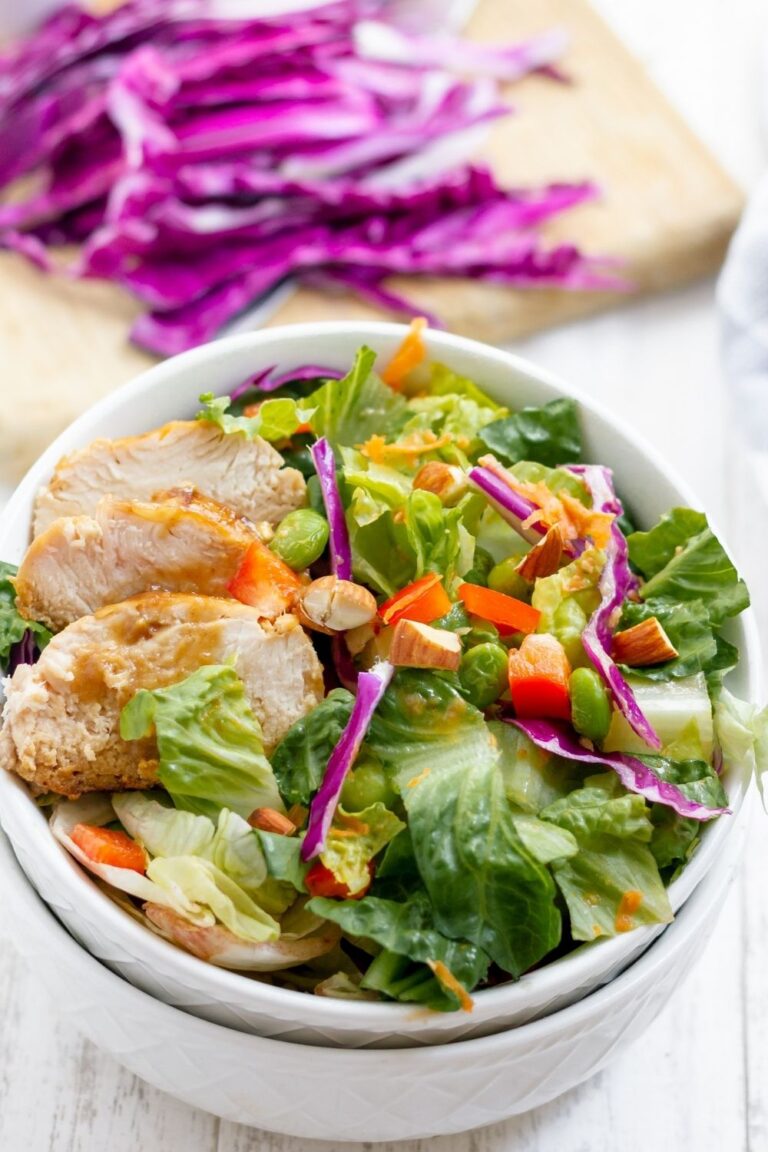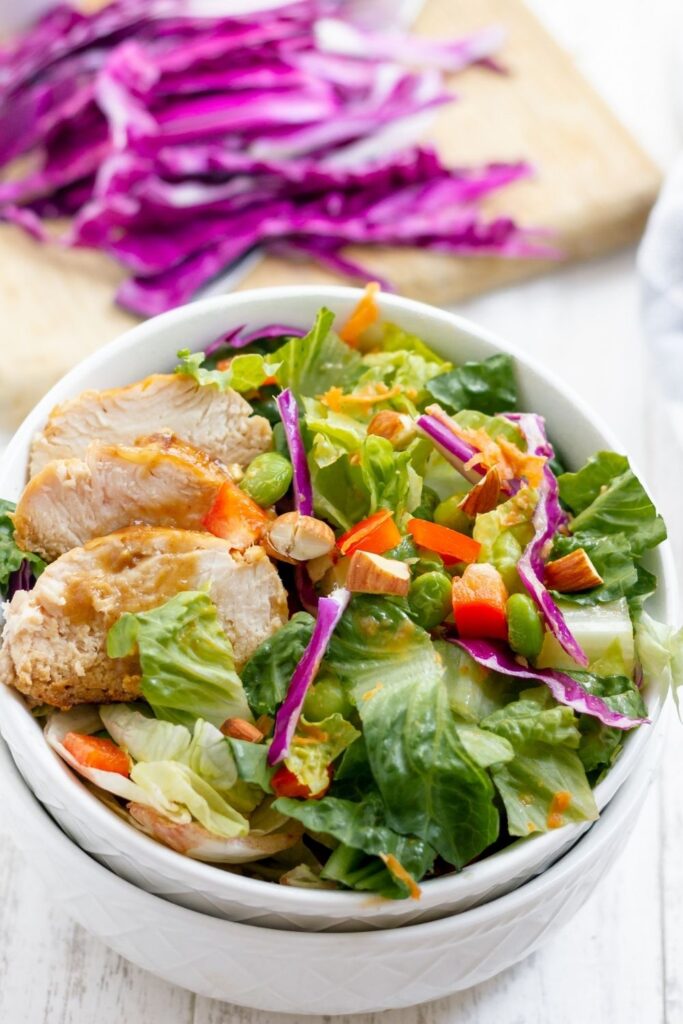 More Chicken Recipes
Have you tried the recipe? If so, please leave a star ⭐️⭐️⭐️⭐️⭐️ rating in the recipe card below or drop a comment. Also stay in touch with me through social media by following me on Facebook, Pinterest, or My Facebook Group!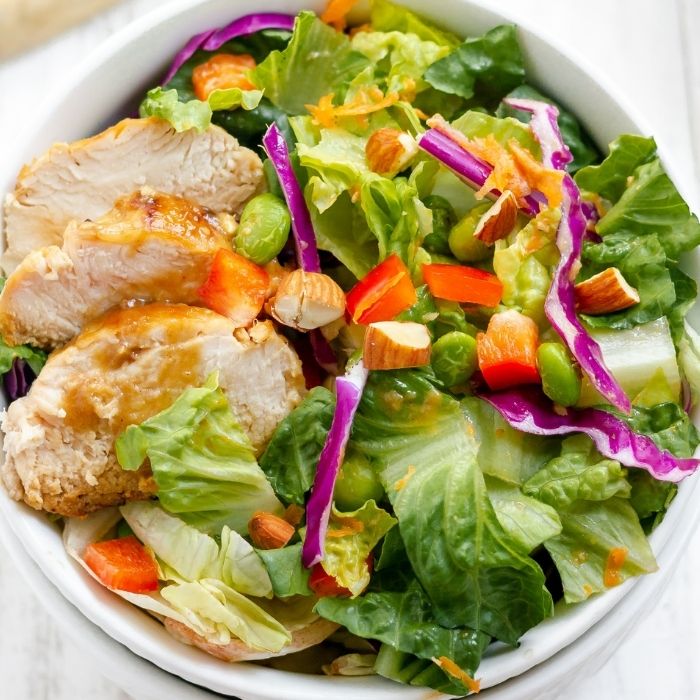 Thai Salad
Servings 1 person
Thai salad that is loaded with chicken, fresh and crisp veggies, and drizzled with a homemade Thai salad dressing. The ultimate Thai salad recipe to try. This salad is also a great one for meal prepping.
Ingredients
Thai Salad Dressing
2 tablespoons peanut butter
2 tablespoons honey
2 tablespoons water
2 tablespoons soy sauce, light
1 tablespoons sesame oil
2 teaspoons lime juice
1 tablespoon rice vinegar
2 teaspoons red pepper flakes or do 1/4 tsp for less spice
2 teaspoons minced garlic
2 teaspoons ginger minced
Thai Salad Ingredients
4 ounces chicken
2 cups Romaine Lettuce chopped
1/4 cup red bell pepper diced
1/4 cup purple cabbage shredded
1/4 cup carrots shredded
1-2 tablespoon cilantro chopped
1/4 cup edamame
1 tablespoon chopped almonds
1 teaspoon oil
Instructions
Thai Salad Dressing
In a small bowl you will want to add in all your dressing ingredients. Peanut butter, honey, soy sauce, water, vinegar, oil, lime juice, red pepper flakes, garlic, and the ginger.

Mix well until nice and creamy and set aside.
Thai Salad
In a skillet on the stove, add the oil and then heat on medium heat.

The first thing is to take your raw chicken and take just a little of the peant sauce and baste the top side.

Place the chicken in the skillet once the oil is hot. Sear for 3-5 minutes per side. When you go to flip the chicken over to cook the other side, baste the other side of the chicken with the peanut sauce.

When the chicken reaches 165 degrees Fahrenheit internally, remove and allow the chicken to rest 5 minutes.

Now add your lettuce and all your veggies into the bowl and top with the sliced Thai chicken. Then you can drizzle with your Thai dressing, and enjoy.
Notes
Lime – You can use lemon or lime juice for this recipe.  Spicy – Use 1/2 teaspoon for a mild flavor or 2 teaspoons for a spicy Thai salad.  Meal Prep – If you want to meal prep you can store your dressing in a separate container, or add to bottom of a mason jar. Then add edamame and other sturdy veggies, to help act as a barrier. Then lettuce on top.  Chicken – You want to make sure your chicken reaches 165 degrees F internally. Depending on size of chicken the cook time will vary. 
Nutrition
Serving: 1gSodium: 345mgCalcium: 117mgVitamin C: 73mgVitamin A: 16242IUSugar: 44gFiber: 10gPotassium: 1110mgCholesterol: 41mgCalories: 711kcalTrans Fat: 1gMonounsaturated Fat: 18gPolyunsaturated Fat: 13gSaturated Fat: 7gFat: 42gProtein: 27gCarbohydrates: 65gIron: 4mg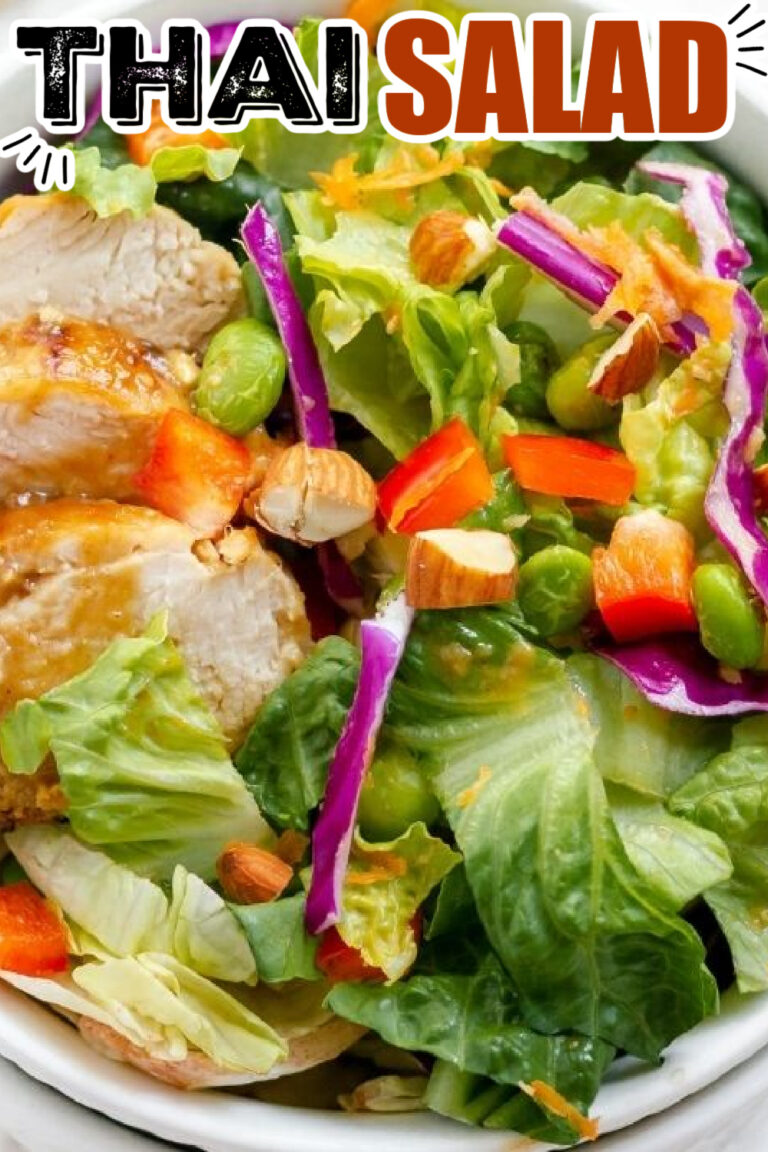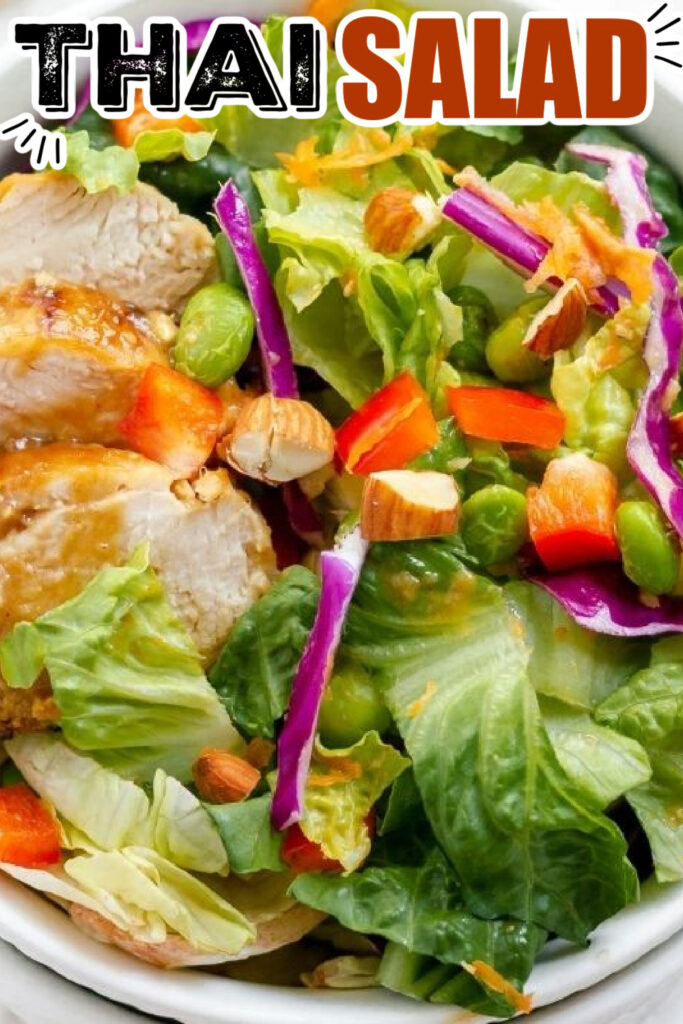 Reader Interactions