Try out my copycat Chick-Fil-A Spicy Deluxe Sandwich. You have a spicy breaded chicken that is fried, and then paired with lettuce, tomato, pepper jack cheese, on a toasted bun. A must try Chick-Fil-A chicken sandwich recipe.
I also have the Chick Fil A nuggets recipe, and we love these as well. But there is something about a juicy chicken sandwich that always hits the spot. Learn how to make your favorite sandwich at home.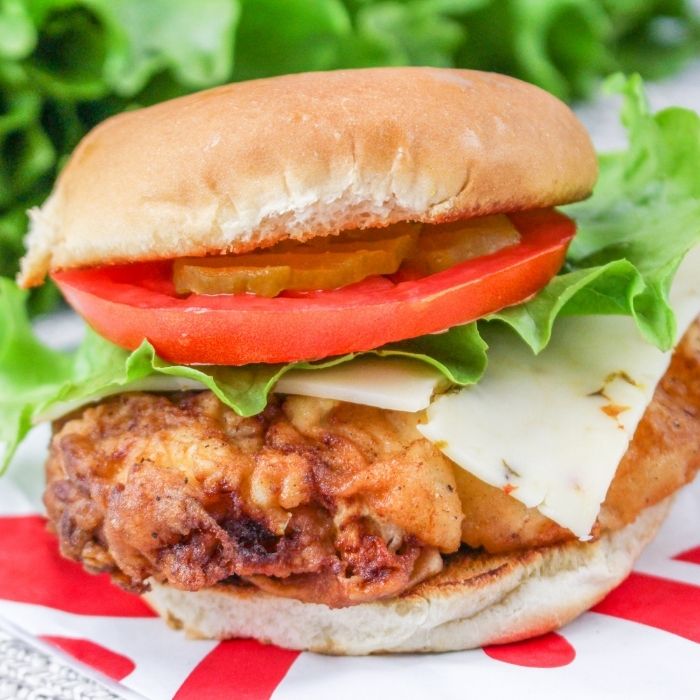 Pair your spicy chicken sandwich with this Chick-Fil-A coleslaw, or even sip on a frosted limeade.
Also, check out my loaded grinder sandwich recipe. Loaded with ham, salami, turkey, grinder salad and more.
This Spicy Deluxe Chicken Sandwich Is…
Copycat Chick-Fil-A Recipe
Spicy Chicken
Toasted Bun
Breaded Chicken Sandwich
Just As Good As Ordering Through Drive Thru
Simple Ingredients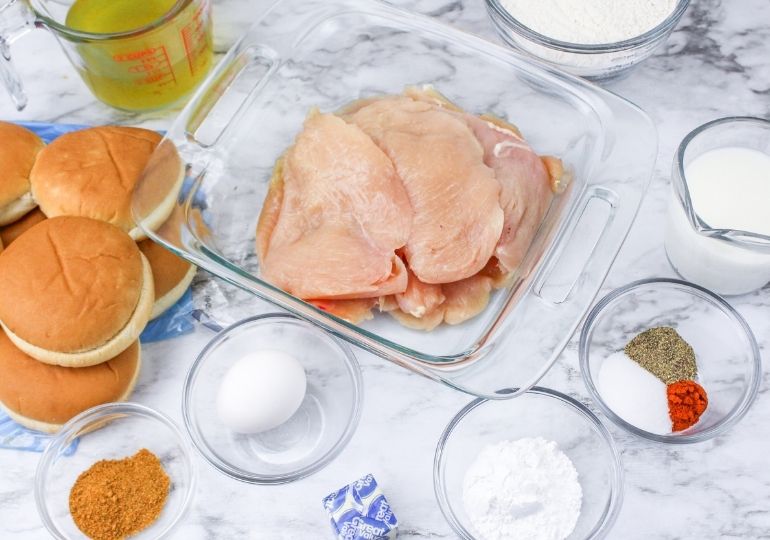 Ingredients You Will Need
Here are the ingredients I used for this spicy Chick Fil A Sandwich. Measurements are in the recipe card below.
Chicken – Reach for boneless skinless chicken, that you will cut down, and then pound flat.
Dill Pickle Juice – Needs to be dill, not sweet.
Flour
Powdered Sugar
Salt
Cayenne Pepper
Black Pepper
Paprika
Egg
Milk
Peanut Oil
Hamburger Buns
Butter
Pickles, Lettuce, Tomato, Pepper Jack Cheese
How to Make Chick-Fil-A Spicy Deluxe Sandwich
Full steps for this Chick-Fil-A Spicy Deluxe Sandwich are featured in the recipe card at the bottom of the post. This is a quick walk through.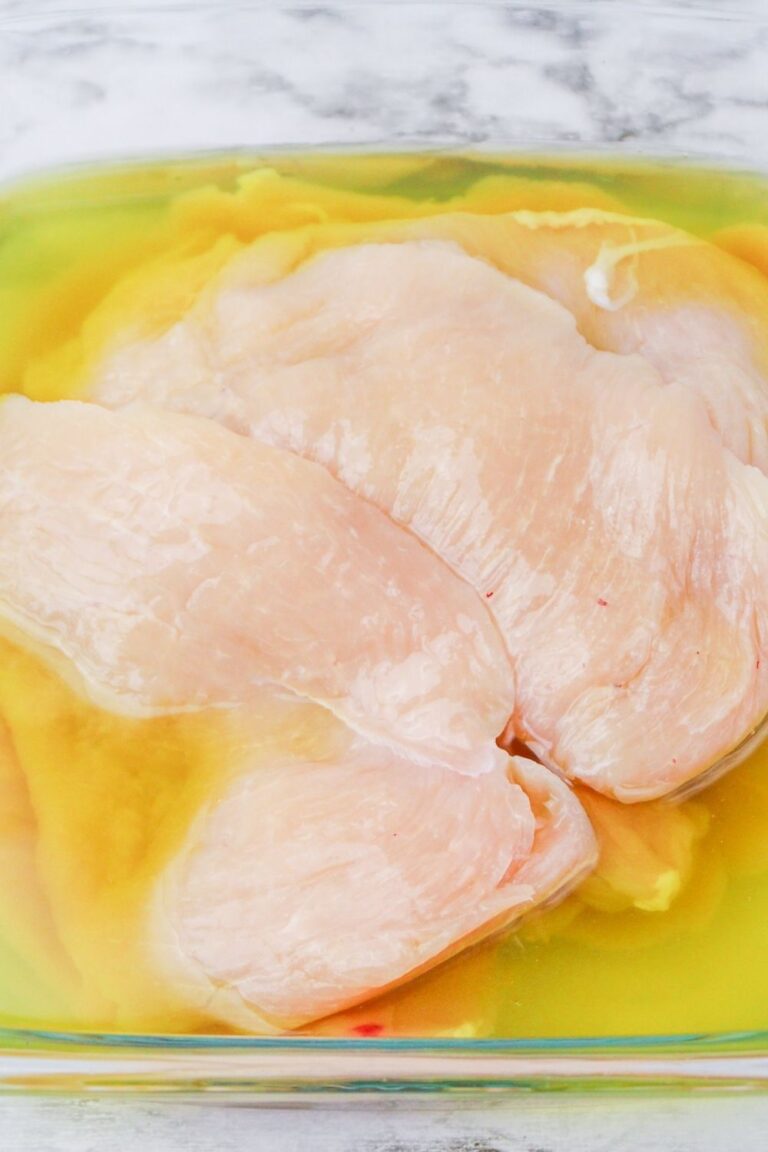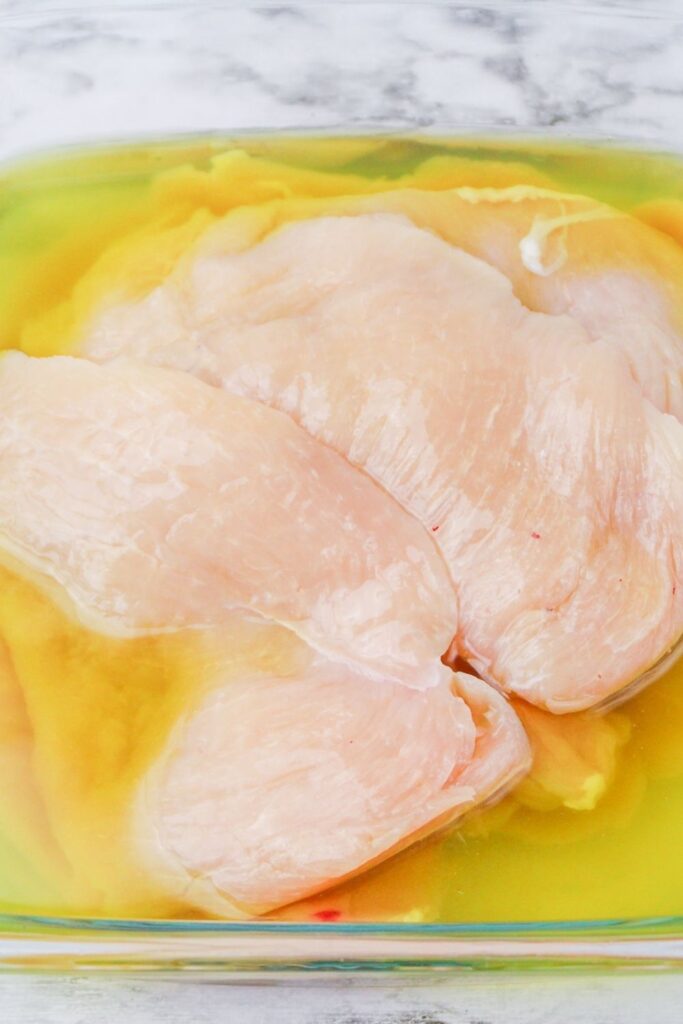 Step One: Soak your chicken in dill pickle juice for 1 hour up to 6 hours. I tend to do 1-2 hours and it works great.
Step Two: Heat peanut oil up in a large skillet, and heat to 375 degrees Fahrenheit. Use a thermometer to monitor the temperature.
Step Three: Drain off the pickle juice and pat the chicken dry. Then in a bowl add your dry ingredients, and another bowl for an egg wash.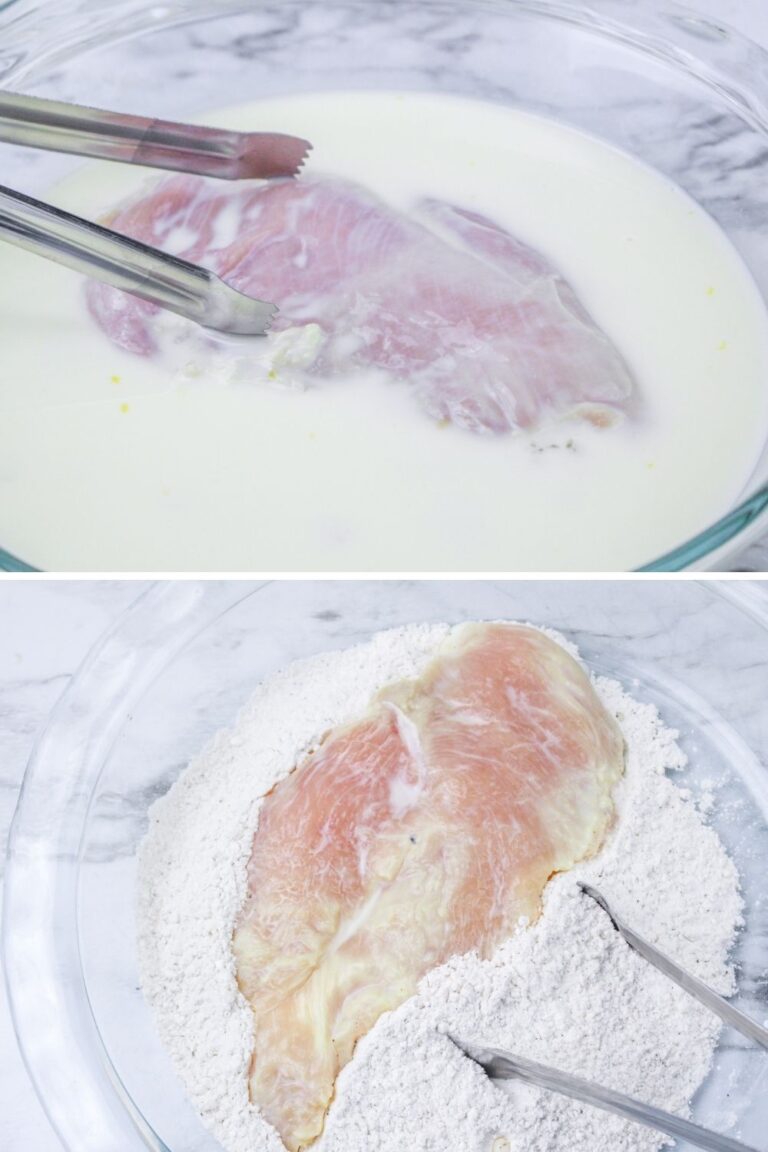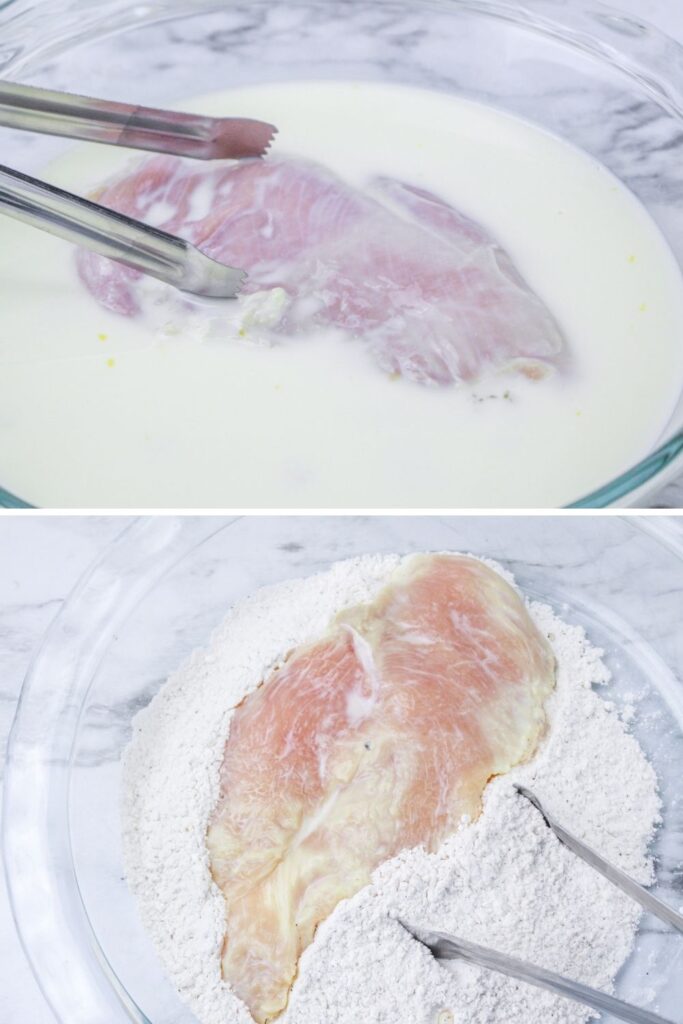 Step Four: Dredge chicken in the milk then flour, shake off excess flour. I repeat this step twice.
Step Five: Place in the hot oil and fry for 5 minutes on each side or until the chicken is fully cooked.
Step Six: Toast your buns on the stove in a skillet. Once toasted, add the crispy chicken and veggies and devour.
Note: Depending on thickness of your chicken the cook time will vary. Chicken is done when it reaches 165 degrees Fahrenheit internally.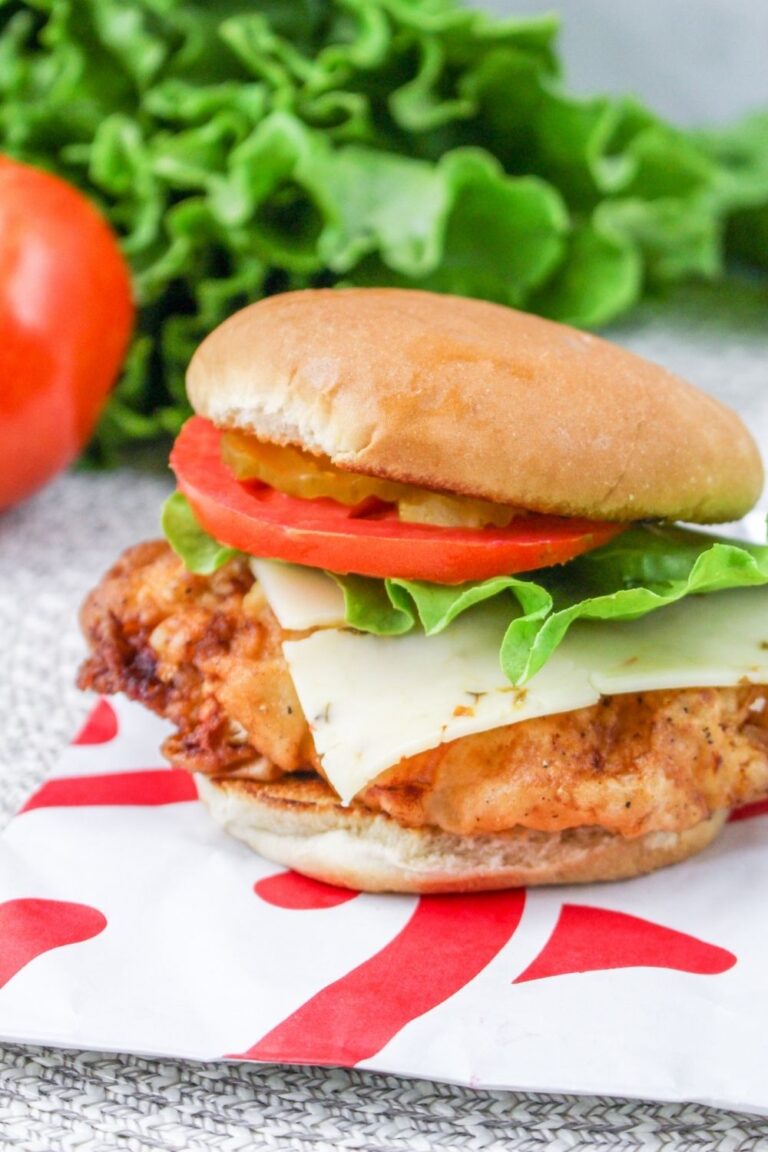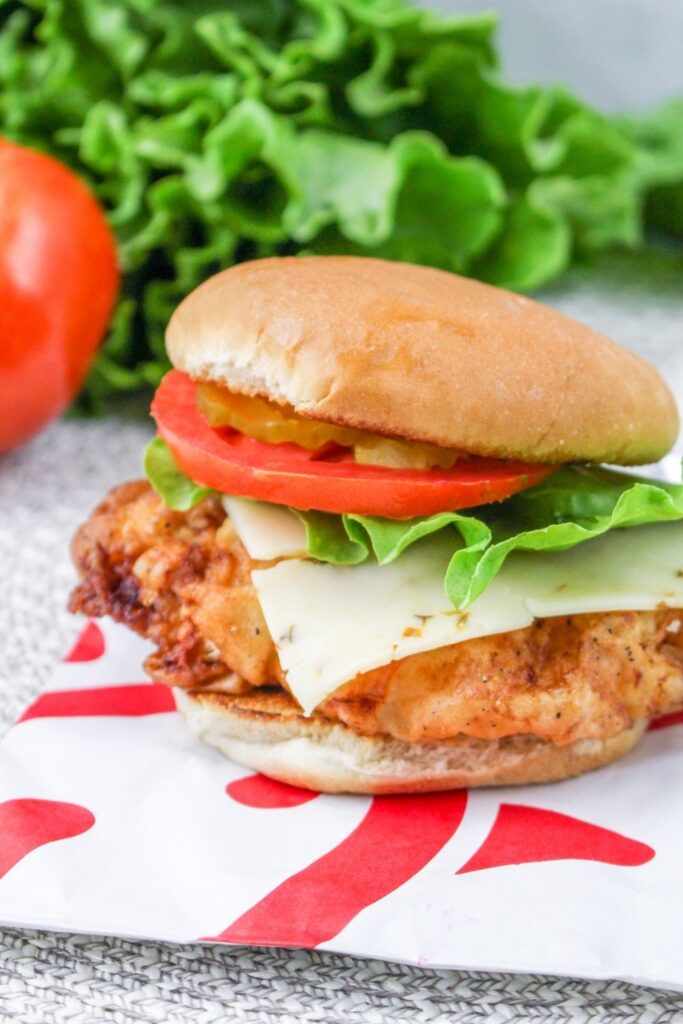 How To Air Fry
Looking for a Chick Fil A Air Fryer chicken sandwich recipe? If so, you can easily cook this chicken in your air fryer.
Marinate the chicken, then bread the chicken the same as listed in the recipe card.
Then you will place the chicken in your air fryer basket, and spray them with an oil mister liberally.
Cook in a preheated air fryer at 370 degrees, for 10-12 minutes. Flip half way through, and then spray again with oil.
Once the chicken is fully cooked, remove and assemble sandwich.
Storing Leftovers
If you are lucky enough to have leftovers, you can refrigerate the leftovers. Don't assemble the sandwiches until ready to serve. That way if you don't eat all your crispy chicken filets, you can refrigerate them easy enough.
Place in freezer bag or container and freeze for 2-3 months. Then thaw in the fridge overnight, or defrost and heat straight from frozen.
FAQs
Here are some questions for making these spicy Chick Fil A chicken sandwich.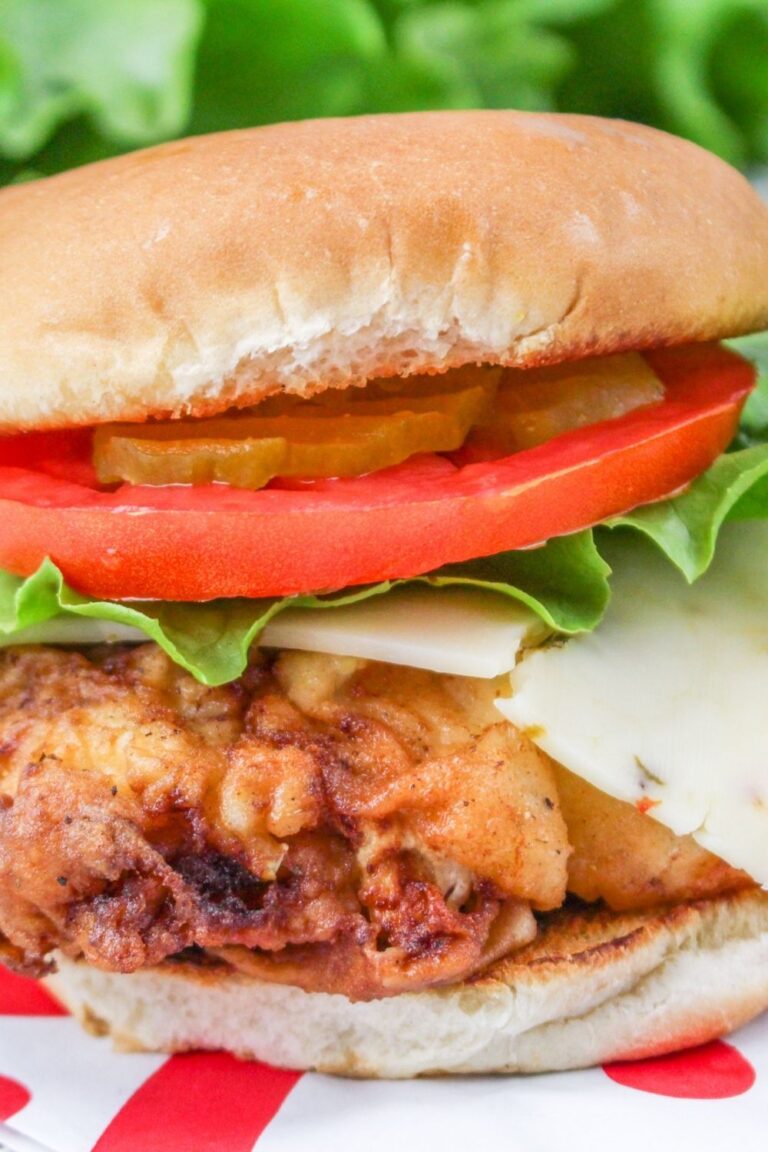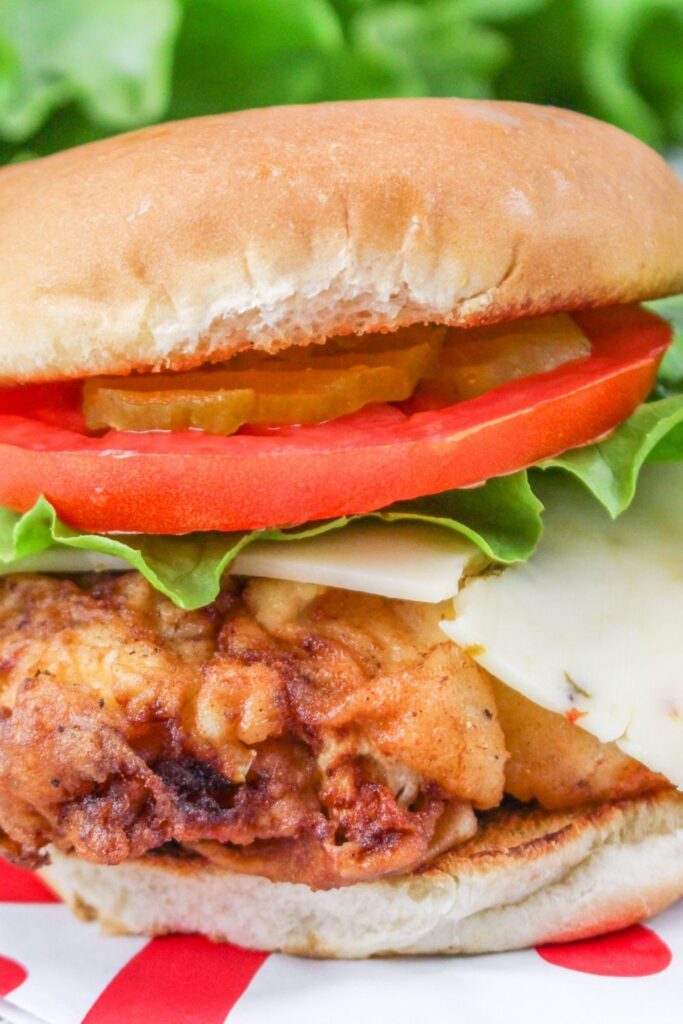 More Chicken Recipe Ideas
Have you tried the recipe? If so, please leave a star ⭐️⭐️⭐️⭐️⭐️ rating in the recipe card below or drop a comment. Also stay in touch with me through social media by following me on Facebook, Pinterest, or My Facebook Group!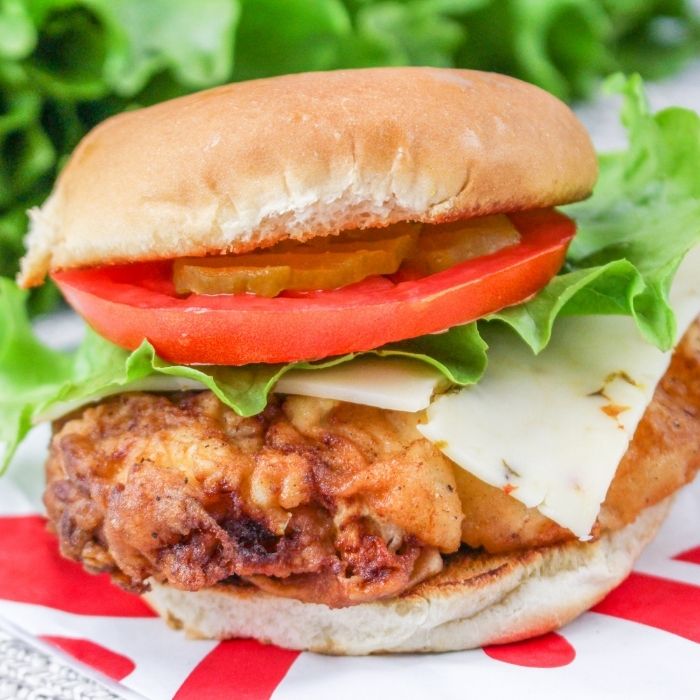 Copycat Chick-Fil-A Spicy Deluxe Sandwich
Servings 8
Copycat Chick-Fil-A Spicy Deluxe Sandwich is a juicy seasoned and breaded chicken sandwich that is paired with a toasted bun, lettuce, tomatoes, pickles, and pepper jack cheese. This spicy chicken sandwich is just as good as running through a drive thru.
Ingredients
4 chicken breasts cut in half, and the pound flat.
1 cup dill pickle juice
1 egg
1 cup milk
1 1/2 cup all purpose flour
2 tablespoons powdered sugar
2 teaspoons salt
1 1/2 teaspoon black pepper
2 teaspoons cayenne pepper
1/2 teaspoon paprika
Topping Items
8 Hamburger Buns
2 tablespoons butter
Pickles
Tomato
Lettuce
Pepper Jack Cheese
Instructions
Start by taking your chicken breasts, and slice in half to make a thinner piece of chicken.

Then you will want to use meat hammer and pound out the chicken to make it thinner. Too thick of chicken will not cook up properly. Now if your chicken is thin already skip cutting in half and pounding it out.

Soak your chicken in pickle juice in an airtight container for 1 hour up to 6 hours.

Drain off juice once it has marinaded and then pat dry with a paper towel.

Heat your peanut oil up in a large pot or skillet on the stove. You want it to read 375 degrees Fahrenheit.

While oil is heating up you will mix up your flour, powdered sugar, salt, and spices and pepper in a dish. Stir to mix.

Then create an egg wash in another bowl by whisking the egg with the milk.

Start by dredging the chicken pieces in the milk then the flour mixture. Coat both sides in the flour, shaking off excess.

I repeat the coating twice, and then fry for 4-5 minutes per side. Make sure the internal temperature of the chicken reads 165 degrees.

Then in a skillet on the stove heat a pan on medium heat. Butter the inside of the buns, and toast for 2-3 minutes or until golden.

Then assemble your spicy deluxe sandwiches, and serve and enjoy.
Air Fryer Direction
Follow the same direction as marinating chicken, and breading the chicken.

Preheat your air fryer to 370 degrees.

Dredge in the milk mixture then flour mixture. Repeat for a thicker breading. Make sure to shake off excess flour.

Place chicken in the preheated air fryer. Spray liberally with an oil mister. This will make chicken golden brown. Cook for 5-6 minutes.

Flip chicken and spray the other side with oil liberally, and cook an additional 5-6 minutes or until the chicken is fully cooked.

Then toast your buns, and assemble your Chick Fil A Spicy Deluxe Sandwiches!
Notes
Chicken – The cook time varies as each piece of chicken will be slightly different in size. Cook until the chicken reaches 165 degrees and is fully cooked. Cutting Chicken – If your chicken is very thick, slicing it to make it split into two thinner chicken fillets is what I did. If you bought thin filets you don't have to cut your chicken thinning it out. Soaking in Pickle Juice – This will help lock in moisture and slightly flavor the chicken. I prefer a less time to marinade so I soak generally 1-2 hours max. Spice Factor – These are not that spicy. If you want to make more spicy add in some red pepper flakes to ramp up the heat. Or do less cayenne for a milder fried chicken sandwich. Meat Hammer – You do not have to use a kitchen mallet. You can easily use a rolling pin to help thin out the chicken.
Nutrition
Serving: 1gSodium: 1785mgSugar: 13gFiber: 2gCholesterol: 87mgCalories: 415kcalPolyunsaturated Fat: 4gSaturated Fat: 4gFat: 9gProtein: 29gCarbohydrates: 52g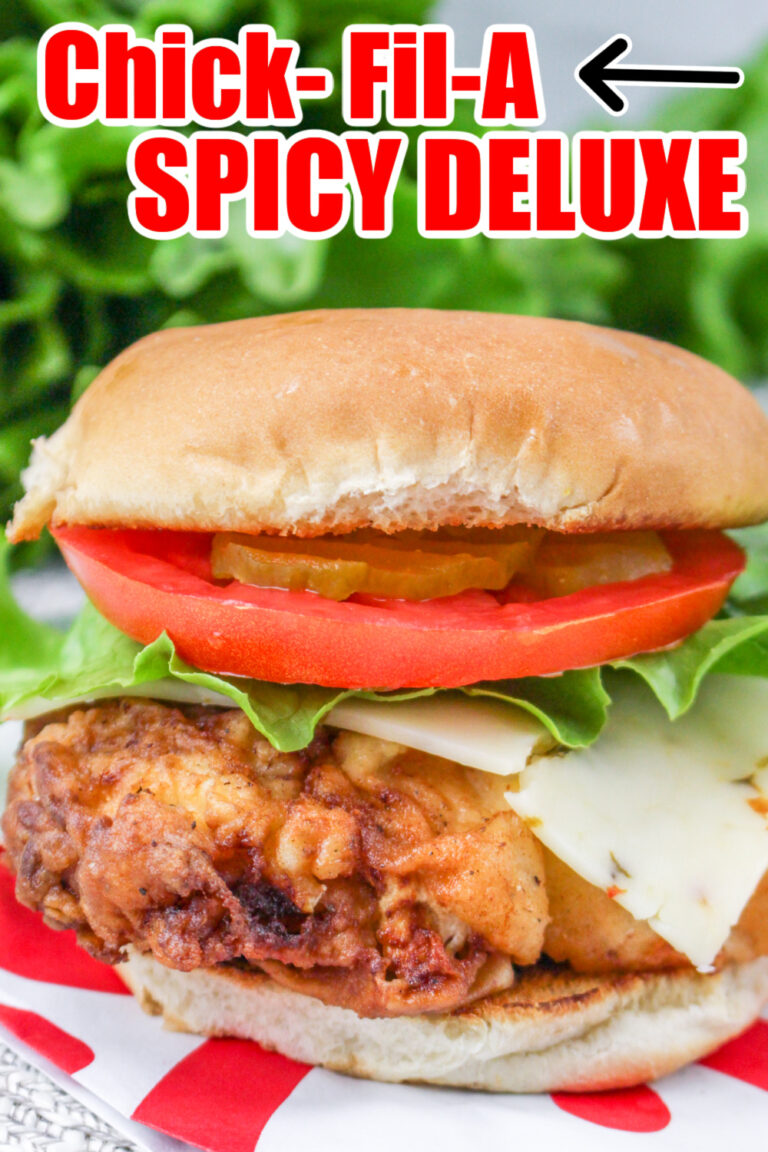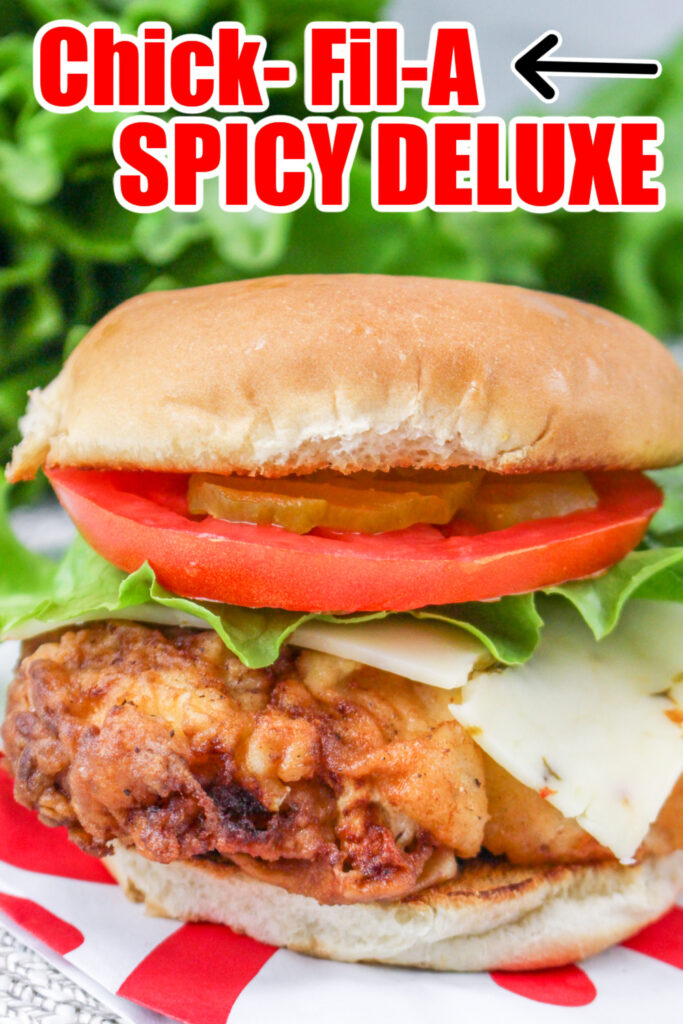 Reader Interactions