Chick-Fil-A Coleslaw is one of the easiest coleslaw recipes I have made! If you follow my blog you know I love a good coleslaw. This copycat Chick Fil A Coleslaw is crunchy, creamy, and slightly sweet. The chopped cabbage is absolutely delicious, and such a versatile side dish to serve all year round.
Apparently, Chick Fil A has given up selling this delicious coleslaw recipe. But, because they are fantastic people they have shared the recipe with the world. I can't claim this is my recipe I created, but I can share it with you if you have yet to try it!
Craving More Coleslaw Recipes
What can I say, we LOVE coleslaw in our home! Seriously, it is a fantastic and versatile side dish, especially for spring and summer.
Is It Cold Slaw or Coleslaw?
I call it coleslaw, but you are welcome to call it cold slaw if that is what you say in your neck of the woods! Coleslaw is made with finely shredded cabbage, carrots, and a mayo-based dressing.
What Foods Go With Coleslaw?
Coleslaw is versatile so you can pair it with almost anything!
I love making my Chick Fil A Nuggets to pair next to it.
Pair with Hamburgers or Grilled foods
Serve with Tacos
Sandwiches
Or any other main dish that sounds good.
How Do You Fix Watery Coleslaw?
If you find that the coleslaw is too watery simply add in a teaspoon at a time of mayonnaise and see how you like the texture then. Just repeat until it reaches the thickness you prefer.
More Copycat Chick Fil A Recipes
Can I Buy A Pre-Cut Bag of Coleslaw Mix for Chick Fil A Coleslaw?
Yes, you are welcome to buy pre-shredded coleslaw mix to use for your coleslaw recipe. Or if you prefer to freshly cut a head of cabbage go for it. This Chick Fil A Slaw is tasty either way.
Can I Make Chick Fil A Coleslaw Recipe In Advance?
Yes, you will want to make this coleslaw ahead of time and store in the fridge by at least 3 hours. But it is best if made the day before you plan to eat it. You have a creamy coleslaw with a crispness to it!
Can I Use Apple Cider Vinegar in Replace Of Regular Vinegar?
I personally have not tried to switch out the vinegars in this recipe. Apple Cider Vinegar has a stout flavor, so I don't think it would carry over very well. I do think you could use a White Wine Vinegar in replace of white distilled possibly.
Can You Freeze Coleslaw
Since this coleslaw recipe is made with mayonnaise I do not recommend freezing it. You will find it will separate as it freezes and become highly mushy.
How to Make Chick Fil A Coleslaw
Start by mixing your mayo, mustard, sugar, salt, and vinegar together. I used a whisk and mixed until nice and creamy. Then you want to chop up your cabbage into small pieces along with carrots and add cabbage and carrots into the mix. Stir until blended. You will need a large bowl, as it is a lot of cabbage, it will break down over time. Chill for a few hours and serve and enjoy.
Can I Double This Southern Coleslaw Recipe
You are welcome to double, triple or quadruple this coleslaw recipe to fit your needs to feed your family and friends.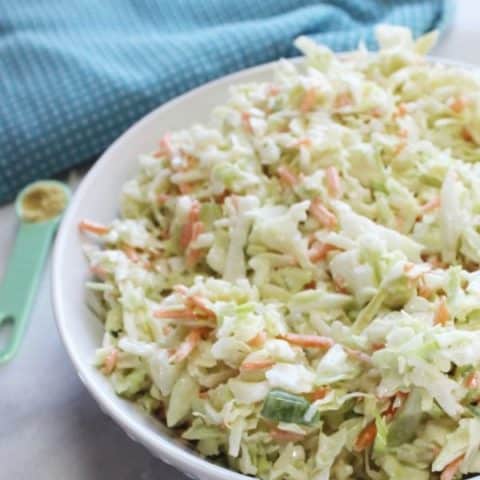 Chick-Fil-A Coleslaw Recipe
Additional Time:
30 minutes
This Chick Fil A Coleslaw gives you that classic flavor of colelsaw you could get at your favorite restaurant.
Ingredients
1/2 Cup Mayonnaise
2 teaspoons white vinegar
1/8 cup granulated sugar
1/4 teaspoon dry mustard
1/8 teaspoon salt
1 bag shredded coleslaw mix chopped
1/4 cup shredded carrots chopped
Instructions
Start by mixing your mayo, vinegar, sugar, dry mustard, and salt together. You want the base to be nice and creamy.
Then take a knife and chop your cabbage and carrots and then pour into wet ingredients and mix.
Store in the fridge for at least 3 hours before you serve.
Nutrition Information:
Yield:

12 cups
Serving Size:

1 cup
Amount Per Serving:
Calories:

86
Total Fat:

8g
Saturated Fat:

1g
Trans Fat:

0g
Unsaturated Fat:

7g
Cholesterol:

5mg
Sodium:

101mg
Carbohydrates:

3g
Fiber:

0g
Sugar:

3g
Protein:

0g
Have you ever tried Chick Fil A Coleslaw?