Salsa Chicken is a quick and easy chicken dinner recipe. Seasoned chicken, topped with salsa and shredded chicken. You finish off the chicken in the oven for a tasty oven baked salsa chicken. A simple weeknight dinner.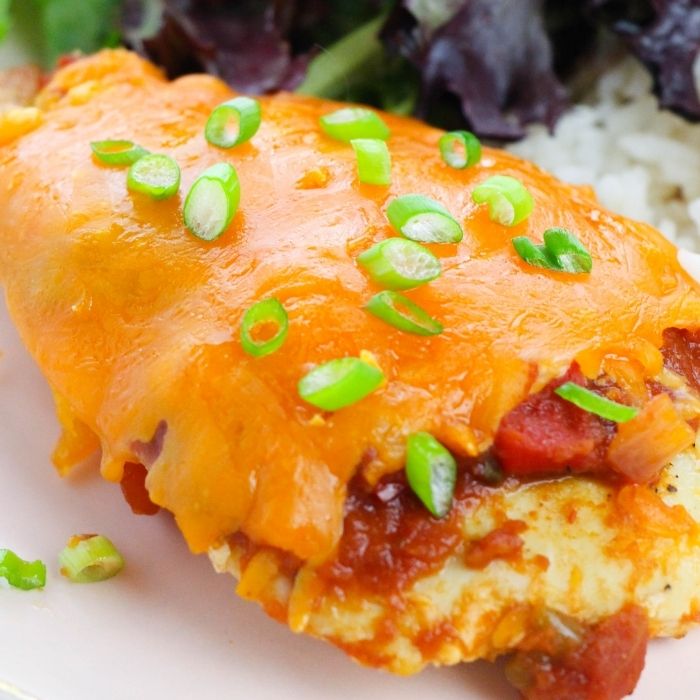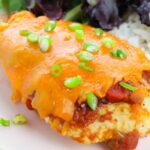 Salsa chicken is a delicious boneless chicken that is seasoned then pan seared. Top with salsa and cheese and finish cooking the chicken in the oven. A crave worthy baked salsa chicken that will please the whole family.
If you are looking for an easy chicken recipe that uses minimal ingredients and effort, this salsa and chicken is right for you. A Mexican chicken recipe that pairs great with cilantro lime rice, salad, refried beans, etc.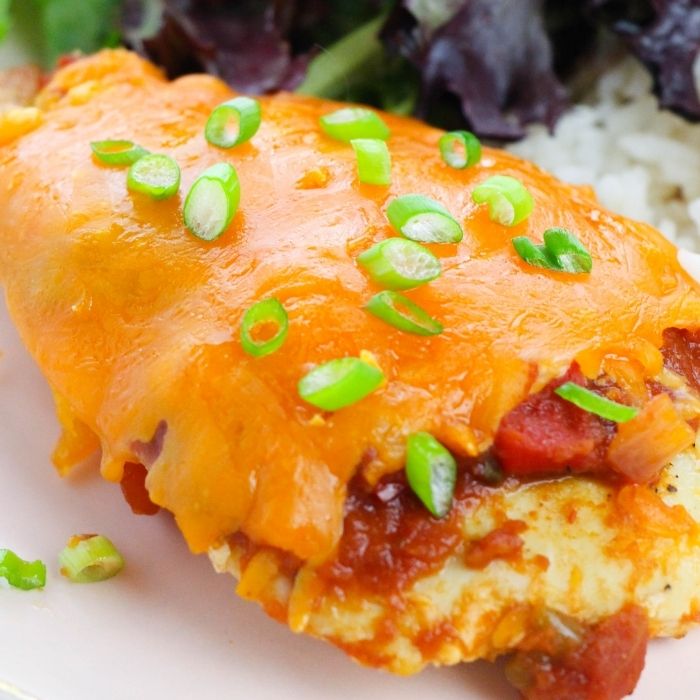 This boneless chicken recipe is one that I keep on hand when I need something simple. I don't have a ton of time but still want a delicious meal to serve my husband and son. Give it a try!
This Salsa Chicken Is…
Quick Prep
One Dish Dinner
Minimal Ingredients
Easy Chicken Recipe
Cheesy
Chicken And Salsa Unite In A Delicious Way
Kid Friendly Dinner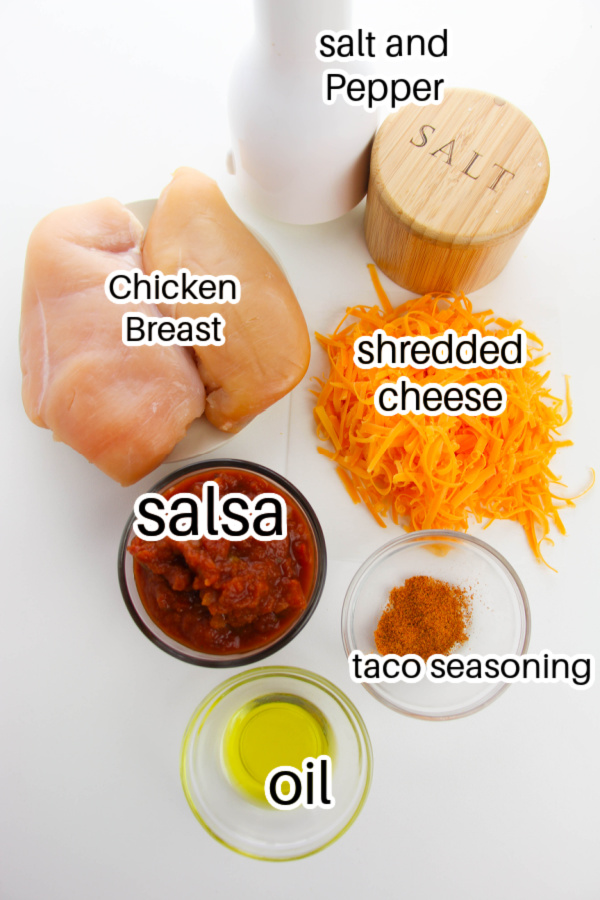 Ingredients You Will Need
Chicken – Reach for boneless chicken for this recipe. You will slice it thin so it gets a nice sear, and bakes up beautifully.
Taco Seasoning – Reach for packet or homemade taco seasoning for this chicken dinner idea.
Oil – You will want oil for when you pan sear the chicken. It will create a nice golden crust to the chicken.
Salsa – Reach for your favorite brand of salsa to use for this recipe.
Cheese – I used a sharp cheddar cheese but you can use any flavor of cheese you want.
Salt and Pepper – Season to taste.
Variations To Recipe
You can skip pan searing but it will take some of the flavor away from the dish, but it simplifies the prep.
Add a layer of cream cheese on top of the chicken, then top with salsa and shredded cheese. Adds a nice creamy texture.
Season the chicken with any of your favorite seasonings. Or do a simple salt and pepper.
Instead of a classic salsa do a salsa verde instead.
Consider topping it with some homemade guacamole!
How to Make
Full directions on how to make this chicken salsa recipe are in the printable recipe card at the bottom of the post.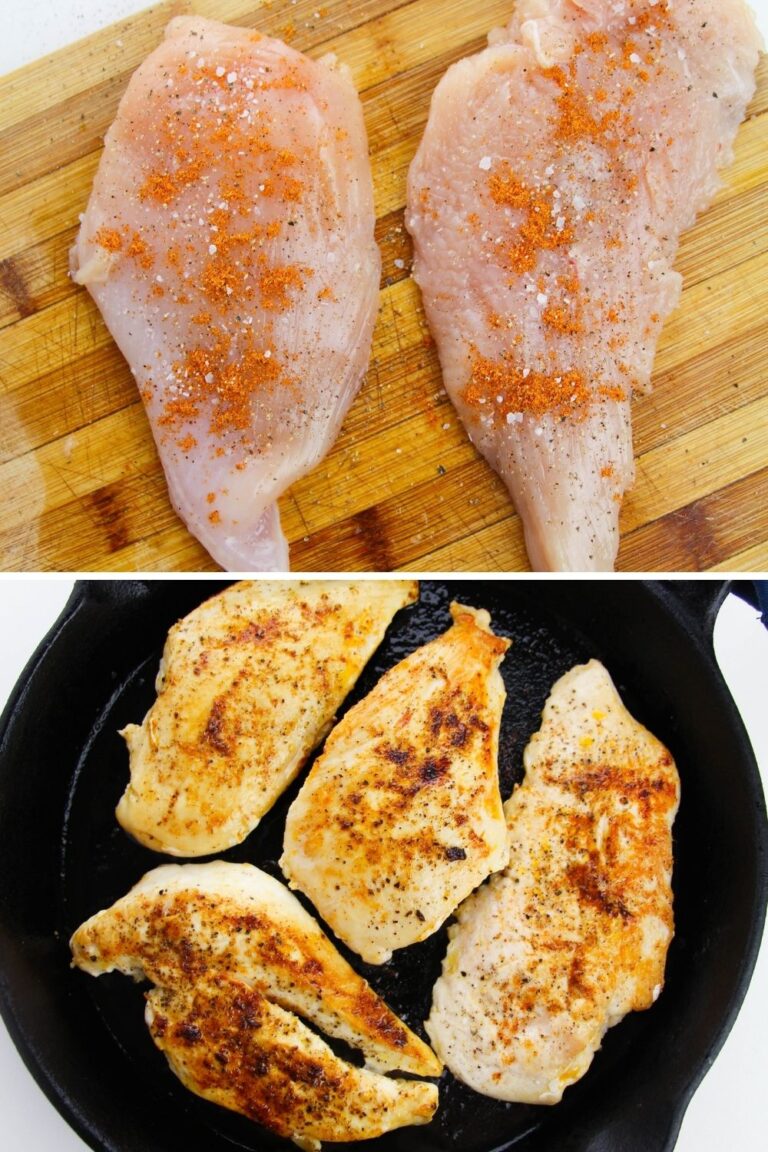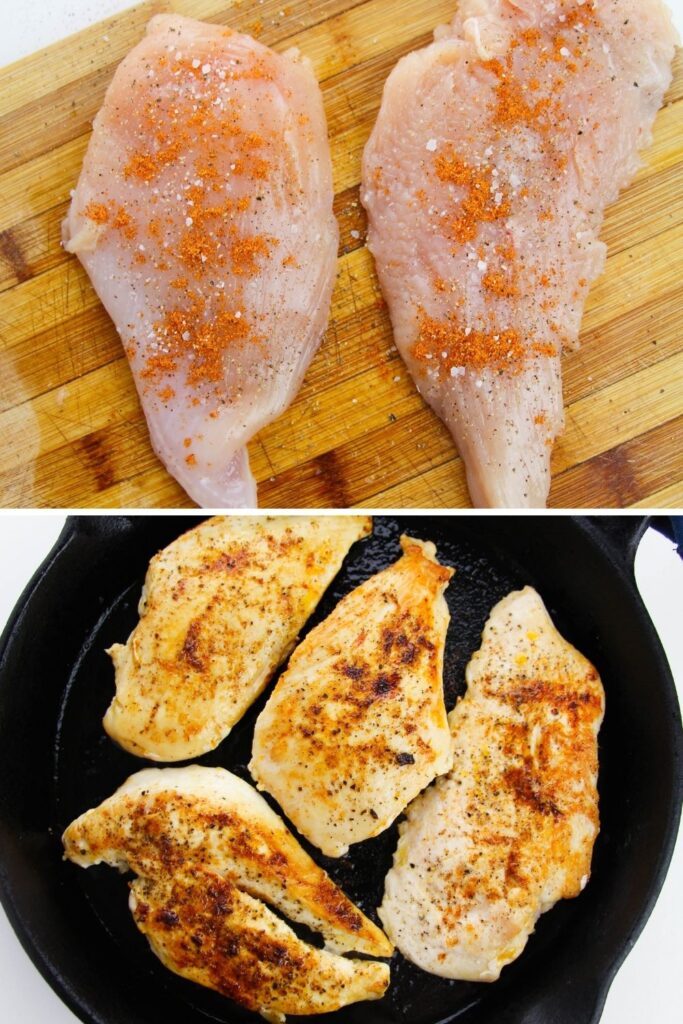 Step One: Preheat the oven. Start by slicing your chicken breast in half lengthwise. You want to make thinner cuts of chicken. I used two chicken breasts that I cut into a total of 4.
Step Two: Next, you will season your chicken with the taco seasoning and salt and pepper. Make sure to season both sides.
Step Three: Heat up the oil in an oven proof skillet, I used a cast iron skillet. Once the oil is one place each piece of chicken in the pan to sear for a few minutes.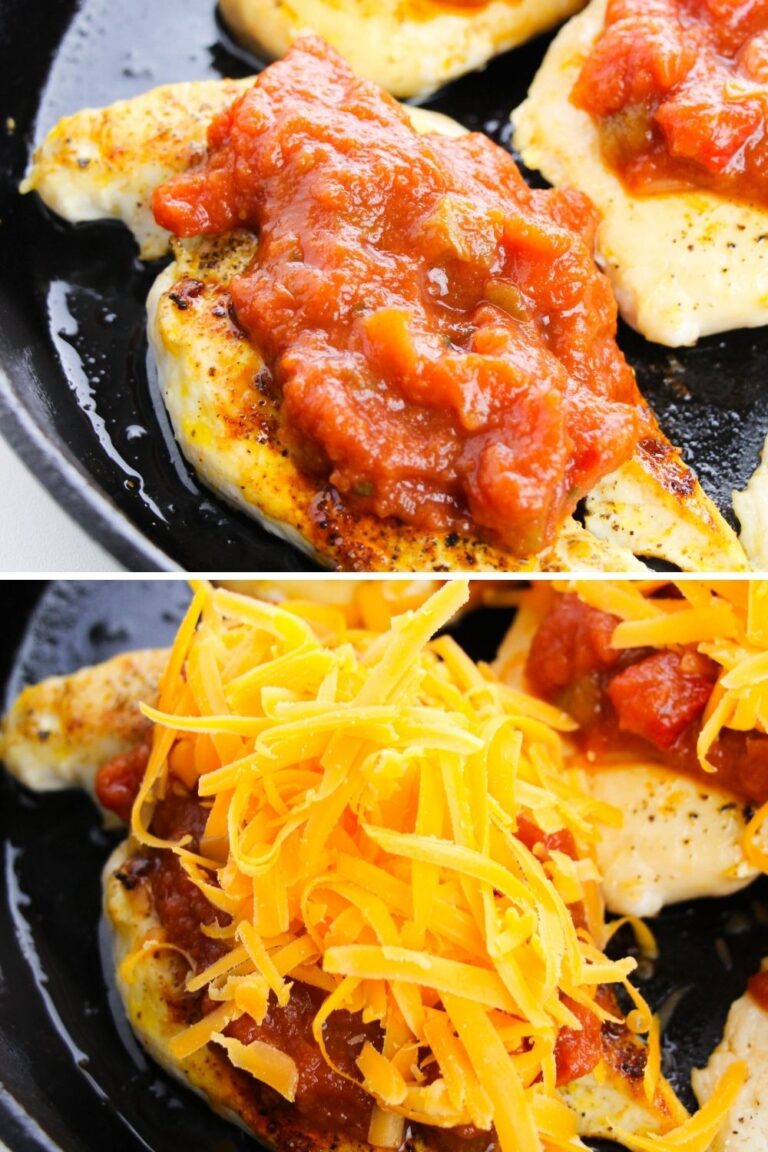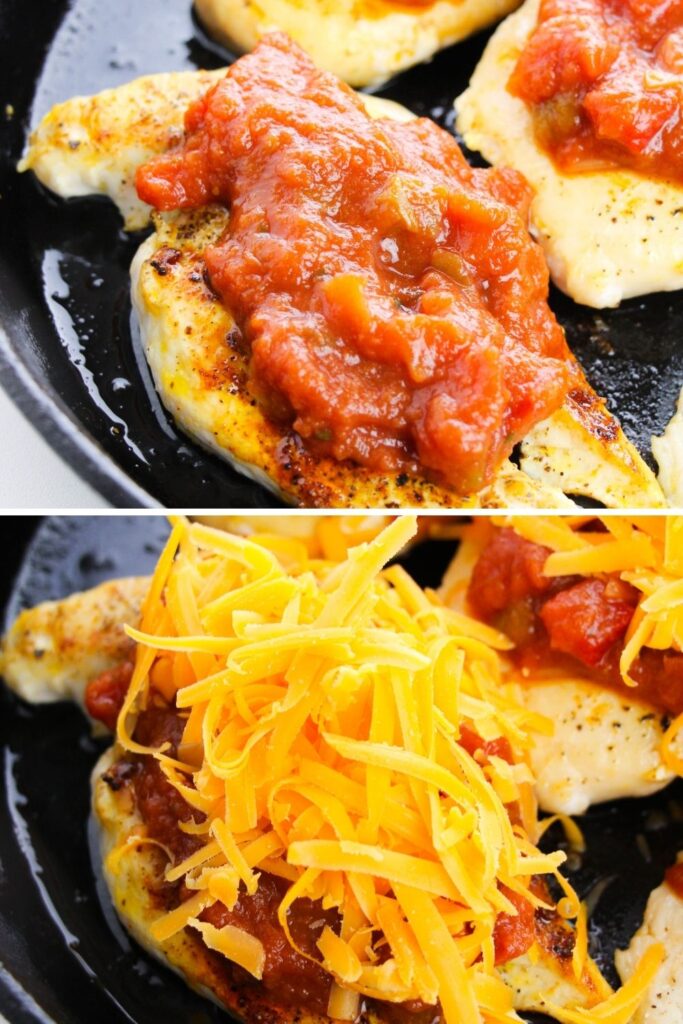 Step Four: Flip the chicken after a few minutes, and repeat to create a golden crust on both sides of the chicken. Make sure the chicken is fully cooked.
Step Five: Top each chicken with salsa and shredded cheese. Then toss in the preheated oven and let it cook 3-5 minutes.
Serve with your favorite sides and devour!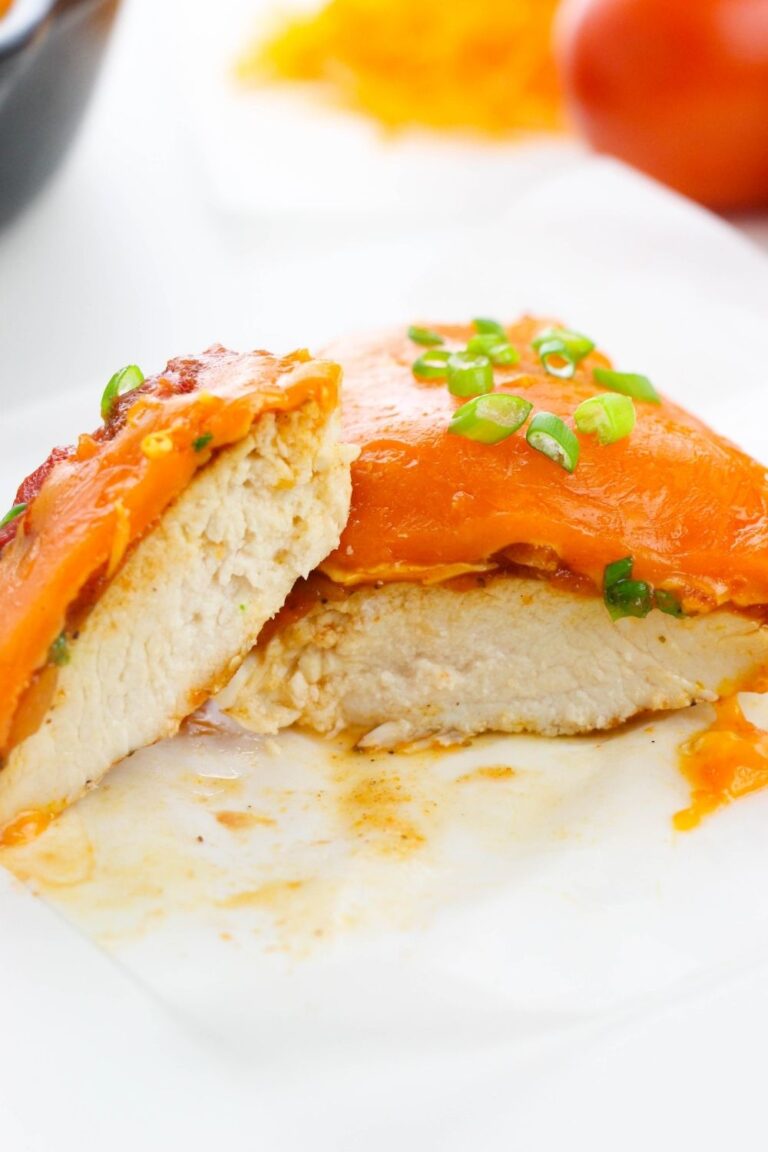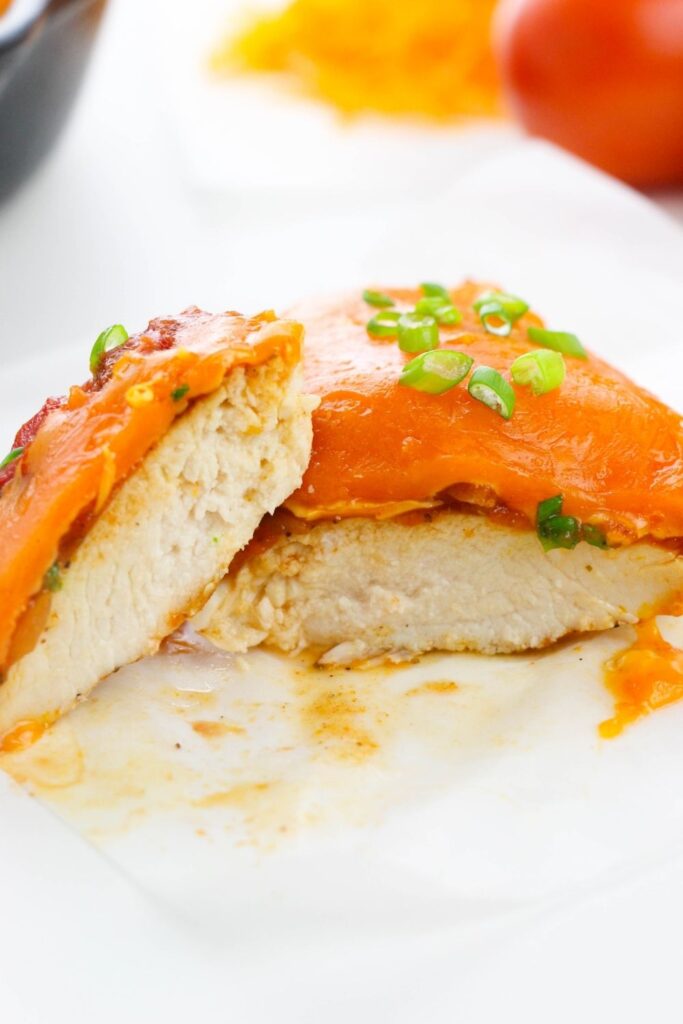 Helpful Tips For Success
Here are tips for this chicken recipe with salsa!
Use a meat thermometer to ensure your chicken reaches 165 degrees internally.
Try to aim for the same thickness of chicken to ensure the chicken cooks up at the same time.
Instead of 450 degrees you can use a broil option for your chicken to melt the cheese.
Or place a lid on the chicken to let the cheese melt if you do not want to bake.
If you don't own an oven proof pan you can transfer chicken to a baking dish before placing in oven.
How to Serve Salsa Chicken
Main Dish – Serve with your favorite sides!
Burrito Bowl – Once the chicken is done, slice into strips and then pair with a bed of rice, beans, corn, and other Mexican toppings.
Quesadilla – Slice up the chicken thinly once baked and place in a tortilla. Butter the outside of 2 tortillas. Place one tortilla in a hot skillet, add chicken, cheese and place the top tortilla on.
Sear for a few minutes to create a golden brown color. Flip and repeat. Then slice up the quesadilla and devour.
Tacos – Whether you use a crunchy shell or soft shell you can make the chicken into a taco. Just once finished chop up the chicken a bit to bite size pieces. Add on some lettuce sour cream and dive in.
Storage
You can store your chicken in an airtight container for 2-4 days in the fridge. To reheat you can warm up in the microwave or in the oven.
If you opt to heat up in the oven I recommend covering with foil to help prevent drying out the chicken.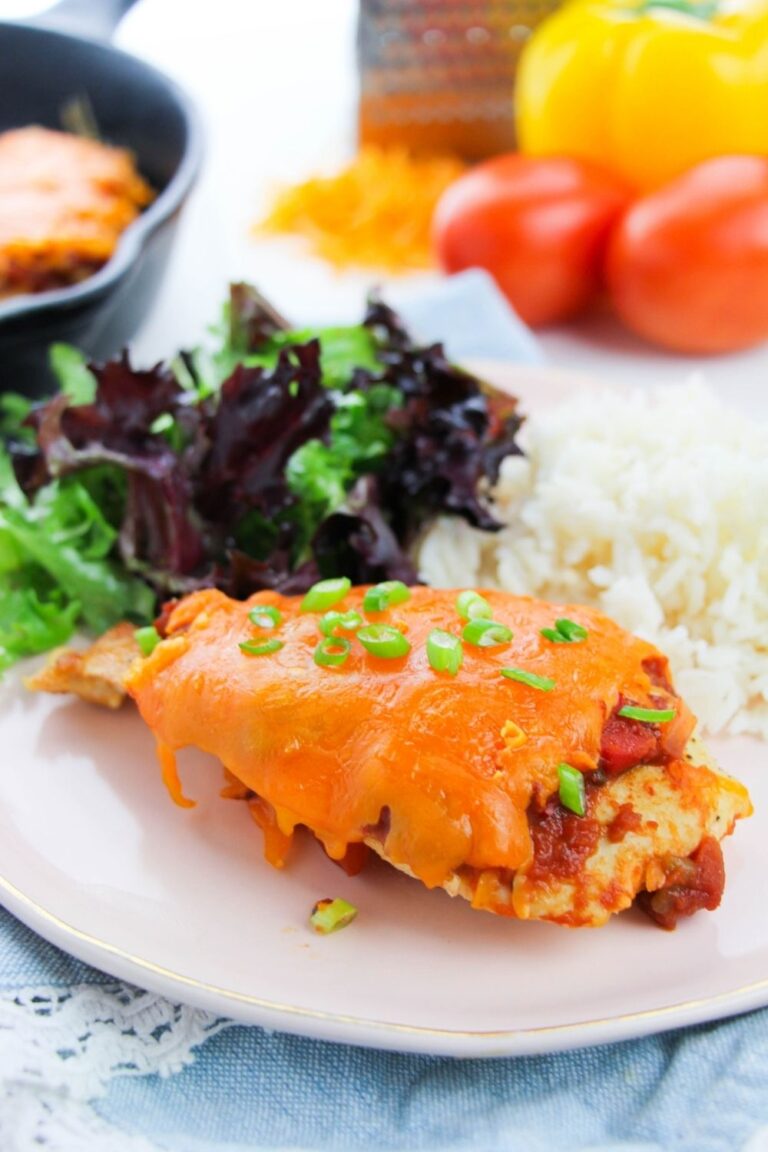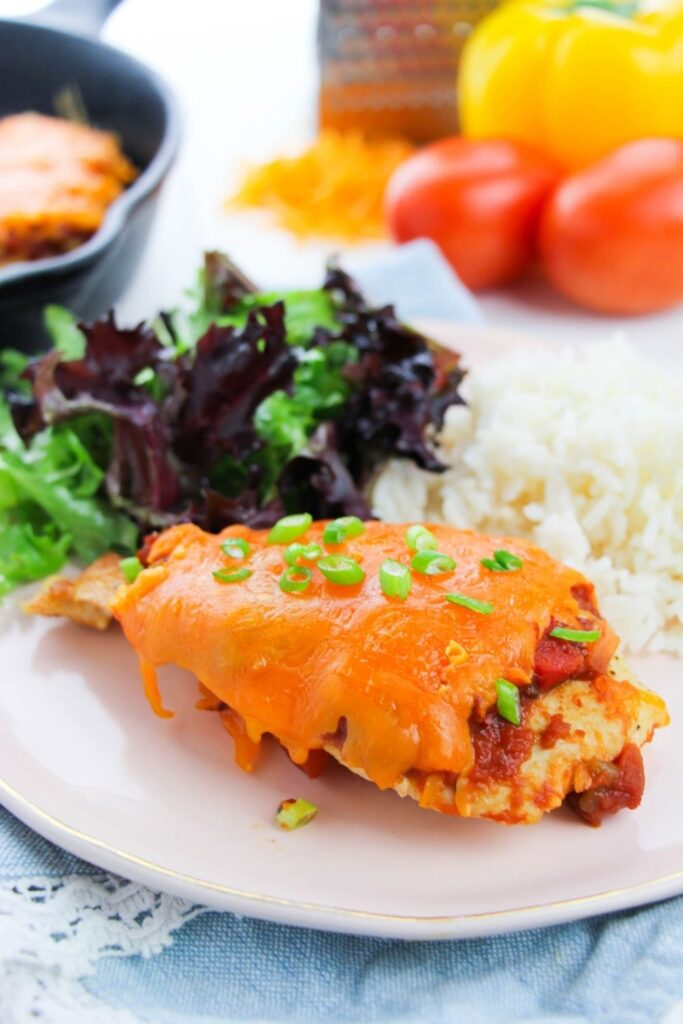 Meal Prep
Want a meal prep this Mexican chicken bake? This is great for using to meal prep. Place in your meal prep container and then pair with veggies, rice, etc. Then store in the fridge for a grab and reheat dinner option.
Common Questions
Here are some common questions when making this Mexican chicken breast recipe.
I hope you enjoy this quick chicken recipe that is a perfect weeknight dinner idea. Simple ingredients with big flavors.
More Chicken Recipes
Have you tried the recipe? If so, please leave a star ⭐️⭐️⭐️⭐️⭐️ rating in the recipe card below or drop a comment. Also stay in touch with me through social media by following me on Facebook, Pinterest, or My Facebook Group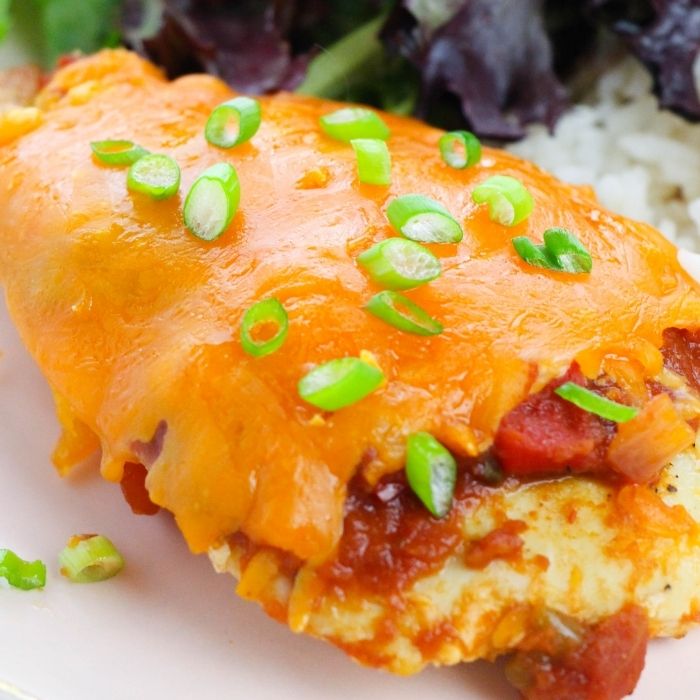 Salsa Chicken
Servings 4
Salsa Chicken is a quick and easy chicken dinner recipe. Seasoned chicken, topped with salsa and shredded chicken. You finish off the chicken in the oven for a tasty oven baked salsa chicken. A simple weeknight dinner.
Ingredients
2 Large Chicken Breasts or 4 small
1 Tablespoon Oil
Salt and Pepper to taste
1 Tablespoon Taco Seasoning
1 cup Salsa as needed
1 cup Shredded Cheddar Cheese
Instructions
Start by preheating your oven to 450 degrees.

Then slice your chicken in half lengthwise, making the chicken thinner.

Season with salt, pepper, and taco seasoning. Do both sides of the chicken.

Heat oil in an oven proof skillet and then pan sear the chicken on both sides. You want to make sure the chicken fully cooks. Internal temperature needs to be 165 degrees.

Once chicken is done, top with salsa, and shredded cheese.

Toss in the preheated oven for 3-4 minutes or until the cheese is melted on top.

Once done serve up the salsa chicken with your favorite sides.
Notes
Chicken – You want to cut thick chicken into thinner strips to ensure that your chicken is thinner and will cook a lot quicker. Cheese – Any flavor of cheese works great for this chicken dinner idea. Even a quesadilla cheese or Mexican cheese blend would be great. Add In Items – You can add in a can of corn, black beans for a more flavorful chicken salsa casserole. Leftovers – Store leftovers in an airtight container for 2-4 days in the fridge. This is a great way to enjoy chicken for meal prepping for lunches for the week. Double Recipe – You are more than welcome to double the recipe if you want. Just grab a large enough skillet.
Nutrition
Serving: 1gCalories: 270kcalCarbohydrates: 6gProtein: 26gFat: 15gSaturated Fat: 6gPolyunsaturated Fat: 7gCholesterol: 79mgSodium: 918mgFiber: 2gSugar: 3g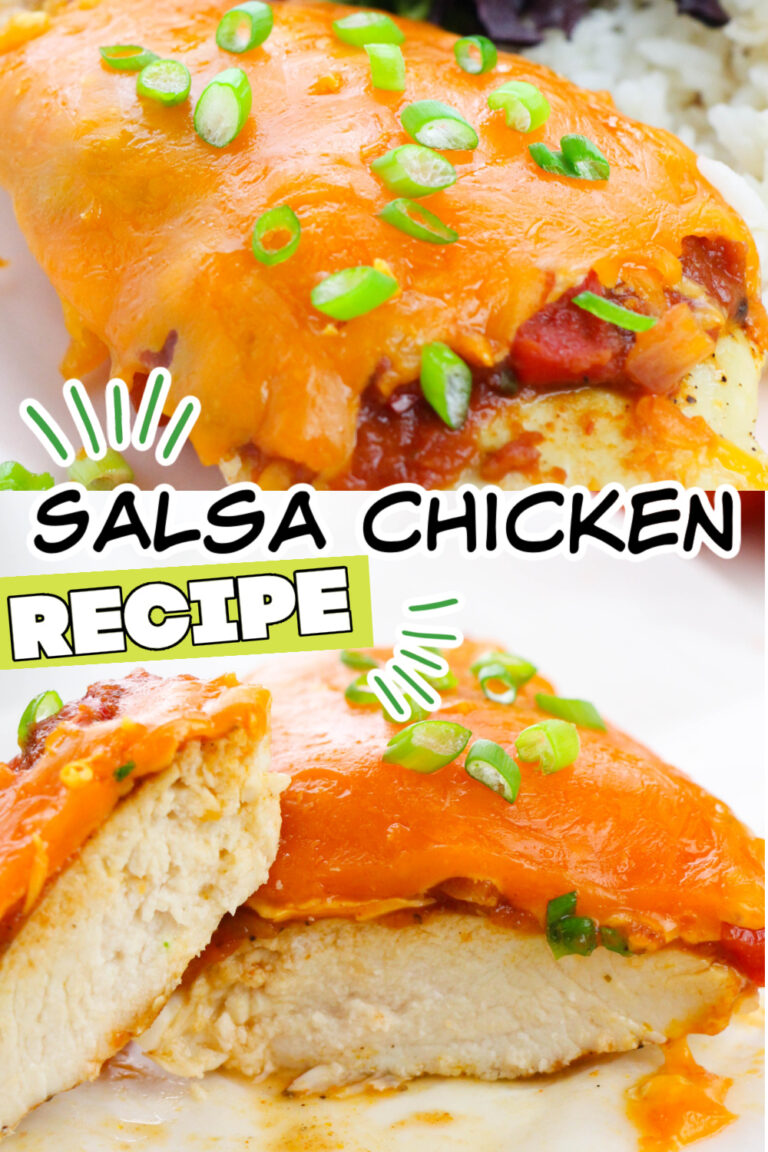 Reader Interactions