Swiss Chicken Bake is an easy chicken casserole that is made with chicken, Swiss cheese, creamy sauce and a boxed stuffing mix. An easy and delicious chicken bake recipe. A no fuss dinner.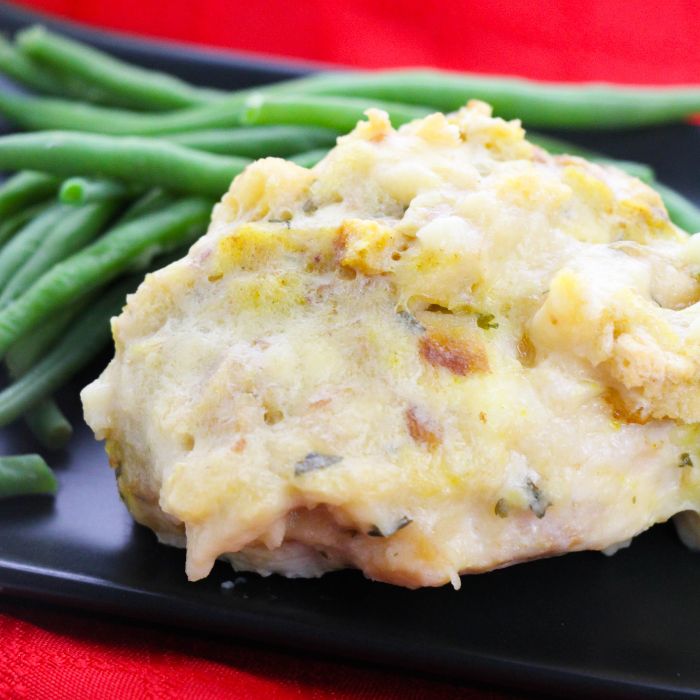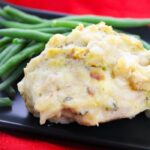 Try out this quick prep Swiss chicken bake that uses boxed stuffing to speed up the prep work. A creamy chicken dinner that is topped with Swiss cheese and stuffing topping. A simple and easy baked Swiss chicken that kids and adults enjoy.
This is an easy dinner recipe that is great for a busy night. This Swiss chicken casserole takes minimal ingredients, and is loaded with flavor. Pair with green beans and dinner rolls and ring that dinner bell.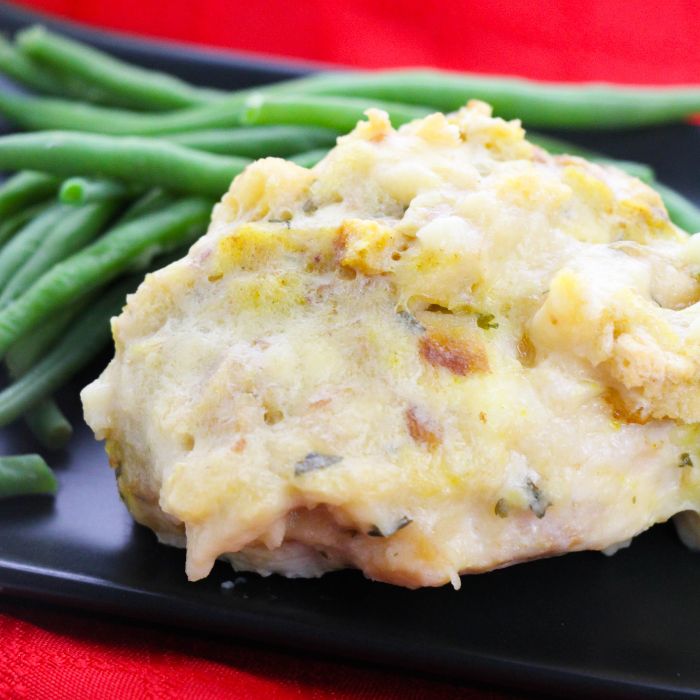 This Swiss Chicken Recipe Is..
Casserole Dish
Skinless Chicken Breasts Recipe
Creamy Sauce
Family Favorite (whole family approved)
Easy Chicken Dinner
Reheats Well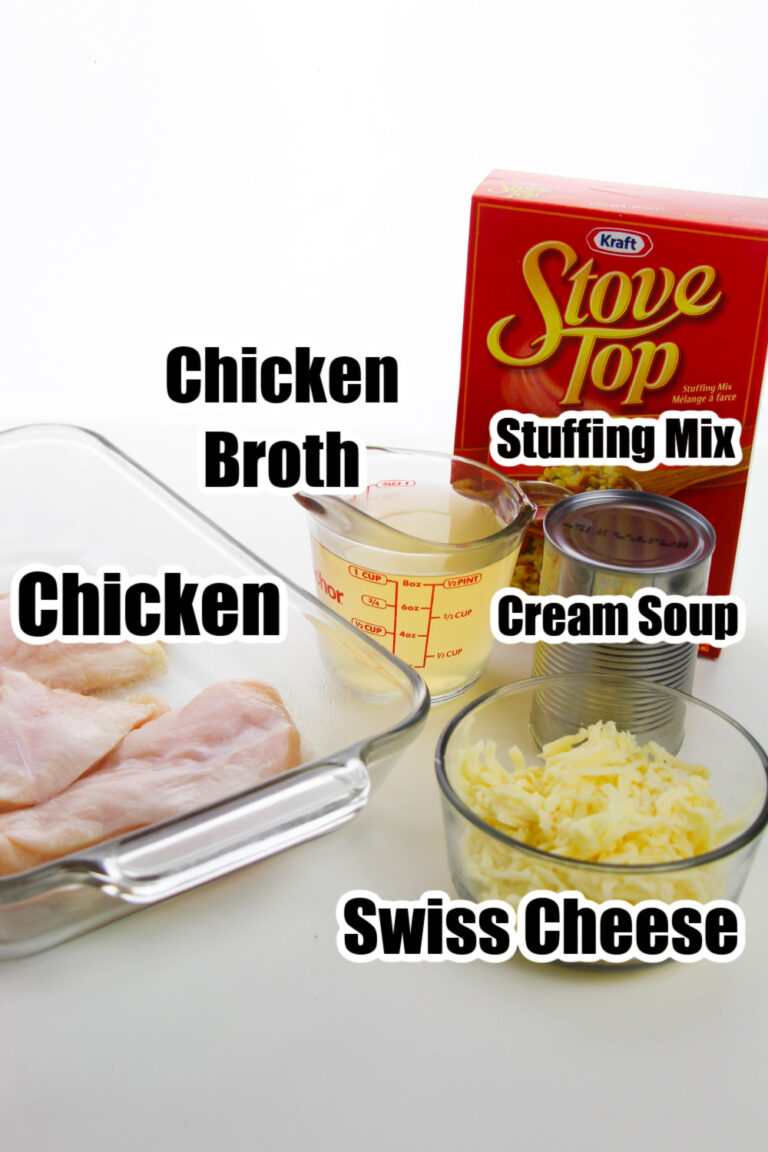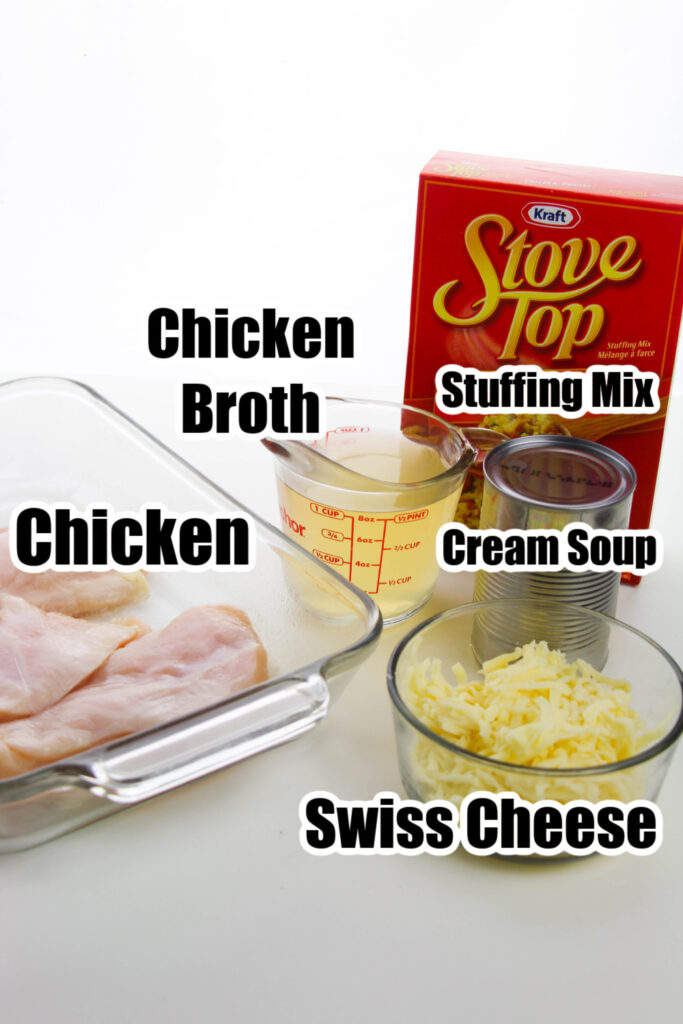 Ingredients
You will see this delicious dinner recipe uses simple ingredients that you might have on hand already. Great for busy nights when you want a simple dinner that you can toss in the oven and let it handle the rest.
Chicken – You will want to use any chicken that is boneless. Chicken breast is great for white meat and chicken thighs that are boneless offer a great dark meat flavor.
Swiss Cheese – I love to buy block Swiss and then grate it as it offers the best creamy texture.
Stovetop Stuffing – Now you could flavor breadcrumbs and go that route, but I find stuffing works just as good, and eliminates the prep.
Cream of Chicken Soup – Condensed chicken soup is great as it is going to help give you that creamy sauce to compliment the chicken.
Broth – You can use milk instead of chicken broth, but I find broth is a great way to add a bit more richness into the chicken casserole.
How to Make
Full directions on how to make this Swiss chicken bake is in the printable recipe card at the bottom of the post. This is a visual walk through on how it is made.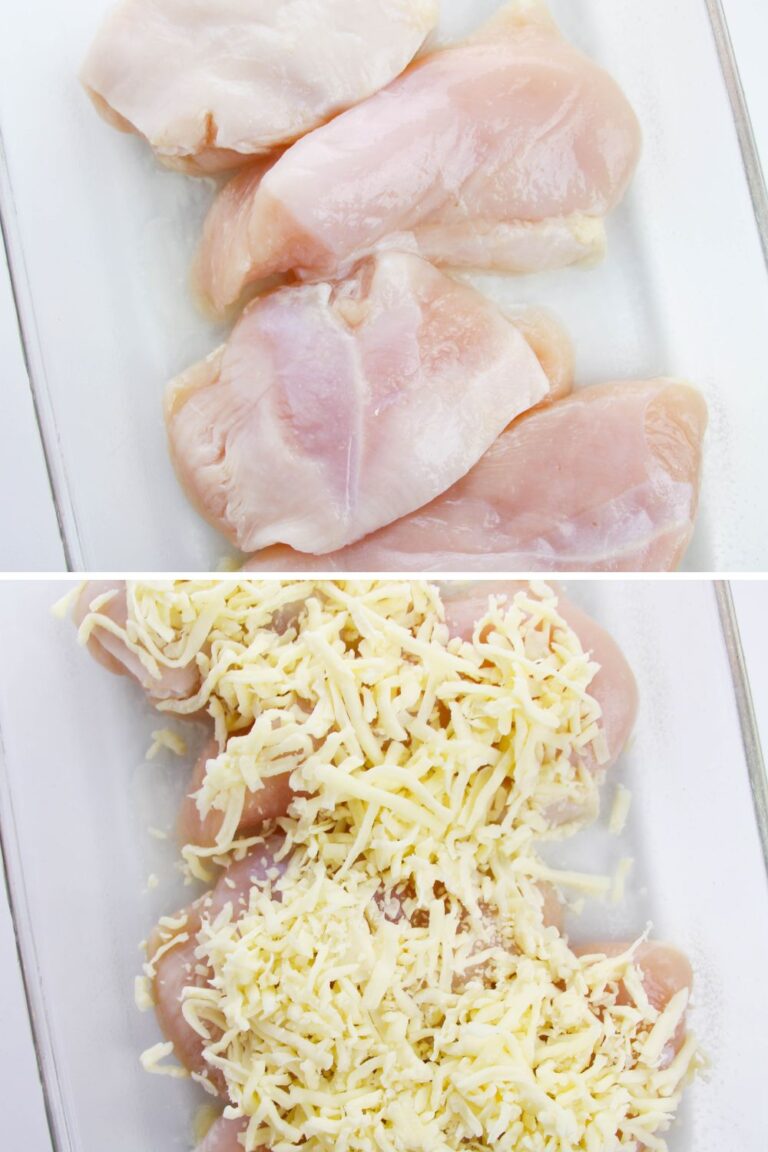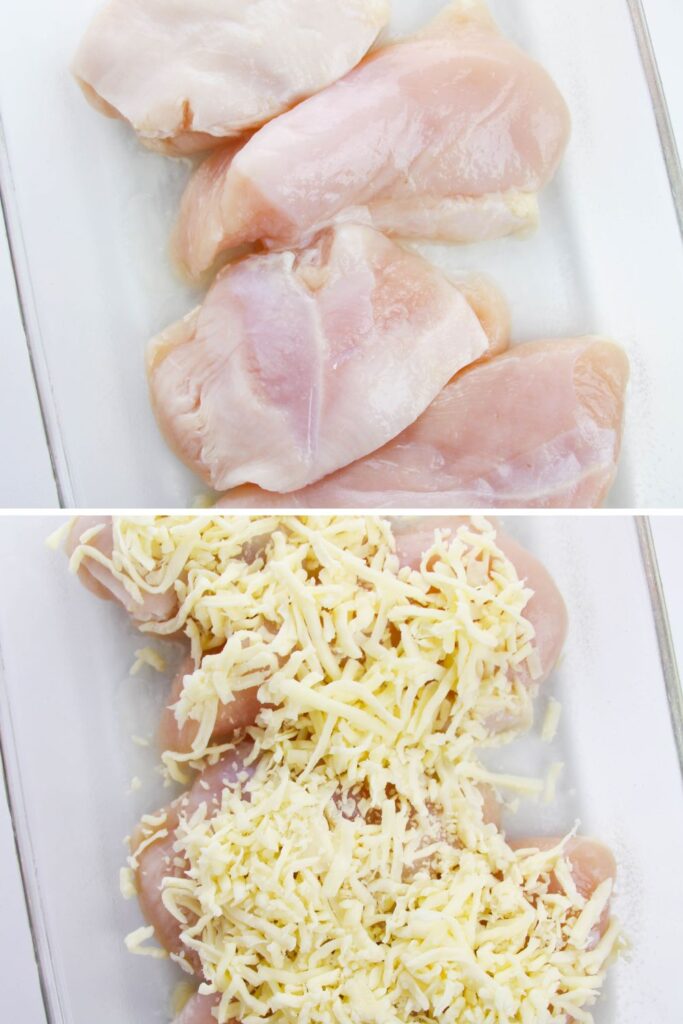 Step One: Preheat the oven and prep your 9×13 casserole dish. Set it aside.
Step Two: Now you will place your chicken in the casserole dish in a single layer.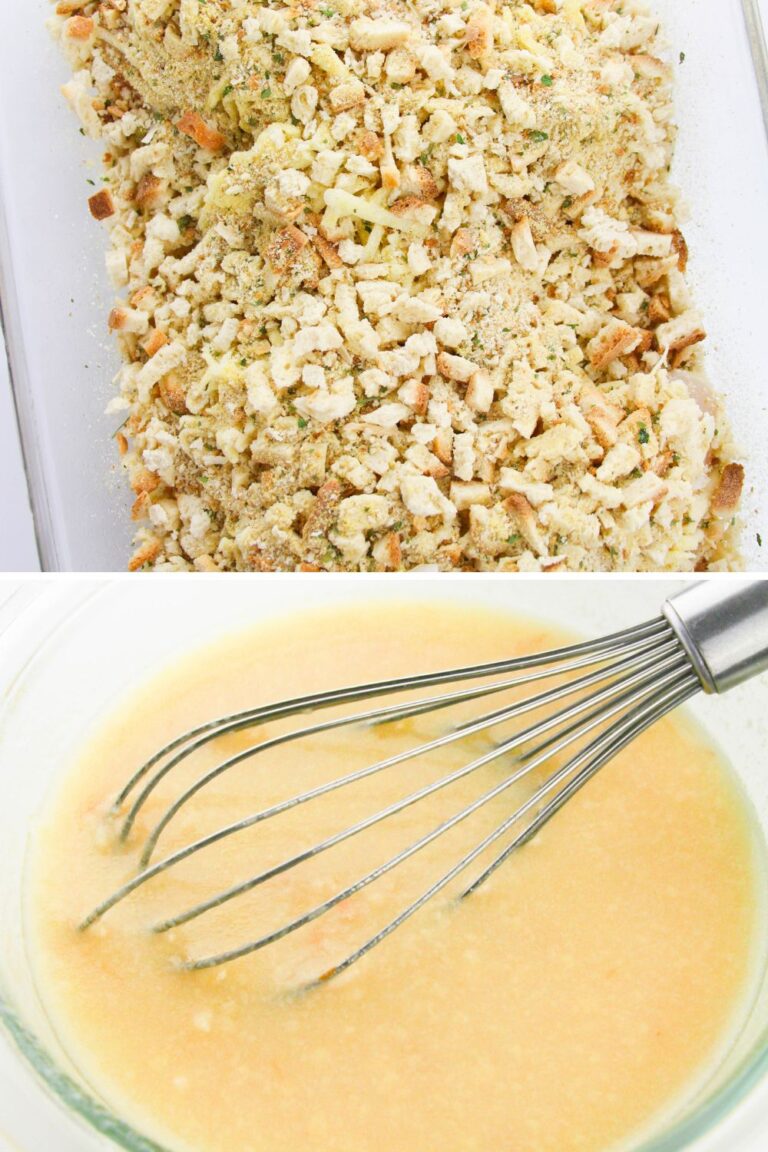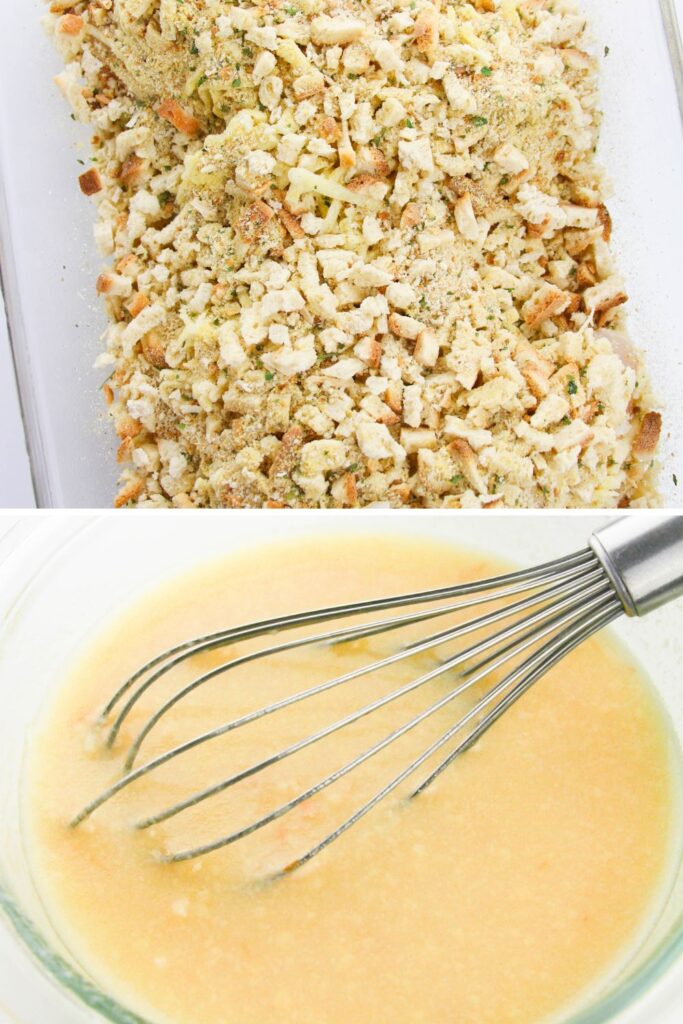 Step Three: Then you will sprinkle your shredded cheese over the chicken. Then pour the stuffing over the top of the cheese.
Step Four: In a small bowl, add your cream of chicken soup and broth. Mix well to combine.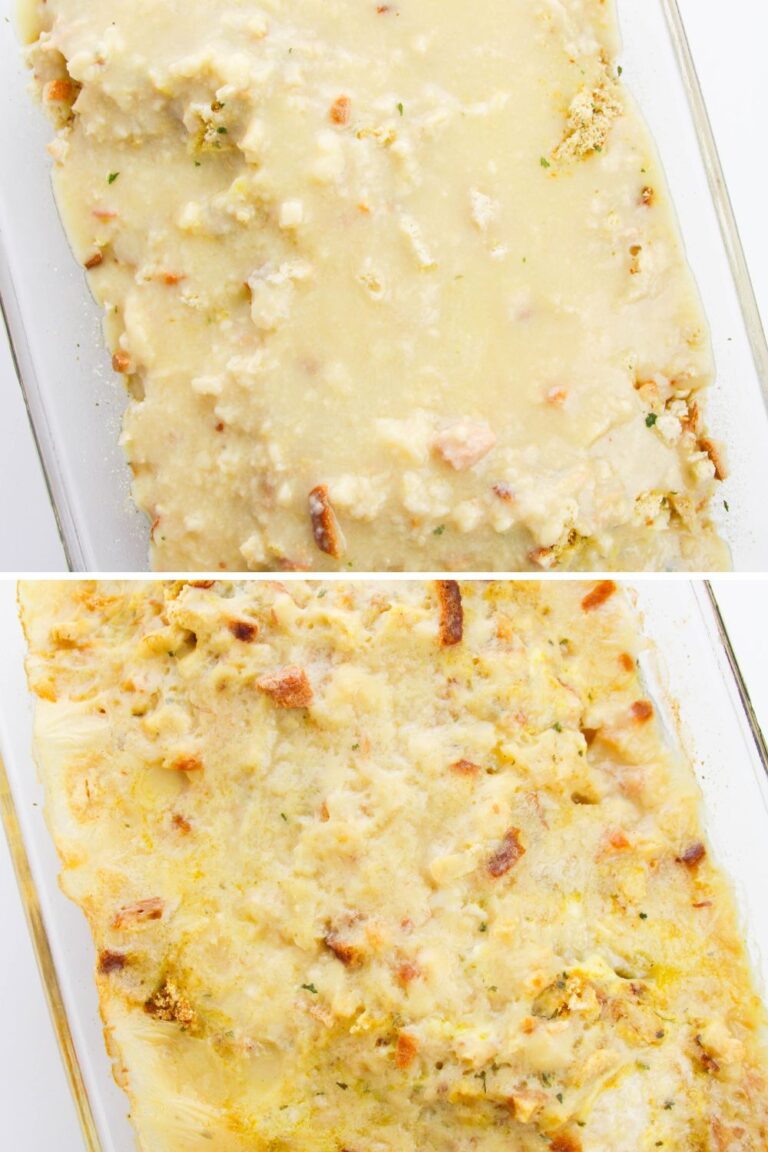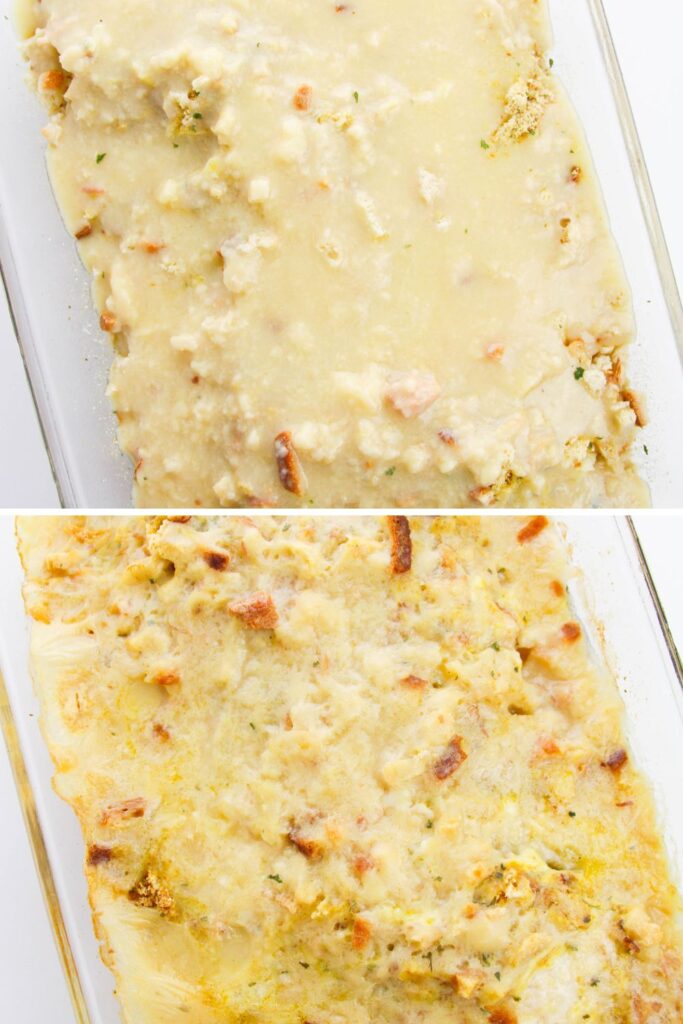 Step Five: Pour the mixture over the whole casserole dish. Cover the dish with tin foil and bake as directed.
Step Six: At the end of cooking remove foil to allow it to brown up the top of the chicken casserole. When the chicken is fully cooked, dish up the Swiss chicken.
Expert Tip: Use a meat thermometer to ensure the internal temperature of the chicken reaches 165 degrees F. This will show the chicken is fully cooked. Then allow the chicken casserole to rest for 5-10 minutes before dishing up. This allows the chicken to rest.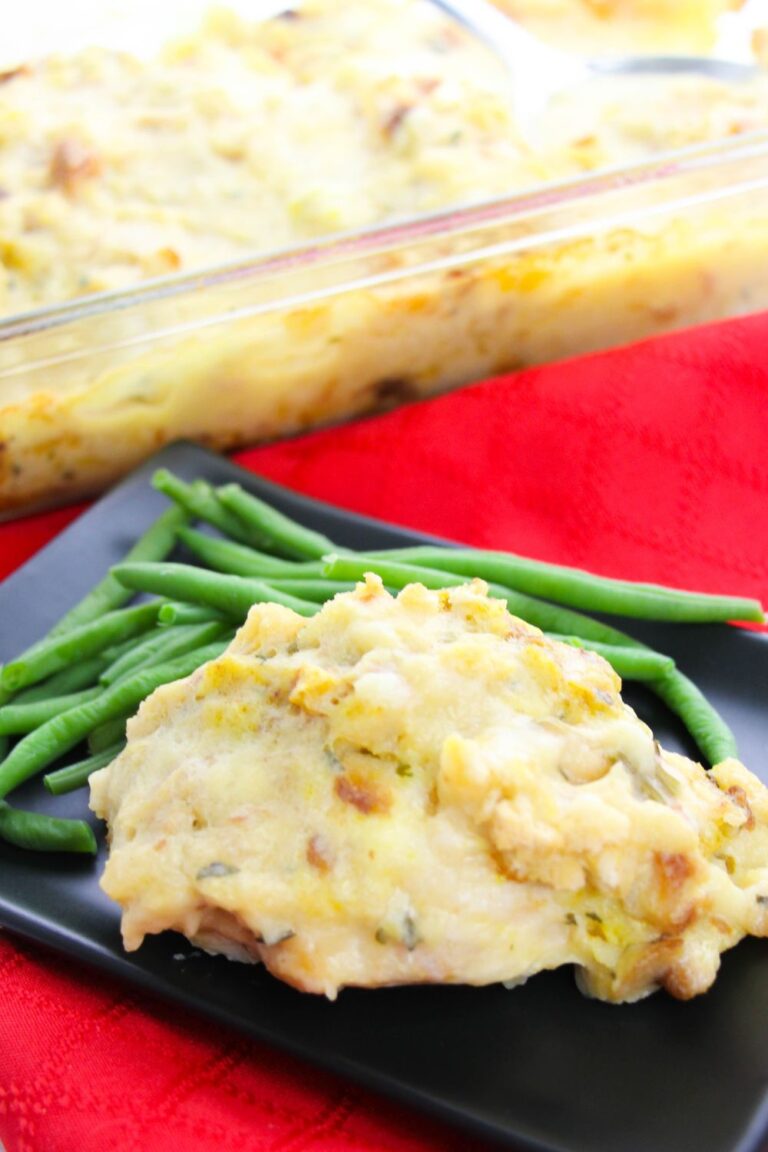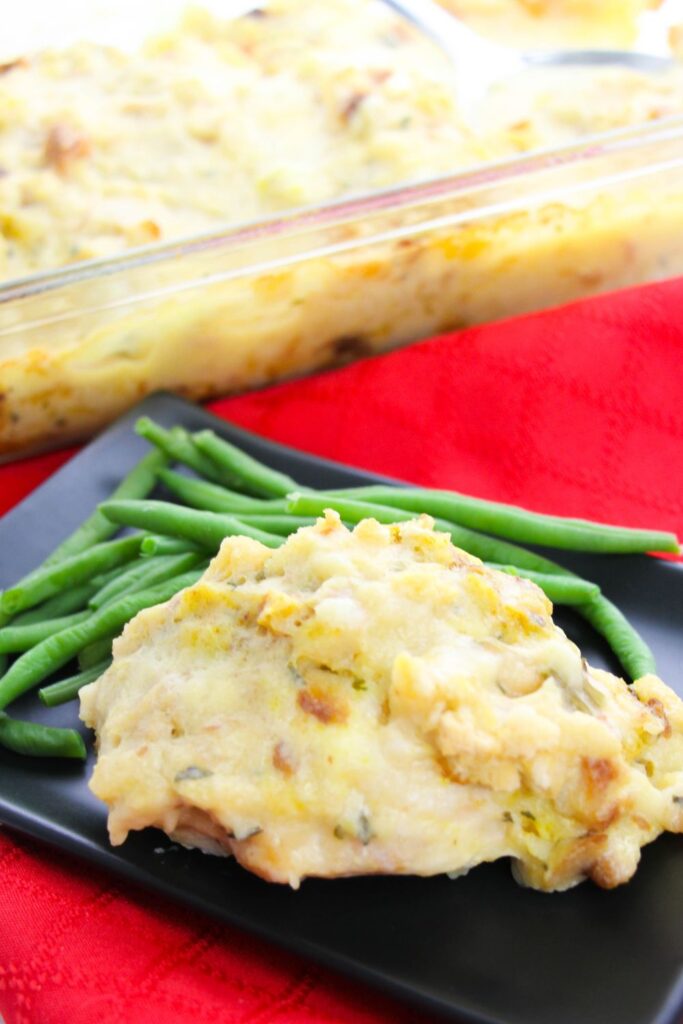 Variations and Tips For Success
You might know of this chicken bake by a lot of different names. No matter what you call it, this dish is so tasty. Here are a few changes and tips for success when it comes to make this casserole.
Feel free to season the raw chicken with a little garlic powder, salt, pepper, onion powder, to add more flavor to the yummy recipe.
Feel free to pound out your chicken to create even thickness of each piece so the chicken bakes evenly.
Place chicken in an even layer in the casserole dish.
For this Swiss cheese chicken make sure to spread each layer evenly over the chicken. The stuffing mix should be covered in the wet creamy sauce, to ensure it doesn't become too dry when baked.
Swap out the Swiss cheese and place with pepper jack cheese, or other types of cheese.
Swap out the cream of chicken with a can of cream of mushroom soup or other types of soup.
Storing Leftovers
If you have any leftover just transfer the food from the baking dish into an airtight container. Then refrigerate for 2-3 days. Then warm the chicken and the casserole fillings in the microwave or heat it up in the oven. This is an easy recipe to reheat for a quick lunch or dinner for weeknight dinners through the week.
You can also make a freezer meal with the leftovers. Just store in the freezer container, and then thaw in the fridge overnight, or reheat from frozen. The Swiss chicken can freeze for 3 months.
Common Questions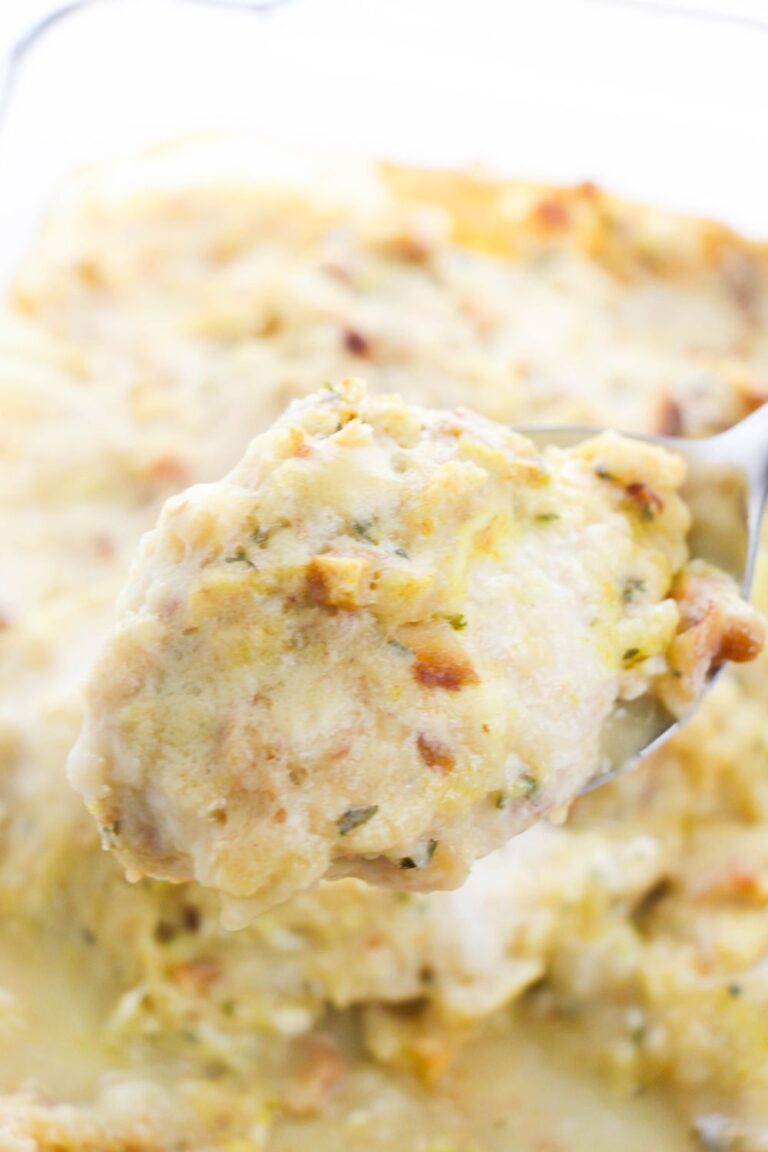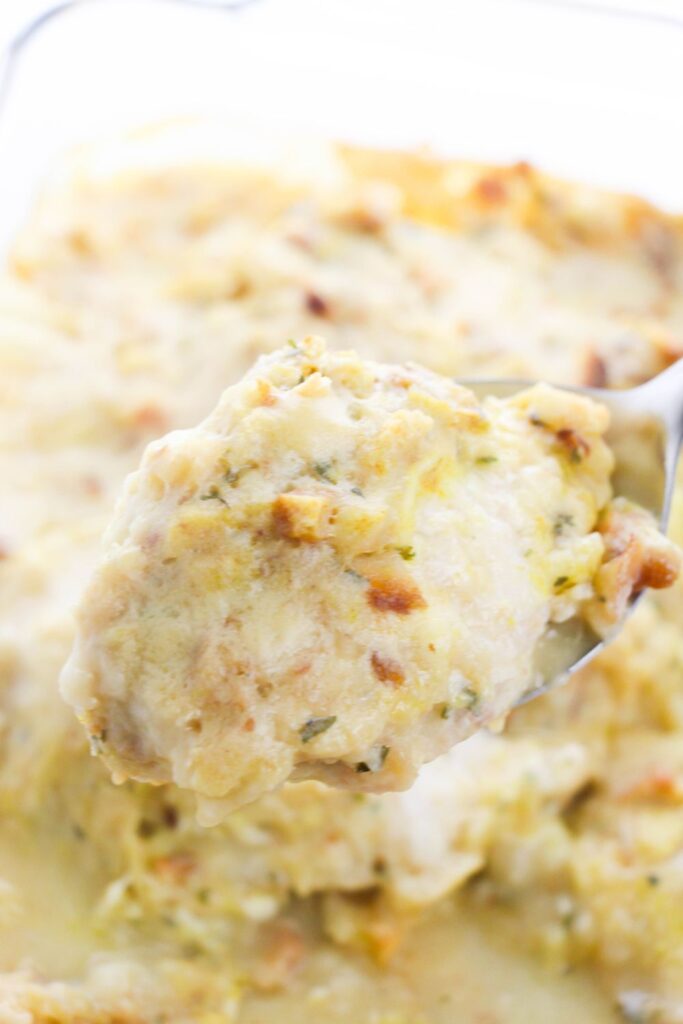 Related Recipes
Have you tried the recipe? If so, please leave a star ⭐️⭐️⭐️⭐️⭐️ rating in the recipe card below or drop a comment. Also stay in touch with me through social media by following me on Facebook, Pinterest, or My Facebook Group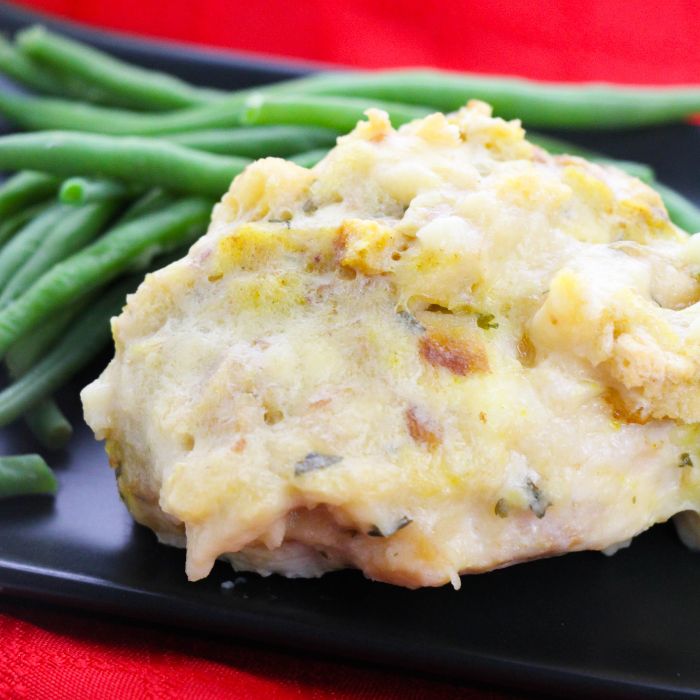 Swiss Chicken Bake
Servings 6
Swiss Chicken Bake is an easy chicken casserole that is made with chicken, Swiss cheese, creamy sauce and a boxed stuffing mix. An easy and delicious chicken bake recipe. A no fuss dinner.
Ingredients
1 1/2 pounds boneless skinless chicken
2 cups Swiss cheese
1 11.5 ounce Condensed Cream of Chicken Soup
1 cup chicken stock or milk
1 box Stovetop Chicken stuffing
Instructions
Preheat the oven to 350 degrees F. Then grease a 9×13 pan, and set it to the side.

Next you will take your skinless and boneless chicken breast and place in a single layer in the baking dish.

Sprinkle with your Swiss cheese. You can grate the cheese or used deli style sliced Swiss cheese.

Top with the stuffing making sure it spread out in an even layer.

Net you will grab a bowl and mix the condensed soup and the stock or milk together. Once well mixed pour over the top of the casserole.

Cover with tin foil and bake for 30 minutes. Then uncover and cook an additional 10-15 minutes.

Once your chicken reaches an internal temperature of 165 degrees F your casserole is ready to dish up.
Notes
Chicken – You are welcome to use chicken tenderloins, boneless chicken thighs, etc. Boneless chicken is best.  Stuffing – You can use any brand or flavor of stuffing you want. I like to use chicken stuffing to compliment the flavor of the chicken. 
Nutrition
Serving: 1gCalories: 277kcalCarbohydrates: 1gProtein: 32gFat: 16gSaturated Fat: 8gPolyunsaturated Fat: 1gMonounsaturated Fat: 4gTrans Fat: 0.02gCholesterol: 141mgSodium: 169mgPotassium: 303mgSugar: 0.002gVitamin A: 326IUCalcium: 331mgIron: 1mg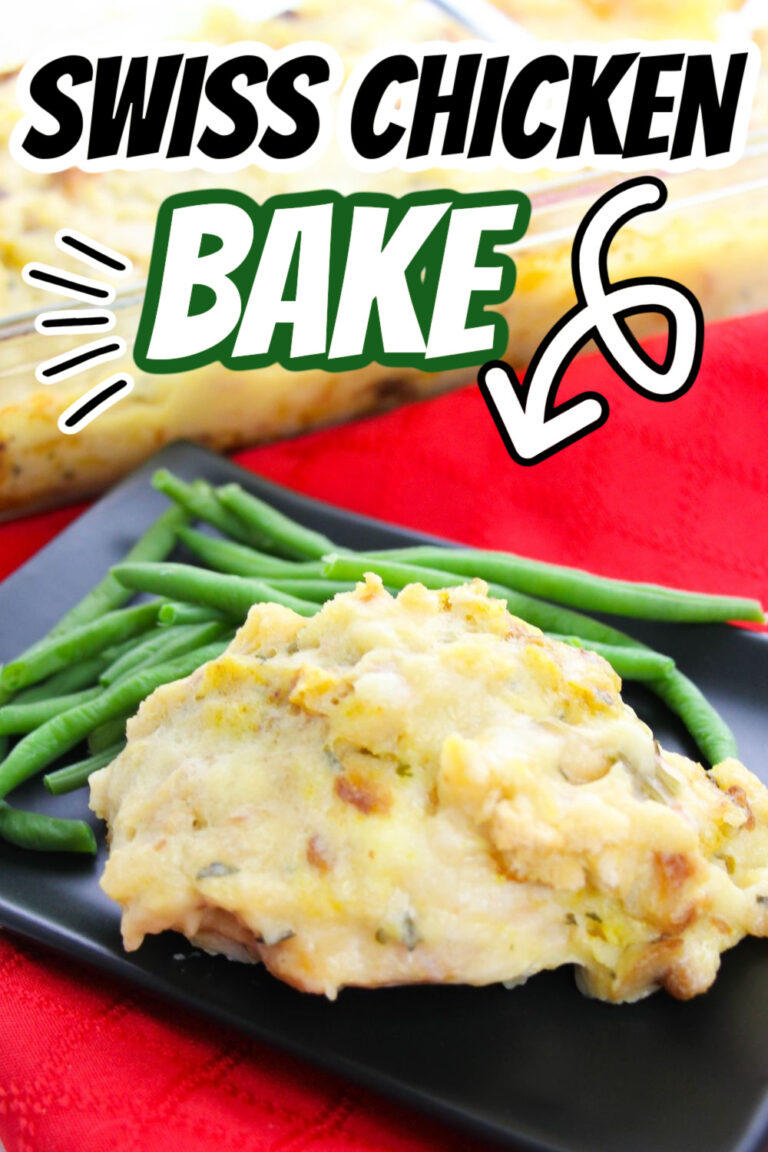 Reader Interactions