is a bright and fresh rice side dish! This long grain rice is such a popular flavor of lime and cilantro. Very similar to the Chipotle cilantro lime rice you may know and love.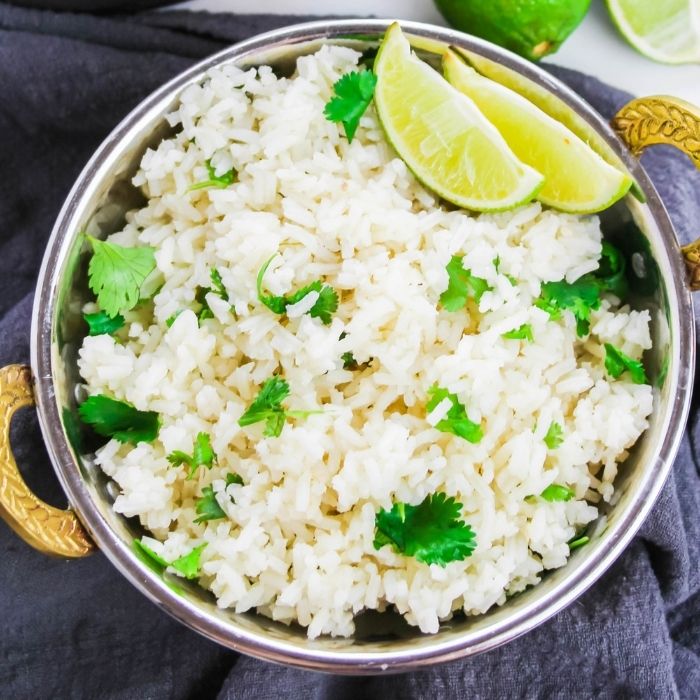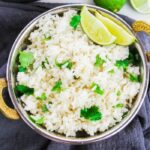 Cilantro lime rice is a fresh and delicious rice to pair with any Mexican or Asian dish. This cilantro rice is paired with lime to bring you a nice zing of flavor. Whip up this homemade cilantro lime rice for dinner tonight.
We use this lime rice with burrito bowls, and it really adds a ton of flavor to the dish. If you are looking for an easy rice recipe to elevate your meal, here you go! In around 20 minutes you have an easy side dish to dish up.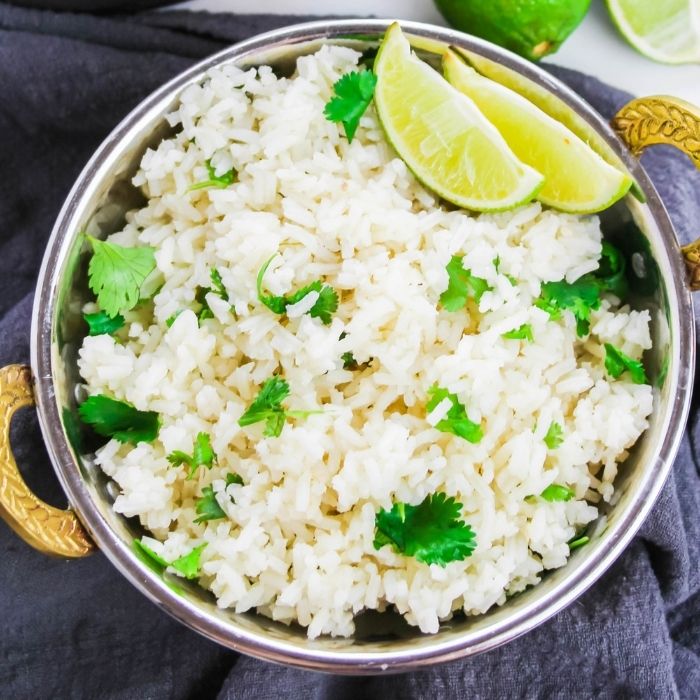 Whether you pair with grilling food, or Mexican inspired dishes this is one simple recipe that can be used for so many meals. Toss in some black beans or even top with a dollop of sour cream for added flavor.
This Cilantro Lime Recipe Is…
Gluten Free
Made with Everyday Ingredients
Great Side Dish Recipe
Quick and Easy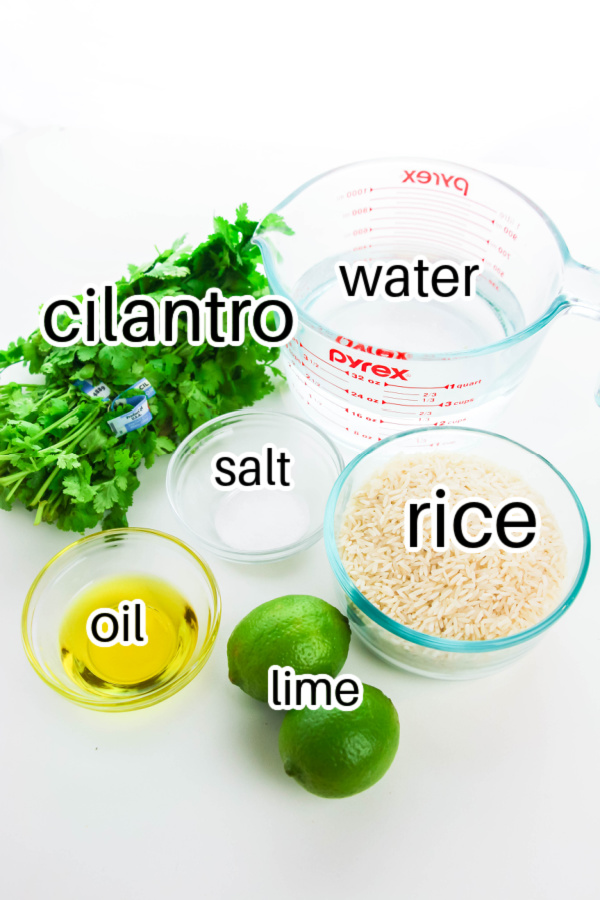 Ingredients You Need For Recipe
First let me share all the ingredients you need before you get started. As well as some variations for the rice featured right below.
Oil – I used olive oil but you could easily swap with canola or vegetable oil.
Long Grain Rice – I used long grain rice, but you can easily swap with a different variety of rice.
Garlic – I used minced garlic to help add a nice flavor to your rice.
Lime – Fresh lime to add a nice citrus twist to the rice.
Cilantro – Grab some fresh cilantro and chop it up and mix in the rice.
Salt – Season to your liking.
Variations
Jalapeno – Add in some diced jalapeno for a nice kick of flavor.
Red Pepper Flakes – you can add in around 1/4 teaspoon to 1/2 teaspoon of red pepper flakes to ramp up the spice.
Sea Salt – To really enhance the flavor reach for sea salt and swap with table salt.
Brown Rice – You can swap the long grain with a brown rice if you want. Just adjust water ratio and cook according to package.
Short Grain Rice – The same as a brown rice, adjust the water to rice ratio and cook as directed on package.
How to Make
Full directions on how to make this cilantro lime rice recipe are in the printable recipe card at the bottom of the post. This is a visual walk-through.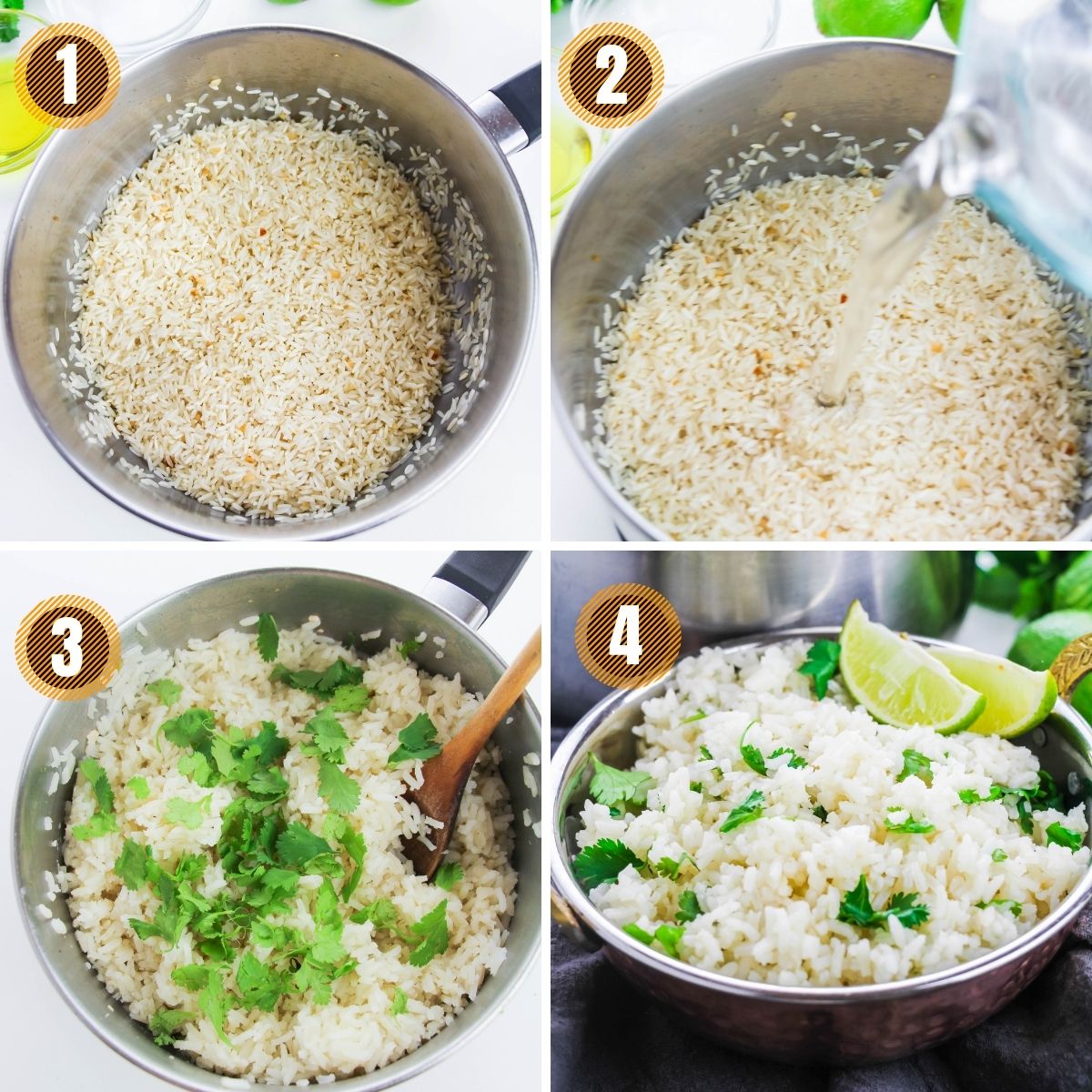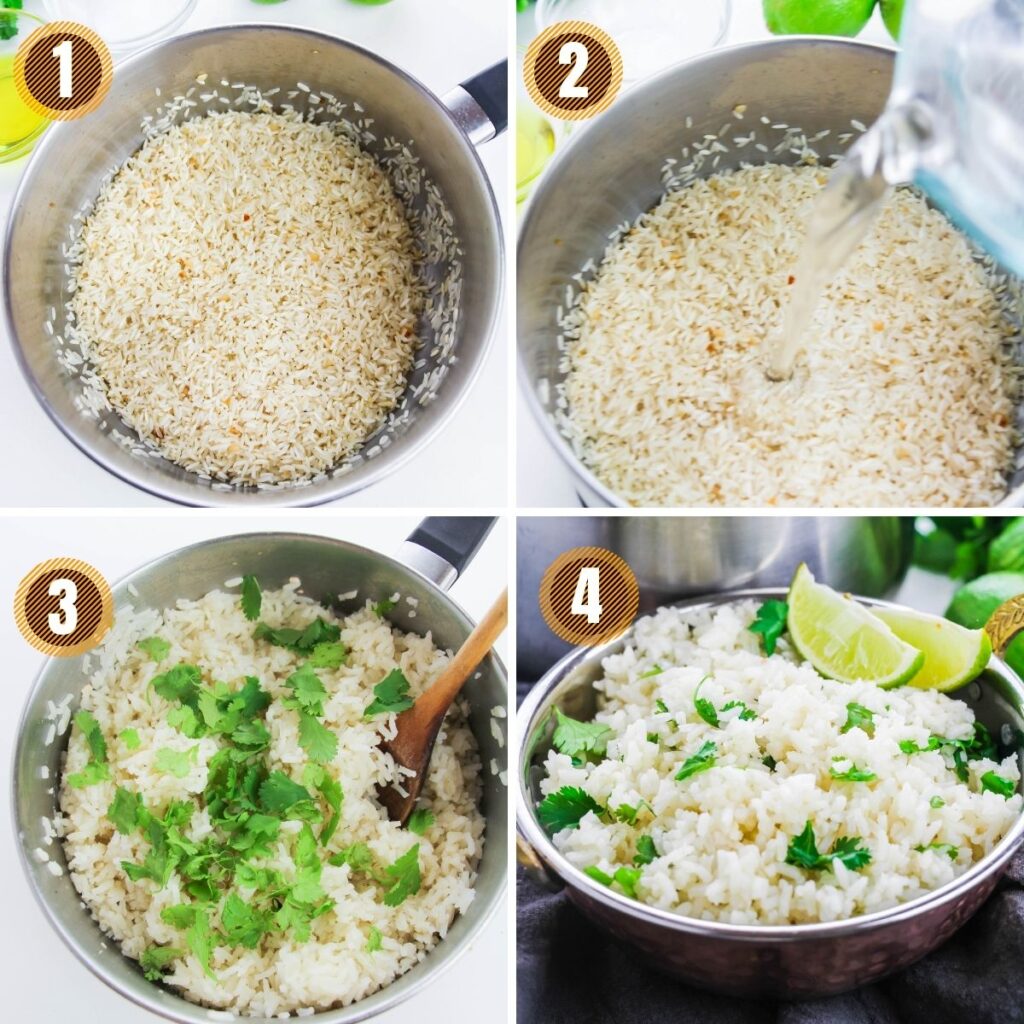 Step One: First heat oil in a pan and then add in the garlic and rice. Cook for a few minutes as directed, stirring to brown the rice a bit.
Step Two: Next add the water, salt and lime to the rice in the pot. Do a light stir to combine.
Step Three: Then you will bring the water to a boil. Cover and reduce heat allowing the rice to fully cook.
Step Four: Next when the rice is done, remove lid and toss in the cilantro and lime juice.
Finally you can serve warm with your favorite main dishes, or use as a filler for a Mexican dinner.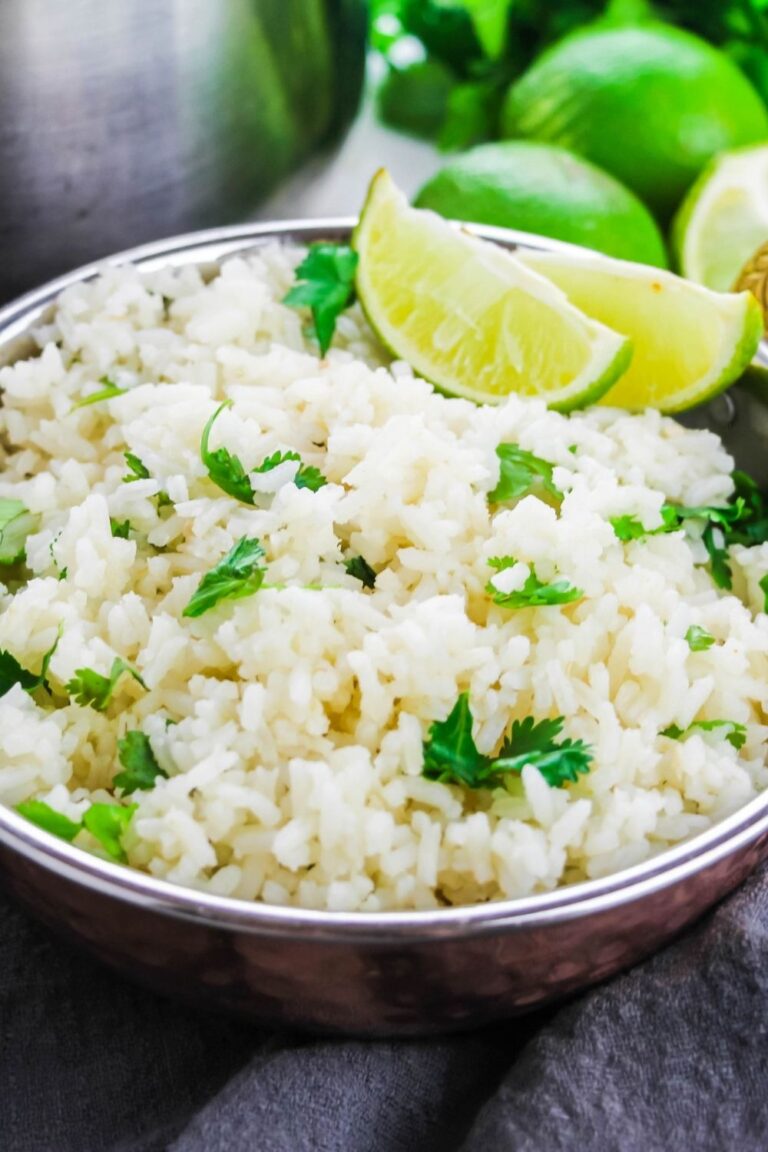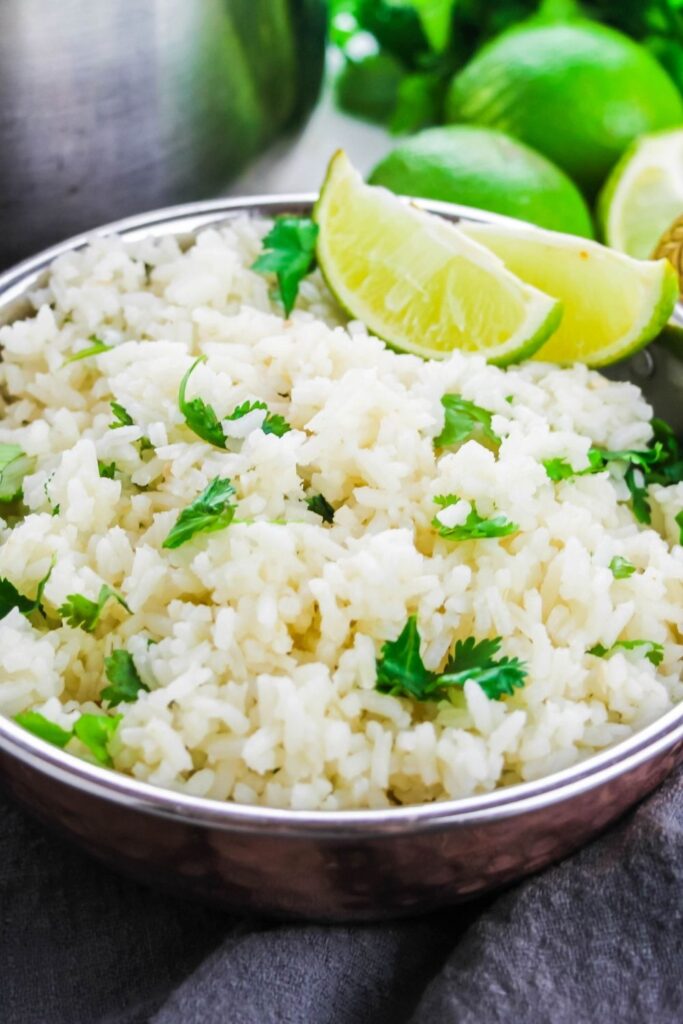 Storing Leftovers
Refrigerate – If you don't eat all the rice, it stores nicely. Just place in an airtight container in the fridge for 3-5 days. Then reheat as you would like.
And if you warm up in the microwave you can add a splash of water to help moisten the rice again if it seems too dried out.
Meal Prep – This rice is delicious and great for meal prepping. If you want add into single serve containers, and then add in some cooked some chicken, Asian meatballs, fajita rice bowl, pair with enchiladas, etc. Then reheat for a simple grab and go lunch or dinner.
Common Questions
Here are some common questions asked when making this lime and cilantro rice.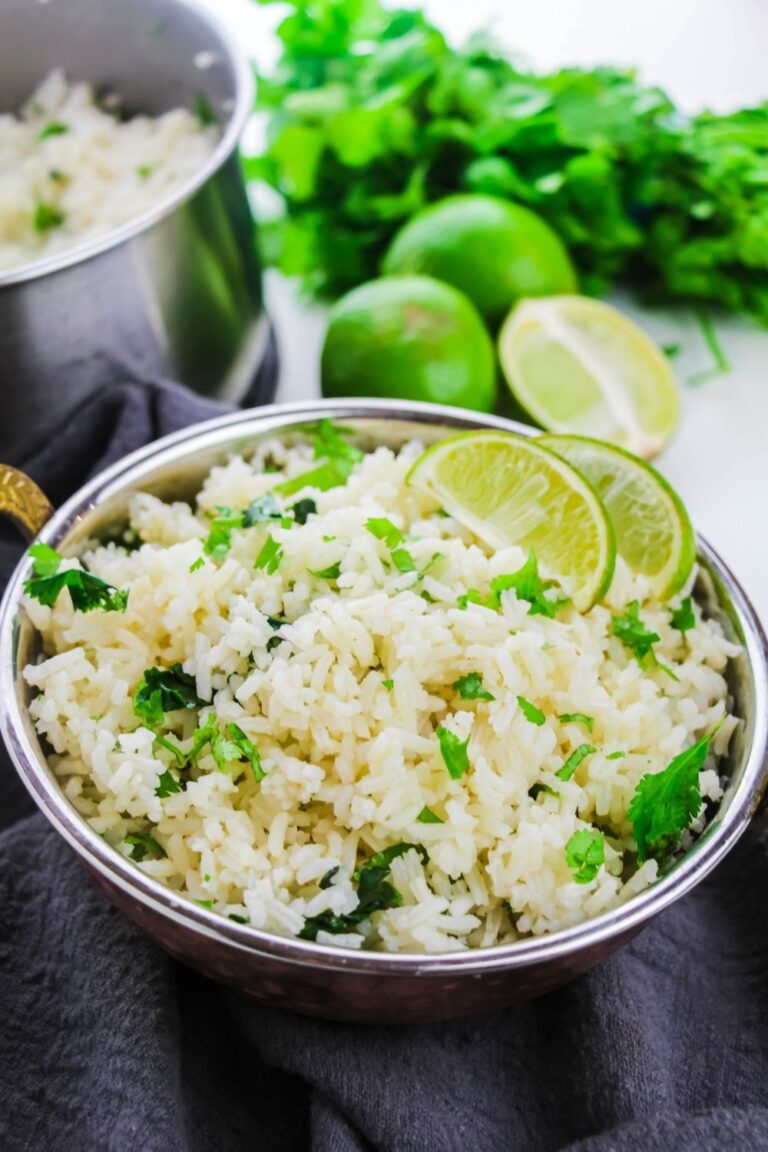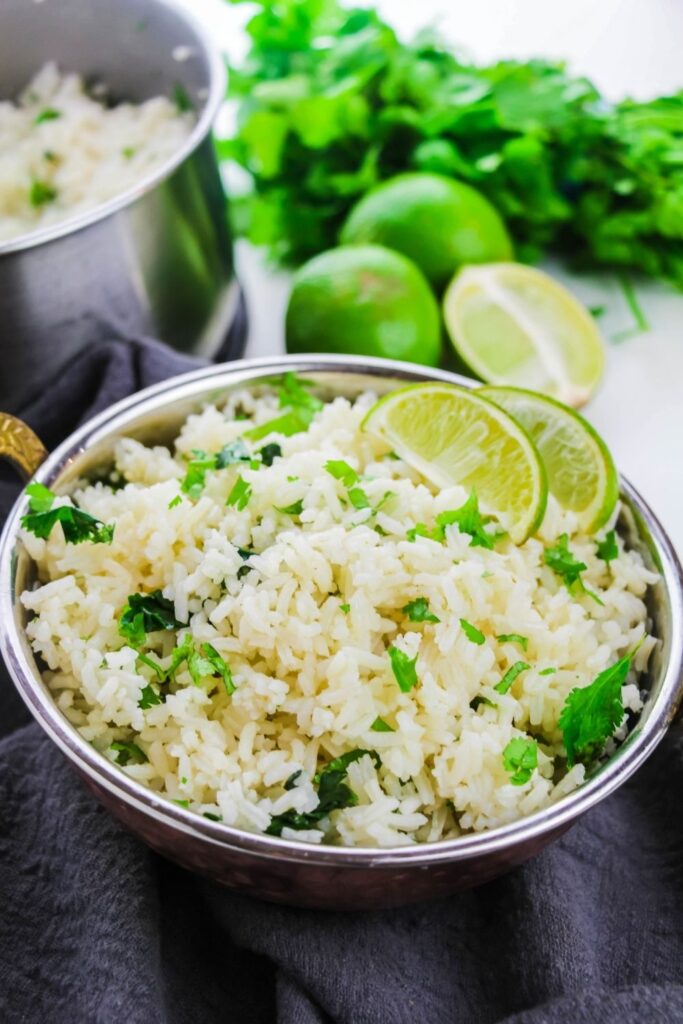 Related Recipes
In addition to my popular rice dish here, check out these other delicious rice recipes! Especially the rice pudding for a sweet take on rice!
Have you tried the recipe? If so, please leave a star ⭐️⭐️⭐️⭐️⭐️ rating in the recipe card below or drop a comment. Also stay in touch with me through social media by following me on Facebook, Pinterest, or My Facebook Group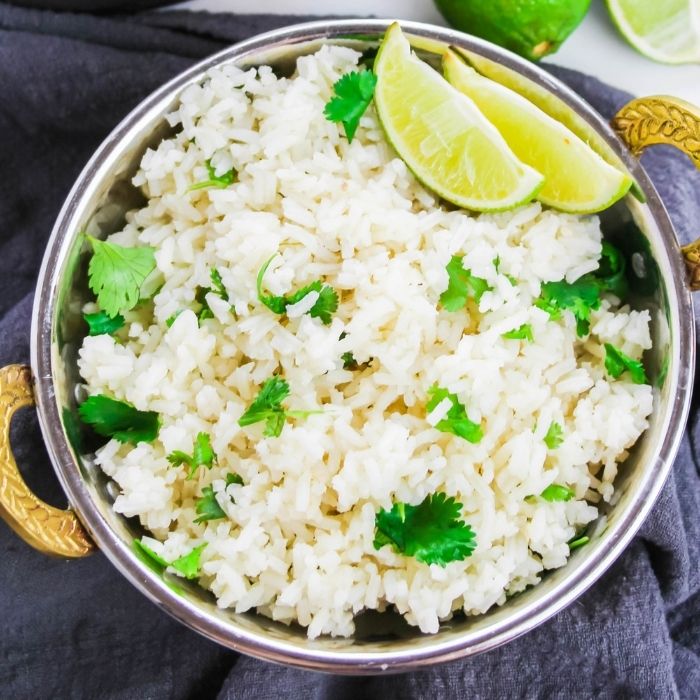 Cilantro Lime Rice
Servings 6 -8
is a bright and fresh rice side dish! This long grain rice is such a popular flavor of lime and cilantro. Very similar to the Chipotle cilantro lime rice you may know and love.
Ingredients
1 Tablespoons Olive Oil
1 1/2 cups Long Grain White Rice washed
1 teaspoon Minced Garlic
2 1/3 cup Water
1 teaspoon Salt to taste
Zest of One Lime
2 Tablespoons Lime Juice to taste
3/4 cup Cilantro Leaves
Instructions
Start by rinsing your rice in cold water. Drain and set aside.

In a saucepan on the stove add oil on medium heat. Once the oil is hot toss in the rice and garlic and cook for 2 minutes. You want the garlic to become fragrant and a golden brown color to rice. Stir often.

Next add in water, salt and lime zest and bring water to a boil.

Once at a rapid boil, reduce heat to simmer, and leave covered for 10-12 minutes or until the rice is fully cooked.

Stir in lime juice and cilantro, and fluff the cilantro lime rice with a fork.

Serve in burrito bowls, next to Enchiladas, Asian dishes, etc. Season with salt if you feel you want more flavor.
Notes
Rice – If you want you can swap to a different variety of rice. Just cook the rice according to the package. Cilantro – Add less or more, the choice is up to you. Or if you want to omit the cilantro go right ahead. Storing – You can store your rice for 3-5 days in the fridge. When you reheat you can add a splash of water to moisten the rice if it seems dry.
Nutrition
Serving: 1gCalories: 58kcalCarbohydrates: 10gProtein: 1gFat: 2gPolyunsaturated Fat: 1gSodium: 268mg
In conclusion this rice is crazy easy to make. Give it a try today and let me know what you think.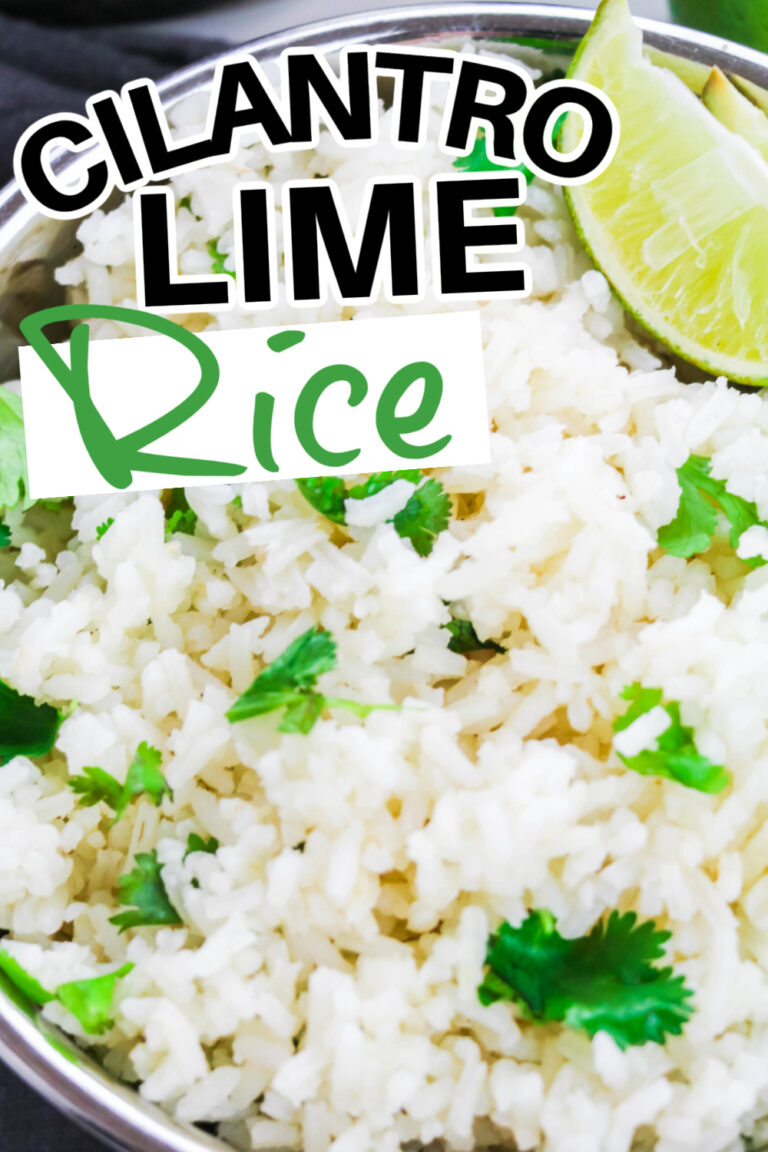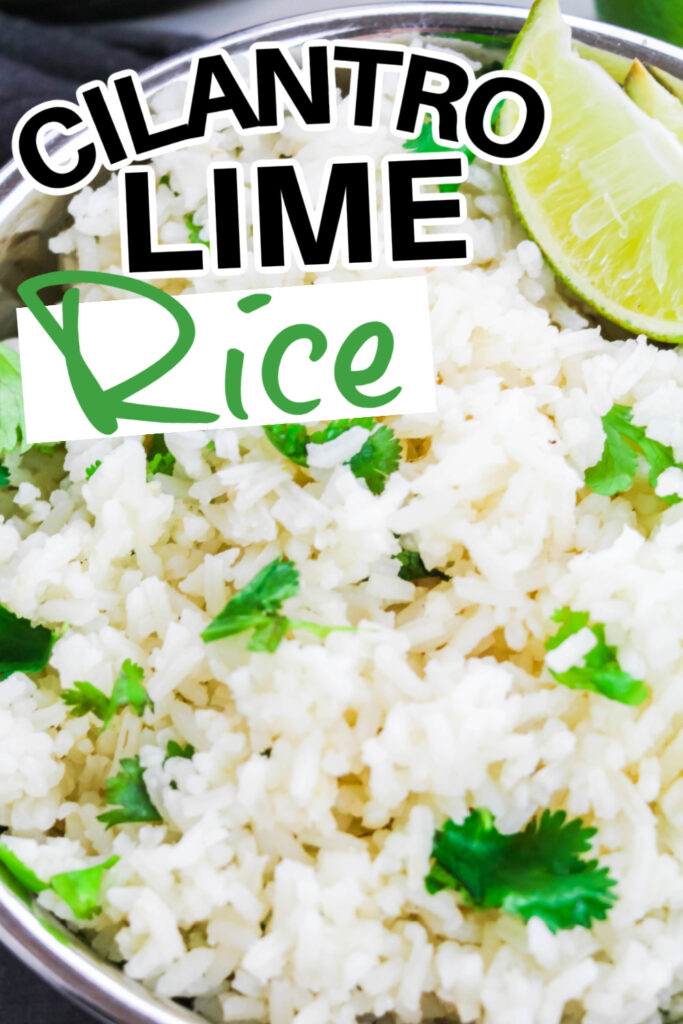 Reader Interactions