Learn how to make soft pretzels at home. These are a delicious classic pretzel that is chewy on the outside and soft and fluffy on the inside. Give this soft pretzel recipe a try today.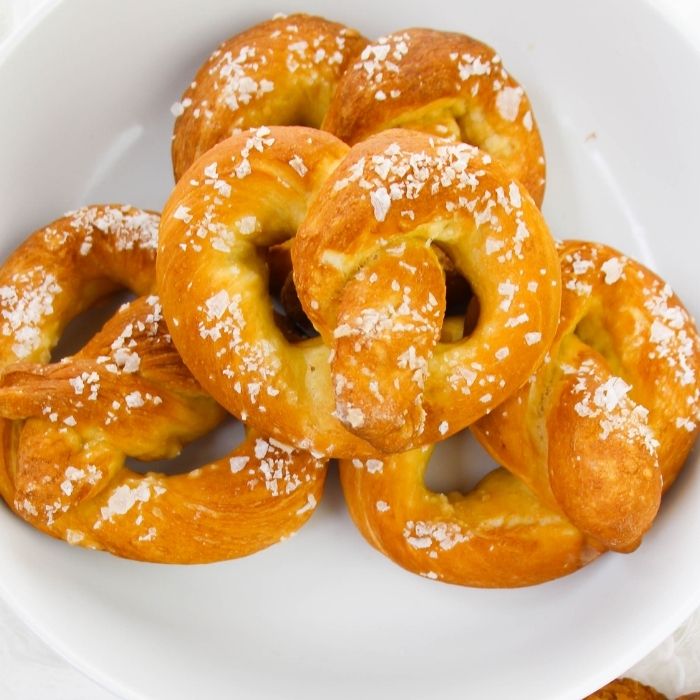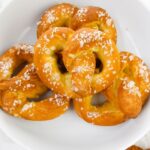 Whip up a batch of my soft pretzels for a tasty snack. A homemade pretzel that is shaped and dipped in a hot baking soda bath before cooking. These homemade pretzels will wow you with the flavor. 
Chewy outside with a pillow-y center is what you will get with these big pretzels. Eat with just pretzel salt or your favorite cheese sauce.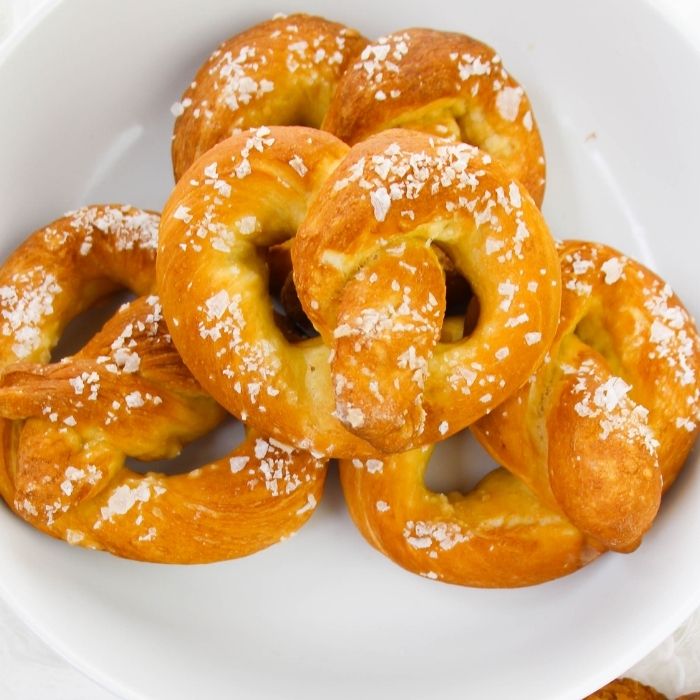 Not sure how to fold a pretzel? No worries, I will teach you how to make pretzels. You will become a pro in no time.
Why Make This Soft Pretzel Recipe
Easy to make.
Soft and tender pretzels just like your favorite shops.
Freezer friendly.
Easy to shape.
Family friendly recipe.
Ingredients
Yeast – I tend to use active dry yeast. I always allow my yeast to activate before I start mixing up the pretzel dough.
Butter – I do recommend butter over margarine. The margarine is an oily texture and can affect the outcome of the pretzels.
Sugar – The sugar adds such a small amount of sweet to the recipe. You will find the sugar helps the yeast activate.
Flour – All purpose flour is what I used for this recipe. Make sure to measure your flour properly by scooping with a spoon into the measuring cup and level it off.
Baking Soda and Water – You will create a baking soda bath that you will drop in pretzels before you bake them.
Salt – You will use table salt for the dough and then a pretzel salt for topping the pretzels.
How to Make
Full directions on how to make these homemade soft pretzels are in the printable recipe card. This is a visual walk through on how to make.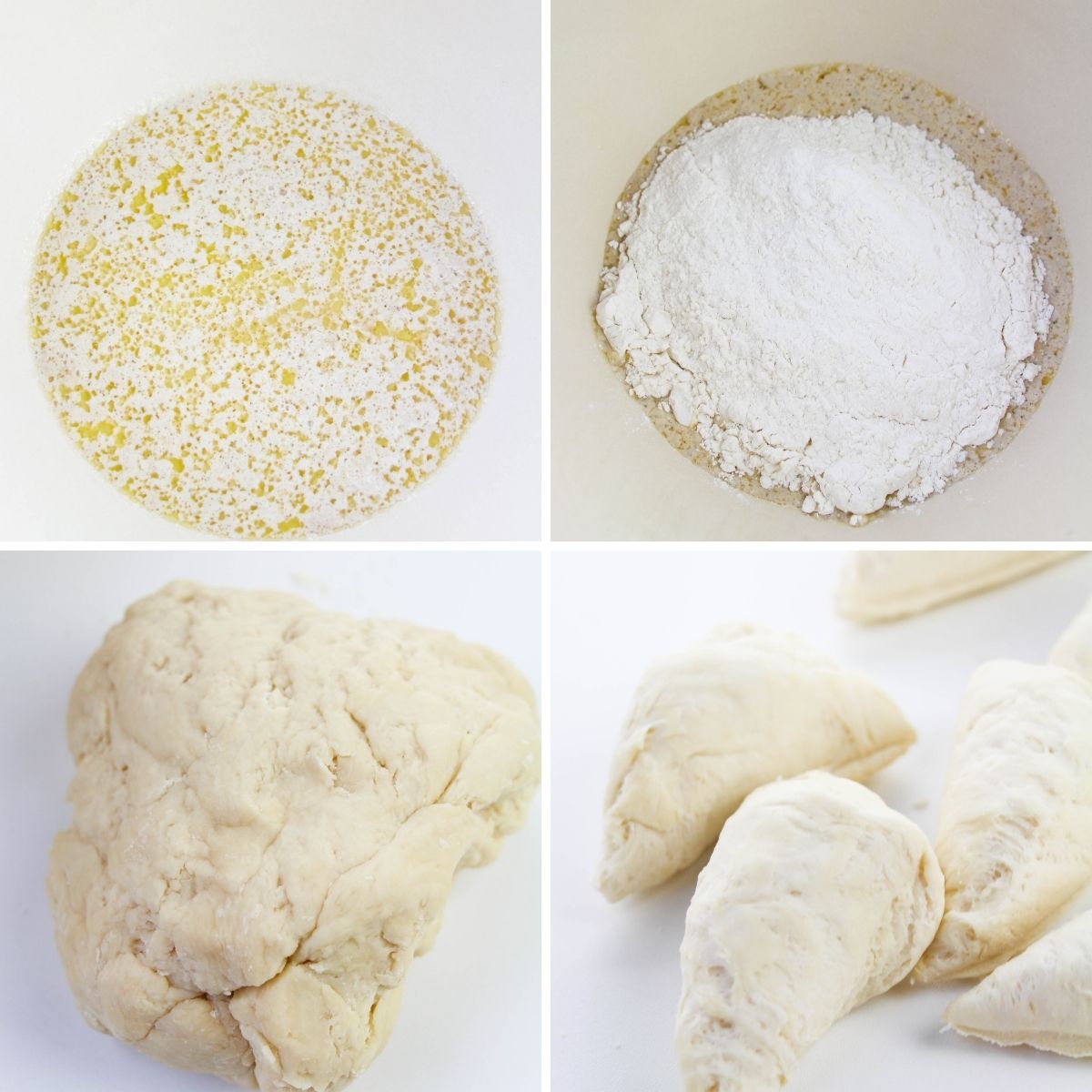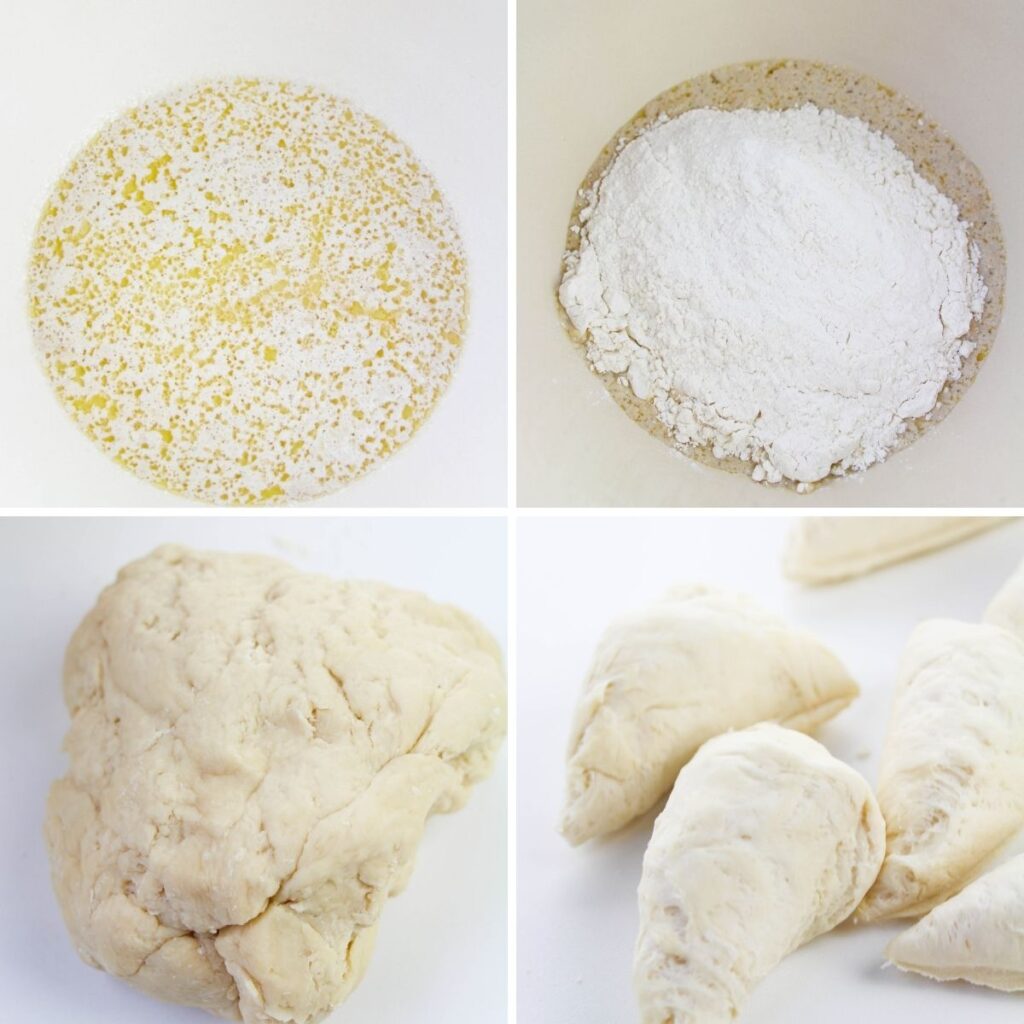 Step One: Warm your water as directed and add in the butter, yeast, sugar, and salt. Let the mixture sit for 5-10 minutes or until yeast bubbles and rises.
This means your yeast is actives or another word is bloomed.
Step Two: Now you will begin adding your flour. Start with 2 cups and slowly add in more flour, a little at a time. You might not use all the flour.
You want the dough to form and be cohesive. Once it is formed knead for 5 minutes.
Step Three: Place the dough in a greased bowl and cover and allow the pretzel dough to double in size. This can take about 30 minutes.
Step Four: Preheat your oven and bring a pot of water with baking soda in it to a boil. Then remove from heat and allow to cool a bit to a warm water.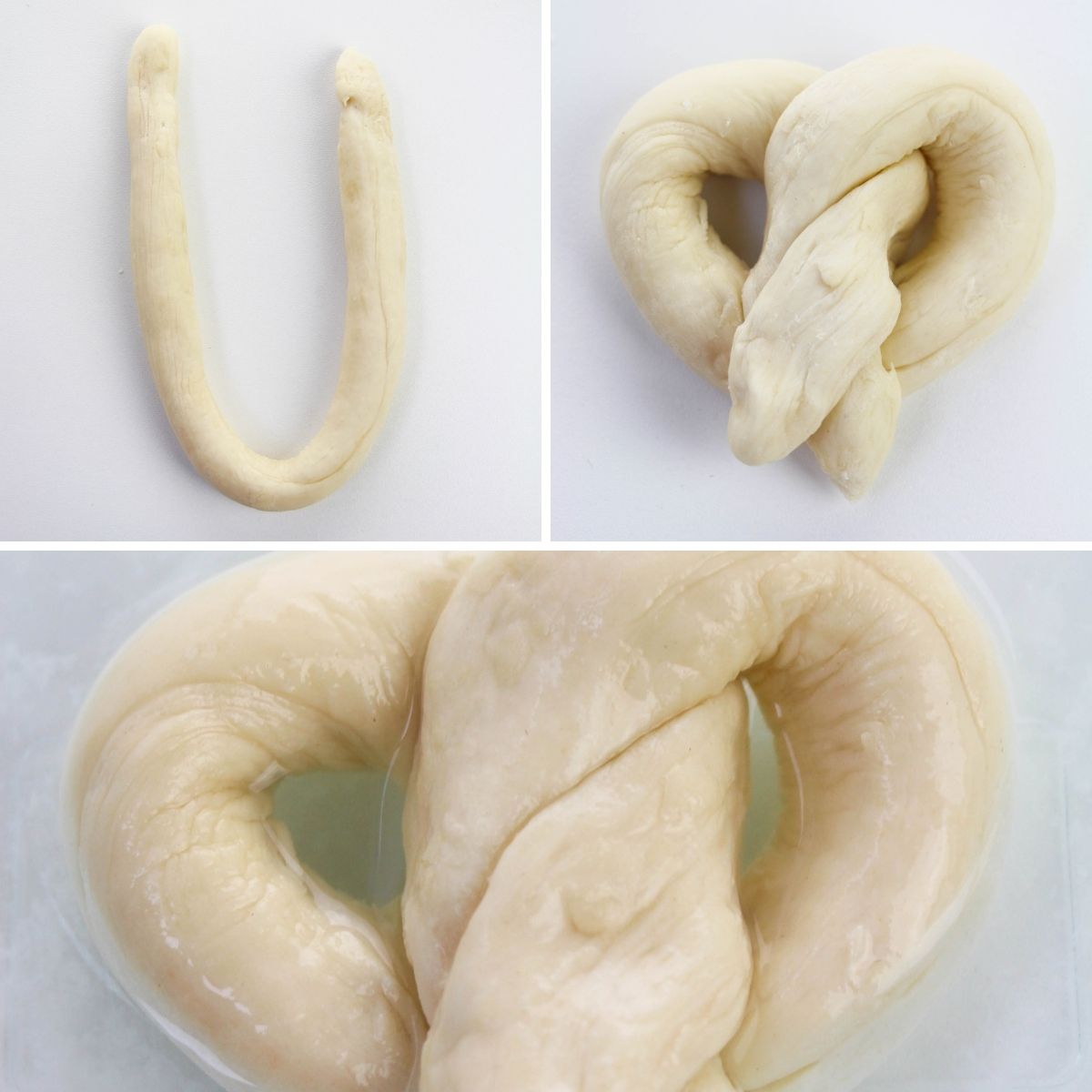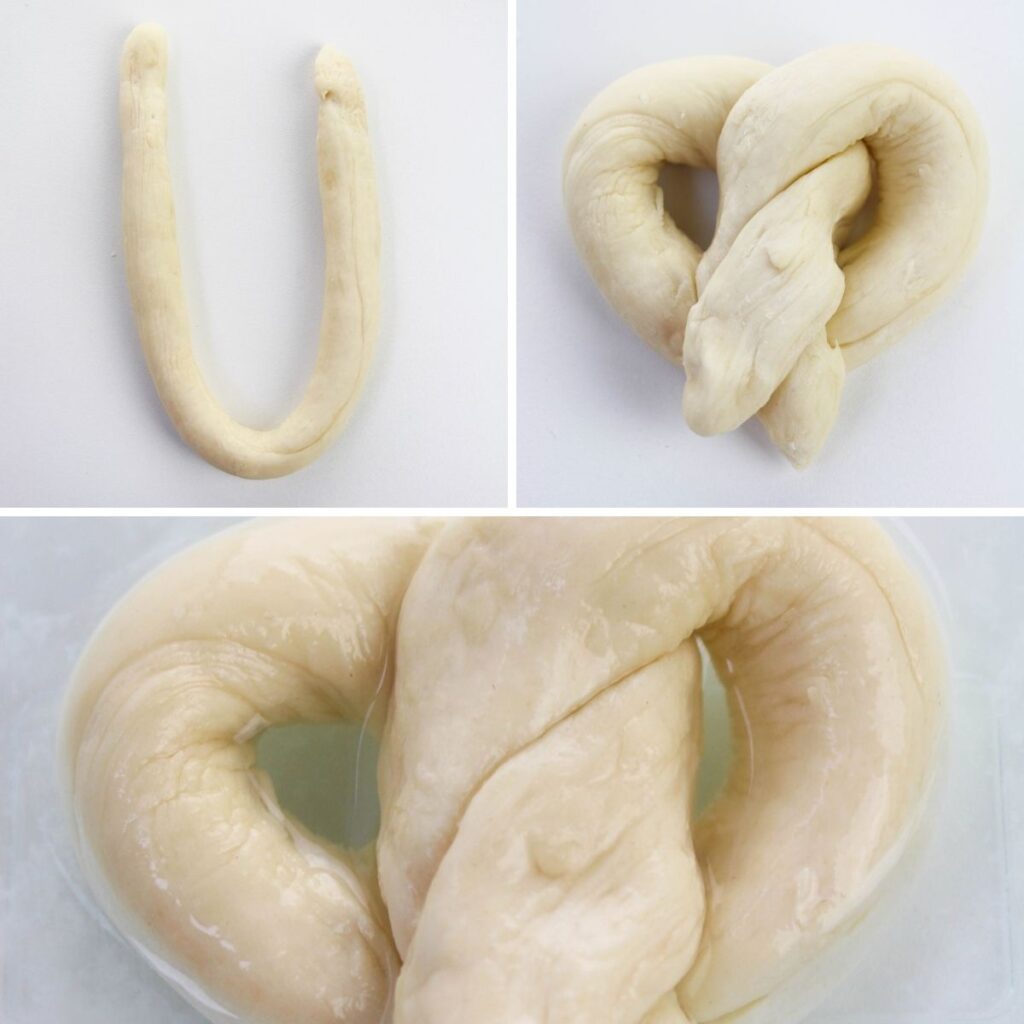 Step Five: Now you will work with your dough and create 8 equal parts. That way you have even sized pretzels.
Step Six: Roll the dough into a log shape and then make a "u" shape with dough.
Step Seven: Take the ends of the dough, twist twice and bring and place in the center of the "u" to create the pretzel look. Make sure the sides are even in height.
Step Eight: Put pretzel dough in baking soda water bath as directed, drain off and place on baking sheet and top with salt.
Step Nine: Bake pretzels as directed!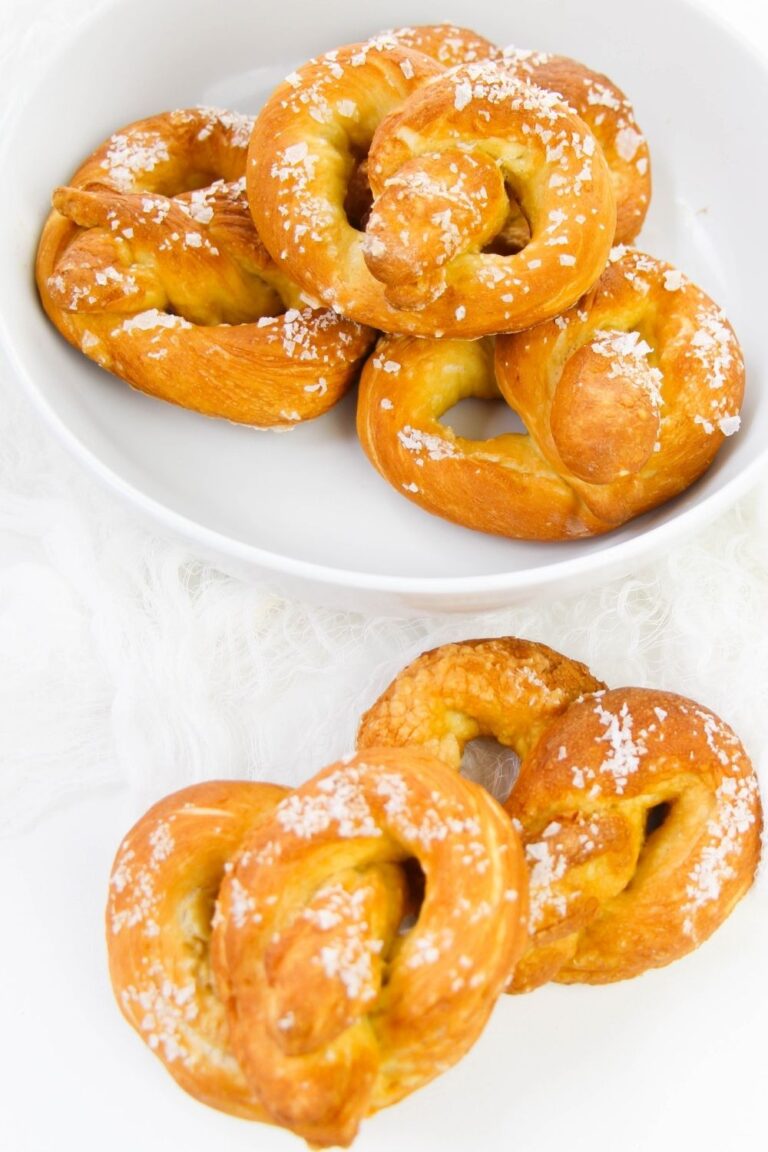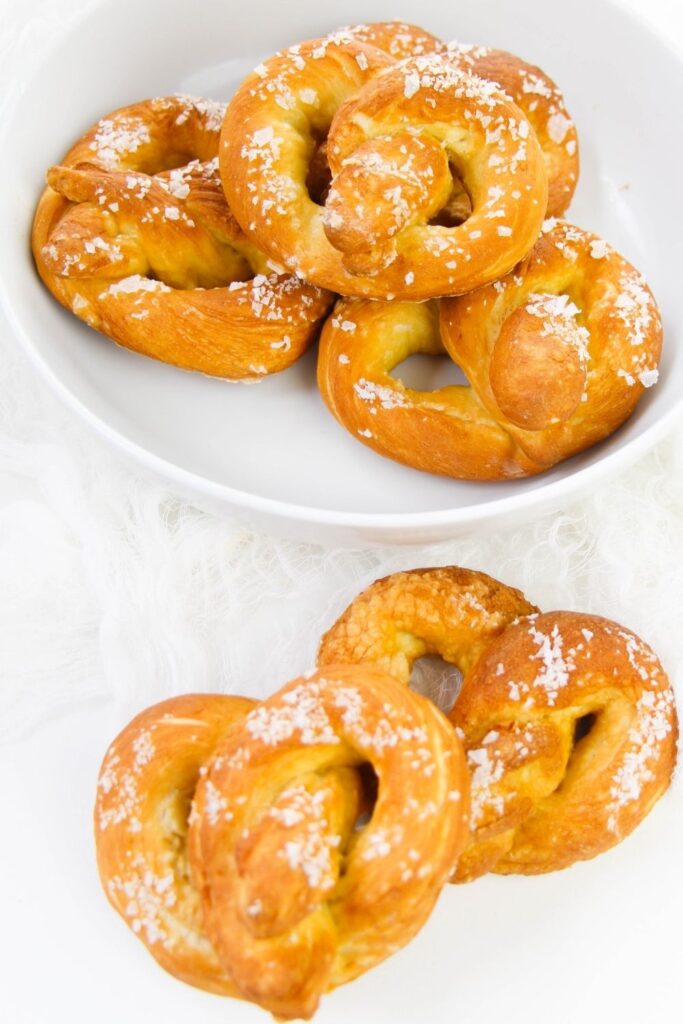 Helpful Tip
Here are some helpful tips for making this classic pretzel recipe!
Make sure to use warm water with yeast around 105-110 degrees Fahrenheit. This ensures the right temp to activate the yeast.
Cut pretzel dough into even pieces so all the pretzel bake up evenly.
Use a coarse pretzel salt for topping, that way it really helps bring flavor to your pretzels.
Place pretzels on a parchment or silicone mat lined baking sheet to prevent pretzels from sticking to pan as you bake.
Storing Pretzels
If you do not eat all your pretzels right away you can store them for 2-4 days. I like to store my pretzels in the fridge, but you can store them at room temperature as well.
To heat up just place on a plate and warm for 20-30 seconds in the microwave for a fresh out of the oven warmth.
Freezing – You can freeze the pretzels as well. Just let them cool and store in an airtight container or freezer bag. Freeze for 3-4 months. Then thaw on counter or in fridge overnight.
Common Questions
Related Recipes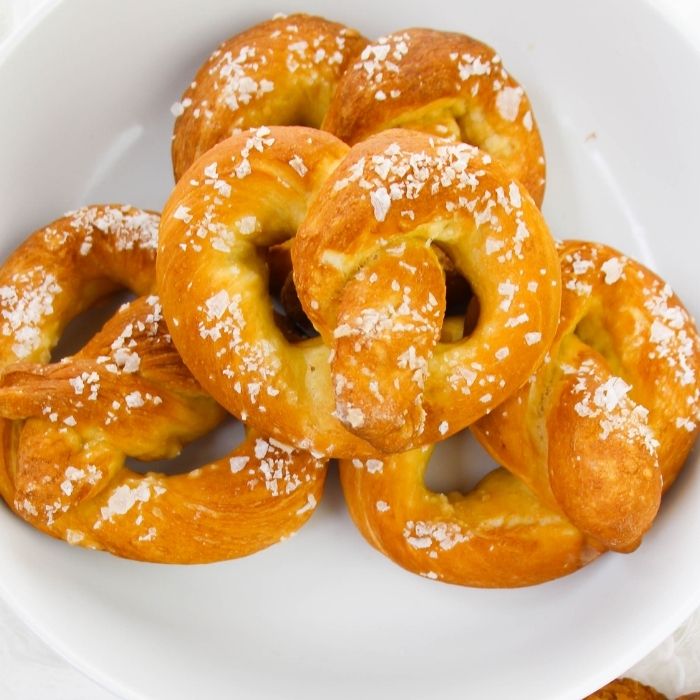 Soft Pretzel Recipe
Servings 8
Learn how to make soft pretzels at home. These are a delicious classic pretzel that is chewy on the outside and soft and fluffy on the inside. Give this soft pretzel recipe a try today.
Ingredients
3 cups All-Purpose Flour as needed
2 1/4 teaspoons active dry yeast
1 cup Warm Water between 90-110F
1 Tablespoon Melted Butter
1 teaspoon Granulated Sugar
1 teaspoon Salt
2 cups Water
4 Tablespoons Baking Soda
Pretzel Flaked Salt or Kosher Salt
Instructions
In a bowl you are going to add your yeast warm water, butter, sugar and salt. Stir and let it sit for 5 minutes to bubble up. If it bubbles it means the yeast is live and active. Otherwise, it needs tossed.

Now you will begin adding in some of the flour to the yeast mixture. You want a cohesive dough. You might not use all the flour, so if you don't that is normal and okay.

On a clean floured surface knead your dough for 5 minutes.

Place the dough in a greased bowl and cover with a clean towel and let rise till double in size. This takes 15-30 minutes.

Preheat the oven to 475 degrees. Then in a post boil 4 cups of water and add in the baking soda, stirring until dissolved.

Remove the water from the heat. You will dip the pretzels in the warm water.

Divide the pretzel dough into 8 equal parts, and then roll out into 1 inch thick ropes.

Make a "U" shape with the dough, and then take both ends and twist twice at the top. Put the twisted part in the center of the "U" to form the classic pretzel shape.

Place your pretzel in the warm baking soda water, and let it sit for 2 minutes.

Carefully lift up letting the water drip then place on a parchment lined baking sheet. Repeat with all pretzels.

Sprinkle wet pretzel with the pretzel salt, and bake 8-10 minutes until golden brown and fully cooked.
Notes
Working With Dough: You want the dough to bounce back when pressed lightly with your clean finger. If your dough is still quite sticky you can mix in a ¼ cup of flour. Equal Parts – Make sure to divide the dough into equal parts. Otherwise they will unevenly cook in the oven. Salt – I used a pretzel salt but even a coarse sea salt works. Freezing – Freeze the pretzels in an airtight container for 3-4 months. Then thaw and enjoy or warm in the microwave.
Nutrition
Serving: 1gCalories: 203kcalCarbohydrates: 40gProtein: 6gFat: 2gSaturated Fat: 1gPolyunsaturated Fat: 1gCholesterol: 4mgSodium: 2325mgFiber: 2gSugar: 1g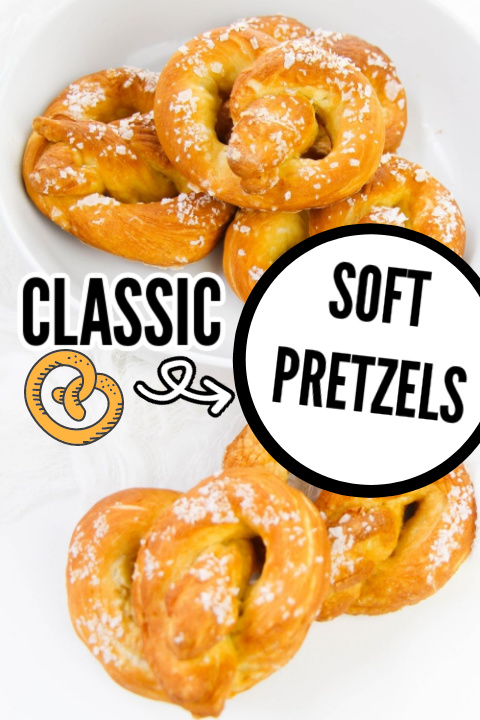 Reader Interactions