Craving white chocolate fudge? If you are you have to try this pretzel white chocolate caramel fudge recipe. It is loaded with white chocolate, caramel swirls, and pretzels in each bite. Pretzel fudge is the perfect holiday dessert.
I am a sucker for a good fudge. If you are in search of fudge, Christmas fudge, or even a caramel dessert this pretzel dessert fits the bill.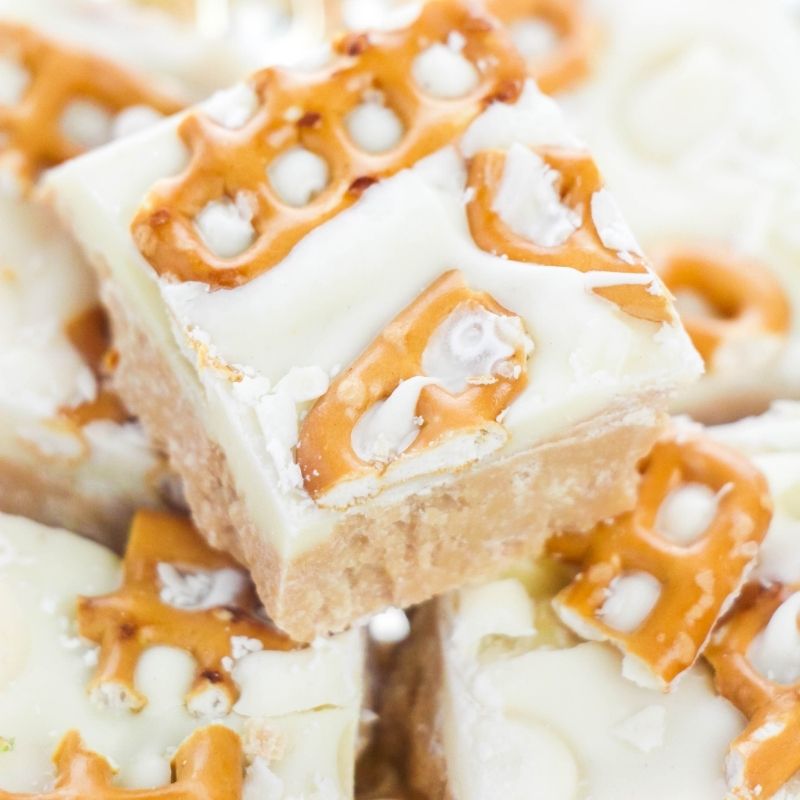 My white chocolate salted caramel fudge dessert is gonna be mind blowing. The salt from the pretzels elevates the flavor of the white chocolate and the caramel, giving you a salted caramel flavor.
Why Make This Fudge Recipe
4 Ingredients – It takes just 4 ingredients to make this homemade fudge recipe.
Microwave Fudge – You can heat up and mix up this fudge in the microwave if you want. No stovetop needed.
Caramel Sauce – Feel free to use a classic caramel sauce or a salted caramel sauce to elevate the flavor even more.
Christmas No Bake Dessert – This fudge is a great Christmas no bake dessert great for gifting loved ones, making for parties or even a treat.
White Chocolate Dessert – This white chocolate dessert blows my mind on the sweetness. It is loaded with flavor and the caramel and pretzels are always a delicious treat.
Grab my Free Kitchen Conversions Printable! This shows you how many cups are in a quart, pint, etc. A great printable to keep handy for when you need to convert a recipe.
Ingredients
Caramel Chips – You can find these in the baking aisle. If you can find the chops you can use a caramel candy melts as well.
White Chocolate Chips – Quality chocolate is key as it stands out the most in the flavor.
Sweetened Condensed Milk – This is a thick and creamy texture that is going to give your fudge incredible creamy texture and sweetness.
Pretzels – This is optional but I love the salty component the pretzels add to the fudge!
Variations to Recipe
Use caramel sauce if you don't want to melt the caramel chips. I find it offers the best texture to the fudge.
Leave out the pretzels if you want.
Toss in some pecans or other nuts if you want.
Sprinkle the top with sea salt.
Sprinkle with chopped white chocolate for added texture to the fudge.
How to Make
Step 1: Line your pan with foil or parchment paper and set aside.
Step 2: Then place caramel bits in a microwave safe bowl, and heat for 20-25 second intervals. Then stir between each heat cycle till all chips are melted.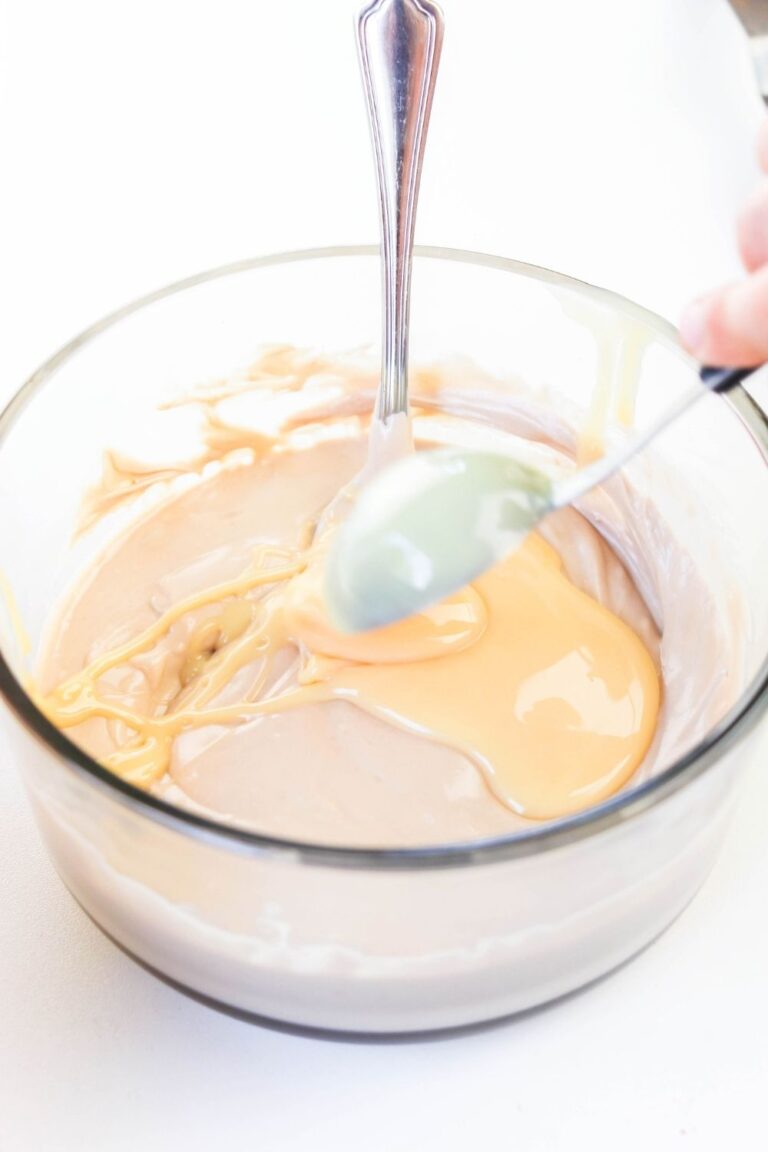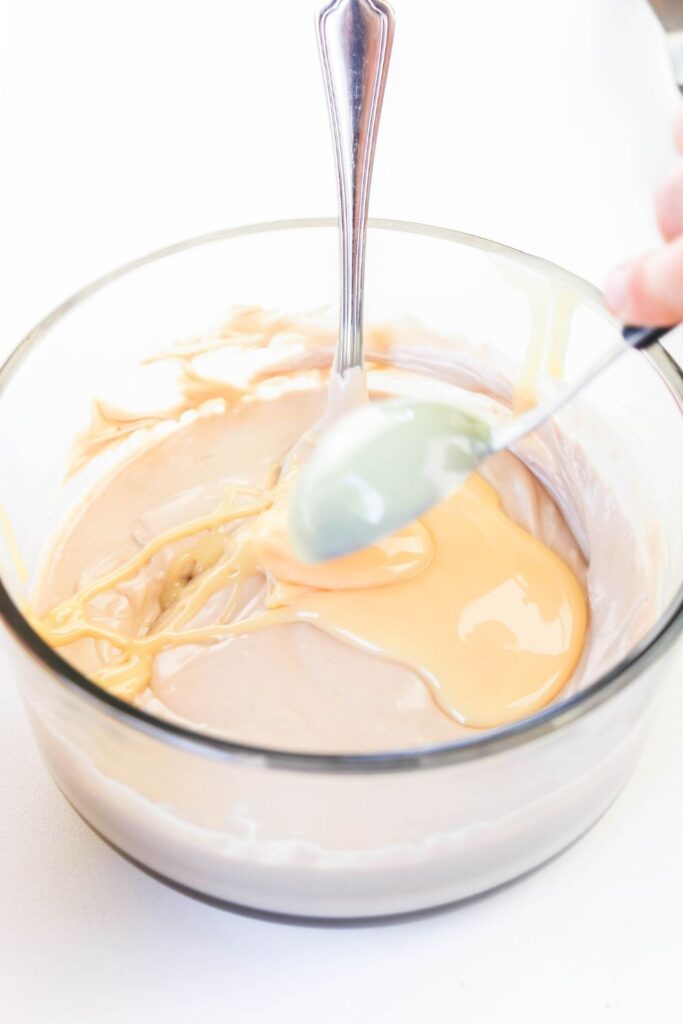 Step 3: Pour in 3-4 tablespoons of the condensed milk. Flavor with the condensed milk till it reaches your desired sweetness.
Step 4: Pour the mixture into the prepared pan, and spread to an even layer. Place in the fridge.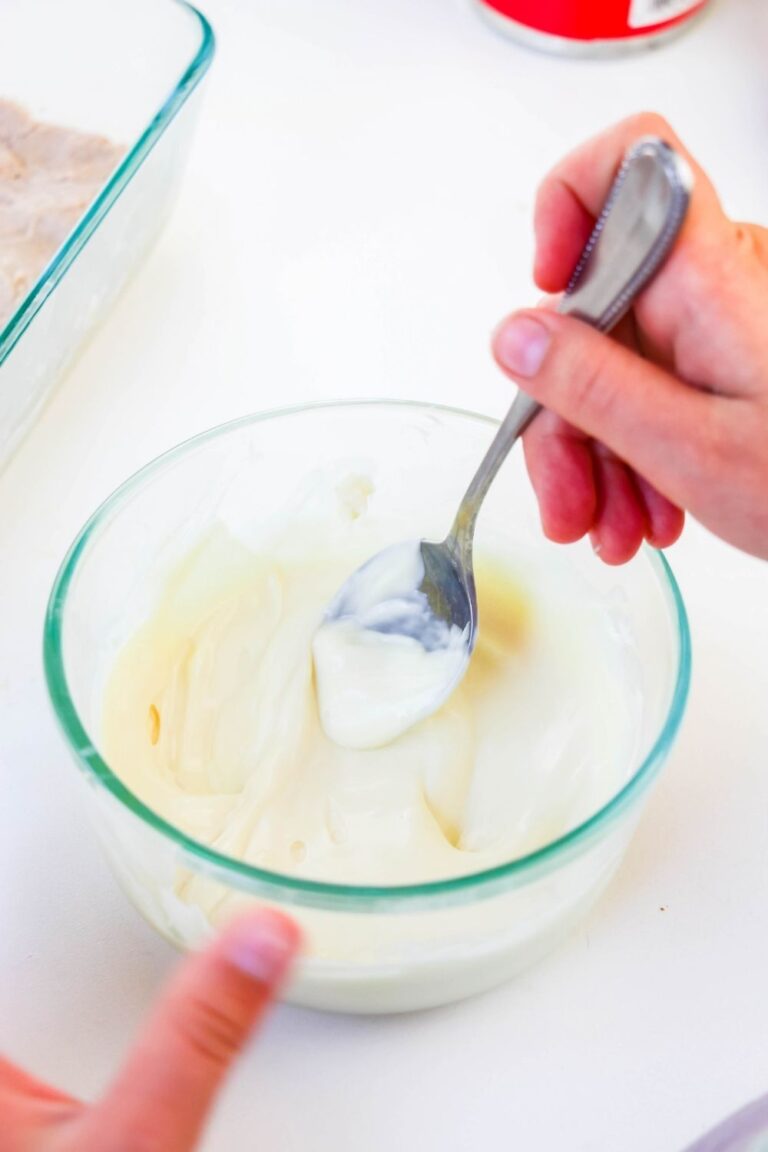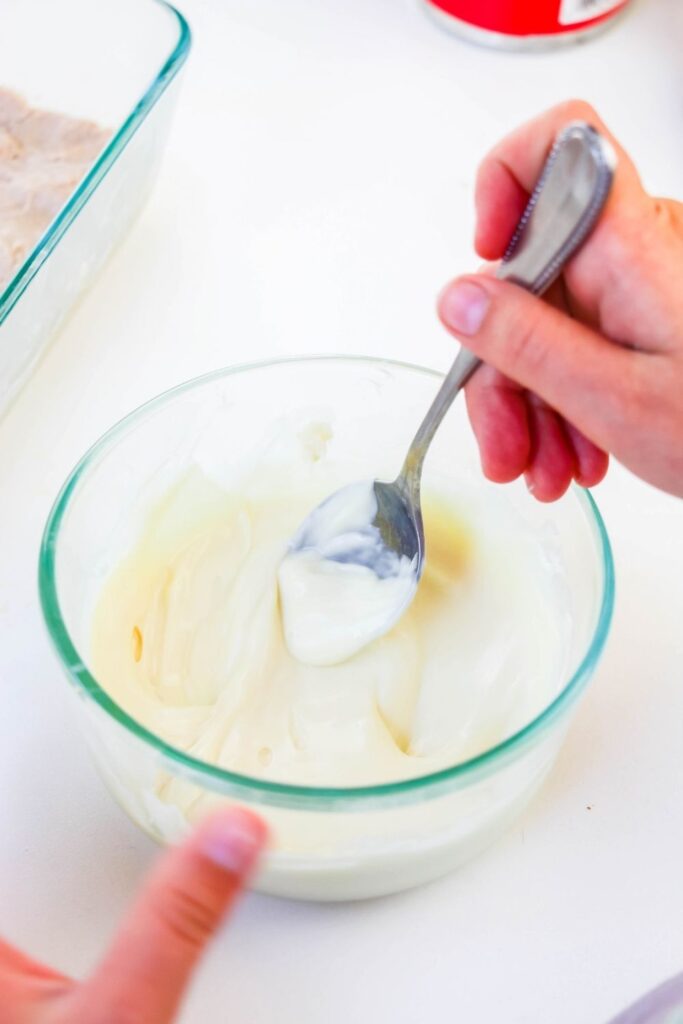 Step 5: Now, you will do the same with heating up your chocolate chips, and then add in the rest of the condensed milk. Stir well to incorporate.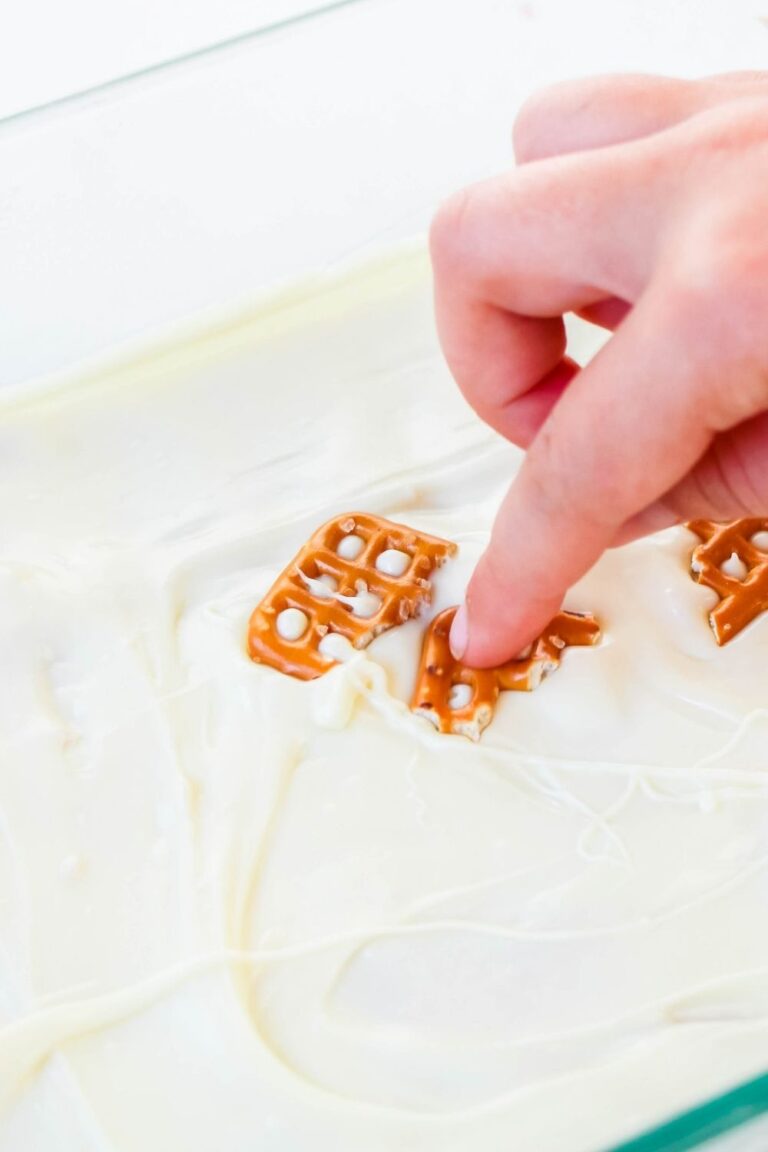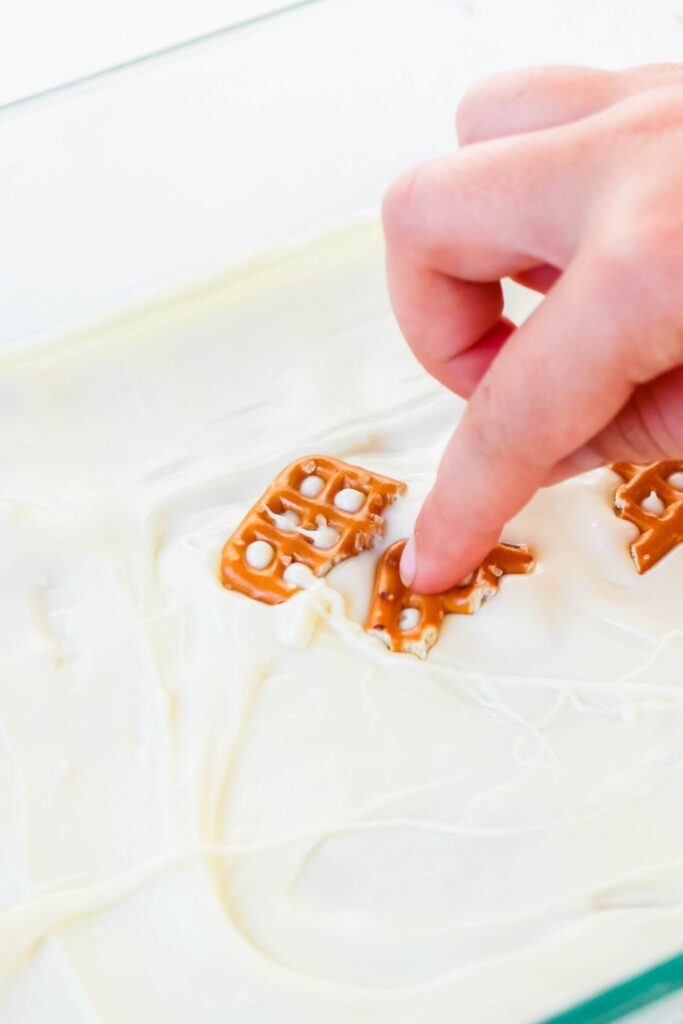 Step 6: Pour on top of the caramel layer, and then top with pretzels. You can sprinkle extra chocolate chips on top as well if you want.
Step 7: Refrigerate for 2-3 hours to allow the fudge to set up. Then slice into squares and serve.
Helpful Tips
Make sure to stir the caramel and the white chocolate every 20-30 seconds to prevent burning in the microwave.
Use quality chocolate as it is going to be a big flavor.
The pretzels work with any shape or style. Or get creative and top with dipped chocolate pretzels.
If you want add sprinkles after you pour and lightly press into the fudge to ensure it sticks.
Feel free to double the recipe if you would like!
Storage
Room Temperature or Fridge – Fudge can be stored at room temperature on the counter or stored in the fridge. It is all about what you personally enjoy in terms of texture. Room temperature will be softer, where fridge will offer a firmer texture.
Freezing – You can also freeze any fudge you don't eat right away. Just store in a proper freezer bag or sealed container. The fudge can store for 3-5 months. Thaw on the counter or in the fridge overnight.
FAQs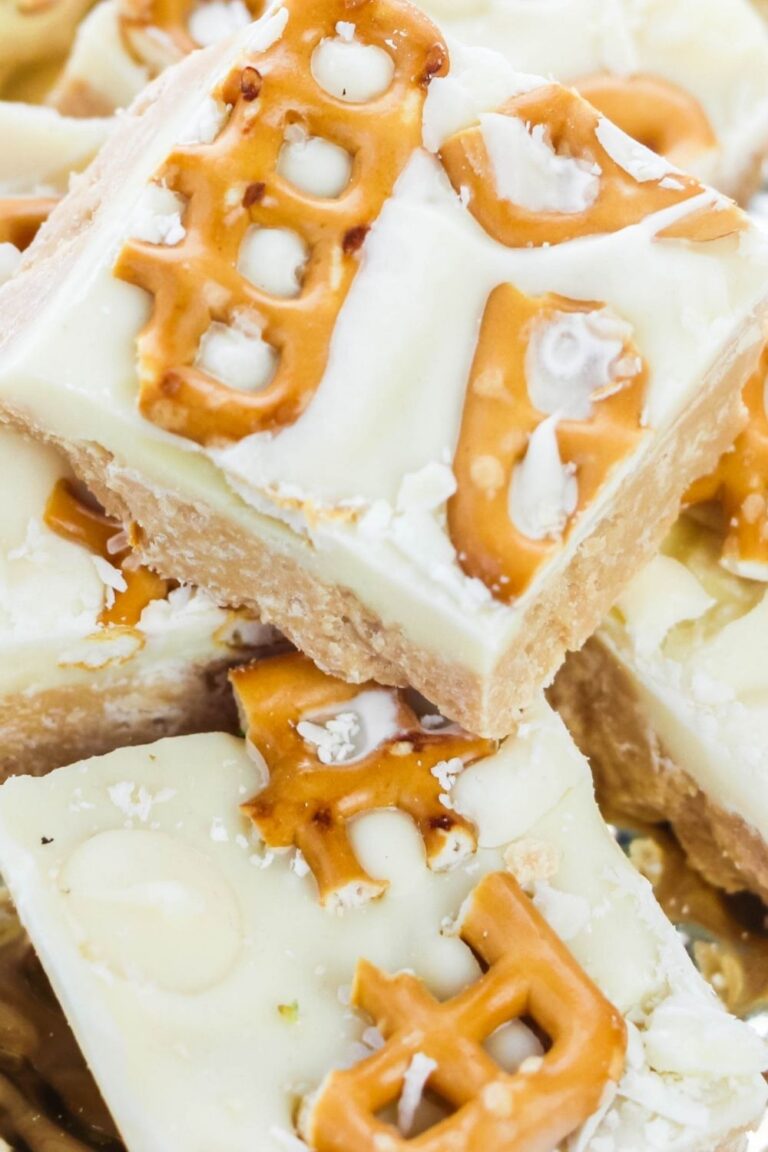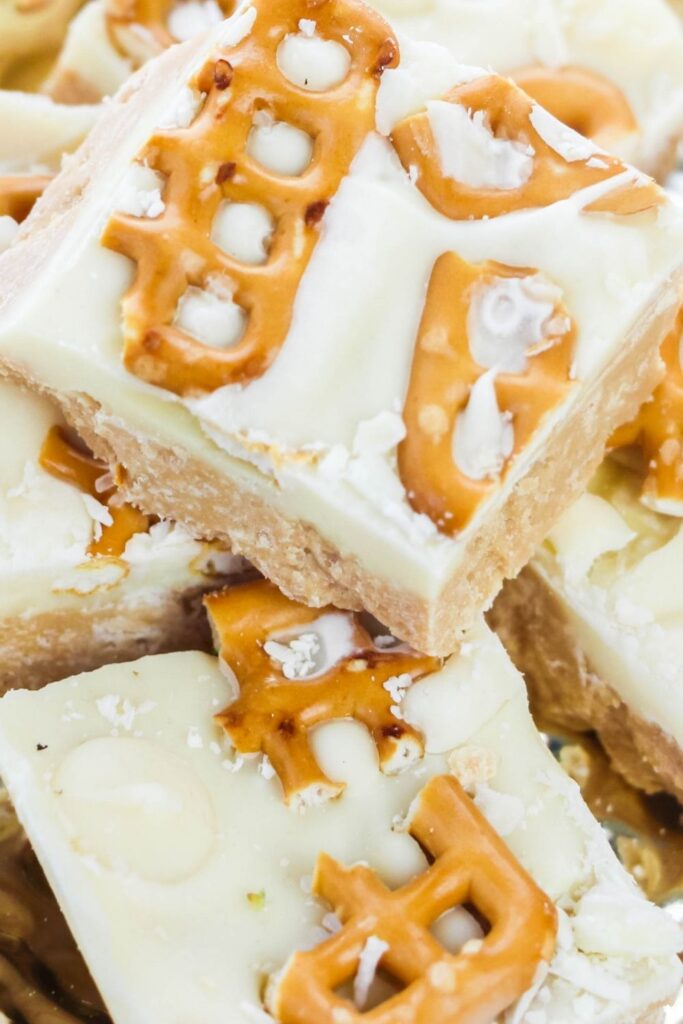 Related Recipes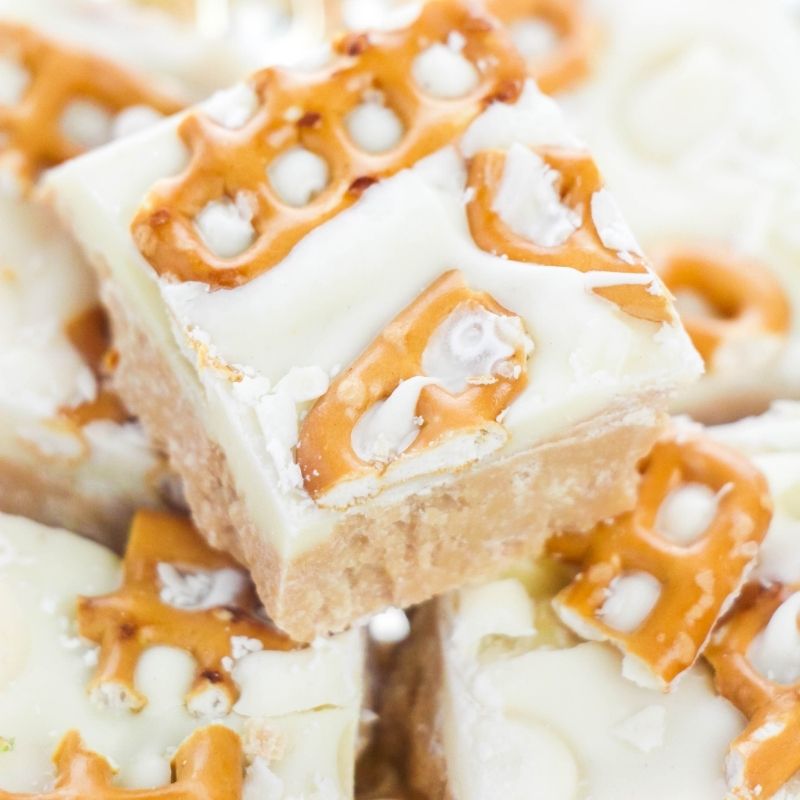 White Chocolate Caramel Fudge
Servings 30 -40
White Chocolate Caramel Fudge is a delicious layered caramel and white chocolate fudge that is then topped with pretzels. 4 ingredients is all it takes to make this easy fudge recipe.
Ingredients
3 cups caramel bits found in the baking aisle
3 cups white chocolate chips
12 tablespoons
1/2-3/4 pretzels
Instructions
Grease your 8×8 or 9×9 pan, and then set aside. You can also place wax paper in the pan to prevent sticking.

In a bowl add your caramel bits and heat for 20-30 seconds and then stir, and repeat heating again, and do this until the caramel bits are melted.

Then pour in 4-6 tablespoons of condensed milk. You will add less for a less sweet flavor, or add more for a sweeter caramel fudge layer.

Pour the caramel fudge into the pan and then place in the fridge.

Now in a new bowl add your white chocolate chips into a bowl and heat the same as the caramel. Stirring in between short heat cycles.

Add in the 4-6 tablespoons of condensed milk to flavor, then pour over the caramel fudge.

Break up pretzels and lightly press into the white chocolate fudge. Then you will cover and then refrigerate for 3 hours or until the fudge is fully set up.

Once the white chocolate caramel fudge is set, slice and serve as you would like.
Notes
Sweetness Level – You can do less sweetened condensed milk to make the fudge not be as sweet. Or add in extra to give it an ultra sweet and creamy flavor. It is all about personal preference. Pretzels – You can do anywhere from 1/2 cup to 3/4 cup pretzels on top. I don't like to do too many so I stick to the 1/2 cup range. Storage – The fudge can be stored at room temperature, or in the fridge. Then you can freeze the fudge for 3-4 months if you want to save some for later. Size – I cut my fudge small, as white chocolate fudge is rich, then add in the caramel it really amplifies the sweet flavor.
Nutrition
Serving: 1gCalories: 124kcalCarbohydrates: 22gProtein: 1gFat: 4gSaturated Fat: 2gPolyunsaturated Fat: 1gCholesterol: 3mgSodium: 106mgSugar: 21g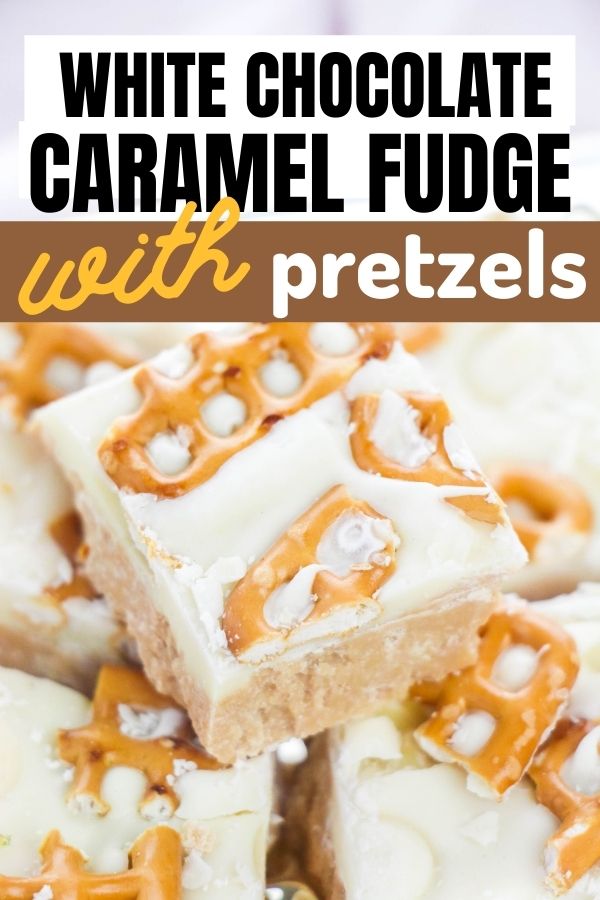 Reader Interactions