Butter Pecan Instant Pot Fudge is one of my favorite fudge recipes. Make this Instant Pot fudge or move it over and make it on the stovetop or even the microwave. Butter pecan fudge is bursting with flavor.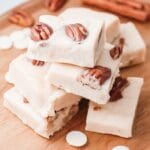 7 Ingredients are all you need to make this butter pecan Instant Pot fudge. If you have not used your Instant Pot for candies and desserts, now is the time. A buttery fudge that is loaded with crunchy pecans in every bite.
Pecans are so festive for Thanksgiving and Christmas. This fudge takes under 10 minutes to make, and is a one-pot cleanup. No fuss, no mess, just a delicious dessert to slice and serve up.
🌰Why Use The Instant Pot To Make Fudge
It is similar to cooking fudge on the stovetop.
No need to use a microwave to heat chocolate.
Simple to use.
Sweetened Condensed Milk Fudge Recipe.
Can be made on the stove if you don't have an instant pot.
No need for a candy thermometer with this method.
Delicious butter fudge is your end result.
You can move the Instant Pot wherever there is a plugin so it is more versatile than stove.
🍫  Ingredients For Fudge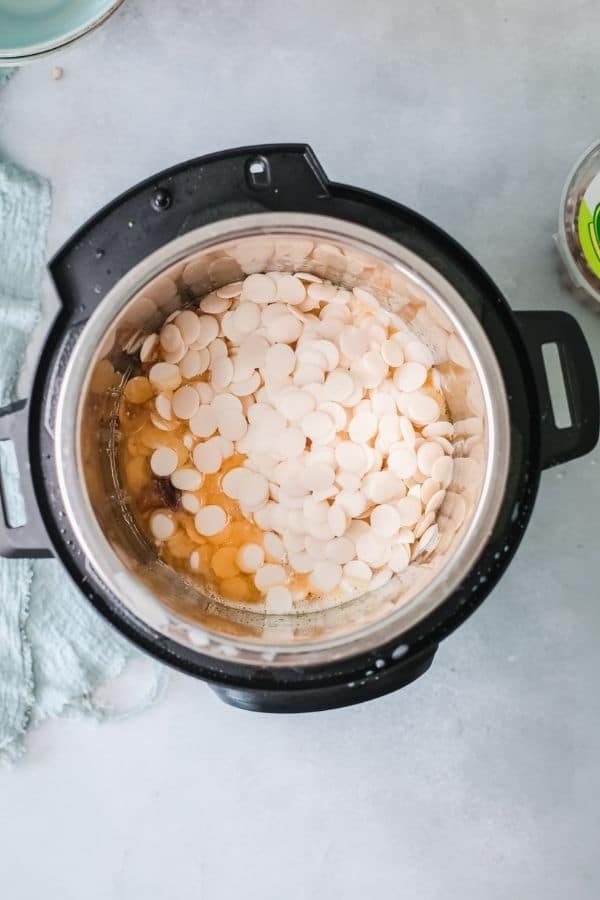 👩‍🍳 How to Make
Turn the Instant Pot to the saute feature. Add in your butter, and cook until it is fully melted. You will then add in your pecans, and cook for 2-3 minutes to brown the butter a bit.
Turn off the saute on the Instant Pot, and add in the sweetened condensed milk, white chocolate, cinnamon and vanilla. Stir until combined, and let sit for 2-3 minutes.
The goal is melting the chocolate, so every little bit stir, to help melt the chocolate.
Line a bread loaf pan with parchement paper, and pour the melted fudge mixture into the pan. Top with additional pecans, sprinkles, etc.
Place the fudge in the fridge and allow it to fully set up. Remove from pan and slice with a knife when done!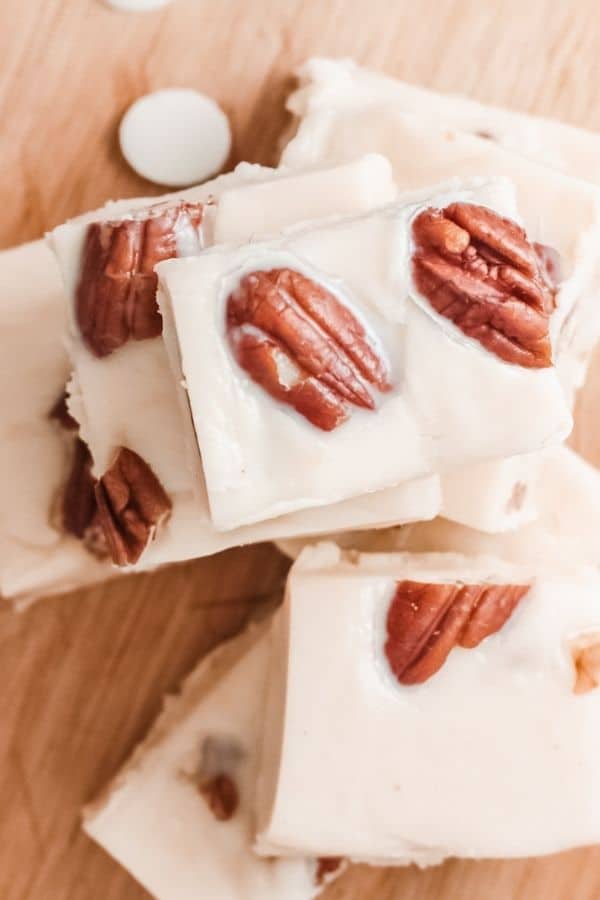 🍬 Storage and Freezing
Butter pecan fudge can be stored in an airtight container for up to 4-5 days. This homemade butter pecan fudge recipe is so delicious and great to serve up at the holidays, for Thanksgiving or Christmas.
If you don't plan to eat this all right away, go right ahead and wrap up and freeze leftover fudge. Place in an airtight sealable bag or container. The fudge will freeze for around 3 months.
Then sit the fudge on the counter to warm up from being frozen, then devour this melt in your mouth delicious fudge! Creamy buttery flavor with toasted pecans in every decadent bite.
🍫 Expert Tips For Fudge
When you are working with the butter and pecans on the saute mode, ensure you stir constantly. Or you will burn your mixture.
Turn off the pressure cooker when you add in the chocolate and other ingredients. Or you can even remove the liner pot from the heat. Removing from heat will prevent burning.
Adding vanilla adds a nice sweetness to this fudge.
You can use a traditional milk chocolate chip to replace white chocolate with a chocolate fudge base with pecans.
Things To Do Before Starting To Cook Fudge
Measure out all the ingredients in advance and set by your pan or Instant Pot. This will make sure nothing gets burned.
Line your pan before you get started, so when the fudge is all melted, pour straight in the pan.
Real butter is recommended, margarine will make the fudge greasy in texture.
Quality chocolate is recommended for a delicious tasting fudge. Therefore you get a delicious flavor that stands out.
Recipe FAQs
What does butter do for the fudge?
Butter in fudge is a great ingredient that is needed. For this butter pecan fudge it adds flavor to the fudge, but also helps the fudge mix up properly and prevent crystals from forming.
Should fudge be refrigerated?
Fudge can be stored at room temperature in a container. Or if you prefer you can extend the life of the fudge by storing it in the fridge. Then eat it cold or let it sit on counter to warm up before eating.
Does fudge freeze well?
Almost all fudge recipes will freeze really well. Simply wrap tightly in aluminum foil and place in a freezer bag. Or store in an airtight container for up to three months.
Butter Pecan Instant Pot Fudge
Servings 12 -16 pieces
Butter Pecan Instant Pot Fudge is one of my favorite fudge recipes. Make this Instant Pot fudge or move it over and make it on the stovetop or even the microwave. Butter pecan fudge is bursting with flavor.
Ingredients
3 Tablespoons unsalted butter
1 cup chopped pecans
1 Can sweetened condensed milk
20 ounces white chocolate chips
1 teaspoon cinnamon
½ teaspoon vanilla extract
⅓ Cup pecans as a topping optional
Instructions
Start by turning your Instant Pot onto Saute, and then add in your butter and let it melt.

Once melted addin your pecans and toast them in the butter. This takes 2-3 minutes to do. The butter will brown just a bit. Make sure to stir often so you do not burn your butter.

Turn the Instant Pot off, and then add in the chocolate chips, sweetened condensed milk, cinnamon and vanilla extract. Stirl and then let it sit for a minute to work on melting the chips.

Stir occassionally until the chocolate chips melt to a creamy texture. This takes 2-3 minutes.

Once melted pour into a parchment or aluminum foil lined bread pan.

Cover and place in the fridge to speed the setting up process, or leave on the counter on a cooling rack until it sets up.

Top with additional pecans if you want for this butter pecan fudge recipe.

Slice and serve and enjoy a homemade fudge.
Notes
If cooking on the stove, just do a low-medium heat to melt the butter and toast the nuts. Then turn off the heat and melt chocolate the same way. Feel free to add in colorful sprinkles for a holiday theme, etc. You can double this recipe if you want and then pour into an 8×8 pan. Ensure you stir often when your butter and pecans are cooking or it can burn your mixture. You could even add in a splash of rum extract for added flavor. This fudge can be stored on the counter for 4-5 days, covered in an airtight container. Or freeze fudge for up to three months.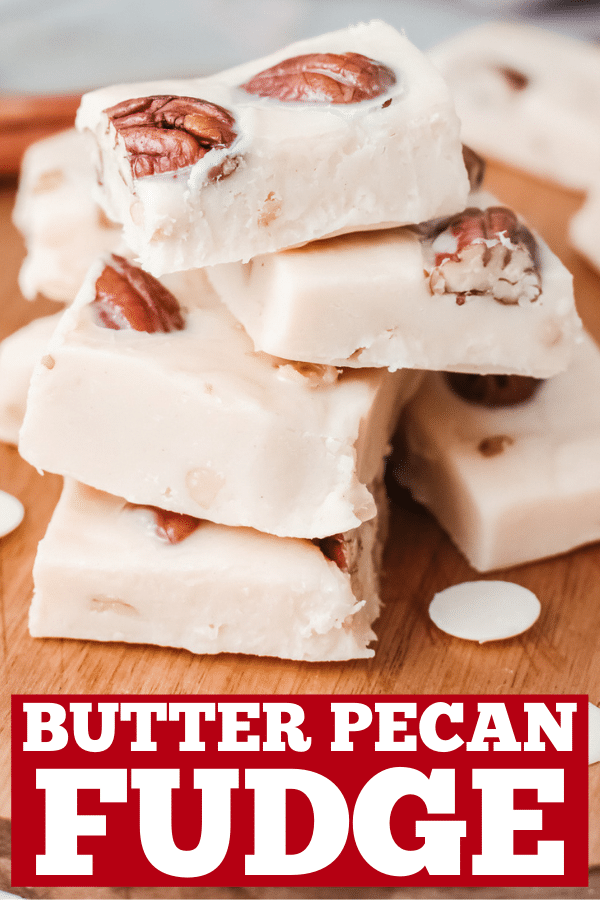 Let me know how you like this butter pecan instant pot fudge recipe!
Reader Interactions