Easter Chocolate Fudge is the ultimate Easter Dessert. A super easy chocolate fudge recipe that is one of my favorites.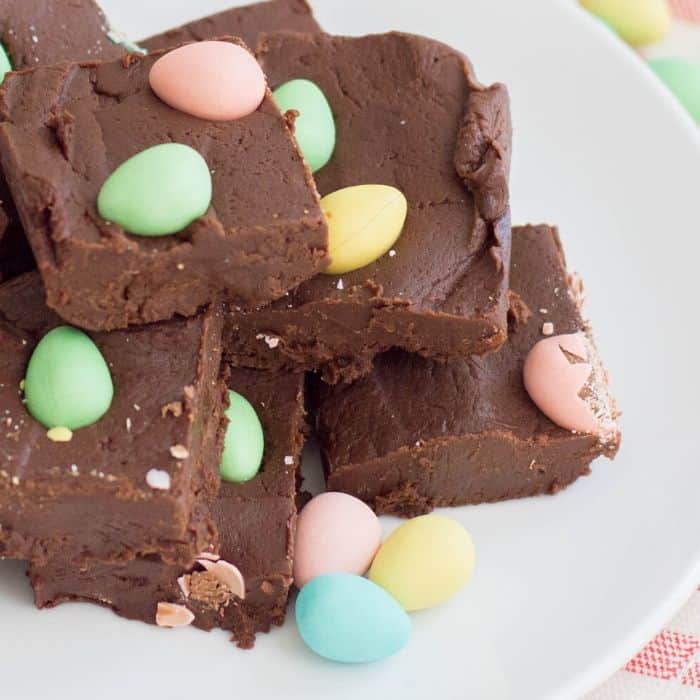 Chocolate Fudge is one of my favorites. Add in a simple Easter dessert, then you have a Cadbury Easter Chocolate Fudge that is velvety and sweet.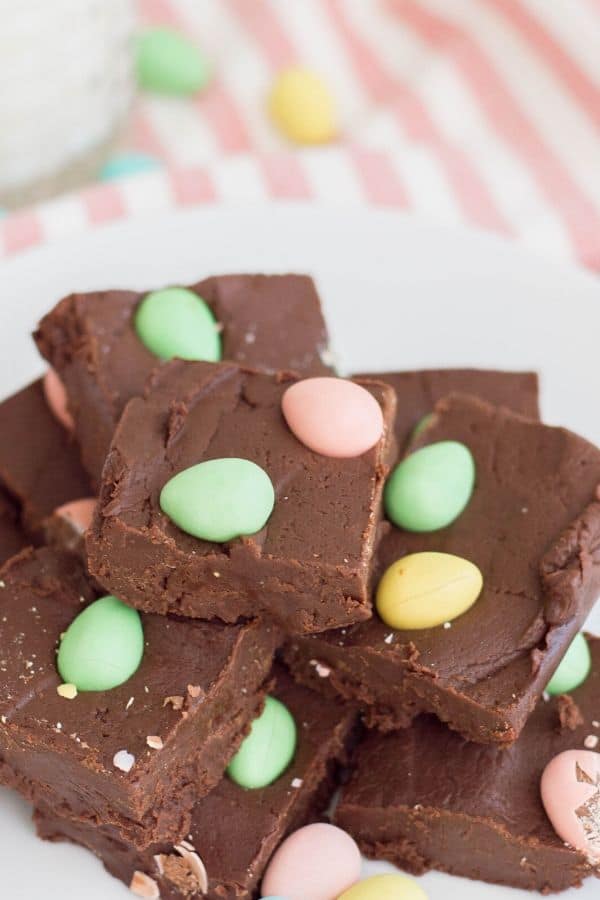 5 ingredients are all it takes to make this chocolate fudge. This homemade chocolate fudge is one I make all the time.
Great for any season but adding the candy Easter candy makes it a simple Easter dessert recipe.
Want More Fudge Recipes
Cake Batter Fudge | This gives you a cake batter flavor with cooked flour so that it is safe to consume!
Football Laced Fudge | Whip up this fudge recipe that has a football lace on top, great for game day snacking.
Jelly Bean Fudge | Here is a great fudge that uses Jelly Beans as the main even. Give this recipe a try and let me know.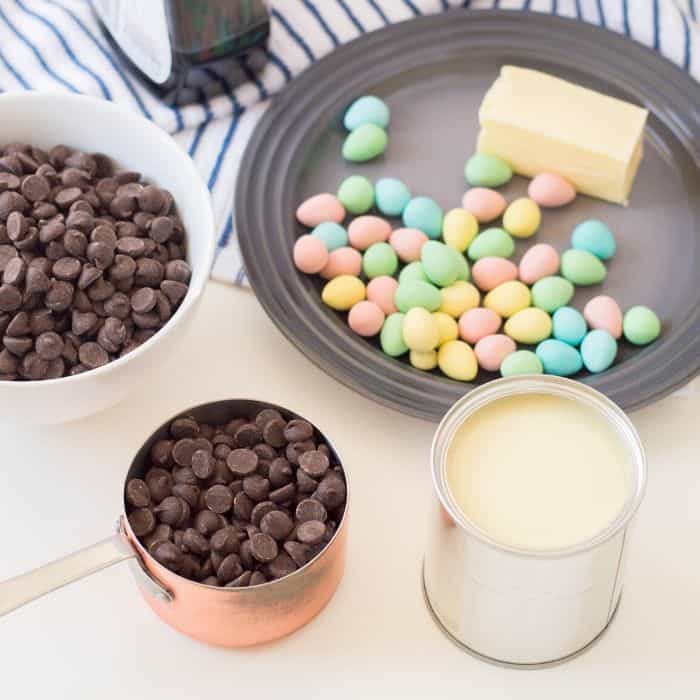 Ingredients For Homemade Chocolate Fudge
Sweetened Condensed Milk
Chocolate Chips
Easter Candy – I Used Cadbury Eggs
Butter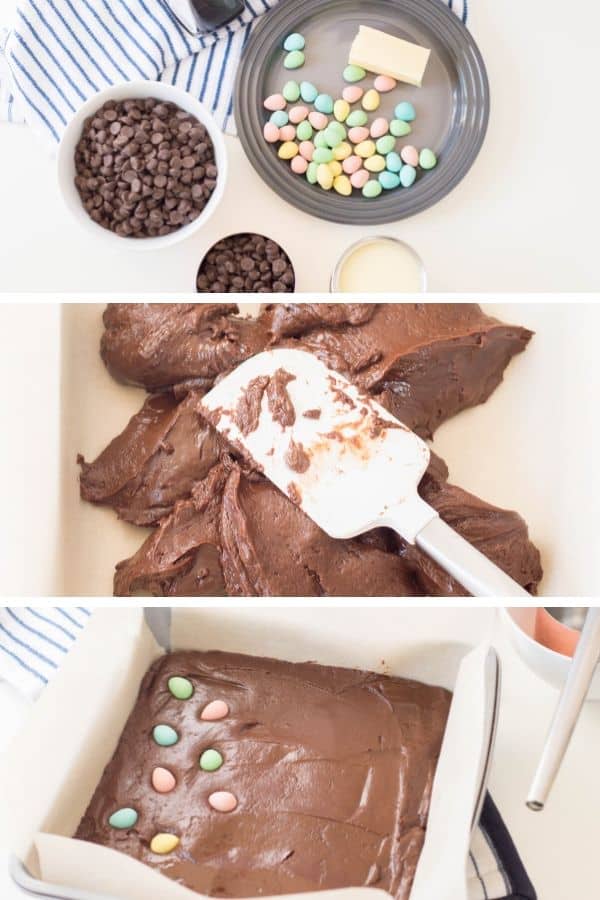 How To Make Chocolate Fudge
Start by lining your 8×8 pan with parchment paper.
In a pan, you will add your butter, chocolate chips, sweetened condensed milk until fully melted.
Once it is well-mixed you will remove from heat, stir in your vanilla.
Pour into your baking pan and then top with your candy-coated Easter eggs.
A delicious fudge that is crazy easy fudge that is going to win over anyone after one bite.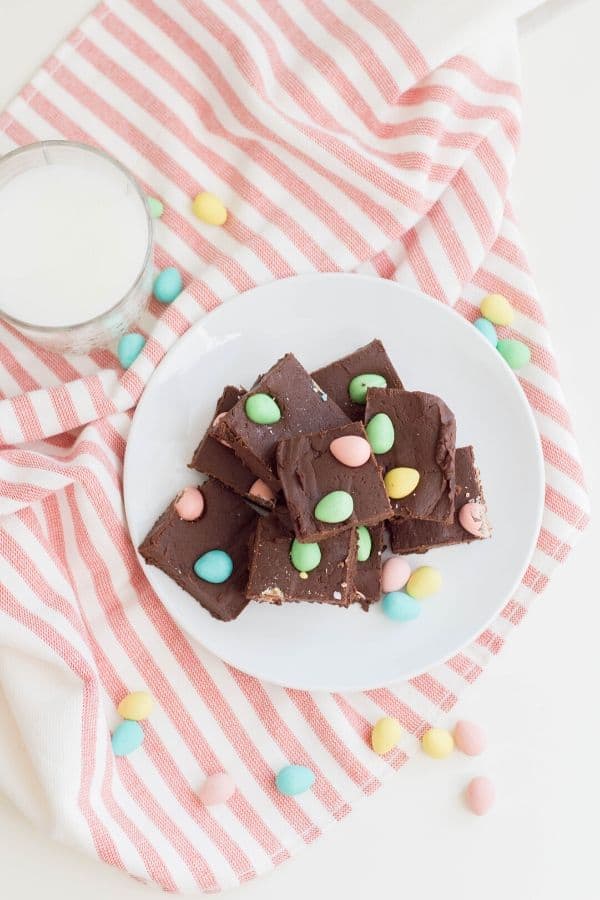 How Long Does It Take For Fudge To Harden Up
It will take around 3-4 hours for your homemade fudge to firm up and harden. You can speed up the process by placing it in the fridge.
You want to make sure you do not overmix the fudge, as it can harden the fudge too much. Mix until it just begins getting harder to stir.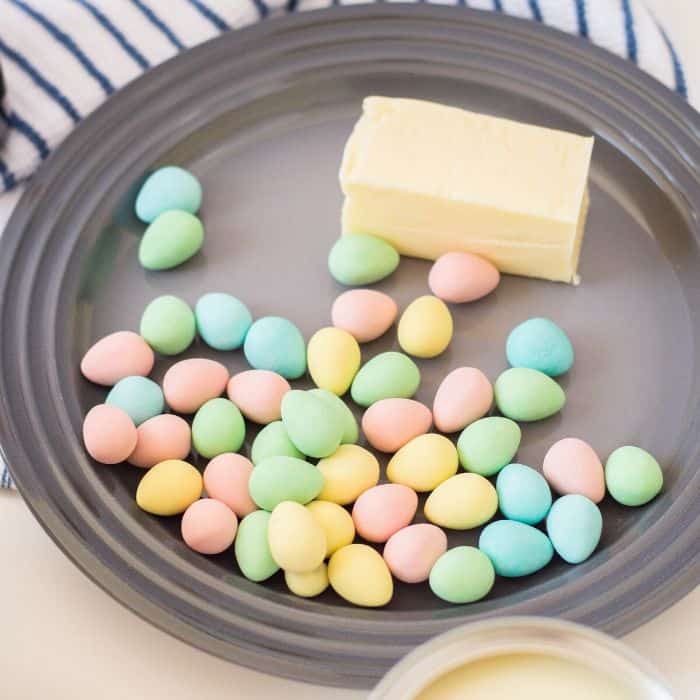 Other Easter Fudge Toppings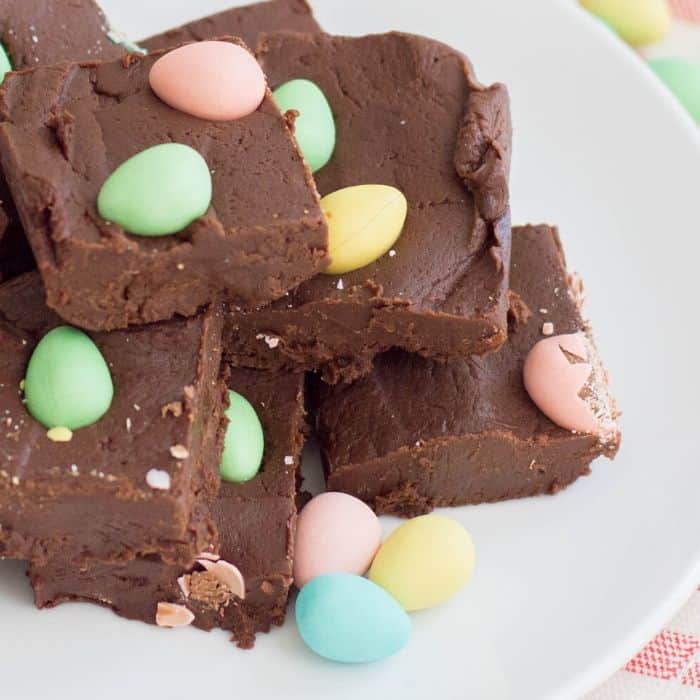 This chocolate fudge recipe is a great base. Feel free to add any toppings or serve it plain. Also, try my peanut butter chocolate fudge recipe.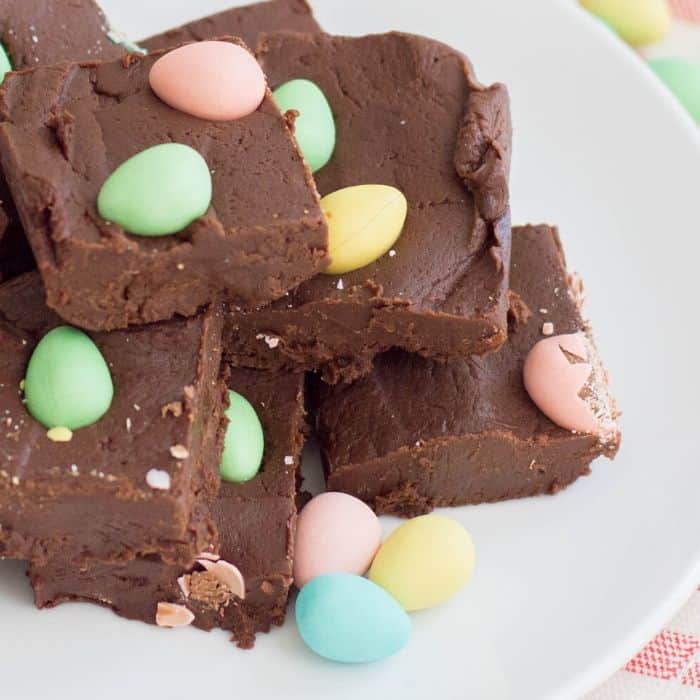 Easter Chocolate Fudge
Servings 25 squares
Easter Chocolate Fudge is the ultimate Easter Dessert. A super easy chocolate fudge recipe that is one of my favorites.
Ingredients
3 cups semi-sweet chocolate chips
30-35 Easter Candy Eggs
10 oz Sweetened Condensed Milk
1/4 cup butter
1 teaspoon vanilla
Instructions
Start by lining an 8×8 pan with parchment paper. Make sure the parchment paper hangs over the side.

Then in a double boiler you will mix your chocolate chips, sweetened condensed milk, and butter. Cook on medium heat until your mixture is melted. Stir constantly.

Once the ingredients are fully mixed, remove from the heat and pour in the vanilla extract, and mix in quickly.

Pour your Easter fudge into a lined pan and spread it evenly. I used a rubber spatula to smooth over the chocolate fudge.

Top the fudge with your candy eggs, and then place the chocolate fudge in the fridge. Allow up to two hours.

Once your chocolate Easter Egg fudge hardens you will use a sharp knife and slice it into small fudge squares.
Notes
Feel free to add any other candy toppings to your homemade chocolate fudge. You can use milk chocolate, semi-sweet, etc for the chocolate chips. If you own a double boiler you can melt the chocolate that way, or use the microwave. Evaporated milk and sweetened condensed milk are not the same, and can't be interchanged. I used the candy-coated Cadbury eggs, but you can use another type of egg-shaped candy for the recipe.
Nutrition
Calories: 202kcalCarbohydrates: 30gProtein: 2gFat: 10gSaturated Fat: 6gPolyunsaturated Fat: 3gCholesterol: 18mgSodium: 42mgFiber: 1gSugar: 25g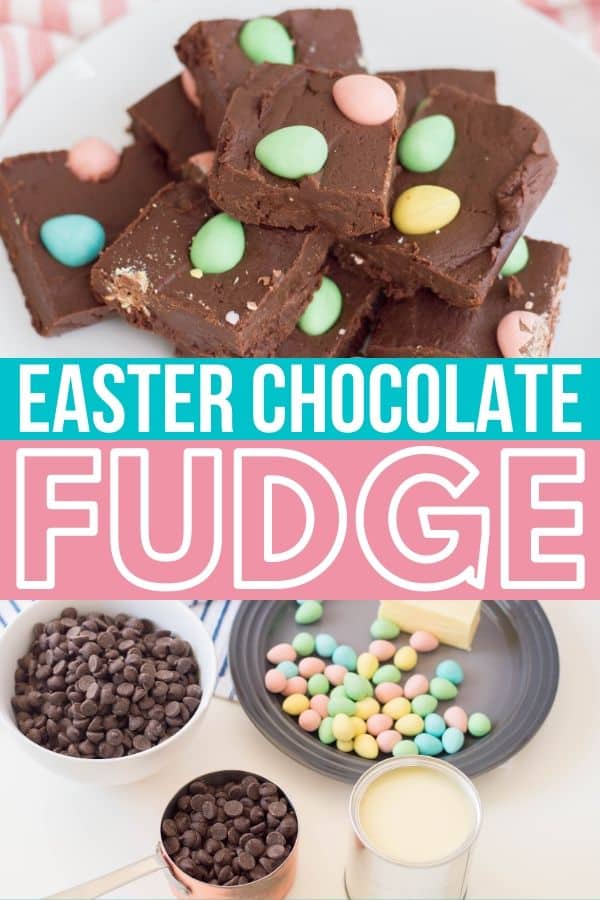 Reader Interactions