Ambrosia Salad Dip is a delicious fruit cream cheese dip with whipped cream. Similar flavor to an ambrosia salad but in a dip form. Dip with cookies, pretzels, or fresh fruit.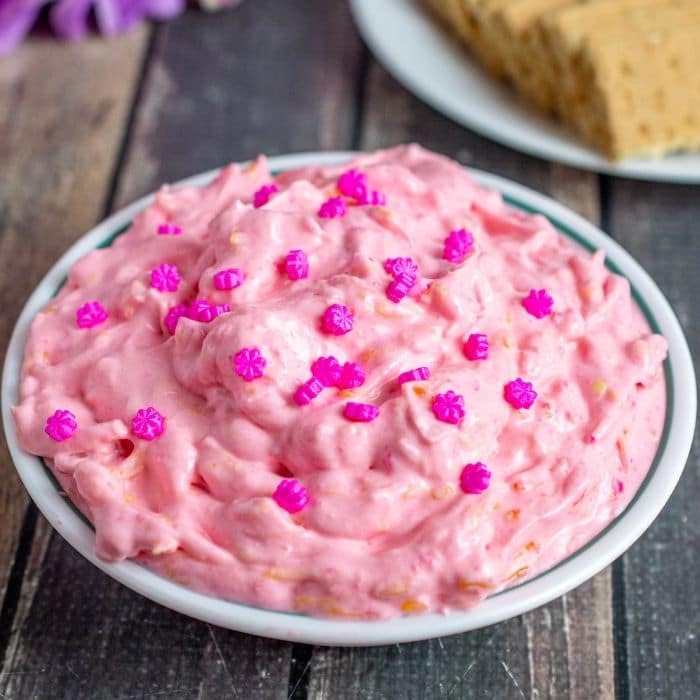 If you are a lover of Ambrosia Salad, you will enjoy this ambrosia salad dip. You get similar flavors from the classic ambrosia salad, but with a twist. Dip cookies, fresh fruit, and more in this cream cheese fruit dip.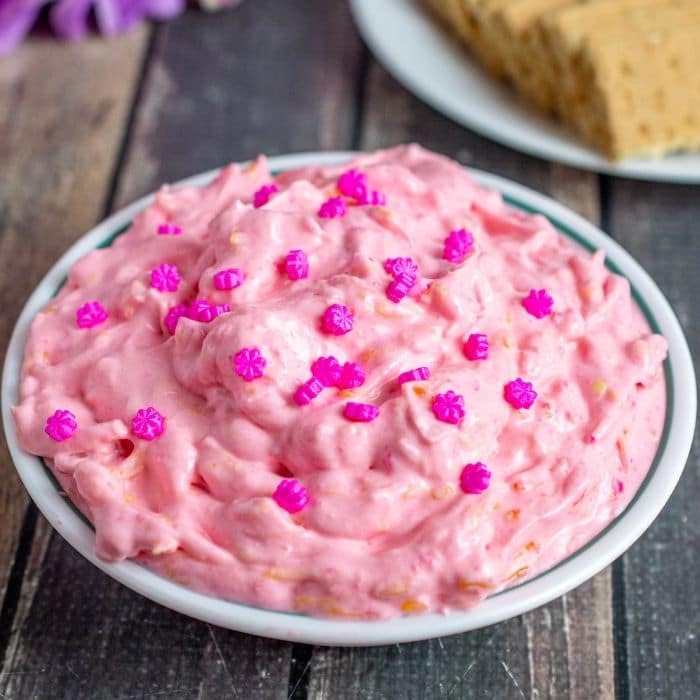 Maraschino cherries, mandarin oranges, chunked pineapple, cream cheese, and more. A delicious fruit dip recipe with crushed pineapple, waiting for you to serve up.
I made this pineapple dip with a fun twist of an ambrosia fruit salad flavor. It is a festive and fun dip great for spring, Easter dessert, or take for a potluck dessert.
🍭 Why I Recommend Making This Fruit Dip
Easy ingredients
A tasty fruit dip or use graham crackers, vanilla wafers, pretzels, etc.
Pineapple mandarin oranges flavor
Use favorite fruit for dipping
Perfectly sweet
Add festive spring sprinkles on top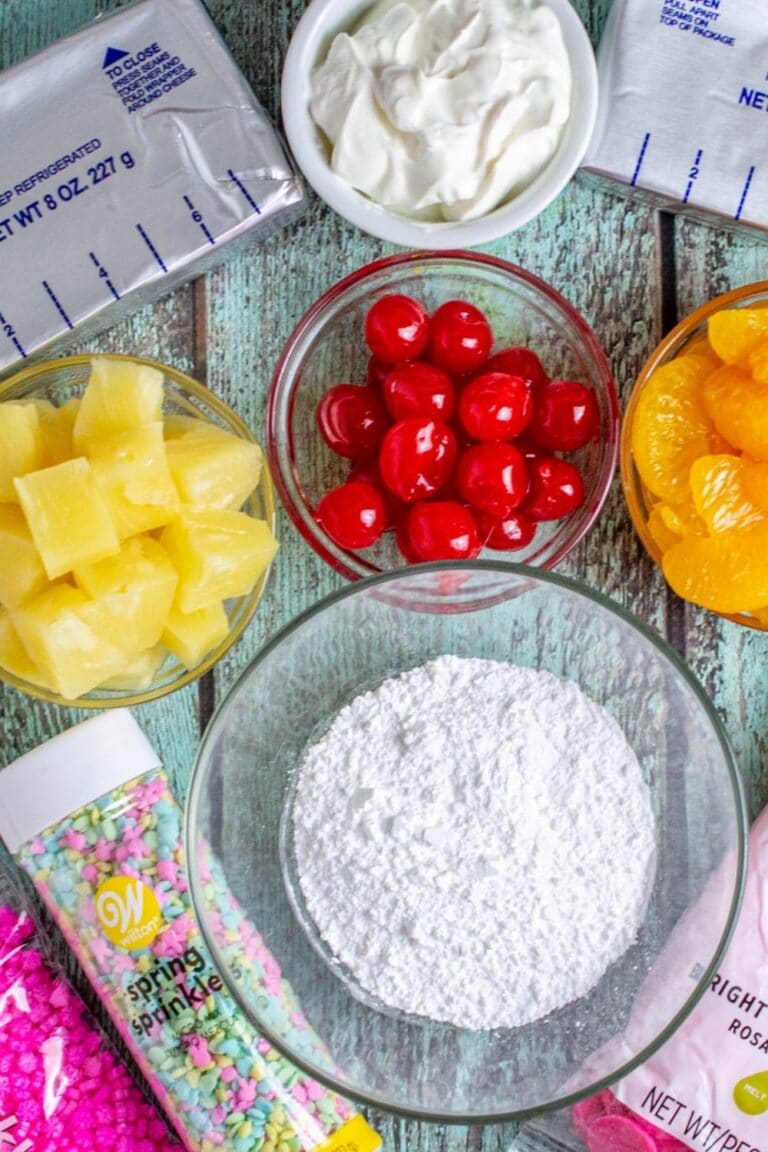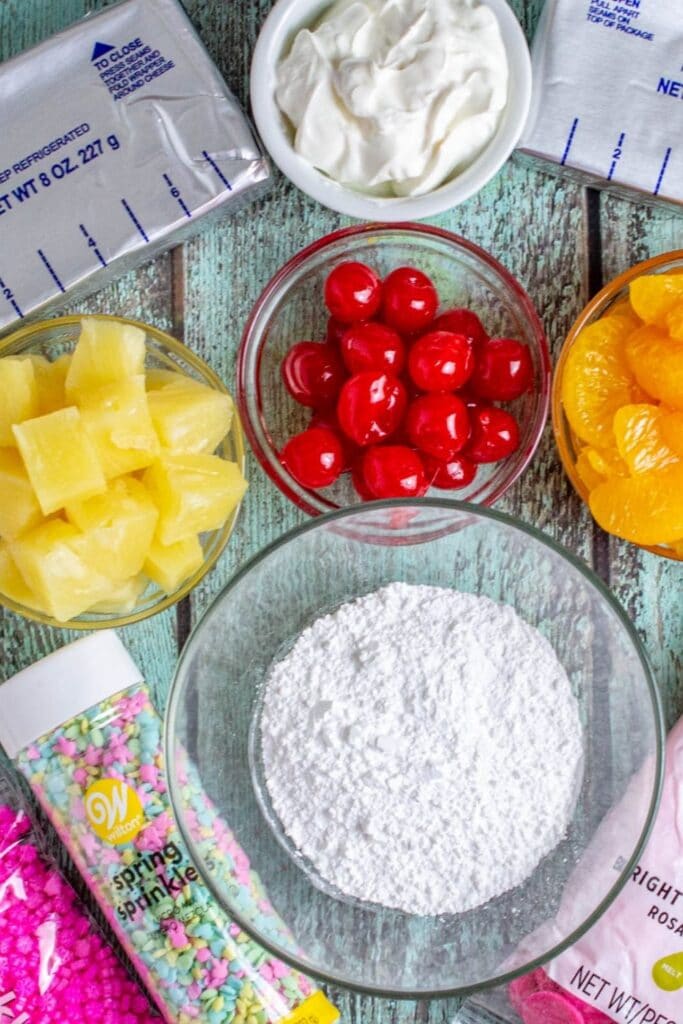 🍓 Ingredients
Cream Cheese
Sour Cream
Mini Marshmallows (optional)
Powdered sugar
Pineapple
Mandarin oranges
Whipped Cream
Pink food coloring (optional)
Sprinkles (optional)
🍎 How to Make Ambrosia Dip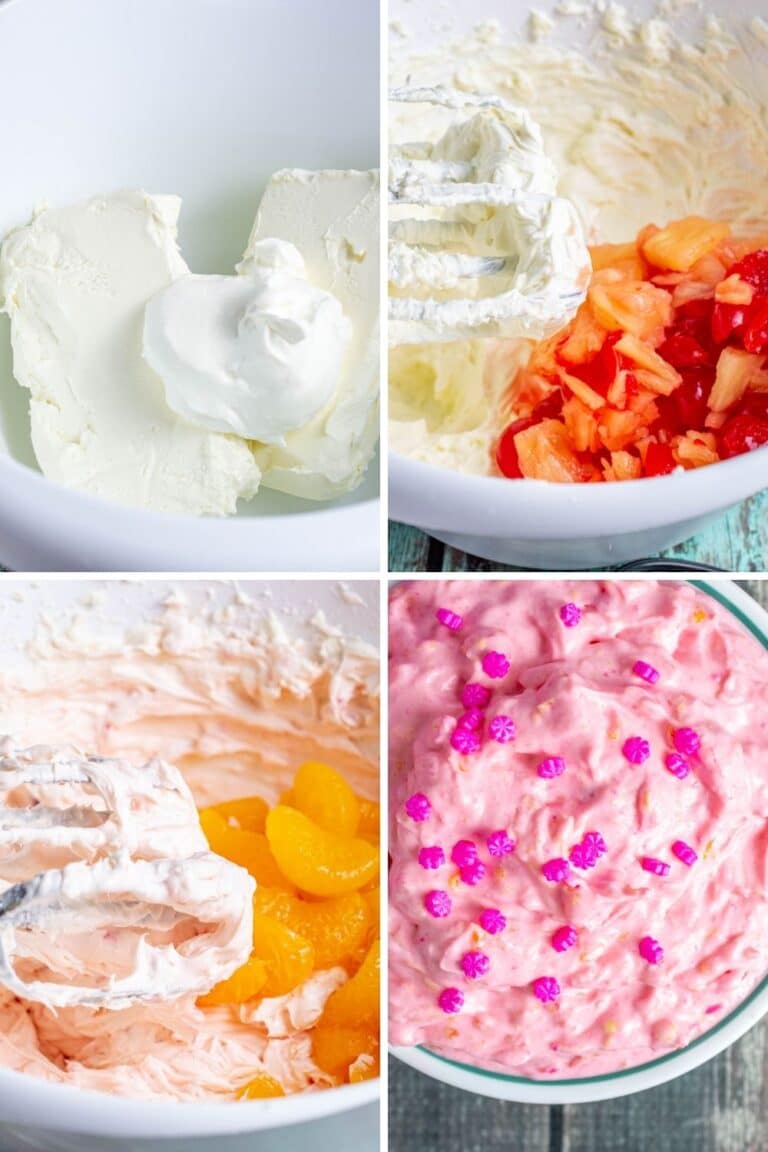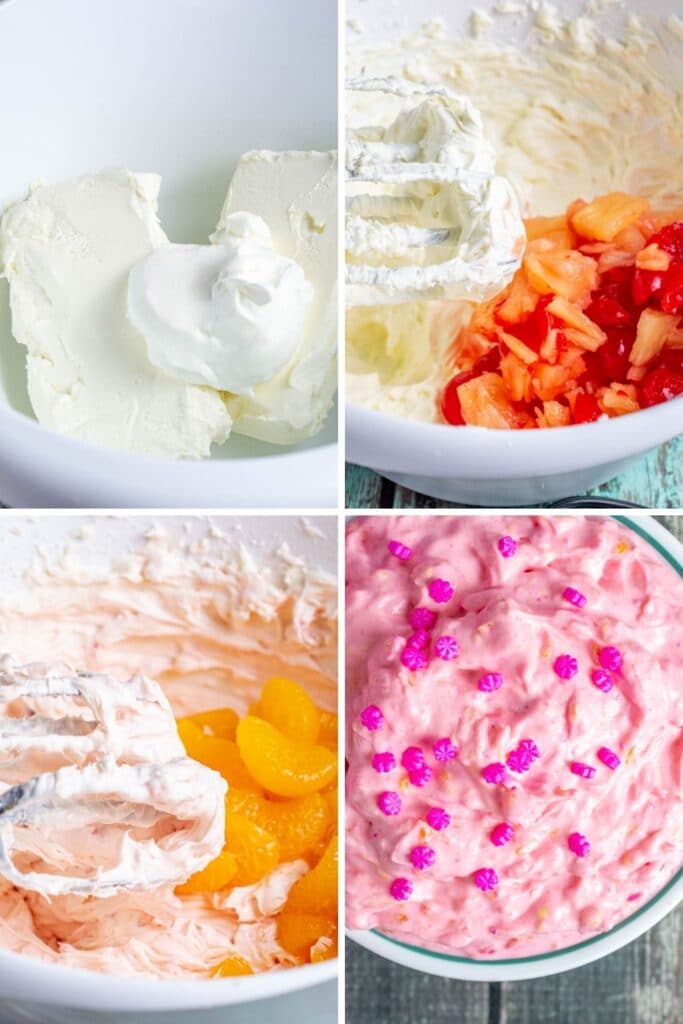 Step 1: In a bowl mix up the softened cream cheese, sour cream and powdered sugar. I mixed it for just a couple of minutes.
Step 2: Crush your cherries and pineapple with a fork and then pour into the cream cheese mixer. Beat till combined.
Step 3: Add in the mandarin oranges, and mix again until well mixed. You can fold them in if you want larger pieces, or blend for smaller orange pieces. If you do mini marshmallows, fold them in.
Step 4: Fold in the whipped cream and pink or red food coloring if you want. Then refrigerate for 30 minutes to set up.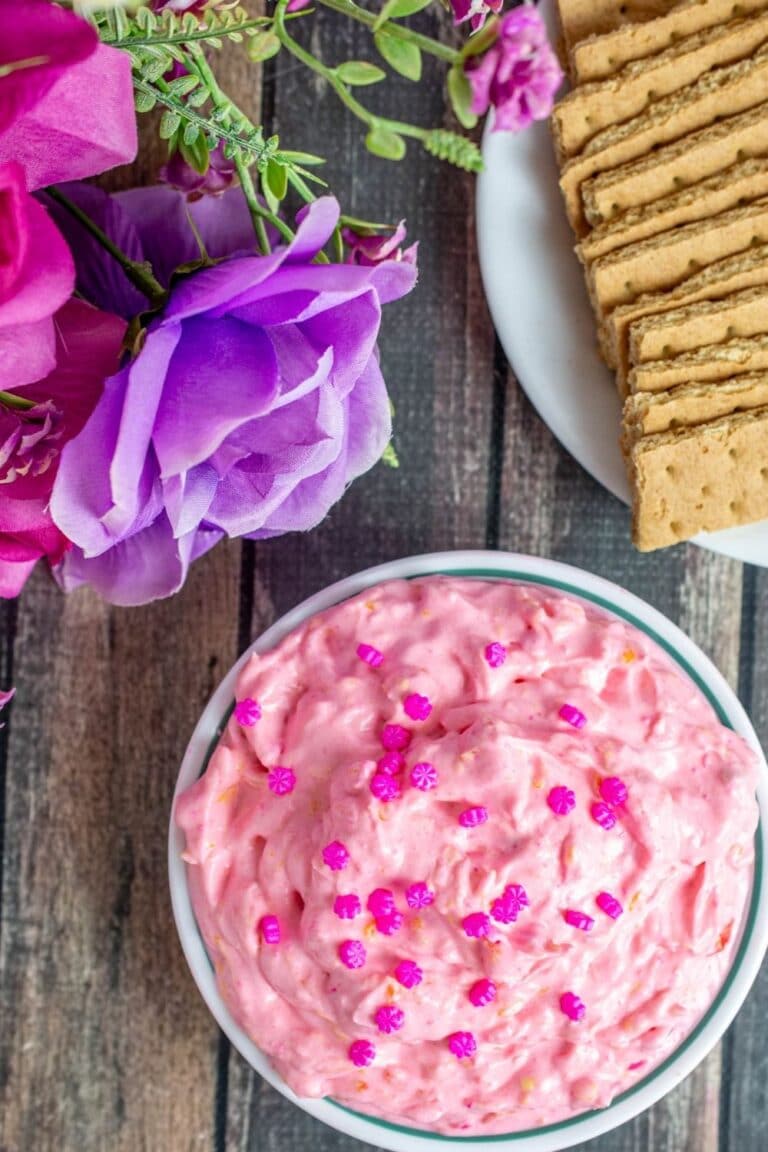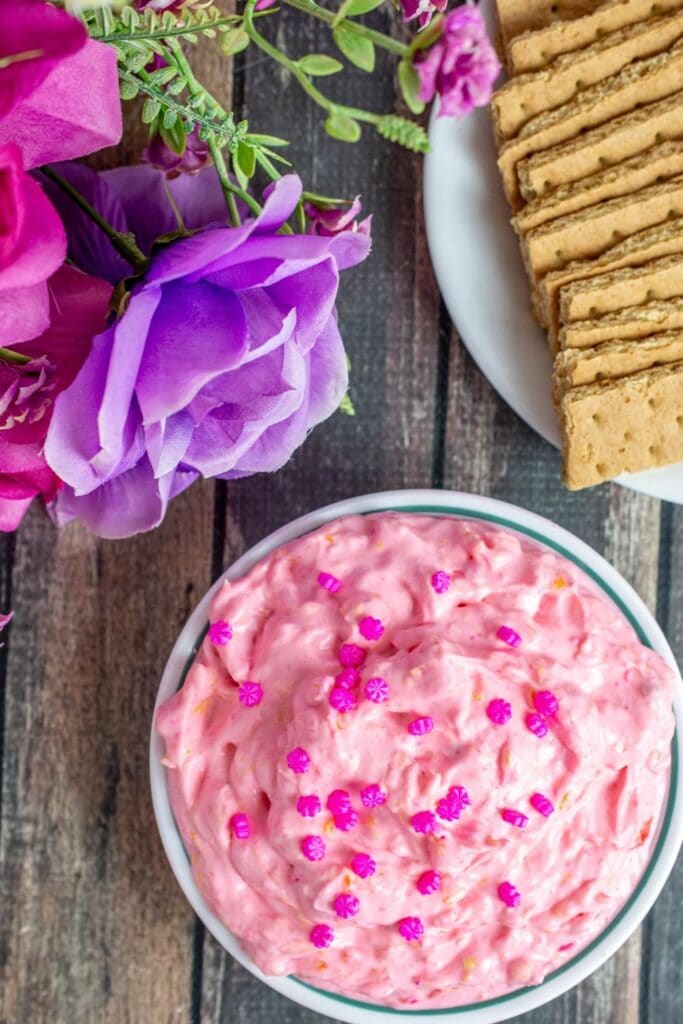 🍍 Storing Leftover Fruit Dip
Graham Crackers
Vanilla Wafers
Pretzels
Fresh Fruit – Apples, Pineapple, Grapes, Strawberries, Pears, Etc.
🍪 Variations To Recipe
I will add in marshmallows at a time for extra fluffy. Now you can use plain miniature marshmallows or get the colored minis for more added color and flavor.
Consider adding different fruit into the dip if you want to change up the flavor a bit.
You can also fold in a cup of whipped topping for an ultra creamy whipped cream and cream cheese texture.
Leave out the candy melts and do cool whip in replace. You can color the whipped cream cheese with some food coloring if you want.
Feel free to change up the color of the dip to fit your theme you want.
Sprinkles are optional for this, but they are fun for kids.
🍒 Recipe FAQs
📌  More Dessert Recipes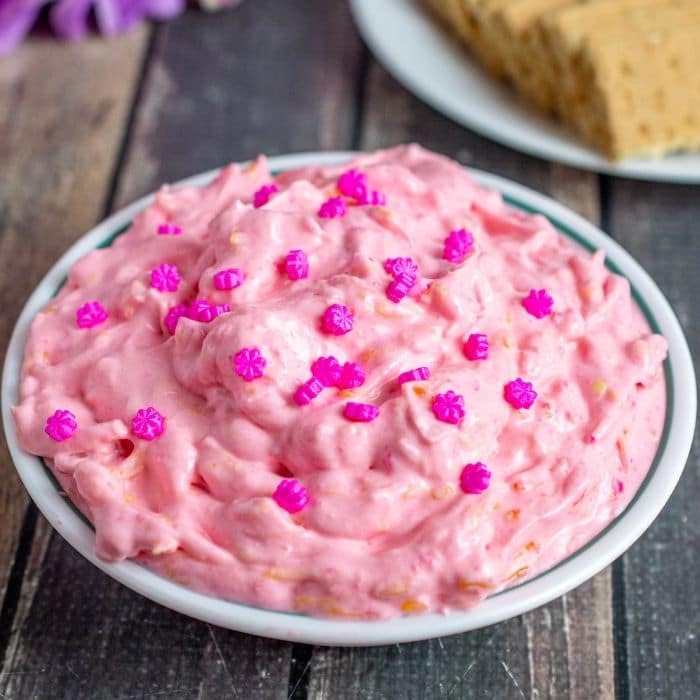 Ambrosia Salad Dip
Servings 8 -10 servings
Ambrosia Salad Dip is a delicious fruit cream cheese dip with whipped cream. Similar flavor to an ambrosia salad but in a dip form. Dip with cookies, pretzels, or fresh fruit.
Ingredients
2 packets of cream cheese softened 16 ounces total
1/2 cup sour cream
1/2 cup powdered sugar
1 cup whipped cream
1/2 cup crushed pineapple
1/2 cup maraschino cherries smashed
1/2 cup mandarin oranges
1/2 cup mini marshmallows optional
Pink or Red food coloring optional
Fruit cookies, for dipping
Instructions
Start by placing your softened cream cheese, sour cream and powdered sugar in a bowl. Use a hand mixer or stand mixer and blend it up until creamy.

Drain your pineapple and cherries and chop the cherries up a bit. Pour into the mixture and blend.

Then you will add in your mandarin oranges, and mix gently so you don't break them apart too much.

Add in the whipped cream and food color, and marshmallows. Fold it in until well mixed.

Place ambrosia salad dip in the refrigerator for 30 minutes and then serve up this fruit dip with vanilla wafer, pretzels, graham crackers, fresh fruit, etc.

I added a few spring sprinkles on top of the pineapple fruit dip but that is optional.
Notes
You don't have to add the miniature marshmallows if you don't want to.
You can make the salad any color you want.
Consider adding in shredded coconut as well.
Store for 3-4 days in the fridge. Just stir before serving it up.
Due to the ingredients in the recipe, you can't freeze the dip.
This ambrosia salad fruit dip can be made up to a day in advance of when you plan to serve it.
You can swap plain yogurt in place of the sour cream if you would like.
Nutrition
Serving: 1tablespoonCalories: 115kcalCarbohydrates: 17gProtein: 1gFat: 5gSaturated Fat: 3gPolyunsaturated Fat: 2gCholesterol: 14mgSodium: 29mgFiber: 1gSugar: 14g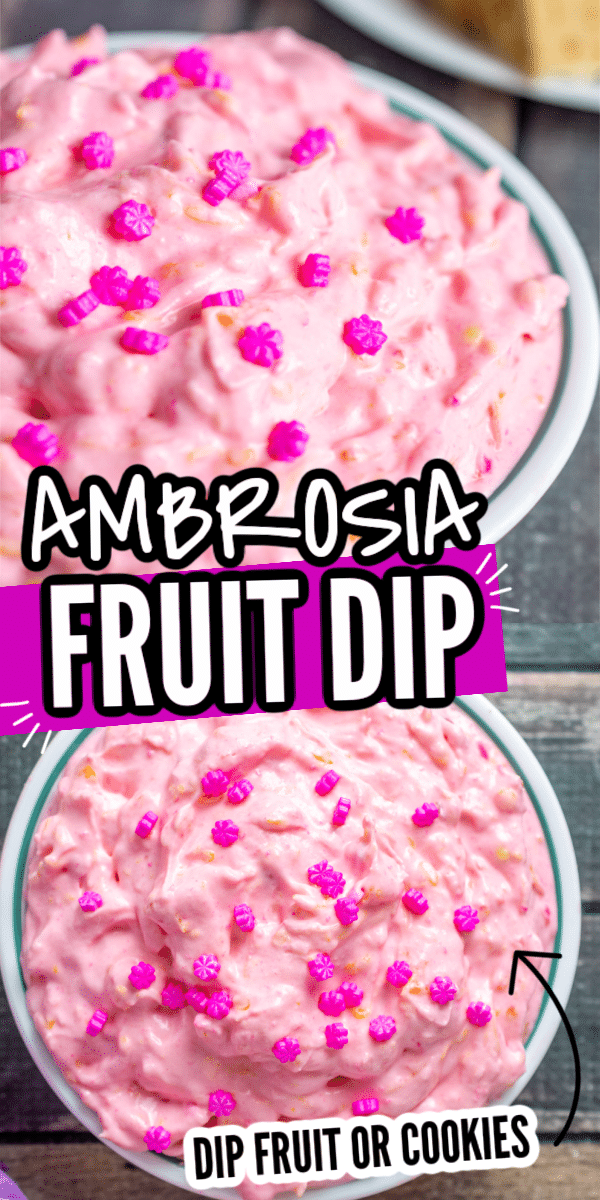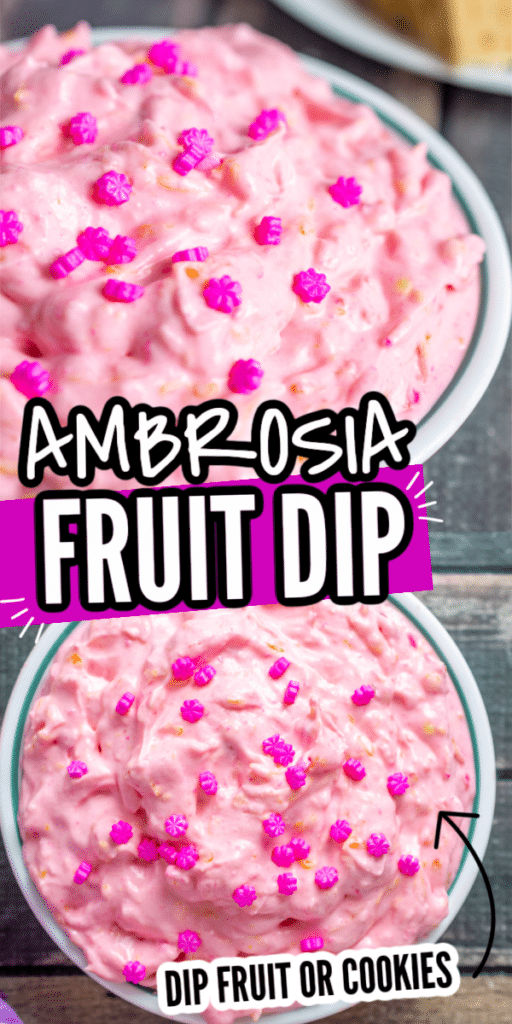 Reader Interactions