Light and refreshing mini fruit tarts with yogurt. A quick and easy bite size dessert perfect for summer cookouts and entertaining!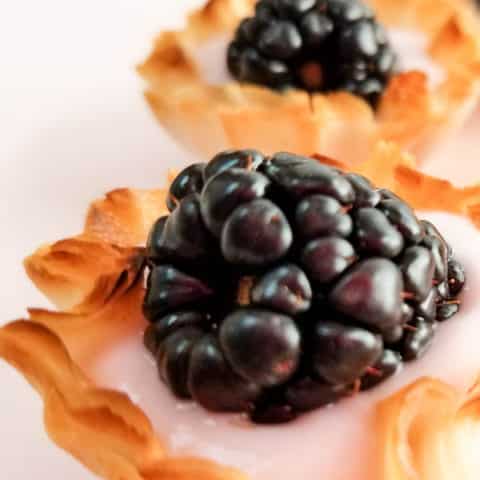 Mini fruit tart with yogurt is a quick and easy bite-size treat to serve your family or a crowd! A phyllo dough shell that is filled with your favorite yogurt and topped with a fresh blackberry. These are a light and refreshing dessert that is perfect for your spring and summer entertaining.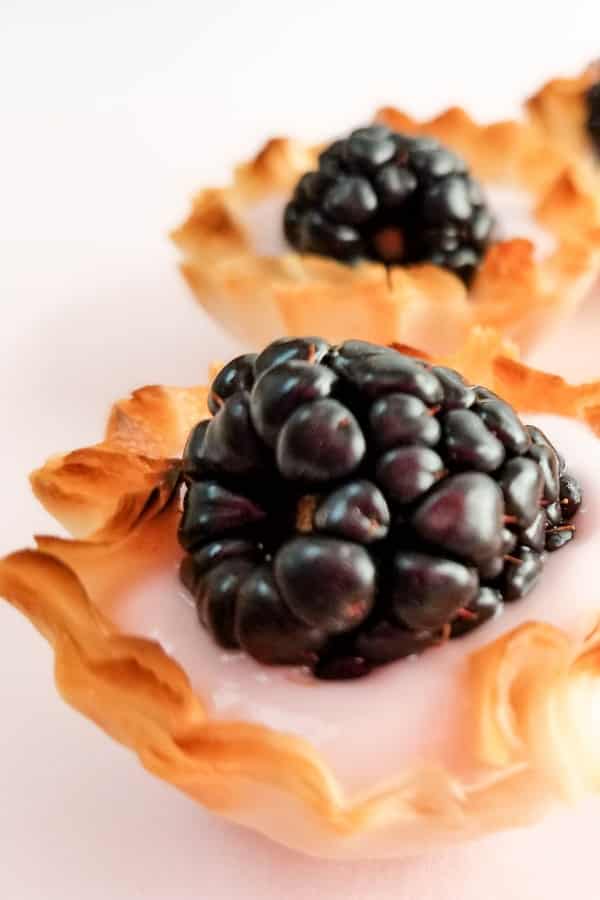 Mini Fruit Tarts will come in handy when you need a simple dessert that requires minimal time! Grab your favorite fruits and cut them up, and create an assortment of flavors. While this isn't a true recipe cause it is SO simple, I just couldn't pass up sharing it with you.
More Phyllo Bite-Size Appetizers
Easy Mini Fruit Tart Dessert
Like I said it is in a way not a full recipe cause it is just three ingredients, but hey, they are the bomb dot com! These are perfect for summer cookouts, potluck entertaining, and even weekday treats to serve up after school is out. However or whenever you serve them, you will be glad you did!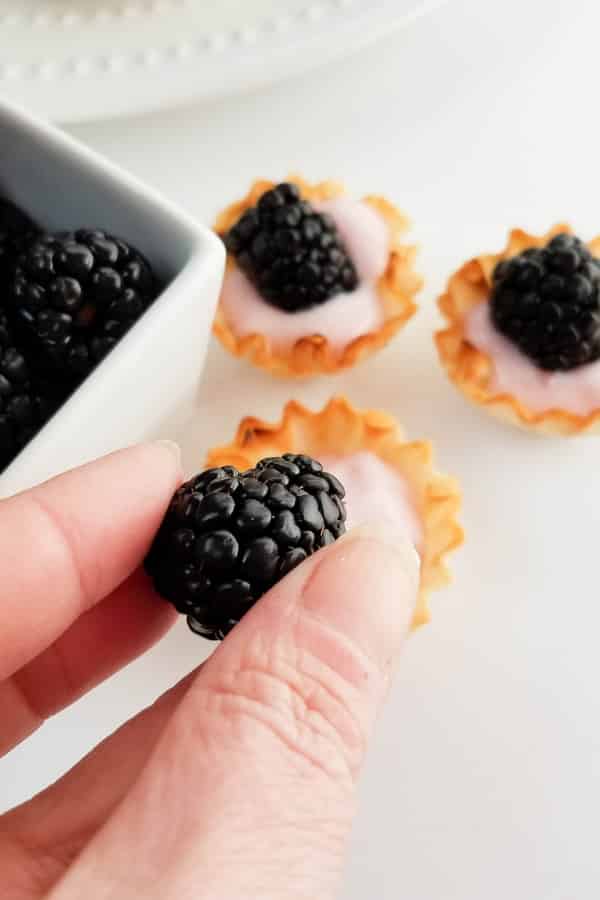 What Other Fruits Could You Use For Fresh Fruit Tarts
Sliced strawberries
Raspberries
Kiwi
Pineapple
Pomegranate
Or any other fresh fruits you can think of!
The sky is the limit with these fresh fruit tarts! You can use as many of your favorite fruits as you would like!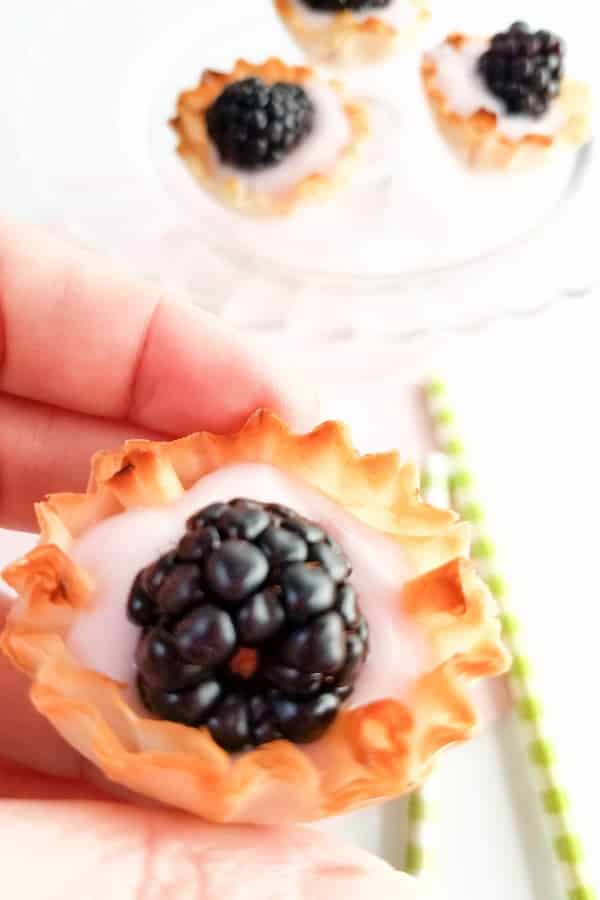 What If I Don't Want A Yogurt Filling for Tarts
Use a vanilla pudding, cream cheese mixture, or even a custard if you would prefer. I have even in a pinched done whipped cream for the filling! I like yogurt cause it makes them really light and offers a tart aspect, but feel free to use whatever works best for you and your taste buds.
Ingredients For Mini Fruit Tarts
1 package (15 count) Phyllo Shells – found in the grocery freezer
8oz yogurt (your favorite brand and flavor)
15 fresh blackberries
Can I Make These Fruit Tarts Ahead Of Time
Yes! Feel free to make them up to 4 hours in advance. You don't want to go too far in advance as the yogurt can begin to soften the phyllo dough up. But, you can prep them ahead of time and then just store them in the fridge until you are ready to serve.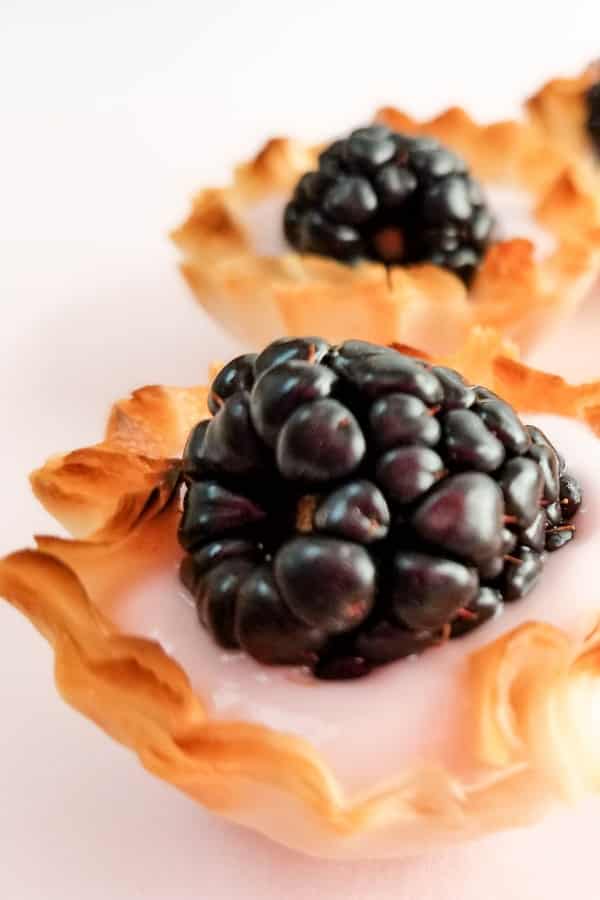 Mini Fruit Tart with Yogurt
Servings 15
Light and refreshing mini fruit tarts with yogurt. A quick and easy bite size dessert perfect for summer cookouts and entertaining!
Ingredients
1 package 15 count Phyllo Shells - found in the grocery freezer
8 oz yogurt your favorite brand and flavor
15 fresh blackberriesDirections:
Instructions
Rinse blackberries in water.

Set out Phyllo Shells on a plate or tray.

Spoon yogurt into piping bag or zipper bag and cut off one end. Pipe yogurt into Phyllo Shells

.Top each with a blackberry



Nutrition
Serving: 2gCalories: 15kcalCarbohydrates: 1gProtein: 1gFat: 1gCholesterol: 2mgSodium: 17mgSugar: 1g
You could do a red, white and blue theme for 4th of July, change up the fruit to fit a baby shower theme, and the list goes on. Just get creative and have fun with these easy no-bake fruit tarts!
What Yogurt Did I Use For My No-Bake Fruit Tarts
I used Greek yogurt, but you are welcome to use any brand. I also love the Noosa brand and I stir it up really good to mix in the fruit filling and then spoon it out. But they didn't have a blackberry flavor so I reached for Greek this time. But any yogurt works!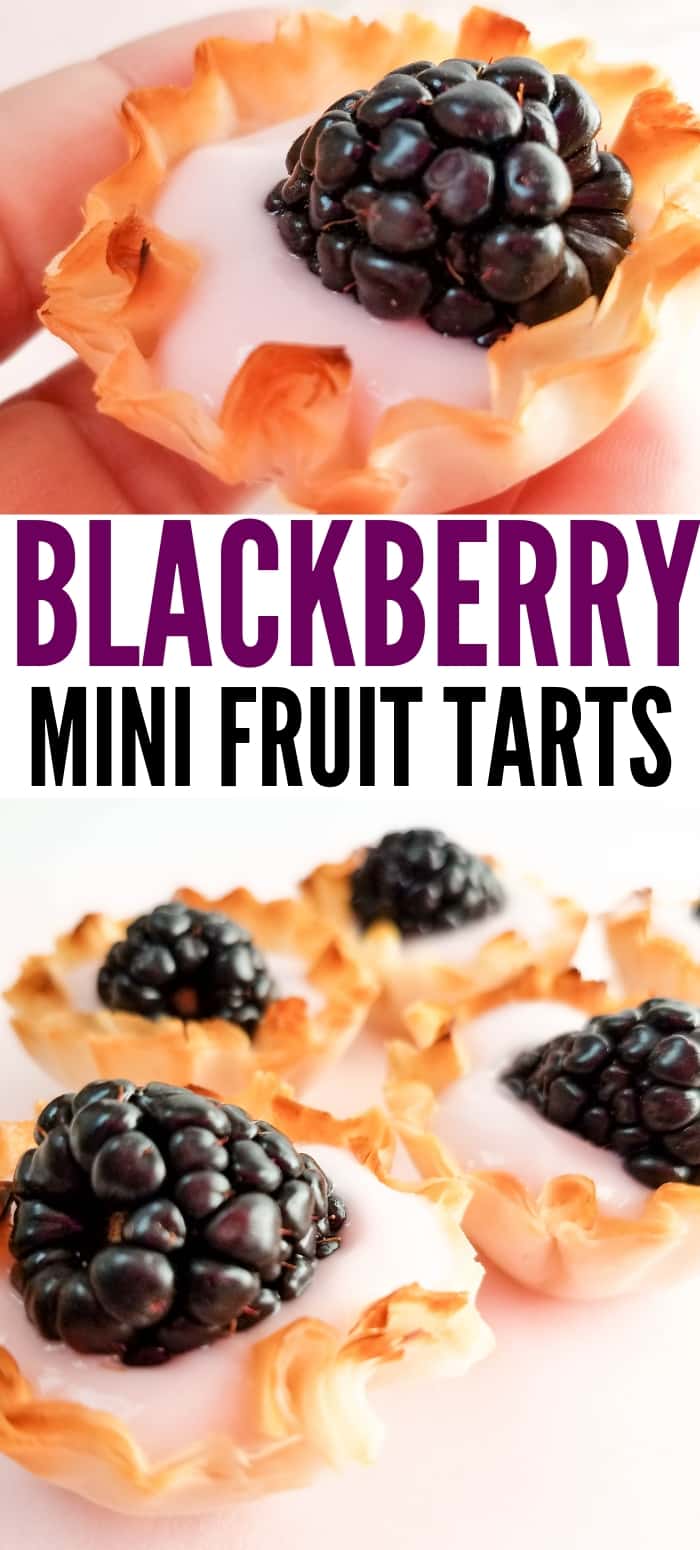 Have you ever made mini fruit tarts before?
Reader Interactions