Eggnog French Toast is the ultimate holiday-inspired French toast recipe. This Instant Pot eggnog French toast, is rich, decadent, and downright addictive. 5 ingredients are all that is required.
Instant Pot French Toast is a simple way to make this eggnog French Toast Casserole that is so rich and decadent. Drizzle on some maple syrup, and serve alone or with a side of sausage or bacon.
We love French toast bakes. It gives you all the flavors of French toast with minimal effort. No flipping the bread, just toss, bake, serve!
🍞 Why I Recommend This Recipe
Full of warm spices and flavor
Make Instant Pot Eggnog use for this recipe
Easy Prep
Delicious Christmas morning breakfast
Simple Cooking thanks to Instant Pot
Pairs great with sausage, bacon, side of fruit, etc
Affordable
Simple pantry ingredients needed
Great way to use up leftover bread like Challah
🍓 Ingredients Needed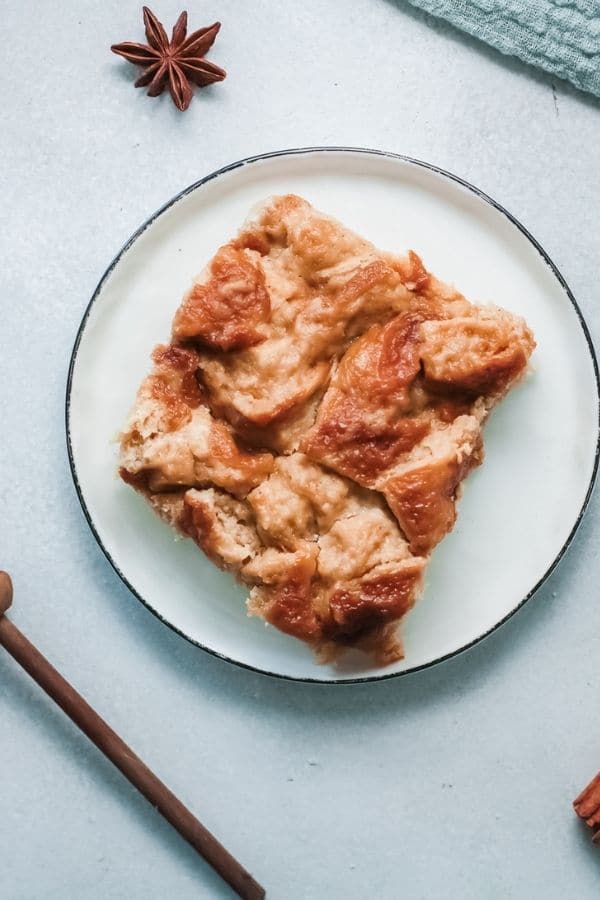 Bread
Eggnog
Vanilla Extract
Eggs
Brown Sugar
🍩 How To Make
Cut up your leftover bread into cubes
Add brown sugar, eggs, vanilla extract, and eggnog in a bowl.
Whisk until creamy. Pour egg mixture in with bread and toss gently.
Add trivet to Instant Pot and add a cup of water.
Pour your French toast bake in a greased pan, cover and place in the Instant Pot.
Cook on high pressure for 20 minutes with a quick release of pressure. Remove and serve.
So easy, but so tasty! Pressure cooker French toast bake is one you will love. If you don't have a pressure cooker you can make in the oven. Just use an oven safe pan, cover and bake at 350 degrees.
👩‍🍳 What Pan To Use For French Toast Bake In Instant Pot
I used this 7 inch round cake pan to make my eggnog French toast bake. Now, you can use any Instant Pot safe container to use, as long as the mixture fits in properly and you can cover it with aluminum foil.
You can also use a trivet to set the cake pan on or use a silicone sling. Either work, you just don't want your pan sitting in the water with nothing under it.
🥐Variations To Recipe
Add in some raisins or cranberries into the mix
Dust with powdered sugar once done
Add in some pecans or walnuts for a crunchy aspect
Consider adding rum extract for a fun twist in flavor.
Different types of cubed bread will work, just as long as it isn't too soft.
This is one of my favorite eggnog breakfast recipes we make often. It is a family favorite for sure.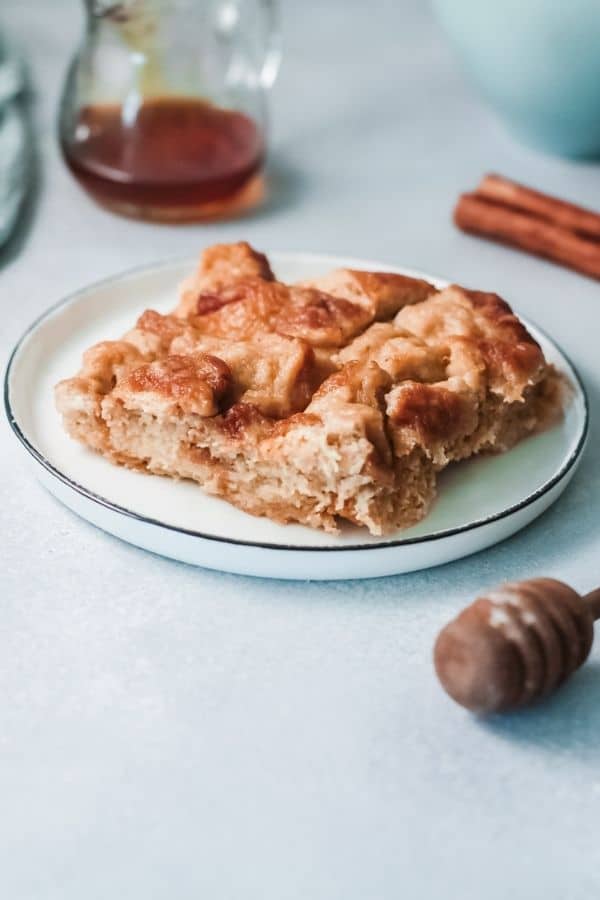 🍴 Storing Leftovers
If you have leftovers go right ahead and store in an airtight container in the refrigerator. The French toast will store for a couple of days. You will find it kind of changes texture a bit, where it can dry out or be a bit soggier even.
Just reheat in the microwave or cover and heat up in the oven.
🥚 Recipe FAQs
Why is my baked French toast soggy?
Make sure that you are using a heartier bread like Brioche, day old bread, croissants, etc. Having to soft of a bread can make French toast soggy. The other thing is too much wet ingredients can cause this as well.
What goes with baked French toast?
Fruit salad, bacon, eggs, sausage all are great contenders to pair with a baked French toast. Or you can serve it up plain if you prefer.
Can you eat French toast for dinner?
French toast is perfect anytime of the day. Simple, delicious and a sweet treat no matter what time of day it is!
What type of bread is best for French toast?
Challah, Brioche, day old bread, croissants and more are all great options. You want a firmer bread so it soaks up the eggnog and egg mixture but still holds shape.
Craving More Breakfast Recipes
Eggnog French Toast Instant Pot Recipe
Servings 4 -6 servings
Eggnog French toast is the perfect breakfast to serve up Christmas morning or all winter long. Tender bread that is mixed with eggnog base and cooked right in the pressure cooker. I share oven directions below as well.
Ingredients
1 Pound brioche or challah bread cubed
2 Eggs
¼ Cup brown sugar light or dark
2 Cups eggnog
1 teaspoon vanilla extract
Instructions
Start by cubing up your bread and place in a bowl.

Now in another bowl add your eggnog, vanilla extract, brown sugar, and eggs. Whisk until combined.

Fold into the bread, cover, and refrigerate for 30 minutes to allow the bread to soak up the mixture.

Pour French toast bake in a greased 7-inch cake pan. Cover tightly with aluminum foil.

Place 1 cup of water in Instant Pot and place a trivet or use a silicone sling. Place the French toast bake in the pressure cooker.

Place lid on the pressure cooker, make sure the valve is set to sealing. Do high pressure for 20 minutes, followed by a quick release of pressure.

Carefully remove, and dish up this incredible eggnog French toast bake!
Notes
French toast works great with sturdier or stale bread. If it is too soft it will sog up too much and become mushy. You can bake in the oven at 350 degrees, then cook for 15-20 minutes or until the French toast bake is done. Eggnog has a lot of warmth in it, so you don't really need extra flavors. If you want go ahead and add extra cinnamon for more flavor. You could swap vanilla with rum extract for a different flavor component. Feel free to add in raisins, dried cranberries or even nuts to the French toast eggnog mix for added flavor. Drizzle with maple syrup, sprinkle with powdered sugar or make a powdered sugar and milk glaze to drizzle over the top. Store leftovers in the refrigerator for a few days. Then reheat in the microwave or place in the oven to reheat.
Nutrition
Serving: 1gCalories: 404kcalCarbohydrates: 47gProtein: 13gFat: 18gSaturated Fat: 10gPolyunsaturated Fat: 7gCholesterol: 217mgSodium: 377mgFiber: 1gSugar: 20g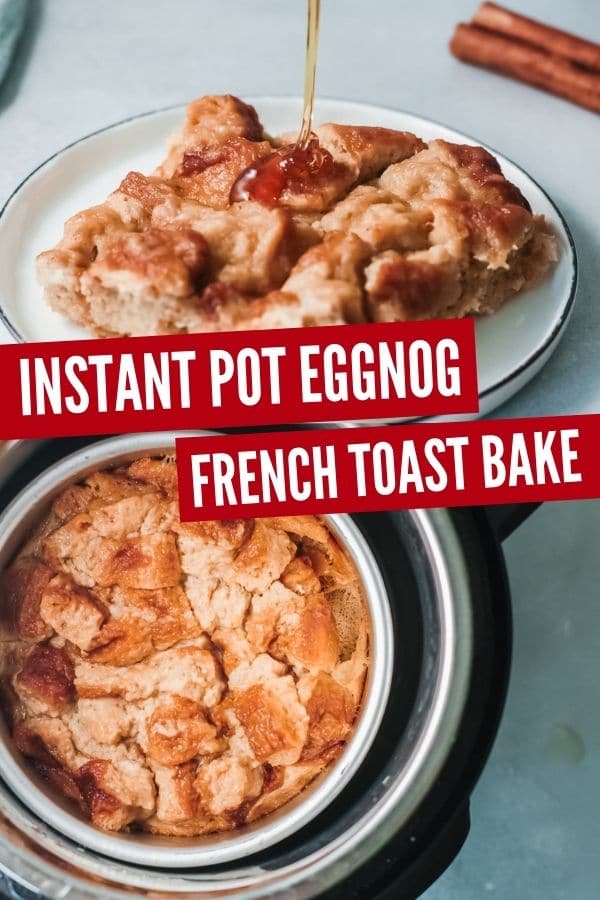 Reader Interactions