Pumpkin Crescent Roll Cinnamon Rolls is a twist on the classic crescent roll cinnamon rolls. Perfect for fall. A no rise, no-knead cinnamon roll!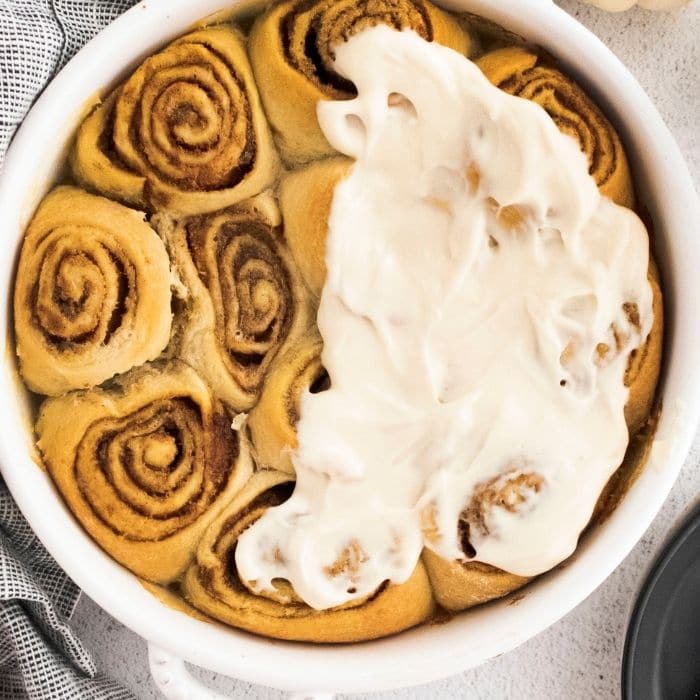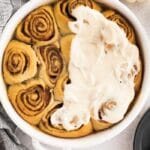 Pumpkin Crescent Roll cinnamon rolls are a shortcut cinnamon roll filled with pumpkin spice and drizzled with a sweet homemade cream cheese icing. Pumpkin cinnamon rolls that are baked and ready to serve in no time.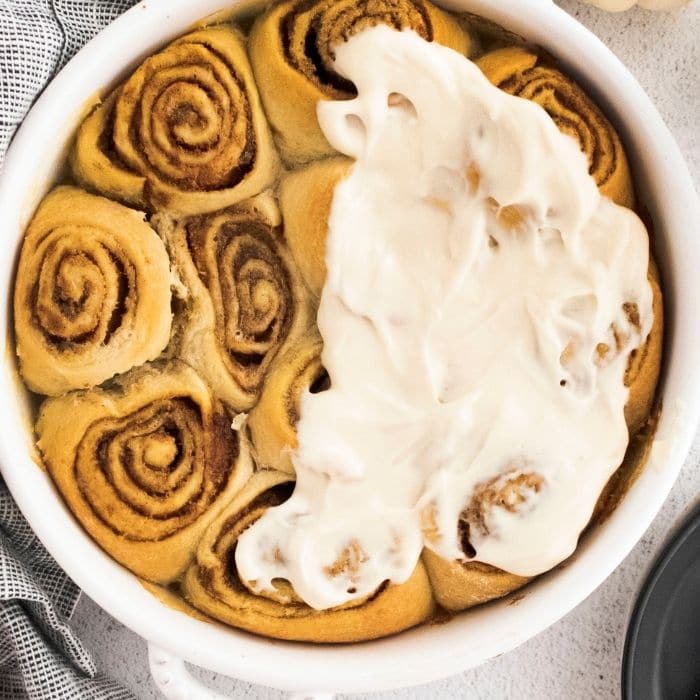 Here are some more breakfast rolls to make. Delicious sticky buns, blueberry sweet rolls, or even air fryer cinnamon roll donuts.
Crescent Roll Cinnamon Rolls
Pumpkin rolls are my favorite, because if you say the world pumpkin spice I jump! Whip these up for a morning breakfast, mid-day treat, or even a potluck dish to take to work!
Main Ingredients Used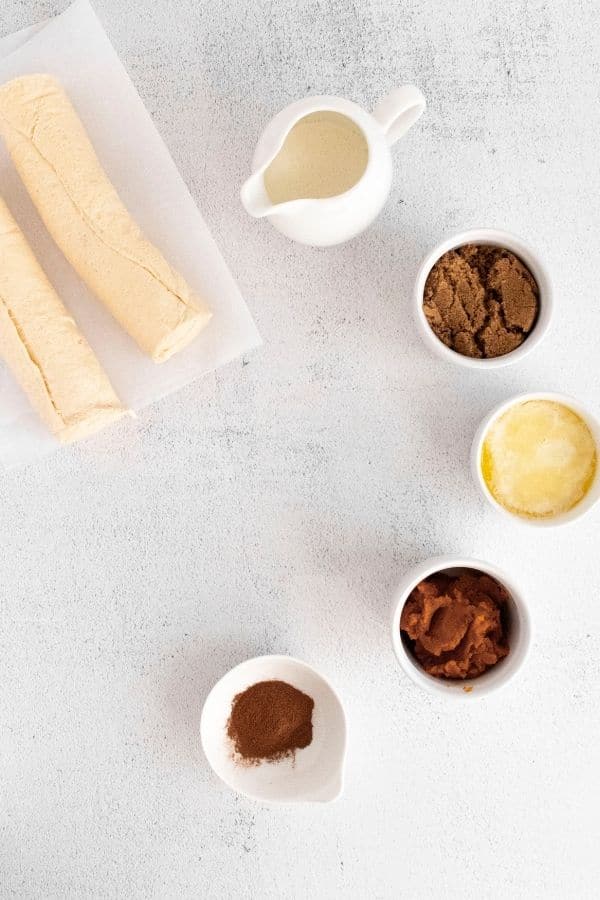 Crescent Roll Dough | The base of the crescent roll cinnamon rolls is crescent roll dough. This is what speeds up the process!
Pumpkin Puree | Pumpkin puree and pumpkin spice are part of the filling so it adds tons of pumpkin flavor.
Cream Cheese Icing | Cream cheese, maple syrup, and vanilla are what you use for the homemade icing!
How to Make
The full directions and ingredients list on how to make crescent roll cinnamon rolls is in the printable recipe card below.
Start by rolling out your crescent roll dough flat, and press in the cuts that are in the crescent roll.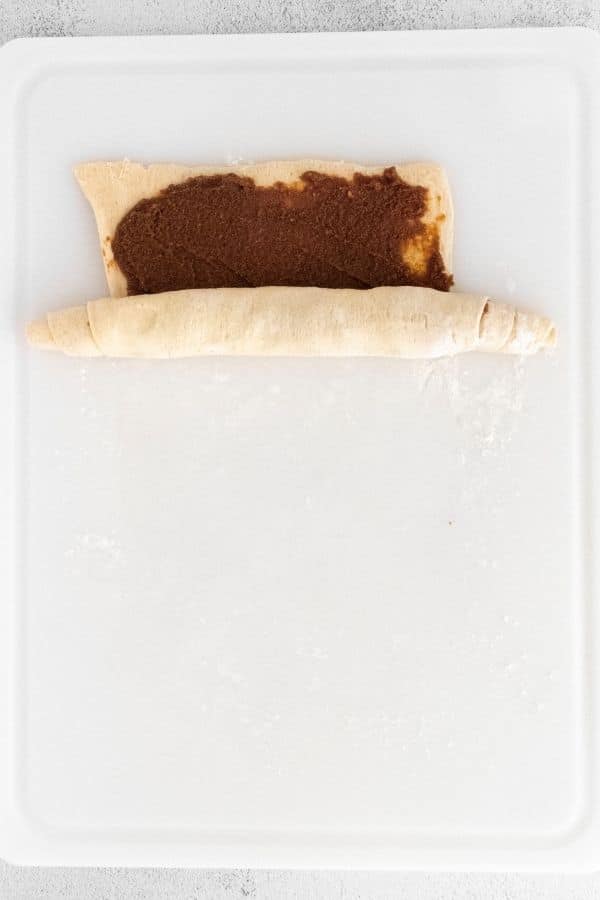 In a bowl you will mix your pumpkin puree, pumpkin spice, brown sugar, and butter.
Spread an even layer all over the two crescent rolls. And then roll them up tightly as you would a cinnamon roll.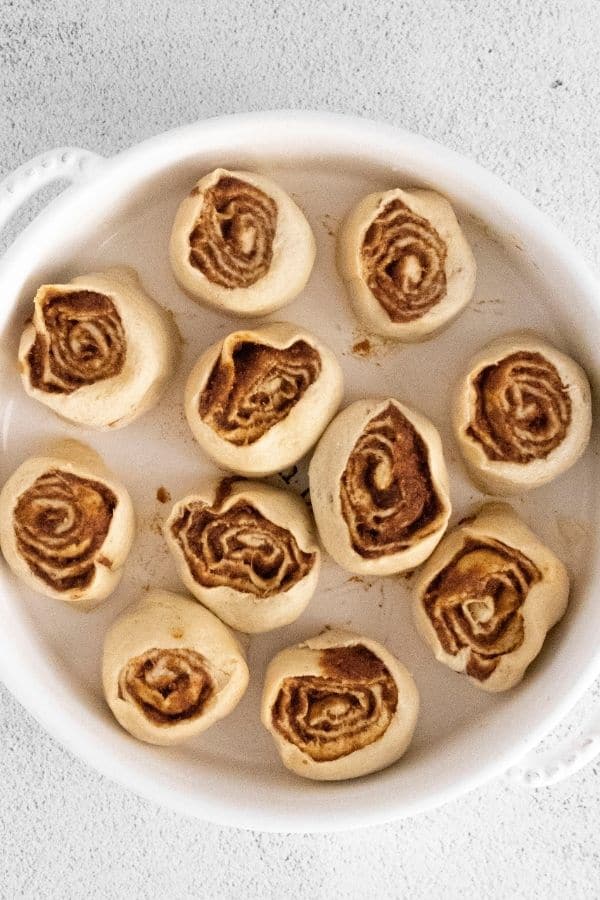 Now slice the logs into 6 equal parts. You can cut the edges off so you get straight cuts.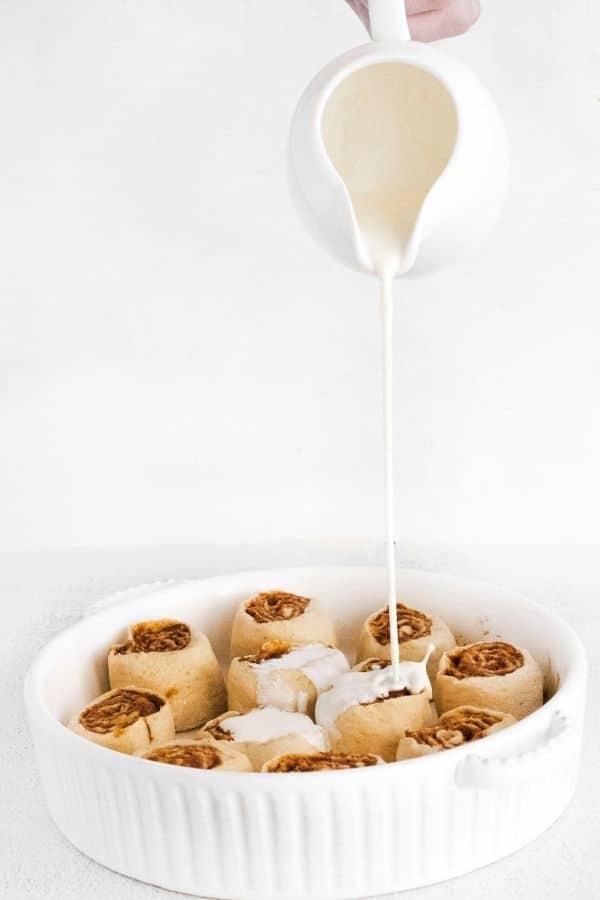 Pour the heavy cream evenly over your crescent roll pumpkin cinnamon rolls. Then bake accordingly.
Once done allow to rest on the counter 5 minutes. Prepare the cream cheese maple frosting and spread over the rolls.
These cinnamon rolls with crescent dough truly are so easy, and I love the pumpkin spice spin to these cinnamon crescent rolls.
Can I Make These Without Pumpkin
Absolutely! Just leave out the pumpkin puree and pumpkin spice. Use brown sugar, butter, and then 1 1/2 teaspoons of cinnamon.
Spread on the rolls and follow all the same directions. The cinnamon mixture is a classic filling.
Then stick with the cream cheese frosting or do a powdered sugar glaze if you prefer.
Tips for Making Crescent Roll Dough Cinnamon Rolls
Use a rolling pin to help get even rectangle.
Use your fingers to press the cut creases with your fingers to make it one full long line of dough.
Allow your rolls to rest 5 minutes before you frost, or they will become soggy.
Swap with sugar and cinnamon if you don't want pumpkin flavor.
Double the recipe for serving a larger crowd. Just use a larger baking dish.
You do not need to let the roll rise since you are using crescent dough.
The cinnamon pumpkin rolls will double in size as they bake up, so leave a bit of space between each roll.
Store your leftover cinnamon pumpkin crescent cinnamon rolls in the fridge not room temperature, or they will spoil.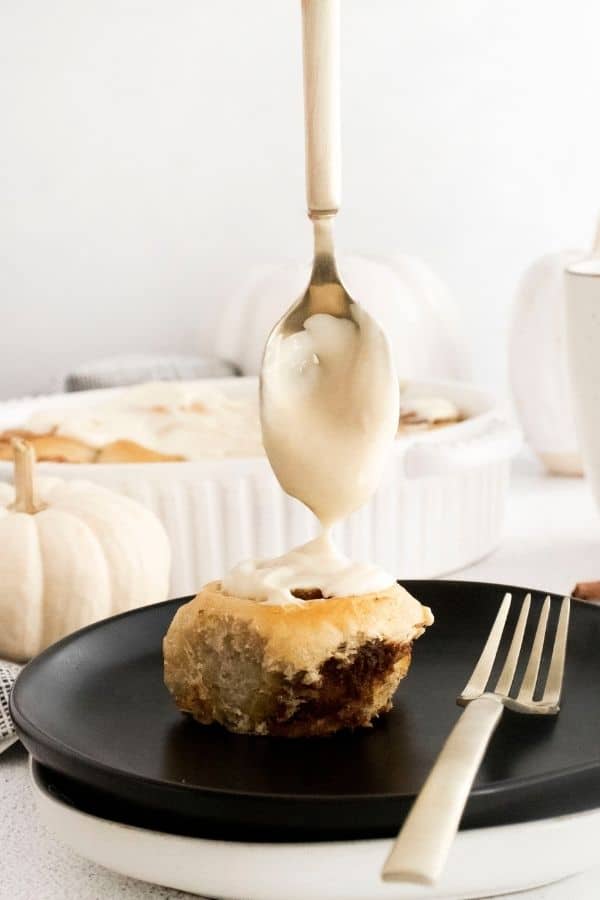 Want More Pumpkin Recipes
Can I Prep These Rolls Ahead of Time
Want to prep these cinnamon rolls the night before? Go right ahead and roll up and cut your pumpkin cinnamon rolls the night before. Place in your baking dish and cover.
Store in the fridge overnight and in the morning, pour heavy cream and bake. Just add a little extra time since your dish will be cold.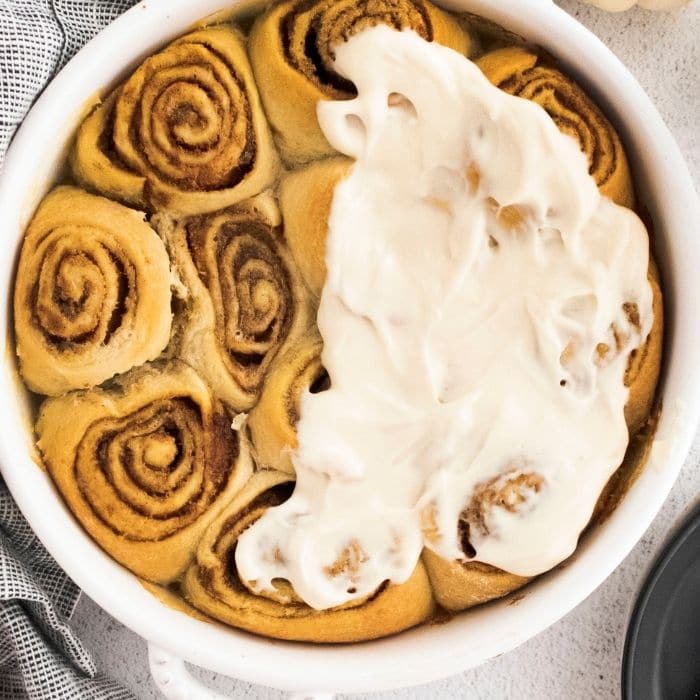 Pumpkin Crescent Roll Cinnamon Rolls
Servings 12 rolls
Pumpkin Crescent Roll Cinnamon Rolls is a twist on the classic crescent roll cinnamon rolls. Perfect for fall. A no rise, no-knead cinnamon roll!
Ingredients
For the Cinnamon Rolls
2 packages crescent roll dough
1/2 cup canned pumpkin puree
1/2 cup brown sugar
1/4 cup butter melted
1 1/2 teaspoons pumpkin pie spice
1/4 cup heavy cream
For the Icing
1 cup whipped cream cheese softened (can use softened regular cream cheese)
1/4 cup maple syrup real maple syrup
1 tsp vanilla extract
Instructions
Preheat your oven to 375 degrees and then lightly grease your 9" baking dish and set aside.

Lightly add flour to work surface and open your cans of crescent rolls. Unroll the crescent rolls and pinch the seems to form them. Or use a rolling pin.

Now in a small bowl add your pumpkin puree, brown sugar, melted butter and mix until creamy. Then use a spoon and spread over both rolled out crescent rolls.

Roll the screscent rolls up tightly, like you would a classic cinnamon roll.

Now take a sharp knife and cut off the ends to help give straight edges. Then cut each crescent roll, roll into 6 slices.

Place the crescent roll cinnamon rolls about 1/2" apart in your baking dish.

Evenly pour the heavy cream over the pumpkin cinnamon rolls.

Bake for 15-20 minutes or until the tops are golden brown and fully cooked. Place on cooling rack for 5 minutes.

While rolls are cooling prepare your cream cheese frosting by mixing ingredients in a bowl.

Pour over the warm pumpkin spice cinnamon rolls! Serve and enjoy.

You can store these pumpkin spice crescent roll cinnamon rolls in the fridge for up to 2 days after making. Just microwave 15 seconds for a fresh out of the oven flavor!
Notes
You need to use heavy cream, no lower fat substitutes
Regular cream cheese can be used, it will just make them a richer flavor
I recommend using real maple syrup for the frosting
Nutrition
Serving: 1rollCalories: 255kcalCarbohydrates: 27gProtein: 2gFat: 16gSaturated Fat: 9gPolyunsaturated Fat: 6gCholesterol: 32mgSodium: 175mgFiber: 1gSugar: 14g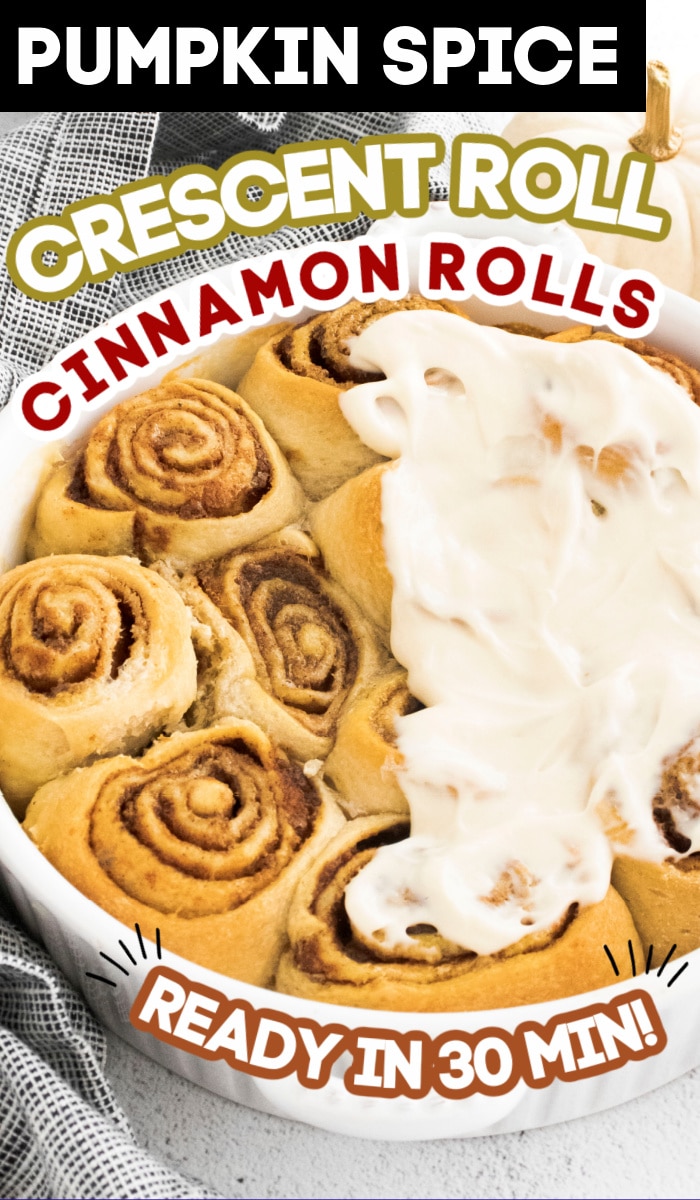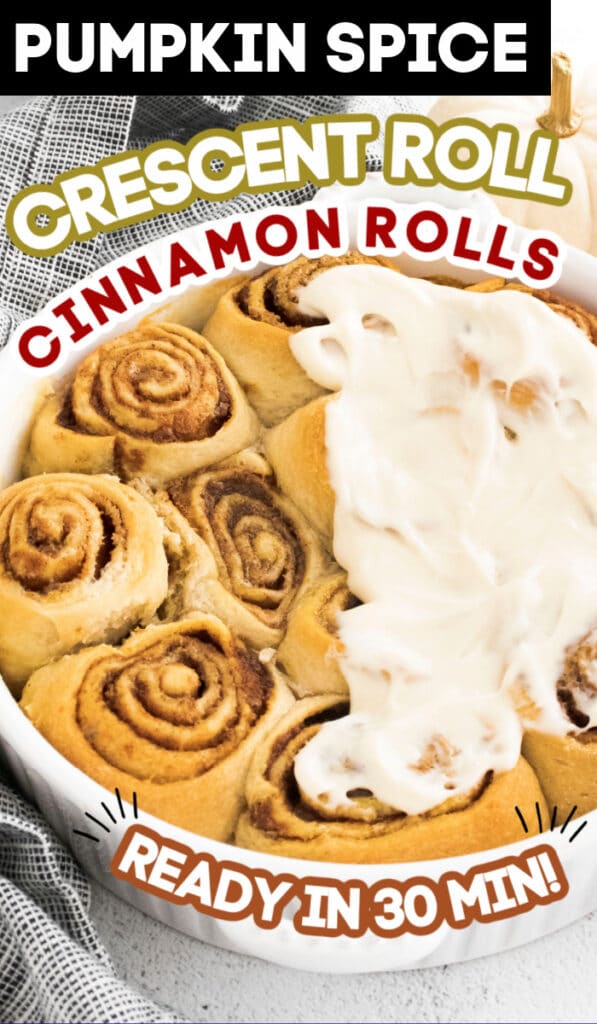 Reader Interactions