Pumpkin lush is a layered pumpkin spice dessert. This no-bake pumpkin dessert lasagna is layers of sweetness! Graham cracker, cheesecake, pumpkin spice, topped with whipped cream, nuts, and caramel.
Love pumpkin? I sure do. Here are a few recipes to look at. Instant Pot Pumpkin Spice Creamer, pumpkin cheesecake cake, or pumpkin carrot muffins!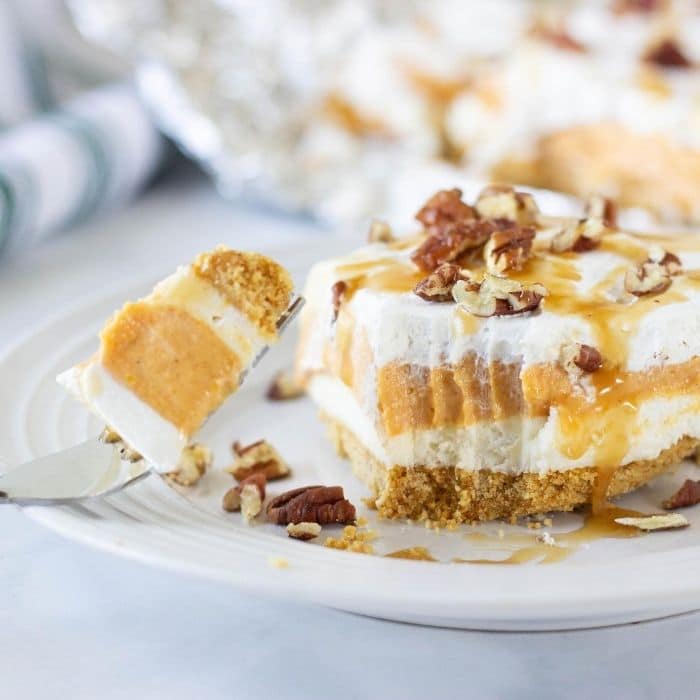 This no bake pumpkin dessert was a home run. My family loved it! The creamy pumpkin layer was my favorite part!
What Are The Layers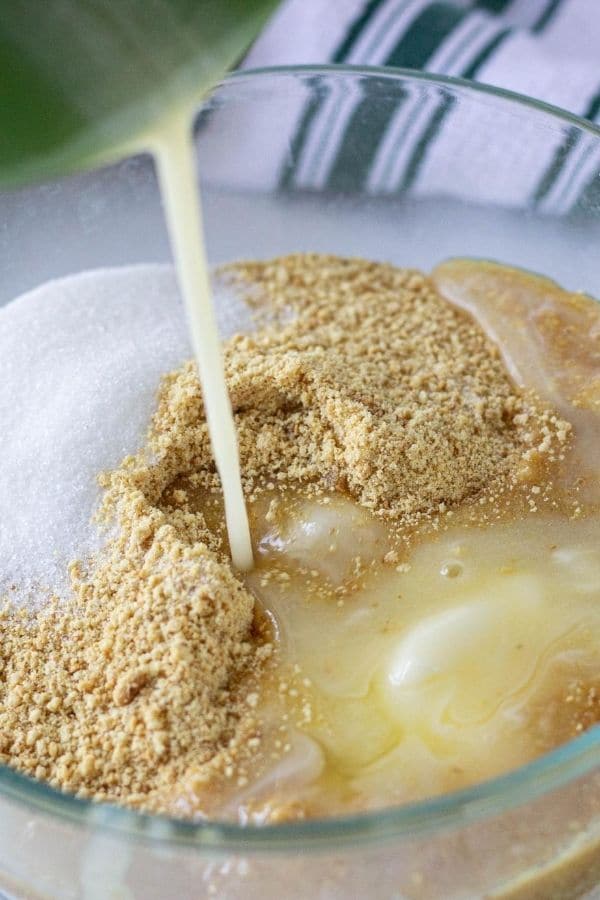 Golden Graham Crackers | I reached for graham cracker crumbs as my base. You could swap bot ginger snaps for a tasty spice filled crust.
No Bake Cheesecake Layer | This cheesecake layer is crazy simple. Use room temperature cream cheese for the perfect velvety smooth texture.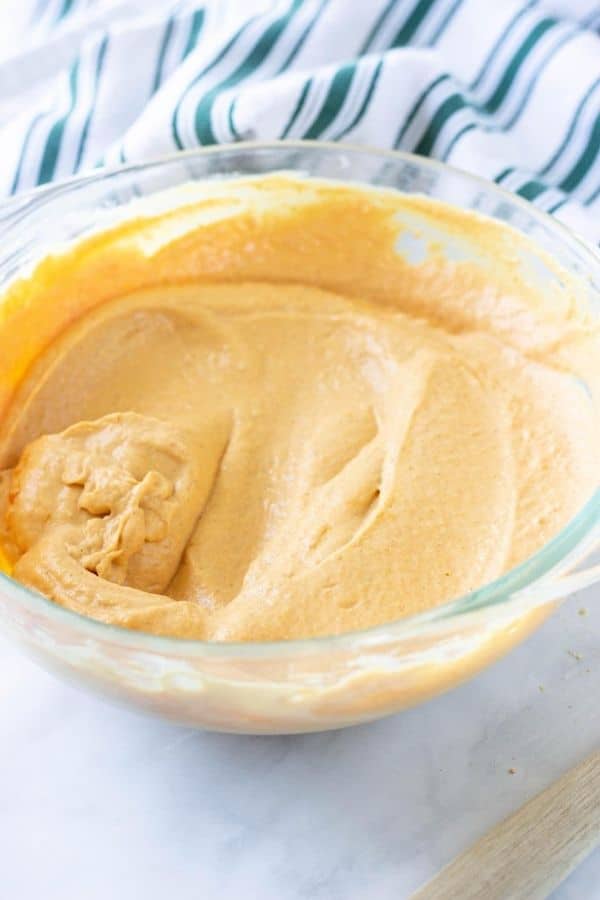 Pumpkin Spice Layer | Pumpkin purée and pudding come together for one insane layer. The half and half helps the layer to hold up nicely!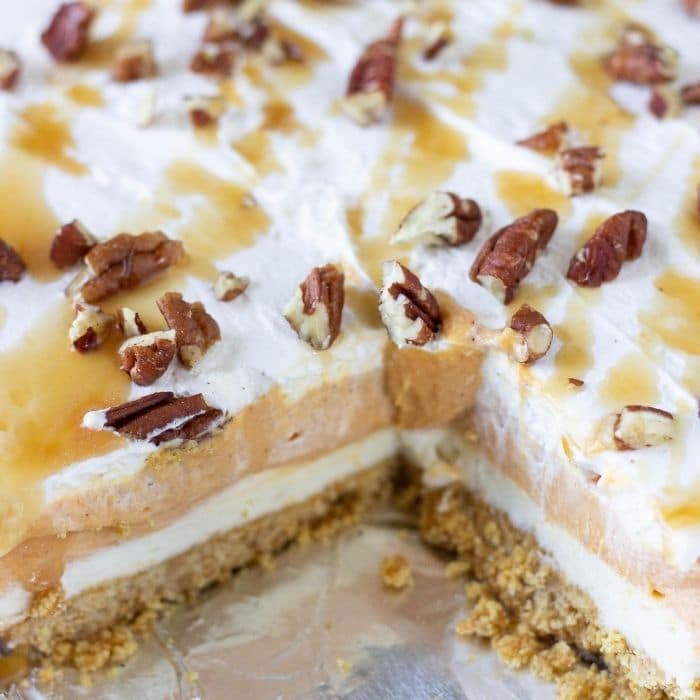 Topping Layer | Whipped cream, chopped pecans and a drizzle of caramel sauce. These toppings are phenomenal for this pumpkin lush recipe.
These pumpkin lush dessert bars are layers upon layers of deliciousness!
Tips For Making This Pumpkin Layered Dessert
I share all the steps and ingredients on how to make this pumpkin cool whip dessert But here are some tips to help set you up for success.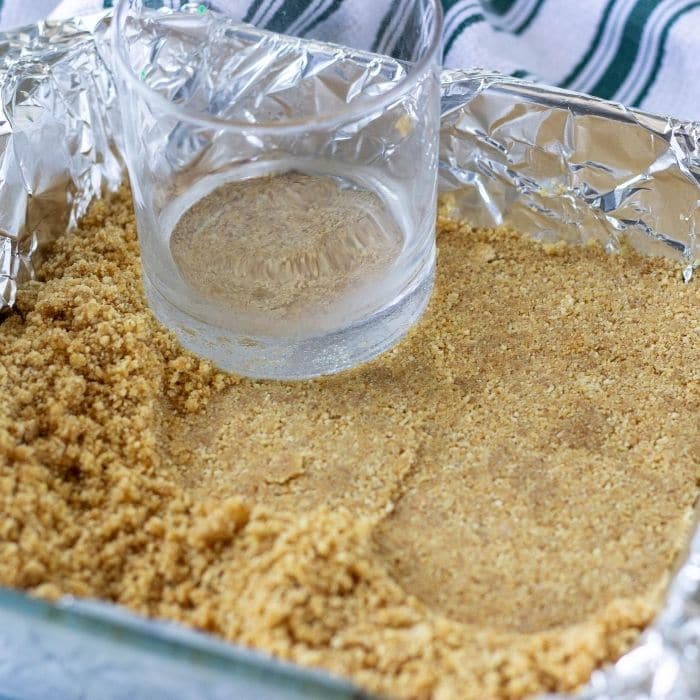 Make sure to really pack down the crust. Otherwise it will fall apart. I used the bottom of a cup.
Place parchment paper or aluminum foil in pan to line the bottom and sides. It will make removing it from the pan easy. This is great if you want to place on a platter.
It is important to use half and half instead of milk. The reason being is it will help to keep the pumpkin layer stable so when you slice it all holds form.
Plan to make in advance as this pumpkin layer dessert needs time to set up in the fridge.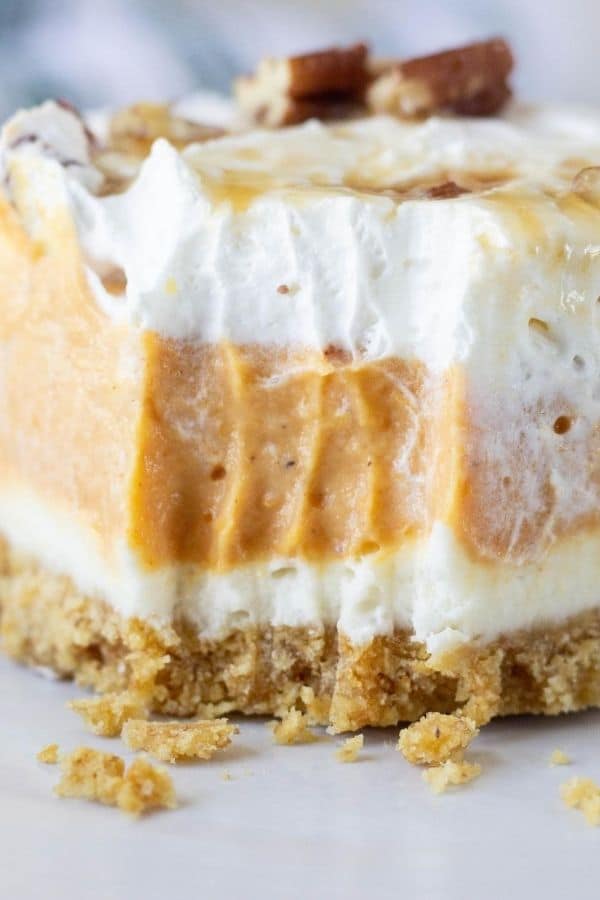 Topping Ideas for Pumpkin Dessert
Drizzle of caramel sauce
Chopped pecans
Toffee chips sprinkled on top
Serve with no toppings
Butterscotch chips or sauce drizzled on top
Shavings of white chocolate
The list could go on and on. Feel free to dress up your no bake pumpkin dessert however you want.
Want More Fall Inspired Recipes
Can I Double This Lush Dessert
Want to make extra of this lush dessert? Feel free to double this recipe and then use a larger pan or do multi plants pans.
This is a wonderful no bake potluck recipe, weeknight dessert, serve up for the holidays and more.
An easy pumpkin recipe that is minimal work.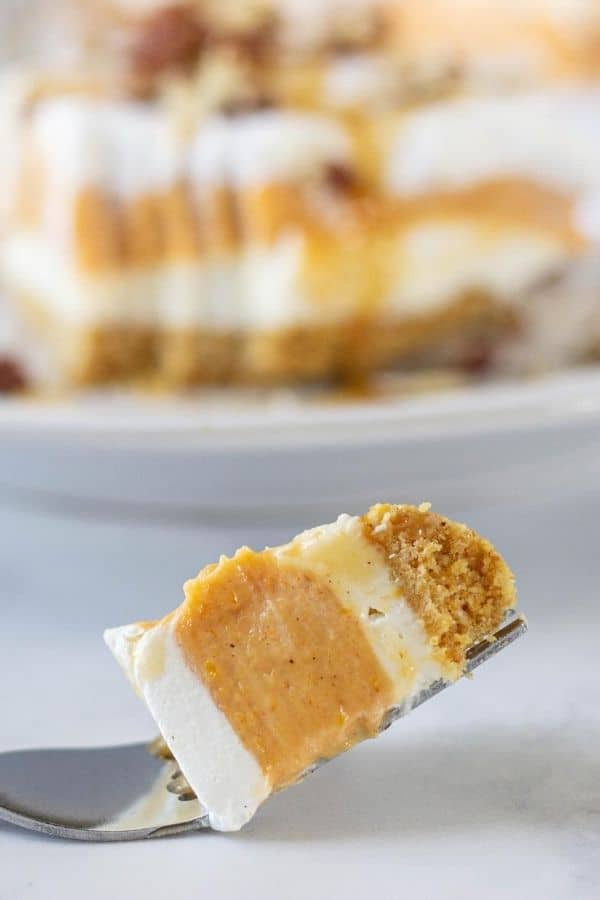 Is Pumpkin Pie Mix The Same As Pumpkin Purée
Pumpkin purée is simply puréed pumpkin. Pumpkin pie mix is a mixture of ingredients that you use as a base to making a homemade pie.
You can not swap the two ingredients out in this recipe. It has to be a pumpkin purée.
Can I Use Ginger Snaps Instead Of A Graham Cracker Crust
Go ahead and swap graham cracker crust in replace d with ginger snap cookies, or even Golden Oreos.
Just grind up the cookies and mix with the butter. You can skip the sugar if you want. Then just press tightly onto the pan like the graham cracker crust.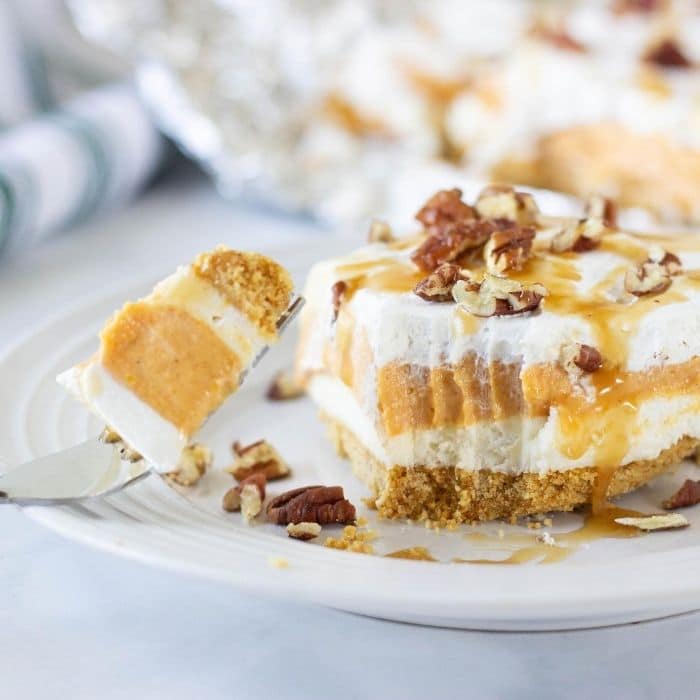 Pumpkin Lush
Servings 8 x8 pan
Pumpkin Lush is an easy no bake pumpkin recipe. This layered pumpkin lasagna is graham cracker crust, cheesecake layer, pumpkin layer, whipped cream and topped with nuts and caramel sauce.
Ingredients
Crust
1 1/2 cups graham cracker crumbs
1 tablespoon sugar
6 tablespoons butter melted
Cheesecake Layer
8 ounces cream cheese softened
1 cup powdered sugar
1/2 teaspoon vanilla extract
Pumpkin Layer
1 cup pumpkin puree
1 teaspoon pumpkin spice
1 box Instant vanilla pudding 4 oz
1/2 cup cool whip
1 1/4 cup half and half
Topping
2 cups cool whip
1/2 cup chopped pecans
Caramel sauce for drizzle
Instructions
In a bowl, you will add your graham cracker crumbs, butter, and granulated sugar. Mix until crumbly like sand. Then press the crust into an aluminum foil-lined 8×8 pan. Press down with a cup or something firm to pack it in.

Now in a new bowl add your cream cheese, powdered sugar, and vanilla extract. Whip it up until nice and creamy. Then spread on top of the graham cracker crust.

Next in a new bowl add your half and half and vanilla pudding. Whip until it begins to thicken. Then add in your pumpkin spice, pumpkin puree, and mix. Then once well-mixed fold in 1/2 cup cool whip. Then top the cheesecake layer.

Now add on your 2 cups cool whip. Cover and then place in the fridge covered for at least 4 hours.

Then before you serve up this pumpkin lush, top with chopped nuts and drizzle on the

caramel sauce

.
Nutrition
Serving: 1gCalories: 256kcalCarbohydrates: 23gProtein: 3gFat: 18gSaturated Fat: 10gPolyunsaturated Fat: 7gCholesterol: 32mgSodium: 149mgFiber: 1gSugar: 17g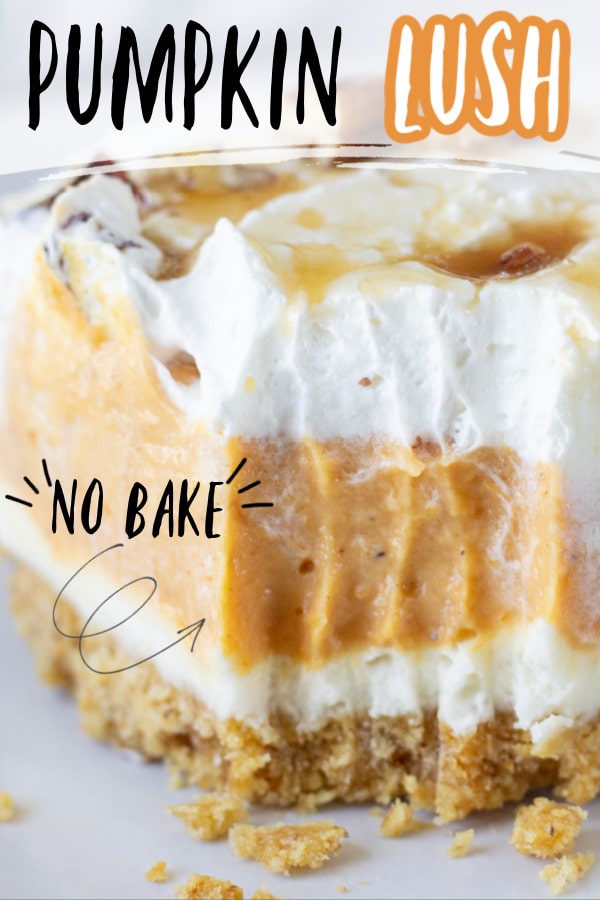 Are you a fan of pumpkin lush?
Reader Interactions